5 Steps
Authentication Process
Ensure Authenticity with our Comprehensive
60-Point Inspection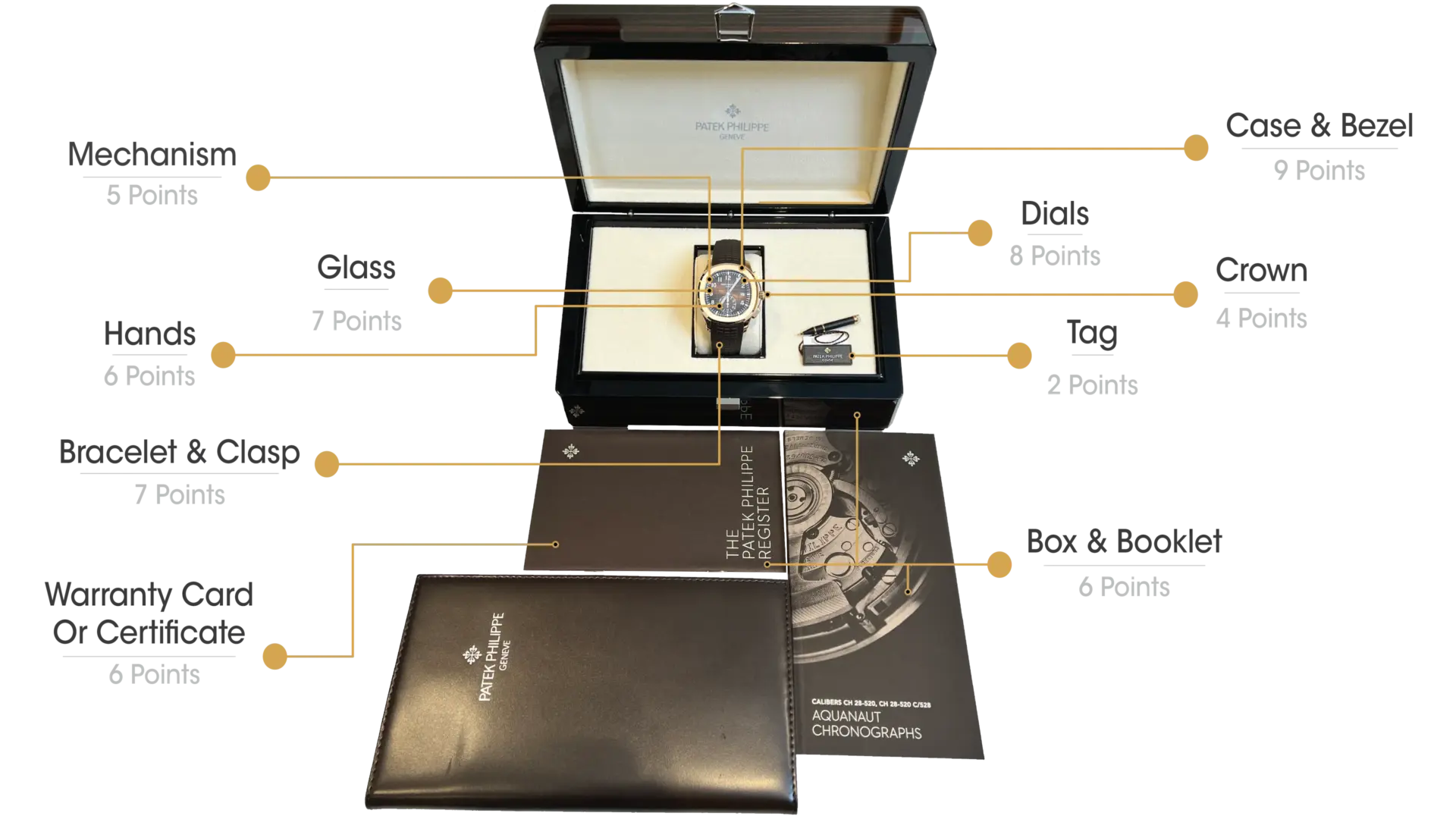 Our Thorough 5 Step Watch Authentication Process
We guarantee the authenticity and functionality of every pre-owned luxury watch we sell through our strict authentication process. We verify the complete set, model number and white tag content, warranty card, authenticity and functionality, and signs of wear or damage.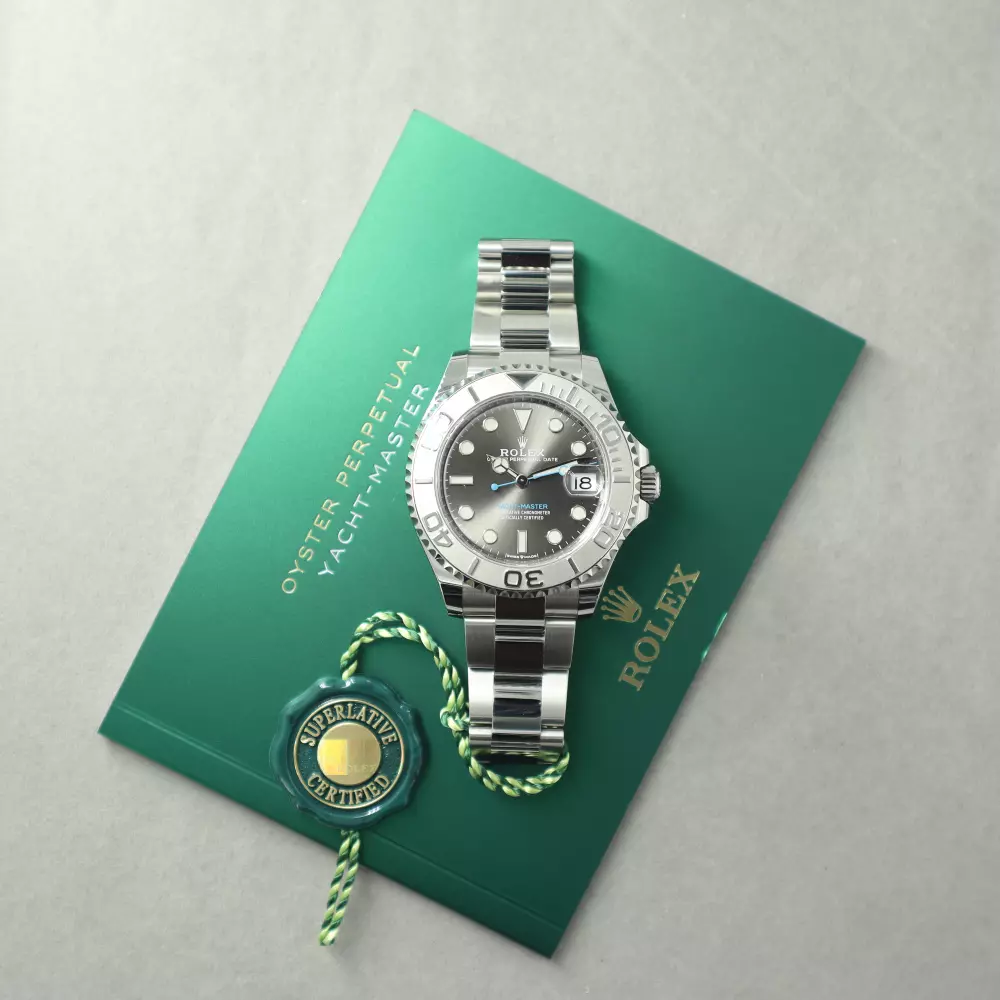 Step 1: Verify the Complete Set and Ensure No Missing Items
We meticulously check all components of the watch, including the box, booklets, tags, warranty card, and links.
Step 2: Carefully Check the Model Number & White Tag Content
We confirm the model number online, making sure that the dial, hands, and sub-model perfectly match the watch and white tag.
Step 3: Thoroughly Inspect the Warranty Card
We examine the warranty card according to the card type, checking for UV patterns, handwriting, and other specific details.
Step 4: Assess Authenticity & Functionality with Precision
Our experts thoroughly examine different aspects of the watch, including its functionality, cosmetic condition, and water resistance.
Step 5: Examination for Any Signs of Wear or Damage
We inspect the watch for any signs of wear or damage.
We Always Use Advanced Tools to Ensure Authenticity
We utilize advanced tools and techniques to ensure that every luxury watch we examine is authentic and of the highest quality. Trust us to verify the authenticity of your timepiece.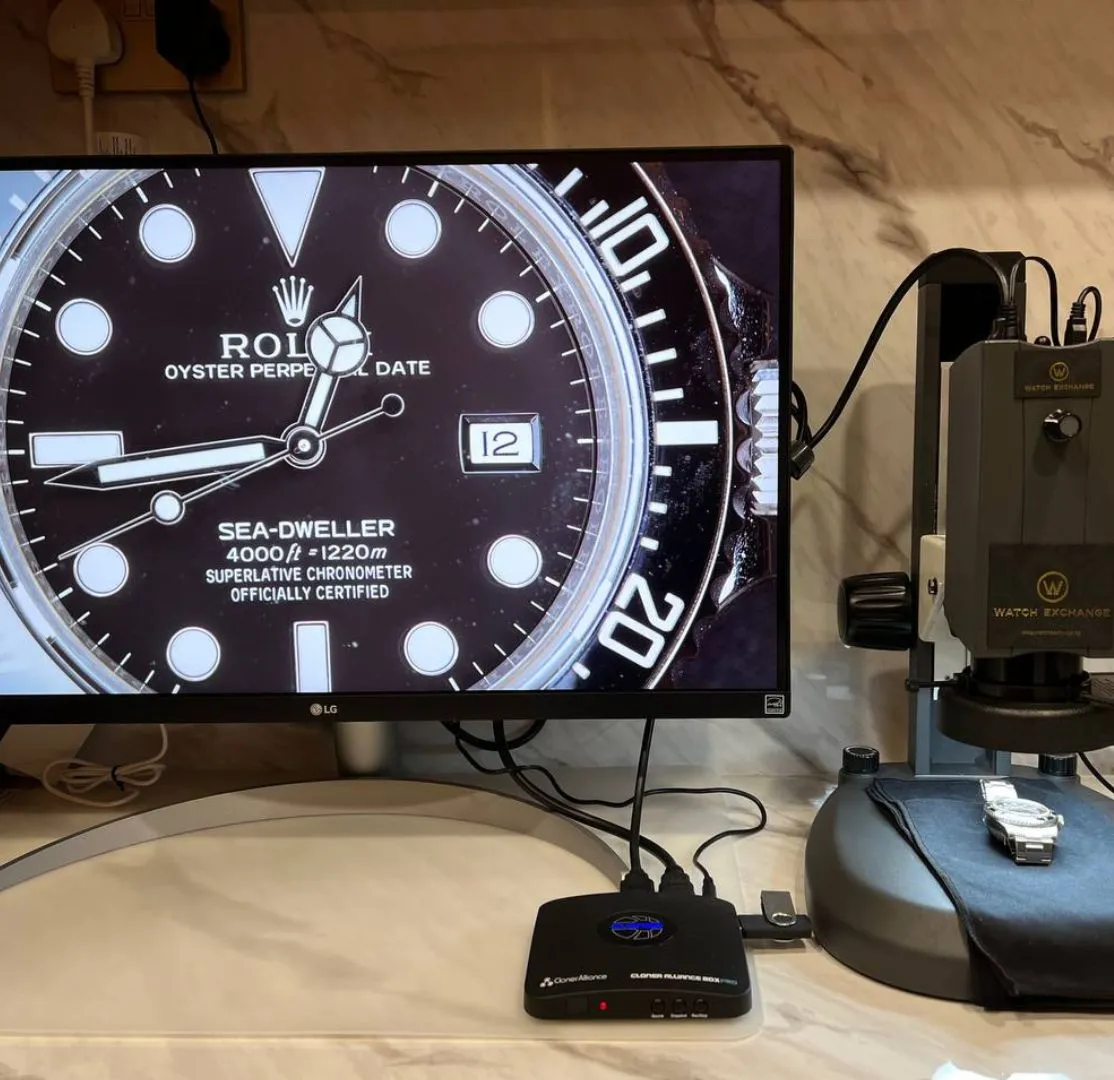 Fine Detail Inspection with 200x High-Resolution Microscope
Our advanced tool enables comprehensive watch analysis, pinpointing counterfeit indicators on bezel, bracelet, and dial, examining even the smallest details.
Digital Timegrapher
Authentic luxury timepieces are made with precision in timekeeping. We measure the deviation and other factors that tell accuracy rating and authenticity.
Dry Water Resistance Test
We test the timepiece's water resistance and waterproof feature as most authentic luxury watches are built to withstand water and pressure.
Customer Testimonials
Don't just take our word for it; see what our satisfied customers have to say:
Why Choose Watch Exchange?
400 +
WIDE SELECTION OF TIMEPIECES
Reputable Dealer
We are highly reviewed on Google, Facebook, and various platforms
Authenticity Guarantee
Ensured the authenticity of every timepiece with our Comprehensive 60-Point Inspection.
Buying Protection
Experience added peace of mind with our in-house warranty included when you buy pre-owned luxury watches.
Transparency
Complete transparency and receive detailed information on the authenticity and functionality.
Verified Non-Stolen Goods
Every watch undergoes rigorous screening to ensure we offer 100% authentic luxury watches.
High Trade-In Valuation
Maximize the value of your luxury watch with our generous trade-in offers.
Minlaw Regulated Dealer
We are approved by the Ministry of Law as a Regulated Dealer.
SPF Second Hand Good Dealer
We are a licensed second-hand dealer approved by the Singapore Police Force.
Interested In Buying Your Dream Watch?
Do you need assistance with your luxury watch purchase? Contact our team of experts for personalized help and guidance!
Frequently Asked Questions
What luxury watch brands do you sell?
We offer a wide selection of luxury watch brands, including Rolex, Patek Philippe, Audemars Piguet, and other luxury brands. Our curated collection includes popular models from each brand, ensuring that you can find the perfect timepiece for your style and budget.
How can I buy a watch on Watch Exchange?
To buy a luxury watch on Watch Exchange, simply follow these steps:
Browse our collection to find the watch you want to purchase

Inform us about your desired watch via WhatsApp at +65 9678 0333

Reserve your desired watch by securing a deposit. 
Notes: 
Please make sure to secure your desired watch by reserving it in advance, as our watches tend to get reserved quickly. 
Deposits made on a watch are non-exchangeable and non-refundable unless the timepiece is not in a reasonable condition.
You may go directly to our shop or book an appointment on Calendly to view any available watches. Please note that there may be a queue, and priority may be given to those with appointments.
Visit our shop to view your reserved watch and complete your purchase.

Enjoy your newly acquired luxury watch!
How do you guarantee the authenticity of the watches you sell?
At Watch Exchange, our experienced Watch Specialists perform all of our authentication processes to ensure that every pre-owned luxury watch we sell is 100% authentic. 
Our rigorous process includes a full content and fine detail inspection, verification of the model number and white tag, warranty card inspection, complete assessment of authenticity and functionality, and examination for any signs of wear or damage. 
To assist with our authentication processes, we utilize advanced tools such as 200x Microscope inspection, Dry Water Resistant Tester, and Timegrapher. 
We are committed to providing complete transparency and will provide you with detailed information on the authenticity and functionality of your chosen timepiece.
What types of payments do you accept?
Here are our accepted payment modes:
| | |
| --- | --- |
| Payment Modes | Customers |
| Cash (SGD), bank transfer, and credit card instalment plan through UOB, SCB, and OCBC | Local |
| Wise only | International |
Notes: 
To ensure the security and authenticity of our transactions:
It is required that the individual who places the deposit must also complete the full payment and collect the watch.
We are unable to process credit card transactions over the phone or via email as this method is prone to phishing and other fraudulent activities.
What happens if my watch has an issue? What are your warranty terms?
To give our buyers an extra layer of peace of mind, we offer an in-house warranty for watches that are outside of the official warranty period. This additional coverage provides added protection and assurance for your pre-owned luxury timepiece.
If my desired watch isn't listed on your website, can you help me find it?
Absolutely! We have a network of trusted partners and suppliers that allows us to source a wide variety of luxury watches. If you're looking for a specific watch that isn't listed on our website, simply contact us and let us know what you're looking for. We'll do our best to help you find it.