Watches have always been a popular accessory, appreciated not only for their functionality but also for their design and craftsmanship. As you explore the world of luxury watches, you might ask yourself whether they can be considered a good investment.
While luxury watches may sound like an excellent investment, the value of a watch can fluctuate from time to time. The value may be based on many factors such as supply and demand, brand reputation, and the condition of the timepiece. It is also much about passion and appreciation of artistry and craftsmanship as it is about potential returns.
So, before diving into this business or hobby, you should understand what factors to look for when selecting a potential investment piece. Read on as we look into reasons why some watches appreciate in monetary value and learn what to consider when purchasing one as an investment, as well as how to protect and maintain your collection for long-term value growth.
Factors Determining Investment Value
Understanding factors that influence a watch's value can help you make an informed decision before making an investment. Apart from this, it could also increase your chances of making a profitable investment. Here are the crucial factors to consider:
Popularity of the Brand
When considering watches as an investment, the popularity of the brand plays a crucial role in determining potential returns. Well-established and sought-after brands like Rolex, Patek Philippe, and Audemars Piguet tend to hold their value or even appreciate over time. As an investor, focusing on high-demand brands can be a smart move.
Price Movements
Monitoring the price movements of specific watch models can provide valuable insight. Some watches experience significant price fluctuations due to limited edition releases, discontinued models, or market hype. By analyzing price trends, you can better predict which watches are likely to appreciate in value and make strategic investment decisions.
Rarity and Exclusivity
Rarity and exclusivity play a significant part in a watch's investment potential. Limited edition watches or those with fewer production numbers can be highly desirable among collectors. Owning a watch that is hard to obtain or no longer in production can give you a competitive edge in the market and help increase its value over time.
Condition
The condition of a watch is another essential factor in determining its investment value. Pristine and well-preserved watches with original parts and documentation are more valuable than those in poor condition or with aftermarket components. Ensure that you properly maintain and keep your timepieces in excellent condition to maximize their investment potential.
Historical Significance
Watches with historical significance, such as those with ties to famous people, events, or milestones, can add considerable value to your investment portfolio. Look for timepieces with a backstory or provenance that sets them apart from the rest. Such watches may command higher prices in the market and enrich your overall collection.
ROI of Luxury Watches
When considering investing in luxury watches, it's essential to understand the potential return on investment (ROI) they may bring. As with any investment, there are no guarantees, but some factors can contribute to making luxury watches a worthwhile endeavour.
Ways to Increase Your Potential ROI
1. Look at the brand value and reputation.
Luxury brands like Rolex, Patek Philippe, and Audemars Piguet have been appreciating in value for several years. Remarkably, sought-after models can carry a higher resale value if kept in excellent condition.
2. Research limited editions and iconic models from reputable brands.
These watches tend to hold their value or appreciate over time, making them smart investments and can increase your chances of a positive ROI. For example, the Rolex Daytona Paul Newman edition can command a significant price in the resale market.
3. Know the current market trends.
Keep an eye on auction house results and online sales to gauge the popularity and demand for certain models. Some high-end watches have sold for millions of dollars at auctions, such as the Paul Newman Rolex Daytona, which sold for a record-breaking $17.75M in 2017. The key is to stay informed about which timepieces are trending or highly desirable.
4. Preserve and enhance the value of your luxury watches.
To maintain or increase your watch's value, proper maintenance is crucial. Regular servicing by a certified watch technician ensures accuracy and longevity, making your timepieces more appealing to potential buyers.
Tips to Become a Watch Investor
Before you dive into the world of watch investing, it's essential to understand that not all watches are equal in terms of value retention or appreciation. To help you become a successful watch investor, follow these simple tips:
Do thorough research. Educate yourself on the watch industry, its history, and the various brands and models available. Familiarize yourself with trends, market demands, and factors that affect a watch's value.

Choose the right brand and model. Focus on investing in established brands with strong reputations, such as Rolex, Patek Philippe, or Audemars Piguet. These brands have a proven track record of retaining or appreciating value over time.

Look for limited editions and rare pieces. Limited edition watches or models come with unique features and are typically more sought after and can appreciate significantly over time.

Buy from reputable sources. Purchase watches from authorized dealers, respected auction houses, or fellow collectors with verifiable reputations. Be cautious of online platforms if you cannot verify the seller's credibility and history.

Inspect before you buy. Carefully examine the watch for authenticity, condition, and original parts. This assessment is critical for determining a timepiece's value and investment potential.

Maintain proper storage and care. Have a good knowledge of properly storing and maintaining your watches to ensure they remain in excellent condition. Regular servicing from a qualified watchmaker is essential to help retain their value.

Diversify your portfolio. Like any other investment, diversify your watch collection to help mitigate risks and improve returns. Consider investing in a mix of vintage and modern pieces, different complications, and various brands.

Remember, watch investing requires patience, passion, and knowledge. Stay informed about the market and make informed decisions to enjoy the fascinating world of luxury watches.
Where to Buy Luxury Watches at Cheaper Prices
When searching for luxury watches at more affordable prices, you should consider the following places:
Online retailers: Many trusted online retailers offer a wide variety of luxury watches at discounted prices. You can often find deals on websites such as Chrono24, Jomashop, and Watchmaxx. You can also try luxury watch retailers in Singapore such as Watch Palace, Cortina and Hourglass or shop at second-hand watch shops, such as watch exchange.

Pre-owned watches: Purchasing a pre-owned watch can be a great way to obtain a luxury timepiece at a significantly lower cost. Check out websites like Crown & Caliber, Bob's Watches, and Watchfinder to browse their selection of pre-owned watches from top brands.

Auctions: Keep an eye on auction sites such as Christie's, Sotheby's, and Phillips, where luxury watches are occasionally available at lower prices. Just be sure to research each watch's history and provenance before placing a bid.

Authorized dealers: If you prefer shopping in person, visit authorized dealers in your area to inquire about discounted or discontinued models from well-known brands. Some dealers might offer better deals during special events or promotions.
Remember to always research retailers who sell luxury watches to ensure their credibility, check for counterfeit watches, and confirm the authenticity of the watch before making a purchase.
5 Best Watches To Invest In
There are specific brands and timepieces that stand out when it comes to investment potential. Here, we'll take a look at five of the best watches from these brands to invest in, based on brand reputation, rarity, and historical significance. So, whether you're a seasoned watch collector or just starting out, these timepieces are worth considering.
1. Patek Philippe Nautilus – Stainless Steel Case and Grey 5711/110P-001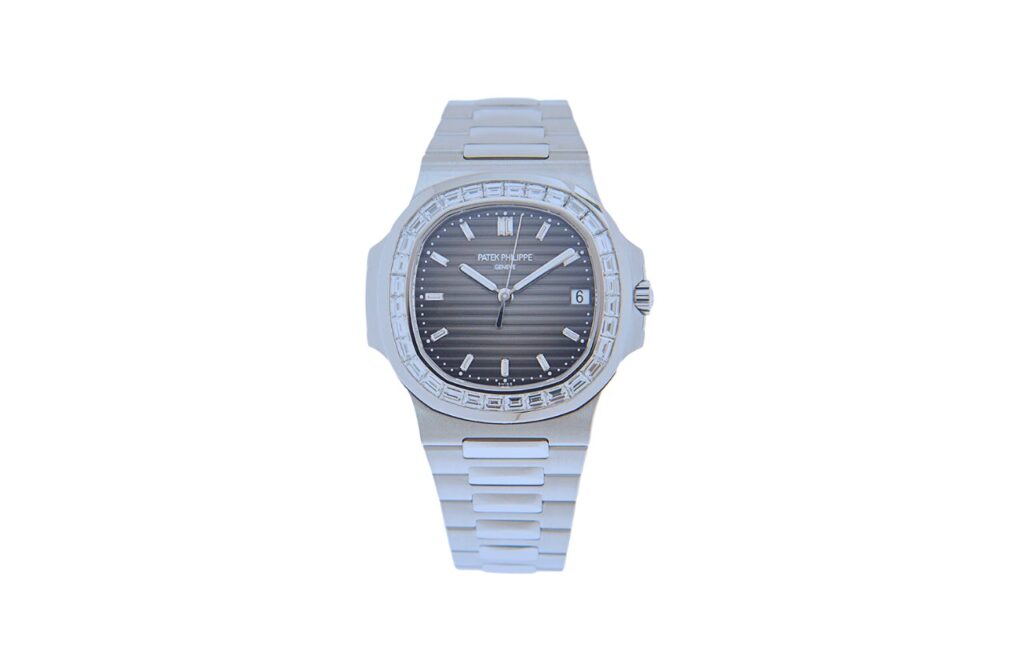 About
When it comes to investment-worthy watches, you can't go wrong with the Patek Philippe Steel Nautilus. This iconic timepiece, created in 1976, is known for its exceptional craftsmanship and design. With its stainless steel case and integrated bracelet, this timepiece is both durable and aesthetically pleasing.
Features
The Steel Nautilus has a signature porthole design with a rounded octagonal bezel. It also has an embossed horizontal dial pattern resembling a yacht's deck. The stainless steel material is also corrosion-resistant making it highly durable and easy to maintain.
Specifications
Production Year: 2019
Case Size: 40mm
Materials:

Dial – Grey dial with horizontal embossing, diamond hour markers with luminescent coating, date window at 3 o'clock
Bracelet – Silver-tone stainless steel bracelet with fold-over clasp
Case – Stainless steel case with sapphire-crystal case back and screw-down crown

Function: Hours, Minutes, Central Seconds, Date
Mechanism: Caliber 324 S C self-winding movement; power reserve: 45 hours
2. Omega Speedmaster "First Omega in Space" – Stainless Steel Case and Black Dial, 311.32.40.30.01.001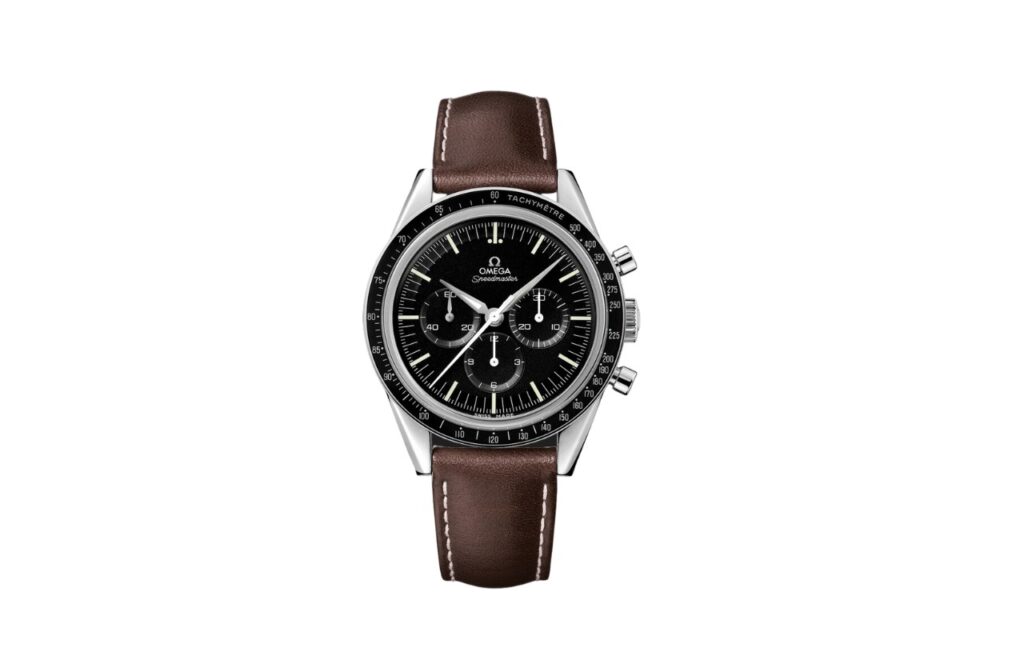 About
Another timepiece to consider when investing in watches is the Omega Speedmaster "First Omega in Space". This historic watch is renowned as the first Omega watch worn by astronaut Wally Schirra during the Mercury-Atlas 8 mission in 1962. As a result, this watch has gained valuable provenance and desirability in the market.
Features
The First Omega in Space is also known for its attractive design and precision, making it a must-have for watch collectors. It also features a chronograph that allows you to time events up to 30 minutes and a tachymeter scale on the bezel, which allows you to measure speed over a known distance.
Specifications
Production Year: 2020
Case Size: 39.7mm
Materials:

Dial – Black dial with luminous hands and hour markers
Bracelet – Brown leather strap with pin buckle
Case – Stainless steel case with sapphire-crystal case back

Function: Hours, Minutes, Seconds, Chronograph, Tachymeter Scale
Mechanism: Omega Calibre 1861, manual hand-winding movement; power reserve: 45 hours
3. Rolex GMT-Master – Stainless Steel Case and Black Dial, 1675
About
Rolex is synonymous with luxury and prestige, and the GMT-Master is no exception. Produced between 1959 and 1980, this classic pilot's watch features a 24-hour rotating bezel to help travellers keep track of time zones. The watch's design has evolved over the years, with different dial colours and bezel materials being introduced, giving investors and collectors plenty of options.
Features
Special features include a dual timezone that allows the wearer to track two time zones simultaneously. It also has a rotating bezel that can be used in conjunction with the GMT hand to read a third time zone.
Specifications
Production Year: 1959-1980
Case Size: 40mm
Materials:

Dial – Black with white hour markers and date window at 3 o'clock
Bracelet – Stainless steel Oyster bracelet
Case – Stainless steel with bidirectional rotating bezel and acrylic crystal

Function: Hours, Minutes, Seconds, Date, and a 24-hour hand for GMT function
Mechanism: Rolex Caliber 1575, automatic movement; power reserve: 45 hours
4. Longines Vintage Chronograph – Rose Gold Case and Salmon Pink Dial, 13zn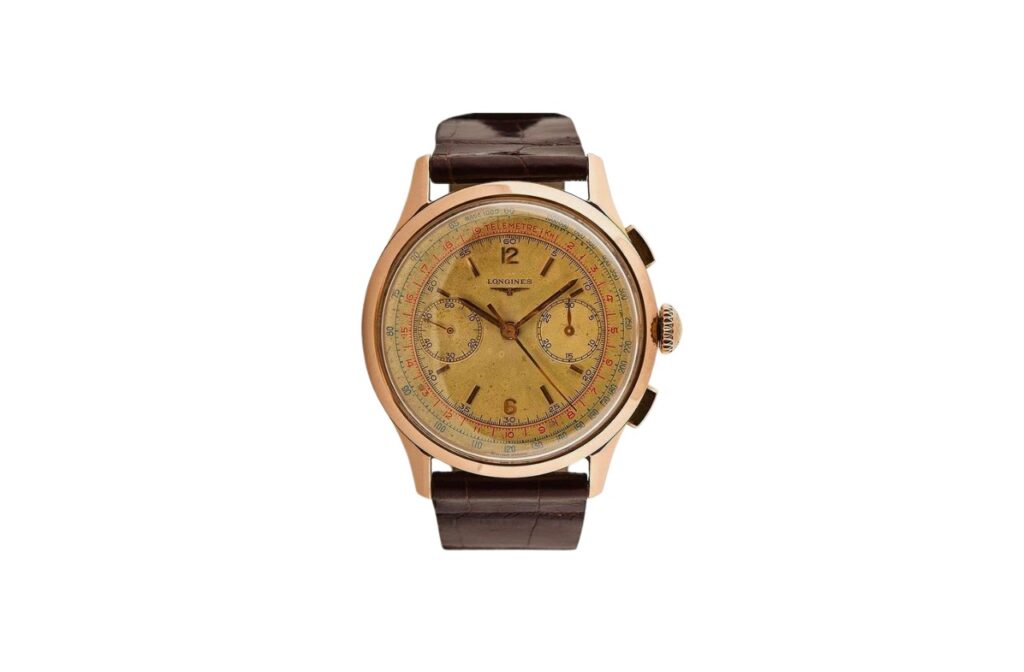 About
For collectors who prefer vintage timepieces, the Longines Vintage Chronograph is an excellent choice. These watches are known for their elegant designs and precision timing functions. While prices for Longines Vintage Chronographs can vary depending on the condition and rarity, their timeless appeal makes them an attractive investment option.
Features
The watch features a chronograph function with a 30-minute counter and a small seconds sub-dial. Meanwhile, the dial is simple and clean, with gold Arabic numeral hour markers and two sub-dials for the chronograph functions.
Specifications
Production Year: 1950
Case Size: 38mm
Materials:

Dial – Salmon colored dial with white minute track
Bracelet – Black crocodile skin leather strap
Case – French rose gold case

Function: Hours, Minutes, Seconds, Chronograph
Mechanism: Manual-winding movement; power reserve 42 hours
5. Audemars Piguet Royal Oak – Stainless Steel Case and Black Dial, 5402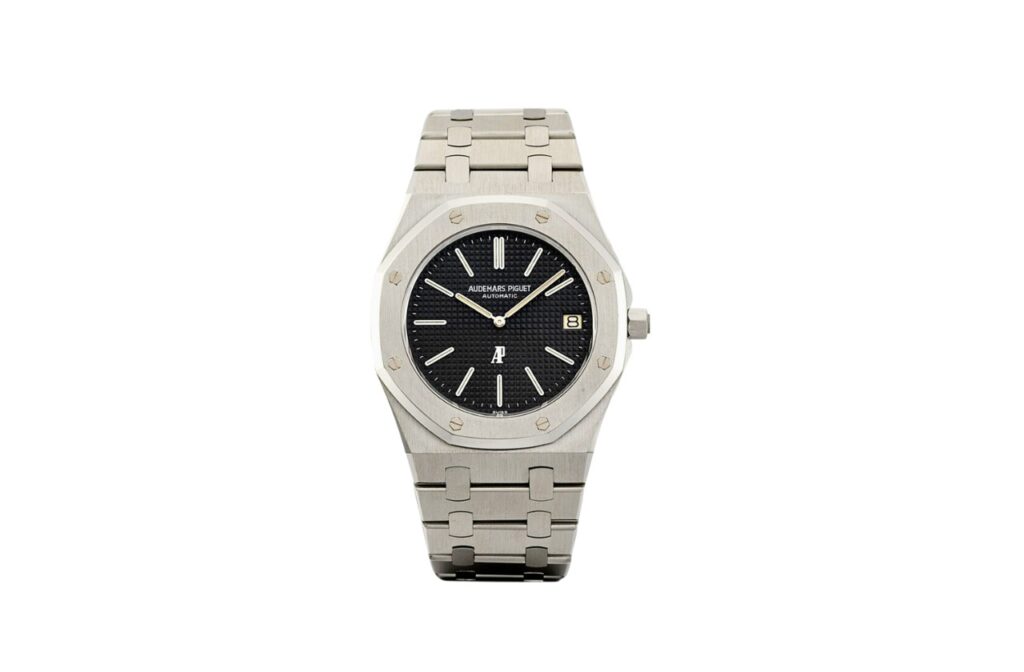 About
The Audemars Piguet Royal Oak, which was launched in 1972, as the first luxury sports watch made of stainless steel is also an excellent choice. Its innovative design, featuring an octagonal bezel with exposed screws, has made the Royal Oak a sought-after timepiece among collectors and investors.
Features
Also known as the Jumbo, this luxury sports watch features an integrated bracelet design with exceptional craftsmanship. It also has a date function displayed at the 3 o'clock position, adding to its functionality.
Specifications
Production Year: 1972
Case Size: 39mm
Materials:

Dial – Black "Grande Tapisserie" pattern, white gold applied hour-markers and Royal Oak hands with luminescent coating
Bracelet – Stainless steel bracelet with AP folding clasp
Case – Stainless steel case with glare-proofed sapphire crystal and case back

Function: Hours, Minutes, Seconds, Date
Mechanism: Self-winding Audemars Piguet Calibre 3120, 40 jewels; power reserve: 60 hours
At a Glance: Summary
| | |
| --- | --- |
| Brand and Model | Market Price (Pre-owned – SGD) |
| Patek Philippe Nautilus 5711/110P-001 | $S141,900 |
| Omega Speedmaster "First Omega in Space" 311.32.40.30.01.001 | $S6,090 |
| Rolex GMT-Master 1675 | $S21,390 |
| Longines Vintage Chronograph 13zn | $S12,620 |
| Audemars Piguet Royal Oak 5402 | $S134,240 |
Final Word
In the end, deciding whether watches are a good investment for you depends on your personal preferences, financial goals, and market knowledge. While some luxury watches, such as Rolex and Patek Philippe, have shown a tendency to appreciate in value over time, investing in watches is not a guarantee of financial return.
Key Takeaways
Research the watch market thoroughly, focusing on brands with a strong track record of holding or increasing their value.
Luxury watches, like any other investment, come with their own set of risks and rewards.
Be prepared to hold onto your investment for the long term, as watches tend to appreciate in value over an extended period.
Looking to buy or sell your luxury watches? Watch Exchange is your one-stop destination for trading Rolex, Patek Philippe, Tissot, Sinn, Zenith, and other luxury timepieces. Find your next watch today or list your item for free!
---