The Audemars Piguet vs. Rolex debate is an ongoing discussion among watch connoisseurs and collectors. Due to their own unique characteristics, reputation, and history, comparing these two iconic watchmakers can be a complex yet fascinating endeavor, especially for investors.
Both Audemars Piguet (AP) and Rolex are two of the top luxury watch brands that are highly sought after in the market. Anyone who wants to add a new timepiece to their collection is in for a difficult time deciding which of the two grand watches reigns supreme.
This comparison guide highlights what sets each one apart. We'll leave no stone unturned regarding these watches' features, materials, designs, typical prices, and more.
At a Glance
For some, Audemars Piguet is more luxurious than Rolex. This is usually because the AP exhibits a more artistic aesthetic, showcasing its craft in the luxury watch industry. Meanwhile, others may say otherwise since Rolex is popular for its iconic timepieces made of supreme materials.
Below is a table showing the descriptions of Audemars Piguet and Rolex and why they're considered luxurious by many watch enthusiasts:
Audemars Piguet

Rolex

Brand Recognition

Known for its high-quality craftsmanship and highly innovative designs, particularly the iconic Royal Oak model.

Its global recognition is amplified by its iconic models, such as the Submariner, Daytona, and Datejust.

Craftsmanship

It's well-respected for its mechanical watches and complex complications, like tourbillons, minute repeaters, and grand complications.

Shows excellence in its in-house components manufacturing and pioneering technologies such as the Perpetual rotor.

Movement

The Audemars Piguet 3120

Swiss made automatic movement.

It has been in production since 2003.

Known for its craftsmanship and finishing.

The movement operates at a frequency of 21,600 BPH.

Offers a power reserve of approximately 60 hours.

The Rolex 3135

Swiss made automatic mechanical movement.

Has been in production since 1988.

It is known for its reliability, accuracy, and robustness.

The movement features a 28,800 beats per hour (BPH) frequency, a quickset date function.

A power reserve of approximately 48 hours.

Design

Although not all models exhibit the same shape, they are recognised for their octagonal case.

Some varieties, such as the tourbillon, perpetual calendar, and minute repeater, also have complications.

Praised for its well-known crown logo, imprinted on its watches' dials.

Its watches are also usually not far too distinct from the original versions it made since the brand prefers making conservative. changes on its newer models.

Materials

Gold

Titanium

Ceramic

Platinum

Gemstones

Stainless steel

Oyster Steel

950 platinum

18-carat gold

Everose gold

High-quality gemstones

COSC Certification

No (Maybe because they are already in the Holy Trinity)

Yes

Price

S$27,027 – S$135,137

S$8,783 – S$101,353

Resale Value

A couple thousand to over S$2.3 million in a private sales market.

A couple thousand to over S$1.6 million in a private sales market.
More Details About Audemars Piguet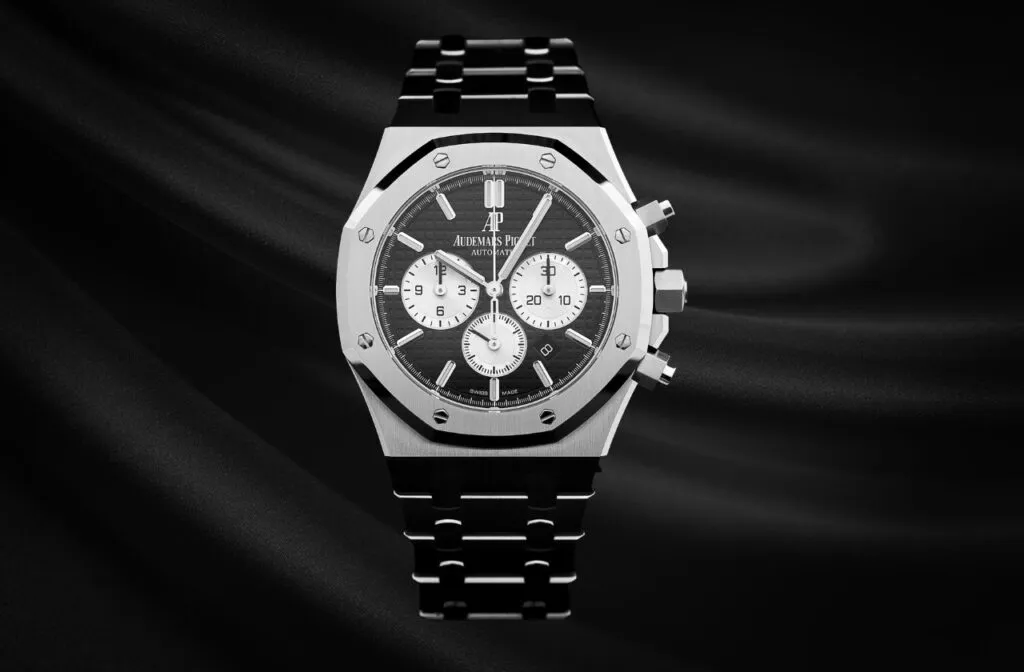 Brief History
Audemars Piguet was first established in 1875 by two close friends, Jules Louis Audemars and Edward Auguste Piguet, in the Vallée de Joux, a region in Switzerland known for its watchmaking tradition.
In 1882, Audemars Piguet presented its first chronograph pocket watch, and by 1889 they had created the world's first perpetual calendar wristwatch. In 1892, they made horological history by producing the first-minute repeater wristwatch.
However, it was in 1972 that the company truly revolutionized the watch industry with the launch of the Royal Oak, the world's first luxury sports watch made from steel. The watch's unique design, featuring an octagonal bezel and integrated bracelet, was initially met with skepticism but quickly became iconic and is now the brand's most recognized model.
5 Reasons to Buy an Audemars Piguet Watch
Iconic Design: The Royal Oak and Royal Oak Offshore models are most recognizable in the luxury watch industry. Their unique octagonal bezel and integrated bracelet have become symbols of luxury and style.
High-Quality Craftsmanship: Every Audemars Piguet watch is meticulously assembled, with each movement and case designed and produced in-house.
Innovation: Audemars Piguet has a history of introducing groundbreaking designs and complex mechanical movements, from the world's first-minute repeater wristwatch to the iconic Royal Oak, the first luxury steel sports watch.
Exclusivity: Unlike brands that mass-produce their watches, Audemars Piguet produces a limited number of pieces each year, adding to the brand's exclusivity and potential investment value.
Longevity and Heritage: The brand's longstanding commitment to quality and innovation means an AP watch can be a lasting treasure to pass down through generations.
Top 3 Popular Models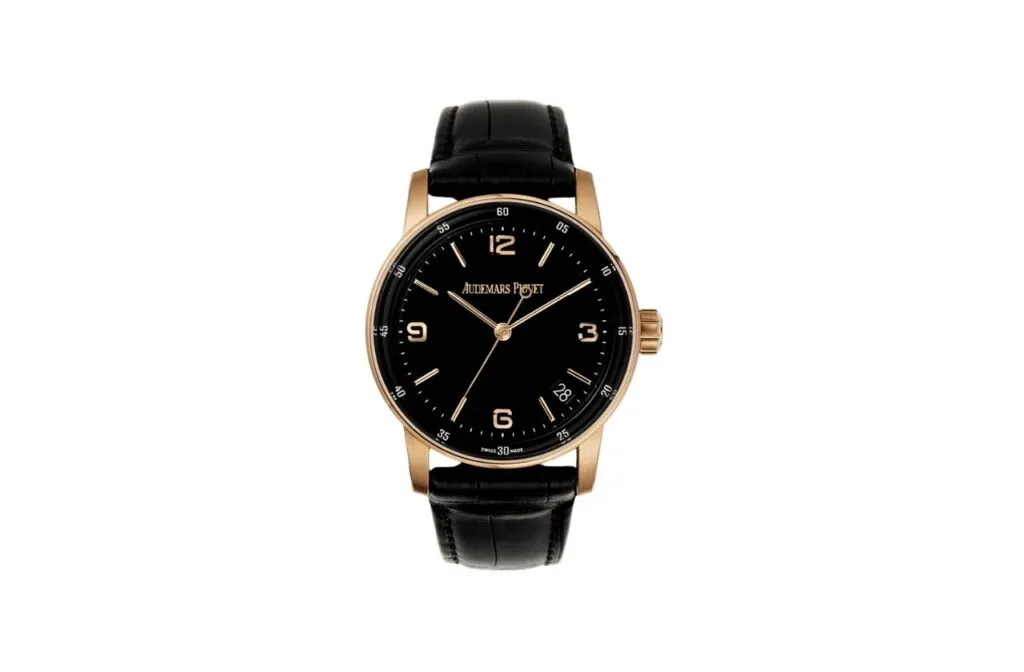 15210OR.OO.A002CR.01: This Audemars Piguet model comes from the CODE 11.59 collection, which was introduced at SIHH 2019. It's remarkably powered by caliber AP 430 and is available in multiple configurations. This averages around S$34,666 in the market.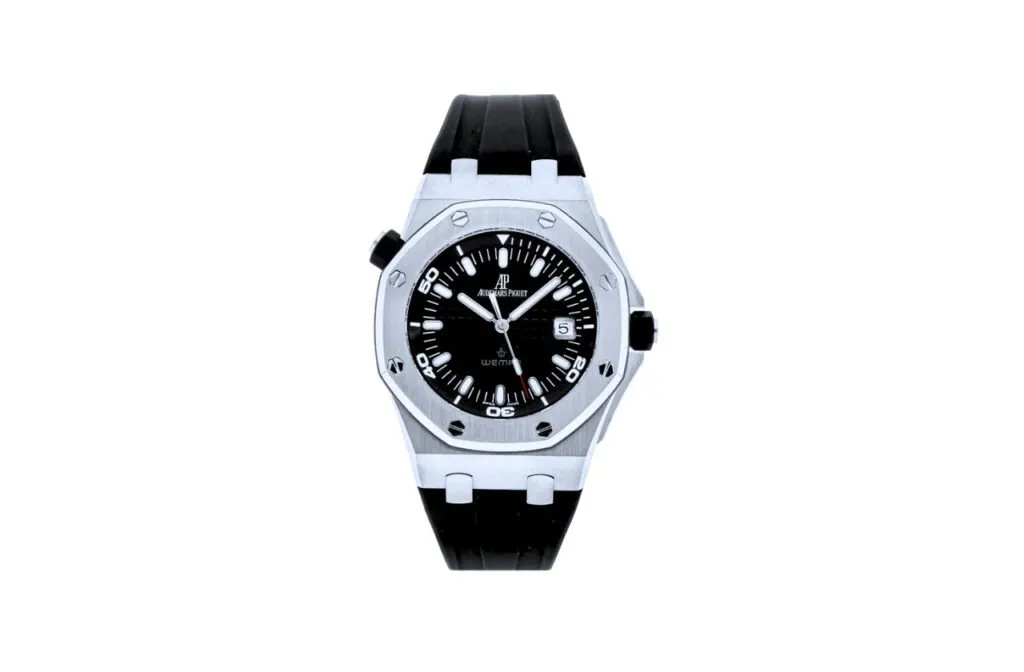 15340ST.OO.D002CA.01: This highly-coveted Royal Oak Offshore diver model is one of the 175 pieces produced in celebration of the 125th anniversary of Wempe. It's notably the first of the offshore scuba models in a 42mm case. It's valued at S$28,460 in the secondary market.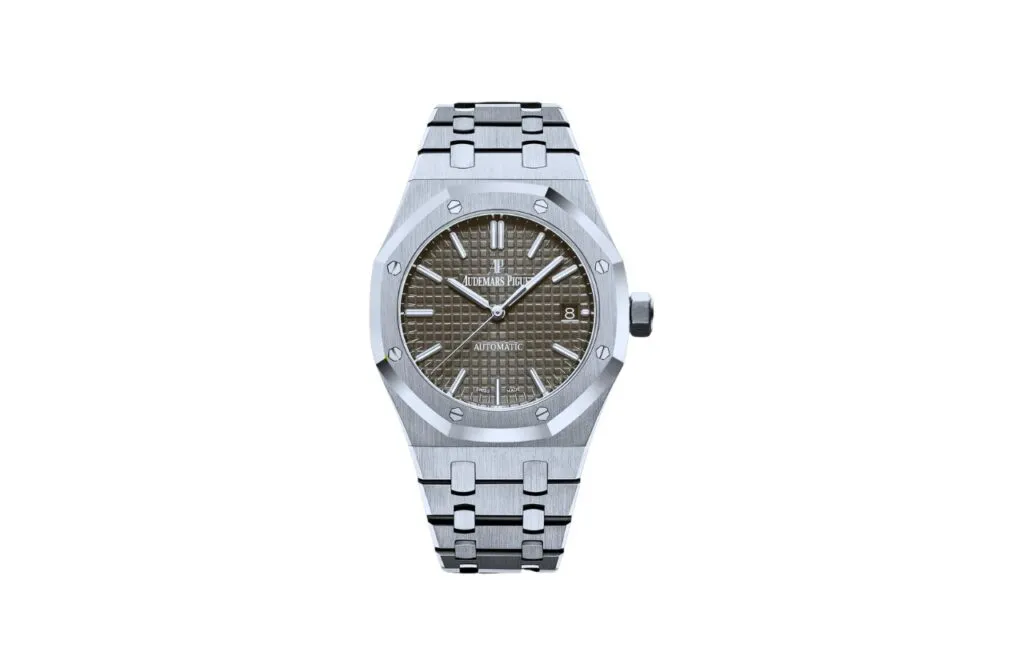 15450ST.OO.1256ST.02: Powered by caliber AP 3120, this Royal Oak timepiece, valued at around S$43,822, was introduced in 2012. It features a 37mm case, about 2mm smaller than its previous model.
Popular People Who Wore Audemars Piguet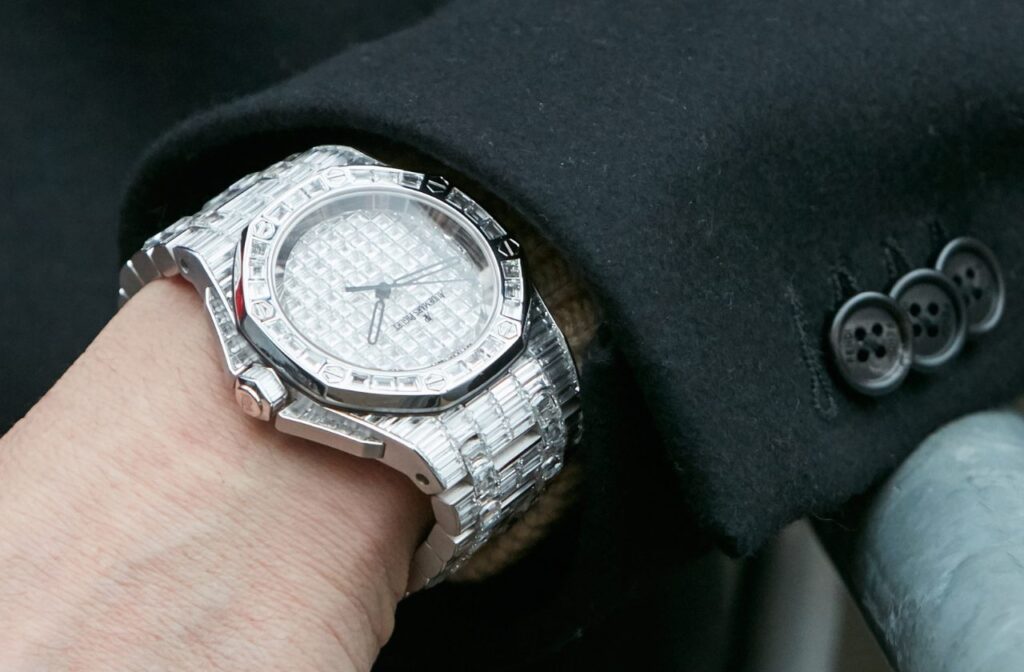 Audemars Piguet is a prestigious Swiss manufacturer of high-end watches that has been admired by watch enthusiasts since it was founded in 1875. With the brand's intricate designs and high-quality craftsmanship, many of its watches have attracted many celebrities and influential people.
1. Kevin Hart: The comedian and actor has been spotted wearing the Audemars Piguet Royal Oak Chronograph.
2. Serena Williams: This world-class tennis player is an official brand ambassador for Audemars Piguet and often wears the Royal Oak Offshore model.
3. LeBron James: The NBA superstar has been associated with the brand for years and even has a limited edition watch designed in his honor, the Royal Oak Offshore LeBron James.
4. Justin Bieber: The Canadian singer and songwriter has often been seen wearing the Royal Oak model. He also bought another Audemars Piguet watch to celebrate his second wedding anniversary with his wife, Hailey Baldwin.
5. Michael Schumacher: The seven-time Formula One World Champion was associated with the brand, and there's even a model named after him – the Royal Oak Offshore Michael Schumacher.
More Details About Rolex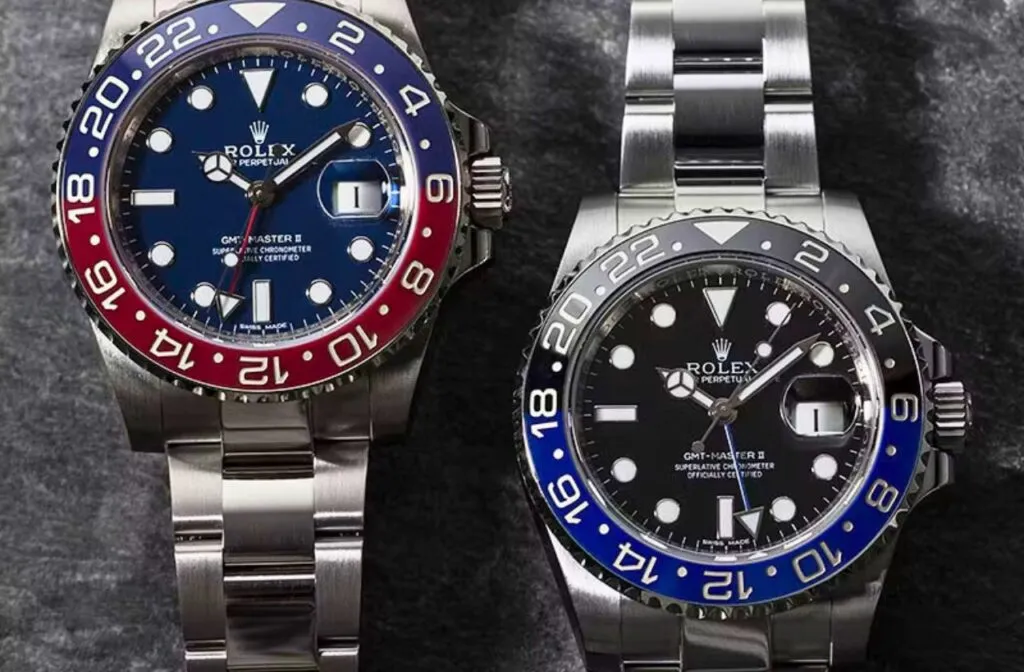 Brief History
Rolex, one of the world's most recognized and exclusive watch brands, was founded by Hans Wilsdorf and Alfred Davis in London, England 1905. In 1908, Wilsdorf registered the brand name "Rolex", which was short, easy to remember, and could be pronounced in any language.
In 1910, a Rolex timepiece was the first wristwatch to receive the Swiss Certificate of Chronometric Precision, granted by the Official Watch Rating Centre in Bienne. Rolex moved its operations to Geneva, Switzerland, in 1919, a city internationally recognized for watchmaking.
Rolex continued to innovate, creating the first waterproof wristwatch, the Rolex Oyster, in 1926. The Oyster was worn by Mercedes Gleitze when she swam across the famed English Channel in 1927, an event that greatly increased the watch's popularity.
5 Reasons to Buy a Rolex Watch
Reliability and Precision: Each Rolex watch is meticulously crafted and undergoes rigorous testing before it's sold, ensuring it meets the brand's stringent quality standards.
Strong Resale Value: Rolex watches, such as the Submariner or Daytona, tend to retain or even increase in value over time, making them a good investment.
Iconic and Timeless Designs: Models like the Datejust, Submariner, and Daytona are iconic and timeless, ensuring they remain fashionable and desirable through the decades.
Innovation and Technological Excellence: Rolex has a history of innovation, from creating the first waterproof wristwatch, the Oyster, to inventing the automatic movement with a Perpetual rotor.
Brand Prestige and Heritage: Owning a Rolex watch carries prestige and signals appreciation for craftsmanship, tradition, and excellence.
Top 3 Popular Models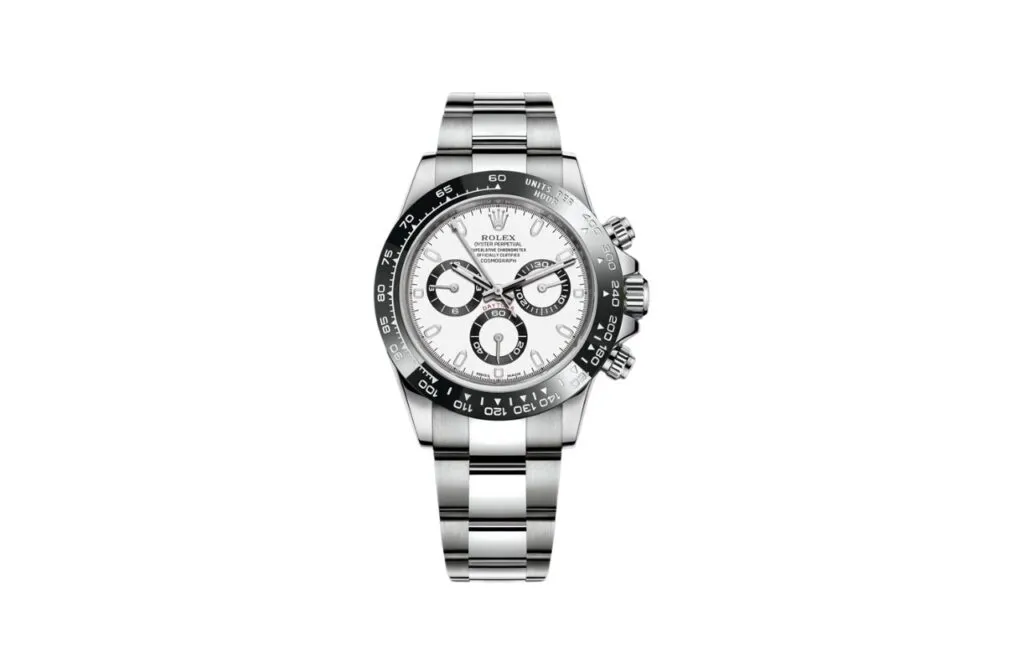 116500LN-0001: The Cosmograph Daytona in steel was introduced in 2016 at BaselWorld. It's characterized by its stainless steel case, ceramic bezel, and white dial with black accents. Its average price is around S$40,459 in the private sales market.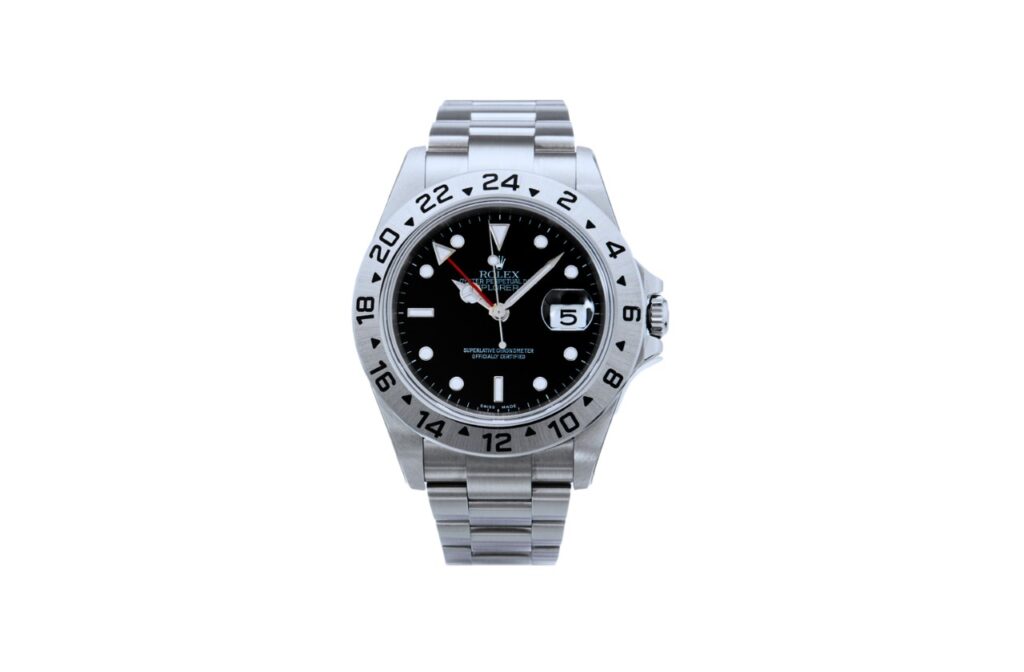 16570-0002: The Explorer II Black Tritium is another stunning timepiece from the Rolex Explorer collection. It has a stainless steel look, contrasted by a black dial and a fixed bezel, looking closely similar to the GMT Master II models. Expect to shell out S$11,450 for this luxury watch.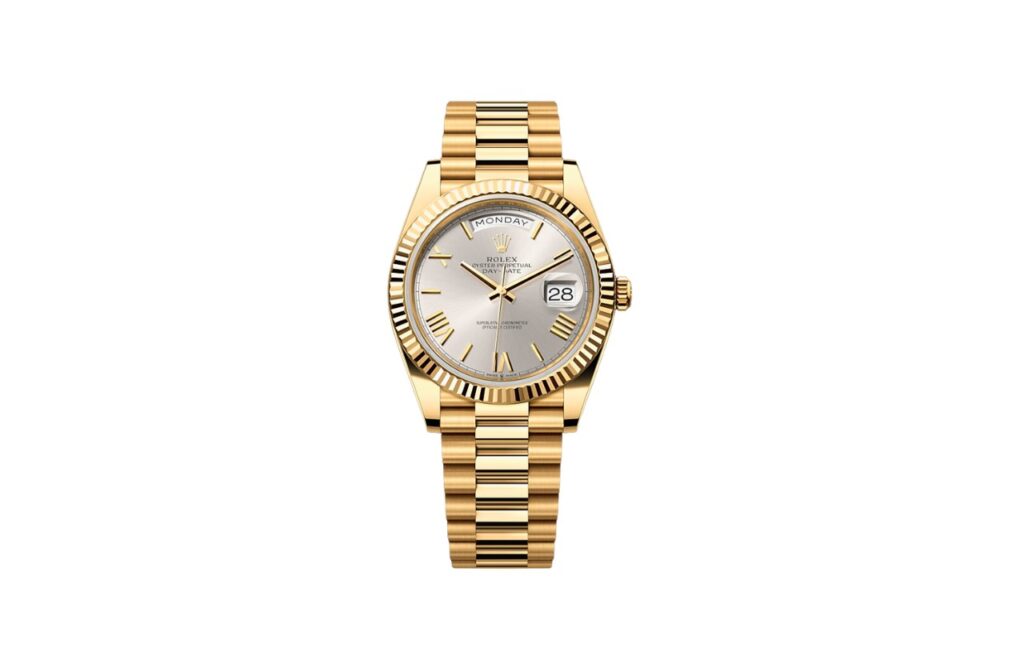 228238-0002: The Day-Date 40 Yellow Gold was a model introduced at BaselWorld in 2015. It features the innovative caliber 3255, a yellow gold case, and a three-piece link bracelet. Its secondary market price can go around S$57,916.
Popular People Who Wore Rolex
Rolex is another Swiss luxury watch manufacturer that has been a choice of many celebrities and influential individuals due to its reputation for quality, precision, and style. Here are some notable figures known for wearing Rolex watches:
1. Paul Newman: The actor and race car driver was known for his Rolex Daytona. This model has become known as the "Paul Newman" Daytona due to his association with it.
2. Steve McQueen: The iconic actor often wore a Rolex Submariner in his films.
3. John F. Kennedy: The U.S. president received a Rolex Day-Date as a gift from Marilyn Monroe. However, it is not known whether he ever wore it.
4. Martin Luther King Jr.: The famous civil rights leader wore a yellow gold Rolex Datejust.
5. Winston Churchill: The British Prime Minister was given a Rolex Datejust by the company in 1947.
FAQs
1. Is There a Watch Better than Rolex?
Patek Philippe is often viewed as more prestigious, and its mechanical or quartz watches typically have higher price points, catering to a more niche clientele. This other watch brand has built a flawless empire, some eminent figures have acknowledged and worn some of its masterpieces.
On the other hand, the Rolex brand is known for its robust, precise, and durable watches, with iconic models like the Rolex Submariner, Rolex Daytona, and Rolex Datejust. Despite being younger than Patek Philippe, Rolex managed to gain a huge following among watch collectors and enthusiasts.
2. What Are the Big 3 Watchmakers?
The Big 3 watchmakers, often called the Holy Trinity of watchmaking, consist of Audemars Piguet, Patek Philippe, and Vacheron Constantin. It's crucial to note that while Rolex is not considered one of the Big Three watchmakers, it is still the world's single most recognized luxury watch brand.
Rolex is known for its precise timekeeping, iconic watches and their designs, and prestigious reputation. Although Rolex may not be part of the Big Three, it has undoubtedly significantly impacted the world of luxury watches.
3. What Watch Is Better than Audemars Piguet?
The Audemars Piguet is fantastic in its own right. Still, if you're looking for a better alternative, Patek Philippe watches are ideal. This is due to the brand's history, use of premium materials, and complications, on top of their high price points when sold as pre-owned. Rolex is worth considering, too, since it places a strong emphasis on the accuracy and durability of its watches. Founded in 1905, Rolex has a history of breaking records and achieving numerous watchmaking "firsts," such as the invention of the Perpetual Rotor.
Final Word
Audemars Piguet and Rolex are two prestigious luxury watch brands with a long history of craftsmanship and excellence. Both have their unique strengths and appeal to different types of buyers. Ultimately, the decision between Audemars Piguet and Rolex comes down to personal preferences and priorities.
Key Takeaways
Audemars Piguet is notable for its artistic approach to watchmaking. On the other hand, Rolex prides itself on the accuracy and durability of its watches.
Rolex holds a slight edge regarding brand recognition due to its extensive marketing efforts, global presence, and high-profile events and sponsors.
While specific models can drastically affect the price of a watch, Audemars Piguet generally tends to be positioned as a slightly more expensive brand.
Looking to buy or sell your luxury watches? Watch Exchange is your one-stop destination for trading Rolex, Patek Philippe, Tissot, Sinn, Zenith, and other luxury timepieces. Find your next watch today or list your item for free!
---