Chronographs are famous for their big faces, incredible functionality, and high accuracy. They've been a big deal since their introduction over two centuries ago, presented as modest timepieces with a unique look.
They're not so modest today, as different watch brands have worked over the years to improve their appearance, design, and functions. A modern chronograph can serve over ten purposes today!
Let's back up a bit. Perhaps you're learning about a chronograph for the first time. Or you don't know much about it. Whichever the case, the chronograph watch review below will grow your understanding of it and help you learn why you NEED to own one this year.
What is a Chronograph Watch?
You've probably seen a timepiece with two buttons between the crown, a thick case, and registers and a 'red' second hand in the busy-looking dial before. If you have, then you've seen a chronograph timepiece. It's usually sport-themed and is designed to suit the purpose.
Modern chronographs are convenient horological instruments used to tell the time and record elapsed time between two events. Their main components are:
Dial – the dial shows the time and contains the stopwatch apparatus, i.e., subdials.
Subdials – there are three or more smaller dials in the main dial and are usually located in the 3,6 and 9 o'clock positions. Each sub dial makes reading elapsed time easier by breaking down hours, seconds, and minutes separately.
Crown – it's primarily useful for winding the watch and setting the date and time. It might have other purposes depending on the chronograph piece.
Pushers – they're buttons at 2 and 4 o'clock. The top button starts and stops the stopwatch function while the lower one resets it.
How a Chronograph Watch Works
A chronograph timepiece looks complicated at first glance. However, it's easy to use once you learn how to operate it. Here's a simple guide to how chronograph watches work.
You start by activating the stopwatch function by pressing the top pusher. Immediately, the red second hand will begin sweeping, and the subdials will come to life, each recording a specific time lapse. The one at three o'clock counts up to 24 hours, the one at 6 will measure seconds, and the one at 9 counts up to 60 minutes.
Press the same button to stop the function once the event is over. The stopwatch ceases and all the necessary details are displayed in the subdials. Please note that the time function proceeds as usual while all this occurs.
Press the lower pusher to reset the stopwatch- the red second hand will point to 0 (or 12 o'clock) and all the subdials will reset to 0 too. The chronograph is all set for step 1 once more. Pressing the reset button after every use is crucial to avoid continuous recording even when you're done and losing your initial readings.
Note: You'll have to manually reset your watch's chronograph hand to 12 using the crown if it isn't a flyback chronograph (has 2 pushers rather than 1).
A chronograph timepiece has countless functions. Some of the main ones are you can use it to:
Measure a car's speed (if it has a tachymeter scale)- the scale, combined with the stopwatch function, enables you to change elapsed time (in seconds per unit) to speed (in units per hour).
Measure your heart rate- to do this, take your pulse with one hand and start the stopwatch with the other as you count 30 beats. Stop the watch after 30 beats and it'll display your rate.
Measure cooking time- a chronograph watch takes away the hassle of counting minutes as your food cooks. It offers precise timing to ensure your food doesn't undercook or overcook.
Keep track of your exercise time- the watch can help you work out for the stipulated time, so you get enough exercise depending on your exercise routines.
Keep track of parking time to avoid a fine- start the watch once you put money into the parking meter before you park your car and stop it once the time is up and you'll avoid a fine.
5 Reasons to Choose a Chronograph Watch
There are many good reasons you should consider choosing a chronograph timepiece, but we'll focus on the primary ones:
1. Versatility
A chronograph watch, especially one with an all-metal design- has a luxurious and sporty feel that allows it to thrive in any setup. What's more, its well-illuminated, legible dial ensures you're always in control, even in the dark.
2. Functionality
Recording elapsed time, measuring heart rate, measuring speed, telling accurate time…a chronograph watch offers just about everything with great ease. The best part is it's well-designed for the jobs and can go on a high-precision streak for years if serviced regularly.
3. Style
Chronograph watches are super stylish. They come in different colors and designs to suit every occasion. Moreover, their elegant and timeless dress watch look ensures they keep you (and themselves) the center of attention for many years ahead.
4. Prestige
They're revered and highly coveted for their achievements over the years. For example, famed deep-sea diver Jacques Cousteau has worn the Omega Seamaster Diver 300m in many victorious diving adventures. Plus, most chronograph watches are made by famous Swiss watch luxury brands, which increases their prestige even more.
5. Investment
Chronograph watches are faring well on the financial front- especially on the pre-owned market. They also cost more than most regular watches due to their additional impressive complications. They retain their value well over time and have the potential of appreciating in worth with time, depending on their brand and condition.
5 Best Popular Chronograph Watches to Invest In
Granted, all chronograph pieces are valuable. However, some reap more rewards than others. The following are some of the best chronographs that are worth your investment efforts:
1. Omega Speedmaster Professional Moonwatch ref. 310.30.42.50.01.002
Astronauts wore it during the first moon landing.
Available in either a hesalite glass and embossed seahorse caseback or sapphire crystal on both sides.
Features a step dial with domed minutes and seconds chronograph hands.
2. Rolex Daytona ref. 116500
Racing watch with a 904L Oystersteel case that offers a sexy finish and unmatched resistance.
Black ceramic Cerachrom bezel with a tachymeter scale.
Sleek design and super accurate.
3. TAG Heuer Carrera Chronograph ref. CV2A10
Day of the week and date window at 3 o'clock.
Polished, Rhodium-plated Arabic numeral hour markers.
Simple design with a highly-legible dial.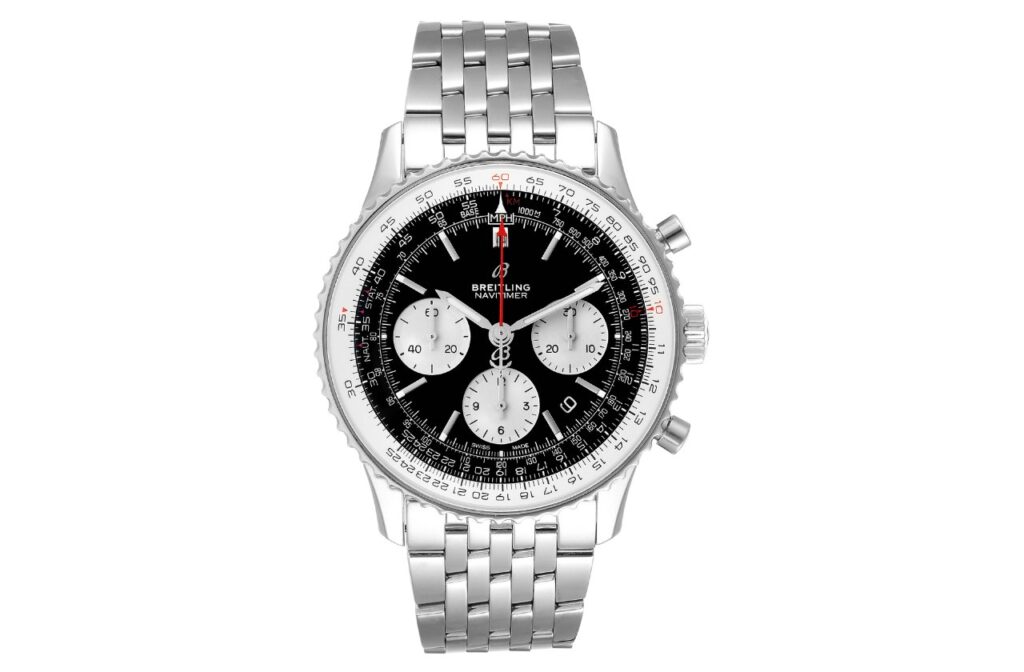 4. Breitling Navitimer 01 Chronograph ref. AB0121
Bi-directional rotatable bezel with a slide rule for helping pilots perform calculations.
Date window between 4 and 5 o'clock for a balanced, neat-looking dial.
Well-polished steel case with a smooth finish that adds to its luxurious look.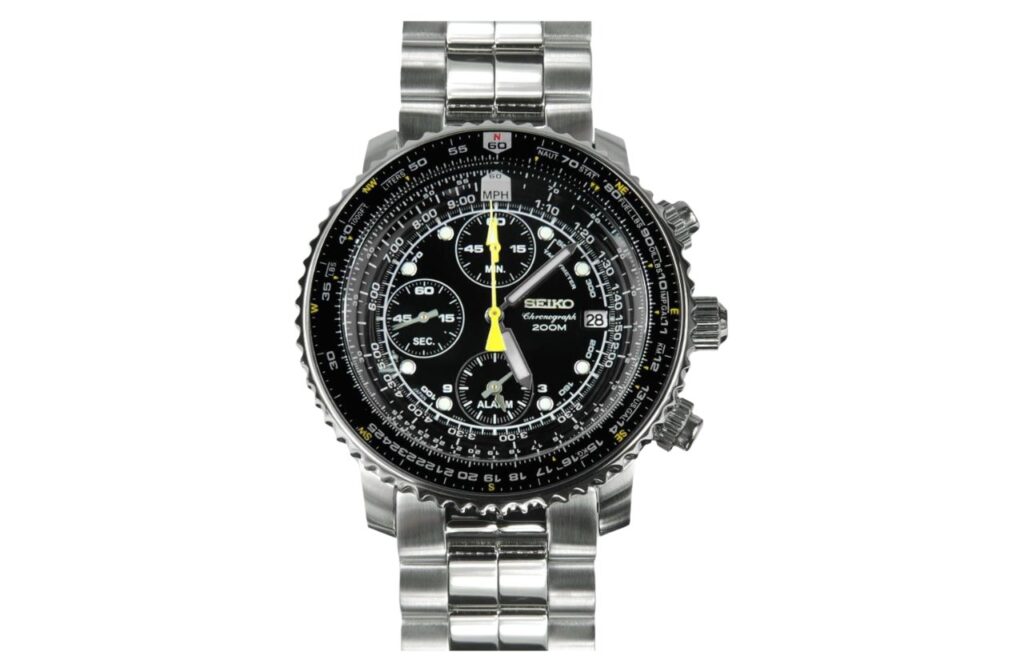 5. Seiko Flight Alarm Chronograph ref. SNA411
Chronograph and fly-back features for easy time tracking.
46mm diameter case, black dial plus a yellow second hand for a stylish piece.
Japanese quartz movement that guarantees accurate timekeeping and an affordable price tag.
Different Types of Chronograph Watches
There are four kinds of chronograph watches:
Manual vs Automatic Chronograph Watches
The major difference between them is the energy source for the mainspring. Manual chronograph watches are wound by rotating the crown alone. Meanwhile, automatic chronographs are wound by the wrist's movement.
Quartz vs Mechanical Chronograph Watches
Quartz-powered watches obtain their energy from batteries. They're low maintenance and have fewer parts. On the other hand, mechanical timepieces don't need an electric power source. They use power from a wound spring. Mechanical movements comprise tiny pieces that collaborate to power the watch. Hence, they're a common choice for luxury watches.
FAQs
1. What is the difference between chronograph watches and normal watches?
A chronograph watch is used for time-telling and measuring time through its stopwatch function. Meanwhile, a normal watch tells the time in an ordinary way. Also, chronograph pieces have more complications and functions and tend to be larger than normal ones.
2. What are the 3 dials on a chronograph watch?
They're referred to as subdials or registers. They measure elapsed time in hours, minutes, and seconds and are located in 3,6, and 9 o'clock positions in most chronograph timepieces.
3. Why do people wear chronograph watches?
Different people wear them for various reasons: Some because they're stylish, others because they're aesthetically pleasing, and others look to benefit from their chronograph function.
4. Which is better chronograph or quartz?
It depends on the wearer. Some prefer mechanical chronographs since they're less noisy, their movements are more complex, and their movements don't rely on electric power sources.
Others opt for quartz watches since they're more accurate and require little maintenance. Whatever your choice, both are equally beneficial and boast helpful and unique features.
Final Word
Chronograph watches are a valuable addition to any watch enthusiast's collection. They're a brilliant combination of creativity and functionality. They've proven reliable over the years and are still making a noticeable impact in the watch world.
Key Takeaways
A chronograph watch's most noticeable components are its subdials and pushers.
A chronograph watch is an everyday watch that indicates the time and has a stopwatch function.
Most chronographs are worthy investments since they have a higher price tag than regular watches and retain their value nicely over time. They can also appreciate in worth with time.
Manual chronograph watches are wound using a crown only, while the wrist's movement winds automatic watches.
Quartz chronograph pieces use batteries, have quartz movements with fewer parts, and are low maintenance. On the other hand, mechanical watches have more complex parts, use power from a wound spring, and are primarily used in luxury timepieces.
Looking to buy or sell your luxury watches? Watch Exchange is your one-stop destination for trading Rolex, Patek Philippe, Tissot, Sinn, Zenith, and other luxury timepieces. Find your next watch today or list your item for free!
---