You've come across those words before. Either during a watch discussion or when shopping for a timepiece. You know, 'chronometer' and 'chronograph.' And, chances are you don't know what they mean. Don't fret. You're not alone. The two terms are often confused. So what's the difference between a chronometer and a chronograph?
A chronograph is a timepiece that comes with a built-in stopwatch function, allowing the wearer to measure elapsed time. This can be an invaluable tool in sports, aviation, and other activities where timing is crucial. Chronographs typically feature additional subdials and pushers on the watch case to facilitate the stopwatch function.
Meanwhile, a chronometer watch dwells more on precision. It's an accurate timekeeping tool that's subjected to strict testing for dependability. Watches with the word 'chronometer' have beaten specific standards set by organizations, like the Swiss Official Chronometer Testing Institute (COSC), to ensure they're reliable and precise despite the condition and attain a chronometer certification.
Curious? Keep reading the chronometer vs chronograph watch review below to learn more about them.
What is a Chronograph?
A chronograph is a (primarily sports) timepiece that includes a stopwatch feature in addition to its regular timekeeping features. They're often used in various fields, including sports, aviation, and scientific measurements, where accurate timing of short-duration events is necessary. Here are some of its key features and aspects:
Unique Bezels: Chronograph watches can have rotatable or fixed bezels, depending on the model and functionality. For example, an aviation-themed chrono can feature a rotatable bezel to cater to its dual-time feature. Other chronographs have pulsometer bezels for convenient heart rate measuring!
Stopwatch Functionality: The defining feature of a chronograph is its stopwatch function. It has one or more additional sub-dials (smaller dials) on the watch face that track elapsed time in seconds, minutes, and sometimes hours. These sub-dials are controlled by push buttons on the side of the watch.
Push-Buttons: Chronograph watches have one or more push-buttons usually located on the side of the watch case. These buttons are useful for start, stop, and reset the stopwatch function. Pressing the start button initiates the timing, the stop button halts it, and the reset button resets the sub-dials to zero.
Tachymeter and Telemeter Scales: Some chronograph watches include additional scales on the watch face. A tachymeter scale is used to measure speed over a known distance, while a telemeter scale can be used to measure the distance to a remote event based on the time it takes for sound to travel.
Easy to Read Dials: Most chronographs have big faces with well-lit (and contrasting) details for quicker and easier time viewing. Some dials are cluttered while others are simplified, but they achieve the same goal effectively.
Movement Types: Chronographs can utilize different various movements, including quartz (battery-powered) and mechanical (automatic or hand-wound). Mechanical watches fetch a higher profit for their unmatched craftsmanship and precision.
How a Split-Second Chronograph Works
A split-second chronograph, also known as a "rattrapante," is a more advanced version of a standard chronograph. It has two separate second hands that can run together or independently.
This enables the user to record multiple time intervals simultaneously. When the chronograph is started, both second hands start running together. By pressing a specific button, one hand stops while the other continues to run, effectively "splitting" the time.
Pressing the button again causes the stopped hand to instantly catch up to the running one, allowing for the recording of another time interval.
Popular Chronograph Watches
Here are some of the most popular chronograph timepieces in the market today:
1. Omega Speedmaster Moonwatch Professional Chronograph ref. 310.30.42.50.01.002
The Omega Speedmaster ref. 310.30.42.50.01.002 is a luxury men's sports watch. Some of its main features are a 42mm stainless steel case and matching bracelet, an exhibition sapphire caseback, and a tachymeter scale on its bezel, allowing users to measure speed and distance. As per WatchCharts, it has a retail price of S$10,919.
2. TAG Heuer Carrera Automatic Chronograph ref. CBN201C.FC6542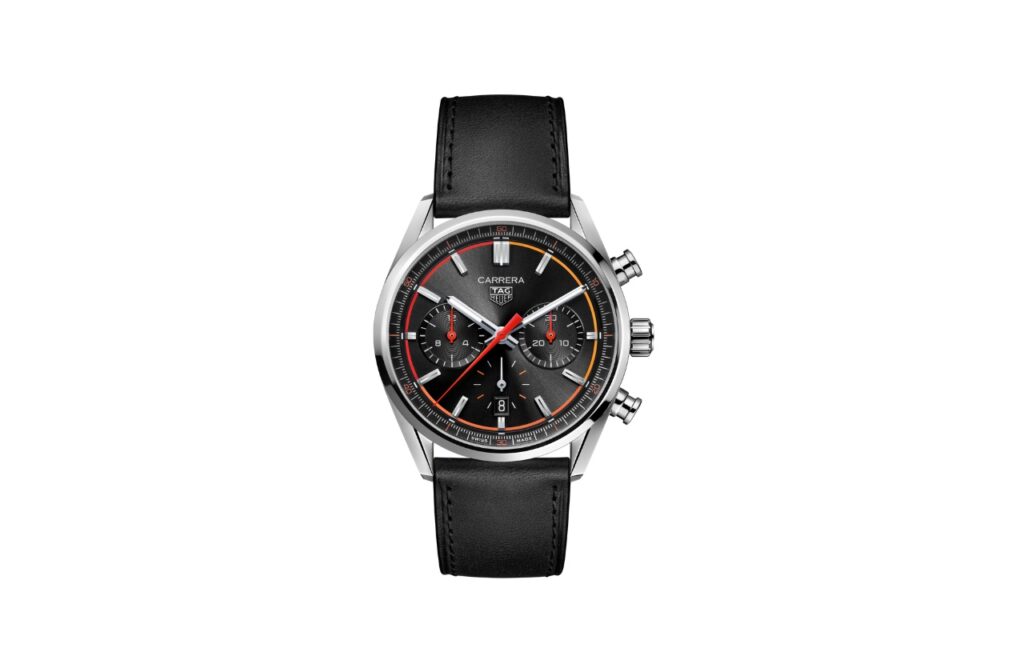 The TAG Heuer Carrera ref. CBN201C.FC6542 is a car racing-inspired, luxury men's sports piece. Its most exciting features include a 42mm stainless steel case, a calfskin leather strap, a dramatic black dial with an orange central hand, and a tachymeter bezel and sub-dials that display elapsed minutes and hours. It retails for S$7,223.
3. Rolex Cosmograph Daytona ref. m126500LN-0001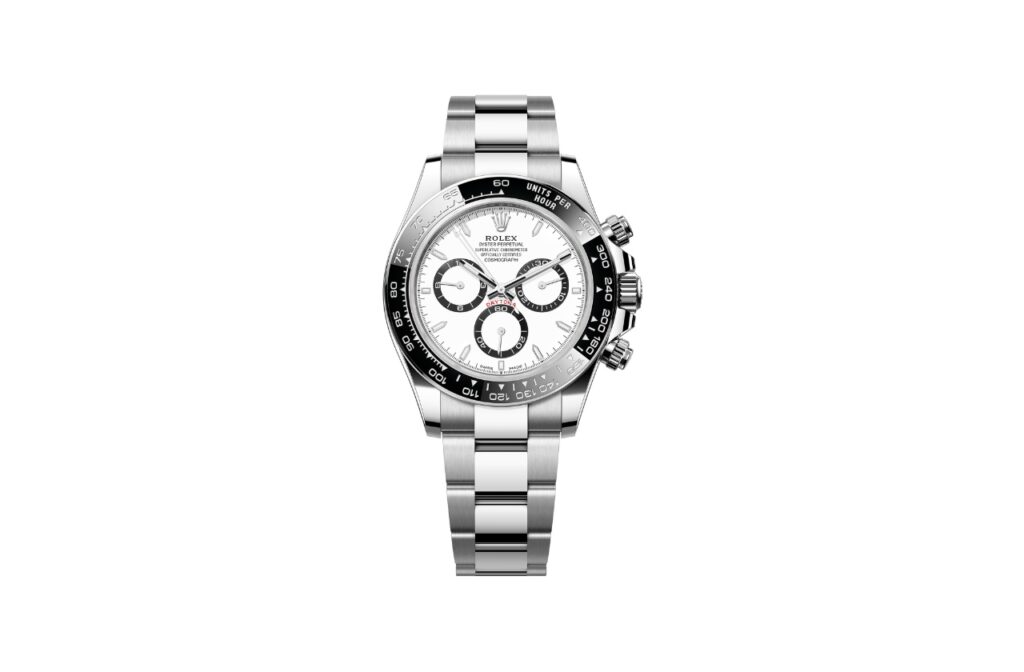 The Rolex Daytona ref. m126500LN-0001 is a prestigious motorsports-themed luxury men's watch. It features a 40mm Oystersteel case and matching Oyster bracelet, a black Cerachrom bezel with a tachymeter bezel, a white dial with luminescent hour markers, and a powerful self-winding Caliber 4131 movement. This Rolex Daytona is also chronometer certified and currently retails for S$20,551.
What is a Chronometer?
Chronometer refers to a high-precision watch with a running seconds display. Its movement accuracy has been controlled for several days in various positions and at different temperatures by an official neutral body. Chronometers are specifically designed for exceptional timekeeping precision, reliability, and performance. Please note they can also have a chronograph function.
COSC Certification: Official Swiss Testing Agency
The term "chronometer" is often associated with the COSC certification (Contrôle Officiel Suisse des Chronomètres), which is an official Swiss testing agency that certifies the accuracy and precision of a watch movement.
To be labeled as a "chronometer," a watch should meet strict standards and pass rigorous tests conducted by the COSC. This process ensures that the watch consistently maintains timekeeping accuracy within a specified range.
Popular Chronometer Watches
Some of the best chronometer timepieces include:
1. Omega Seamaster Diver 300M Master Chronometer ref. 210.30.42.20.03.001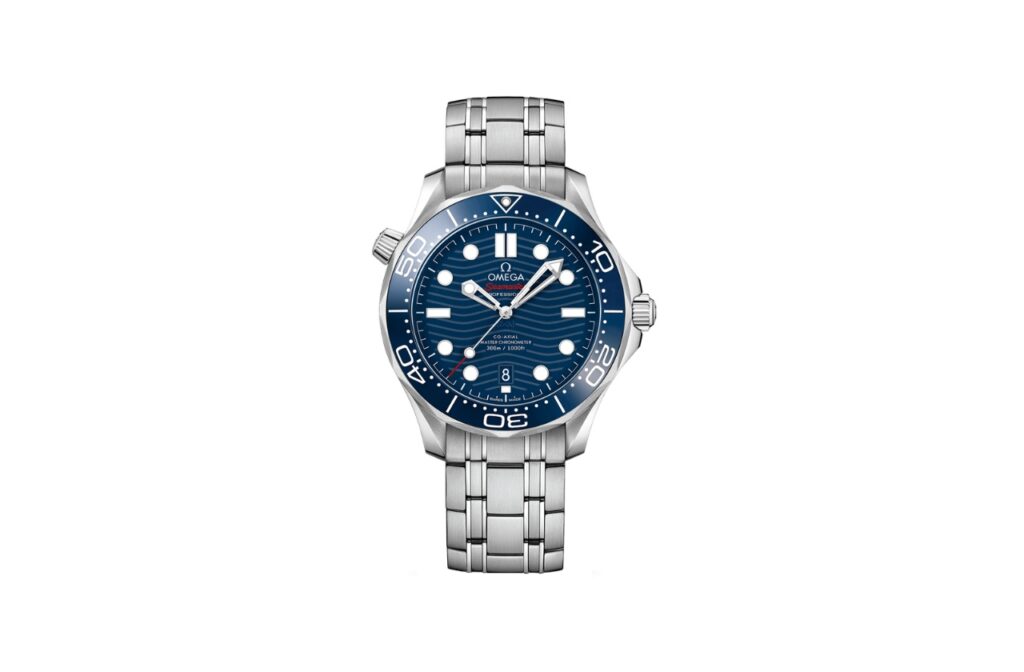 The Omega Seamaster 300M ref. 210.30.42.20.03.001 is a popular luxury men's diving watch known for its robust design and exceptional precision. As a COSC-certified chronometer, it guarantees reliability and accuracy even under demanding conditions. It has a retail price of S$8,053, according to WatchCharts.
2. Rolex Oyster Perpetual Submariner ref. m124060-0001
The Rolex Oyster Perpetual Submariner ref. m124060-0001 is another iconic luxury men's diving watch that's COSC-certified, ensuring its performance and reliable timekeeping. Its precision, durability, and functionality make it a popular choice among most professionals and watch enthusiasts and earn it a S$12,420 price tag.
3. Breitling Navitimer Automatic 41 ref. A17326241B1P1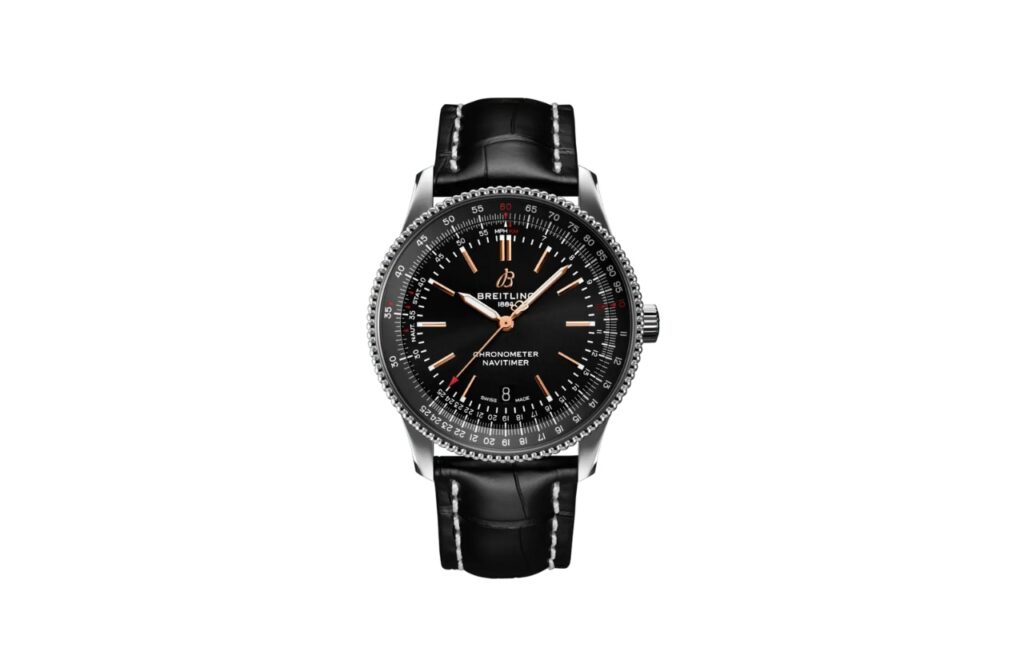 The Breitling Navitimer Automatic 41 ref. A17326241B1P1 is a classic luxury men's pilot's watch that combines style, functionality, and reliability. As a chronometer, it offers precision timekeeping suitable for the demands of aviation professionals and enthusiasts. It has a retail price of S$6,115.
Final Word
Chronometers and chronographs play an essential part in accurate timekeeping. The main difference between them lies in their functionality and accuracy. You now know the difference between them, so you're all set to shop like a pro. All the best.
Key Takeaways
A chronometer focuses on accuracy and precision in timekeeping. It's a high-precision device that undergoes stringent precision tests to ensure it maintains consistent performance under various conditions.
A chronograph refers to a watch designed for timing and measurement purposes. It's equipped with a stopwatch function, allowing for the tracking and indication of elapsed time in addition to the typical hours, minutes, and seconds display.
A split-second chronograph ('rattrapante') is more advanced than a standard chronograph. It has two separate seconds hands that can run together or independently.
Looking to buy or sell your luxury watches? Watch Exchange is your one-stop destination for trading Rolex, Patek Philippe, Tissot, Sinn, Zenith, and other luxury timepieces. Find your next watch today or list your item for free!
---