Unsure which side to take on in the Rolex Daytona vs. Submariner debate? Both iconic lines of watches are popular and timeless in their elegance. However, their main difference lies not only in their function but also in their prices. 
With these in mind, you must pit these factors, along with many others, against your style, preferences, budget, and goal. Only then would you be able to determine which of the two is the perfect watch for you.
Don't know where to start? This article will provide a side-by-side comparison that highlights each watch's key strengths, functionality, and aesthetic appeal, allowing you to make the best choice for your wrist.
Daytona vs. Submariner: At a Glance
Understanding the key differences between the Rolex Cosmograph Daytona and the Submariner is vital for decision-making, especially if you're torn between the two.
Yet, since so many watch models come from the Daytona and Submariner collections, we have picked the most talked about references that best represent each Rolex line: the Daytona 116500LN and the Submariner 124060.
Let's take a look at their highlighted features in the table below:
| | | |
| --- | --- | --- |
| Features | Rolex Daytona 116500LN | Rolex Submariner 124060 |
| Heritage and Brand | Introduced in 1963, the Rolex Daytona was specifically designed to meet particularly the demands of professional racing drivers. | The Submariner was introduced in 1953 and is Rolex's pioneering dive watch. |
| Design and Aesthetics | features a tachymetric scale on its ceramic bezel. | Known for its unidirectional rotatable bezel and a highly legible black dial without a date function. |
| Movement and Precision | Powered by Rolex's Caliber 4130, a precise self-winding mechanical chronograph movement. | Uses the Rolex Caliber 3230, an accurate self-winding mechanical movement. |
| Materials | Oystersteel for the case and a Cerachrom ceramic bezel insert. | Made from Oystersteel, which is especially resistant to corrosion. |
| Price Range | S$20,138 – S$20,650 | S$12,178 – S$12,700 |
Daytona vs. Submariner: A Side-by-Side Comparison
Heritage and Brand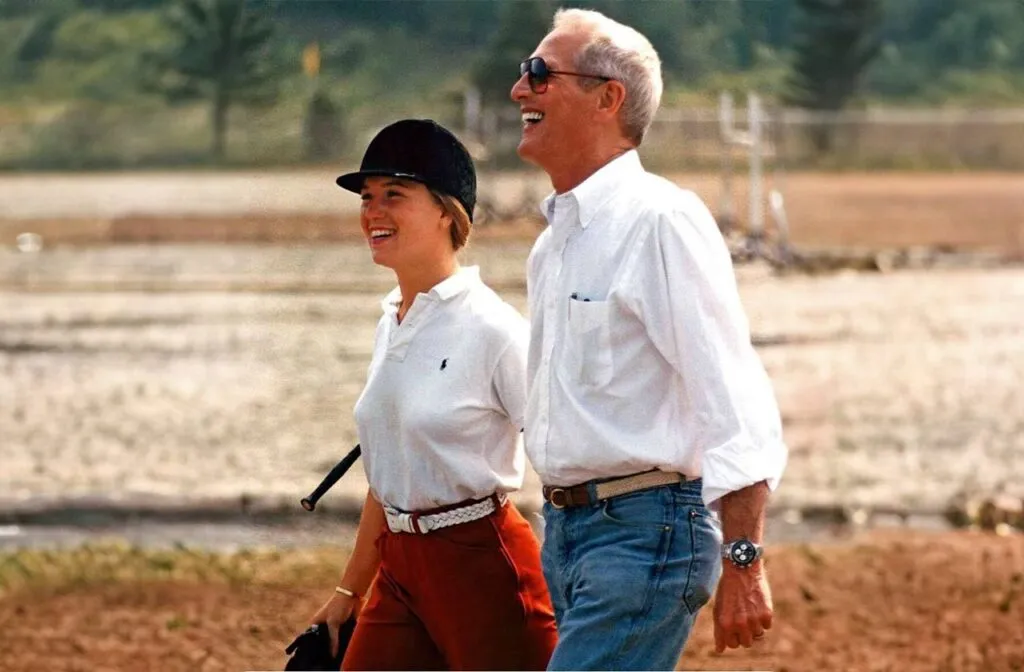 The Daytona is a collection introduced in 1963. It was particularly designed for motorsport racers. Truly enough, this watch is derived from Daytona, Florida, the mecca of motor racing. The watch was further popularized by the American actor and race car driver Paul Newman.
Meanwhile, the Submariner collection was released much earlier than the Daytona, around 1953 according to the Rolex Newsroom. It primarily functions as a watch that can withstand the pressure of the deep waters, and it's the only watch among other Rolex watches with a water-resistant feature during its early time. 
Over the years, it has been worn by adventurers, naval personnel, and even James Bond, earning an iconic status in the diving world.
Design and Aesthetics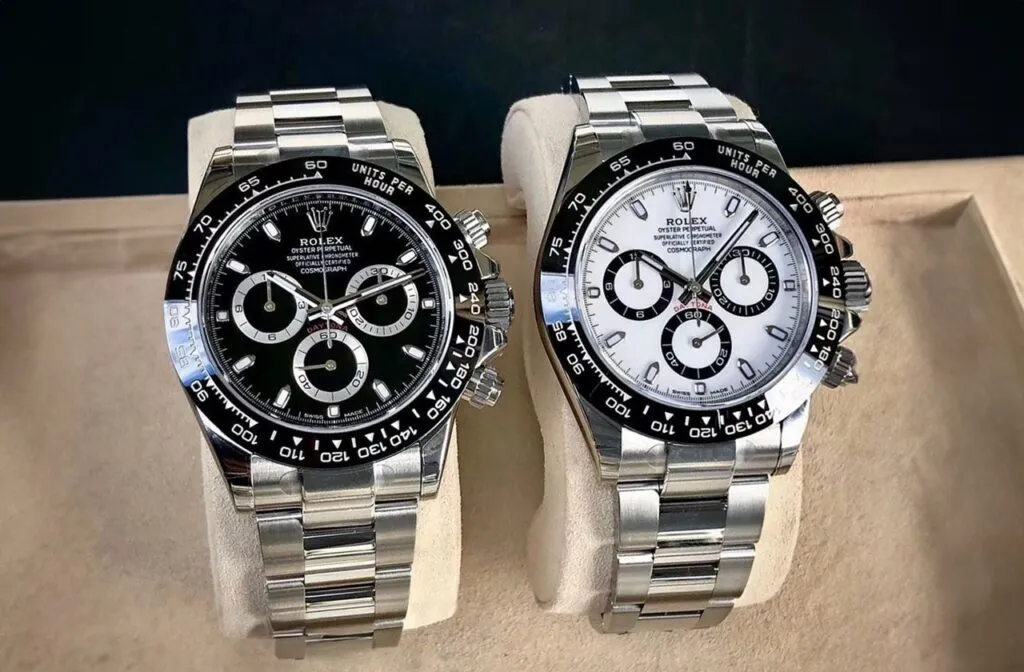 In terms of design, the more formal-looking Daytona is a sporty dress watch featuring a tachymeter bezel and chronograph subdials, which may also come in an Oyster model.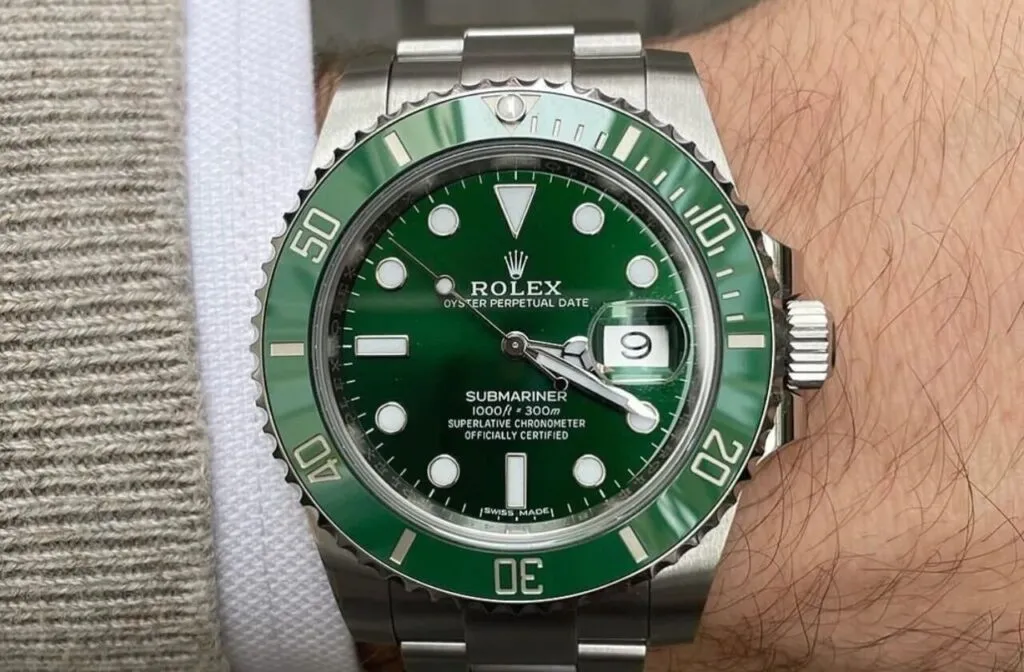 On the other hand, the casual-looking Submariner is a sporty-dive watch with a unidirectional rotating bezel for tracking diving times and a date window with a Cyclops magnifying lens. 
| | | |
| --- | --- | --- |
| | Daytona | Submariner |
| Bezel | Tachymeter | Unidirectional |
| Sub-dials | Chronograph | None |
| Date | None | With or without Cyclops lens (varies from one model to another) |
When comparing the Rolex Daytona and Submariner, it's vital to consider the specific purpose, design, and aesthetics of the watches.
The Daytona is a sporty dress watch with a chronograph function, making it suitable for those who need a stopwatch feature. At the same time, the Submariner is a dive watch designed for water resistance and durability.
Regarding size, the Rolex Daytona and Submariner watches are quite similar. The Submariner has a case size of 40mm, while the Daytona measures 40mm as well. The thickness of the watches may differ slightly, with some Daytona models being under 12mm and the Submariner being over 12mm.
Movement and Precision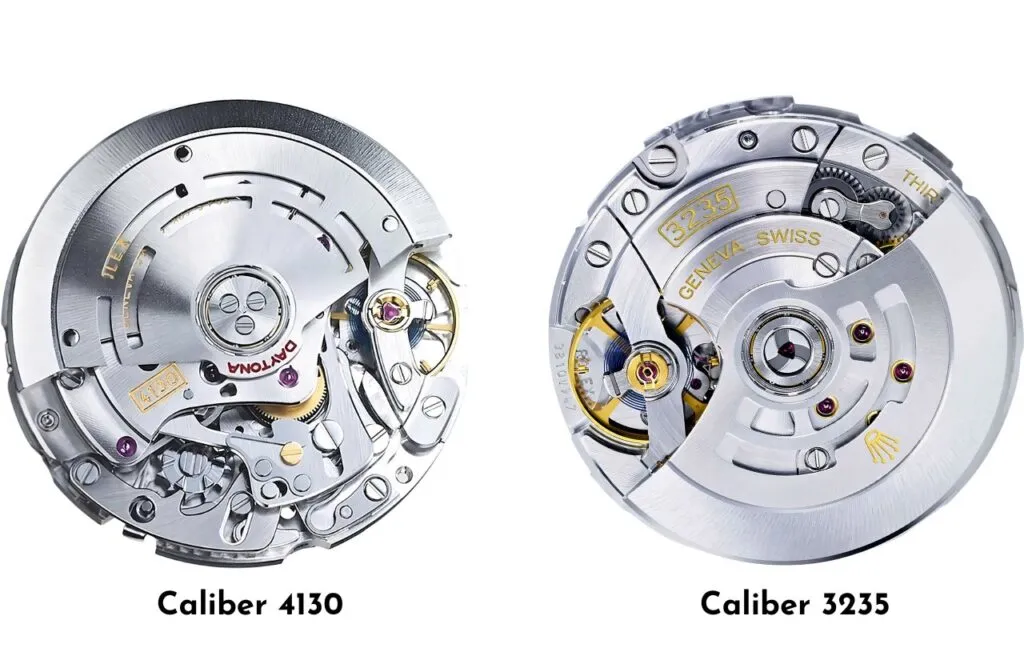 Both the Daytona and Submariner are powered by Rolex's in-house automatic movements. The Daytona is driven by the Caliber 4130, known for its reliability and precision. Conversely, the Submariner features the Caliber 3235, providing a similar degree of precision and reliability, with added benefits like a longer power reserve.
Materials
Rolex is renowned for using top-quality materials in the production of its watches. The Daytona and Submariner are available in various precious metals, including 904L Oystersteel, 18ct gold, yellow gold, white gold, and Rolex's proprietary Everose gold. 
Additionally, both models can be found with Rolesor, a unique combination of 904L steel and gold used exclusively by Rolex.
For their specifics, here's a table showing each watch collection's materials:
| | |
| --- | --- |
| Rolex Daytona | Rolex Submariner |
| 904L Stainless Steel | 904L Stainless Steel |
| 18k Gold | 18k Gold |
| Rolesor | Rolesor |
| Platinum | Cerachrom Bezel |
| Cerachrom Bezel | Sapphire Crystal |
| Sapphire Crystal | Green dial and elements (for Submariner Kermit and Hulk) |
| Diamonds and Precious Gems | Triplock Crown Seal |
| Leather Straps | Luminous Materials |
| Oysterflex Bracelet | |
Price Range
Regarding price range, the Daytona is generally slightly more expensive than the Submariner, according to Watch Charts. Depending on the materials and model, Daytona's retail price starts at around S$20,650. It extends beyond S$41,318 in a private sales market. 
Meanwhile, the Submariner's price is more accessible, starting at around S$12,700 and reaching upwards of S$15,829 for some variations.
All that being said, Daytona models tend to be generally more expensive than Submariners. However, it's essential to research the specific model you're interested in, as there can be exceptions. Pre-owned watches may also have different price points based on age and condition.
Availability
The availability of Rolex Daytona and Submariner models can vary depending on demand and production constraints. The Daytona, one of the hottest watches in the market as acclaimed by The New York Times, has historically been more challenging to acquire due to its high demand, limited production, and popularity among collectors. 
On the flip side, while still sought after, the Submariner is typically easier to find in retail stores. It's essential to be prepared for potential waitlists or price premiums when purchasing either model, especially for the more sought-after editions.
Since Rolex watches are hard to come by, you may want to skip the waitlist — the grey market would be a suitable alternative. It offers vintage, pre-owned, and new watches with their own warranty instead of the manufacturer's. 
Daytona vs. Submariner: Which Watch Should You Choose?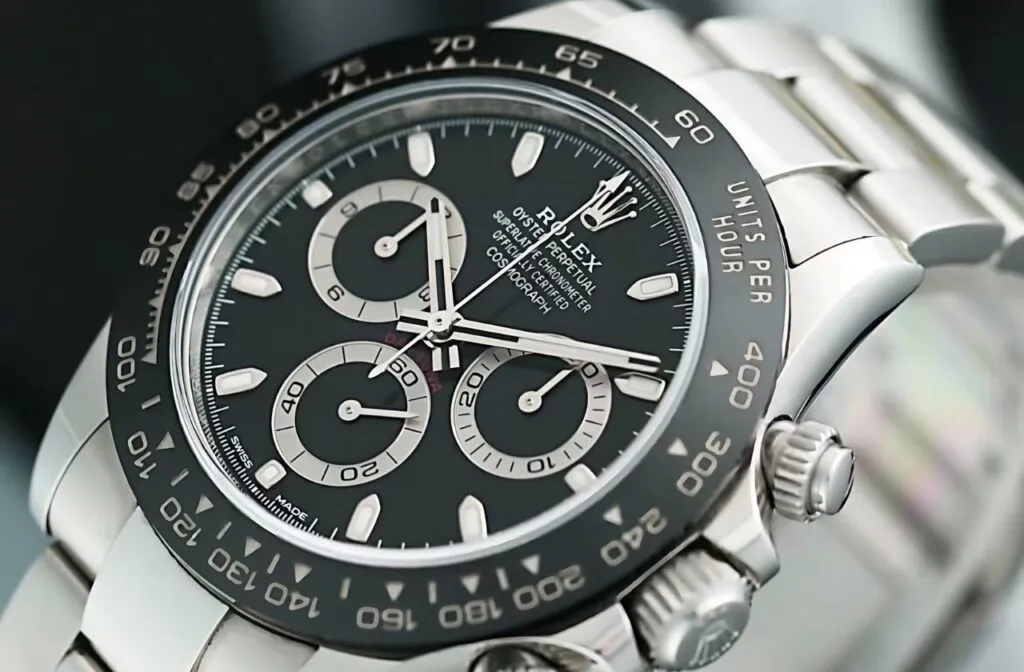 The Rolex Daytona is a sports watch focusing on elegance and sophistication. It features a tachymeter bezel and chronograph complication, which make it perfect for racing enthusiasts and those who appreciate precise timekeeping. This model also offers a polished look that complements various dress codes and social settings. 
Some key characteristics of the Daytona include:
Tachymeter bezel
Chronograph functions
Sporty and elegant design
Suitable for various dress codes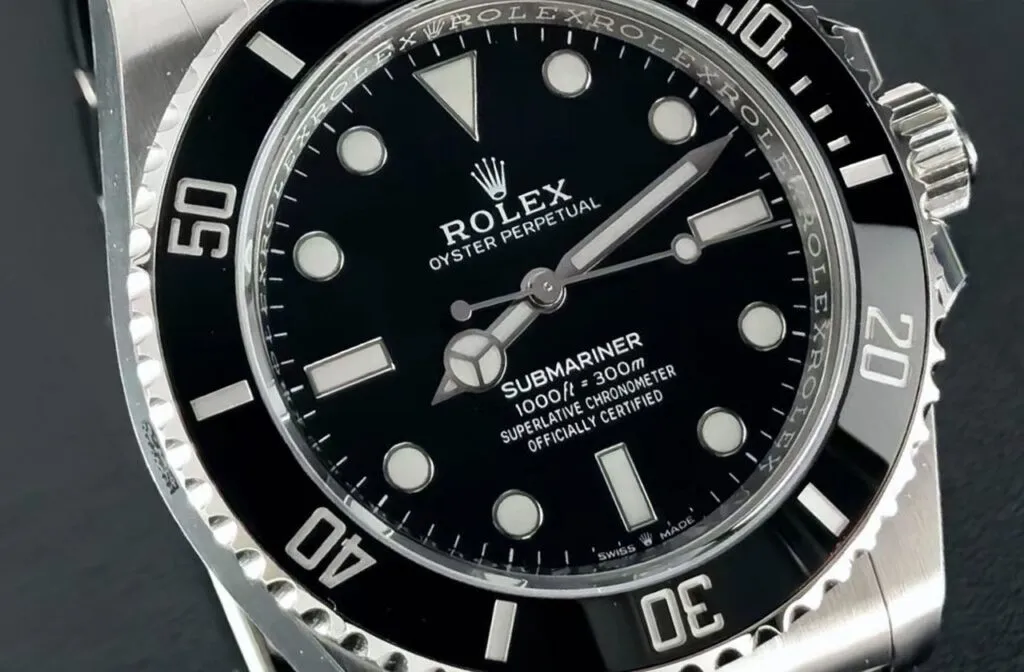 In contrast, the Rolex Submariner is a diving watch designed for underwater adventures and durability. The Insider reports it's one of the ultimate luxury sports watches, thanks to its unidirectional rotating bezel and impressive water resistance that goes around 300 meters (1,000 feet); the Submariner is the ideal companion for divers and water sports enthusiasts. 
This watch also pairs well with casual and formal attire, thanks to its versatile design.
The notable features of the Submariner are:
Durable and versatile design
Unidirectional rotating bezel
Water-resistant up to 300 meters
Ideal for water sports and diving
When choosing between these two Rolex models, consider your lifestyle. The Daytona is the better choice if you prefer functionality on land and enjoy a refined style. On the other hand, if you're an avid diver or enjoy water activities, the Submariner would be more suitable.
Meanwhile, in terms of investments, the Daytona is particularly more popular among collectors, which can contribute to its value appreciation over time. According to Chrono24, this collection is valued from S$32,488 to a staggering S$189,907, especially if it's a platinum Daytona. 
However, it's essential to understand that investing in watches can be risky, and the market can be unpredictable.
Final Word
When choosing between the Daytona and the Submariner, one must consider their personal style and lifestyle preferences. While both watches can be versatile and easily blend with various dress styles, the Daytona tends to be slightly dressier. In contrast, the Submariner leans more towards casual attire.
All that being said, feel free to use this Daytona vs. Submariner guide whenever you need it.
Key Takeaways
Functionality: Daytona is a luxury chronograph designed for motorsports timing, while the Submariner is a dive watch with water resistance reaching 300 meters.
Bezel Design: Daytona features a tachymetric scale for measuring speed, whereas the Submariner has a rotatable bezel for tracking elapsed dive time.
Date Feature: Some Daytona models lack a date function, while most Submariner models have a date window (with a few "No Date" exceptions).
Market Availability: Daytona is generally pricier and harder to find due to high demand, while the Submariner, though also in high demand, might be more accessible but still has waitlists for specific models.
Looking to buy or sell your luxury watches? Watch Exchange is your one-stop destination for trading Rolex, Patek Philippe, Tissot, Sinn, Zenith, and other luxury timepieces. Find your next watch today or list your item for free!
---