There's a seemingly endless GMT vs. Submariner debate among watch enthusiasts. It's no surprise since these high-quality tool watches are two of Rolex's standout models. Both have impressive features; the Submariner is primarily for professional drivers, while the GMT Master II is best suited for travelers.
Considering both these prestigious Rolex models have impressive offerings, choosing between the two can be overwhelming. They have outstanding features, great investment returns, and classic aesthetics.
But what makes them far too different from each other? Which of them should you buy? Pitting the Rolex Submariner against the Rolex GMT-Master II would be the best way to find out. Learn which Rolex watch suits you through this detailed comparative review. 
Comparison Table: 116610 Sub Date vs. 126710 GMT
The Rolex Submariner and GMT-Master II collections have various models for luxury watch buyers. Among all the models, two watches that are popularly talked about are the Rolex 116610LV Submariner Date and the Rolex GMT-Master II 126710BLNR.
These particular models are noted for their stunning appearance, and for most, they look similar in their features. Of course, the truth is that they come from different Rolex lines.
The table below will highlight their unique features for you:
| | | |
| --- | --- | --- |
| Feature | Rolex Submariner Date 116610LV | Rolex GMT Master II 126710BLNR |
| Introduced | 2010 | 2018 |
| Function | Diving watch | Dual time zone |
| Case Diameter | 40mm | 40mm |
| Material | Oystersteel | Oystersteel |
| Bezel | Unidirectional, Ceramic | Bidirectional, Ceramic |
| Bezel Color | Green | Blue and black |
| Movement | Rolex caliber 3135 | Rolex caliber 3285 |
| Power Reserve | Approximately 48 hours | Approximately 70 hours |
| Date Function | Yes, with Cyclops | Yes, with Cyclops |
| Bracelet | Oyster | Jubilee |
| GMT Function | No | Yes |
| Water Resistance | 300 meters (1,000 feet) | 100 meters (330 feet) |
Several differences and similarities emerge when comparing the two popular Rolex models.
First and foremost, both watches are strikingly similar, with their cases measuring 40mm in diameter. However, their functionalities differ, as the Submariner is specifically designed for scuba divers. At the same time, GMT-Master II caters to world travelers.
The Submariner 116610LV features a unidirectional rotating bezel, essential for tracking dive times. In contrast, the GMT-Master II 126710BLNR sports a bi directional bezel, allowing users to track two time zones concurrently.
Regarding water resistance, the relatively large sports watch, which is the Submariner, has a 300m depth rating instead of the GMT-Master II's 100m rating, making the former better suited for professional divers.
Rolex GMT-Master II
The Rolex GMT-Master II is best known for its bi-colored bezel. However, there's more to it than its widely recognized aesthetics.
Learn more about why many people are invested in this pure tool watch collection:
Brief History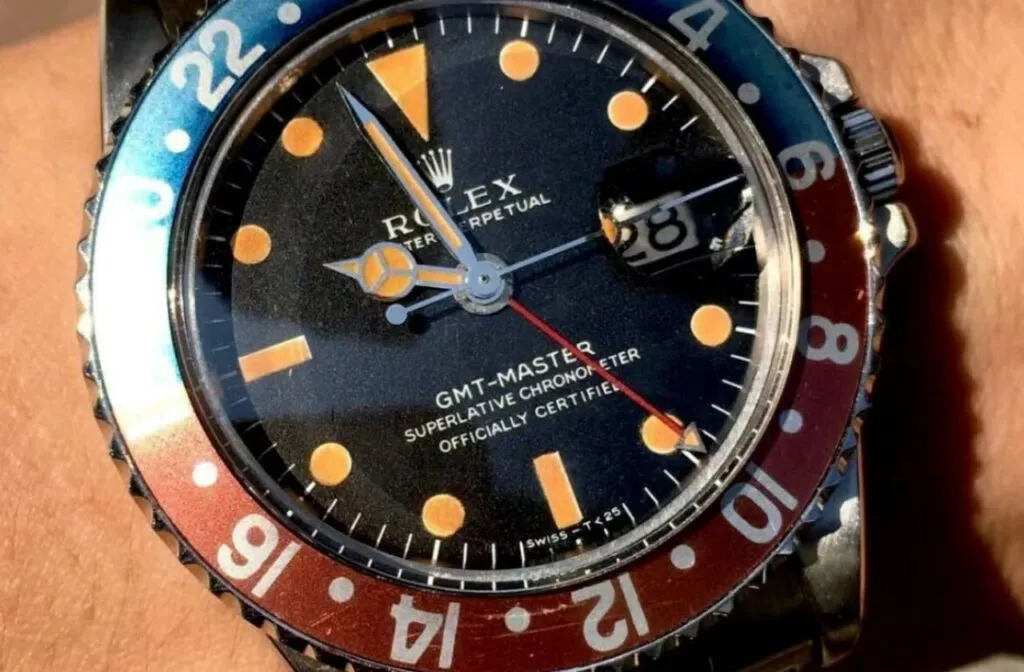 1954: Introduction of the Rolex GMT-Master (Reference 6542). It was created in collaboration with Pan American Airways to aid pilots in tracking two time zones. It also featured a Bakelite bezel.
1959: The GMT-Master 1675 is introduced, replacing the 6542. This model would see various changes over its long production span, including crown guards and dial modifications.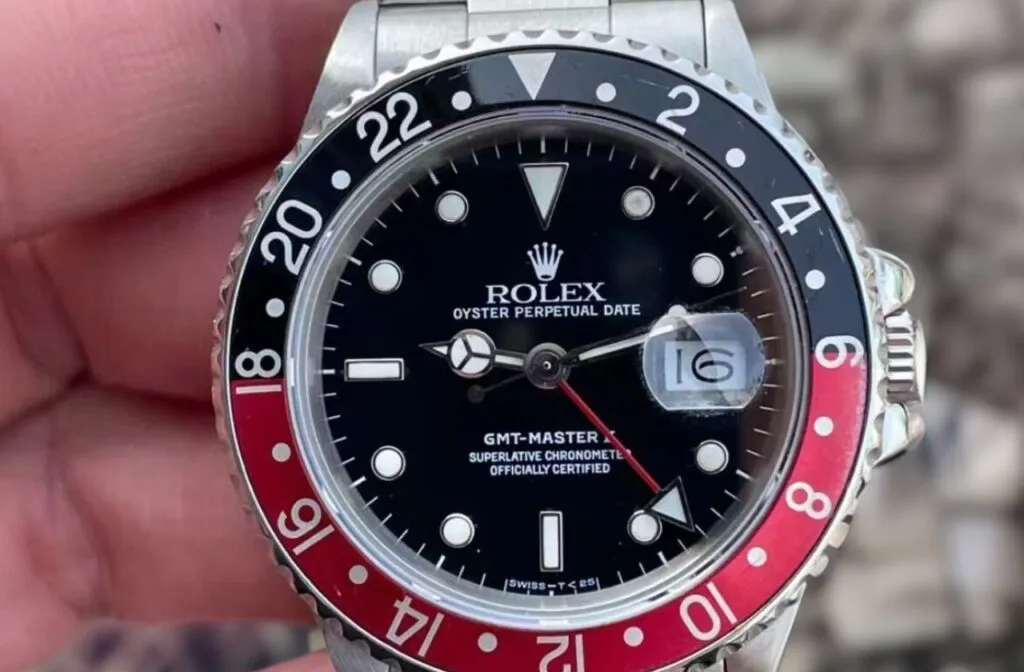 1983: Introduction of the GMT-Master II (Reference 16760), commonly known as the "Fat Lady" or "Sophia Loren" due to its thicker case. This new model allows the hour hand to be set independently from the GMT hand.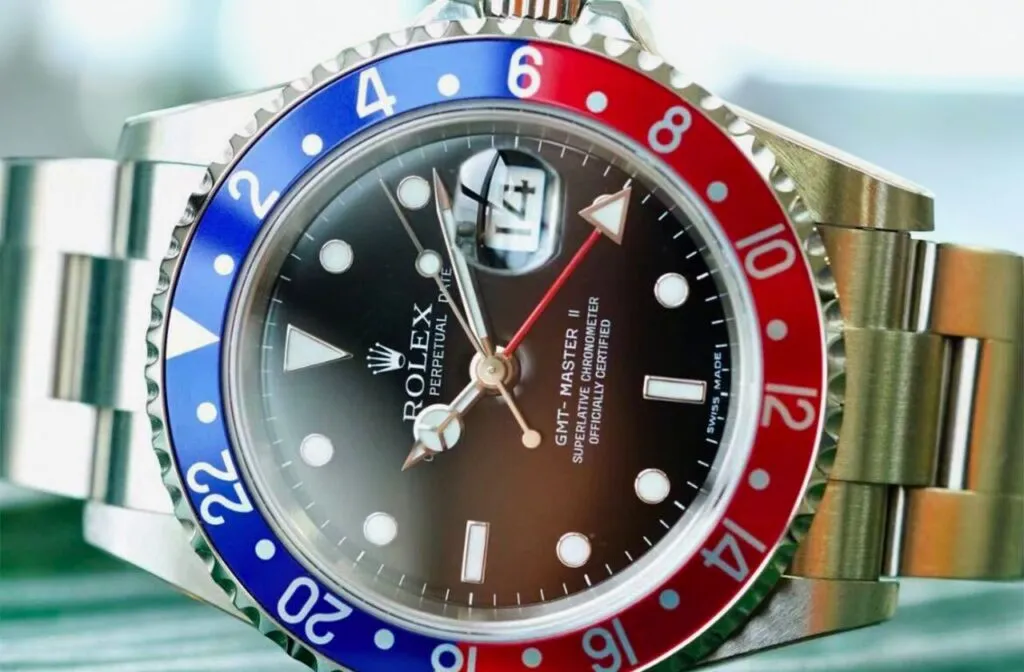 1989: The GMT-Master II 16710 is introduced with the slimmer Caliber 3185 movement (later updated to 3186). This model offers various bezel options, including "Pepsi" (blue/red), "Coke" (red/black), and all-black.
2005: The Cerachrom (ceramic) bezel is introduced in GMT watches, making the bezel more scratch-resistant and fade-resistant.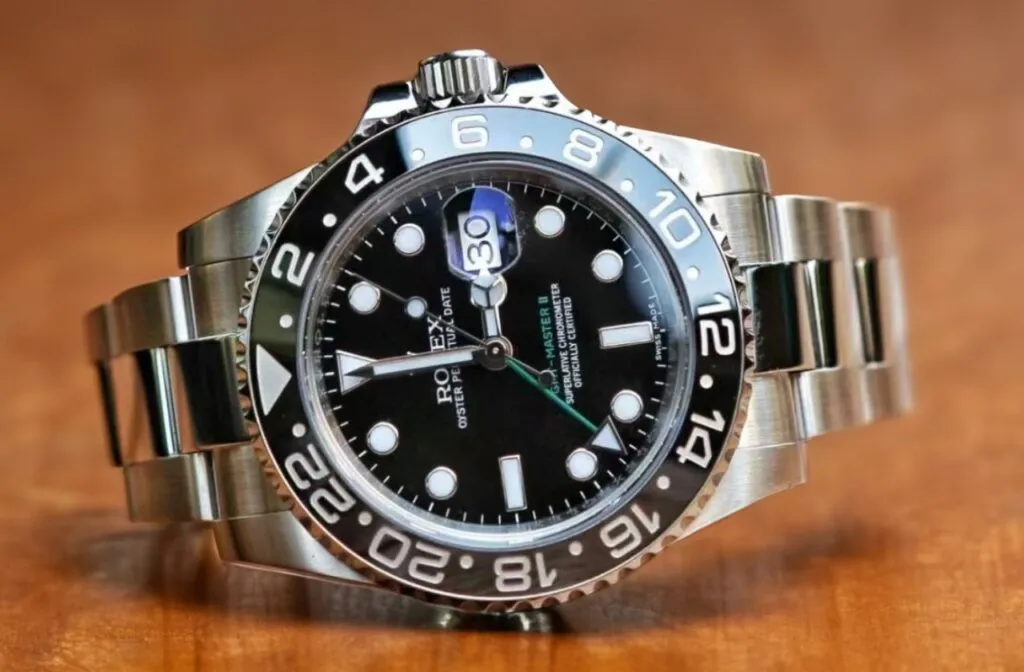 2007: The GMT-Master II with a green 24-hour hand and black ceramic bezel (Reference 116710LN) is introduced.
2013: The "Pepsi" bezel makes a comeback, but now in ceramic and exclusively on a white gold model (Reference 116719BLRO).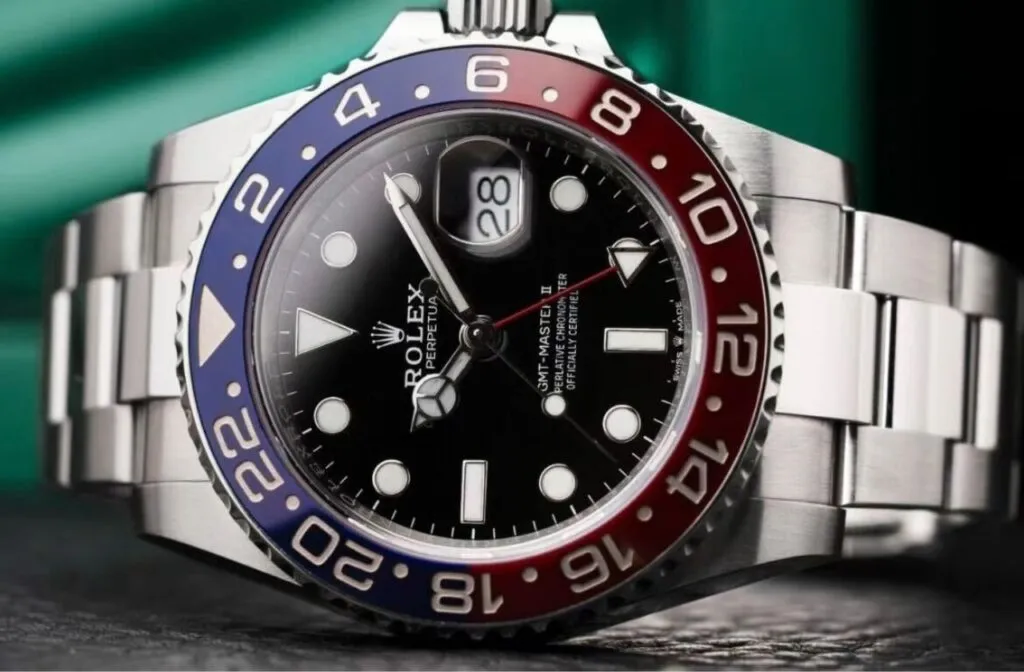 2018: Rolex releases the GMT-Master II 126710BLRO in stainless steel with a "Pepsi" ceramic bezel, now paired with a Jubilee bracelet. This model is powered by the new Caliber 3285 movement.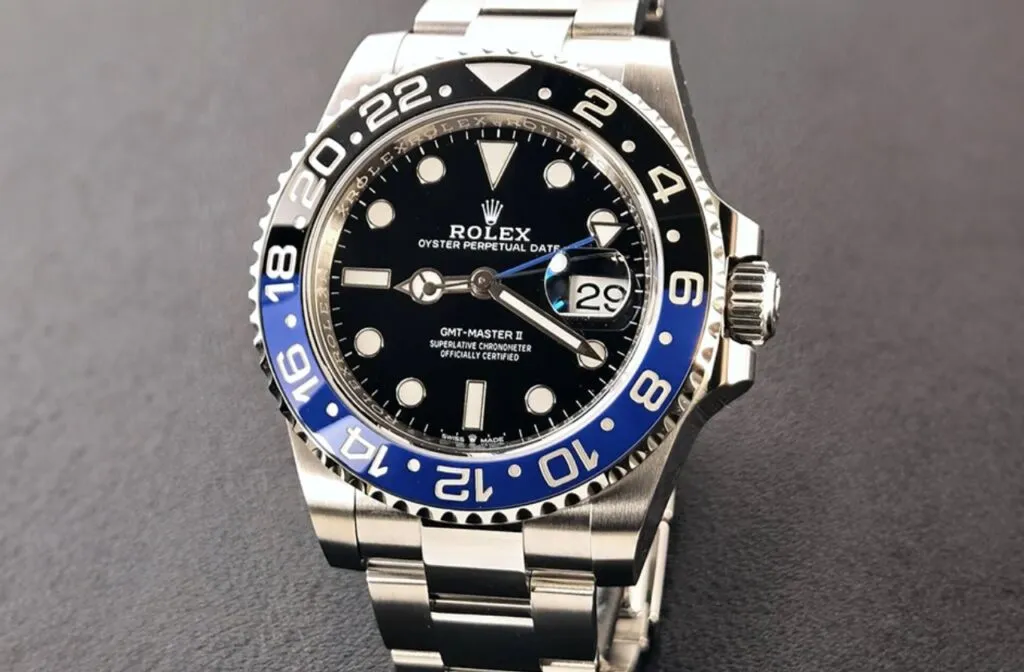 2019: Rolex introduces a blue and black "Batman" ceramic bezel variant (Reference 126710BLNR) with a Jubilee bracelet.
Design and Aesthetics
Initially for airline pilots in the mid-20th century, the Rolex GMT-Master II's design elements reflect a deep understanding of the globe-trotter's needs and the luxurious appeal Rolex is renowned for.
Over the decades, while its core function has remained consistent, its design and aesthetics have been thoughtfully refined, creating a timepiece that's both timeless and timely.
Bezel:
Bi-directional, allowing easy adjustment for a second time zone.
The iconic "Pepsi" (blue/red), "Coke" (red/black), "Batman" (blue/black), and "Root Beer" (brown/black) color combinations are standout design signatures.
Made of Cerachrom (ceramic) in modern models, offering better scratch and fade resistance.
Dial:
The additional GMT hand, often in a contrasting color, stands out, enabling dual time-zone tracking.
Luminous markers ensure legibility in varying lighting conditions.
Date window at the watch's 3 o'clock position with Rolex's signature "cyclops" lens for magnification.
Case & Bracelet:
Crafted predominantly from Oystersteel, known for its corrosion resistance and sheen.
The integration of the Triplock winding crown ensures water resistance and durability.
Contemporary models often come with a Jubilee bracelet, adding a touch of elegance. In contrast, previous models mostly featured the Oyster bracelet.
Color & Material Variations:
While stainless steel models are popular, Rolex also offers variations in Rolesor (a combination of gold and steel), Everose gold, and white gold, catering to diverse tastes.
Dials, too, have seen variations in colors and patterns, further diversifying aesthetic choices.
Movement and Precision
The heart of any timepiece is its movement. Let's take a close look at the Rolex the GMT movement and precision:
Caliber 3085:
Allowed for the independent setting of the hour hand from the GMT hand.
Caliber 3185/3186:
Powered the GMT-Master II models like the 16710.
Introduced refinements and improvements over the 3085, with the 3186 featuring the Parachrom hairspring for greater shock resistance.
Caliber 3285:
Boasts a power reserve of around 70 hours, significantly improving from previous movements.
Uses the Chronergy escapement, which increases the movement's efficiency.
Features a Parachrom hairspring, offering better resistance to shocks and temperature variations.
Precision:
In-House Manufacturing:
Rolex is known for its in-house production, ensuring that every movement component, from hairsprings to gears, meets the brand's stringent quality standards.
Materials
Rolex's meticulous selection and expert utilization of premium materials make the GMT-Master II a pinnacle in luxury watches.
Oystersteel
Cerachrom Bezel
Rolesor
Gold
Sapphire Crystal
Triplock Winding Crown
Price Range
The GMT-Master II isn't just a Rolex. With it being highly excellent in its function and mechanism, this watch is one of the most coveted timepieces and may sell anywhere between S$15,807 and S$189,544 in a private sales market, according to Watch Charts.
However, since the price depends on economic and market conditions, these figures may fluctuate at any given time.
Rolex Submariner
Brief History
The Rolex Submariner, introduced in 1953, is one of the most iconic dive watches and has undergone various refinements over the decades. Here's a concise timeline highlighting its evolution:
1953: Introduction of the Rolex Submariner (Reference 6204). Rolex's first diver's watch, water-resistant to 100 meters (330 feet).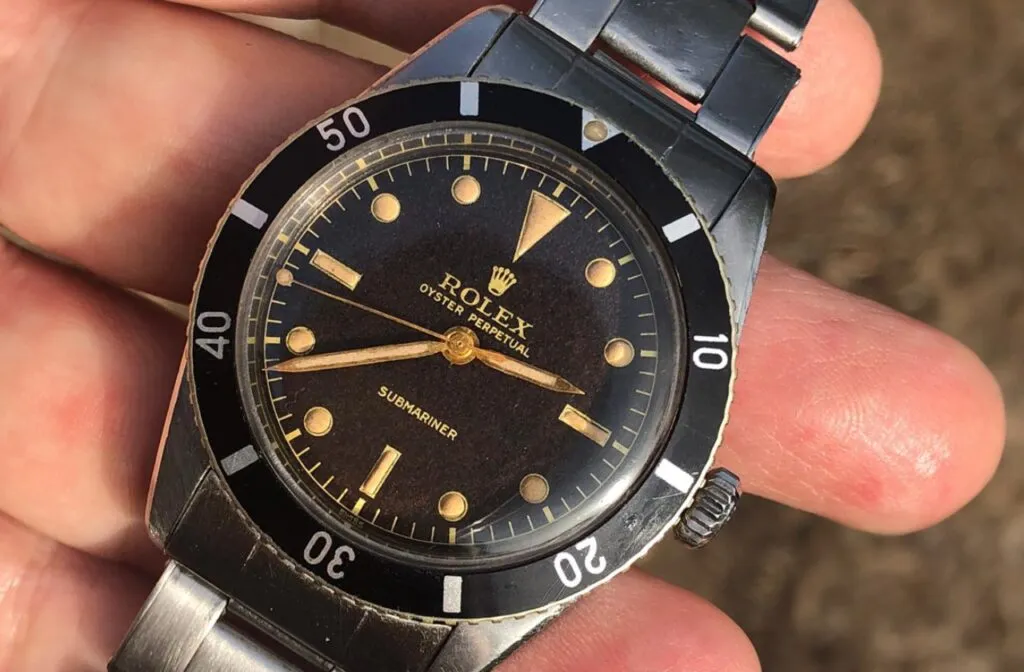 1954: Introduction of reference 6205, with subtle changes from the original.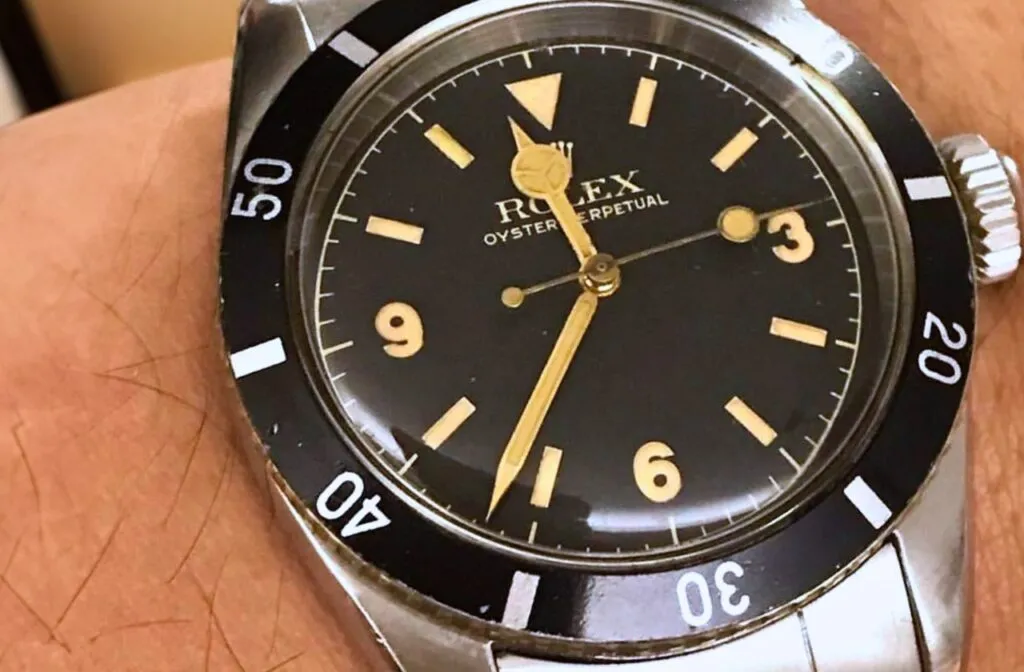 Introduction of Reference 6200, with a larger case and a distinctive "Big Crown."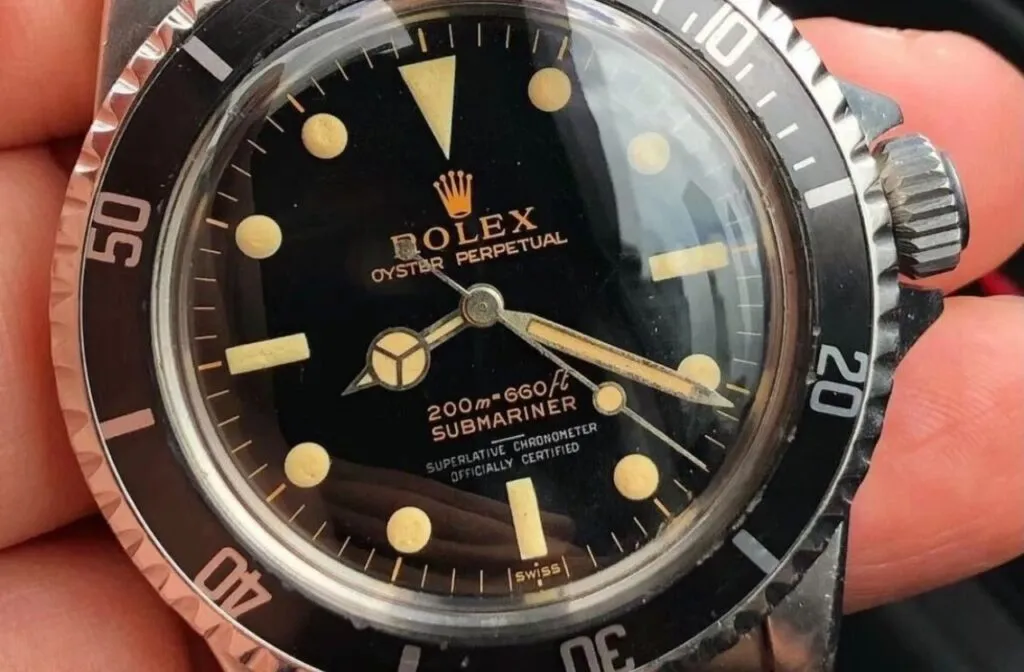 1959: Reference 5512 launched with crown guards, giving the Submariner its distinctive modern shape.
1967: Introduction of the Date function in reference 1680, marking the beginning of the "Sub Date" models.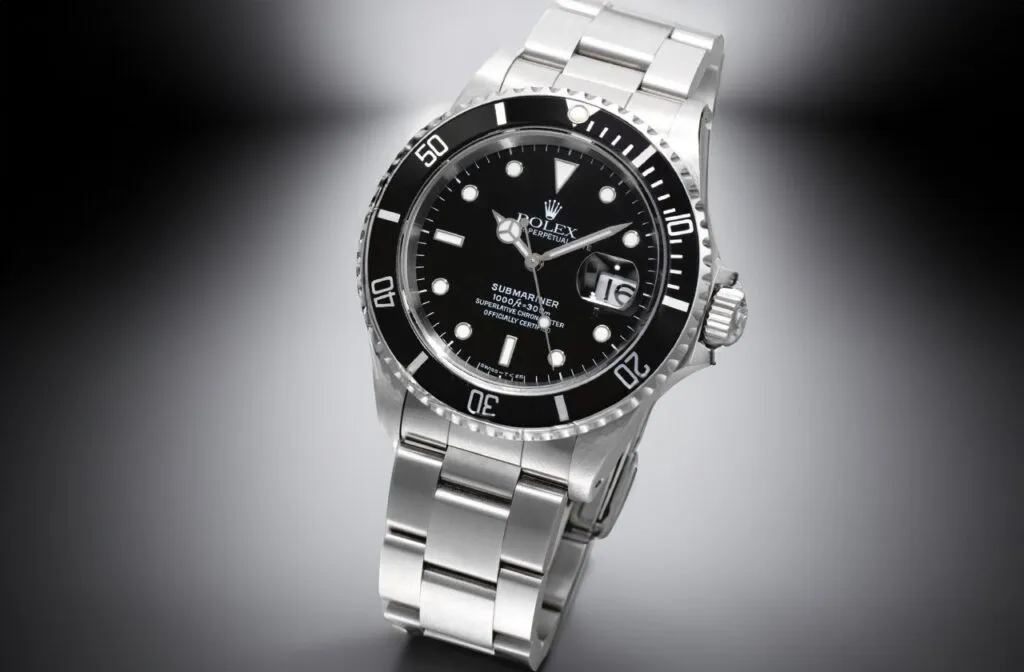 1987: The Submariner gets a sapphire crystal and a new movement in reference 16610.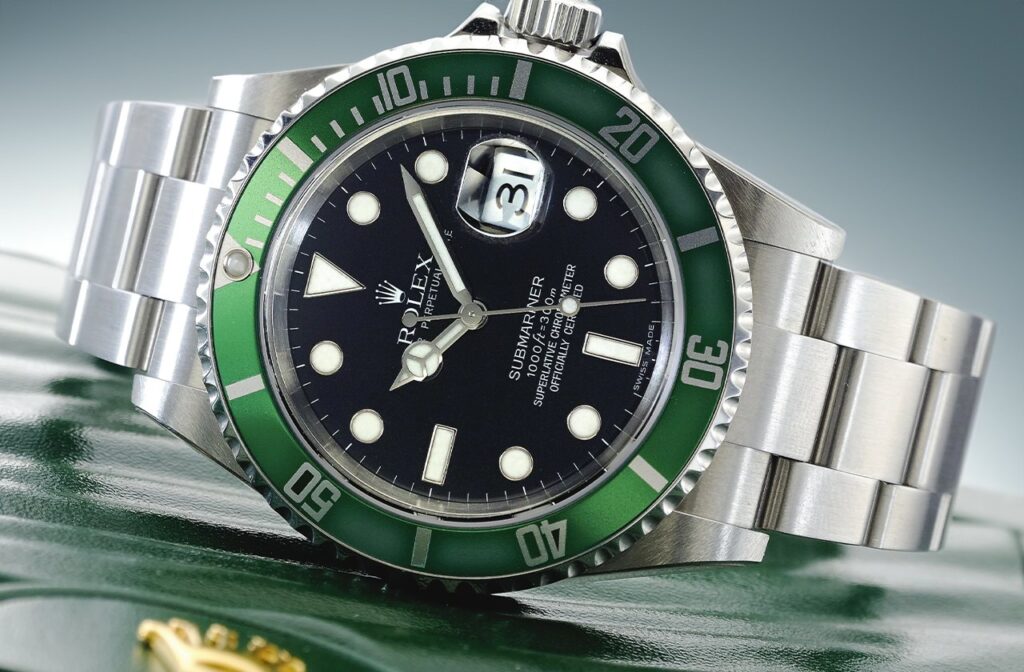 2003: To mark the Submariner's 50th anniversary, Rolex introduces the Reference 16610LV with a green bezel, soon nicknamed the "Kermit."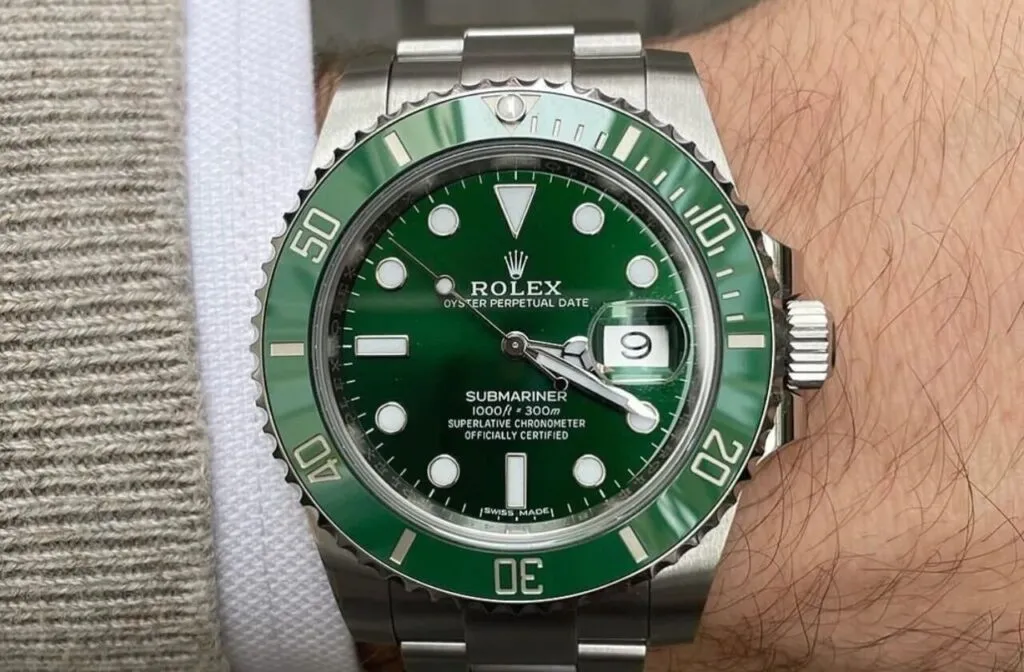 2010: Introduction of the "Submariner Date" 116610LN with a black bezel and the "Submariner Date" 116610LV with a green bezel, commonly known as the "Hulk."
2017: A new movement, the Caliber 3235, is used for the date models, while the no-date model gets the Caliber 3230.
Design and Aesthetics
The Rolex Submariner isn't just a dive watch; it's a legend in horological circles. Since its introduction in 1953, it has set the gold standard for diving watches in terms of functionality, durability, and elegance. 
Case:
Traditionally 40mm in size, updated to 41mm in 2020.
Oystersteel construction ensures corrosion resistance, strength, and a lustrous finish.
Bezel:
Unidirectional rotatable bezel, essential for divers to safely monitor diving times.
Earlier models had aluminum bezel inserts; contemporary versions boast the scratch-resistant Cerachrom (ceramic) insert.
Characteristic minute graduations for the first 15 minutes are crucial for dive timings.
Dial:
Highly legible hour markers filled with luminescent material, ensuring readability in the darkest underwater conditions.
Classic color options include black and blue, with distinct sunburst finishes on some variants.
The "Mercedes" hour hand a defining feature of the Submariner.
Crystal:
Sapphire crystal, known for its scratch resistance, protects the dial.
The "cyclops" lens over the date, a Rolex hallmark, magnifies the date for easy reading.
Bracelet:
Oyster bracelet, designed for durability and comfort. Features the Glidelock system in modern models, allowing for fine adjustments without needing tools.
Crown:
Triplock winding crown, ensuring this Rolex professional watch remains waterproof to depths of up to 300m (1,000 feet).
Movement and Precision
Inside the Rolex Submariner, you'll find exceptional movements that offer remarkable precision and reliability. Dive deep into its movement and precision:
Caliber 1030:
Recognized for its durability and accuracy.
Caliber 3135:
Introduced in the late 1980s and used for several decades.
Known for its robustness, it became Rolex's main movement for the Submariner Date models.
Caliber 3235:
Benefits from Rolex's Chronergy escapement, increasing efficiency and precision.
Boasts a power reserve of around 70 hours, a significant enhancement from the previous movements.
Precision & Certification:
All modern Rolex movements, including those in the Submariner, are certified by COSC (Swiss Official Chronometer Testing Institute), guaranteeing their precision.
Rolex's Superlative Chronometer certification goes beyond COSC standards, ensuring an accuracy of -2/+2 seconds daily.
In-House Production:
Rolex prides itself on in-house manufacturing, ensuring every component of its movements meets the brand's rigorous standards.
Materials
Rolex doesn't just choose materials for their aesthetic appeal; they are chosen for their resilience, functionality, and longevity assurance. Find out what the Rolex Submariner is mainly composed of:
Oystersteel
Rolesor
Gold
Cerachrom Bezel
Sapphire Crystal
Triplock Winding Crown
Price Range
The Rolex Submariner's price range varies depending on the specific model, materials used, and market demand. However, Watch Charts states that watches from the Submariner collection have prices ranging from S$12,322 to S$54,421 as of this writing.
At any moment, these watch values may change.
Frequently Asked Questions
1. Is the Rolex GMT-Master II Thinner Than Submariner?
The Rolex GMT-Master II and Submariner share a similar design, but there are differences in their dimensions. The GMT-Master II is indeed slightly thinner than the Submariner. The GMT-Master II measures approximately 12mm in thickness, while the Submariner has a 12.3 to 12.7mm thickness.
This minor difference in thickness may not be noticeable at first glance but could contribute to the overall comfort on the wrist for some wearers; hence, always refer to a reliable wrist guide so you can determine which of the two models feels more comfortable on the wrist.
2. Is the Rolex GMT-Master II More Expensive than the Rolex Submariner?
The general price difference between the Rolex GMT-Master II and the Rolex Submariner can vary depending on the model, materials used, and whether it's a new or pre-owned piece.
The Rolex GMT-Master II tends to be slightly more expensive than the Submariner. When comparing both models ' prices, it is essential to consider factors such as materials, features, and market demand. However, prices can fluctuate, so checking the current market value is always a good idea.
3. Is the Rolex Gmt Same as the Submariner?
While the Rolex GMT and Submariner share some similarities in design and appearance, they are different watches with distinct functions and features. The main difference between the two lies in their functionality:
Rolex GMT-Master II: Designed for global travelers, the GMT-Master II features a secondary GMT hand and a 24-hour rotating bezel that allow wearers to track multiple time zones simultaneously.
Rolex Submariner: Originally built for scuba divers, the Submariner has a unidirectional rotating bezel calibrated for 60 minutes and a higher depth rating of 300 meters compared to the GMT-Master II's 100 meters.
Additionally, the Submariner features a Glidelock extension system on its bracelet. In contrast, the GMT-Master II has a standard Oyster bracelet.
Final Word
The Rolex GMT Master II and Submariner are two iconic watches that cater to different audience needs. The GMT Master II features a 24-hour bezel scale and distinctive fourth hand, allowing tracking an additional time zone. On the other hand, the Submariner is built with scuba divers in mind, showcasing a 60-minute bezel scale and a traditional three-hand watch design.
Carefully consider these differences and pit them against your style and preferences so you can devise a well-thought-out decision in choosing between the Rolex GMT-Master II and Submariner.
Key Takeaways
Functionality: The GMT Master II displays multiple time zones. On the other hand, the Submariner is a diver's watch with a unidirectional bezel featuring a 60-minute scale.
Bezel Material: The GMT Master II has two-tones, such as the black and blue or red and blue bezel. On the contrary, the Submariner bezel comes either in black or green.
Water Resistance: The Submariner is rated to withstand water pressure up to 300 meters, while the GMT Master II can handle up to 100 meters.
Looking to buy or sell your luxury watches? Watch Exchange is your one-stop destination for trading Rolex, Patek Philippe, Tissot, Sinn, Zenith, and other luxury timepieces. Find your next watch today or list your item for free!
---