IWC and Rolex are prominent names in the realm of luxury watches, each boasting its own unique style and identity. These Swiss giants have captivated the attention of watch enthusiasts for years, setting themselves apart with their distinct approaches to watchmaking.
IWC is renowned for creating watches with classic and timeless designs, often featuring clean lines and simple dials. It places great importance on sustainability and responsible manufacturing practices, aiming to minimize environmental impacts while producing high-quality timepieces. In contrast, Rolex is synonymous with perfection and meticulous attention to detail.
As a watch enthusiast weighing the merits of IWC and Rolex, you must consider the unique characteristics and strengths that each brand brings to the table. While IWC shines in sustainable practices and refined elegance, Rolex excels in precision and reliability. So, which takes the lead? Keep reading the IWC vs Rolex review below to find out.
IWC VS Rolex: At a Glance
The following is a table highlighting the main features that differentiate the two luxury brands most:
| | | |
| --- | --- | --- |
| Aspect | IWC | Rolex |
| Heritage and Brand | Founded 1868, Committed to Quality | Founded 1905, Innovative Movements |
| Design and Aesthetics | Timeless Designs, Sustainability Emphasis | Iconic Styles, Distinctive Look |
| Movement and Precision | Transparent Case Backs, COSC Chronometer | In-House Movements, Superlative Chronometer |
| Materials | Sustainable Practices, Various Materials | High-Grade Materials, 904L SS, 18K Gold |
| Price Range | Accessible, S$5,404 – S$33,774 | Higher Priced, S$6,755+, Six-Figure for Some |
IWC has the upper hand in terms of presence in the horological scene, appearing over 30 years earlier than Rolex. Over the years, it has perfected its craft, presenting watch fans with affordable yet elegant timepieces that boast clean lines, complex designs, and high-precision movements.
Meanwhile, Rolex has gained recognition for its super elegant watches that come in well-polished cases and bracelets, sexy dials, extravagant high-quality materials, and high price tags to match. Their impressive resale value makes them worth the investment.
The following is an in-depth, side by side look at the above features in both brands:
Brief History
IWC Schaffhausen and Rolex are distinguished Swiss luxury watch manufacturers, each with its own unique heritage and standing in the world of horology.
IWC Schaffhausen, founded in 1868 by American watchmaker Florentine Ariosto Jones in Switzerland, is notable for blending Swiss craftsmanship with American manufacturing techniques, leading to a legacy of innovative watchmaking.
The brand is celebrated for its precision and engineering excellence, crafting watches with intricate complications such as tourbillons, perpetual calendars, and minute repeaters.
Furthermore, IWC Schaffhausen has a significant historical connection to aviation, producing iconic pilot's watches like the "Mark" series, renowned for their legibility and reliability in aviation contexts.
On the other hand, Rolex, established in 1905 in London, England, and later relocating to Geneva, Switzerland, in 1919, has built its reputation on precision and innovation in Swiss watchmaking.
While specific details about Rolex's historical contributions are not provided here, the brand is known for its exceptional craftsmanship, commitment to producing high-quality watches, and pioneering innovations like the waterproof Rolex Oyster case.
Both IWC Schaffhausen and Rolex exemplify the finest traditions of Swiss watchmaking, catering to connoisseurs of horology with their distinct qualities and historical legacies.
Design and Aesthetics
IWC Schaffhausen and Rolex both have distinctive design and aesthetic elements that set them apart in the world of luxury watchmaking.
IWC Schaffhausen's design ethos centers around balanced proportions and comfort. They offer a range of case shapes, including round, tonneau, and cushion, all meticulously polished and finished to exude elegance.
The brand places a strong emphasis on legibility, ensuring that their dials are clean and easy to read. This focus on readability extends to complications such as date displays, which are designed for quick and convenient reference.
In contrast, Rolex watches are often recognized for their modern and sporty appearance. Rolex's iconic Oyster case design is a cornerstone of their aesthetics, featuring a robust and waterproof construction with a screw-down crown and case back, ensuring water resistance and durability. The fluted bezel, seen on models like the Rolex Datejust and Rolex Day-Date, adds refinement and texture to the watch's overall look.
Additionally, Rolex is known for its Cyclops lens, magnifying the date window for enhanced readability, and this feature has become a signature element of Rolex's design.
Overall, IWC Schaffhausen focuses on elegance and legibility, offering a variety of case shapes to suit different preferences, while Rolex embraces a more contemporary and sporty style, featuring signature design elements like the Oyster case, fluted bezel, and Cyclops lens to create a distinct visual identity for its timepieces.
Movement and Precision
IWC Schaffhausen and Rolex have crafted a unique space for themselves in the accuracy arena with their movements. Each brand offers impressive movements with incredible features and precision.
IWC's movements are centered on functionality and beauty as they boast engineering prowess while dishing out a luxury charm. They come in a variety, from basic calibers to those with complex complications like moon phases, tourbillons, and minute repeaters.
The luxury brand crafts most of its movements in-house, by skilled watchmakers. It also emphasizes on precision calibration, subjecting its movements to rigorous testing for unmatched accuracy.
Rolex, in comparison, may not be big on flashy movements with extravagant capabilities, but it makes up for it with its super accurate movements. They're also made in-house and most are certified by independent organizations like the COSC to meet their stringent precision and quality standards and achieve a superlative chronometer certification.
It also employs several instruments and techniques to achieve the accuracy, like:
Perpetual Rotor: Rolex introduced the Perpetual rotor, a self-winding mechanism that harnesses the movement of the wearer's wrist to power the watch. This innovation eliminated the need for manual winding and ensured continuous accuracy.
Parachrom Hairspring: Rolex's Parachrom hairspring is made from a paramagnetic alloy that is highly resistant to magnetic fields and temperature variations. This hairspring contributes to the watch's precision by enhancing its stability and resistance to external factors.
High-Quality Materials: Rolex uses high-quality materials, such as precision-cut gears, jewels, and balance wheels, to ensure the smooth operation and accuracy of its movements.
Extreme Testing: Rolex subjects its movements to extensive testing, including precision tests, water resistance tests, and functional tests, to ensure that they meet stringent quality standards. This rigorous testing contributes to the reliability and accuracy of Rolex watches.
Ultimately, both brands deliver accuracy with original finesse. IWC focuses more on powerful movements with complex complications and features. Meanwhile, Rolex centers its creations on sophistication and style while staying true to its ultra high precision reputation.
Materials
IWC Schaffhausen and Rolex take a unique approach to their choice of materials, further displaying their individual styles.
IWC is all about sustainability, evident from the materials it uses in the production process like stainless steel, ceramic, Titanium, and bronze in its production process.
Additionally, it adds some much-needed variety with several high-quality materials such as gold (rose and yellow), the patented Ceratanium (a hybrid of ceramic and Titanium), platinum, Carbon Fiber, and other beautifully finished metals in its horological arsenal.
Meanwhile, Rolex uses mostly top-quality materials for its watch cases and bracelets, often employing their proprietary materials such as Rolesor (a combination of steel and gold) and Cerachrom (a ceramic material).
Both brands bring an exciting array of materials to the table, with IWC Schaffhausen taking the sustainable yet luxurious route and Rolex going all in, using some of the most extravagant yet high quality materials on its luxury timepieces.
Price Range
IWC Schaffhausen and Rolex watches come in various price points to suit various watch enthusiasts in the watch world.
IWC watches generally fall within a more accessible price range than Rolex, starting from around S$5,404 and going up to S$33,774 or more for limited edition models.
Rolex watches, on the other hand, tend to be more expensive than IWC models, with prices starting around S$6,755 and going well into the six-figure range for highly sought-after models.
The watches' price tags highlight the brands' commitment to quality while bearing their clients in mind. IWC caters to a wider audience thanks to its more affordable price points. On the other hand, Rolex watches may be more expensive, but they're worth every dollar.
Popular models
Here's a comparison on the most popular timepieces from both luxury watch labels:
IWC Portugieser Perpetual Calendar 42 ref. IW344203 Vs Rolex Submariner Date ref. m126618ln-0002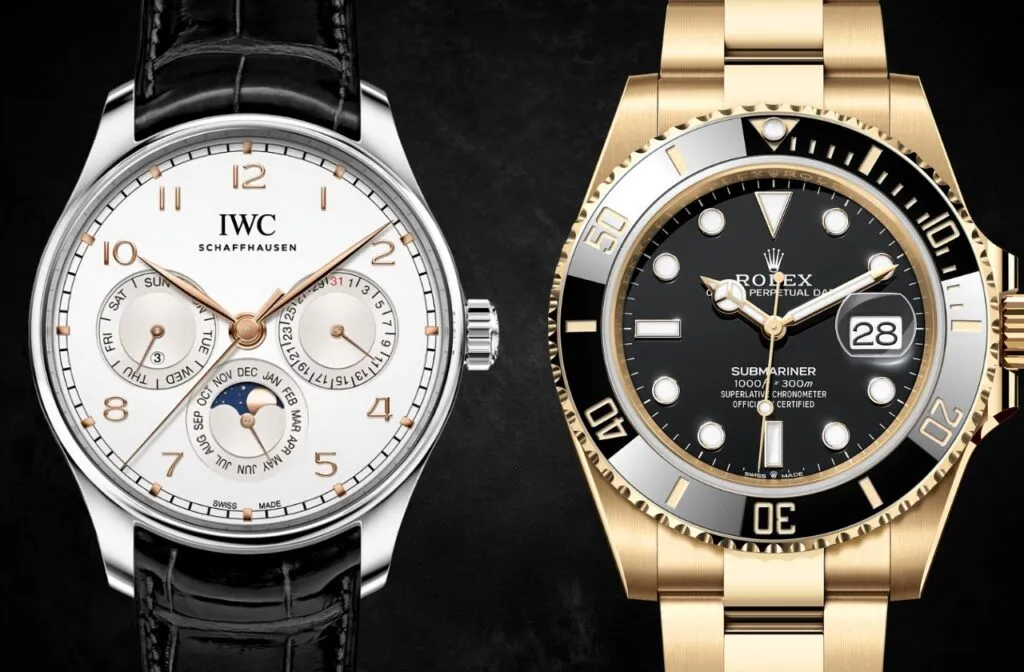 The IWC Portugieser Perpetual Calendar ref. IW344203 is a luxury men's timepiece. It features a simple, elegant design consisting of a 42mm stainless steel case, a silver face, a stylish black alligator leather strap, and an automatic Caliber 82650 movement. It has a retail price of S$33,099.
Meanwhile, the Rolex Submariner Date ref. m126618ln-0002 is a luxury men's dive watch with a stylish, sporty design. It boasts all the features of the ideal modern diving tool, such as a robust but smaller 41mm Yellow Gold case with a Triplock crown, a unidirectional rotatable bezel with knurled edges, and a bracelet with a Glidelock extension system. It retails for S$52,688.
IWC Big Pilot's Watch 43 ref. IW329301 Vs Rolex Submariner ref. m124060-0001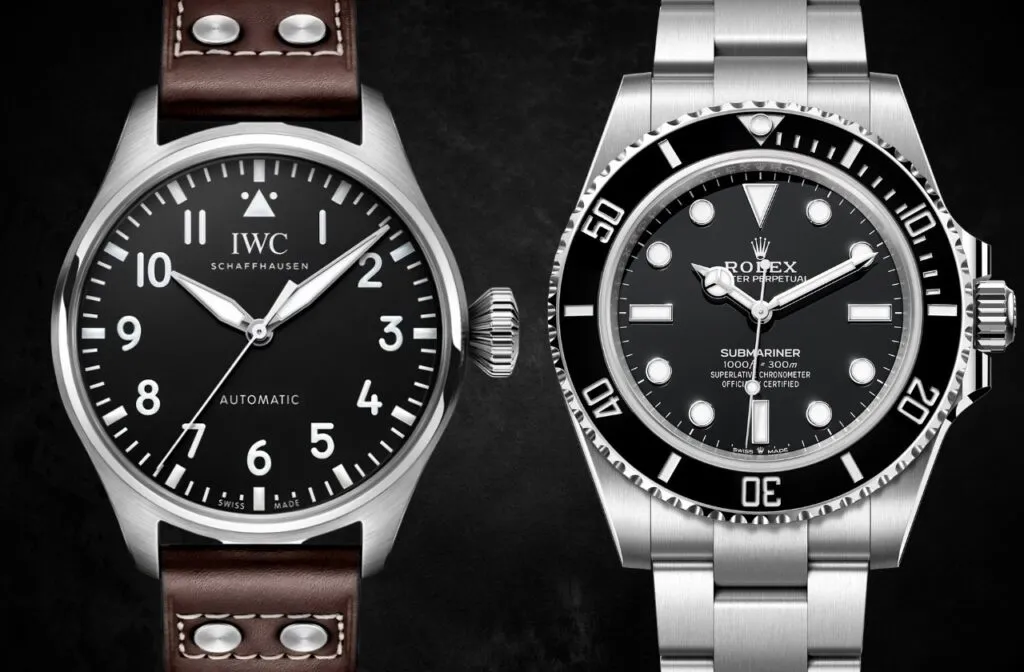 Known for its oversized 43mm stainless steel case and distinctive aviation-inspired design, this model is a luxury men's watch with a sexy yet relaxed edge, thanks to its black dial and comfortable brown calfskin strap. In its hood is a high-precision automatic Caliber 82100 movement. As per WatchCharts, it retails for S$12,181.
On the other hand, the Rolex Submariner ref. m124060-0001 is a luxury gentlemen's sports timepiece. It effortlessly merges handsomeness and functionality with its rugged Oystersteel 41mm case and matching Oyster bracelet with a Glidelock extension system, unidirectional rotatable bezel with a black Cerachrom insert, and water resistance capability of 300m. It has a retail price of S$12,385, according to WatchCharts.
IWC Ingenieur Automatic 40 ref. IW328901 Vs Rolex Explorer 40 ref. m224270-0001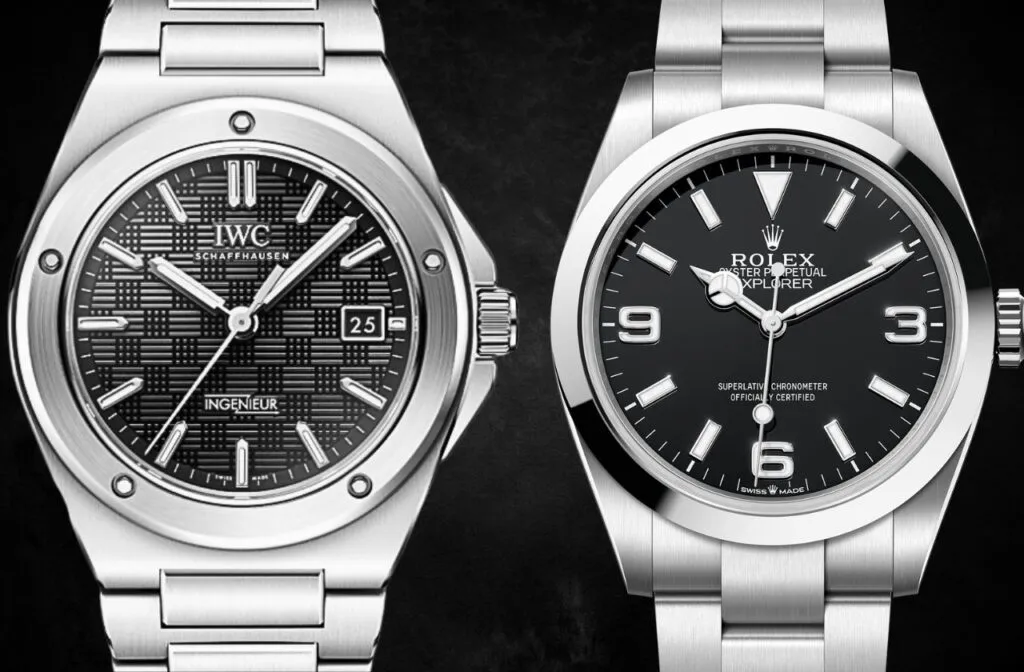 Combining a classic Genta design with innovative watchmaking technology, the IWC Ingenieur Automatic 40 ref. IW328901 is a luxury men's timepiece.
It epitomizes sophisticated timekeeping with its curvy 40mm stainless steel case, deep black patterned dial, a bezel with polygonal screws, and matching stainless steel bracelet with contours. It's powered by a self-winding Caliber 32111 movement and has a retail price of S$23,545.
Meanwhile, the Rolex Explorer 40 ref. 224270-0001 is a luxury men's sports timepiece known for its bold personality, adventurous spirit, and wrist presence. It's a sure head-turner with its 40mm Oystersteel case and matching Oyster bracelet, a masculine black dial, and a fixed, smooth bezel. According to WatchCharts, it has a well-deserved S$10,480 price tag.
FAQs
1. Which is more expensive Rolex or IWC?
In general, Rolex watches are considered to be more expensive than IWC watches. However, the price range for both brands varies depending on the particular model and materials used. It's essential to compare Rolex IWC models when deciding between IWC and Rolex to determine the best option for your budget.
2. What watch is nicer than a Rolex?
The term "nicer" is subjective and depends on an individual's preferences and priorities. But, some luxury watch enthusiasts may consider timepieces from brands like Patek Philippe, Audemars Piguet, or Vacheron Constantin to be "nicer" because of their craftsmanship, heritage, and exclusivity. On the other hand, IWC offers an array of sophisticated designs that some may find more appealing than a Rolex.
3. Is IWC worth investing?
IWC is indeed a prestigious watch brand that produces high-quality timepieces. While the investment potential of any luxury watch varies on a case-by-case basis, it is essential to consider factors such as rarity, heritage, and demand. IWC watches are typically well-crafted and can retain or gain value over time. Still, it's crucial to research the specific model you are interested in before considering it as an investment.
4. How prestigious is IWC?
IWC is a highly respected Swiss luxury watch brand with a strong reputation for its commitment to quality, craftsmanship, and innovation. Established in the 19th century, IWC has a rich history and is renowned for creating timepieces that are not only designed for function but also have a timeless appeal. While not as widely recognized as Rolex, IWC still holds a prestigious position in the watch industry and is valued by watch enthusiasts and collectors.
Final Word
IWC and Rolex are Swiss giants that have captivated the attention of watch enthusiasts for years. Both boast impressive histories and are known for their precision, craftsmanship, and innovation. However, when it comes to choosing between them, it's an inherently subjective matter that ultimately depends on individual preferences and desires.
Key Takeaways
IWC offers a more affordable entry-level price point than Rolex, making it more accessible to a broader audience.
Rolex is renowned for its precision, durability, and iconic status in the luxury watch market. While their entry-level watches may be more expensive, Rolex watches often have a higher resale value, making them a desirable investment.
IWC offers a variety of watch complications, such as tourbillons, perpetual calendars, and minute repeaters. Meanwhile, Rolex prefers a simpler yet eye-catching approach to Haute Horlogerie.
Looking to buy or sell your luxury watches? Watch Exchange is your one-stop destination for trading Rolex, Patek Philippe, Tissot, Sinn, Zenith, and other luxury timepieces. Find your next watch today or list your item for free!
---