King Seiko and Grand Seiko are two distinct luxury watch ranges produced by the renowned Japanese watchmaker Seiko. They have their roots in the mid-20th century when the company sought to create high-quality timepieces that could compete with top Swiss brands. While these ranges may share the Seiko name, they each have unique characteristics and histories that set them apart.
The King Seiko brand was initially introduced as a high-quality timepiece, offering exceptional accuracy, durability, and design. It gained recognition for its fine craftsmanship and contributed to the company's reputation for creating trustworthy watches.
On the other hand, Grand Seiko was established to set new benchmarks in watchmaking in terms of precision and aesthetics. It has managed to surpass the expectations of many watch enthusiasts. Whether it's better than Seiko or not depends on your personal preferences.
The Seiko watches' history can be traced back to the 1960s when there was a healthy competition within the Seiko company to create the best watches possible. They were the results of this internal rivalry, each developed by a separate division of the company.
King Seiko Vs Grand Seiko
The following is a table that compares the watches' main features:
| | | |
| --- | --- | --- |
| Aspect | King Seiko | Grand Seiko |
| Heritage and Brand | Introduced in 1961 by Seiko's company Daini Seikosha, Famous for Quality | Introduced in 1960 by Seiko's factory Suwa Seikosha, Famous for Innovativeness |
| Design and Aesthetics | Sharp, Angular Design, Clean Lines | Attention to Detail, Intricate, Polished Surfaces |
| Movement and Precision | Reliable and Accurate Mechanical Movements | Range of Ultra-Precise Movements, i.e., Mechanical, Quartz, and Spring Drive |
| Materials | Durable and Long-Lasting Stainless Steel and Acrylic Crystal | Refined and Higher-End, e.g. Sapphire, Titanium, High-Polished Stainless Steel |
| Price Range | Accessible, ranging from S$485 to S$3,501 | Higher Priced, ranging from $986 to over S$14,000 |
King Seiko may be a year younger than Grand Seiko, but it offers more cost-friendly timepieces with angular designs, clean lines, and precise mechanical movements. It acts as a connector between Seiko and Grand Seiko, providing simpler yet equally luxurious timepieces in Seiko's lineup.
Grand Seiko is the flashier of the two, offering costlier timepieces with eye-catching designs, delicious finishes, high-quality materials, and an array of high-precision movements, including the impressive Spring Drive movement. Its watches boast attention to detail and intricacy, fit for the modern watch enthusiast with a taste for high-end elegance.
King Seiko Vs Grand Seiko Heritage and Brand
King Seiko and Grand Seiko might be from the same brand, but they create unique timepieces that set them apart and give them an edge in the watch industry.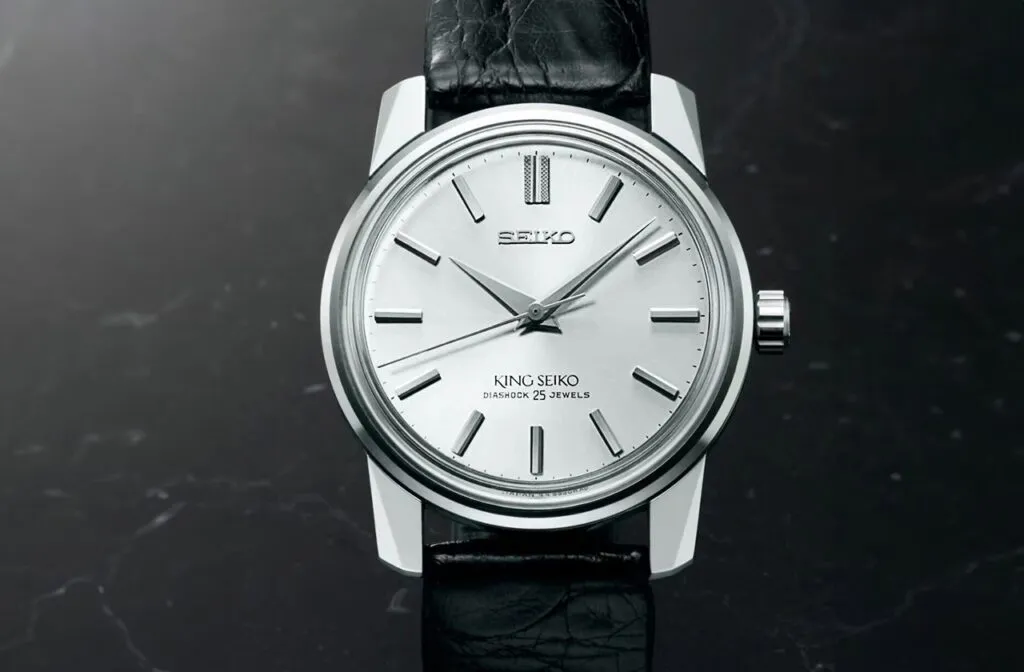 King Seiko is a well-known brand of wristwatches that originated in Japan. It's part of the Seiko Corporation. It has a rich heritage, having been introduced in 1961 by Daini Seikosha- a factory of the Seiko Corporation.
It aimed to compete with Swiss watchmakers in terms of precision, quality, and craftsmanship. It played a significant role in establishing Japan's reputation as a producer of high-quality mechanical watches during the 1960s and 1970s. It was one of the first Japanese watch brands to focus on achieving chronometer-level accuracy.
Its watches are known for their exceptional craftsmanship and attention to detail. They were manufactured in Japan and resulted from rigorous quality control standards. It produced various models over the years, including manual and automatic movements. Some models are highly sought after by collectors for their design and historical significance.
It was often in competition with Grand Seiko. While Grand Seiko aimed for the highest level of precision and craftsmanship, King Seiko was slightly less expensive but still offered excellent quality and accuracy.
The original King Seiko line was discontinued in 1975. However, Seiko periodically revived it in 2021, releasing limited edition (3,000) King Seiko models that pay homage to the brand's heritage and craftsmanship. They blend modern technology with the line's heritage and typically feature classic design cues reminiscent of the original King Seiko watches.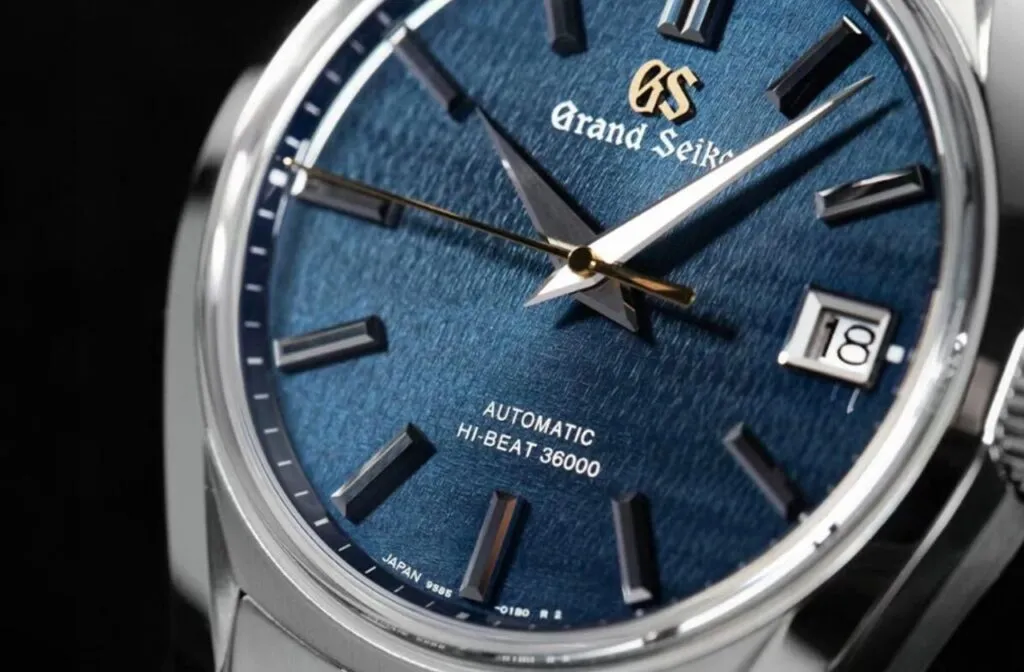 Meanwhile, Grand Seiko was introduced by Suwa Seikosha- a factory in Seiko- in 1960. It was conceived as a premium watch line aimed at achieving the highest levels of precision and quality. Its motto is "The Nature of Time," emphasizing the harmonious blend of nature-inspired design and high-precision technology.
It was under Seiko until 2012 when it became an independent brand. It has played a pivotal part in establishing Japan's reputation as a producer of luxury timepieces. It represented Seiko's commitment to producing mechanical watches of exceptional accuracy and reliability, challenging Swiss watchmakers on their home turf.
Its watches are renowned for their meticulous craftsmanship and rigorous quality control standards. Each watch is hand-assembled and individually adjusted by skilled artisans in Shinshu Studio, Japan.
It has introduced several innovations in watchmaking. For instance, they developed the Spring Drive movement, a mechanical and quartz technology hybrid known for its smooth, sweeping second hand and high accuracy.
Also, its design philosophy is deeply rooted in nature and the changing seasons of Japan. This is reflected in their watch dials, which often incorporate elements inspired by the environment, such as the texture of snow, the pattern of tree bark, or the water flow.
Over the years, it has gained international recognition and accolades. The brand's watches have received awards at various international competitions, further establishing its reputation for excellence.
While it initially focused on the Japanese market, it has since expanded its global presence. Boutiques and retailers worldwide now carry Grand Seiko timepieces, making them accessible to a wider audience.
Today, it continues to produce a wide range of watches, including mechanical, Spring Drive, and quartz movements. It offers a variety of designs, from classic to contemporary, appealing to traditional watch enthusiasts and modern consumers.
Overall, there's still healthy competition between the two luxury brands. While King Seiko produces slightly less expensive watches that offer excellent quality and accuracy, Grand Seiko is more focused on the highest level of precision and craftsmanship.
King Seiko Vs Grand Seiko Design and Aesthetics
King Seiko and Grand Seiko meticulously follow Seiko's ''Grammar of Design'' principle under the guidance of Head of Design Taro Tanaka. However, their specific design and aesthetic features amplify their unique excellence.
King Seiko watches carry a vintage, minimalist aesthetic. Popular for their simplicity, they also have a touch of elegance that reflects the 1960s era. Many designs feature sharp angles and clean lines, offering a timeless and classic look.
Meanwhile, Grand Seiko is known for its attention to detail, offering intricate, polished designs that exude luxury. Their watches often incorporate elements of traditional Japanese craftsmanship like Zaratsu polishing.
Zaratsu polishing is a proprietary watch polishing technique developed by the Seiko Corporation, a well-known Japanese watchmaker. It's named after the location of Seiko's Shinshu Studio in Suwa, Nagano, Japan, where this precise and labor-intensive polishing process is carried out. It's renowned for its exceptional craftsmanship and the high-quality finish it imparts to watch cases and other components. Here's its overview:
Manual Craftsmanship: It's performed entirely by hand, often by highly skilled craftsmen who have undergone extensive training. The process requires a steady hand, attention to detail, and years of experience to master.
High-Level Finishing: Its primary goal is to create distortion-free, mirror-like surfaces on watch cases and other parts. This results in a beautifully reflective and pristine appearance that improves the overall aesthetics of the watch.
Case Components: While most commonly associated with watch cases, it can also be applied to other components, such as bezels, crowns, and bracelets. This consistent polishing across various parts contributes to the overall harmony of the watch's design.
Scratch Resistance: In addition to its aesthetic benefits, it also enhances the scratch resistance of watch cases. The meticulously polished surfaces are less prone to showing scratches, which is particularly important for watches that may be subjected to daily wear.
Consistency and Precision: The artisans who perform it meticulously inspect each watch component to ensure uniformity and precision. Any imperfections or inconsistencies are addressed before the final product is completed.
Distinctive Mark: Watches that have undergone it often bear a distinctive "Zaratsu" or "Zaratsu-polished" mark on the case back, indicating the use of this specialized finishing technique.
Ultimately, while there are similarities in their aesthetics, King Seiko designs tend to be dressier and more minimalistic, while Grand Seiko watches are known for their attention to detail and intricate finishing techniques.
King Seiko Vs Grand Seiko: Movement and Precision
This is another area where both brands shine. Seiko created the movements from both brands with a focus on accurate timekeeping.
King Seiko's watches have featured manual and automatic (self-winding) movements. The choice of watch movement type often depends on the specific model and era in which the watch was produced.
Some of its models featured Hi-Beat movements, meaning they operated at a higher frequency than traditional movements. Hi-Beat movements typically oscillate at 28,800 beats per hour (bph) or higher, resulting in smoother seconds hands and potentially improved accuracy.
On the other hand, Grand Seiko offers various movement types to suit different preferences. They produce both manual-winding and automatic movements and the innovative Spring Drive movement. Each type is known for its precision.
It's also particularly well-known for its Spring Drive technology, which combines the best elements of mechanical and quartz movements. Spring Drive watches have a smooth, sweeping seconds hand similar to a mechanical watch while maintaining the precision of a quartz movement. They achieve remarkable accuracy, often within seconds per month.
Although the movements are from different brands, they're similar in some ways, namely:
They're both made in-house by skilled watchmakers within the Seiko Corporation.
They're designed and tested to meet or exceed the standards set by COSC (Contrôle Officiel Suisse des Chronomètres) for mechanical watch accuracy.
They're subjected to rigorous precision testing. Each movement is carefully adjusted and tested in various positions and temperatures to ensure it meets the brand's high standards for accuracy.
Both brands have incorporated modern technology and materials into their movements. King Seiko uses advanced lubricants, improved escapements, and innovative materials to enhance precision and reduce wear over time. Meanwhile, Grand Seiko enhances accuracy by using advanced lubricants, high-quality components, and innovations like the Tri-Synchro Regulator in Spring Drive movements.
King Seiko plays it safe with its movements to some extent, limiting creativity but delivering high accuracy. On the other hand, Grand Seiko leaves nothing to chance. It includes some impressive features in its movements and adds aesthetic appeal with polished surfaces and movement parts. All in all, their craft standards suit their watch types and the always-competitive horological scene.
King Seiko Vs Grand Seiko Materials
King Seiko and Grand Seiko watches use various materials to bring out their watches' true beauty and uniqueness.
King Seiko watches typically use stainless steel cases and Hardlex and acrylic crystals. Although not as luxurious as those found in some Grand Seiko models, these materials are still durable and long-lasting. However, the 2021 collection also features (box-shaped) sapphire crystals.
On the other hand, Grand Seiko uses higher-end materials like gold, ceramic, sapphire crystals, and Titanium cases in some models.
The materials from both brands showcase elegance and sophistication, mainly for their careful polishing, visual appeal, and durability.
King Seiko Vs Grand Seiko Price Range
King Seiko and Grand Seiko watches have different price ranges to cater to different watch fans.
King Seiko watches generally come at a lower price than Grand Seiko, providing an affordable entry into vintage Japanese horology. According to WatchCharts, King Seiko watches typically sell for between S$485 and S$3,501 on the private sales market.
Additionally, collectors can find well-preserved vintage King Seiko models for between S$1,365 and S$4,094 on the vintage watch market. Vintage watches are valued for their historical significance and unique design elements. Please note costs can be higher depending on the rarity, model, and materials used.
Meanwhile, Grand Seiko watch price points often exceed those of King Seiko models. As per WatchCharts, Grand Seiko models usually range from S$966 to over S$14,000, depending on the materials, complications, and rarity. Vintage pieces from the 60s and 70s are highly sought after by collectors and may sell for more.
All in all, the prices aptly suit the timepieces. They reflect the brands' overall image and dedication to providing the best at reasonable costs. Note that prices fluctuate in the watch market depending on factors like demand, availability, and condition.
Popular Models Comparison
Here are three of the most popular pieces from both brands:
King Seiko 4420-9990 VS Grand Seiko SBGA211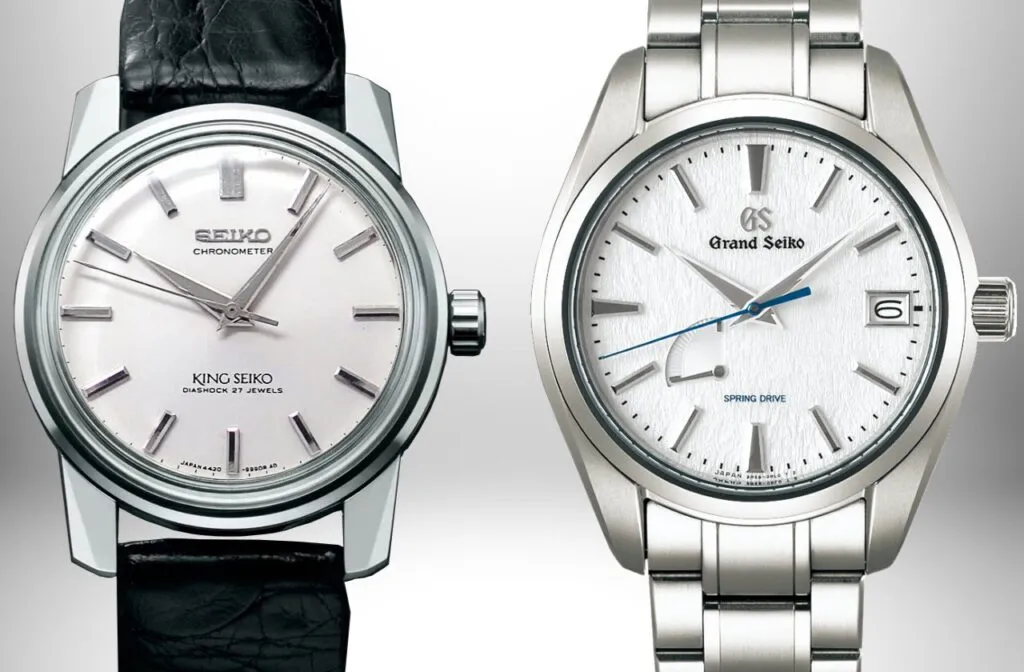 The King Seiko ref. 4420-9990 is a vintage luxury men's timepiece from the 1960s with a simple yet eye-catching design. This vintage Seiko has a 36.5mm stainless steel case, an acrylic crystal over its silvery dial, and a comfortable black leather strap. Powering it is a Caliber 4420 Hi-Beat manual-wound movement with 27 jewels and an 18,800bph frequency. According to WatchCharts, it has a private market price of S$1,344.
On the other hand, the Grand Seiko SBGA211 (Snowflake) is a relatively newer luxury men's watch. It has a larger 41mm Titanium case, a sapphire crystal on the white patterned dial, and a matching Titanium bracelet with a three-fold clasp. It's brought to life by the Caliber 9R65 Spring Drive movement and retails for S$8,461, as per WatchCharts.
King Seiko 4502-7001 VS Grand Seiko SBGV245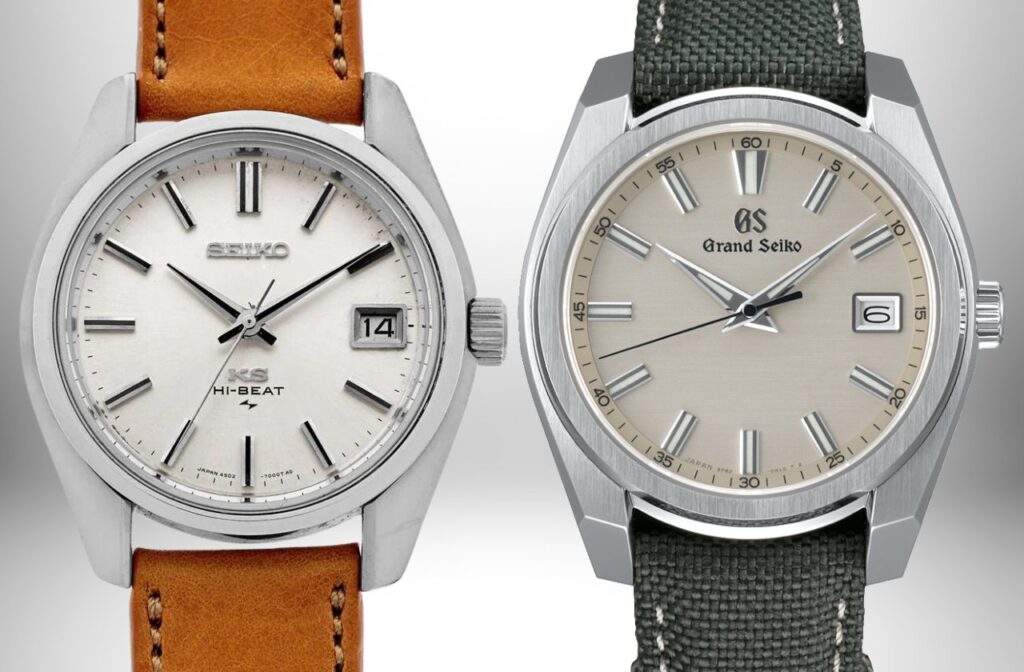 The King Seiko 4502-7001 is another luxury men's vintage watch-this time from 1970. It has an intimidating 37mm stainless steel case, a white dial shielded by a Plexiglass crystal, and a leather strap for a relaxed look. It's powered by a Caliber 4502A hand-wound Hi-Beat movement that runs at a 36,000vph frequency. According to WatchCharts, it has a private market price of S$688.
Meanwhile, the Grand Seiko SBGV245 is a luxury men's sports watch designed for the great outdoors. It oozes adventure with its rugged 40mm stainless steel case, a LumiBrite lume-illuminated silvery/taupe dial, and a tough nylon bracelet that's easy on the wrist. At its heart is a reliable Caliber 9F82 quartz movement, and, according to WatchCharts, it has a retail price of S$4,094.
King Seiko Chronometer 5626-7040 VS Grand Seiko SBGJ201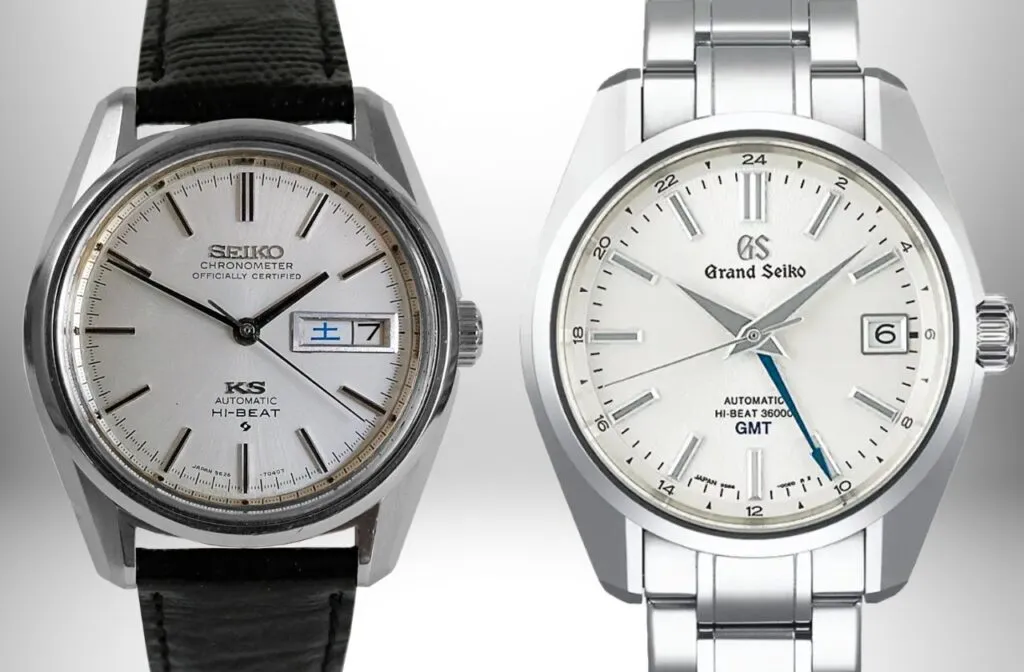 Looking for a vintage KS with style and attitude? You'll love the King Seiko Chronometer 5626-7040! This luxury men's watch stands a head taller in terms of design than the vintage Grand Seiko 44GS 1967 with its diminutive but intimidating 36mm stainless steel case, sharp applied lugs, a white sunburst dial, a ring around its Hardlex crystal, and a glossy black calfskin leather strap.
Breathing life into it is the automatic Caliber 5626 Hi-Beat movement. It runs at a 28,800A/h frequency and has 25 jewels. According to WatchCharts, it has a private market price of S$771.
On the other hand, the Grand Seiko SBGJ201 is a luxury men's GMT masterpiece with a well-sculpted 40mm stainless steel case and matching bracelet, a sapphire crystal over the white 'Mount Iwate Pattern' dial, and an automatic Caliber 9S86 Hi-Beat 36,000 movement with a 55-hour power reserve and -5/+3 seconds a day precision. WatchCharts indicates it has a retail price of S$8,597.
Final Word
King Seiko and Grand Seiko watches showcase Seiko's dedication to producing high-quality, luxury timepieces. While Grand Seiko has gained a reputation for innovation in movement technology, King Seiko offers a more historic perspective on the brand's journey. Ultimately, the choice between them depends on the watch enthusiast's preferences and priorities.
Key Takeaways
King Seiko and Grand Seiko are sub-brands under the Seiko umbrella, both known for their exceptional craftsmanship and precision. Although these two sub-brands share a common heritage, they have some key differences that set them apart.
King Seiko's watch designs tend to be dressier and more minimalistic. Meanwhile, Grand Seiko watches are known for their attention to detail and intricate finishing techniques.
King Seiko timepieces are generally more affordable and readily available than Grand Seiko watches because of their simpler design and materials. On the other hand, Grand Seiko timepieces are more expensive, boasting innovativeness and luxury.
Looking to buy or sell your luxury watches? Watch Exchange is your one-stop destination for trading Rolex, Patek Philippe, Tissot, Sinn, Zenith, and other luxury timepieces. Find your next watch today or list your item for free!
---