Omega Seamaster and the Rolex Submariner have established themselves as icons, boasting impressive features and a rich history. 
Generally, the Omega Seamaster is known for its exceptional underwater legibility and more affordable price when compared to the Rolex Submariner. On the other hand, the Rolex Submariner, often considered the first true dive watch, stands out for its exceptional craftsmanship, power reserve, and long-lasting prestige.
As you delve deeper into the specifics of each collection, you'll find unique aspects that appeal to different preferences. Ultimately, it's essential to consider the features, performance, and style that best suit your needs and taste when choosing between these two timepieces.
Comparison: Omega Seamaster vs. Rolex Submariner
Features
Omega Seamaster
Rolex Submariner
Case
Features a stainless steel case that is water-resistant up to varying depths
Features a solid and durable Oyster case, typically made from 904L stainless steel
Bezel
• Rotatable bezel
• Scratch-resistant ceramic bezel
• Features clear, legible markings, usually in 60-minute increments, with a luminescent pip at the 12 o'clock position.
• Features a unidirectional rotating bezel
• Uses highly-resistant Cerachrom bezel that is highly resistant to scratches, UV damage, and corrosion
• Marked with 60-minute graduations, the numerals, and graduations are coated in platinum or gold
Strap
• Choices include stainless steel bracelets, rubber straps, and leather bands
• Features user-friendly mechanisms for adjustment and replacement
• 904L stainless steel Oyster bracelet
• Includes a secure folding Oysterlock clasp
Movement
• Available in automatic or quartz movements
• Features such as magnetic resistance, shock absorption, and a power reserve
• Certified as Master Chronometers by METAS (the Swiss Federal Institute of Metrology)
• Certified as a Superlative Chronometer
• Feature Parachrom hairsprings, which offer greater resistance to shocks and temperature variations
• Self-winding with a power reserve
Price Point
S$1,489 – S$424,341
S$9,545 – S$562,332
The Omega Seamaster provides diverse case options, varying water resistance, and a bezel that's rotatable with clear markings. In contrast, the Rolex Submariner features a sturdy 904L stainless steel Oyster case, which includes a scratch-resistant Cerachrom bezel with premium coatings.
Meanwhile, strap choices on the Seamaster vary widely, in contrast to the Submariner's consistent 904L stainless steel Oyster bracelet. Movement-wise, the Seamaster offers both automatic and quartz options with METAS certification, whereas the Submariner is exclusively automatic, priding itself on robustness and precision.
Price-wise, the Seamaster is more accessible, while the Submariner sits in a higher price range.
Heritage and Brand
The Omega Seamaster and Rolex Submariner come from prestigious backgrounds with rich histories that have significantly influenced the watch industry. Omega, established in 1848, introduced the Seamaster in 1948, drawing inspiration from the watches they supplied to the British Royal Navy during World War II.
This connection with naval forces and its association with James Bond films has bolstered the Seamaster's reputation as a reliable and iconic dive watch.
On the other hand, Rolex has a shorter but equally impactful history, founded in 1905 and unveiling the Submariner in 1953. The Submariner set the standard for modern dive watches with unparalleled water resistance and robustness, making it a favorite among novice and professional divers and watch enthusiasts worldwide.
Design and Aesthetics
The Omega Seamaster and Rolex Submariner showcase distinct design elements that cater to different aesthetic preferences. The Seamaster often features a more varied design palette, with options ranging from sporty to elegant. It is recognized for its wave-patterned dials and skeleton hands.
The Rolex Submariner, conversely, maintains a consistent and timeless design characterized by its bold, luminescent hour markers, Mercedes hands, and a unidirectional rotating bezel with a 60-minute scale. Its design is universally recognizable and has remained unchanged, emphasizing a classic and robust aesthetic instantly associated with luxury diving watches.
Materials
The Seamaster often features stainless steel cases, with options for titanium in certain models, and bezels made from ceramic, known for their scratch resistance. Omega also offers a variety of strap options, including metal bracelets, rubber, and leather.
In contrast, Rolex predominantly uses 904L stainless steel for the Submariner's case and bracelet, a highly regarded material for its corrosion resistance and polished finish. The Submariner's bezel is made from Cerachrom, Rolex's proprietary ceramic material, noted for its fade-resistant properties and hardness.
Movement and Precision
The Omega Seamaster and Rolex Submariner are powered by highly precise and reliable movements. However, they employ different technologies and standards. Omega Seamaster watches commonly use the brand's Co-Axial movement, like the Calibre 8800 in the Diver 300M, which is resistant to magnetic fields up to 15,000 gauss.
These movements are certified by METAS, ensuring they operate within 0 to +5 seconds per day.
On the other hand, the Rolex Submariner is usually equipped with the Calibre 3230, offering a substantial 70-hour power reserve and precision of -2/+2 seconds per day, exceeding COSC standards. Rolex achieves this high performance using a Parachrom hairspring and high-capacity barrel.
Price Range
Considering the price range of these two timepieces, the Omega Seamaster is more affordable than the Rolex Submariner. Depending on the model, some Omega Seamaster watches start at around S$1,489 to S$424,341.
Meanwhile, the Rolex Submariner commands a higher price point on its watches, with some valuing around S$9,545 to S$562,332. This highly depends on the materials used and if it's gem-set.
Investment Potential
While the Omega Seamaster and Rolex Submariner hold their value relatively well over time, the Submariner is known to have a greater investment potential. This is due to Rolex's reputation, limited production, and high demand.
However, there should be no misconception that the Omega Seamaster isn't a worthy investment; it simply may not appreciate as rapidly or predictably as the Submariner.
Watch Charts gives a rough idea that the Omega Seamaster collection is estimated to sell anywhere between S$494 and S$30,703 in a private sales market. In comparison, the Rolex reaches anywhere between S$12,445 and S$52,832.
5 Best Seamaster Dive Watches
1. Diver 300M Co-Axial Master Chronometer 210.32.42.20.10.001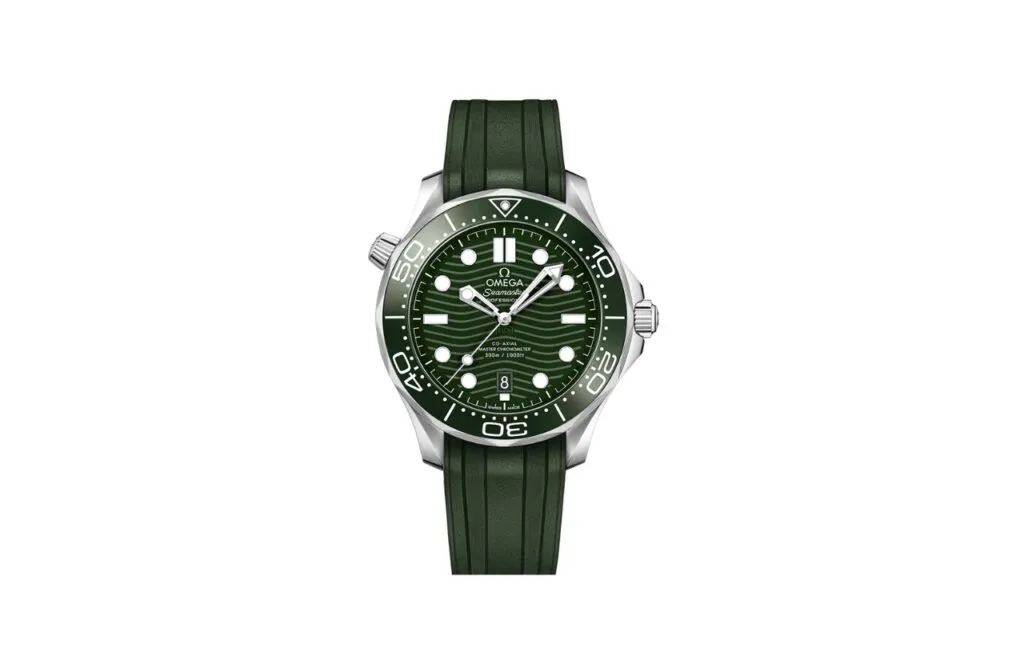 This popular dive watch features a 42mm stainless steel case and a blue ceramic bezel and dial. It's also water-resistant up to 300 meters and has a co-Axial Master Chronometer movement.
2. Planet Ocean 600M Co-Axial Master Chronometer 215.32.44.21.01.001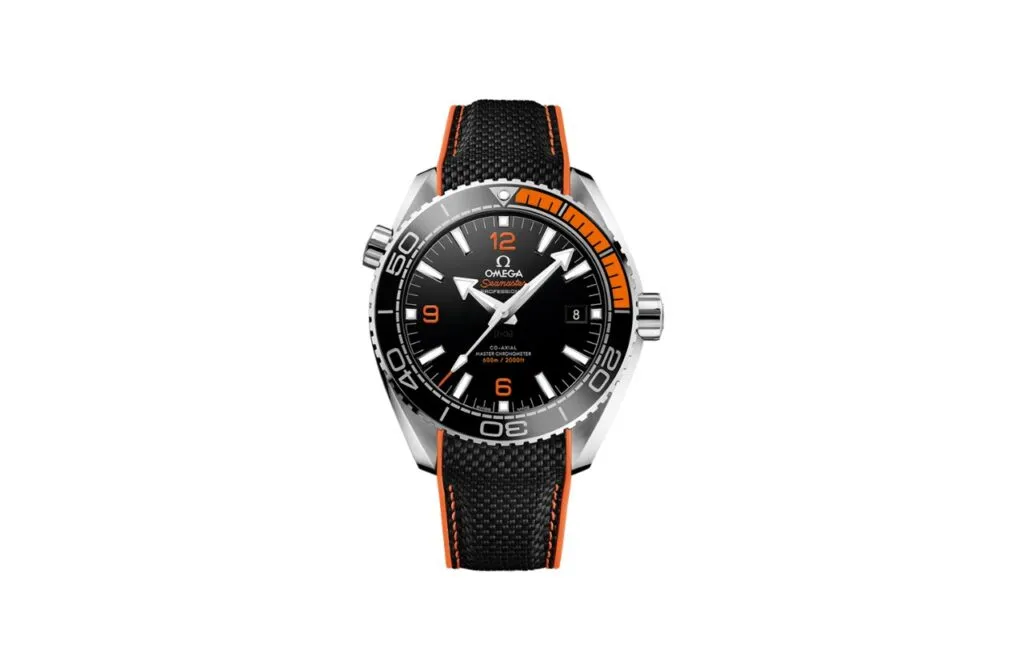 This robust dive watch has a 43.5mm stainless steel case paired with a black ceramic bezel and dial. It's further powered by the calibre 8900 with a 60-hour power reserve.
3. Aqua Terra 150M Co-Axial Master Chronometer 231.10.42.21.02.006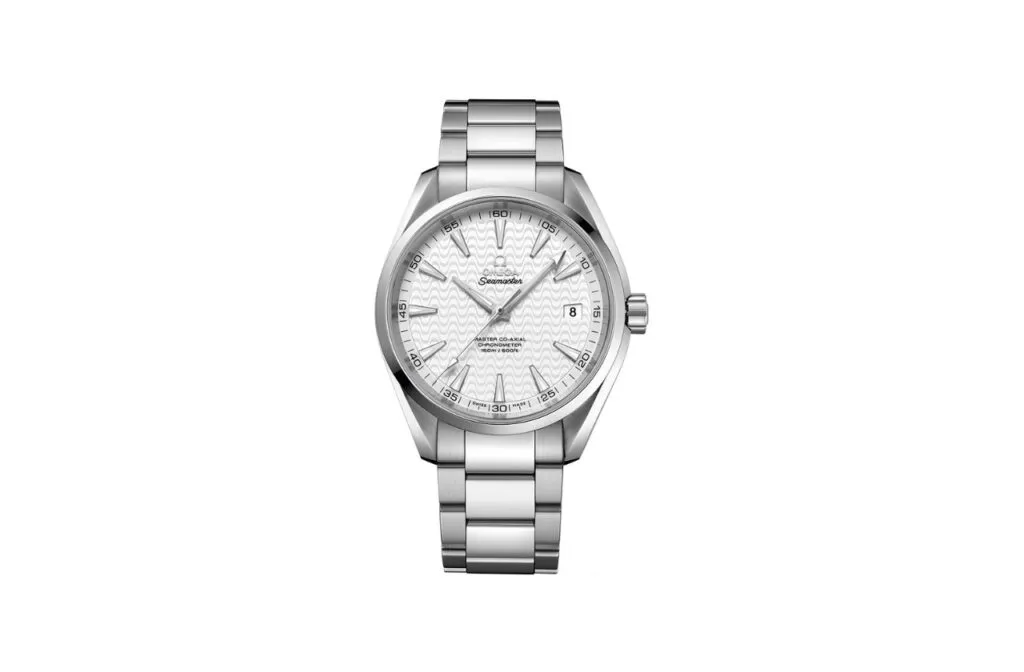 Designed for versatility, this 41.5mm dive watch features a stainless steel case with a silver dial and horizontal "teak" pattern.
4. Seamaster 300 Master Co-Axial Chronometer 233.30.41.21.01.001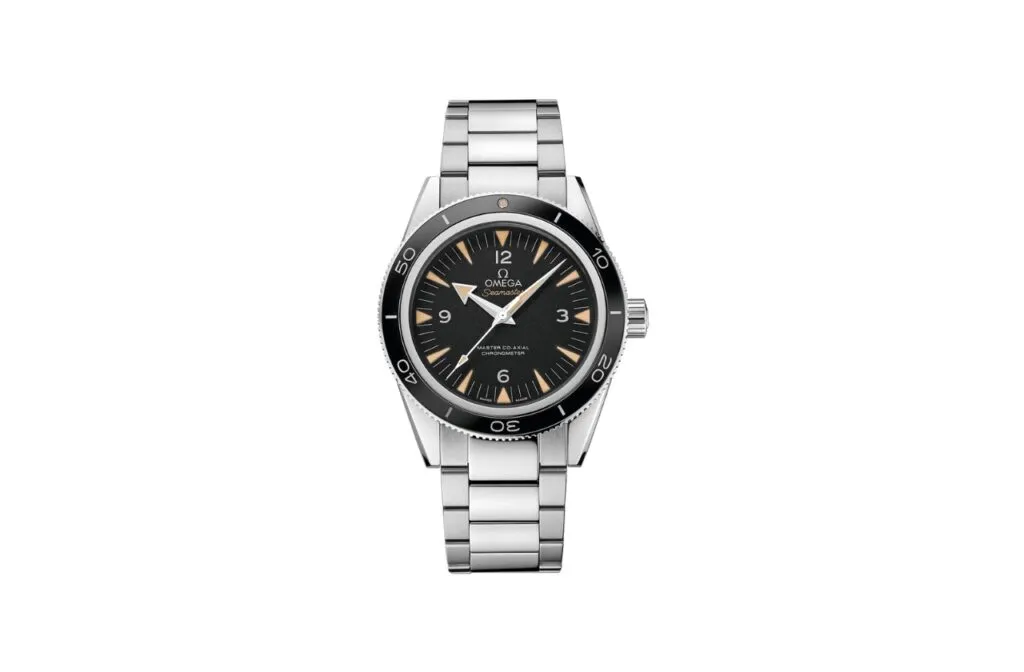 Inspired by the 1957 original, this 41mm timepiece comes with a stainless steel case and a black aluminum bezel.
5. PloProf 1200M Co-Axial Master Chronometer 227.90.55.21.01.001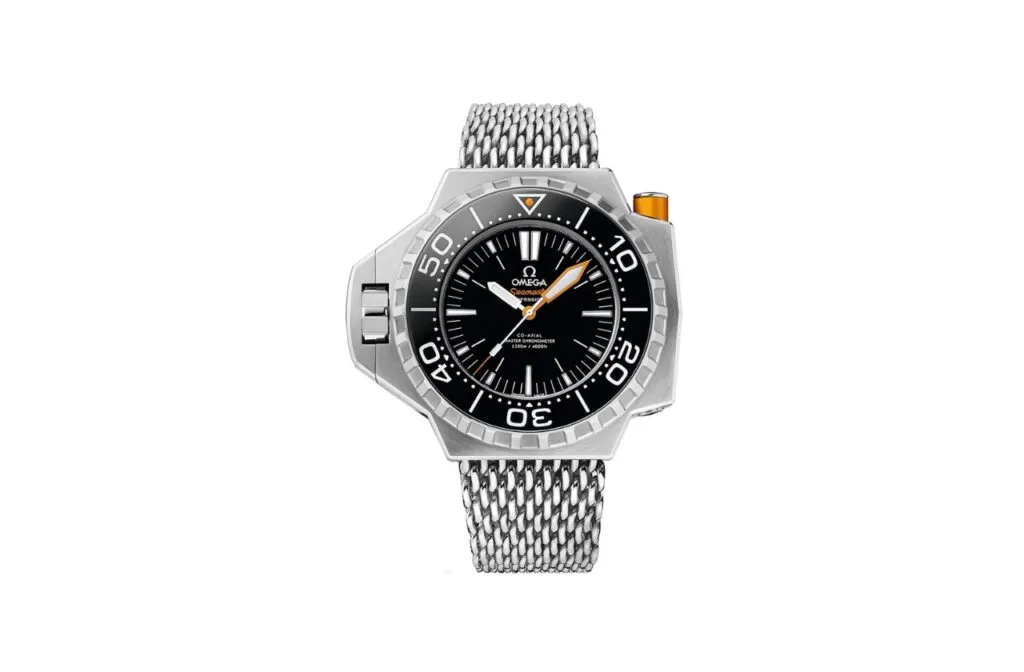 This professional dive watch boasts a 55mm x 48mm stainless steel case with a unique "shark-proof" bracelet.
5 Best Rolex Submariner Dive Watches
1. Rolex Submariner Date Ref. 126610LN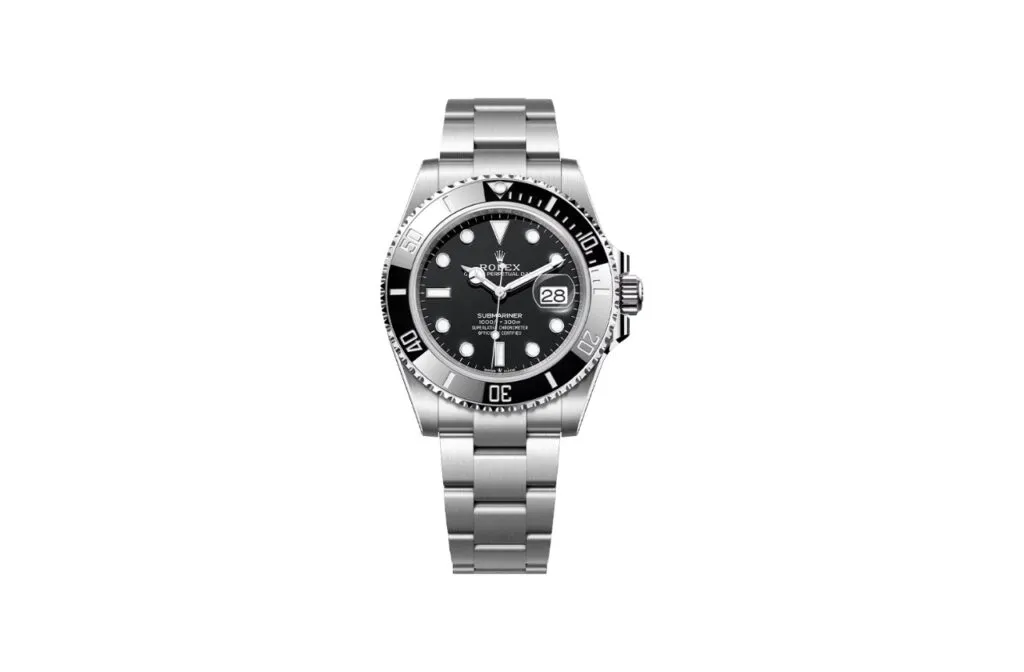 This classic dive watch features a 41mm Oystersteel case paired with a black dial and black Cerachrom bezel. It's powered by the precise calibre 3235 movement and is water resistant up to 300 meters.
2. Rolex Submariner No Date Ref. 124060
A purist's choice, this 41mm Submariner 124060 sports a clean, dateless black dial housed in a durable Oystersteel case. The black Cerachrom bezel and calibre 3230 movement ensure reliable performance underwater and on land, offering a timeless design appreciated by many.
3. Rolex Submariner "Hulk" Ref. 116610LV
This bold 40mm timepiece stands out with its vibrant green dial and matching Cerachrom bezel, all encased in Oystersteel. Powered by the calibre 3135, the "Hulk" is a statement piece and a testament to Rolex's craftsmanship.
4. Rolex Submariner "Kermit" Ref. 126610LV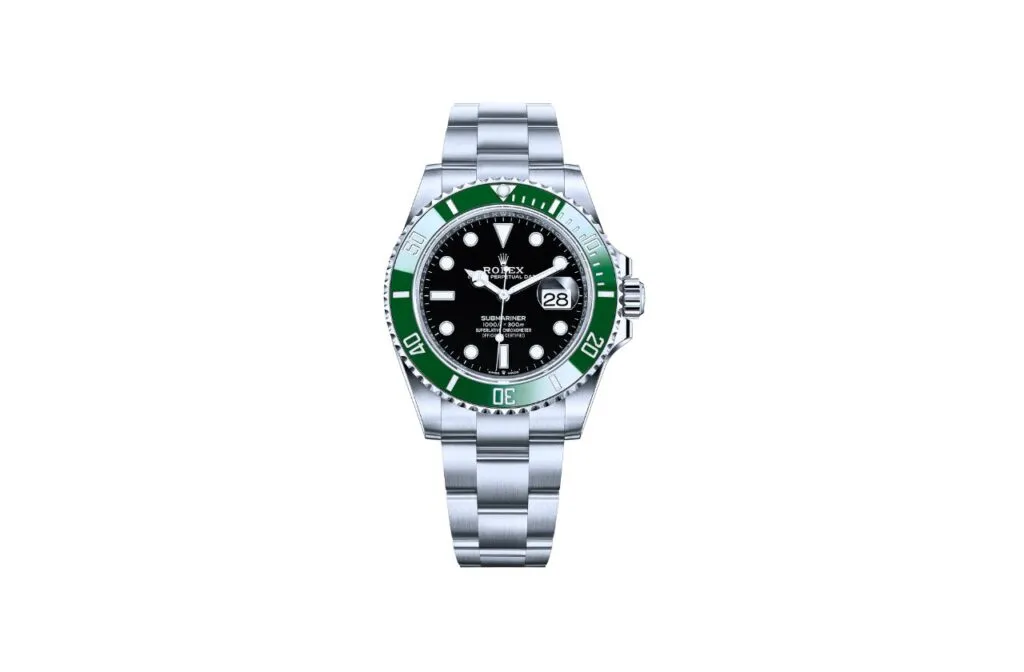 Celebrating the Submariner's 50th anniversary, this 41mm model combines a black dial with a striking green Cerachrom bezel. Inside, the calibre 3235 provides precise timekeeping.
5. Rolex Submariner "Smurf" Ref. 116619LB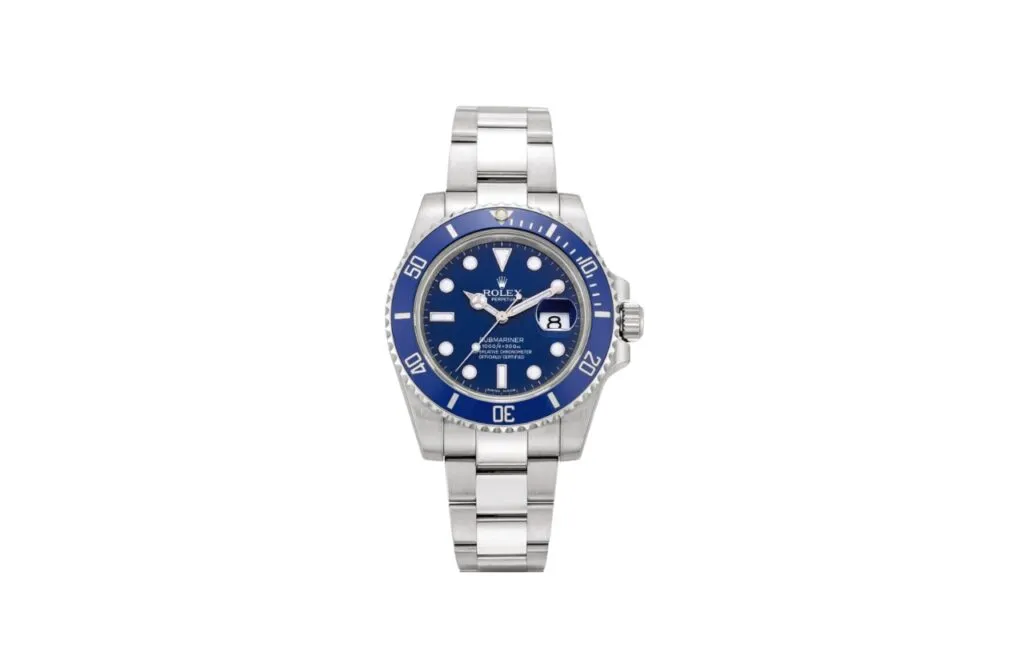 A luxurious choice, this model features a 40mm 18ct white gold case, complemented by a bright blue dial and bezel. The calibre 3135 movement ensures accuracy and reliability, making the "Smurf" a high-end option for dive watch enthusiasts.
Frequently Asked Questions
1. Does an Omega Watch Hold its Value Like Rolex?
While Omega watches hold their value, Rolex watches retain value better in the long run. However, both brands produce high-quality timepieces that typically hold a significant portion of their initial value.
Omega watches like the Seamaster are praised for their quality and craftsmanship. Still, if you are looking for a watch that holds its value best over time, a Rolex Submariner might be a better option, as it usually has a higher price tag and is considered a more exclusive brand.
2. What Watch Do Rich People Wear?
The rich, like Jeff Bezos, Elon Musk, and Warren Buffet often wear various luxury watches, and it isn't uncommon to see them sporting both Omega Seamasters and Rolex Submariners. Ultimately, watch choice comes down to personal preference and style, even for the ultra-wealthy.
Other watch brands like Patek Philippe, Audemars Piguet, and Vacheron Constantin are also popular among millionaires and billionaires.
Final Word
The Omega Seamaster, affordable and diver-centric, offers underwater legibility and robust reliability. The Rolex Submariner sets the high-end standard for diver's watches, boasting exceptional durability and a functional design. Both maintain value over time, with the Seamaster 300M presenting great cost efficiency and the Submariner holding a higher price tag.
Each has a rich heritage and a strong, enthusiast community, making the final choice between them a matter of personal preference, budget, and value placed on design, performance, and brand legacy.
Key Takeaways
The Submariner is well-known for its exceptional proprietary materials. It is an excellent investment due to its brand recognition and resale value.
The Omega Seamaster series features diverse styles, including the iconic blue wave dial, which stands out as a trendy yet classic choice compared to the Submariner's designs.
Regardless of which watch you choose, the Seamaster and Submariner offer precise timekeeping, excellent durability, and robust capabilities, catering to various tastes and preferences.
Looking to buy or sell your luxury watches? Watch Exchange is your one-stop destination for trading Rolex, Patek Philippe, Tissot, Sinn, Zenith, and other luxury timepieces. Find your next watch today or list your item for free!
---