The choice between Rolex Air King vs. Explorer often boils down to personal preference, which can be based on aesthetics and budget. However, this can significantly sway in a different direction once you assess these timepieces according to their versatility and purpose.
While the Rolex Explorer and the Air-King collections live up to the brand's standards and compete well among other luxury watches, these two are not cast on the same mold. Hence, looking into their features is vital in making an informed decision if you're eyeing Rolex timepieces and have come down to the Explorer and Air-King. 
In today's post, we are comparing the Rolex Explorer reference 214270 with the Air-King reference 116900. Though slightly similar in appearance, these two models are more unique than you think if you delve deeper into their specifications.
Side-by-Side Comparison: Rolex Explorer 214270 Vs. Air-King 116900
Feature
Rolex Explorer 214270
Air-King 116900
Case
• 39mm
• Oyster steel case
• Water-resistant for up to 100 metres (330 feet)
• 40mm
• Oyster steel case
• Water-resistant for up to 100 metres (330 feet)
• Stunning crown guards
Bezel
• Stainless steel
• Fixed, domed bezel
• Stainless steel
• Fixed, domed bezel
Strap
• Three-link Oyster bracelet
• Stainless steel Oysterclasp
• Three-link Oyster bracelet
• Stainless steel Oysterclasp
Dial
• High-contrast black dial
• Luminescent hour markers
• Oversized 3-6-9 hour markers
• Black dial
• Green and gold logo
• Green Rolex name
• Arabic numeral hour markers
• Oversized 3-6-9 hour markers
Movement
• Calibre 313248-hour power reserve
• Features a Parachrom hairspring and Paraflex shock absorbers for greater shock and temperature resistance
• Superlative chronometer certified
• Calibre 313148-hour power reserve
• Blue Parachrom hairspring for additional protection against magnetic fields
• Superlative chronometer certified
Price Point
S$9,000
S$9,800
Summarizing the table, the Rolex Explorer ref. 214270 offers a classic 39mm design with a high-contrast dial and enhanced shock resistance, suitable for understated elegance. Meanwhile, the Air-King ref. 116900 stands out with a bolder 40mm case, Arabic numerals, and additional magnetic field protection.
Let's discover their differences further through the following sections:
Heritage and Brand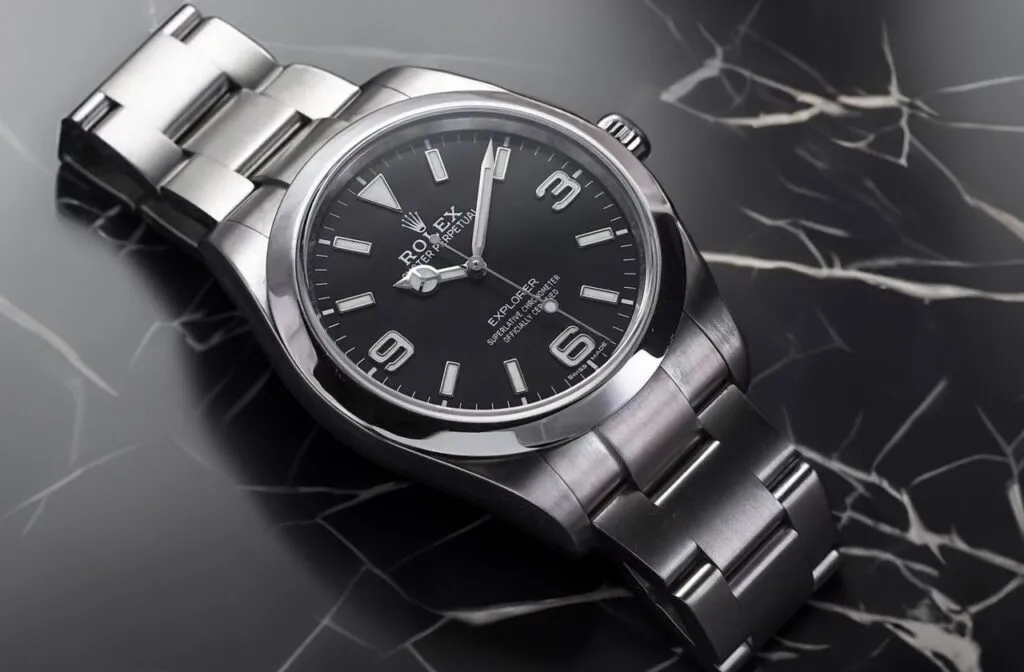 Launched in 2010, the Rolex Explorer 214270 stands as a testament to the brand's long-standing relationship with exploration and adventure, crafted meticulously to suit the needs of mountaineers and outdoor enthusiasts.
This new Explorer Rolex sports watch primarily carries the legacy of the original Explorer, which accompanied Sir Edmund Hillary and Tenzing Norgay, both mountaineers, to the summit of Mount Everest in 1953. It's a piece that speaks to the resilient spirit of adventurers, designed to perform with precision under challenging conditions.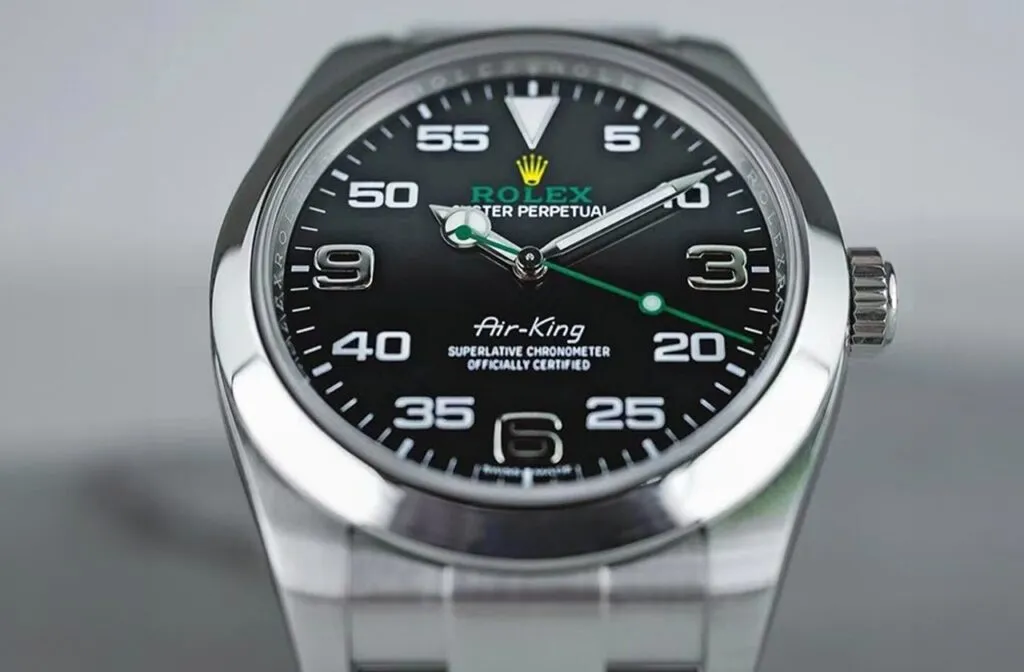 Meanwhile, the Rolex Air-King ref. 116900, introduced in 2016, revives Rolex's connection to the golden age of aviation during the 1930s. It celebrates the daring pilots who made history and the Oyster Perpetual's role in their epic journeys. The Air-King appeals to those captivated by the world of aviation and appreciates a watch that makes a statement.
Design and Aesthetics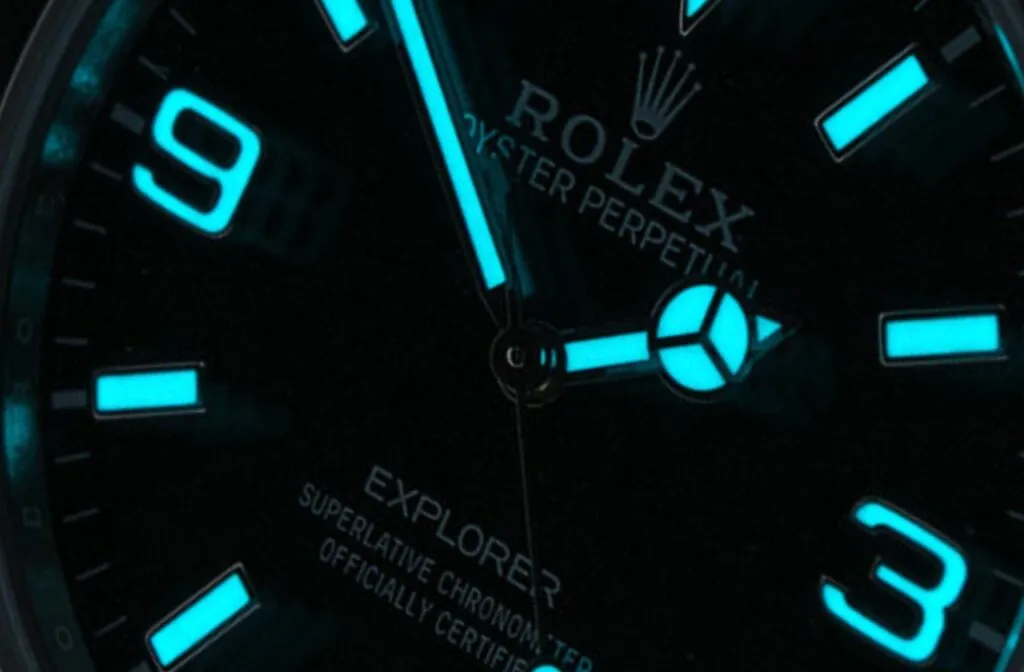 The Rolex Explorer 214270 showcases a refined and classic aesthetic with its sleek 39mm case, high-contrast black dial, and luminous hour markers, including the prominent 3-6-9 numerals that contribute to its easy legibility and enduring appeal. The hands are proportionately designed to ensure optimal readability, maintaining the watch's utilitarian roots.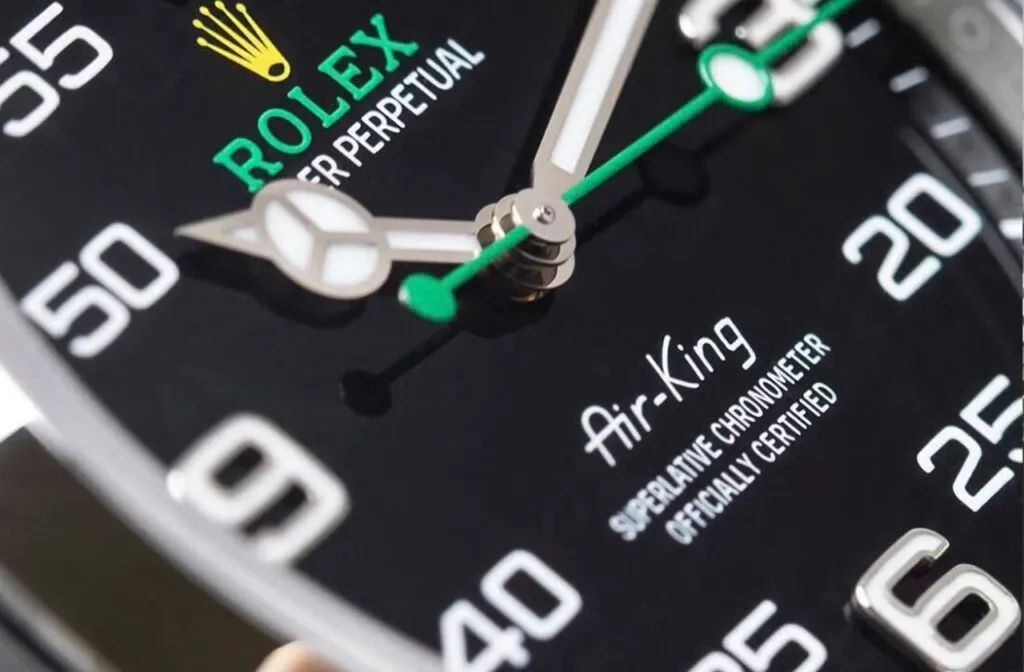 On the other hand, the Air-King 116900 makes a bold statement with its 40mm case and black dial. It is enhanced by a striking mix of green accents, a vibrant yellow Rolex logo, and modern Arabic numeral hour markers. The pronounced 3-6-9 numerals forge a subtle link to its Explorer counterpart, adding a sporty touch to its adventurous aesthetic.
Both watches showcase legibility, though with varying dial designs.
Materials
Both the Explorer 214270 and the Air-King 116900 are crafted with exceptional attention to material quality and durability. They feature scratch-resistant sapphire crystals, ensuring the dial is protected from the elements. The cases of both watches are made from Oystersteel, known for its corrosion-resistant properties, contributing to their longevity and robust performance.
These two watches feature the same three-link Oyster bracelet, ensuring durability and comfort. The bracelets are also made from Oystersteel material, and they are paired with a folding Oysterlock safety clasp to secure the Rolex watch on the wrist.
Movement and Precision
The Rolex Explorer 214270 runs on the calibre 3132 movement, while the Air-King 116900 utilizes the calibre 3131; both movements boast a solid 48-hour power reserve, ensuring consistent performance.
The calibre 3132 in the Explorer includes Rolex's proprietary Paraflex shock absorbers, enhancing the watch's resilience against impacts, which is crucial for adventurous pursuits. This movement maintains an accuracy of +2/-2 seconds per day, surpassing the standards set by the Swiss Official Chronometer Testing Institute.
On the other hand, the Air-King's calibre 3131 features a blue Parachrom hairspring, providing exceptional resistance to magnetic fields, a necessary feature for pilots and frequent flyers. It also achieves an accuracy of +2/-2 seconds per day, ensuring precision in various conditions.
Price Range
The Rolex Explorer 214270 is generally more affordable than the Air-King 116900. According to Watch Charts, the estimated retail price of the 214270 is around S$9,000, while the 116900 is S$9,800.
However, Rolex watch prices may vary based on many factors such as availability and demand. That said, the mentioned prices may fluctuate at any given time.
Investment Potential
Regarding investment potential, the Explorer sports watch may have a more secure and steady appreciation over time due to its established history, classic design, and demand. Meanwhile, the Air-King 116900 might appeal to a niche market, potentially leading to rapid value increases if it becomes a sought-after collector's item.
Giving you a rough idea of how much these watches can be when sold in the grey market, the price for Explorer 214270 may sell between S$7,993 and S$39,358, while the pilot's watch is around S$9,008 to S$25,927.
Frequently Asked Questions
1. Why Did Rolex Stop Making Air-King?
Rolex temporarily halted production of the Air-King in 2014, a decision shrouded in mystery as the brand rarely discloses its strategic motivations.
Industry observers speculate that this could have been a strategic move to streamline the collection, while focusing on more popular and complex Rolex models as well as simultaneously to modernize the Air-King's design and features, which led to the launch of the new Air-King 116900 in 2016.
The discontinuation might have also adjusted the Air-King's market positioning and created anticipation for its return, a tactic often employed in the luxury goods sector to reignite interest in a particular product line.
2. What Is the Cheaper Alternative to Rolex Explorer 214270?
While there isn't a direct, cheaper alternative from Rolex, you can explore other options from competing luxury watch brands. For example, the Tudor Black Bay 36 may be a suitable alternative. It shares similar features with the Rolex Explorer 214270, such as its durable design, legible dial, and steel construction.
Moreover, Tudor is a Rolex subsidiary, ensuring quality and reliability that you can trust. Of course, the Black Bay isn't the only watch you can set your eyes on. Another option is the Omega Seamaster Aqua Terra. This collection boasts a balance of sportiness and elegance while maintaining exceptional functionality.
3. What is the Cheaper Alternative to Air-King 116900?
Like the Explorer, there isn't an exact, more affordable alternative to the Rolex Air-King 116900 within the Rolex lineup, but other brands offer comparable features. One option is the Oris ProPilot, which provides a clean, legible dial and robust design at a more attractive price point. Another choice could be the Sinn 104, recognized for its clean dial, although the black bezel has scales. There's a plethora of alternatives out there, but be sure to closely compare specifications, prices, and reviews to determine which option best fits your preferences and budget.
Final Word
Wrapping up, the Rolex Air-King and Explorer showcase durability with its Oyster steel case and 100m water resistance. The 39mm Explorer offers classic elegance and readability, ideal for adventurers and professionals. In comparison, the Air-King stands out with its 40mm vibrant, modern design, appealing to those seeking boldness.
Both maintain Rolex's standard for strength and precision with their Oyster bracelets and accurate movements. However, they specialize differently: the Explorer in shock resistance and the Air-King in anti-magnetism.
Key Takeaways
The Rolex Air-King and Explorer are excellent entry-level watches with distinct dial designs; the Air-King offers a more dynamic look, while the Explorer features a simpler and straightforward black dial layout.
Both watches have history and appeal, but the Explorer is often mentioned as the better-balanced of the two due to its simplicity.
Some watch enthusiasts find the Air-King dial too busy because of its numerals and logo placements. At the same time, the Explorer is praised for being perfectly balanced and understated.
Looking to buy or sell your luxury watches? Watch Exchange is your one-stop destination for trading Rolex, Patek Philippe, Tissot, Sinn, Zenith, and other luxury timepieces. Find your next watch today or list your item for free!
---