The Rolex brand is synonymous with precision, durability, and timeless elegance, and within its esteemed lineup, the Rolex Explorer and Rolex Explorer II stand as two of its most iconic timepieces. At first glance, these two Rolex collections may seem like the same watch model due to their remarkable similarities. However, upon closer inspection, the Explorer and Explorer II reveal a series of distinguishing features and functionalities that set them apart.
While both models are inspired by the world of exploration, the original Rolex Explorer, birthed in the 1950s, is a nod to the brand's association with mountaineering and was linked to Sir Edmund Hillary's successful ascent of Mount Everest. The Explorer II (1971) was designed explicitly for spelunkers and polar explorers, boasting a 24-hour hand and a fixed bezel, intended to help wearers differentiate between day and night in environments where this distinction isn't easily discernible.
Both models have evolved over the decades, adapting to the changing needs of explorers and watch enthusiasts alike. Yet, their core difference lies in their distinct functionalities and the specific type of adventurer they are designed to assist. The choice between the two ultimately boils down to individual preferences and the specific challenges one seeks to address.
Comparison Table: Rolex Explorer vs Rolex Explorer II
| | | |
| --- | --- | --- |
| Feature | Rolex Explorer I | Rolex Explorer II |
| Case Material | Oystersteel | Oystersteel |
| Case Size | 36mm or 39mm size | 42mm size |
| Bezel | Oystersteel; smooth, fixed bezel | Oystersteel; fixed, 24-hour graduated bezel |
| Strap | Oystersteel; Oysterlock safety clasp | Oystersteel; Oysterlock safety clasp with Easylink 5mm comfort extension |
| Dial | 3, 6, and 9 numerals; Chromalight display | 24-hour hand; Chromalight display |
| Movement | Various, including Caliber 3230 | Various, including Caliber 3285 |
| Price point | S$5,574 to S$24,710 | S$10,601 and S$36,378 |
Rolex Explorer I
History
The Rolex Explorer has a rich history, with its initial release in 1953. Its history is intimately intertwined with daring exploits and adventures that push human limits. Its genesis can be traced back to the highest peak on Earth – Mount Everest. When Sir Edmund Hillary and Tenzing Norgay triumphantly scaled the mountain in 1953, a prototype of the Rolex Explorer, an Oyster Perpetual model, was strapped to Hillary's wrist, showcasing the brand's commitment to precision and durability under extreme conditions.
The first Rolex to bear the "Explorer" name was the ref. 6350, introduced in 1953. This was swiftly followed by the ref. 6150 and the renowned ref. 1016, which was introduced in 1960 and remained in production for an impressive 29 years.
The ref. 1016 brought with it the Caliber 1560 movement (later updated to the Caliber 1570), housed within a 36mm case, and sported the emblematic 3, 6, and 9 numerals on the dial.
In 1989, the ref. 14270 was launched, modernizing the Explorer I with a new Caliber 3000 movement and transitioning to a sapphire crystal. The subsequent models, the ref. 114270 and the notable ref. 214270 (which increased the case size to 39mm), continued to innovate in materials and movement technology, while still paying homage to the enduring aesthetic and spirit of the original model.
In 2021, Rolex circled back to tradition with the release of the reference ref. 124270, reviving the classic 36mm size but incorporating the modern Caliber 3230 movement, symbolizing a blend of the Explorer's rich heritage and contemporary watchmaking advancements. Thus, the Rolex Explorer I, through its various evolutions, continues to be a testament to the brand's relentless pursuit of excellence and adventure.
Design and Aesthetics
The design of the Rolex Explorer is a perfect blend of elegance and adventure. It features a simple yet stylish dial, which is easy to read even in low-light conditions. With its robust construction, the Explorer is built to withstand the rigors of exploration, making it a reliable companion for adventurers and sports enthusiasts alike.
Materials
Case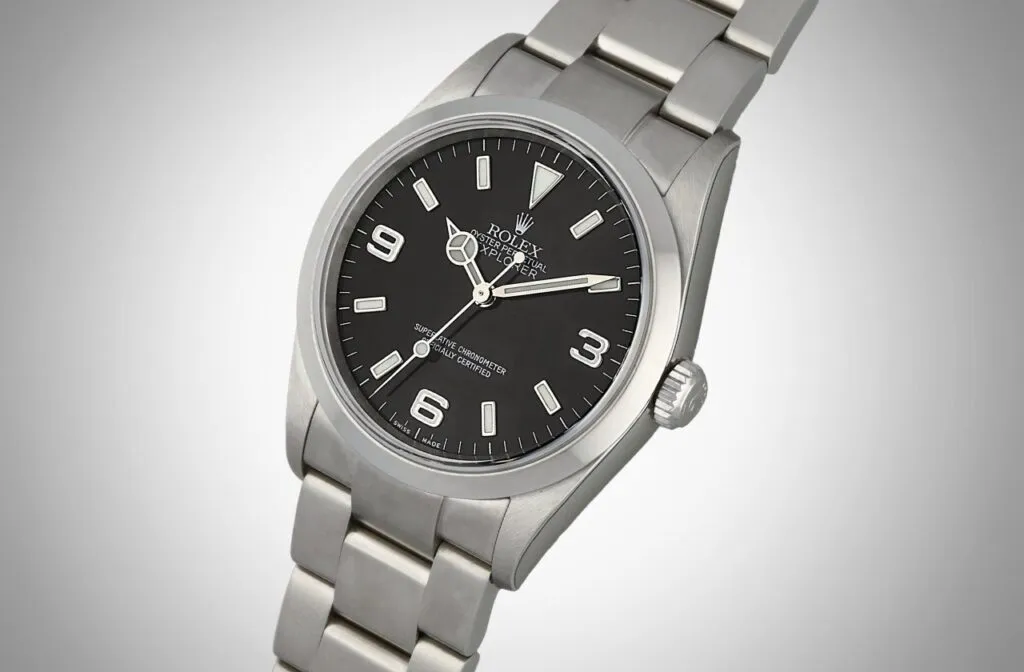 The case of the Rolex Explorer is crafted from Oystersteel, ensuring durability and resistance to corrosion. It is typically sized at 39mm, giving it a versatile look that can be worn in both casual and formal settings. The Twinlock winding crown offers additional protection to the case, securely sealing it to prevent dust and water damage.
Bezel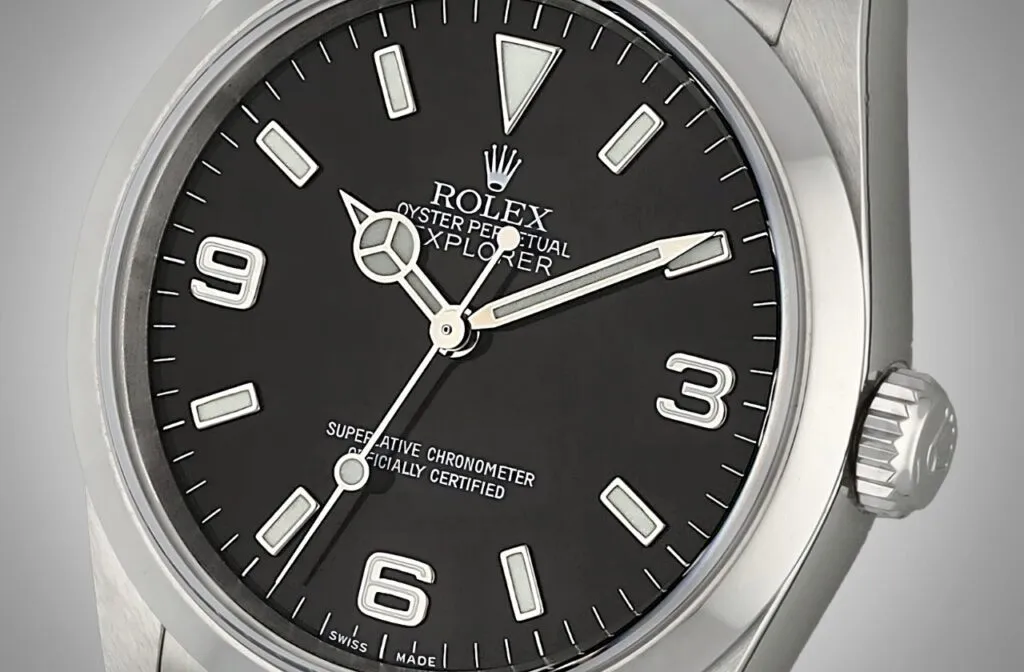 The bezel of the Rolex Explorer I is known for its simplicity and functionality, distinctly contrasting with other Rolex models like the Submariner or the GMT-Master II, which feature rotating bezels with markings. The Explorer I incorporates a smooth, fixed bezel made from Oystersteel – a robust, corrosion-resistant alloy that maintains its strength even in the harshest conditions. This polished, sleek bezel beautifully frames the watch's dial, contributing to the model's overall aesthetic of understated elegance and durability.
Its bezel is fixed and made from the same Oystersteel as the case. It features bold and legible numerals, making it easy to read the time at a glance. This minimalist design contributes to the overall aesthetic appeal of the watch while maintaining its practical functionality.
Strap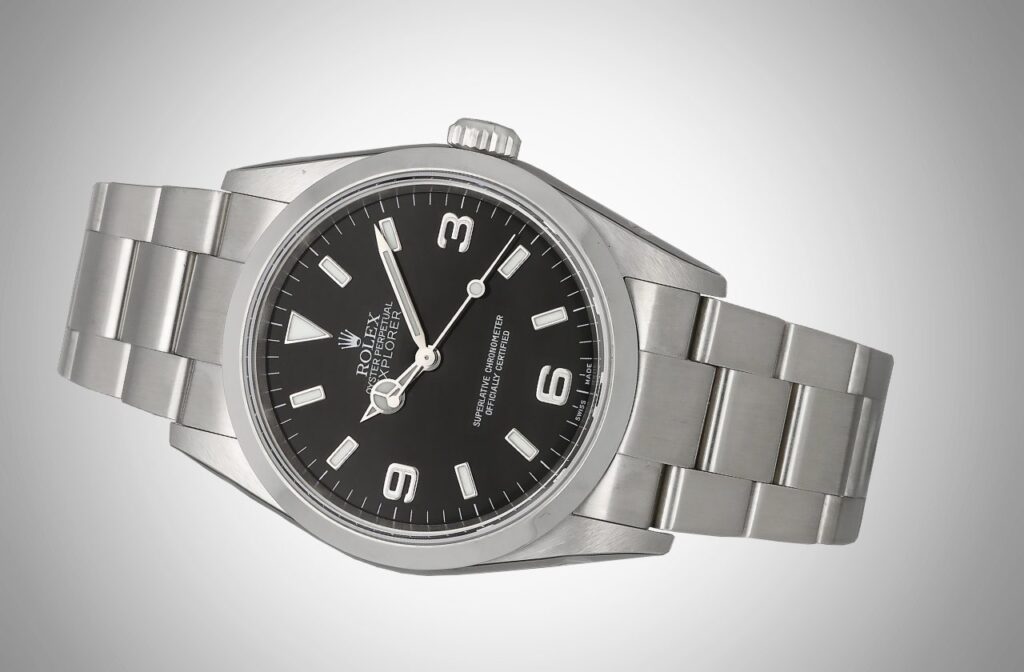 The bracelet on the Rolex Explorer is designed for maximum comfort and durability. Made from Oystersteel, it features flat, three-piece links, providing a sturdy yet stylish appearance. The Oysterlock safety clasp ensures the strap stays securely fastened, keeping your watch in place during your adventures.
Movement and Precision
Precision and reliability are the hallmarks of Rolex timepieces, and the Explorer is no exception. Equipped with a self-winding mechanical movement, it ensures consistent timekeeping, even in the most extreme conditions. The Paraflex shock absorbers and Parachrom hairspring further enhance the accuracy and durability of the movement, making the Rolex Explorer a trustworthy companion for all your adventures.
Price Range
Timepieces within the Rolex Explorer collection command prices ranging from S$5,574 to S$24,710 in the private sales sector. Among them, the Rolex Explorer ref. 124270 garners the most attention and popularity. As of October 2023, this coveted Rolex model fetches an average price of S$10,819 on the private market, slightly eclipsing its retail tag of S$10,100.
Investment Potential
Investing in a Rolex Explorer, particularly the ref. 124270 model, could yield positive returns based on its existing secondary market price of S$10,819 compared to its retail price of S$10,100. This indicates that this model is experiencing a premium in secondary markets. Additionally, the brand's illustrious history and consistent demand for Rolex watches among collectors and enthusiasts make Rolex Explorer models a must-have for any watch enthusiast. However, careful attention must be paid to potential risks and market dynamics, ensuring an informed and strategic investment.
Rolex Explorer II
History
The Rolex Explorer II, known for its robust nature and special features for exploration, marked its introduction into the horology world in 1971 with the first Rolex Explorer II model ref. 1655. Initially designed for cave explorers, the original Explorer II featured a distinctive, arrow-shaped 24-hour hand and a fixed, engraved 24-hour bezel to help adventurers differentiate between day and night hours, a crucial function in environments where light is absent.
The ref. 1655 housed the caliber 1575 and became well-known for its unique dial design, which subsequently earned it the nickname "Steve McQueen," although there is no confirmed evidence that the actor ever wore the model.
In 1985, Rolex introduced the ref. 16550, featuring several changes from its predecessor, including an increased case size of 40mm, a new caliber (3085), and the introduction of a white dial variant. Additionally, the ref. 16550 showcased a sapphire crystal and an independently adjustable hour hand, which could be set without stopping the second hand or altering the minutes and 24-hour hands.
In 1989, the ref. 16570 brought forth the new caliber 3185 (and later 3186) with minor aesthetic changes, sustaining its production for over two decades.
In 2011, to celebrate the 40th anniversary of the Explorer II, Rolex unveiled the ref. 216570, increasing the case size to 42mm and introducing the caliber 3187, which includes the Paraflex shock absorbers and a Parachrom hairspring for enhanced stability and durability.
The most recent iteration as of now, the ref. 226570, was introduced in 2021, maintaining the 42mm case but housing the new generation caliber 3285, demonstrating a substantial improvement in power reserve and precision.
Through its iterations, the Explorer II has steadfastly represented Rolex's commitment to precision and reliability for those who venture into the world's most forbidding frontiers.
Design and Aesthetics
The Rolex Explorer II features a design that is both functional and visually appealing. With a sleek stainless steel case and a clear, easy-to-read dial, this watch is perfect for those who appreciate an elegant and practical timepiece. The Chromalight luminescence on the dial ensures excellent visibility even in low-light conditions.
Materials
Case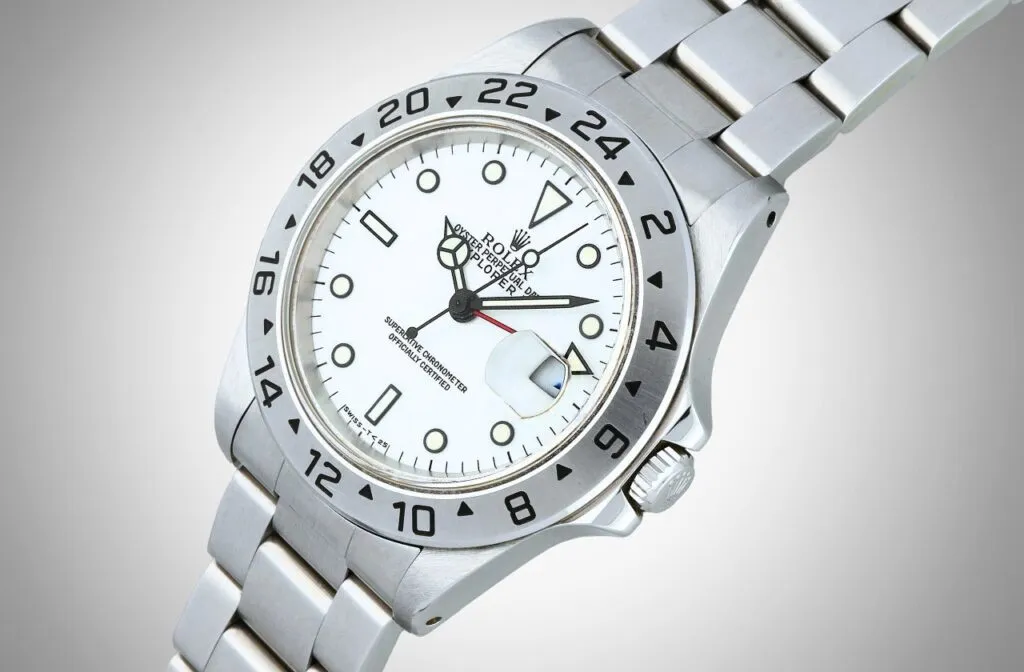 The case of the Rolex Explorer II is made of Oystersteel, which belongs to the 904L stainless steel family. This material is known for its exceptional resistance to corrosion and its ability to maintain its finish over time. The case size of the Explorer II is 42mm, making it a comfortable and versatile choice for a variety of wrist sizes.
Bezel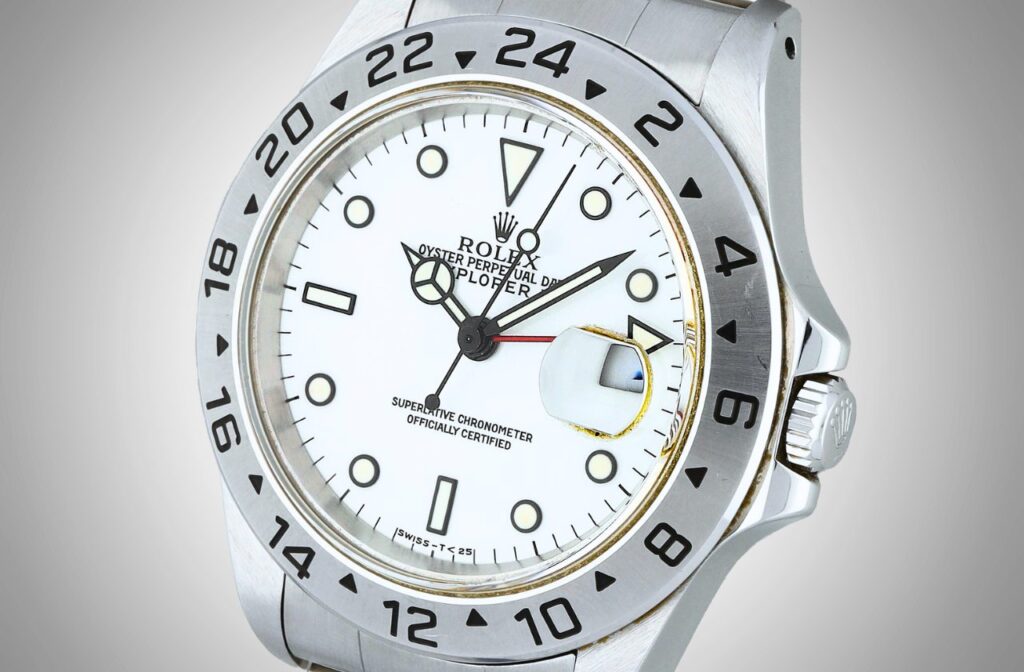 One of the key differences between the Rolex Explorer II and the original Explorer is the bezel. The Explorer II features a fixed 24-hour bezel that allows the wearer to track a second time zone or quickly determine day or night while exploring the great outdoors. This unique feature adds both practicality and a distinctive design element to the watch.
Strap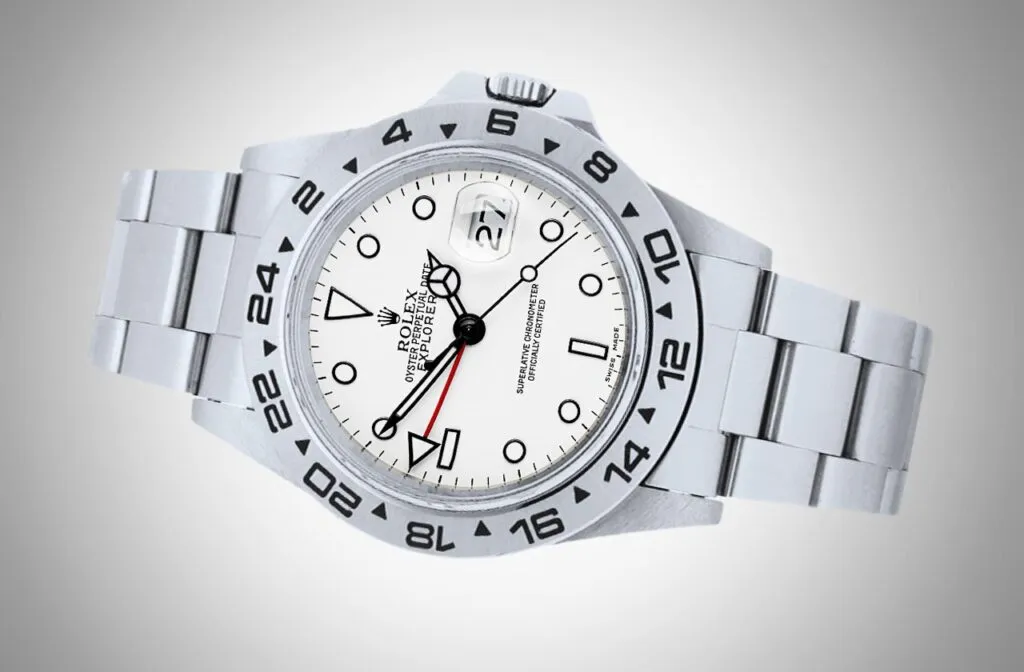 The Rolex Explorer II comes with an Oyster bracelet, renowned for its durability and comfort. Made from Oystersteel, the bracelet features a folding Oysterlock safety clasp, ensuring a secure and comfortable fit for the wearer. The Easylink 5mm comfort extension link also allows you to adjust the bracelet size without the need for tools, making it adaptable to various wrist sizes and preferences.
Movement and Precision
The movement inside the Rolex Explorer II is a highly precise and reliable automatic movement. This watch is designed to maintain accuracy in a variety of conditions, making it a reliable choice for professionals and adventurers alike. With its high-quality components and certification as a Swiss chronometer, the Explorer II is known for its precision and long-lasting performance.
Price Range
Watches from the Rolex Explorer II collection commonly achieve prices between S$10,601 and S$36,378 in private sales. Notably, the Rolex Explorer ref. 16570 stands out as the collection's most sought-after model. As of October 2023, this distinguished model commands an average price of S$10,613 on the private market, notably surpassing its retail value of S$8,600.
Investment Potential
The Rolex Explorer II, particularly the ref. 16570, exhibits noteworthy investment potential. It is currently trading at S$10,613 in the private sales market surpassing its retail price, hinting at strong demand and limited availability. On top of that, Rolex watches have a commendable history of maintaining or increasing in value due to the brand's renowned reputation and consistent demand among collectors.
But just like any other type of investment, it's imperative for investors to consider the inherent risks and perform comprehensive market analyses or seek expert advice to navigate through the multifaceted domain of watch investments, ensuring strategic and informed decision-making.
5 Best Rolex Explorer Watches
1. Rolex Explorer Ref. 214270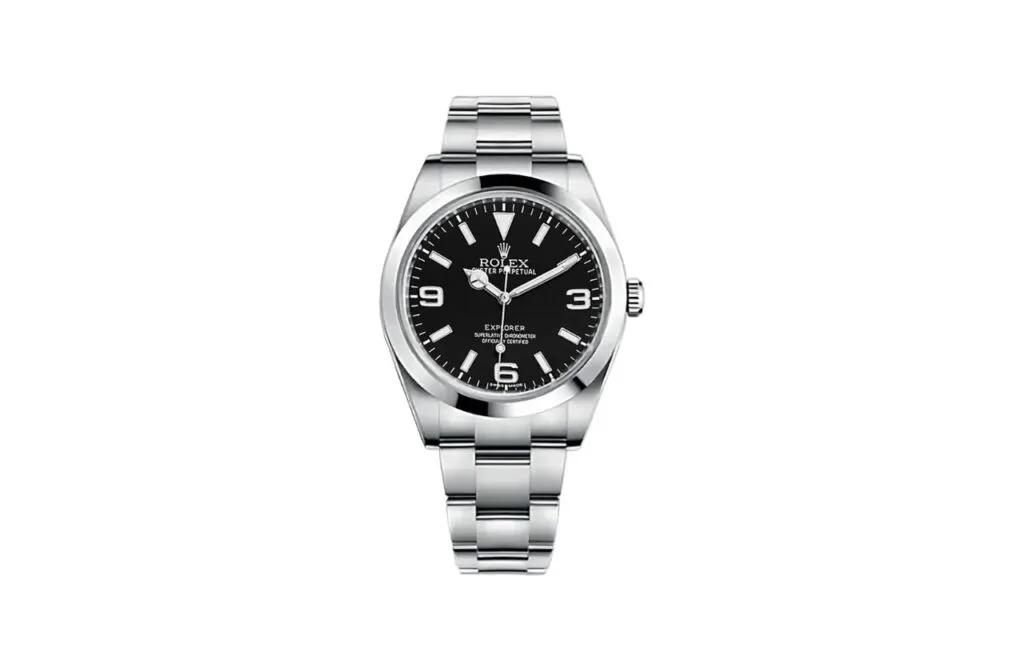 It boasts a 39mm case size and an improved Chromalight display for increased legibility in low light conditions. This model sports the iconic 3-6-9 dial configuration, making it a modern classic.
2. Rolex Explorer Ref. 124270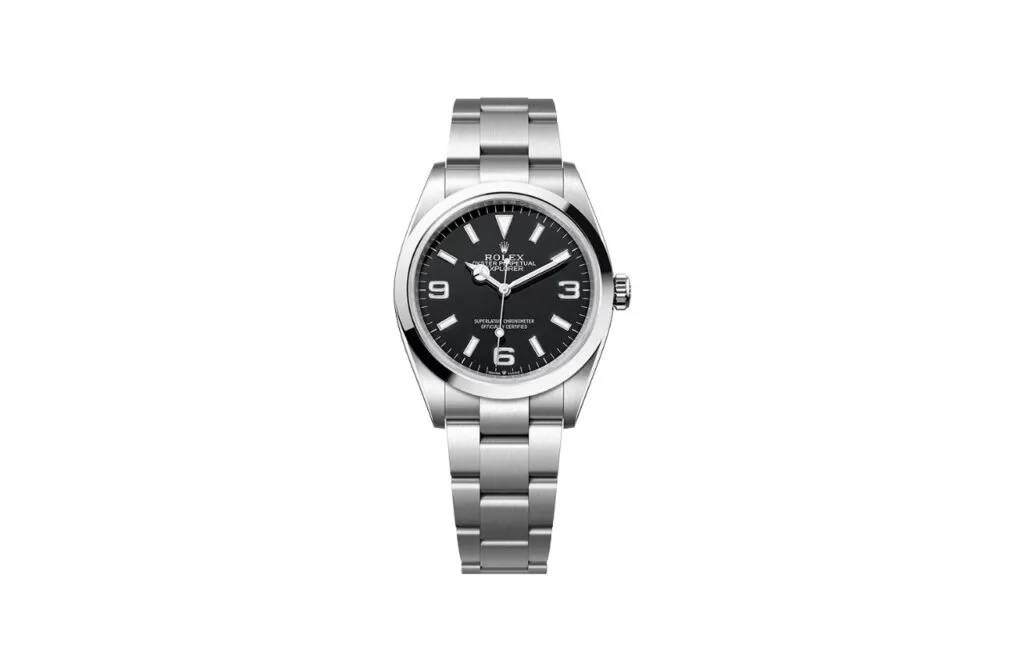 A recent addition to the Explorer lineup, it brings back the 36mm case size. It features improved lume and an updated movement for increased accuracy and reliability.
3. Rolex Explorer Ref. 14270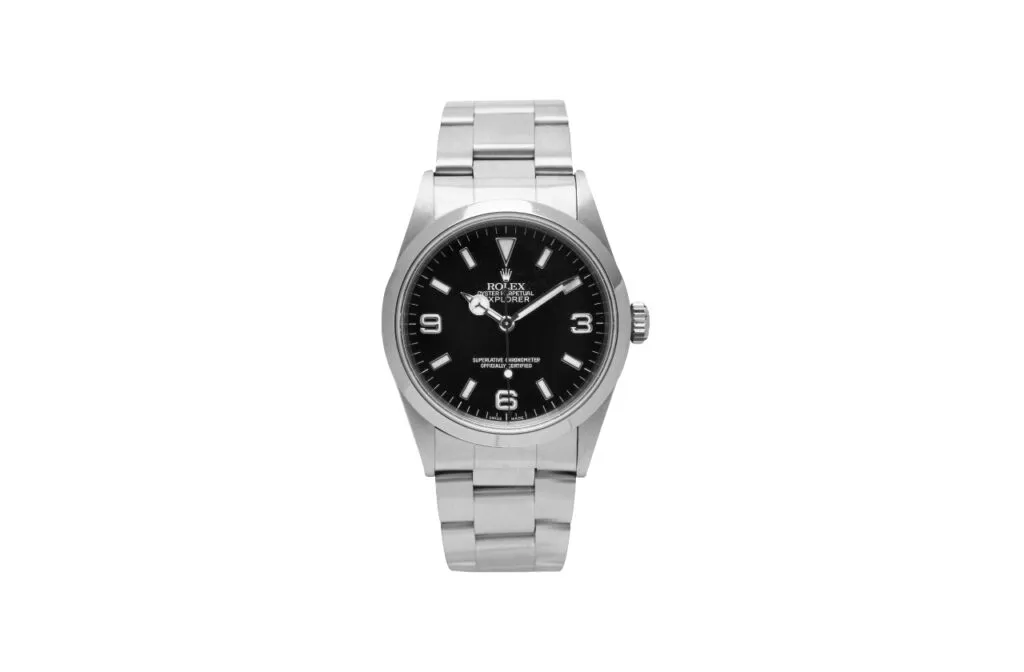 Introduced in 1989, it features a sapphire crystal and a high-beat movement. Its 36mm case and classic dial design make it a highly sought-after timepiece in the pre-owned market.
4. Rolex Explorer Ref. 1016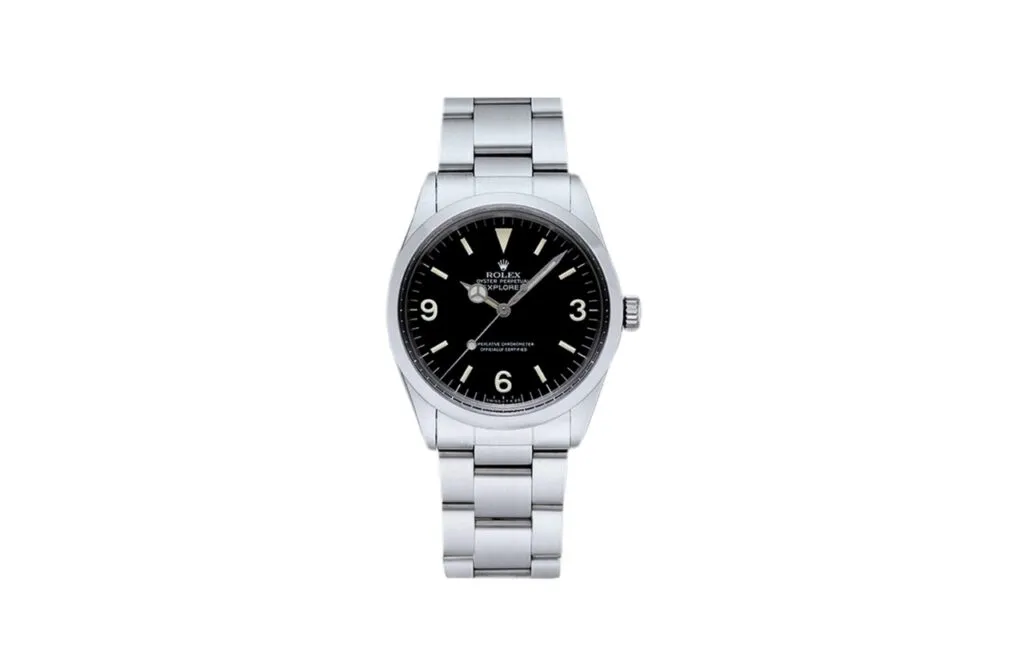 Known for its vintage charm, this Rolex watch features a 36mm case and a matte black dial with tritium lume.
5. Rolex Explorer Ref. 6610
It brings vintage appeal with its gilt dial and original radium lume. Produced from 1959 to 1963, its 36mm case and classic 3-6-9 dial make it a highly collectible timepiece and an excellent representation of Rolex's Explorer heritage.
5 Best Rolex Explorer II Watches
1. Rolex Explorer II Ref. 216570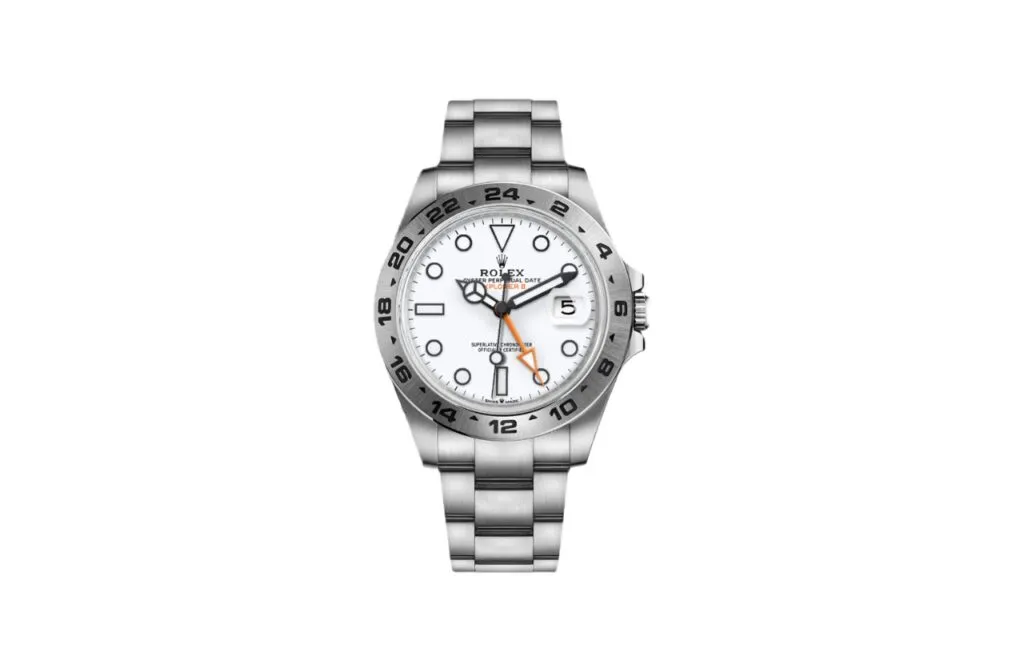 It boasts a larger 42mm case and a vibrant orange 24-hour hand, giving it a distinct and instantly recognizable look.
2. Rolex Explorer II Ref. 226570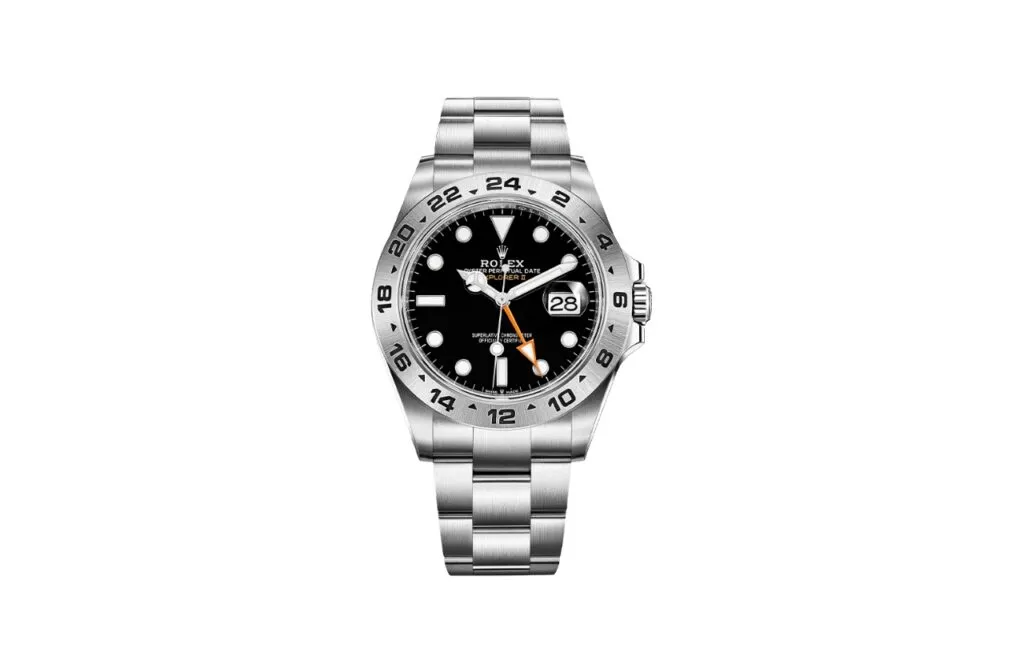 The recently released Rolex Explorer II ref. 226570 builds on its predecessor's success, refining various aspects of the design while maintaining the classic Explorer aesthetic. One notable improvement is an upgraded power reserve, now lasting up to 70 hours.
3. Rolex Explorer II Ref. 16570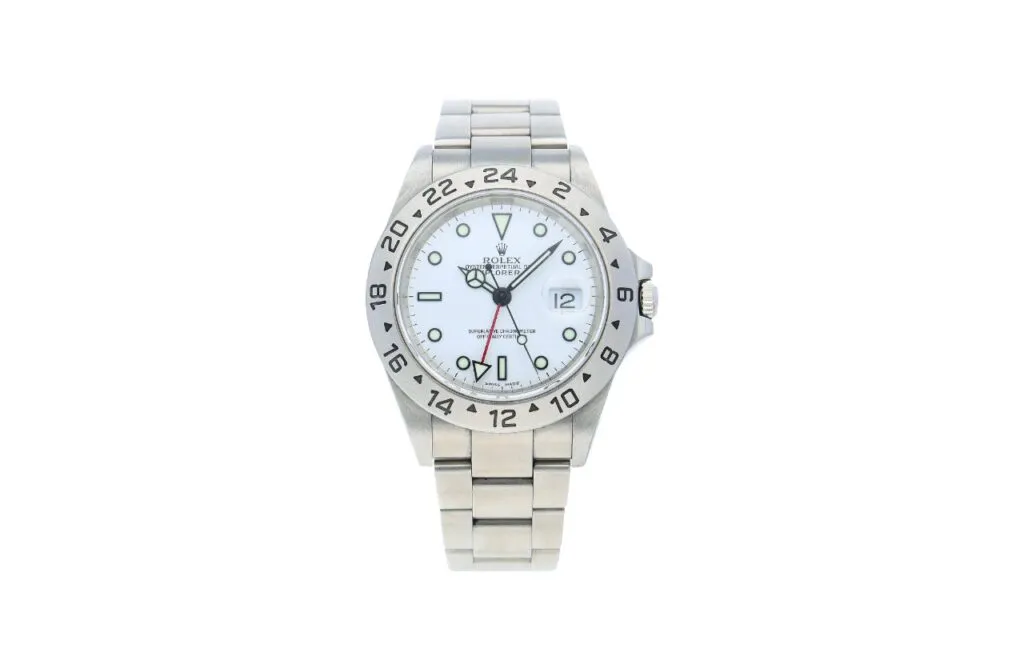 Often considered a more affordable option, it features a robust 40mm case and either a black or white dial, making it a versatile timepiece for any occasion.
4. Rolex Explorer II Ref. 16550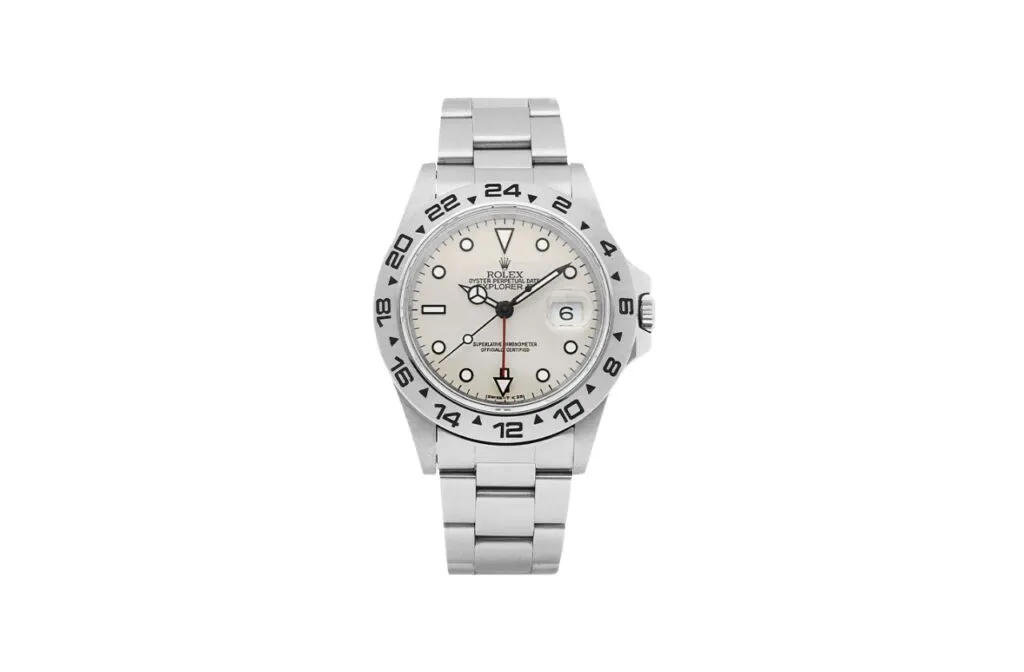 Produced during the 1980s, this watch retains the 40mm case size but introduces a sapphire crystal and an updated movement, making it a unique and appealing option for collectors.
5. Rolex Explorer II Ref. 1655
Often referred to as the "Steve McQueen" Rolex. With its iconic design featuring a fixed bezel and a bold, arrow-shaped 24-hour hand, this vintage timepiece has a truly legendary status among watch enthusiasts.
Final Word
The Rolex Explorer and Explorer II are two distinct models designed for different purposes. The Explorer I is made for the mountains, while the Explorer II is designed for cave exploration, featuring a 24-hour hand and a static bezel.
Key Takeaways
Thanks to their designs and features, the Rolex Explorer I is better suited for mountainous adventures, while the Explorer II is ideal for spelunking and low-light environments.
The Explorer II has a slightly larger case size (42mm) compared to the Explorer I, giving it a bolder, more modern appearance.
While both watches carry the prestigious Rolex name, their differences in features and functionality cater to the varying needs of adventurers and watch enthusiasts alike.
Looking to buy or sell your luxury watches? Watch Exchange is your one-stop destination for trading Rolex, Patek Philippe, Tissot, Sinn, Zenith, and other luxury timepieces. Find your next watch today or list your item for free!
---