Two standout models often pique the interest of enthusiasts: the modern antimagnetic Rolex watches, Milgauss 116400 and the Air-King 116900. Both watches, while rooted in Rolex's rich history, serve anti magnetic properties. 
The Milgauss, with its distinctive lightning bolt seconds hand, was engineered for those in scientific professions, offering resistance to magnetic fields. This feature sets it apart in both design and functionality.
On the other hand, the Air-King, with its aviation heritage, is a nod to Rolex's long-standing connection with the world of flight. It carries a design that's both classic and contemporary, making it a versatile choice for various wearers. Continue reading for a thorough comparison.
Rolex Milgauss Vs. Air-King (comparison table)
| | | |
| --- | --- | --- |
| | Rolex Milgauss | Rolex Air-King |
| Case | Oystersteel | Oystersteel |
| Bezel | Smooth | Smooth |
| Strap | Oystersteel & Aluminum | Oystersteel |
| Dial | Iconic Black, Silver, White, Blue | Iconic Black, Silver, White, Blue |
| Movement | Automatic, Caliber 3131 & 1028 | Automatic, Caliber 3131,3000,3130, 3230 |
| Price Point | S$11,999 – S$38,797 | S$4,171 – S$11,868 |
Heritage and Brand
The Rolex Milgauss 116400 made its comeback in 2007 after nearly two decades of absence, Rolex introduced a blend of vintage cues and modern touches. In contrast, the Air-King 116900 was reintroduced in 2016 after just a brief two-year hiatus.
Debuting in 1956, the Milgauss has undergone various modifications over time, yet its prominent feature of superior anti-magnetism remains intact. This particular watch, the moniker 'Milgauss' fuses the French term 'mille', denoting one thousand, with its ability to resist magnetic interference up to 1,000 gauss. Following the release of the initial Rolex Oyster Perpetual Milgauss, Rolex collaborated with CERN, Europe's renowned particle physics lab, to validate the watch's anti-magnetic capabilities. Remarkably, this collaboration is still active, spanning over six and a half decades.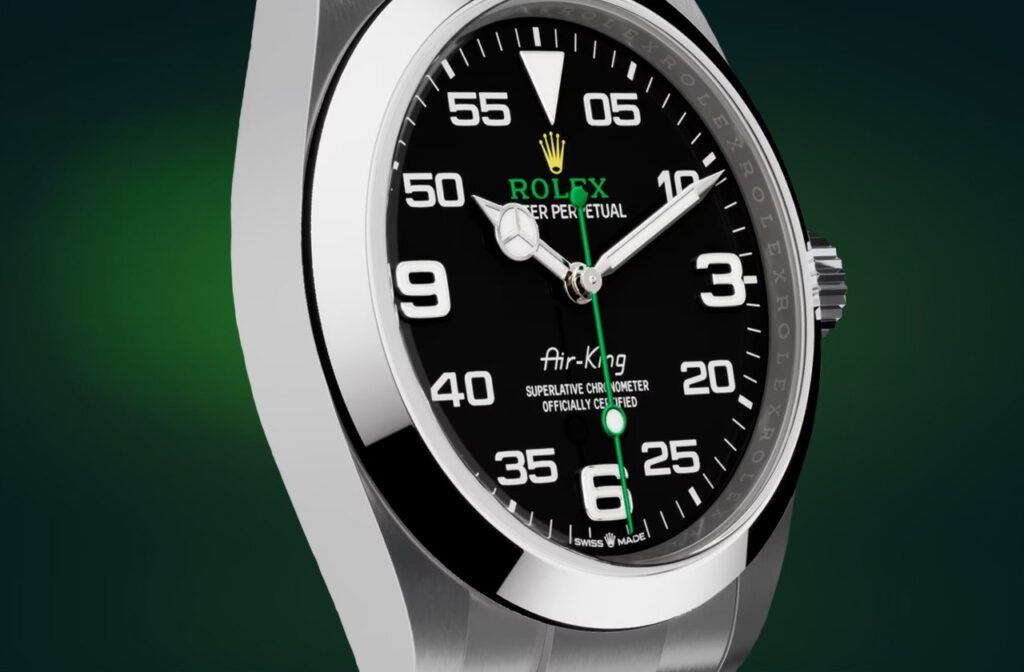 The Air-King stands distinctively in the Rolex collection, often seen as an entry level for newcomers to Rolex timepieces. This divisive watch model carries with it an intriguing narrative that traces back over 70 years. 
Launched in 1945, the Air-King was tailored for the valiant aviators of the British Royal Air Force amid the Second World War. It was one of four distinguished watches from the "Air" collection which included the Air-Lion, Air-Giant, and Air-Tiger, with the Air-King sealing its prominence. 
The Air-King 116900 diverges sharply from its predecessors, featuring a dynamic dial inspired by the instruments of the BLOODHOUND SSC supersonic vehicle. Its time-only black dial presents a lively blend of green and yellow accents, making it one of Rolex's most distinctive designs.
Both watches are crafted to withstand magnetic fields interference, a feature formerly exclusive to the Milgauss. Now, with the updated Air-King, Rolex enthusiasts have two antimagnetic options to choose from.
Design and Aesthetics
Rolex's revival of certain models often comes with a new design evolution that strikes a chord between tradition and innovation. Both the new Rolex Milgauss 116400 and the new Air-King 116900 models exemplify this.
Rolex revived in 2007 after a hiatus of around two decades, the Milgauss underwent several design modifications.
Expanding to a 40mm stainless steel Oyster case, it retains its time-only functionality.
The dials are where Rolex took a more audacious turn.
Initially available in black or white, both options showcased vibrant orange details and the unmistakable lightning bolt seconds hand.
The 2014 edition, the Z-Blue dial, brought forth an even more electric presence with its vivid hue. Rolex's introduction of a green-tinted sapphire crystal, a nod to the model's unique character, later became exclusive as the clear crystal option was discontinued.
The Air-King's two-year hiatus culminated in a 2016 return that showcased a much more audacious design direction.
Like the Milgauss, it adopted a 40mm stainless steel Oyster case.
However, the dial is where the Air-King 116900 diverges dramatically from its heritage. Gone is the understated elegance; in its place is a black dial, combining unique hour and minute markers.
The green lollipop seconds hand and green "ROLEX" name, accentuated by a yellow crown, inject a contemporary twist.
This modern design takes cues from the dashboard instruments Rolex crafted for the Bloodhound SSC 1000 MPH Car, merging motoring heritage with horology.
The Milgauss 116400 brings forth a playful and colorful essence, particularly with its electrifying dial colors and the signature lightning bolt hand. In contrast, the Air-King 116900 ventures into a more instrument-inspired look, drawing from automotive speedometers and chronographs.
The Milgauss for those seeking unconventional charm, and;
The Air-King for those drawn to a blend of modernity and motoring heritage.
Materials
Case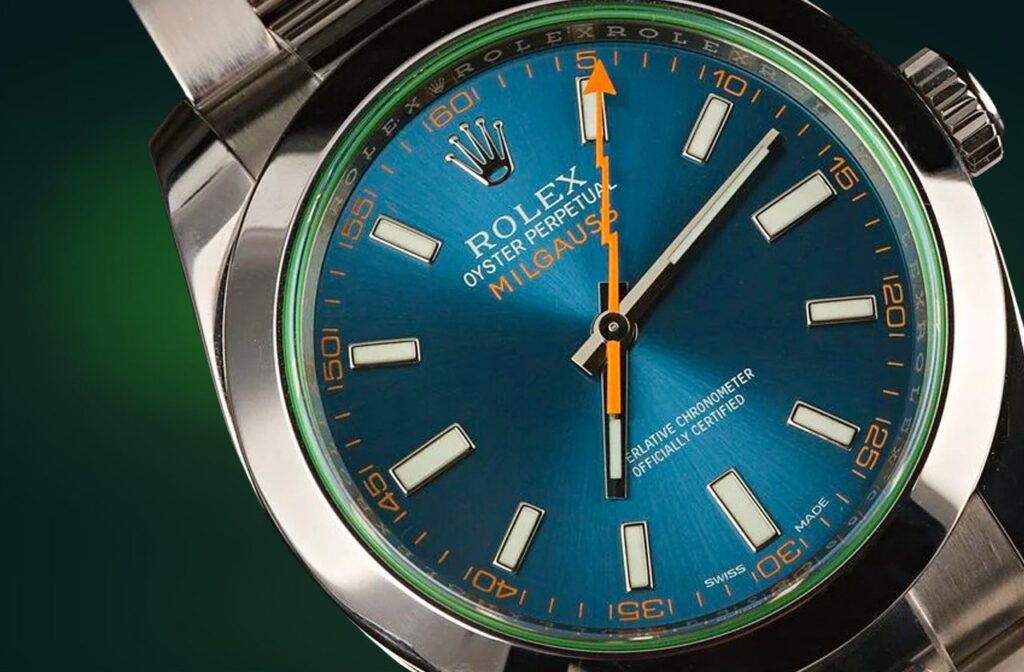 When it comes to materials and specifications, Rolex made the Milgauss 116400 and Air-King 116900 display remarkable similarities. Both models feature same case, a robust stainless steel cases, exemplifying Rolex's commitment to durability and timeless aesthetics.
These watches also both sport a contemporary yet versatile 40mm case size, ensuring they fit a wide range of wrist sizes comfortably.
The shared lug width of 20mm across both models means users have ample strap options to choose from.
In terms of resilience, they're equally matched with a water resistance of up to 100 meters, suitable for everyday wear but not for intense aquatic activities.
A notable distinction emerges in the dial design: the new model Milgauss 116400 goes for a minimalist vibe with no numerals, no date window,and the orange accents, while the Air-King 116900 integrates Arabic numerals for a more instrument-inspired appearance. Distinctly different from the subtle designs of previous Air-King versions, the modern Rolex Air-King 116900 showcases a black dial, featuring hour markers at 3/6/9 numerals positions, a reversed triangle at 12, and minute indicators filling the other spaces. Despite these aesthetic differences, both maintain a case thickness of 13mm, balancing wrist presence with comfort.
In essence, while the Milgauss and Air-King are akin in many technical aspects, it's their dial designs that set them apart, allowing enthusiasts to choose based on personal preference.
Bezel
Both the Rolex Milgauss and the Rolex Air King feature steel bezels with a smooth type. A smooth bezel, as the name implies, has a sleek, unembellished surface, polished bezel without any engravings or markings, offering a clean, minimalistic look to the watch. This design choice ensures the focus remains on the watch's face and its features.
The use of sapphire crystal, and crown gurads in both models ensures durability and scratch resistance, maintaining the watch's clarity and beauty over time. One differentiating factor is the dial color: the Milgauss features a white dial, while the specific dial color for the Air King is not mentioned, but historically the previous model has predominantly been black.
Strap
Both the Milgauss 116400 and the Air-King 116900 sport the iconic Oyster strap, reflecting Rolex's commitment to timeless design and functionality. Crafted from Oystersteel, a robust and corrosion-resistant alloy, these straps ensure durability and a versatile aesthetic appeal.
The Easylink 5mm extension feature present in both models provides wearers with comfort and adaptability. This extension allows for quick size adjustments to the bracelet, accommodating slight wrist size changes due to varying conditions.
When it comes to the strap, there's a harmonious parallel between the Milgauss 116400 and the Air-King 116900. Both showcase the reliable Oystersteel material and offer the convenience of the Easylink 5mm extension, ensuring that wearers benefit from consistent comfort and style.
Movement and Precision
In the heart of both the Milgauss 116400 and the Air-King 116900 lies the robust Rolex Caliber 3131 automatic movement.
Both watches utilize the same movement, the mechanical movement, and paramagnetic blue Parachrom hairspring.
Made of a niobium-zirconium alloy with an oxide coating, this hairspring remains unaffected by magnetic fields, ensuring the watch's precision isn't compromised in magnetically rich environments.
To further boost this magnetic resistance, Rolex incorporated a paramagnetic escape wheel fashioned from a nickel-phosphorus alloy. Safeguarding the entire mechanism is a two-part magnetic shield made of a ferromagnetic material, ensuring that the movement remains impervious to magnetic disruptions.
Performance-wise, the Caliber 3131 is a testament to Rolex's commitment to precision.
COSC-certified, and from 2015 onward, Rolex has vouched for its movements' accuracy, guaranteeing a precision rating of -2/+2 seconds per day.
With a power reserve of approximately 48 hours and a stop-seconds feature, both watches ensure longevity between windings and precise time setting.
Price Range
The Air-King 116900 has a retail price of approximately S$9,800 when purchased from authorized dealers. On the resale market, its estimated pre-owned price slightly increased to S$10,207. This appreciation indicates a positive reception of the Air-King in the secondary market, suggesting that it not only retains but slightly exceeds its retail value.
Conversely, the Milgauss 116400 starts at a slightly higher retail price of ~S$10,500 from authorized dealers. Its estimated pre-owned price witnesses a more substantial appreciation, reaching S$11,950 on the resale market. The difference in appreciation between its retail and pre-owned price is more pronounced than the Air-King, which may suggest a stronger demand or more limited availability of the Milgauss in the secondary market.
The Milgauss 116900, while priced higher at retail, also experiences a more substantial appreciation in the pre-owned market. This could indicate that, in terms of investment or resale potential, the Milgauss may offer a better return. However, the Air-King remains a solid choice for those who appreciate its design and are looking for a watch that retains its value well.
Investment Potential
The Rolex Air-King and Milgauss have long been favorites among watch enthusiasts, but when considering their investment potentials, each brings unique attributes to the table.
In the past 12 months, the Air-King saw a higher sales volume of 1,563 units, suggesting a broader market appeal and possibly a more liquid market for future sales.
Its market price ranges from S$9,421 to S$10,992, with a volatility rate of 7.7%.
Notably, Hollywood icon Ryan Gosling has been spotted wearing a vintage Rolex Air-King ref. 5500, lending some celebrity prestige to this model.
On the other hand, the Rolex Milgauss recorded 1,080 sales in the same period but boasts a more premium market range between S$10,647 and S$13,252.
Its volatility, at 10.9%, indicates a more dynamic market with potential for both higher returns and risks.
The Milgauss enjoys a more robust celebrity backing. Figures such as the legendary musician Eric Clapton, footballer Daniele De Rossi, country music sensation Luke Bryan, and the critically acclaimed actor Tom Hanks have all been seen flaunting this timepiece. Specifically, Tom Hanks, with his renowned roles in major cinematic masterpieces, showcases the GV version of the Rolex Milgauss, amplifying its allure.
Weighing the sales volume, market range, volatility, and the star power of endorsements, the Rolex Milgauss emerges with a slight edge in investment potential, primarily due to its higher price ceiling and richer celebrity associations.
Best Rolex Milgauss
1. Milgauss 39 1019-001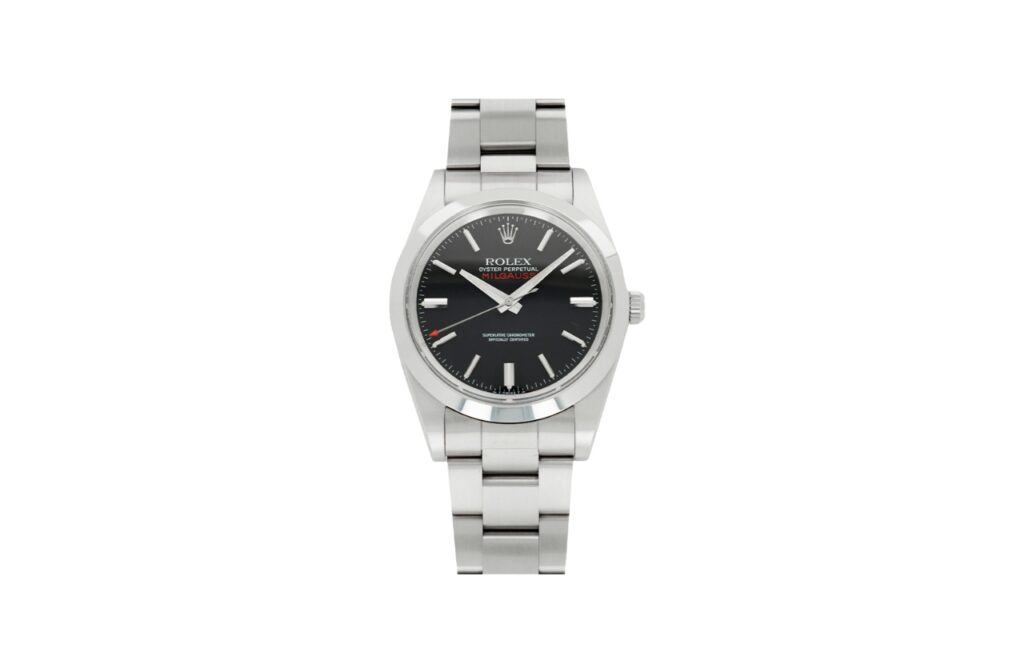 Market Price
Retail Price: N/A
Pre owned Price: SGD $35,032
Crafted from durable stainless steel with a matte black dial, this watch combines a sleek round shape with stick indexes. Protected by a sapphire glass and boasting a water resistance of 100 meters, it's an ideal companion for the modern gentleman valuing both style and function.
2. Rolex Milgauss 40 116400GV Z-Blue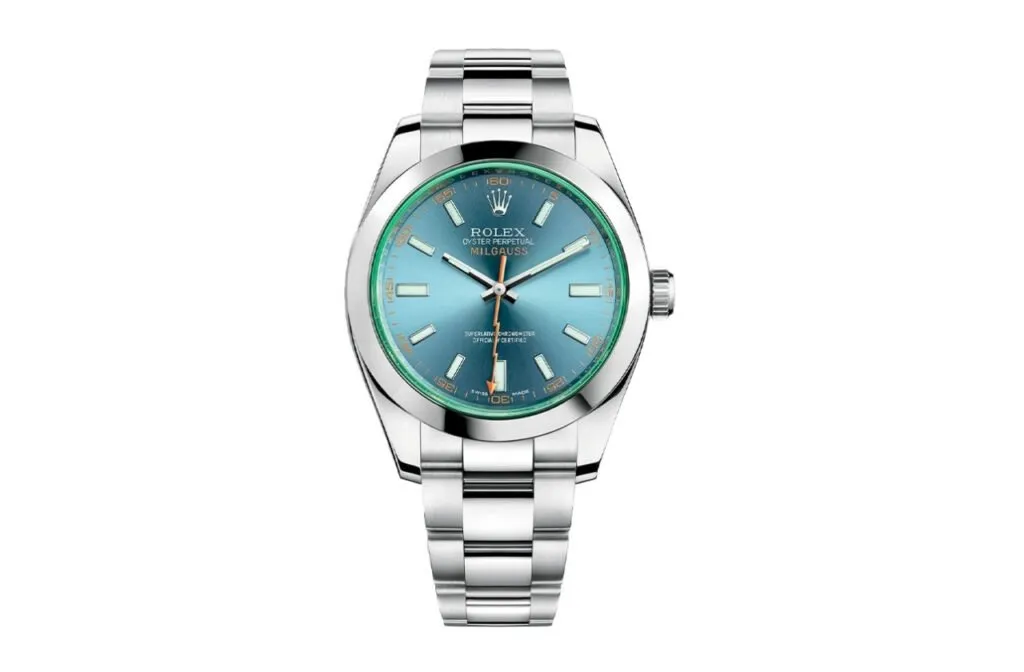 Market Price
Retail Price: N/A
Pre owned Price: SGD $20,841
An engineering marvel, this timekeeping companion combines Swiss precision with an aura of exclusivity. Crafted with 18k white gold accents, a striking Z-Blue sunray dial, and a resilient sapphire crystal, it's an understated symbol of sophistication for the discerning individual.
3. Rolex Milgauss 38 1019
Market Price
Retail Price: N/A
Pre owned Price: SGD $56,234
A robust and stylish timepiece designed for the modern professional. This automatic watch features a durable steel case, scratch-resistant plexiglass crystal, and a silver dial for a sleek, minimalist look. With a 48-hour power reserve and 5 ATM water resistance, it's ideal for those who value both performance and aesthetics.
4. Rolex Milgauss 6541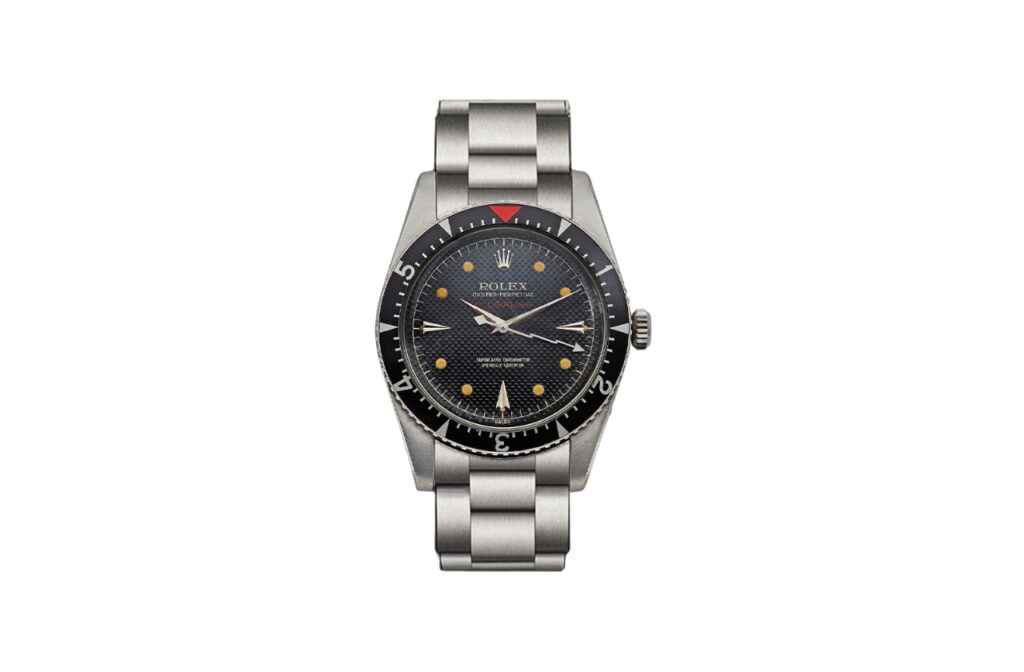 Market Price
Retail Price: N/A
Pre owned Price: SGD S$421,027
The Rolex Milgauss 6541 is a rugged and precise timepiece, built with a durable steel case and an automatic movement for those who demand both style and functionality. Its black dial, aluminum bezel, and silver steel bracelet make it an ideal choice for the modern adventurer, while features like a rotating bezel and screw-down crown ensure reliability in any situation.
Best Rolex Air King 
1. Rolex Air-King 40 5500
Market Price
Retail Price: SGD $3,300
Pre owned Price: SGD $4,776
Crafted with a sleek steel case and an elegant off-white dial, this automatic timepiece boasts a 40-hour power reserve and a durable plexiglass crystal. With water resistance up to 100 meters and a subtle 34mm case size, it's an ideal choice for the discerning gentleman valuing understated elegance.
2. Rolex Air-King 40 126900
Market Price
Retail Price: SGD $9,639
Pre owned Price: SGD $12,500
A robust timepiece for the modern explorer, featuring a durable steel case, scratch-resistant sapphire crystal, and reliable automatic movement. With a sleek black dial and luminous Arabic numerals, it combines style and functionality for those seeking a dependable companion in any adventure. Water-resistant up to 100 meters, it's ready for the active lifestyle.
3. Rolex Air-King 14010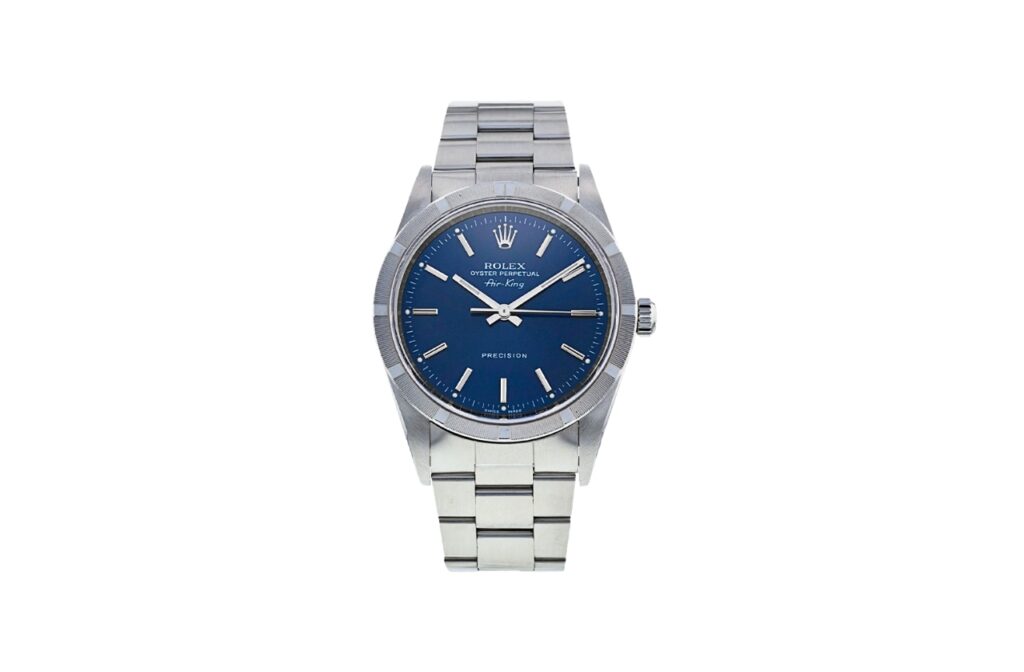 Market Price
Retail Price: SGD S$3,500
Pre owned Price: SGD $5,536
A robust timepiece designed for the modern adventurer, this watch boasts a steel case, sapphire crystal, and 100 meters of water resistance. Its automatic movement with a 42-hour power reserve ensures precision in every moment. Perfect for those who value both style and functionality in their wristwear.
4. Rolex Air-King 14000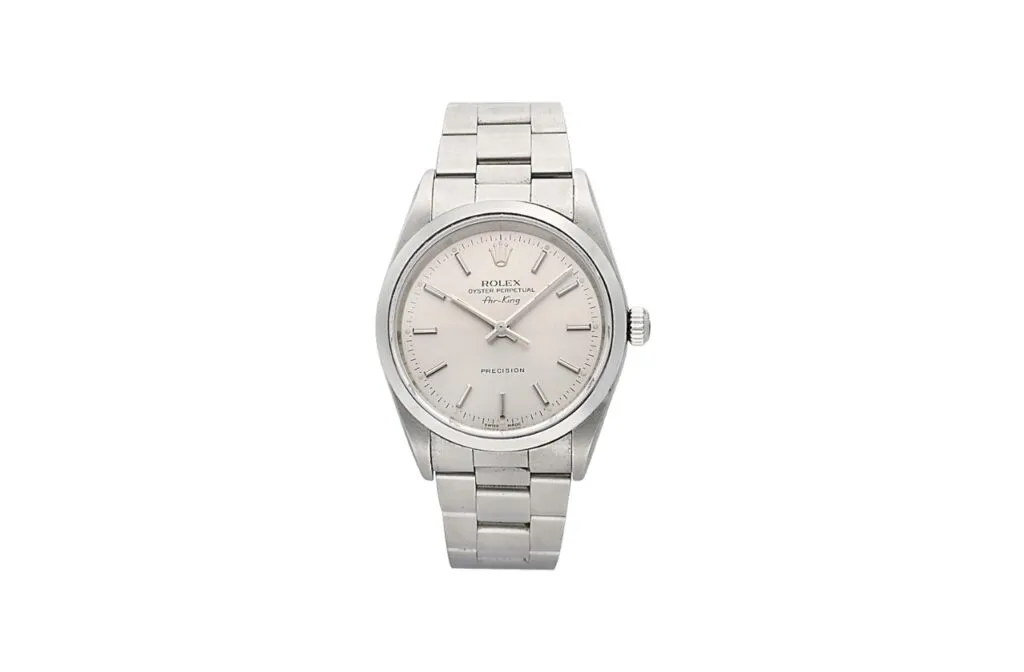 Market Price
Retail Price: SGD S$3,400
Pre owned Price: SGD S$5,671
A sleek and reliable pilot's timepiece with a silver dial, sapphire crystal, and 100 meters of water resistance. Its automatic movement offers a 42-hour power reserve, making it perfect for aviation enthusiasts seeking precision and durability in a 34mm steel case.
5. Rolex Air-King 114234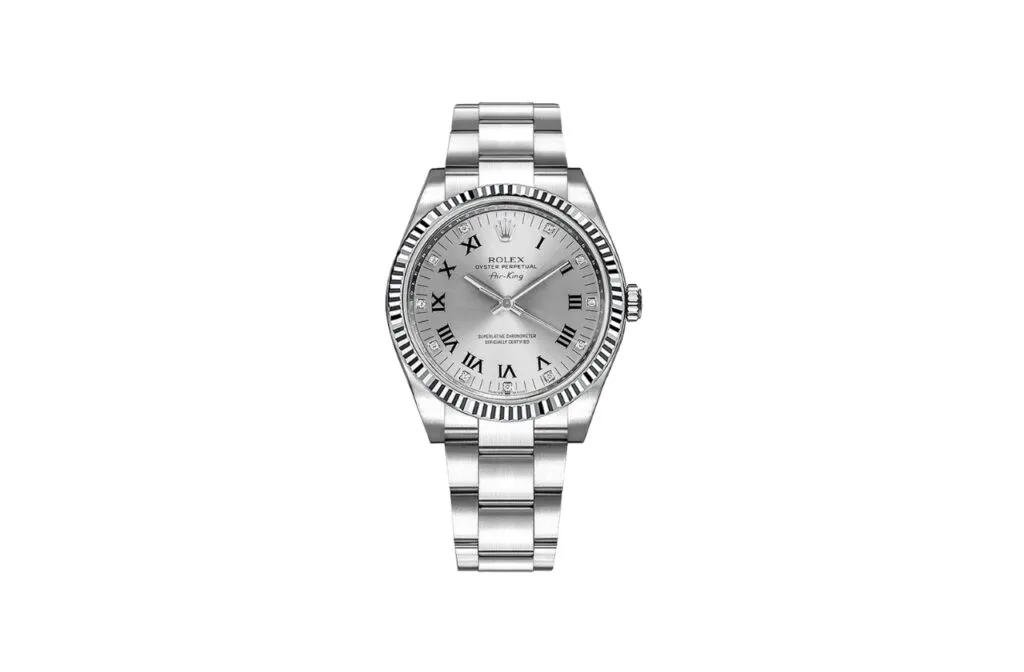 Market Price
Retail Price: SGD $9,300
Pre owned Price: SGD $7,060
A rugged pilot's timepiece with robust steel construction and a sapphire crystal, the Rolex Air-King 114234 is designed for precision and durability. With its automatic movement, chronometer accuracy, and 100-meter water resistance, it's ideal for adventurers and aviation enthusiasts seeking reliable performance in style.
FAQs
1. Does Rolex Air-King hold value?
Yes, the Rolex Air-King generally retains its value well, and in some cases, it may appreciate over time due to its enduring popularity and iconic status within the Rolex lineup.
2. Is the Milgauss worth it?
Yes, for those who appreciate its unique anti-magnetic features and distinctive design. Its precision and engineering make it a valuable piece for both watch enthusiasts and those in professions with high magnetic fields.
3. Why is the Rolex Milgauss unpopular?
Relative to other Rolex models, the Milgauss may seem less popular due to its niche appeal. It was specifically designed to resist magnetic fields, making it cater to a more specific audience. Its quirky design, like the lightning bolt seconds hand, also sets it apart, making it a choice for those who want something different from a typical Rolex aesthetic.
4. Who wears a Rolex Air-King?
The Rolex Air-King is favored by many due to its classic design and history. Notable personalities such as Ryan Gosling have been spotted wearing the Air-King, and it remains a popular choice among both celebrities and watch aficionados.
Final Word
Rolex standards, both the Air-King and Milgauss showcase distinct design innovations, presenting unique aesthetics that resonate with different audiences. While the Air-King leans towards a classic allure, the Milgauss embraces a quirky charm, setting the tone for potential investment decisions.
Key Takeaways
Both models showcase Rolex's commitment to unique aesthetics, with the Pilot's watch Milgauss offering a quirky appeal and the Air-King presenting a blend of heritage and showcases a glossy black dial, featuring hour markers at 3, 6 and 9.
As with many Rolex models, both watches hold their value well over time and may even appreciate, making them worthy considerations for collectors and investors.
The Air-King's market range is slightly more affordable compared to the Milgauss, but both offer value relative to their design, features, and brand legacy.
Looking to buy or sell your luxury watches? Watch Exchange is your one-stop destination for trading Rolex, Patek Philippe, Tissot, Sinn, Zenith, and other luxury timepieces. Find your next watch today or list your item for free!
---