Rolex and Breitling are recognized Swiss brands that stand as titans, each with its distinctive allure. While Rolex often embodies timeless elegance and unmatched investment potential, Breitling boasts technical prowess and aviation heritage.
Venturing into their intricate worlds between Rolex Vs. Breitling, raises the inevitable question: which watch truly resonates with you?
Dive in, as we dissect their key differences and help you decide the perfect fit. The answer might just surprise you.
Rolex Vs Breitling: At a Glance
| | | |
| --- | --- | --- |
| | Rolex | Breitling |
| Case | Oystersteel, Gold, RLX Titanium | Bronze, Ceramic, Platinum , Gem-set , Two-tone , Breitlight® , Gold , Stainless Steel , Titanium |
| Bezel | Gem-set, Fluted, Smooth, Professional, Cerachrom | Unidirectional, ratcheted, Bidirectional, slide rule bezelFixed |
| Dial | Gem-set, Coloured, Light, Dark, Mother of Pearl, Diamond Paved | Muted, Vibrant, Copper, Mother-Of-Pearl. |
| Strap | Oyster, Jubilee, President, Osyterflex, Leather | Alligator Leather, Alligator Leather & Rubber, Calfskin Leather, Econyl® Yarn, Polyamide Fabric, Rubber |
| Movement | Automatic (self-winding) movements, Manual wind movement | Self-winding mechanical, SuperQuartz movements |
| Price Point | S$2,089 – S$293,604 | S$886 – S$23,809 |
Heritage and Brand
Rolex and Breitling are pillars in luxury watchmaking, each with deep-rooted histories and groundbreaking achievements.
Founded in London in 1905 by Hans Wilsdorf and Alfred Davis, the history of Rolex began with Wilsdorf & Davis sourcing Swiss movements for jewelers. By 1908, it transitioned to 'Rolex', with its name's origin remaining elusive. Rolex has solidified its reputation as one of the most iconic watches recognizable Swiss watch brand in the world.
Recognized for its precision, Rolex was the first to achieve the Swiss Certificate of Chronometric Precision in 1910. Innovations like the Rolex Oyster case bolstered its reputation. Today, after relocating to Geneva in 1919, Rolex stands a pinnacle in Swiss watchmaking, renowned for precision and innovation.
On the other hand, Breitling, birthed in St. Imier, Switzerland in 1884 by Léon Breitling, quickly marked its territory in the world of watchmaking innovation.
As success beckoned, Breitling shifted base to La Chaux-de-Fonds, the watchmaking mecca, by 1892.
Breitling's penchant for precision yielded pioneering innovations like the eight-day power reserve movement in 1893, quickly becoming the go-to for sports aficionados and aviators.
The legacy of innovation persisted when Gaston Breitling, a well known swiss watchmaker, introduced the tool watches earliest wrist chronographs in 1915.
The brand's evolution saw Willy Breitling patenting a second pusher for the chronograph by 1932, setting the standard for modern chronograph design.
Breitling watch, through the decades, has seamlessly melded technical prowess with design aesthetics. Their collaboration with Jack Heuer in 1967 and the subsequent COSC certification for all models is a testament to the brand's commitment to excellence.
Design and Aesthetics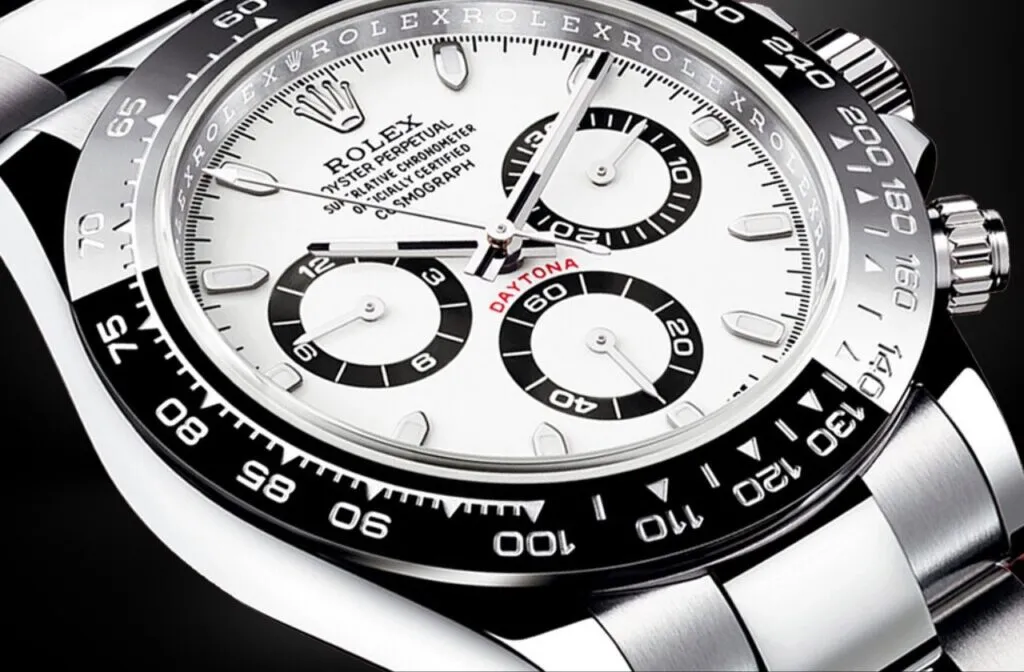 Rolex, undeniably, is a titan when it comes to brand recognition. Even those unfamiliar with the nuances of luxury watches recognize Rolex as a symbol of class and distinction.
Breitling, while highly respected, doesn't quite match Rolex's ubiquitous brand presence. Much of Rolex's prominence can be attributed to its impeccable marketing and product placement strategies, effectively reaching audiences of varying economic demographics.
While wearing a Rolex often garners immediate admiration given its widespread recognition, donning a Breitling might fetch compliments predominantly from genuine watch connoisseurs, attesting to the brand's niche appeal.
Rolex's design evolution has been conservative, with minor refinements appealing to its dedicated followers.
The Cellini line, catering especially to women, offers a slight deviation yet still outshines comparable models from other brands.
Meanwhile, Breitling remains steadfast in upholding its signature aesthetics.
While they have made notable design modifications over time, elements like the triangle on the hands of their timepieces have remained consistent.
Even as the trend in watch design veered towards minimalism, Breitling retained its characteristic robust and elegant style, making it instantly identifiable and endearing to its enthusiasts.
Materials
Case
Rolex watch predominantly uses Oystersteel in its models, a superalloy known for its resistance and sheen. They also offer selections in gold and their specialized RLX Titanium, ensuring durability with a touch of luxury.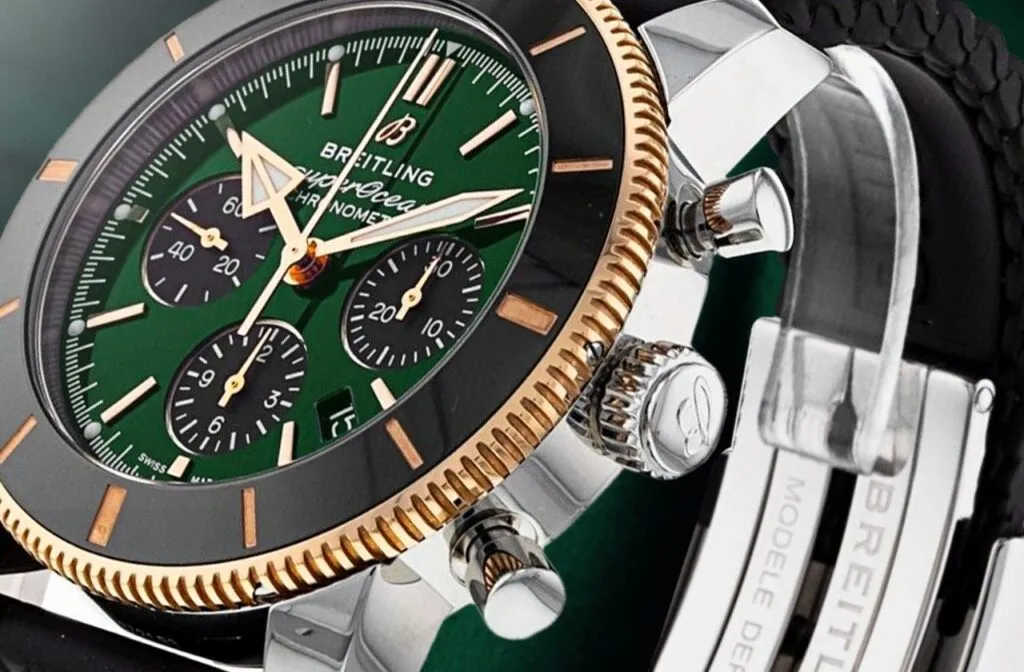 Breitling timepieces, on the other hand, showcases a more diverse array of materials: from traditional gold and stainless steel to innovative materials like Breitlight®, a lightweight and robust material, and the elegance of platinum and gem-set.
While Rolex focuses on strength and luxury with fewer materials, Breitling provides a broader spectrum of choices. For those seeking classic luxury, Rolex's materials stand out. However, for enthusiasts interested in diverse options, Breitling has the edge.
Bezel
Rolex's bezels range from the ornate gem-set to the functional Cerachrom, an ultra-durable ceramic material. They also offer the aesthetic fluted bezel and professional bezels tailored for specific functions.
Breitling's bezels are more about function: unidirectional and bidirectional ratcheted bezels for precise timekeeping and slide rule bezel for aviation-related calculations, alongside the simple fixed bezels.
If style is a priority along with function, Rolex wins, but for pure utility, especially in aviation contexts, Breitling stands out.
Strap
Rolex straps lean into the blend of comfort and luxury, from the iconic Oyster and Jubilee steel bracelets to the plush Oysterflex and leather options. Breitling, in contrast, provides a broader spectrum: from the luxurious alligator leather to the unique Econyl® Yarn, a sustainable material, and durable rubber strap options.
Rolex's strap offerings are rooted in tradition and luxury, suitable for those wanting a classic appeal. Breitling, with its wider range, is suitable for individuals who want both traditional luxury and modern, innovative options.
Movement and Precision
When discussing the intricate world of watch movements, or as referred to in the industry, "calibres", two brands stand out prominently: Breitling and Rolex. These mechanisms, the heartbeat of a good watch, dictate its precision and functionality.
Breitling's mastery in chronograph development is evident in their inventions, such as the:
First self-winding chronograph in 1969 and;
The invention of two independent push-pieces.
Breitling showcases its dedication to precision with its advanced Breitling Chronométrie facility and incorporates in their watch called 'Breitling emergency', a high-tech gem representing the world's first wristwatch with integrated personal locator beacon. Revolutionizing movement assembly with an innovative production-chain system, every movement undergoes rigorous COSC testing, maintaining a precision deviation of less than -4/+6 seconds daily.
Their quartz watches, for instance, are great watches that use certified Breitling SuperQuartz movements, ten times more accurate than standard quartz. 
Their range of in-house and non in-house calibers, from B01 to B78 and Quartz models movements from B50 to ESA965313, attest to their expansive expertise.
On the other hand, Rolex, known today for only manufacturing mechanical watches. Rolex employs purely mechanical movements and mechanically powered automatic watches, all manufactured in-house. Historically, there were instances where Rolex utilized third-party movements, such manufacturing mechanical watches such as:
The iconic Zenith El Primero for the Rolex Cosmograph Daytona.
But since 2000, Rolex has pivoted to entirely in-house production.
Their calibre 4130, for example, came with an innovative vertical clutch and a 72-hour power reserve, marking their move from external providers like Zenith.
Their evolution from calibre 2235 to the intricate 9001 demonstrates their innovative drive, with calibres 3255, 3235, and 3285 underscoring their dedication to precision to mechanical wristwatches.
While Breitling excels in technical expertise and innovation, Rolex's mechanical watches consistently prioritizes in-house precision and nuanced advancements.
Price Range
Rolex and Breitling are two brands that stand out for the premium they command in the market. When we delve into the price range, the distinction becomes more evident.
Cheapest new Rolex watches range from entry level Rolex prices starting at S$2,089 to a staggering S$293,604. Notable certain rolex models like:
While the Oyster Perpetual (S$12,194) offers a more accessible entry point.
On the upper end, a few Rolex Sky-Dweller and Sea Dweller impresses with a price tag of S$28,209.
Breitling prices start at a more modest price of S$886 and peaks at S$23,809. Popular collections such as the:
Cheapest Breitling Chronomat (S$3,446) and Breitling Navitimer (S$6,158) are more affordable watches when compared to some Rolex counterparts.
Rolex' basic watches typically target the high-end market with models often exceeding S$20,000. Meanwhile, Breitling balances luxury with affordability, presenting many options under S$10,000.
In essence, while Rolex timepiece excels in luxury, Breitling provides a versatile range catering to diverse budgets.
Investment Potential
Over the past 160 days, the market index for Rolex has seen a decrease of 7.8%, while Breitling experienced a milder dip at 1.4%.
Rolex, renowned for iconic models like the Daytona, Submariner, and GMT-Master, typically maintains or appreciates in value over time. But the purchase price matters; overpaying can impact resale profitability. While Rolex's strength is in its famed models, not every piece ensures high returns.
Breitling, on the other hand, is appreciated for its precision and professional-grade features. Although they might depreciate, some newer models can appreciate post-purchase. With specialized watches like the Navitimer 01 for aviators and the innovative Exospace B55 smartwatch for aerospace professionals, Breitling offers both versatility and unique appeal.
Investing in a Rolex makes appreciating returns, but the key is to purchase wisely and retain all documentation.
5 Best Rolex Watches of 2023
1. Rolex Cosmograph Daytona 116503 – SGD $32,200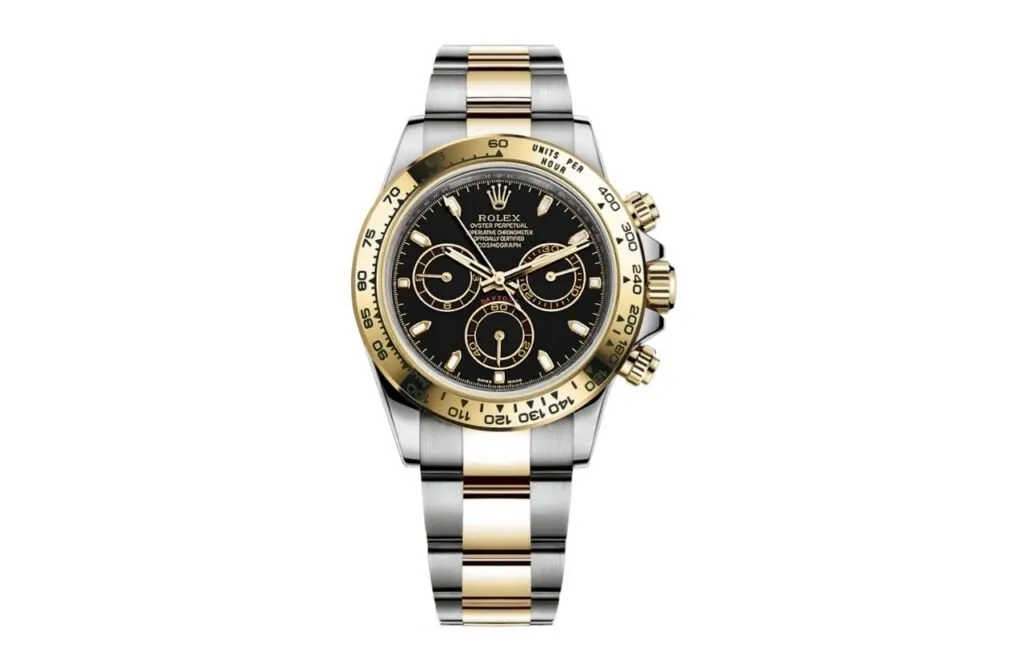 The Rolex Cosmograph Daytona 116503 seamlessly blends racing heritage with luxury. Designed with a 'Rolesor' steel & yellow gold finish and a striking black dial, it's the perfect timepiece for motorsport enthusiasts seeking elegance and performance. Ideal for both racetracks and elite gatherings.
2. Rolex Milgauss 116400GV – SGD $16,200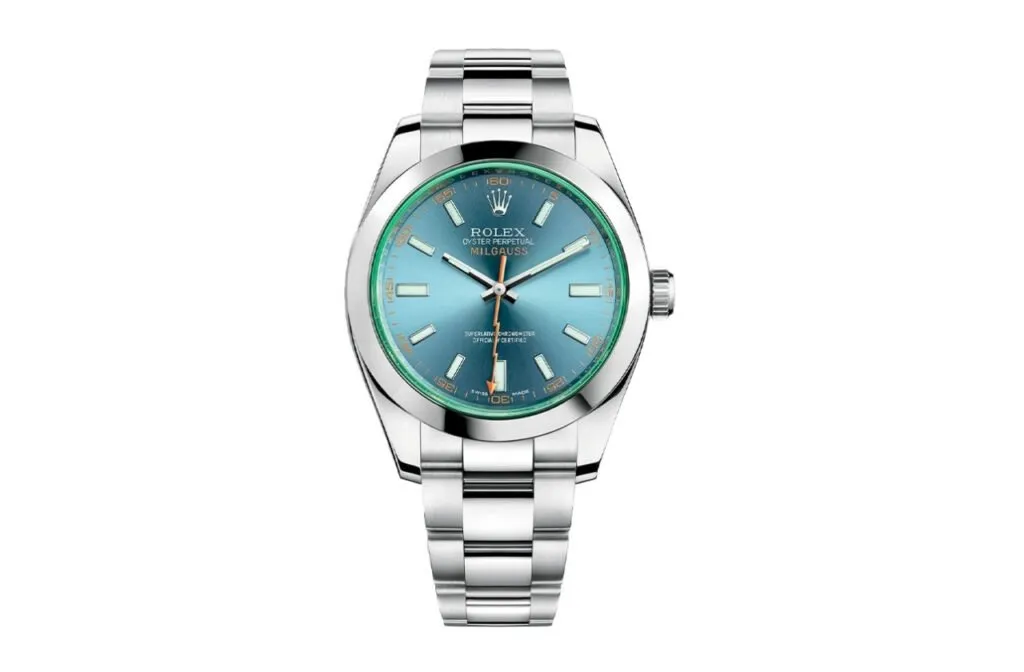 The Rolex Milgauss 116400GV boasts a magnetic-resistant caliber 3131 and a distinctive blue dial. The Milgauss collection was designed in 1956 for scientists exposed to high magnetic fields, it seamlessly combines precision with a professional edge, making it ideal for those in scientific and technical fields.
3. Rolex Gmt Master II Rootbeer 126715CHNR – SGD $50,500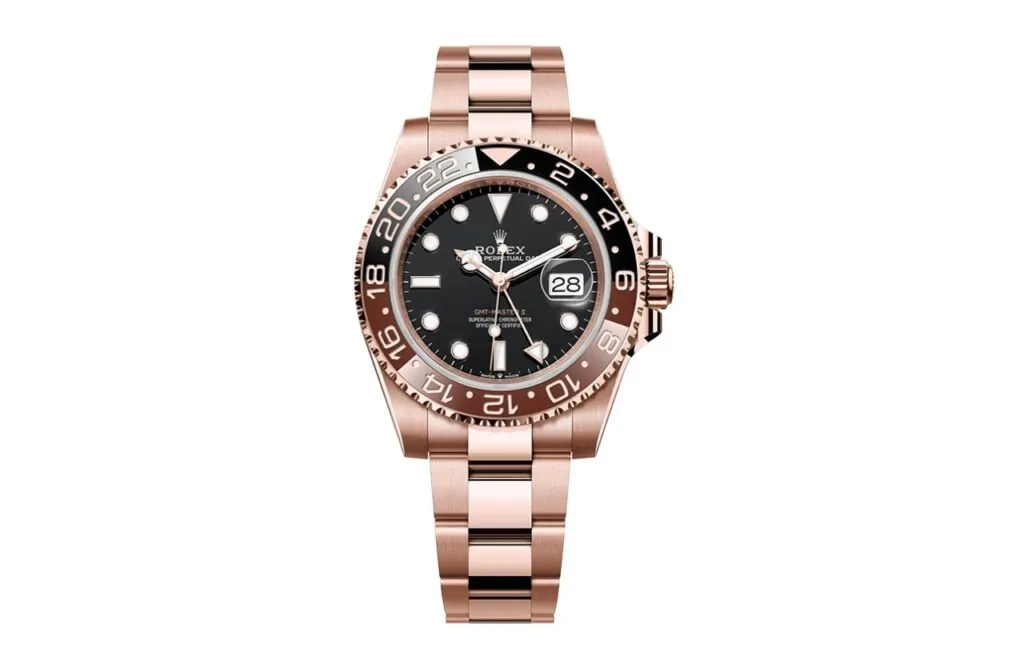 The Rolex GMT Master II Rootbeer, equipped with a caliber 3285 and crafted in rose gold, features an adjustable additional 24-hour hand and a rotating bezel. Launched in 2018, its sapphire glass adds a touch of elegance. Ideal for travelers and luxury enthusiasts.
4. Rolex Submariner 126613LN – SGD $23,700
The 2020 Rolex Submariner 126613LN, with its blend of stainless steel and yellow gold, boasts a 41mm case powered by the caliber 3235. Its black dial accentuates its elegance. Ideal for watch lovers seeking a touch of luxury in a dive watch.
5. Rolex Datejust 31mm Jubilee 278271 – SGD $24,500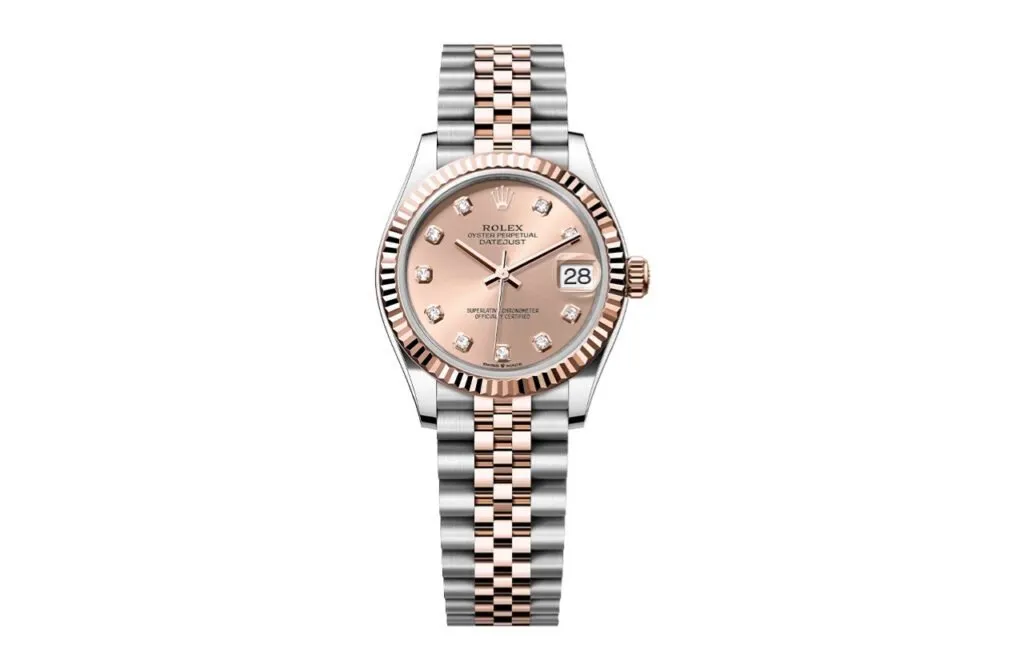 The Rolex Datejust 31mm 278271 combines rose gold and stainless steel, featuring a white mother of pearl dial with a gloss finish. With its elegant design and 100m water resistance, it's a perfect luxury watch choice for women seeking timeless elegance.
5 Best Breitling Watches of 2023
1. Breitling Classic Avi Chronograph 42 P-51 Mustang R233801A1B1X1 – SGD $27,200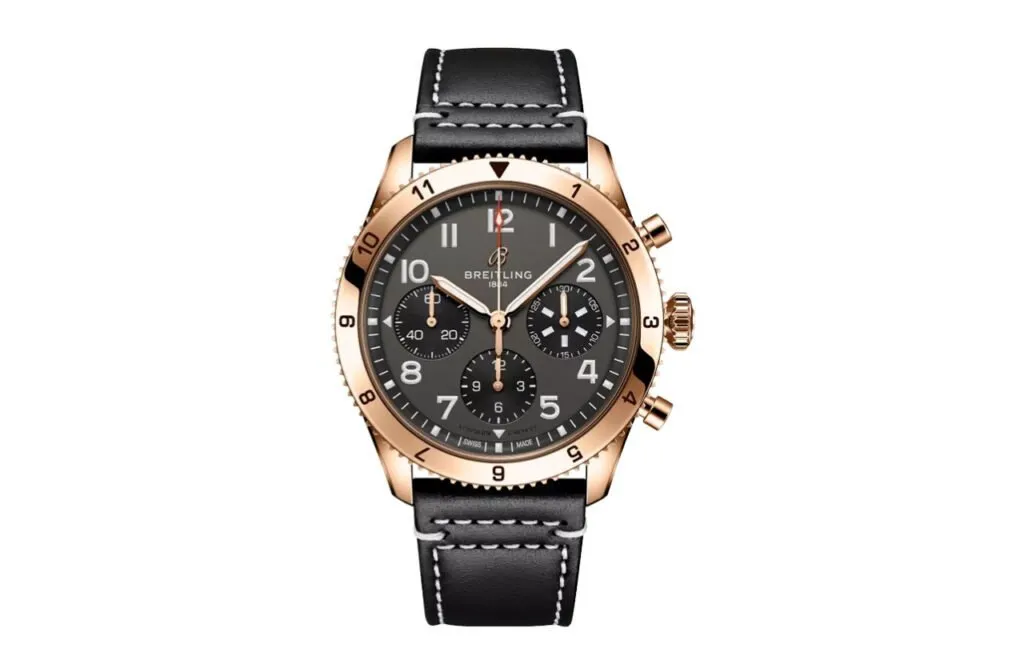 The Breitling Classic Avi Chronograph 42 in Red Gold boasts a sleek matte black dial, powered by the Caliber 23 ND. With its robust build, 100m water resistance, and a diameter of 42mm, it's best suited for men seeking a blend of luxury and functionality.
2. Breitling Chronomat 36 mm G10380591C1G1 – SGD $19,000
The Breitling Chronomat 36mm features a sophisticated blend of white gold and stainless steel, adorned with a gem-set bezel and a striking blue dial. Protected by sapphire glass and water-resistant up to 100 meters, it's a refined choice best suited for women.
3. Breitling Avenger B01 Chronograph 45 UB01821A1B1U1 – SGD $20,540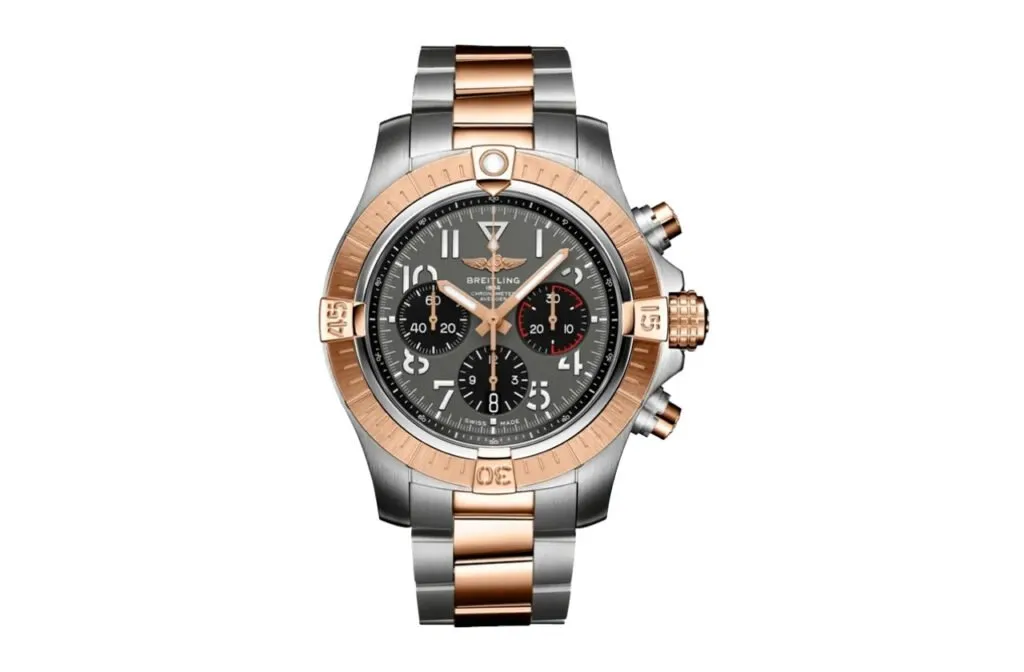 The Breitling Avenger B01 Chronograph 45, launched in 2022, combines a stainless steel case with red gold accents and features Breitling's in-house Caliber B01 movement. With its grey dial and chronograph capabilities, it's a prime choice for enthusiasts valuing precision and luxury.
4. Breitling Superocean Heritage B01 Chronograph 44 UB01622A1L1S1 – SGD $13,600
The Breitling Superocean Heritage B01 Chronograph 44 Limited Edition combines the precision of the Caliber B01 movement with a distinctive green sunburst dial. Encased in red gold and stainless steel, this 2021 limited-edition dive watch, limited to 500 units, is perfect for aficionados seeking a blend of luxury and performance. Ideal for collectors and diving enthusiasts alike.
5. Breitling Premier B09 Chronograph 40 AB0930F51H1P1 – SGD $12,100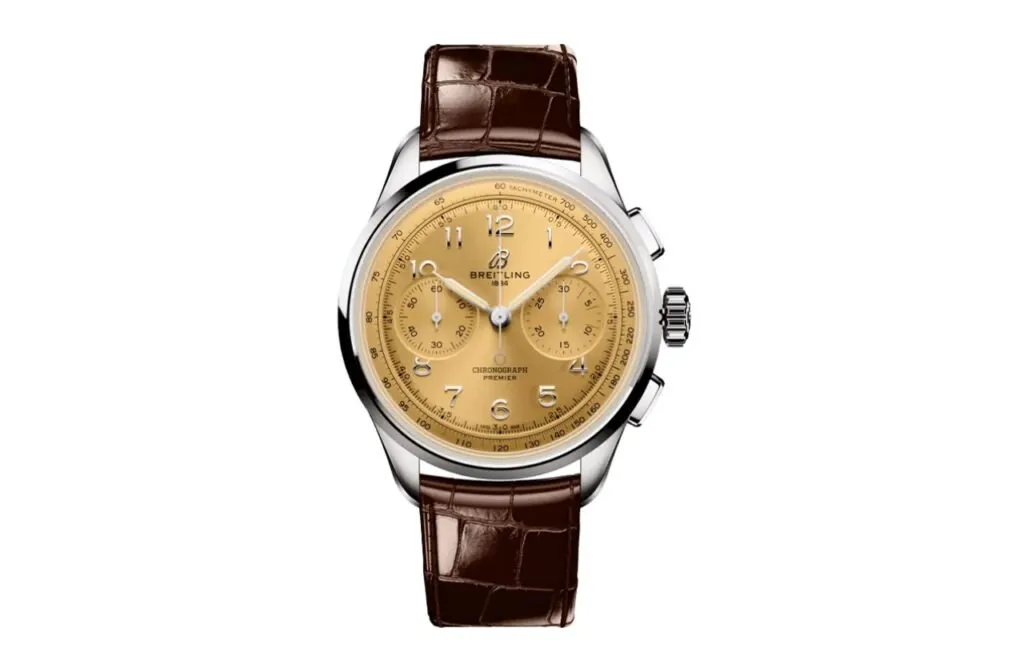 The Breitling Premier B09 Chronograph 40 boasts a sleek stainless steel case with a champagne matte dial. With its precise Caliber B09 movement and water resistance up to 100 meters, this luxury timepiece is perfect for enthusiasts seeking a blend of luxury and functionality. Ideal for the discerning gentleman who values retro styled timepieces precision.
FAQs
1. Is Breitling same level as Rolex?
No, while both are luxury watch brands, Rolex watches compared to Breitling is often considered more prestigious due to its longer history, brand recognition, and high resale value. However, Breitling has its own niche, specializing in aviation and professional-grade watches.
2. Is Breitling considered luxury?
Yes, Breitling is a luxury watch brand known for its precision and professional-grade features.
3. Are Breitling watches prestigious?
Yes, Breitling watches are prestigious, especially within aviation circles and among watch enthusiasts who own affordable watches and appreciate their professional-grade features and innovations.
4. What watch is better than a Rolex?
"Better" is subjective. While Rolex is highly prestigious, brands like Patek Philippe, Audemars Piguet, and Vacheron Constantin are often considered higher-end in terms of craftsmanship and exclusivity.
Final Word
In the grand showdown between Breitling versus Rolex, each brand shines in its unique aspects, establishing them as stalwarts in the luxury watch industry.
Key Takeaways
Rolex edges out with its exclusive Oystersteel and unique materials.
Breitling presents more accessibility, offering luxury at a broader price range.
Rolex generally holds a stronger position in terms of long-term appreciation.
Looking to buy or sell your luxury watches? Watch Exchange is your one-stop destination for trading Rolex, Patek Philippe, Tissot, Sinn, Zenith, and other luxury timepieces. Find your next watch today or list your item for free!
---