The horological world teems with a plenitude of exceptional brands, but Rolex and Omega undeniably occupy a pedestal all their own. They not only offer an array of highly functional timepieces but are also symbolically laden with status and prestige.
This discourse often triggers an intriguing question – which of these two behemoths is superior?
When discussing the investment value of timepieces, Rolex and Omega spring forth as ideal candidates. Yet, questions persist on whether Omega maintains its value comparably to Rolex.
With both Rolex and Omega renowned for their exquisite craftsmanship, the price points can be staggering. As we examine the complexities of the pricing structures of Rolex Vs Omega, it will provide a unique insight into the luxury watch market.
| | | |
| --- | --- | --- |
| | Omega | Rolex |
| Heritage and Brand | Founded in 1848, known for space exploration and diving. | Founded in 1905, known for precision and durability. |
| Design and Aesthetics | Classic designs with a modern touch. Known for their Seamaster and Speedmaster collections. | Iconic designs and well-recognizable models. Known for their Submariner and Daytona collections. |
| Movement and Precision | Co-Axial and Master Chronometer movements known for accuracy. | In-house automatic movements known for precision and reliability. Rolex watches typically undergo strict testing. |
| Materials | Utilizes stainless steel, titanium, Sedna gold, and ceramic. Omega also uses proprietary materials like Liquidmetal® and Ceragold™. | Uses 904L stainless steel, 18ct gold, and platinum. Rolex is known for its proprietary materials like Cerachrom and Rolesor. |
| Average SGD Price | S$282 – S$53,589 | S$2,155 – S$303,933 |
Omega Watches: Recognized for its Precision & Quality
From its founding by Louis Brandt et fils in 1848 to its official rebranding to Omega in 1894, the Swiss watchmaker Omega is now a gem in the crown of the Swatch Group. Headquartered in Bienne, Switzerland, Omega's rich history intertwines with pivotal moments in timekeeping and sports.
Omega's journey is marked by pioneering timekeeping achievements, from serving as the official timekeeper at multiple sporting events starting in 1905 to setting numerous precision records.
The Speedmaster's 1965 certification by NASA and the brand's partnerships with the James Bond franchise and celebrities like Cindy Crawford highlight its cultural influence. Moreover, Omega's technological advancements, such as the Co-Axial Escapement, have set new standards in the horological world.
Design and Aesthetics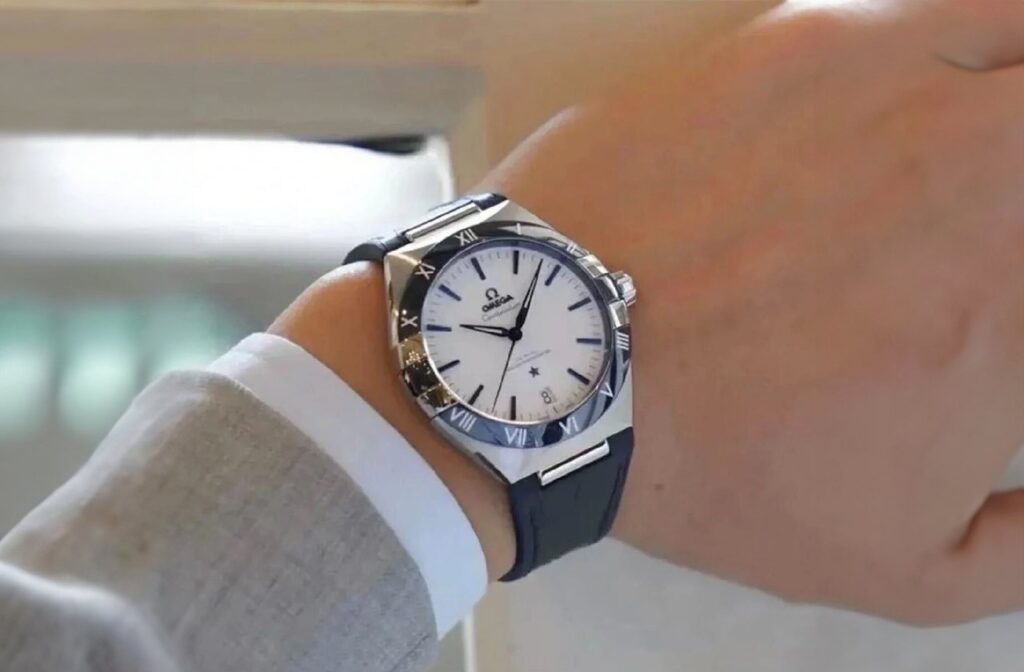 Omega's design philosophy is a fusion of daring innovation and respect for tradition. The brand fearlessly incorporates modern materials such as hi-tech ceramic and lightweight titanium into its designs, demonstrating a commitment to technological advancement and contemporary aesthetics. These avant-garde materials find their way into the Seamaster, Speedmaster, and Planet Ocean models, showcasing a blend of robustness and elegance.
Moreover, Omega isn't afraid to make a statement, often producing watches with large case dimensions of up to 45.5mm. This boldness is not just in size but also in color and style variations, offering a breadth of choices for watch enthusiasts and collectors.
Despite the modern appeal, Omega ensures the classic touch remains intact, preserving its rich heritage within these contemporary designs.
Movement and Precision
Omega has an illustrious history linked with maritime exploration and deep-sea diving. A testament to this is the Seamaster Planet Ocean Ultra Deep Professional Divers, a concept timepiece revealed in May 2019. This groundbreaking watch not only surpassed Rolex's depth record by 12 meters, reaching an incredible depth of 10,928 meters but it is certified to withstand extreme depths of up to 15,000 meters.
While Omega is part of the Swatch group, it does not rely on generic ETA movements for its watches. The brand takes pride in its sophisticated in-house Co-Axial calibers, offering a higher degree of craftsmanship and precision.
In a further commitment to precision and reliability, Omega introduced the Master Chronometer series of movements in 2015. These movements carry the distinction of being chronometer-certified by both COSC and METAS, indicating high accuracy and performance. Additionally, the Master Chronometer calibers are built to resist magnetic fields up to 15,000 gauss, reflecting Omega's focus on durability and resilience in watchmaking.
Materials
Omega has always been an innovative frontrunner when it comes to the use of advanced and durable materials in watchmaking. One of the earlier examples of this is Omega's use of 904L steel in its Ploprof model back in 1971, showcasing a commitment to robustness and resilience.
In recent times, the brand has significantly pushed the boundaries with the incorporation of hi-tech ceramic and lightweight titanium into its watch designs. The ceramic delivers scratch resistance and longevity, while the titanium adds a unique aesthetic appeal and provides lightweight comfort without compromising on strength.
This ongoing pursuit of avant-garde materials ensures that Omega watches not only stand out aesthetically but also withstand the test of time and harsh conditions, reflecting the brand's dedication to quality, durability, and innovation in watchmaking.
Price Range
Omega's price range showcases the brand's versatility. With offerings from S$282 to S$53,589, Omega ensures horological excellence is accessible at various price points. The final cost varies based on model, rarity, and market demand.
Rolex Watches: Synonymous With Success
Rolex, a name synonymous with luxury and precision, was founded by Hans Wilsdorf in 1905 in London, England. The company, initially a timepiece distribution entity, was renamed Rolex in 1908, marking the inception of an illustrious era in horology. Wilsdorf's journey to create the iconic brand didn't stop there. He sought to build their own watchmaking company and soon partnered with Alfred Davis to turn his vision into reality.
Rolex has several milestones to its credit, including the first Swiss Certificate of Chronometric Precision awarded to a wristwatch in 1910, the world's first waterproof watch 'the Oyster' in 1926, and the introduction of the Perpetual rotor in 1931, constituting the world's first self-winding movement.
Rolex has consistently been at the forefront of exploration and adventure. From being part of Sir Malcolm Campbell's land speed record in 1935 to accompanying the British Mount Everest expedition in 1953, Rolex watches have withstood the harshest of environments.
Rolex's commitment to innovation and craftsmanship continues today, with technological advances such as the Rolex Cerachrom ceramic bezel in 2005 and the redefined Superlative Chronometer certification promising -2/+2 seconds per day accuracy in 2015.
Design and Aesthetics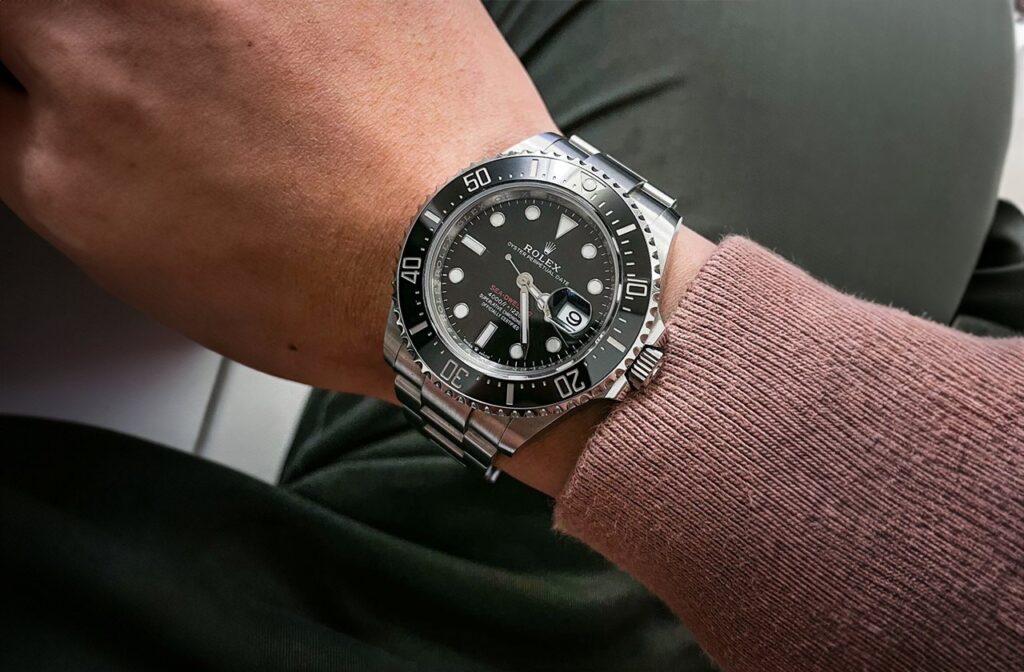 Rolex's timepieces are often viewed as the embodiment of timeless elegance, merging luxury and practicality with effortless grace. Their distinctive features such as the fluted bezel, cyclops lens over the date, and the five-piece link Jubilee bracelet are instantly recognizable, cementing Rolex as a symbol of prestige and luxury.
Additionally, Rolex affiliation with high-profile sports events such as olympic games and esteemed ambassadors narrates a tale of refined ruggedness. From the popular Rolex watches such as the iconic Rolex Submariner as a diving watch to the Rolex Daytona for motorsports, Rolex watches are always up to the task, and in style. This ongoing association with various sports including tennis tournaments and Formula 1 races reinforces the brand's commitment to precision and reliability, wrapped in sophisticated design.
Moreover, Rolex watches tend to cater to a wide array of preferences and lifestyles. The Rolex Datejust series, for instance, is an epitome of enduring elegance while the Rolex Yacht-Master series exudes a sporty, maritime charm. Meanwhile, the cosmopolitan Rolex Sky-Dweller series, featuring a dual time zone, is a testament to the brand's innovative spirit.
In essence, Rolex introduced a design and aesthetics that strike a unique balance between time-honored traditions and modern watchmaking artistry.
Movement and Precision
Rolex has consistently pushed boundaries in horological precision. A landmark event was when Captain Don Walsh and Jacques Piccard reached a depth of 10,916 meters with the Rolex Deepsea Special attached to their submarine in 1960. The in-house designs of Rolex and the manufacturing of their mechanisms at Swiss facilities stand as a testament to the brand's commitment to quality.
The Rolex Oyster Perpetual models such as the Rolex Deepsea, boast Rolex Perpetual movements that are chronometer-certified, shock-resistant, and antimagnetic watches. The introduction of the new Rolex Caliber 3255 and Caliber 3235 movements, featuring improved precision, reliability, shock resistance, magnetic resistance, and a power reserve of 70 hours, highlight Rolex's unwavering dedication to precision.
Materials
Rolex prides itself on using only the highest quality materials. This dedication is evident in their pioneering use of 904L stainless steel, a highly resistant and polishable steel usually used in high technology, aerospace, and chemical industries. Other prestigious materials such as 18ct gold, platinum, and proprietary materials like Cerachrom, feature in their watches, further enhancing the robustness, aesthetics, and longevity of each timepiece.
Price Range
Rolex Oyster Perpetual models cater to a wide range of price points, with average prices in Singapore dollars (SGD) ranging from S$2,155 to a staggering S$303,933. One key advantage is the resale value Rolex watches, largely due to the brand's prestigious reputation, scarcity, and persistent market demand. The cost of Rolex watches can vary significantly depending on the model, condition, rarity, and market demand. Still, whether for personal use or resale, a Rolex watch, regardless of the price, is always a symbol of refinement and success.
The Timepiece Showdown: Comparing Rolex and Omega Watches
Everyday Watches
Omega Aqua Terra vs. Rolex Datejust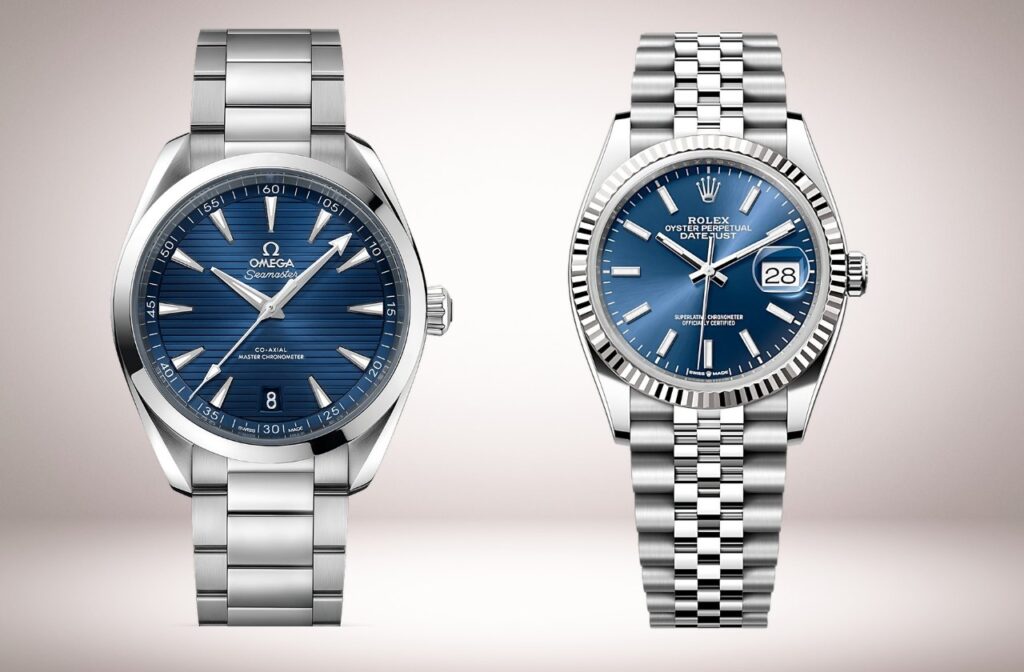 | | | |
| --- | --- | --- |
| | Omega Aqua Terra | Rolex Datejust |
| Size | 30mm – 42mm | 31mm – 41mm |
| Case Material | Steel, Steel ‑ Gold, Gold, Yellow Gold, Titanium | Oystersteel, Oystersteel + White gold, yellow gold + diamonds, Everose gold + diamonds, Everose gold |
| Bezel | Smooth | Fluted, Domed, Smooth, Gem-set |
| Band | Steel, Steel ‑ Gold, Gold, NATO Strap, Leather, Nylon, Rubber, Titanium | Jubilee, Oyster, President |
| Water Resistance | 150 meters | 100 meters |
| Caliber | Master Chronometer Co-Axial 8800, 8900, 8901 | Caliber 3235, 2236 |
| Movement | Automatic 55 – 60 hours Power Reserve Antimagnetic 15,000 gauss | Automatic 70 hours Power Reserve |
| Retail Price | Starting at S$7201.63 | Starting at S$9402.13 |
Dive Watches
Omega Seamaster Diver 300M vs. Rolex Submariner Date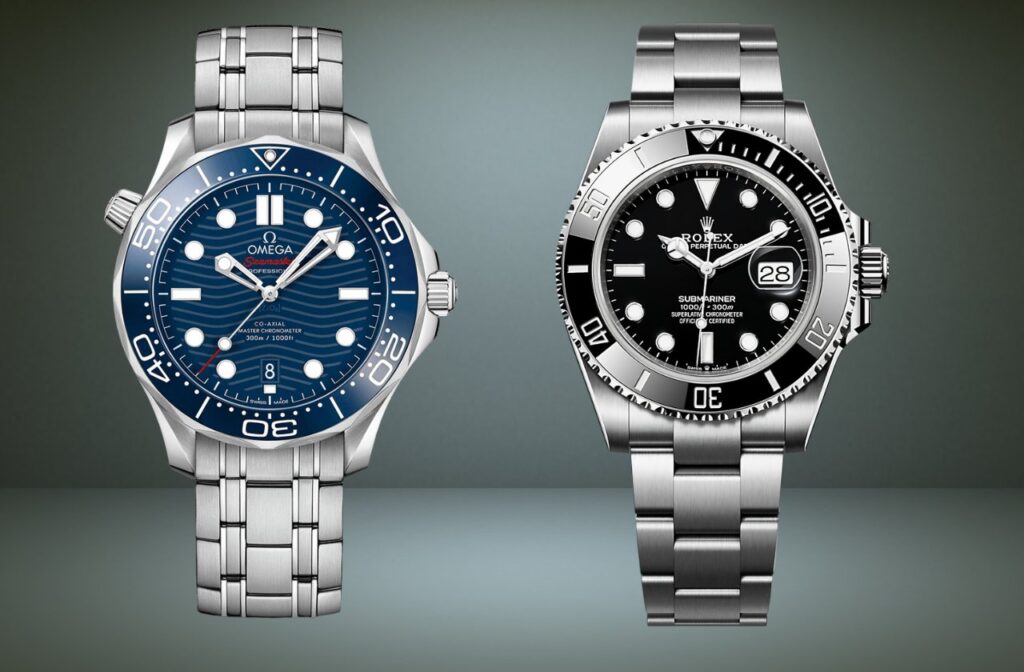 | | | |
| --- | --- | --- |
| | Omega Seamaster Diver 300M | Rolex Submariner Date |
| Size | 30mm – 42mm | 41mm |
| Case Material | Steel, Steel ‑ Gold, Gold, Ceramic, Titanium, Tantalum, Tantalum – Gold | Oystersteel, Rolesor, 18 kt Yellow Gold |
| Bezel | Ceramic | Ceramic, Unidirectional Rotating |
| Band | Steel, Steel ‑ Gold, Gold, NATO Strap, Rubber, Titanium, Tantalum | Oyster Bracelet |
| Water Resistance | 300 meters | 300 meters |
| Caliber | OMEGA Master Chronometer Calibre 9901, 9900, 8807, 8806, 8801, 8800, 3330OMEGA 1424 | Calibres 3230 and 3235 |
| Movement | Automatic 55 hours Power Reserve Antimagnetic 15,000 gauss | Self-winding mechanical movements with 48 hours Power Reserve |
| Helium Escape Valve | Yes | No |
| Retail Price | Starting at: S$6534.81 | Starting at: S$11936.03 |
Chronograph Watches
Omega Speedmaster vs. Rolex Daytona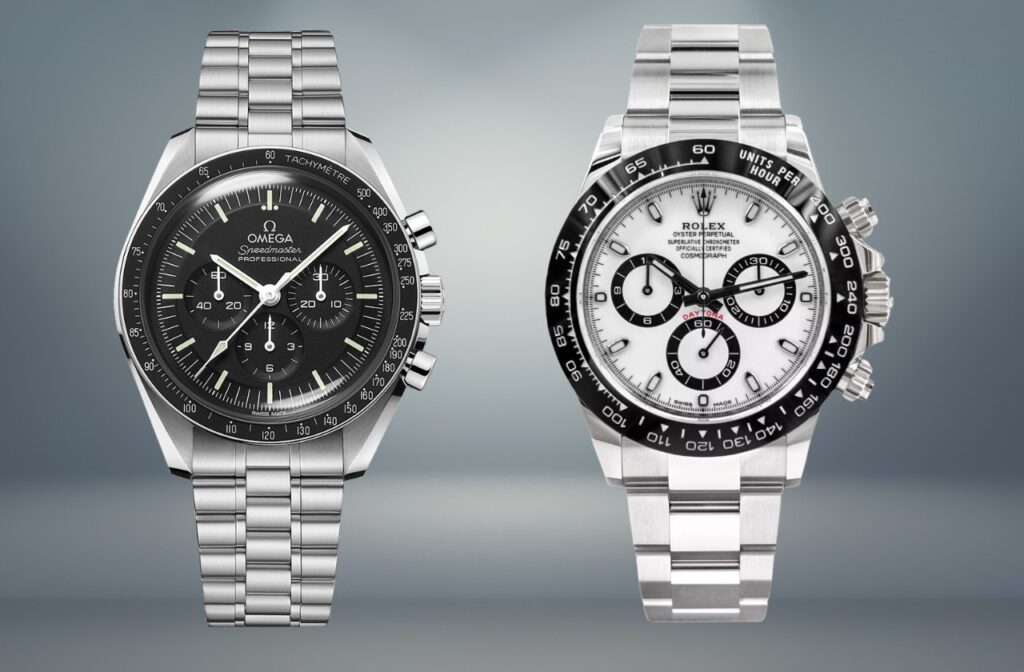 | | | |
| --- | --- | --- |
| | Omega Speedmaster | Rolex Daytona |
| Size | 42mm – 44.25mm | 40mm |
| Case Material | Stainless steel, rose gold, steel + rose gold | Stainless steel, yellow gold, white gold, rose gold, platinum, stainless steel + yellow gold |
| Bezel | Aluminum, Ceramic | Ceramic, metal, gem-set |
| Band | Bracelet, leather strap | Oyster Bracelet, Oysterflex Bracelet |
| Dial Layout | Two to Three subdials + date | Three Subdials Chronograph Watch |
| Crystal | Hesalite, sapphire | Sapphire |
| Water Resistance | 50 meters | 100 meters |
| Caliber | Master Chronometer Co-Axial Caliber 9901, 9900, Caliber 1861, 1863 | Caliber 4130 |
| Movement | Manual-Winding 48 hours Power Reserve, Automatic 60 hours Power Reserve Antimagnetic 15,000 gauss | Automatic 70 hours Power Reserve |
| Retail Price | Starting at S$7001.58 | Starting at S$17537.30 |
Dress Watches
Rolex President vs Omega Globemaster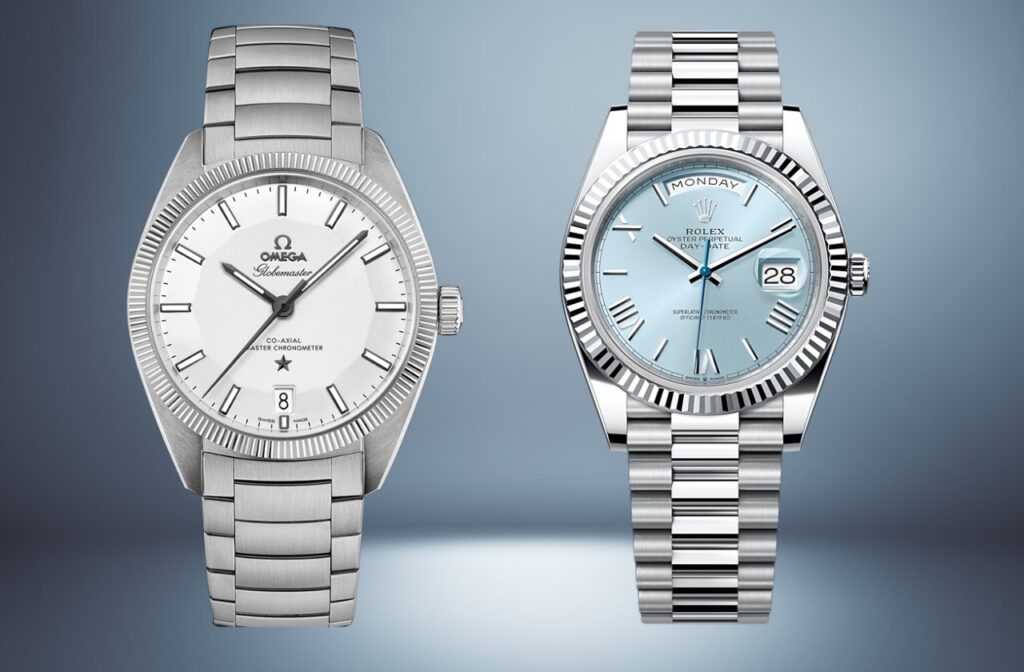 | | | |
| --- | --- | --- |
| | Rolex President | Omega Globemaster |
| Size | 36mm – 40mm | 38mm – 42mm |
| Case Material | Yellow Gold, Platinum, Everose gold and diamonds, Yellow Gold Diamonds | Steel, Steel ‑ Gold, Gold,Platinum |
| Bezel | Fluted, Set with Diamonds | Steel, Steel ‑ Gold, Gold,Platinum |
| Band | President, semi-circular three-piece links ( Platinum, 18k Yellow Gold ). Diamond Set President ( 18k Everose Gold ) | Steel, Steel ‑ Gold, Leather |
| Water Resistance | 100 meters | 100 meters |
| Caliber | Calibre 3255 | OMEGA's Co-Axial Master Chronometer Calibre 8923,8922, 8913, 8901, 8900 |
| Movement | Self-winding mechanical movement with 70 hours power reserve | Automatic with 55 hours power reserve |
| Retail Price | Starting at S$16,340 | Starting at S$10002.26 |
Antimagnetic Scientist's Watches
Omega Railmaster vs. Rolex Milgauss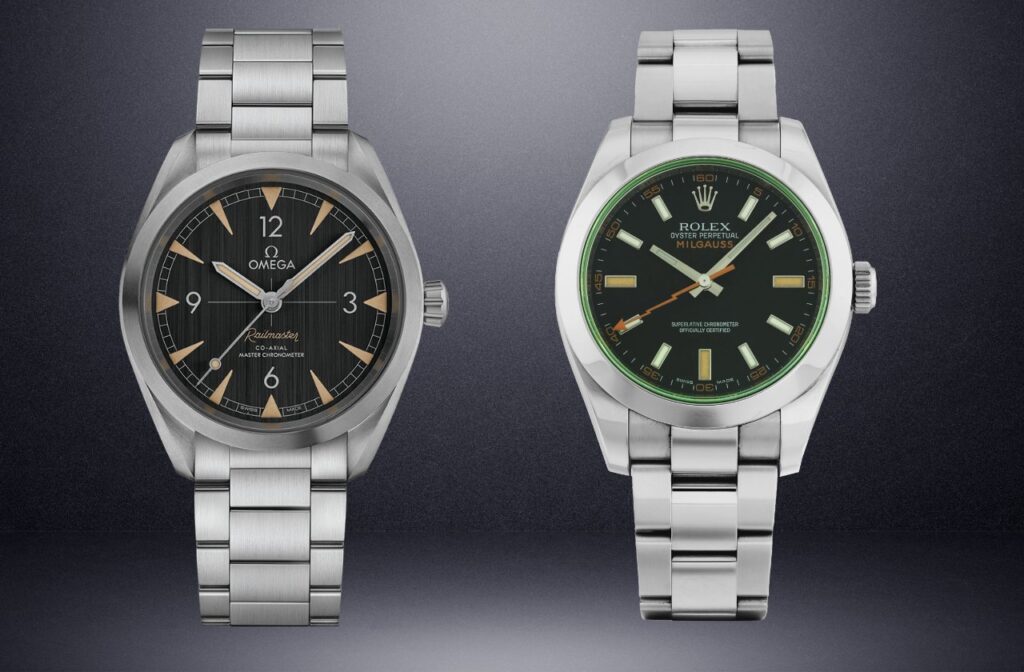 | | | |
| --- | --- | --- |
| | Omega Railmaster | Rolex Milgauss |
| Size | 40mm | 40mm |
| Case Material | Stainless Steel | Stainless Steel |
| Band | Bracelet, NATO strap | Oyster Bracelet |
| Water Resistance | 150 meters | 100 meters |
| Magnetic Resistance | 15,000 gauss | 1,000 gauss |
| Caliber | Master Chronometer Co-Axial Caliber 8806 | Caliber 3131 |
| Movement | Automatic 55 hours Power Reserve | Automatic 48 hours Power Reserve |
| Retail Price | Starting at S$6534.81 | Starting at S$11069.17 |
Competitive Landscape of Luxury Watch Brands
In the world of luxury watchmaking, many watches compete for the attention of discerning collectors and enthusiasts. Among them are the following:
Patek Philippe: Patek Philippe is renowned for its exquisite and iconic watches, considered one of the most prestigious and sought-after luxury watch brands in the world. Known for its exceptional craftsmanship and heritage, Patek Philippe watches often achieve record-breaking prices at auctions.
Audemars Piguet: Audemars Piguet is a Swiss luxury watch brand famous for its Royal Oak collection, a groundbreaking design that redefined the concept of a luxury sports watch. The brand is known for its avant-garde designs, complicated movements, and commitment to innovation.
Richard Mille: Richard Mille is a relatively young brand that has made a significant impact in the luxury watch industry with its cutting-edge technology, lightweight materials, and unconventional designs. The brand's watches are often associated with high-performance sports and have a strong celebrity following.
Jaeger-LeCoultre: Jaeger-LeCoultre boasts a rich history of watchmaking excellence, offering a wide range of timepieces from classic dress watches to sophisticated complications. The brand is known for its exceptional craftsmanship and innovations, such as the Reverso and Master Control series.
Hublot: Hublot is recognized for its bold and contemporary designs, fusing traditional watchmaking with modern materials like carbon fiber and ceramic. The brand's "Art of Fusion" approach has attracted a younger audience, and its collaborations with sports teams and celebrities have further enhanced its appeal.
These five competing brands, along with Rolex Vs Omega, dominate the luxury watch market with their distinctive styles, technical expertise, and brand prestige. Each brand caters to a different segment of watch enthusiasts, offering a diverse array of timepieces that appeal to varied tastes and preferences.
Why Should You Invest 
Rolex watches have demonstrated strong investment potential over the years. Despite a few short-term dips in value, the long-term performance shows a steady upward trend. Over a five-year period, Rolex watches have appreciated by 54.5%, reflecting a healthy 12.9% annual growth rate, according to Watch Charts.
Famous individuals, such as actors Paul Newman and Steve McQueen, have been associated with Rolex watches, adding to their allure. Rolex's brand reputation, rarity, and association with such high-profile figures help maintain a robust demand and hence, an appreciable resale value.
Omega watches, while having shown more volatility in the short term, have displayed a consistent positive return over the long run. Over five years, they have appreciated by 20.2%, reflecting a respectable 6.0% annual growth rate, based on Watch Charts's data.
Historically, famous figures like President John F. Kennedy and actor George Clooney have been known to wear Omega watches. Their choice reflects the brand's quality and appeal, which in turn boosts its reputation and aids its investment potential.
Pricing and Availability
Rolex and Omega are both prestigious brands, but they occupy different niches in the pricing landscape. Rolex, with its iconic status and globally recognized models, often commands higher prices. A Rolex watch can range from SGD 2,155 to SGD 303,933, reflecting the brand's premium positioning and the often limited availability of its most sought-after models
Omega, on the other hand, tends to be more accessible both in terms of price and availability. Prices for Omega watches can start as low as SGD 282 and can go up to SGD 53,589. The brand's diverse portfolio, wider distribution network, and greater production numbers make obtaining an Omega watch a less daunting endeavor
Rolex's scarcity enhances its allure for some collectors, while Omega's accessibility allows more watch enthusiasts to enjoy high-quality Swiss horology.
Final Word
Both Rolex and Omega are watchmaking legends, each with an illustrious heritage, innovative prowess, and distinct style. Choosing between these two brands largely comes down to personal preference, budget, and intended use.
Key Takeaways
Both Omega and Rolex are pillars of Swiss watchmaking, with Rolex being known for luxury and Omega for quality at a more affordable price. 
Rolex's high prices, particularly notable popular Rolex sought-after models like the Rolex Daytona, are due to brand prestige and scarcity, while Omega offers high-quality craftsmanship at a more modest cost.
As investments, Rolex watches typically retain value better owing to demand and limited availability, but Omega watches are still a solid choice for their enduring style and quality.
Looking to buy or sell your luxury watches? Watch Exchange is your one-stop destination for trading Rolex, Patek Philippe, Tissot, Sinn, Zenith, and other luxury timepieces. Find your next watch today or list your item for free!
---