The Submariner Date and No Date models share a fundamental similarity in their core design and functionality, embodying the classic aesthetics and robust features that have made the Submariner line iconic.
As with their names, the difference between the two is the presence of the date function. The latest Submariner Date 116610LN features a date window placed at the 3 o'clock position on the dial. Meanwhile, the Submariner ref. 114060 doesn't have this date function, leading to a cleaner dial design.
Without a doubt, both Submariner Date and No Date models have advantages and downsides, which we will explore further in this article, offering insight into the ultimate question: Rolex Submariner Date or No Date?
Rolex Submariner: Date Model
Knowing what the Rolex Submariner Date model is all about requires delving deep into its history, watch features, the intricacy of its movement, materials, and price range.
The following sections discusses all these so you can better understand the offerings of the Submariner Date:
Brief History
1953: The original Rolex Submariner is introduced. It is considered the first divers' watch waterproof up to 100 meters.
1954: The Rolex Submariner appears at the Swiss Watch Fair (later known as BaselWorld), increasing its profile.
1954: The water resistance of the Rolex Submariner increases to 200 meters.
1964: Sean Connery, as James Bond, wears a Rolex Submariner in the film "Dr. No," cementing the Submariner's place in pop culture.
1966: The first Rolex Submariner Date ref. 1680 is introduced. The new model features a date window with a magnifying Cyclops lens, and waterproof capabilities.
1979: The Submariner Date becomes water-resistant up to 300 meters. The watch also now features a sapphire crystal and a unidirectional bezel.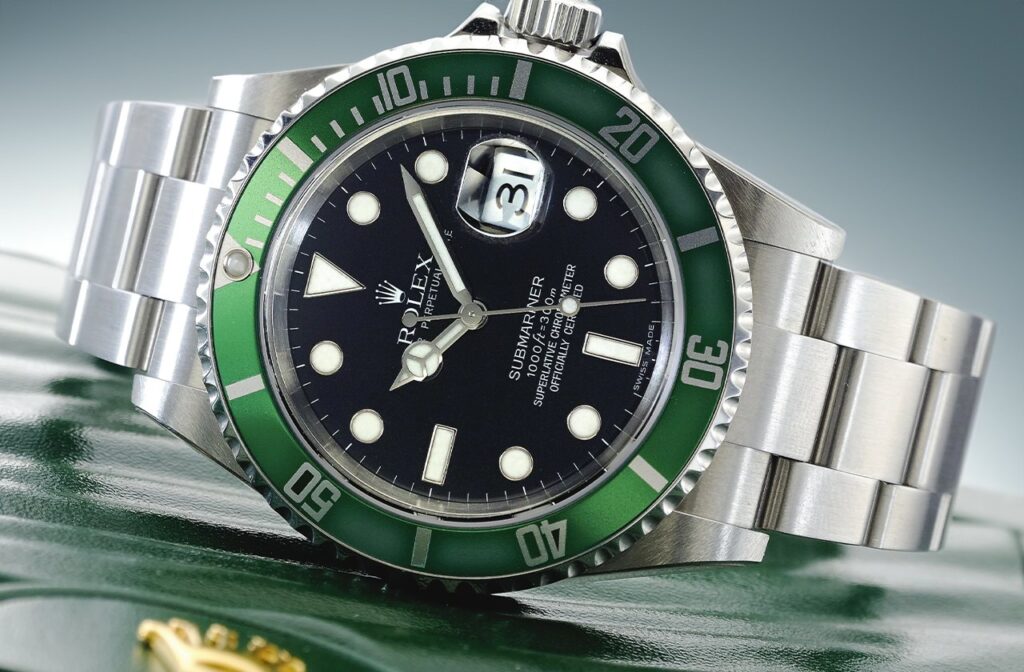 1988: The Submariner Date gets a new movement (caliber 3135) and a new reference number (16610).
2008: The Submariner Date gets a major aesthetic upgrade by introducing the 'Super Case' and 'Maxi Dial' in model 116610.
2010: The first-ever Submariner Date in steel and Cerachrom bezel insert in ceramic material was introduced.
2020: Rolex updates the Submariner Date with a new, slightly larger 41mm case and other advanced features to ensure the timepiece competes with other newer models in the luxury watch market.
Design and Aesthetics
The Rolex Submariner Date is iconic for its distinct design and timeless aesthetics. Here are the key elements that are generally found in a Rolex Submariner Date: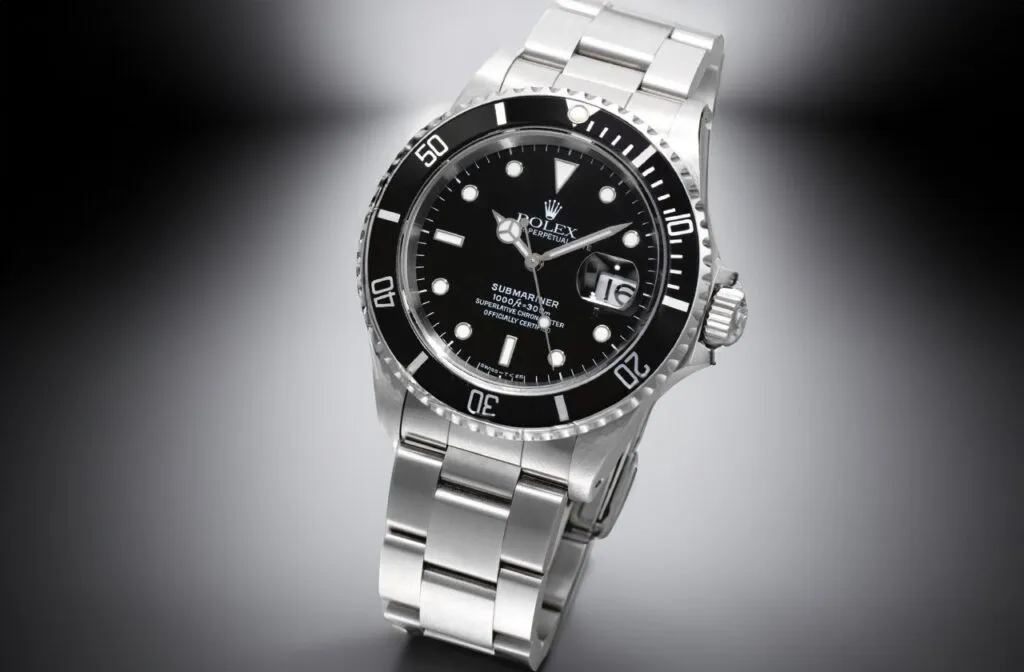 Case: The Submariner Date features a sturdy Oyster case with a diameter of either 40mm or 41mm. It's made from Oystersteel, a 904L stainless steel variant that is highly resistant to corrosion.
Bezel: The watch boasts a unidirectional rotatable bezel with a 60-minute graduated Cerachrom insert. Meanwhile, the bezel's engraved numerals and graduations are coated in platinum, and it's designed to help divers track their immersion time accurately.
Dial: The Submariner Date has a black dial with large luminescent hour markers for enhanced legibility, even in dark conditions.
Crystal: Protecting the dial is a scratch-resistant sapphire crystal with the remarkable Cyclops lens over the date, magnifying the date display for easy reading.
Bracelet: The elegant everyday watch has an Oyster bracelet renowned for its robustness, aesthetics, and comfort. The bracelet also features a Rolex Glidelock extension system, allowing fine adjustments of the bracelet length for a perfect fit.
Hands: The "Mercedes" hour hand, another hallmark of the Rolex Submariner series, contributes to the watch's distinctive look.
Crown: The Submariner Date includes a Triplock winding crown. This triple waterproofness system ensures waterproof protection akin to a submarine's hatch.
With all the listed features, the Rolex Submariner Date perfectly balances functionality and style, making it a sought-after model for divers and watch enthusiasts alike.
Movement and Precision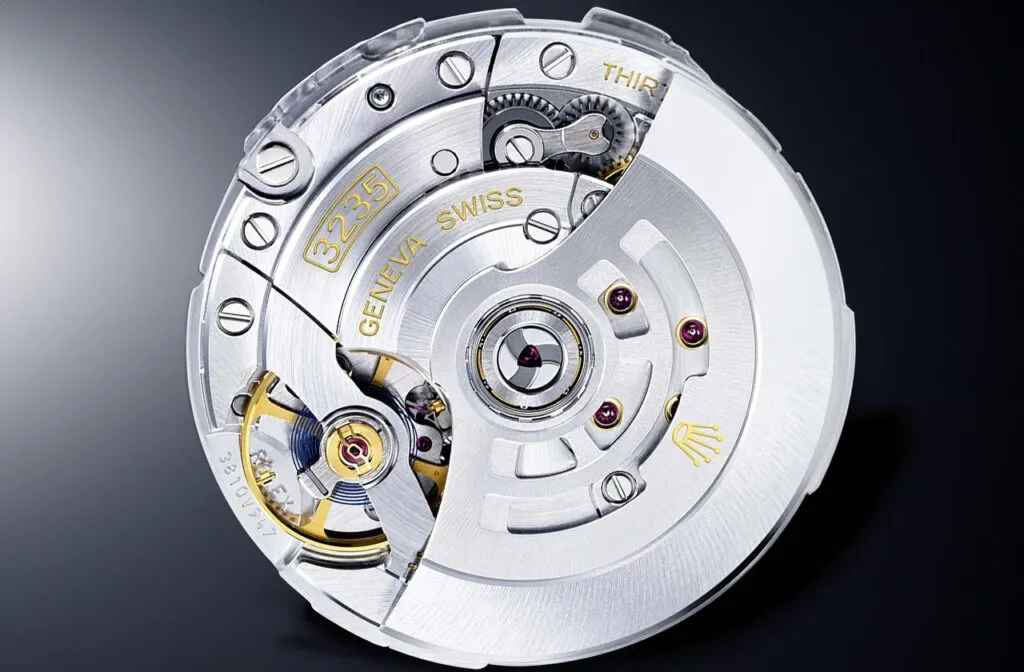 The Rolex Submariner Date is presently powered by the Rolex Caliber 3235. This is a self-winding mechanical movement entirely developed and manufactured by Rolex.
A few key features of the Caliber 3235 include:
Precision: It offers superior timekeeping precision and has successfully passed the Swiss Official Chronometer Testing Institute (COSC) tests, a designation reserved for high-precision mechanical watches.
Power Reserve: The 3235 movement offers approximately 70 hours of power reserve, an improvement over the previous generation's 48 hours.
Chronergy Escapement: The movement uses a Chronergy escapement. This enhanced escapement system is energy-efficient and resistant to magnetic fields. This contributes to the movement's overall reliability and precision.
Date Function: As part of its functionality, the Caliber 3235 includes an instantaneous date with a rapid setting.
Parachrom Hairspring: The Caliber 3235 uses a blue Parachrom hairspring, up to 10 times more accurate than a traditional hairspring in case of shocks. It's also insensitive to magnetic fields.
Materials
The Rolex Submariner Date is renowned for its use of premium, robust materials designed to ensure durability and longevity. Here are some key materials used in its construction:
Oystersteel: The case and bracelet of the Rolex Submariner Date are made from a specially developed alloy known as Oystersteel. This is extremely resistant and maintains its beauty even in the harshest environments.
Cerachrom Insert: The unidirectional rotatable bezel features a Cerachrom insert made from ceramic. This is virtually scratchproof and is unaffected by ultraviolet rays, which prevents it from fading.
18 ct Gold: Some variants of the Submariner Date, such as the two-tone (Rolesor) and all-gold models, incorporate 18 ct gold in the case, bracelet, or bezel. Rolex produces its own gold in-house to ensure the highest standards of production.
Chromalight Display: On the dial, the hour markers and watch hands are filled with a luminescent material called Chromalight. This long-lasting blue luminescent material enhances legibility in darker environments.
Sapphire Crystal: The watch face is protected by a scratch-resistant sapphire crystal, offering excellent durability and clear dial visibility.
3235 Movement: Inside the watch, the Caliber 3235 movement includes components made from innovative high-performance materials, such as a blue Parachrom hairspring, which is more resistant to shocks and temperature variations.
Please note that the exact materials can vary between different models and variations of the Submariner Date. Nonetheless, the ones listed above are what you can generally expect from a Rolex Submariner Date watch.
Price Range
The price range of the Rolex Submariner Date models varies depending on the materials used, the model's rarity, and market conditions. Generally, the Oystersteel versions are more affordable, while the solid gold and Rolesor versions command higher prices.
Here's a table showing the retail price of some Submariner Date watches versus their market price, according to Watch Charts:
| | | |
| --- | --- | --- |
| Submariner Date Model | Retail Price | Market Price |
| Rolex 126610 | S$14,350 | S$18,166 |
| Rolex 126613LB (Oyster steel and yellow gold) | S$21,800 | S$22,931 |
| Rolex 126618LB (Yellow gold) | S$54,500 | S$52,262 |
Keep in mind that Rolex timepieces often experience high demand and low supply, which can lead to significant fluctuations in their secondary market value.
Rolex Submariner: No Date
One way of differentiating the Rolex Submariner No Date from its Date counterpart is to understand its roots and history. You'd instantly notice a few identifying features when both watch models are set beside each other.
Let's get to learn what makes Rolex Submariner No Date watches unique through the following sections:
Brief History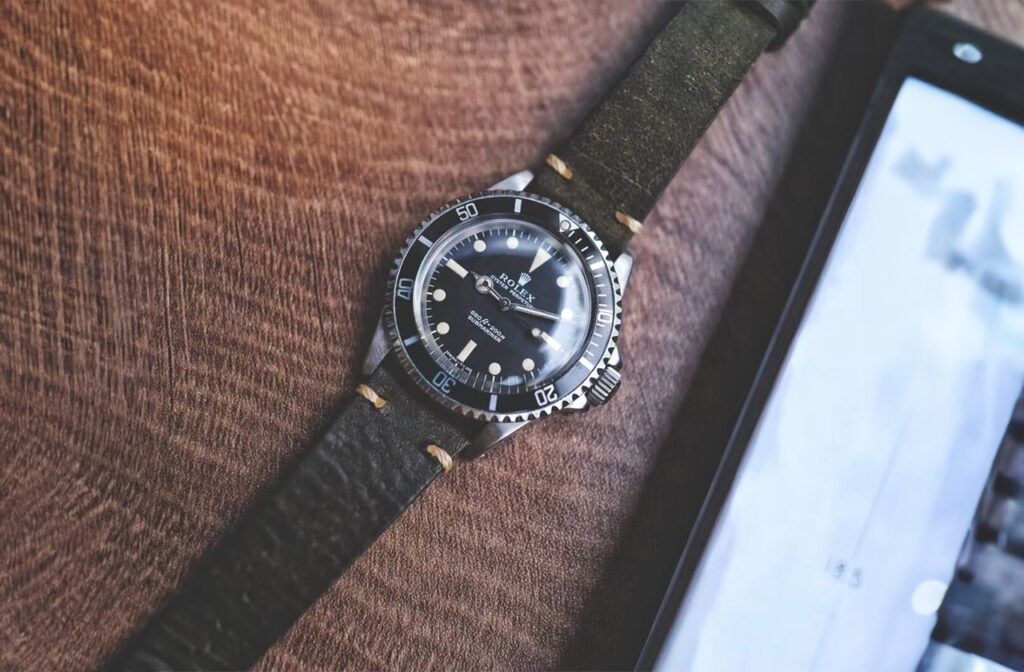 1962: Rolex introduced the model 5513, which would become the classic no-date Submariner and remain in production for nearly 30 years.
1988: Rolex releases the Submariner 14060 No Date, replacing the model 5513.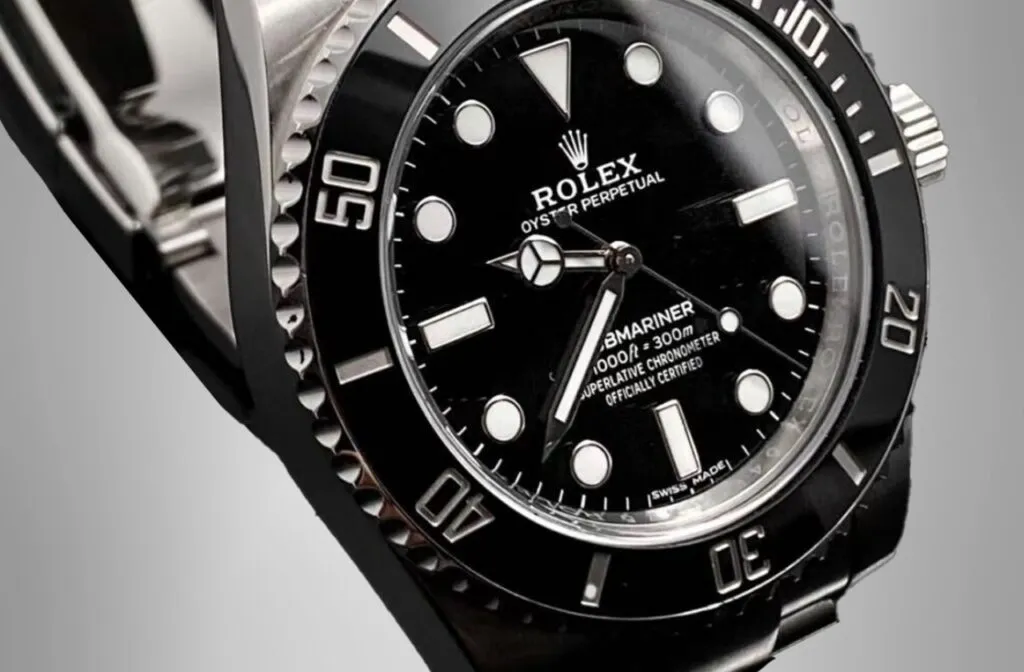 1990: Rolex starts using the 3000 movement in the no-date Submariners (reference 14060).
1999: The reference number for the Submariner "No Date" is updated to 14060M (where 'M' stands for "Modified"), featuring the new 3130 caliber movement.
2012: Rolex introduces a "No Date" version with a ceramic bezel, the 114060, which replaces the 14060M. It also features an improved bracelet and clasp. This model has the Maxi dial with larger markers and "Mercedes" hands.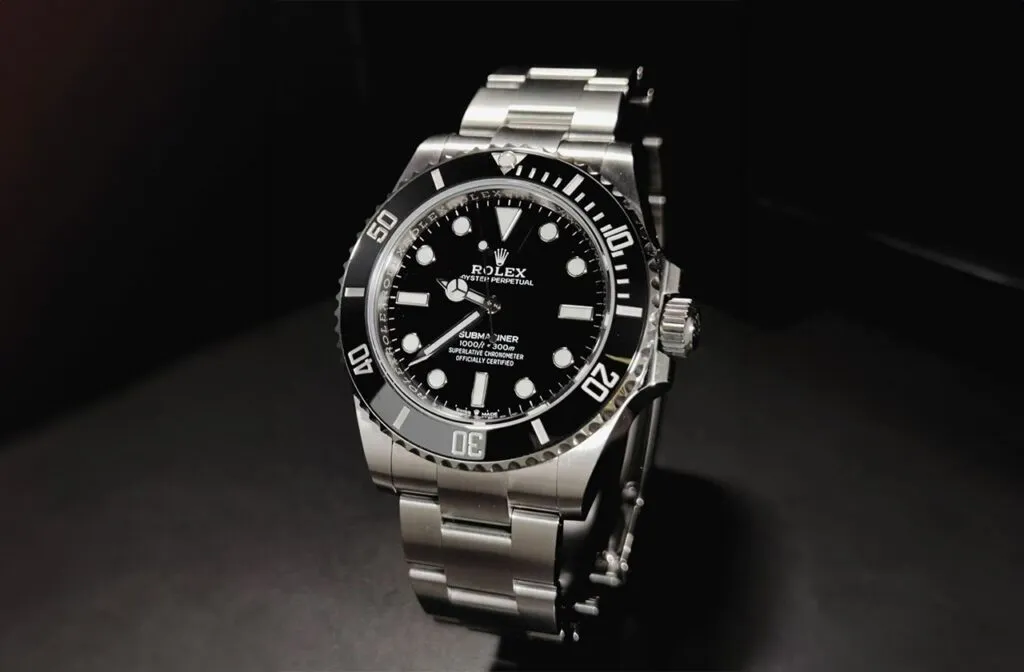 2020: Rolex replaces the Rolex Submariner ref. 114060 with the reference 124060, which features a slightly larger 41mm case, the updated 3230 movement, and a slightly wider bracelet.
Design and Aesthetics
The Rolex Submariner "No Date" shares many design elements with its "Date" counterpart. However, a keen eye will allow you to spot the No Date timepiece from the Date model.
Here are the major designs and aesthetics of a Rolex Submariner No Date:
Case: It features a monobloc middle case with a screw-down case back and winding crown. The case measures 41mm in diameter. It's made from Oystersteel, part of the 904L steel family, known for its excellent corrosion resistance.
Bezel: The watch features a unidirectional rotatable 60-minute graduated bezel with a Cerachrom insert in black ceramic. The graduations are coated in a thin layer of platinum.
Dial: The "No Date" Submariner has a black dial with luminescent hour markers for visibility in dark conditions. The hands are also luminescent, and the hour hand is distinctive with its "Mercedes" design.
Crystal: The watch is equipped with scratch-resistant sapphire crystal.
Movement: It's powered by Rolex's self-winding mechanical movement, the Caliber 3230.
Bracelet: It's paired with an Oyster bracelet made from Oystersteel, equipped with an Oysterlock safety clasp to prevent accidental opening. It also has the Rolex Glidelock extension system for fine adjustments of the bracelet length.
Crown: The watch includes a screw-down Triplock triple waterproofness system, which ensures waterproof protection equivalent to a submarine's hatch.
Water Resistance: Like all Submariner models, the "No Date" is waterproof to 300 meters (1,000 feet).
Aesthetics: The Submariner "No Date" 's overall aesthetic is rugged sophistication. It's designed to function perfectly underwater while still looking classy enough to wear with a suit.
Generally, the Submariner "No Date" design harks back to the original Rolex Submariner models, which did not have a date function. For many, it represents the quintessential, practical tool watch and is an iconic piece of Rolex's history.
Movement and Precision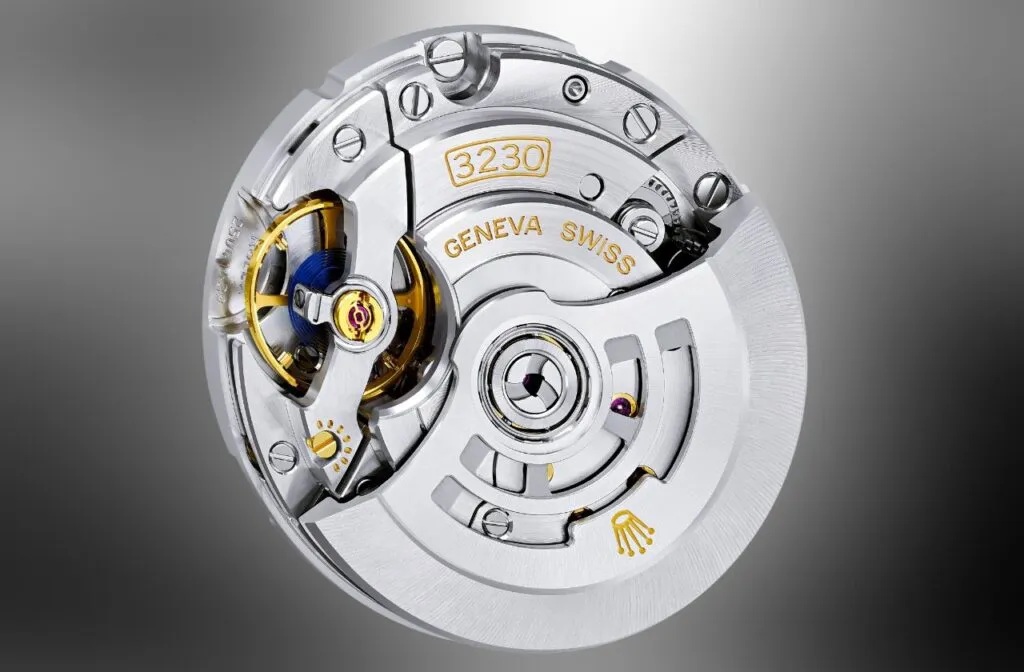 The Rolex Submariner "No Date" is renowned for its precision and reliability, largely thanks to its state-of-the-art movement technology.
Here are some key points about its movement and precision:
Perpetual, Mechanical, Self-winding: The Caliber 3230, like other Rolex movements, is automatic or self-winding. This means that it harnesses the energy from the wearer's wrist movement to power the watch.
Chronergy Escapement: The Caliber 3230 features Rolex's patented Chronergy escapement, an optimized type of the Swiss lever escapement. This innovation enhances the movement's efficiency and reliability while maintaining its precision.
Paramagnetic Blue Parachrom Hairspring: The movement utilizes a blue Parachrom hairspring made of a paramagnetic alloy resistant to magnetic fields
Paraflex Shock Absorbers: Rolex's proprietary Paraflex shock absorbers are designed to improve the watch's resistance to shocks, enhancing its reliability and precision.
Power Reserve: The Caliber 3230 boasts a power reserve of approximately 70 hours. This means the watch will continue to run and keep an accurate time for nearly three days, even when not worn.
Superlative Chronometer Certification: Each Rolex watch is tested after casing to ensure it meets Rolex's Superlative Chronometer standards, with precision of -2/+2 seconds per day.
Materials
The Rolex Submariner "No Date" is well-regarded for its durability and rugged elegance. From the case to the movement, Rolex ensures using high-quality, durable materials that can withstand time.
Here are some key details about the materials used in the Rolex Submariner "No Date":
Oystersteel: The case and bracelet of the Submariner "No Date" are made from Oystersteel, part of the 904L steel family.
Cerachrom Bezel: The unidirectional rotating bezel is equipped with a Cerachrom insert.
Sapphire Crystal: The watch's crystal is made of scratch-resistant sapphire, always ensuring a clear view of the dial and hands.
18 ct Gold: The watch's hour markers and hands are fashioned from 18 ct gold to prevent tarnishing.
Chromalight Display: The watch hands and hour markers are filled with a luminescent material called Chromalight. This proprietary material emits a long-lasting blue glow in dark conditions, enhancing legibility.
Price Range
The Rolex Submariner "No Date" price range is typically lower than the "Date" version. While prices may vary depending on conditions, rarity, and demand for a specific reference, the "No Date" Submariner often offers a more accessible entry point for collectors and enthusiasts looking to acquire a Rolex dive watch.
Take a look at the retail price and market value of some of the well-known Submariner No Date watches through the table below, based on Watch Charts.
| | | |
| --- | --- | --- |
| Submariner Date Model | Retail Price | Market Price |
| Rolex 124060 | S$12,700 | S$15,887 |
| Rolex 114060 (Out of production) | S$10,500 | S$13,822 |
| Rolex 5513 | S$3,400 | S$17,776 |
Remember, the market price is ever-changing depending on economic conditions. That said, Rolex watch prices in the table only estimate their current value.
FAQs
1. Is Submariner Better With or Without Date?
Choosing a Rolex Submariner with a date function or without depends on personal preferences and needs. Some users appreciate the practicality of the date function. In contrast, others prefer the clean, symmetrical look of the Submariner no-date. Ultimately, it's a matter of taste and lifestyle.
2. Is the Submariner Date a Good Watch?
Yes, the Rolex Submariner Date is an excellent watch. Known for its robust construction, up to 300m water resistance, and elegant design, the Submariner Date offers a more luxurious take on Rolex's famed diving watch. With various color combinations and materials available, the Submariner Date easily caters to different styles and preferences.
3. How Long to Wait for Rolex No Date Submariner?
The wait time for a Rolex No Date Submariner can vary depending on the demand and availability. Typically, this model may have a shorter waiting list than some Submariner Date models. Some users in Rolex watch forums claim a waitlist of more than 6 months or more.
4. What Is the Difference Between the Old Submariner and the New Submariner?
In 2020, Rolex introduced a new generation of Submariners, measuring 41mm, which included both Date and No Date models. The new models, such as the Ref. 124060, have updated features like enhanced movement, a slightly redesigned case, and a larger bracelet. Although the changes are subtle, they offer a fresh take on the classic Submariner design.
Final Word
Overall, the Submariner Date adds a date function with a magnified Cyclops lens, providing an extra layer of practicality for those who find this feature useful. Conversely, the Submariner No Date offers a clean, symmetrical dial, hearkening back to the original design of the Submariner line and appealing to those who appreciate minimalist aesthetics.
Key Takeaways
The No Date version resembles the original Submariner design. It is often considered more traditional, while the Date version adds modern convenience.
Generally, the Submariner Date is priced slightly higher than the No Date due to the additional date complication.
Both models typically retain their value well and can even appreciate over time, consistent with Rolex's strong reputation in the resale market.
Looking to buy or sell your luxury watches? Watch Exchange is your one-stop destination for trading Rolex, Patek Philippe, Tissot, Sinn, Zenith, and other luxury timepieces. Find your next watch today or list your item for free!
---