With many watch enthusiasts leaning their loyalty more to one brand or another, it's not uncommon to find two watches being compared these days. And one heavy topic that has not been spared is the Tudor Pepsi vs. Rolex Pepsi GMT debate.
While both look cunningly similar, the key difference between the Rolex Pepsi 126710BLRO and Tudor Pepsi GMT M79830RB lies in their respective brands. The Rolex Pepsi is manufactured by Rolex, while the Tudor Pepsi GMT is made by Tudor, which is Rolex's sister brand and offers similar design aesthetics but at a more accessible price range. 
There's more to it when discussing these watches' shared characteristics and uniqueness. We'll unravel everything from the design, materials, and movement to the price point and resale value.
Comparison Table: Rolex Pepsi vs. Tudor Pepsi GMT
Features
Rolex Pepsi
Tudor Pepsi GMT
Case
• Stainless steel case
• 40mm diameter
• Waterproof Oyster case design
• Stainless steel case
• 41mm diameter
• With polished and satin finish
Bezel
• Bidirectional rotating bezel featuring the iconic blue and red "Pepsi" color scheme
• Ceramic bezel
• 24-Hour GMT scale
• Bidirectional rotating bezel with matte burgundy and blue
• Aluminum insert bezel
• 24-Hour GMT scale
Strap
• Stainless steel jubilee bracelet
• Easylink extension system
• Oysterlock clasp
• Riveted steel bracelet
• Folding clasp and safety catch 
Dial
• Black dial
• Luminescent hour markers
• Date window
• Black dial
• Dome sapphire crystal
Movement
• Caliber 3285
• 70-hour power reserve
• Mechanical movement
• Caliber MT5652
• 70-hour power reserve
• Mechanical movement
Price Point
S$3,793 – S$8,008
S$25,216 – S$113,471
The Rolex Pepsi and Tudor Pepsi GMT watches share several key features, including stainless steel cases, iconic blue and red (burgundy for Tudor) "Pepsi" bezels with a 24-hour GMT scale, black dials with luminescent markers, and 70-hour power reserve automatic movements.
The Rolex Pepsi boasts a 40mm diameter, a stainless steel jubilee bracelet, and Rolex's luxury reputation, attracting those wanting a premium timepiece. Conversely, the Tudor Pepsi GMT has a 41mm case and a more affordable price, appealing to those looking for a classic GMT watch without the Rolex price tag.
Heritage and Brand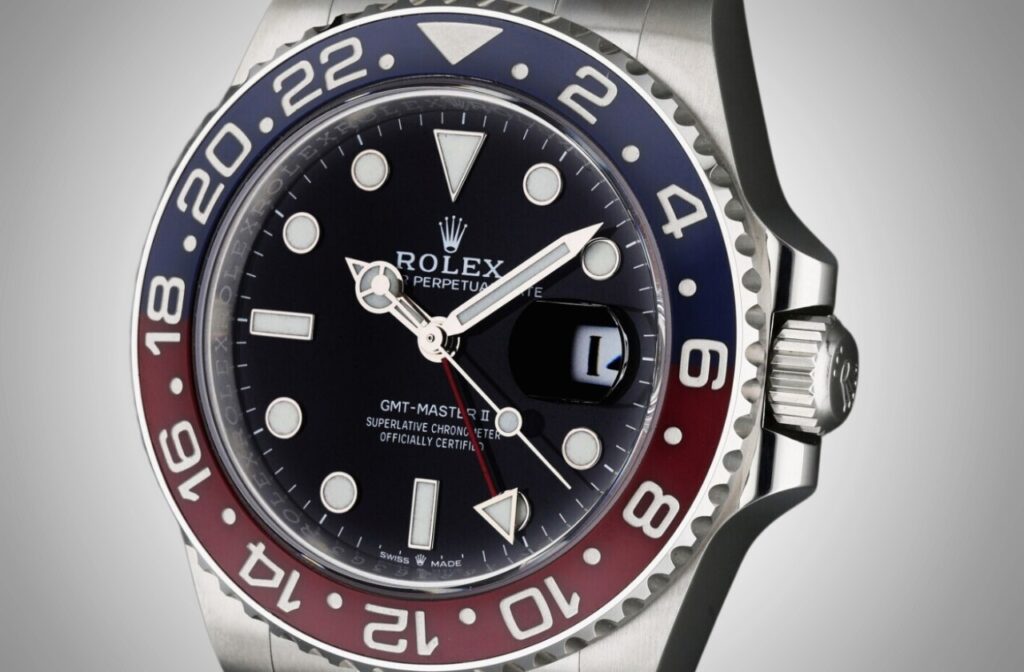 The Rolex Pepsi 126710BLRO and the Tudor Pepsi GMT M79830RB stem from a rich lineage, yet they cater to slightly different audiences. With its prestigious history, Rolex is often associated with luxury and quality, making its Pepsi model a coveted piece worldwide.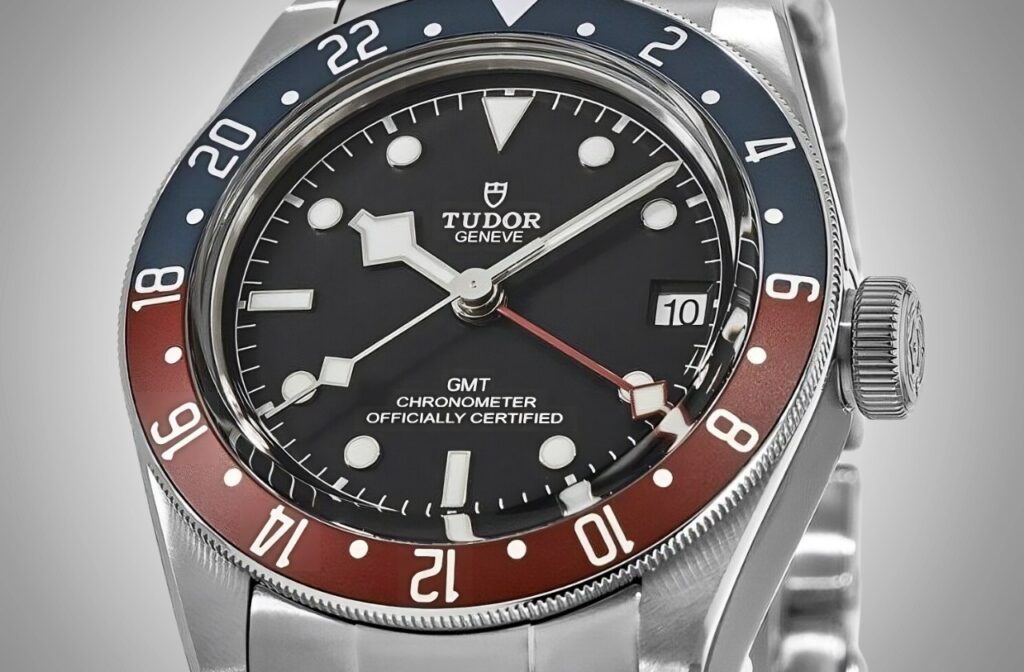 Meanwhile, as Rolex's sister brand, Tudor carries a legacy of its own by providing a different collection of timepieces at a more accessible price point. The Tudor Pepsi GMT M79830RB, while reminiscent of Rolex's iconic design, offers a contemporary take on a classic, targeting those who appreciate the heritage without the hefty price tag of its Rolex counterpart.
Design and Aesthetics
The Rolex Pepsi and the Tudor Pepsi GMT present discernible differences across their design features. The Rolex Pepsi's dial is characterized by its clean, luminescent markers and the iconic Cyclops lens over the date. At the same time, the Tudor Pepsi opts for square hour markers and a snowflake hand, adding a distinct flair.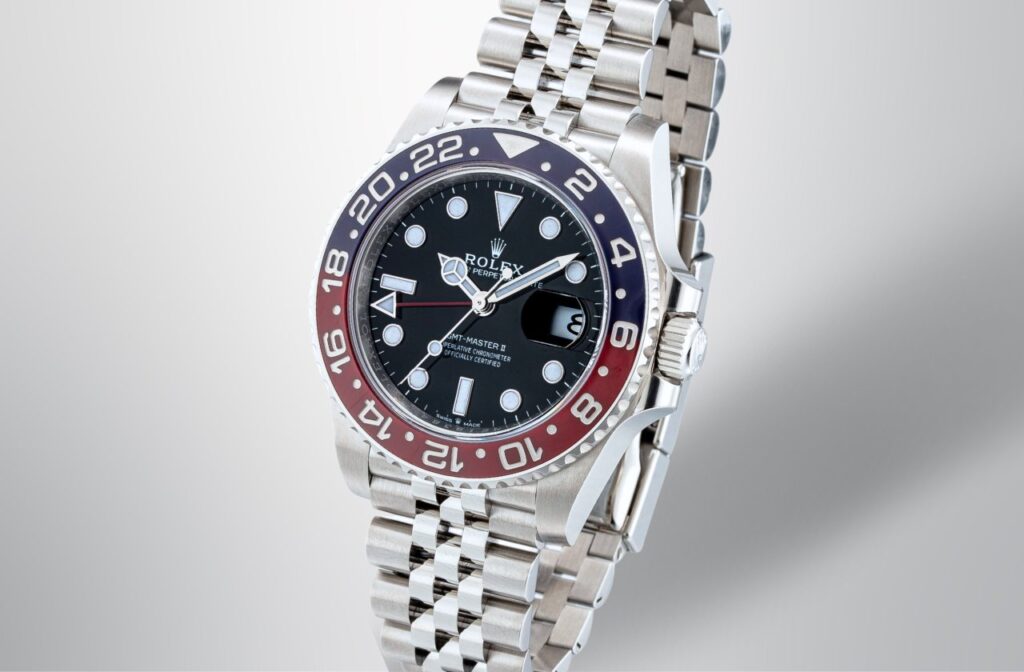 Further, Rolex's polished stainless steel bracelet exudes elegance, unlike Tudor's more utilitarian satin-brushed bracelet. Both share the iconic blue and red "Pepsi" bezel, although Tudor's is a more deep brownish red.
Additionally, the Rolex's Oysterlock clasp ensures enhanced security, while the Tudor lock mechanism provides reliable fastening. Overall, while both watches carry the essence of their respective brands, the Rolex embodies a refined luxury, and the Tudor, a contemporary ruggedness.
Materials
Though stemming from related lineages, the Rolex Pepsi 126710BLRO and the Tudor Pepsi GMT M79830RB differ in material choices. Mostly, the Rolex Pepsi is crafted with 904L Oystersteel, known for its quality finish and corrosion resistance, and its bezel features a Cerachrom insert, which is scratch-resistant and retains its color over time.
On the other hand, The Tudor Pepsi employs 316L stainless steel, which is still durable but a more common grade in watchmaking. Further, Tudor's bezel is made of anodized aluminum, giving it a slightly different texture and sheen than Rolex's Cerachrom.
Movement and Precision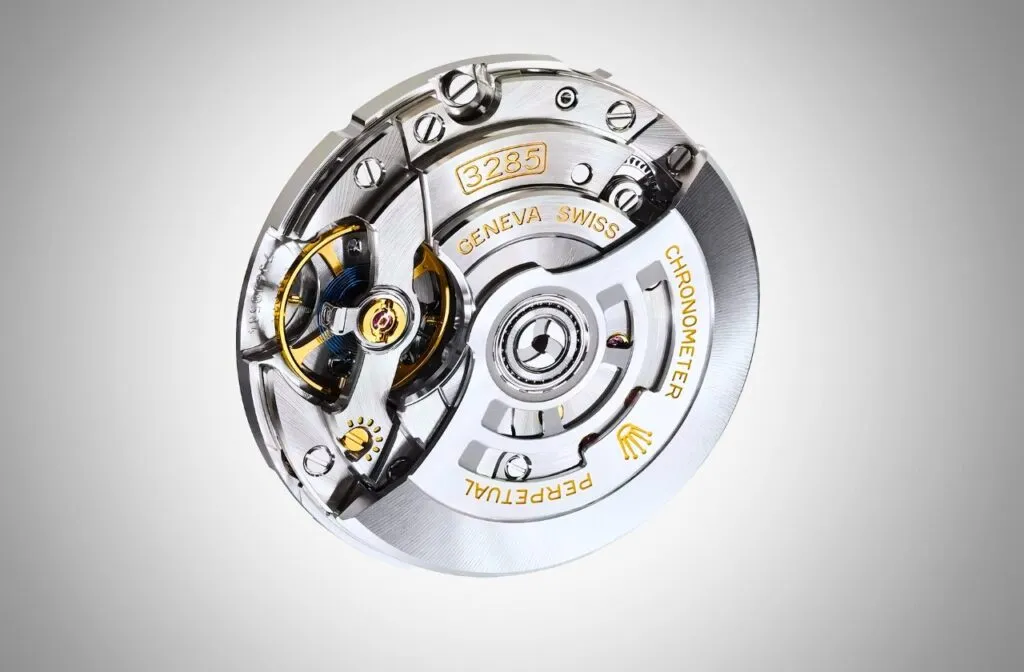 The Rolex Pepsi 126710BLRO and the Tudor Pepsi GMT M79830RB are powered by distinct movements, symbolic of their brand's engineering prowess. The Rolex Pepsi houses the calibre 3285 movement boasting a Chronergy escapement and a power reserve of approximately 70 hours.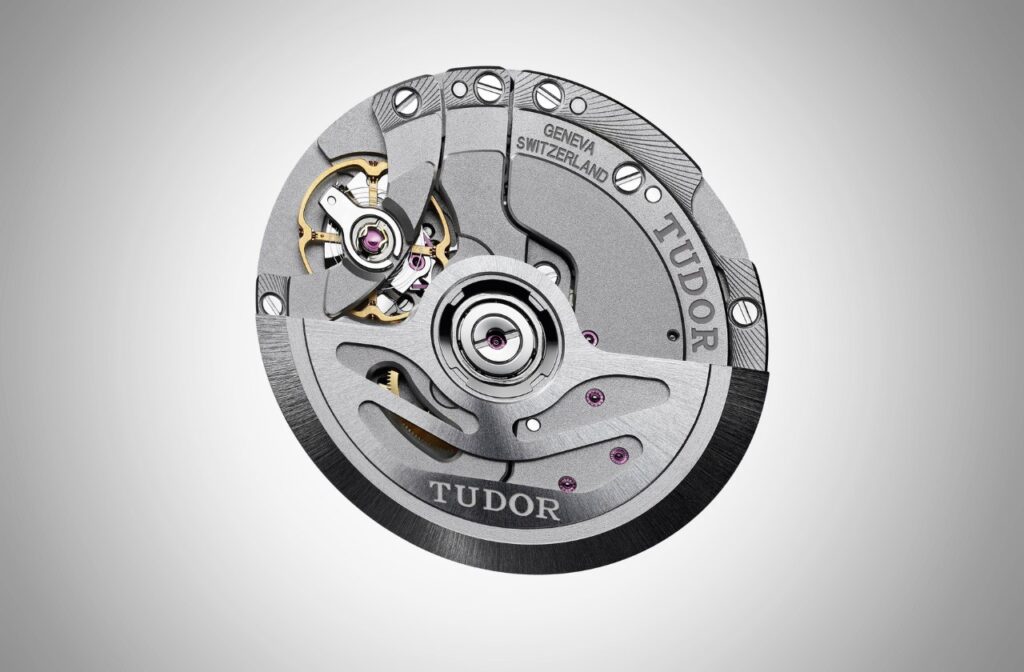 In contrast, the Tudor Pepsi operates on the manufactured calibre MT5652, also an in-house movement, with a 70-hour power reserve and a durable silicon balance spring, demonstrating Tudor's blend of traditional watchmaking with modern innovations.
Both the Rolex Pepsi 126710BLRO and the Tudor Pepsi GMT M79830RB are COSC-certified, attesting to their precision and reliability in timekeeping.
Price Range
The Rolex Pepsi GMT-Master II 126710BLRO is significantly priced higher than the Tudor Black Bay GMT M79830RB. This is mainly due to its use of luxurious and premium materials and its brand name. According to Watch Charts, this retails at around S$14,950.
Contrary to that, the Tudor alternative is much more affordable to the masses but still a luxury compared to other watch brands, like Timex and Citizen. It dictates a retail price of around S$4,375.
Investment Potential
Although the Tudor Black Bay GMT is a more budget-friendly option, the Rolex GMT-Master II is often considered a better investment due to Rolex's strong brand value and greater demand in the market.
If you look at it, Rolex Pepsi sells between S$25,216 and S$113,471 in Chrono24 in comparison to Tudor Pepsi's S$3,793 to S$8,008 price range.
Overall, collectors and enthusiasts regard the Rolex GMT-Master II as a more desirable and prestigious timepiece, thus maintaining its value over time.
Frequently Asked Questions
1. Is Tudor Cheap Rolex?
While Tudor is a subsidiary of Rolex, it is not accurate to label it as a "cheap Rolex." Tudor is known for producing high-quality watches even though it's at a more accessible price point than Rolex.
Regardless of the price difference, the brand has unique designs and technology, offering diverse aesthetics and watch features. They also cater to a different segment of watch enthusiasts who appreciate the Rolex DNA with a more modern and functional touch.
With all these considerations, Tudor has earned a name for itself, which is why it's excellently competing with other big names in the watch industry.
2. What Watches Are Considered Equal to Rolex?
While Rolex stands as one of the most iconic luxury watchmakers, several other brands also uphold similar levels of quality in terms of materials, movements, complications, and aesthetics.
Some of these watch brands, considered to be in the same league as Rolex, include:
Breitling: Known for their aviation and professional watches, Breitling is another premium watch brand that competes with Rolex. The Breitling Navitimer and SuperOcean are celebrated pieces within the horological community.
Omega: With a deep-rooted history and a wide range of iconic watches such as the Seamaster, Speedmaster, and Constellation, Omega undoubtedly holds its place as an equal to Rolex.
Patek Philippe: Patek Philippe is often associated with the industry's most elegant and sophisticated timepieces. The Calatrava, Aquanaut, and Nautilus are iconic models that rival Rolex's offerings.
Audemars Piguet: With models such as the Royal Oak and Royal Oak Offshore, Audemars Piguet is another well-established luxury watch brand that has built its reputation on exceptional craftsmanship and stunning designs.
Final Word
The Rolex Pepsi and Tudor Pepsi are both exceptional GMT watches. When it comes to making a decision on which watch to purchase, you should consider factors such as budget and style preference. The Rolex Pepsi commands a higher price due to its acclaimed status and overall sophistication, whereas the Tudor Pepsi is a more affordable option crafted for everyday wear and durability.
Key Takeaways
The Rolex Pepsi and Tudor Pepsi GMT watches are both popular choices and have distinctive two-toned bezels that make them attractive to watch enthusiasts.
While belonging to sibling companies, Rolex's GMT-Master II Pepsi is generally more expensive than the Tudor Black Bay GMT Pepsi. The Rolex also tends to have a higher resale value.
The Tudor Pepsi is often seen as a more rugged tool watch, featuring a matte finish and a tactile feel that distinguishes it from the shine and elegance of the Rolex GMT Pepsi watch.
Looking to buy or sell your luxury watches? Watch Exchange is your one-stop destination for trading Rolex, Patek Philippe, Tissot, Sinn, Zenith, and other luxury timepieces. Find your next watch today or list your item for free!
---