What Is the Grey Market Watch and Why Is It So Popular?
Some watch collectors, who are looking for specific luxury timepieces but are out of stock, usually turn to the grey market. While grey market dealers are not officially authorized by watch brands to sell their watches, the goods are authentic and legally sold. The luxury watches they sell are made in the same factories that are sold in the brand's official store or authorized retailers.
Don't confuse grey market dealers with shady watch dealers! In the grey market, the luxury watches that are legal to buy, sell, and own are traded – legally, but through unofficial channels.
So how does it work?
The luxury watch industry manufacturers sell their timepieces to official distributors across the globe. These distributors sell the watches to authorized luxury watch retailers who sell the goods to retail clients. However, these authorized dealers often have excess inventory and they may reach out to grey market dealers with offers to purchase that inventory in bulk at discounted prices. This makes grey market dealers popular among watch collectors. While these dealers pose a problem for a luxury watch brand, the availability of luxury timepieces is a huge advantage for consumers.
Why Buy Luxury Watches From Grey Market?
If you're buying luxury watches, it can be challenging to find in-demand or limited edition timepieces. This is because luxury watch brands like Rolex and Patek Philippe manufacture a limited number, making their timepieces extremely hard to find at conventional authorized retailers. That's why many luxury watch buyers turn to grey market watch dealers to find the watch they want.
Convenience: You can find gray market watch dealers typically deal online. That said, you can easily browse their watch collections. Plus, they offer easy payment schemes, such as credit card payments.
Price Point: Less popular models can sell for 20-30% less than official retail prices. For instance, standard Omega models are typically more affordable. The Seamaster 300M ref. 210.30.42.20.01.001 costs around S$5,900 on the grey market – almost S$1,400 less than the retail price at an authorized luxury watch retail store.
Note that this is true for less popular luxury brand watches. Particularly sought-after pieces, such as Rolex GMT Master II will have a higher price point than their retail price.
Reliability: Grey market dealers are legal and they sell authentic luxury watches sold by their brands. They are just priced differently because most grey market dealers source watches from the Southeast Asian region.
Sell, trade, or consign your watch today and receive instant payment via PayNow or any bank. Request your watch's current market value for free!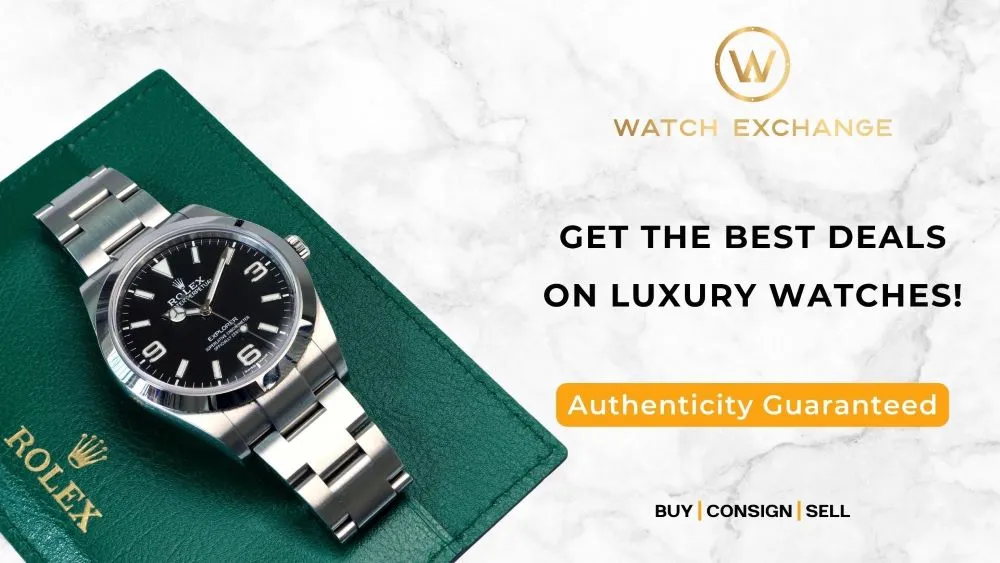 Why Buy Gray Market Watches From Watch Exchange
Established Watch Dealer: We are a licensed second-hand luxury watch dealer approved by the Singapore Police Force with fantastic reviews on major platforms so you can be confident that your experience with us is safe and transparent.
Buyers Across the Globe: Our luxury watches are listed on multiple local and overseas platforms, ensuring that your watch can sell faster.
Multiple Selling Options: We offer multiple payment methods and trade-in options. Plus, we also offer an in-house warranty for timepieces outside the official warranty period.
Exclusive Deals and Updates: Join our Telegram Channel to get exclusive and the most up-to-date watch deals.
Key Differences Between Authorized Dealers and Watch Exchange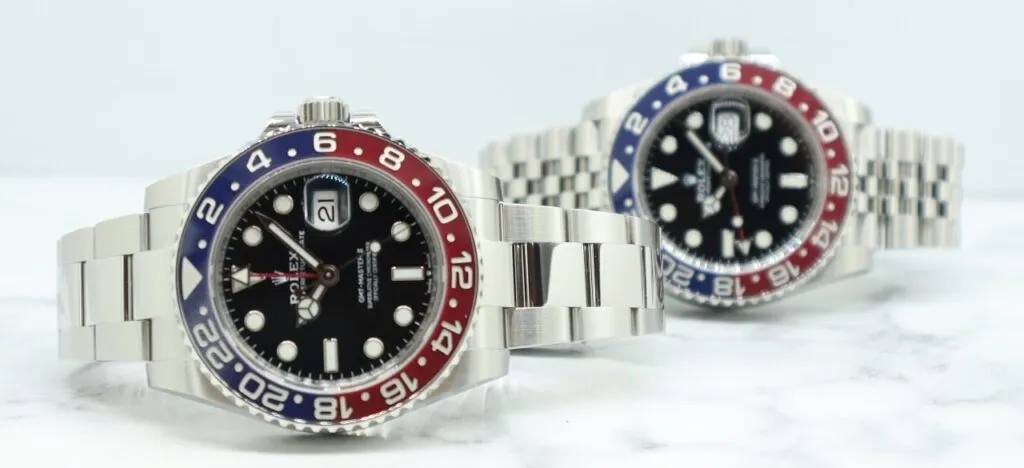 For example: Rolex GMT Master II ref. 126710BLNR
Authorized Dealers
Watch Exchange
Selling Price
Official price from the brand manufacturer.
You can find pre-owned luxury watches at prices less than grey market prices.
Warranty
Comes with official manufacturer's warranty
1-year in-house warranty for timepieces outside the official warranty period
Stock Availability
Stocks are limited and are extremely hard to find.
Find pre-owned luxury watches in mint condition. Whether you're looking for a popular or rare timepiece, such as Rolex Submariner ref. 116610LV, you can find it here.
Final Thoughts
Grey market dealers have grown significantly, especially with the changing landscape of the internet. This allows dealers to offer alternative options for service and financing on their luxury watches. They are an excellent alternative if you're looking to buy a luxury brand watch that is hard to find in authorized retail stores.
FAQ
Is Watch Exchange a Grey Market Dealer?
Watch Exchange is a licensed second-hand dealer approved by the Singapore Police Force and Regulated Dealer by the Ministry of Law.
We are among Singapore's leading pre-owned luxury watch boutiques that specialize in buying and selling authentic timepieces. We offer luxury watch enthusiasts a chance at getting their hands on limited edition watches as well as the "holy trinity" of luxury watch brands.
Can I Buy a Watch From the Grey Market?
Yes, you can! All watches on the grey market are authentic and legally sold. However, you must still do your due diligence before buying any vintage or pre-owned watches.
For instance, you must learn about the basic details of the watch – its case, movement, strap, dial, watch glass, and more. These must all be in original condition. Older luxury watches may have their glass or strap replaced.
Lastly, note that some manufacturers do not honor warranties on grey market watches. You can still have your grey market watch serviced or repaired by the manufacturer by paying for the services.
Are Grey Market Watches Legal?
Yes, grey market watches are legal. The goods they sell are authentic products that are sold outside authorized channels. They typically come with their original box and papers but often do not include a factory warranty. Additionally, resale values may be lower than a timepiece purchased from an authorized dealer.
Are Black Market and Grey Market the Same?
No, they are not. Grey market watches are authentic and legally sold through unauthorized channels. Grey market dealers legally purchase a product in one location or sales channel and resell it in another location or outlet.
On the other hand, watches sold on the black market are usually stolen or counterfeit goods. Anyone who sells stolen merchandise or fake watches is guilty of selling black market merchandise.
How Do Grey Dealers Get Their Watches?
Grey market dealers usually import watches from abroad into Singapore. This is advantageous, especially with less popular watch models in certain locations. Plus, some countries have lower VAT. This allows them to sell it at a discount yet still make a profit.