If you've ever dreamed of owning a Rolex watch, acquiring one may not be as straightforward as initially thought.
While you can walk into an Authorized Rolex Dealer (AD) to make a purchase, it's important to understand that not all Rolex models will be readily available, especially if it's your first time buying. The newest and most coveted models are often reserved for loyal customers or those with a history of purchasing from Rolex.
Even if you're willing to put down a significant deposit, obtaining certain Rolex watches can still entail a considerable waiting period, typically 2 to 4 years or even longer. This prolonged anticipation can be frustrating for those eagerly seeking their dream timepiece.
For a potentially quicker route to owning specific Rolex models, some buyers turn to the Grey Market Dealer (GM), where various Rolex timepieces are available without being subject to the lengthy Rolex waiting list.
This comprehensive article aims to guide you through selecting the right Rolex watch, whether you're interested in a new or a pre-owned timepiece.
What You Need to Know Before Buying a New Rolex
Buying a Rolex watch comes with several considerations and factors. In making this big purchase, you may have to consider the key factors that can affect your decision to choose or buy the Rolex model you want.
Pricing
The manufacturer's suggested retail price (MSRP), which varies significantly based on the Rolex model and materials used, is what authorized Rolex dealers charge for the timepieces. Rolex has rigorous pricing guidelines, thus deals at accredited retailers are uncommon.
Grey market merchants, on the other hand, might provide lower pricing because they obtain their new or used watches from sources like overstock or parallel imports despite not being linked with Rolex. However, purchasing from these dealers entails giving up the manufacturer's guarantee, which may have an impact on servicing in the future and overall worth.
For a better price comparison, below are three examples of Rolex watch models with their retail and pre-owned prices:
116610LN: The Submariner Date in stainless steel and black dial was introduced in 2015 at BaselWorld. This retails for about S$11,900 while its pre-owned price spikes up to S$15,639.
116506-0002: The Cosmograph Daytona in platinum exudes a sporty aesthetics that particularly attracts racing enthusiasts. As a highly in-demand model, this may retail for around S$117,400 and be sold as pre-owned at a price of S$170,256.
228235-0025: Powered by calibre 3255, this Day-Date 40 in Everose gold sells for S$58,000. If pre-owned, the value increases up to S$66,807.
While the retail prices of these Rolex models offer a starting point, their pre-owned value often exceeds the original price due to high demand and scarcity. Regardless of the model, Rolex watches are a worthy investment over time.
Models That Are Difficult to Acquire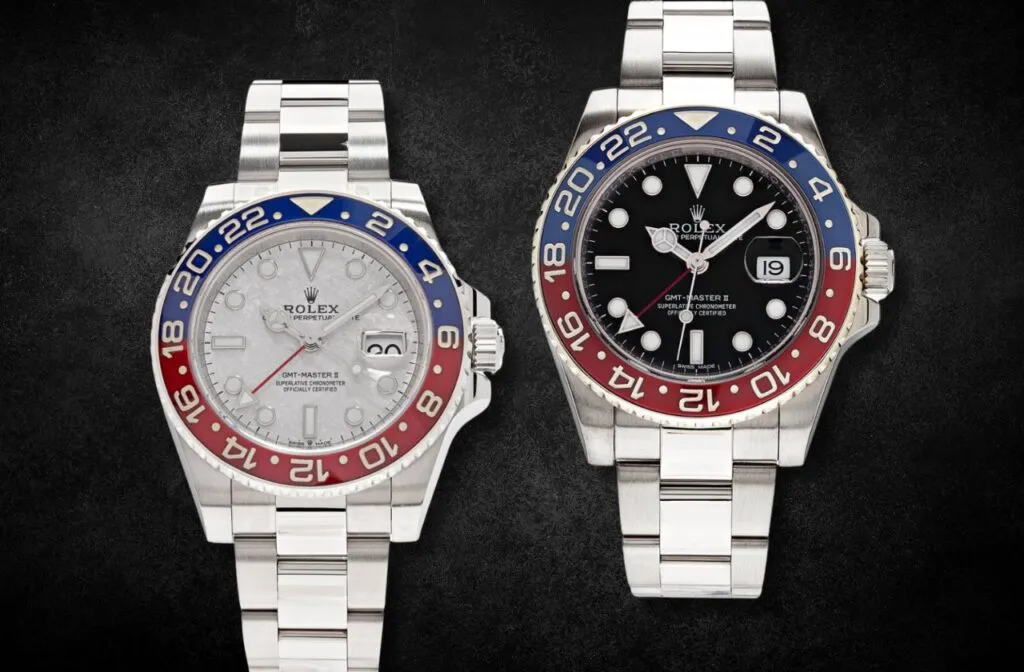 The availability of the model you choose is a crucial factor to consider when purchasing a new Rolex. Some models are reasonably easy to buy, whilst others have limited manufacturing or are in high demand, making them more difficult to locate. You may also need to create a purchase history with the dealer or follow a first-come, first-served policy.
Generally, authorized Rolex dealers frequently have a variety of models. However, because of their popularity, high-demand Rolex watches listed below may have limited supply, resulting in extremely long waitlists:
Rolex Sky-Dweller 326934: 2 to 4 years
Daytona White Panda 116500LN: Up to 10 years
Rolex Daytona 116508 green dial: 3 to 5 years
Rolex GMT-Master II 126710BLRO: Up to 20 years
Rolex GMT-Master II 126719BLRO: Up to three years
Grey market merchants, on the other hand, may have a greater immediate availability, including sought-after models, because they get their inventory from numerous global outlets.
If you don't like the idea of waiting, Watch Exchange is a trusted platform that has all the hard-to-acquire collection of Rolex models, like the ones listed above, so you won't have to get on a waitlist before your dream watch becomes available for you.
Practical Tips Before Buying Your First Rolex Watch
When considering purchasing your first Rolex watch, it is essential to keep a few practical tips in mind. These guidelines will help ensure you get the best watch for your needs while remaining within your budget and adhering to your style.
1. Set a Budget
Before purchasing your first Rolex watch, setting a clear budget is an essential first step. Rolex watches can vary significantly in price depending on the model, material, and market demand.
Below is a table that serves as an overview of some Rolex watches and the price range they fall under:
| | | |
| --- | --- | --- |
| Most Affordable | Average | Most Expensive |
| Rolex Air King (S$3,795 – S$6,834) | Rolex Submariner (No Date)114060 (S$12,127 – S$19,087) | Rolex Daytona 6265 (S$80,234 – S$125,999) |
| Rolex Air King Ref 14000 (S$5,160 – S$9,964) | Rolex Datejust 41 126334 (S$14,840 – S$26,690) | Rolex Daytona 6263 (S$103,888 – S$174,535) |
| Air-King ref. 114200 (S$7,589 – S$7,912) | Rolex Submariner Date 116610LN (S$14,334 – S$27,180) | Rolex Day-Date 228239 (S$60,241 – S$74,532) |
Based on the illustration above, some of the most affordable Rolexes come from the Air-King collection. The Oyster Perpetual watches are easy on the budget, too. If you can stretch your budget a bit more, you'd be able to acquire Submariner and DateJust models, among others.
Meanwhile, some of the most sought-out with extremely high price tags are models coming from the Daytona and Day-Date collections, to name a few. Apart from the one-time payment for your watch, you should also budget for the upfront cost and potential future expenses, such as servicing or repairs, which may cost you S$332 to S$1,063.
Also, consider resale value; although a Rolex is primarily bought for personal satisfaction, you may factor it in as a potential investment. Understanding your budgetary limits will help narrow your choices and prevent potential financial strain, making buying more enjoyable and manageable.
2. Determine Your Style and Purpose in Choosing the Right Model
The brand offers a range of modern Rolex watches for different lifestyles and activities, from elegant and Rolex Day-Date and DateJust models for formal occasions to robust Submariner, GMT-Master II, or Explorer models for adventure or casual wear.
Understanding your style and how the watch will fit into your lifestyle is key. Do you prefer a classic, understated look or a watch that makes a statement? Will it be a daily wearer or for special occasions? Answering these questions will guide you in making the right choice.
3. Research Resale Value
While Rolex watches are known for their strong retention of value, desirable Rolex models may hold their value better or even appreciate over time due to their desirability and limited availability. The Paul Newman's Rolex Daytona 6239 was sold at a Phillips auction for S$23,663,231, making it the most expensive resold watch.
The second place is bagged by a Rolex Daytona 6265 'Unicorn', valued at around S$7,843,430 in an auction. Another is the Rolex 'Bao Dai' 6062, the third most expensive watch sold at S$6,779,914 at another Phillips auction. It belonged to His Majesty Nguyễn Phúc Vĩnh Thụy.
Research and compare prices on secondary markets to understand what your chosen model might fetch. However, it's essential to buy a watch for the enjoyment it brings, not solely as an investment.
4. Understand the Details
Rolex's movements are predominantly automatic and renowned for precision and longevity unless you buy an Oysterquartz, which uses the quartz movement. Material selection, from stainless steel Rolex bracelets to 18k gold or platinum, will greatly impact the watch's appearance and cost.
The watch's function should match your lifestyle and needs, whether a rugged sports model like the Submariner for active individuals or an elegant dress piece like the Datejust for formal occasions. Understanding these details ensures that the watch you choose fits your style and performs the required functions, making it a lasting, cherished investment.
5. Know Your Watch Size
Rolex watches come in a variety of case sizes, typically ranging from 28mm to 44mm. Your wrist size and personal style will dictate the best fit. A smaller diameter may suit a slender wrist or prefer a more understated look. At the same time, larger models might appeal to those with bigger wrists or love for bold, prominent timepieces.
Trying on different sizes at an authorized dealer is a good way to find your perfect fit. Remember, a well-fitting watch enhances both comfort and style.
Remember these practical tips as you embark on buying your first Rolex watch. These guidelines will help you find the perfect timepiece that suits your needs, style, and budget.
Top 5 Rolex Collections to Consider
When purchasing a Rolex watch, it's essential to consider various collections since each offers unique features, aesthetics, and functionality. Here are the top collections from the Rolex brand you must consider investing on:
1. Rolex Daytona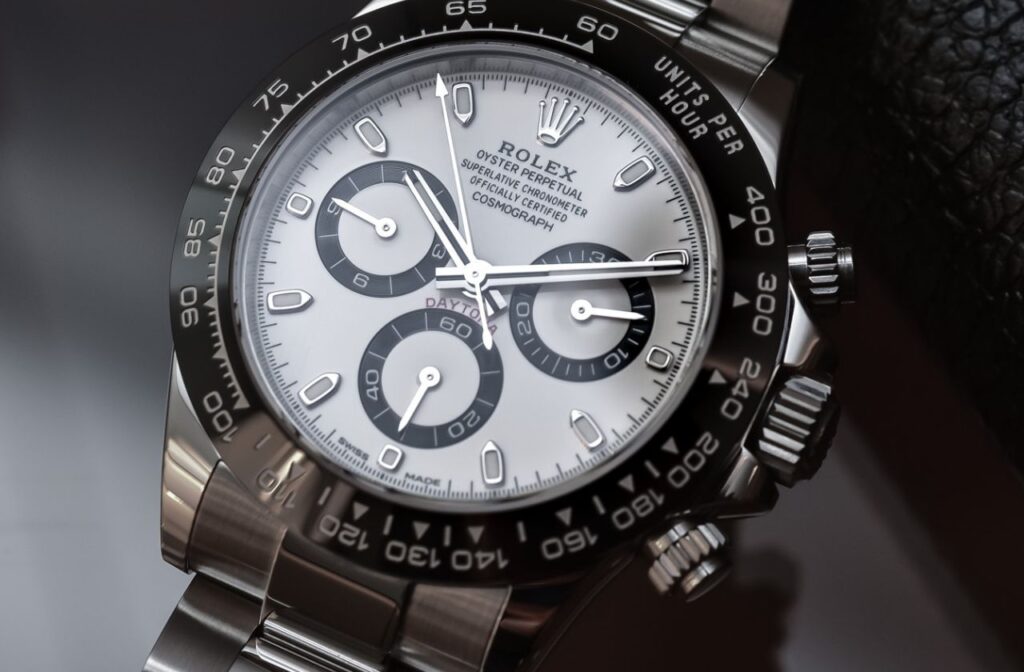 Introduced in 1963, the Rolex Daytona is a world-renowned chronograph designed for racing drivers. Its defining features include a precise, high-quality chronograph and bezel with a tachymetric scale, enabling drivers to measure speed and elapsed time perfectly.
Due to its superior functionality and timeless design, it remains one of the most coveted watches among collectors and enthusiasts. Expect to spend around S$25,548 to S$302,714 for any Daytona models from the private sales market or S$20,316 to S$1,504,890 if purchased from a secondary market.
2. Rolex GMT-Master II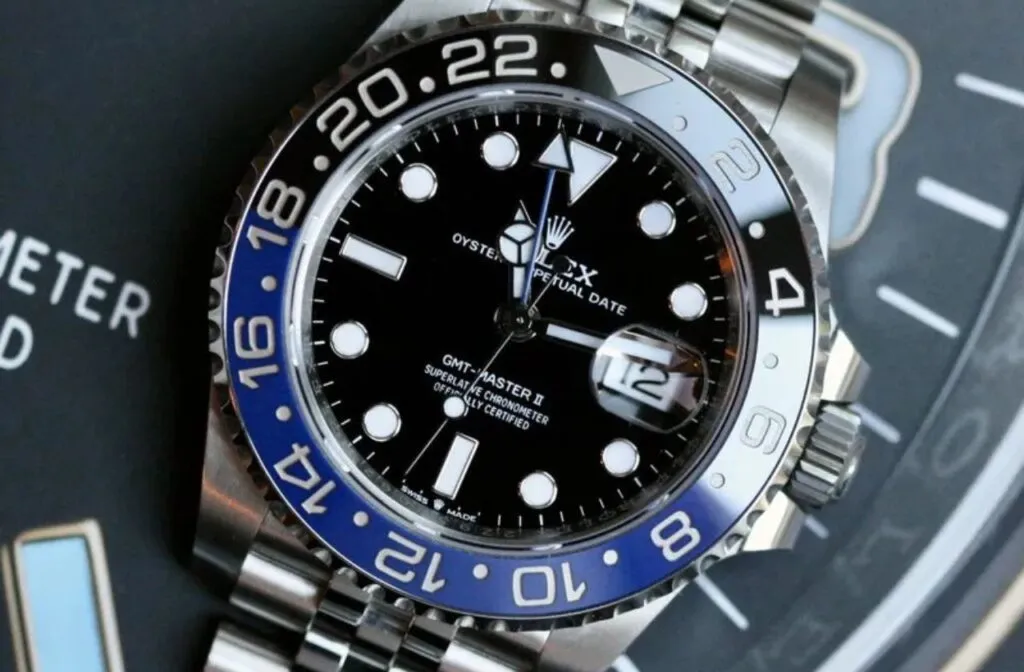 The Rolex GMT Master, first released in 1954, was developed in collaboration with Pan Am Airways to aid their pilots in dual time zone tracking. These mechanical watches stand out with their distinctive 24-hour hand and rotating bezels that can be set to a second time zone.
Despite being replaced by the GMT Master II, its pioneering features and historic relevance keep it in high demand among travelers and pilots worldwide. Timepieces from this collection sell between S$15,499 and S$183,870 from private retailers or S$11,567 to S$298,014 when sold as pre-owned watches.
3. Rolex Submariner
The Rolex Submariner collection was introduced in 1953, pioneering the modern dive watch with its impressive water resistance and robust design. Its most identifying features include a rotating bezel with 60-minute graduation for decompression times, and a highly legible dial with luminescent markers.
As one of Rolex's most iconic models, the Submariner has always been highly regarded by diving professionals and watch lovers. Authorized dealers sell tool watches from the Submariner collection between S$12,373 and S$53,577. Should you sell your Submariner watch, you can dictate a price of around S$9,839 to S$748,438 in the grey market.
4. Rolex Explorer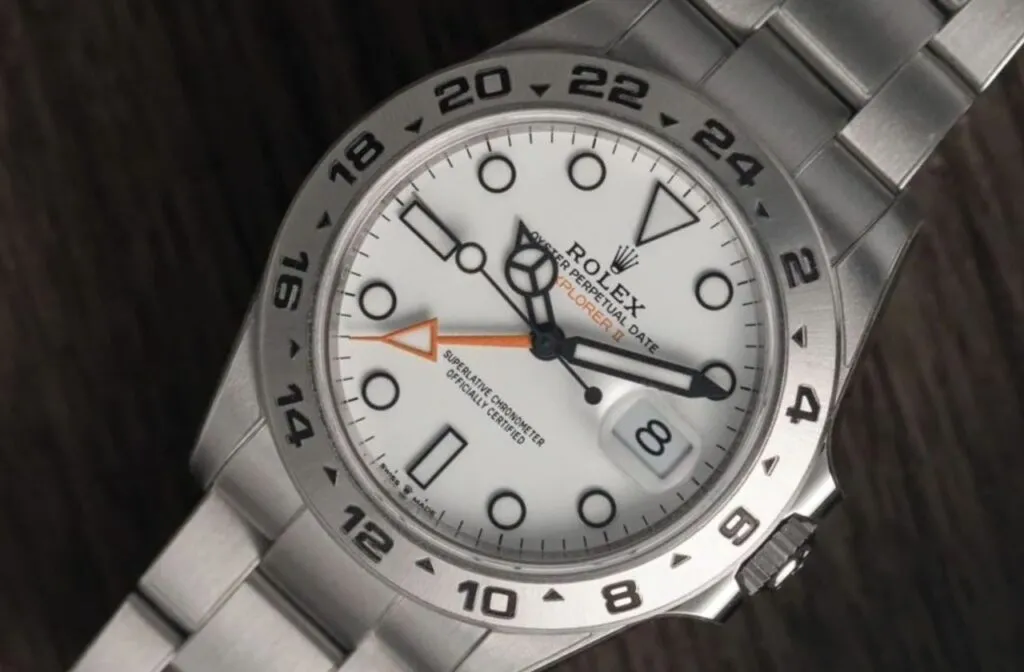 The Rolex Explorer debuted in 1953, inspired by Rolex's direct involvement with Sir Edmund Hillary and Tenzing Norgay's historical ascent of Mount Everest. Its identifying features include a simple and highly legible dial with luminescent indices and hands, a smooth bezel, and a robust Oyster case built for extreme endurance.
Its rich history and status enable the Explorer to remain a highly sought-after model, especially considering its value in the market. In a private sales dealer, Rolex Explorer watches have a price ranging from S$5,219 to S$19,834. They, especially vintage models, will appreciate after some time when sold in the grey market, with some selling for around S$6,306 to S$351,224.
5. Rolex Yacht-Master
The Rolex Yacht-Master embodies the privileged ties between Rolex and the sailing world dating back to the 1950s. This 1992 collection's key features include a bidirectional rotatable 60-minute graduated bezel, a triplock winding crown for waterproofness, and a date window with a cyclops lens.
Despite its relatively newer lineage, the Yacht-Master has quickly risen to fame due to its sporty aesthetics and unmatched elegance. Generally, Yacht-Master watches sell between S$6,679 and S$56,214 in the private sales market or S$5,501 to S$329,574 for the pre-owned Rolex watches.
How to Buy a Rolex Watch
Acquiring a Rolex watch is not just a purchase but an experience that requires understanding and planning. The subsequent sections will navigate you through crucial aspects of how to buy your first or next luxury watch in addition to your precious timepiece collection.
Step 1: Find Reputable Dealers
When buying a Rolex watch, begin by finding reputable dealers. There are two options that you can choose from in terms of where you can source your dream Rolex timepiece: Authorized Rolex Dealers (ARD) and Grey Market Dealers (GMD).
If authenticity, brand warranty, and top-notch customer service are more important to you, then an authorized Rolex dealer is the way to go. These dealers are directly supplied by Rolex and are trained to offer the best customer service and authentic, brand-new Rolex watches with an official warranty. Consult the official Rolex website to find your closest dealer.
On the other hand, grey market dealers might offer a wider range of models, including hard-to-find ones, often at potentially lower prices. They source their inventory from various global channels, allowing you to access your preferred Rolex model easily.
Step 2: Browse Their Collection and Find Your Dream Watch
Next, you can browse their extensive collection. Luxury brands like Rolex offer various models with unique aesthetics and functions to cater to different tastes and lifestyles. From the classic elegance of the Rolex Datejust to the robust functionality of the Rolex Submariner, there's a Rolex for every preference.
Explore their collection online on the Rolex website or the grey market website of your choice, taking the time to appreciate each model's distinctive features and craftsmanship. Seeing the watch's appearance and learning about its specifications can be invaluable in making your final decision.
Step 3: Go to the Physical Store
Going to a physical Rolex store is a significant part of buying a Rolex watch. Authorized Rolex dealers or brick-and-mortar grey market dealers provide an immersive experience, allowing you to physically examine and try on different models.
This gives you a firsthand look at each watch's aesthetics and lets you gauge how each piece feels on your wrist. The knowledgeable staff at the Rolex boutique can guide you through the collection, answer any questions, and assist in finding the watch that best fits your style, needs, and budget.
Step 4: If Dealing With a Grey Market, Verify Authenticity and Check the Complete Set of Papers
If you buy a Rolex from a grey market dealer, verifying the watch's authenticity and checking for a complete set of papers is paramount. Grey market dealers are not directly affiliated with Rolex, which makes the risk of counterfeit products slightly higher.
Therefore, conducting thorough checks and possibly getting an expert opinion on the watch's authenticity is crucial. A genuine Rolex will come with an official certificate, original receipt, and Rolex tags.
You should also look for the watch's unique serial and model numbers, typically engraved on the side of the watch case. Buying from reputable grey market dealers with positive customer reviews and strong guarantees can further safeguard your purchase.
Step 5: Ask for the Warranty and Maintenance
Lastly, inquire about the warranty and maintenance for your Rolex watch. Rolex provides an international watch warranty, typically five years, covering any manufacturing defects. If you're buying from an authorized dealer, the watch will come with this warranty, ensuring free repairs or replacements during the warranty period.
However, if buying from a grey market dealer, the manufacturer's warranty may not apply, so it's essential to understand the dealer's warranty policy. As for maintenance, Rolex recommends servicing your watch about every 10 years, depending on the model and usage.
Confirming these details during your purchase is advisable to understand your rights and responsibilities in maintaining the watch's condition.
Final Word
When buying a Rolex watch, understanding the process and what factors to consider is crucial. It's always best to deal with a Rolex-authorized or reputable grey-market dealer to secure your watch's authenticity. Feel free to use this guide on buying a Rolex watch so you'd have a seamless and positive experience as a Rolex watch enthusiast.
Key Takeaways
Buying a Rolex watch involves considering the initial cost as well as potential future expenses like servicing or repairs. Set a clear budget and factor in the watch's potential resale value, as Rolex timepieces are often seen as valuable investments.
Understand your style, lifestyle, and preferences to select the perfect Rolex model. Whether you desire elegance for formal occasions or robustness for adventures, a Rolex watch suits every taste.
Ensure authenticity and peace of mind by purchasing from authorized Rolex or reputable grey market dealers. Verify the watch's authenticity, ask for warranties, and check for all original papers to make a secure purchase.
Looking to buy or sell your luxury watches? Watch Exchange is your one-stop destination for trading Rolex, Patek Philippe, Tissot, Sinn, Zenith, and other luxury timepieces. Find your next watch today or list your item for free!
---