If you prioritize your budget and are open to the pre-owned market, a used or pre-owned Rolex can offer better value. Certain models like the Cosmograph Daytona, DateJust, and Submariner have shown better value appreciation than gold, stocks, and real estate.
Many prefer purchasing pre-owned Rolex watches, even those over 20 years old. Some discontinued Rolex models are highly sought after by watch enthusiasts, adding to their appeal.
However, new Rolex models still hold their own in the market, especially limited editions. If you're a luxury watch buyer torn between new and used Rolex watches, continue reading this article to discover which option can provide a better long-term investment experience.
Comparison Table: Pre-owned Vs. New Rolex
Buyers often contemplate buying a Rolex watch between new and pre-owned models. Here, we examine the key differences to understand these two options better.
| | | |
| --- | --- | --- |
| Considerations | Pre-owned Rolex | New Rolex |
| Price | Depending on the market condition | Typically expensive, as they are sold at retail price. |
| Investment Potential | Rare or vintage Rolex watches have significantly increased their value in the market. | Sought-after or limited edition Rolex watch models can hold their value well and may even appreciate over time. |
| Warranty | It might not come with a manufacturer's warranty but may have a warranty from the dealer. | Often come with a full manufacturer's warranty. |
| Watch Availability | Offer access to vintage and discontinued models. | It is often limited due to high demand and controlled production. |
| Quality | Have some level of wear and tear, which may or may not be significant. | Have zero wear and tear as they have never been used before. |
| Risks Involved | The potential risk of counterfeits when not purchased from a reputable dealer. | Bought directly from authorized dealers, reducing the risk of counterfeit products. |
| Waiting List | It can often be purchased immediately without waiting lists. | May have long waiting lists for some popular models. |
Pre-owned watches provide immediate access to limited or vintage models, but their condition may vary. New watches come with a warranty but can be limited in availability and harder to acquire. When making a decision, consider factors such as investment potential, budget, desired models, warranty preference, and the overall condition of the watch.
Pre-owned Rolex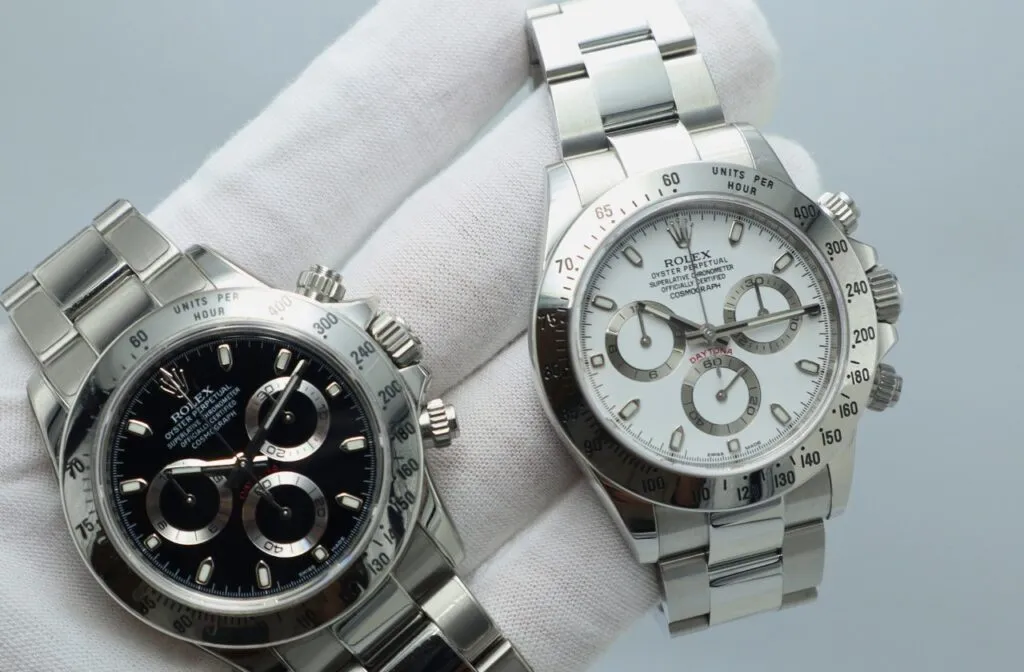 A pre-owned Rolex watch has been owned and worn by at least one person before its current sale. This includes vintage and recent models that have been sold back to dealers or auctioned. Usually, pre-owned Rolex watches can range from a few years to several decades old.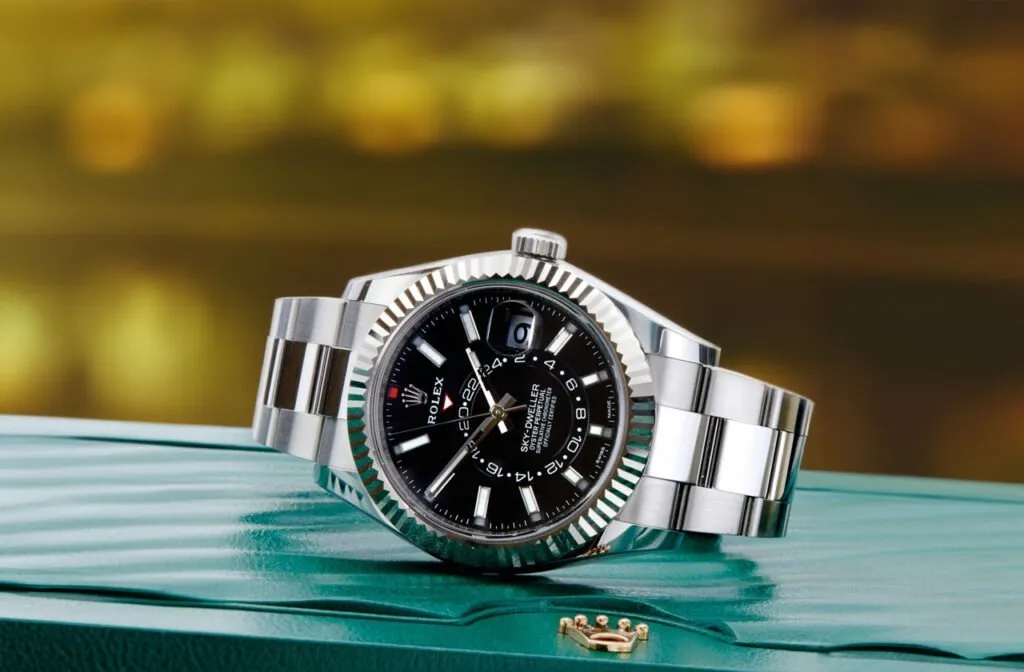 Some pre-owned Rolex models, like the Sky-Dweller and Sea-Dweller, have the potential to appreciate in value over time due to their rarity, contributing to their demand.
To provide a rough estimate, the current selling price of the brand-new Sky-Dweller 326934 is approximately S$21,850. On the other hand, pre-owned models are being sold for around S$28,899.
As for the Rolex Sea-Dweller 4000 (116600) retail price is approximately S$13,700, but it's being resold for about S$19,486 on Watch Charts.
Pros:
Certain vintage or rare models can appreciate in value over time.
Due to depreciation, some pre-owned Rolex watches can be more affordable than new ones.
Due to value appreciation, rare pre-owned Rolex watches can be more expensive than new ones.
Buying pre-owned gives you access to a wide range of models, including those that have been discontinued or limited editions.
Used watches are typically available for immediate purchase, unlike new Rolex watches that may have long waiting lists, especially for popular models.
Cons:
Used watches may have some wear and tear or require servicing, which could add to the cost.
Unless the watch is a particularly sought-after model, it may have a lower resale value than new models.
There's a risk of counterfeit products in the pre-owned market, requiring due diligence on the part of the buyer.
In some cases, pre-owned watches might have non-original parts if repaired or modified, which can affect their value.
While some dealers offer warranties on pre-owned watches, they usually do not come with the original manufacturer's warranty.
New Rolex
A new Rolex watch refers to a timepiece that has never been worn or owned by anyone since it was manufactured. These watches are purchased directly from authorized Rolex dealers or boutiques.
New Rolex watches are particularly in high demand and have long waiting period, especially certain models like the ones listed below:
GMT-Master II: Over five years
Daytona: 1 to 3 years waiting time
Submariner: 1 to 3 years waiting period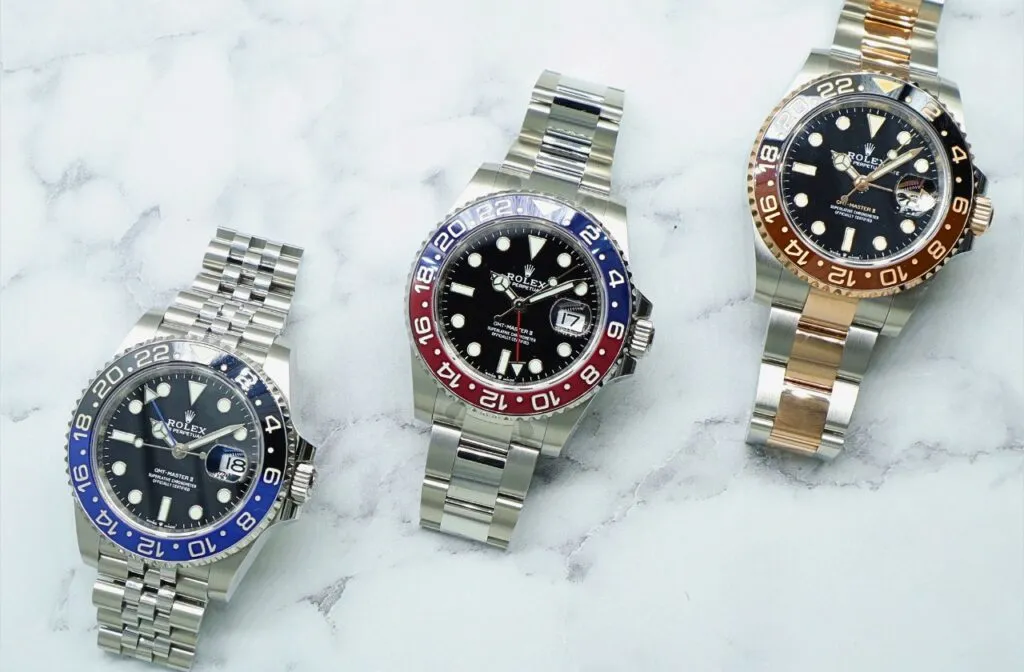 This demand is driven by the luxury brand being the first wristwatch recognized by the British government in 1914, known for durable, precise, and iconic timepieces that maintain excellent resale value over time. Additionally, Rolex intentionally controls its production to ensure quality and maintain exclusivity, often resulting in waiting lists for its most sought-after models.
It's worth noting that the demand for new Rolex watches often exceeds the supply, leading to higher market prices, particularly for highly sought-after models, like the original GMT Master, which comes in a red and blue bezel.
Pros:
When you buy a new Rolex, you'll receive the full set, including the box, manuals, and warranty card.
There's virtually no risk of purchasing a counterfeit product when buying a new one from an authorized dealer.
With a new Rolex, you don't have to worry about the watch's history, servicing, or potential hidden issues.
Certain models of new Rolex watches hold their value exceptionally well in the watch industry and may even appreciate over time.
New Rolex watches come with an official manufacturer's warranty, ensuring repair or replacement in the case of manufacturing defects.
Cons:
New Rolex watches are more expensive due to the retail markup.
You can only choose from current models; discontinued or vintage models are unavailable.
Some popular Rolex models often have long waiting lists, making them difficult to acquire immediately.
Rolex can introduce an updated version of your model shortly after your purchase, which may affect the resale value of your watch.
Some argue that the increased cost of new models does not necessarily correlate with increased intrinsic value, especially when compared to pre-owned models.
Remember, purchasing from a reputable source is always important to ensure you're getting an authentic product, whether new or pre-owned. Do your research and consider what aspects are most important before deciding.
What to Look for When Buying a Rolex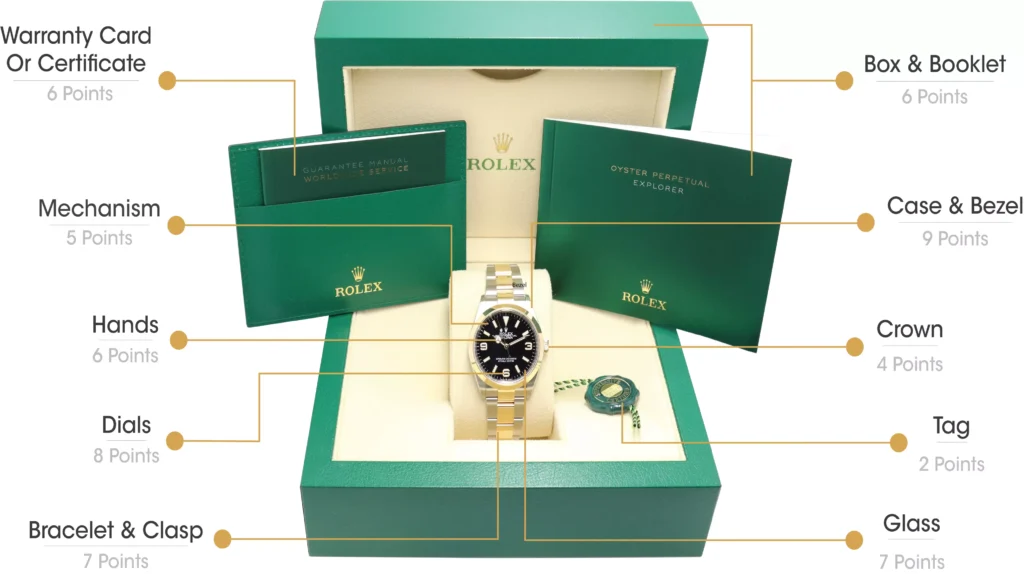 When purchasing a used Rolex watch, it is essential to consider many factors to ensure you make a smart and informed decision. Below lists some critical aspects you should look for when buying a Rolex watch:
Have the Watch Authenticated: Having a Rolex watch authenticated at the Official Rolex Service Center or by a Rolex watch expert ensures you're buying a genuine Rolex. It also helps if the watch has all of its original parts.
Condition: Examine the watch for signs of wear, damage, or alteration. Look closely at the bracelet, clasp, bezel, and crystal.
Movement: An authentic Rolex movement is characterized by high-quality craftsmanship, engraved with the Rolex logo and caliber number, and typically automatic – a cheap quartz movement or lack of logo could indicate it's fake.
Dealer Reputation: Purchase from a reputable dealer to ensure the quality and authenticity of the watch. You can either visit Authorized Rolex retailers or go for trusted grey market dealers.
Service History: Check if it has a service history for used Rolex watches. Regular servicing ensures the watch remains in good working condition.
Paperwork: The watch should have its original box and papers, including the warranty card. This is particularly important if you're buying a pre-owned Rolex.
Price: Ensure the price reflects the watch's condition and market value. If the price seems too good to be true, it probably is.
Comfort: Try on the watch to ensure it fits comfortably. The watch should not be too tight or too loose on your wrist.
Warranty: If you're buying a new Rolex, it should have a warranty. Some pre-owned dealers also offer their own warranties.
Best Rolex Watches You Can Buy or Invest In
Purchasing a pre-owned Rolex watch is a smart investment, as some models have been known to appreciate value over time.
Below is a table showing some of the best Rolex watches you can buy or invest in:
| | | | |
| --- | --- | --- | --- |
| Rolex Collection | Top Model Reference | Retail Price | Pre-owned Price |
| Rolex Oyster Perpetual | Rolex 124300 | S$8,900 | S$12,191 |
| Rolex Submariner | Rolex 16610LN | S$9,700 | S$13,095 |
| Rolex Explorer II | Rolex 16570 | S$8,400 | S$10,863 |
| Rolex GMT-Master II | Rolex 126710BLRO | S$14,950 | S$26,003 |
| Rolex Date | Rolex 15223 | S$5,600 | S$7,219 |
| Rolex Day-Date | Rolex 228235 | S$58,000 | S$65,908 |
| Rolex Datejust | Rolex 126300 | S$11,250 | S$13,016 |
| Rolex Air-King | Rolex 126900 | S$10,400 | S$11,984 |
| Ladies Rolex Watches | Rolex 79160 | S$3,200 | S$4,603 |
In addition to these specific models, there are general guidelines to help you find the best Rolex watches for investment:
Go for popular, iconic models such as the Submariner, Daytona, or GMT Master II.
Consider watches with full sets, including boxes, papers, and all accessories. These complete sets are more desirable to collectors and can yield better returns on investment.
Look for limited editions, discontinued models, or watches with unique dial configurations and materials. These models are less common and can command higher prices in the secondary market.
By considering these factors, you can make sound decisions when choosing the best Rolex watches to buy or invest in.
Where to Buy New or Used Rolex Watches
Many reputable sources are available to buy Rolex watches, ensuring the timepiece you find is authentic and in excellent condition.
Another option is to explore retail stores that Rolex officially licenses. When you purchase a Rolex from an Authorized Dealer (AD), you can be assured that it's genuine, brand-new, and has an official Rolex warranty.
Meanwhile, you can also opt for grey market dealers. They usually source their watches from ADs that may have excess inventory, so expect some of their watches at prices lower than those the manufacturer sets. 
One of the leading grey market dealers you can trust is Watch Exchange, where Rolex offers to suit your budget and needs. This trusted boutique has various Rolex watches sold in new, mint, used and LNIB (like new in box) conditions.
Final Word
Both new and used Rolex watches can be excellent investments, depending on the specific model and market demand. Ultimately, whether you choose to buy a new or used Rolex, it's a personal decision that careful research, budget considerations, and your individual taste and style should guide.
Key Takeaways
New and used Rolex watches have different investment potentials. Pre-owned models can appreciate in value over time, while certain new models, especially limited editions, can also hold their value well.
Pre-owned Rolex watches can provide access to discontinued or vintage models. New Rolex watches have zero wear and tear but can be limited in availability due to high demand.
New Rolex watches come with a full manufacturer's warranty, while pre-owned watches may have a dealer warranty.
Looking to buy or sell your luxury watches? Watch Exchange is your one-stop destination for trading Rolex, Patek Philippe, Tissot, Sinn, Zenith, and other luxury timepieces. Find your next watch today or list your item for free!
---