Rolex has significantly contributed to the art of watchmaking by consistently delivering a wide range of prestigious, high-precision timepieces. It has released various collections catering to different tastes, preferences, and purposes, making it easier for watch enthusiasts to find the model that suits their wrists.
Some of the popular collections include the Rolex Submariner, which is a great underwater tool watch for divers, the GMT-Master, which features dual time-zones, perfect for pilots, and the Daytona with its chronograph, ideal for professional racers.
Of course, there's so much more from Rolex! You'll discover all of them — from the professional to discontinued models, we are leaving no stone unturned. So, if you're ready to dive into the Rolex catalog, let's dive in.
Professional Rolex Models
Rolex has produced a plethora of notable collections with watch references that have and are continuously standing out in competition with other luxury timepieces.
Due to their excellent quality and the standards upheld by the brand, many are after their watches. Some are even willing to be placed on a waiting list where it can take several years before their turn comes to have their desired wristwatches.
So what exactly are the prominent Rolex models that have been making the rounds in the horological world for many decades?
We list them all in the subsections below:
Yacht-Master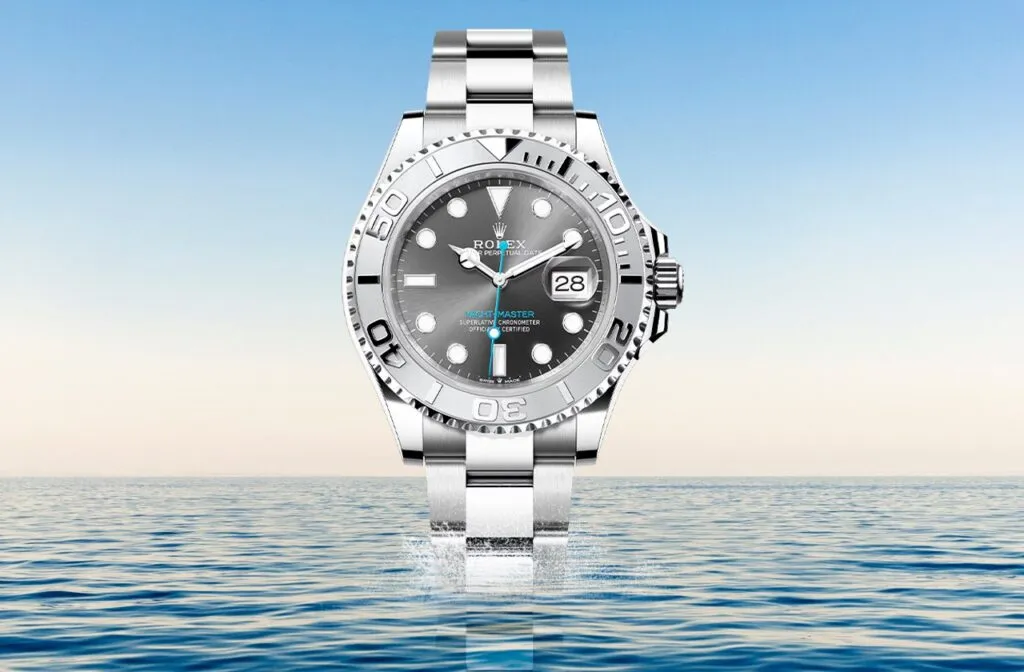 The Rolex Yacht-Master, first introduced in 1992, is designed with yachting and maritime aficionados in mind, the Yacht-Master combines a robust and waterproof Oyster case with a highly legible dial, vital for sailors to accurately and quickly read the time during regattas.
It also features a bidirectional rotatable bezel, crafted with materials like platinum or gold, enabling the wearer to measure elapsed time for sailing competitions. As for its calibers, the Yacht-Master houses the superb 2236 (for Yacht-Master 37; with an approximate power reserve of 55 hours) and 3235 (for Yacht-Master 42 and 40; with a power reserve of up to 70 hours).
Here are some of the prominent Yacht-Master models and their specifications:
Yacht-Master 40
Available in Oystersteel and platinum (Rolesium), 18 ct Everose gold, or 18 ct white gold
Water-resistant up to 100 meters
Equipped with Calibre 3235
Oyster bracelet
Rotatable 60-minute graduated bezel
Yacht-Master 37
Available in Oystersteel and platinum (Rolesium)
Water-resistant up to 100 meters
Powered by Calibre 2236
Oyster bracelet
Rotatable 60-minute graduated bezel
Yacht-Master II
Available in Oystersteel
Water-resistant up to 100 meters
Equipped with calibre 4161
Regatta chronograph
Ring Command bezel, enabling synchronization with the sequence of yacht race starting times
Oyster bracelet
Cosmograph Daytona
With a legacy as thrilling as the racing tracks it's associated with, the Rolex Cosmograph Daytona has established itself as an icon since its introduction in 1963.
This timepiece, named after the legendary Daytona International Speedway in Florida, offers a highly accurate and reliable chronograph function and tachymeter scale, used for calculating speed based on travel time. Notably, a new 2023 collection has been released and they all feature the calibre 4131.
Here are the latest Rolex Daytona models:
Ref. 126506: The 126506 2023 model features a 40mm case made entirely of platinum with a see-through caseback. It also has a tachymeter and a three-piece link bracelet as well as the calibre 4131 for its movements.
Ref. 126503: The Rolex 126503 combines the durability of Oystersteel with the luxury of gold in its 40mm case. Its dial comes in black and it also features a tachymeter scale in luxurious gold.
Ref. 126500LN: With a 40mm case composed of Oystersteel, the 126500LN provides a sleek black Cerachrom bezel and Rolex's fine Oyster bracelet.
Ref. 126518LN: The Rolex 126518LN embraces a luxurious appeal with its 40mm case constructed of yellow gold, and a champagne dial.
126529LN: The 126529LN model is crafted with a 40mm white gold case, offering a subdued, alternative to its yellow gold counterpart. It has the "Paul Newman-style" counters with a calibre 4132 movement.
Submariner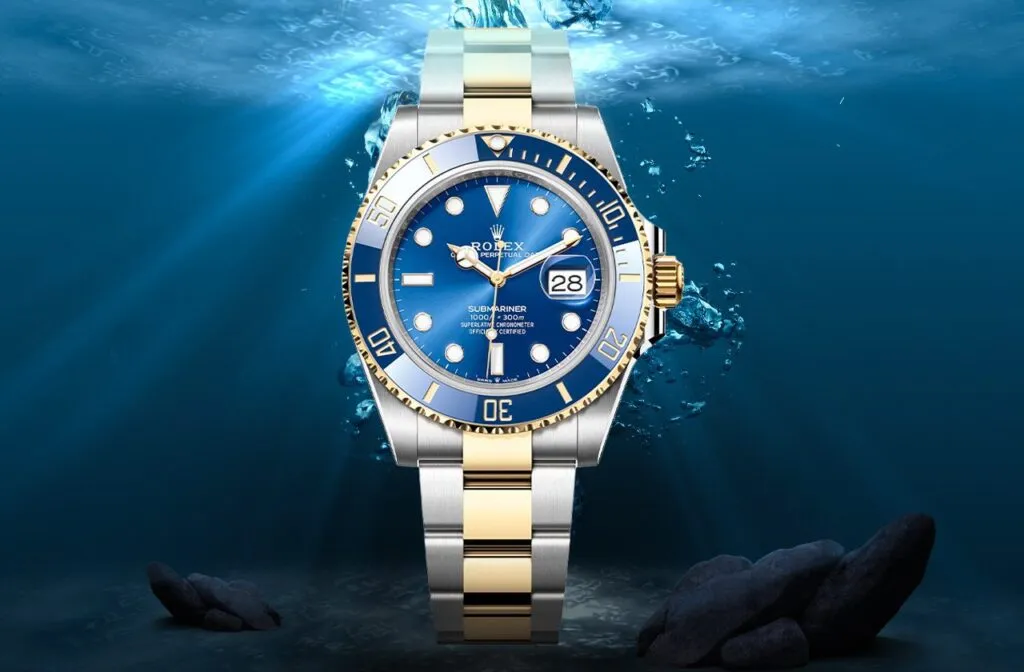 The Rolex Submariner is a line of luxury sports watches that was first introduced in 1953. This was designed specifically for diving and has since become one of the most iconic and recognizable watches in the world.
The Submariner was the first watch to be water-resistant up to a depth of 100 meters, making it a favorite among divers and water sports enthusiasts. Over the years, Rolex has continued to improve the design and functionality of the Submariner, adding features such as a rotating bezel and an option to choose between the Submariner Date and No-Date.
With all these upgrades, the latest 2020 Submariner models have become widely sought after.
Here are some of the references that would interest you:
Ref. 126613LB (Oystersteel and gold, blue dial and bezel; The new "Bluesy")
Ref. 126613LN (Rolesor, black dial and bezel)
Ref. 126618LB (Yellow-gold case, blue dial and bezel)
Ref. 126618LN (Yellow-gold case, black dial and bezel)
Ref. 126619LB (White-gold case, black dial, blue bezel)
All these house the calibre 3235 and have a power reserve of up to 70 hours.
Read Also: Best Submariner Watches to Invest In
Sea-Dweller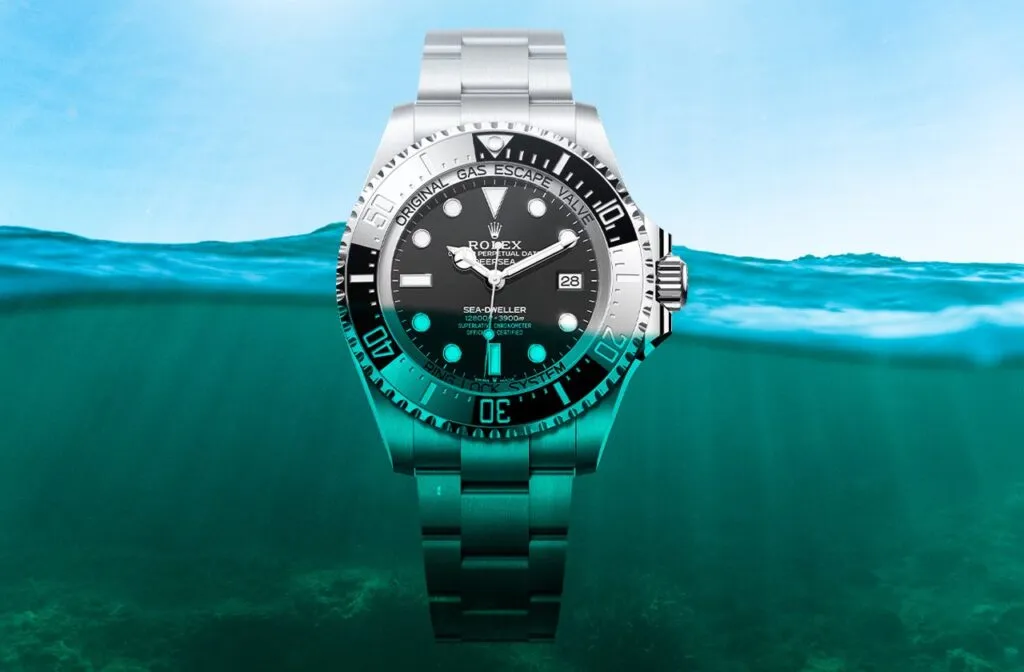 The Rolex Sea-Dweller is a line of professional diving watches that was first introduced in 1967. Over the years, Rolex has released several versions of the Sea-Dweller, each with its own unique features and improvements.
Here are some of the different versions of the Rolex Sea-Dweller and their unique features:
Rolex Sea-Dweller Ref. 1665: The first Rolex Sea-Dweller model featured a depth rating of 610 meters (2,000 feet) and a helium escape valve. The 1665 also had a domed crystal and a date display.
Rolex Sea-Dweller Ref. 16660: A depth rating of 1,220 meters (4,000 feet) and a sapphire crystal. It also featured a unidirectional rotating bezel and a quick-set date function.
Rolex Sea-Dweller Ref. 16600: Feature a depth rating of 1,220 meters (4,000 feet) and a re-designed bracelet with solid end links. It also had a larger crown guard and a sapphire crystal with an anti-reflective coating.
Rolex Sea-Dweller Ref. 116600: The Sea-Dweller 116600 has a depth rating of 1,220 (4,000 feet) meters and features a Cerachrom bezel insert, a larger case size, and a new bracelet with a Glidelock clasp. It also has a blue luminescent display and a new calibre 3135 automatic movement.
Explorer
The Rolex Explorer was first introduced in 1953 as a luxury sports watch and it quickly became a favorite among mountaineers. It was famously worn by Sir Edmund Hillary and Tenzing Norgay when they became the first people to summit Mount Everest.
The Explorer's design and functionality have been improved over the years.
Two of which have made a new and remarkable reintroduction of the collection are the two models listed below:
Oyster Perpetual Rolex Explorer II M226570-0001: The M226570-0001 houses the calibre 3285, incorporating the Chronergy escapement for higher energy efficiency. This 2021 watch features a white dial, a waterproof Oystercase, and a fixed bezel.
New Rolex Explorer 40 Ref. 224270: Showcasing a 36mm, 39mm, and 40mm case, the Explorer 224270 timepiece with a black, 3-6-9 dial comes with the modern calibre 3230, making it the best time-only automatics in the luxury watch market.
GMT-Master II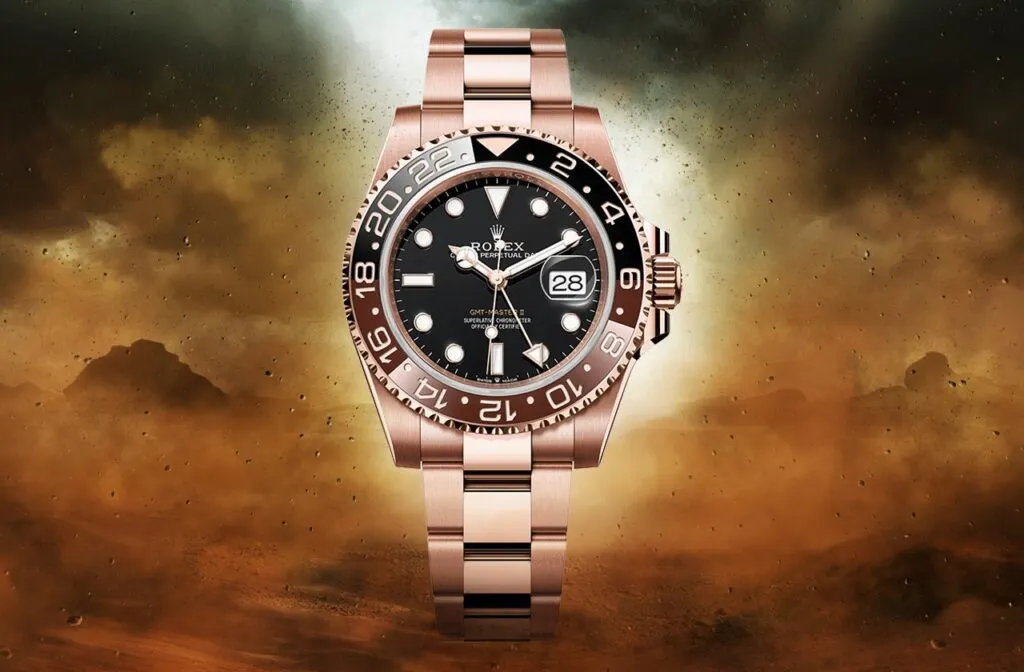 The Rolex GMT-Master II was introduced in the 1950s, collaborating with the airline Pan American Airways, when pilots were zooming across various time zones more frequently; hence they needed a watch that could display time in two time zones simultaneously.
With its decades of history, the GMT-Master II was able to produce variants of stunning solid and two-toned bezels.
Here's a table showing the developments made for the GMT-Master II bezels:
| | | |
| --- | --- | --- |
| Model | Production Years | Bezel Color(s) |
| GMT-Master II 16760 | 1982 – 1988 | Black/Red |
| GMT-Master 16700 | 1988 – 1999 | Red/Blue, Black |
| GMT-Master II 16718 | 1989 – 2005 | Black, Brown |
| GMT-Master II 16713 | 1989 – 2005 | Brown, Brown/Gold |
| GMT-Master II 16710 | 1989-2005 | Red/Blue, Black/Red, Black |
| GMT-Master II 116718LN | 2005 – 2019 | Black, Green/Black |
| GMT-Master II 116713 | 2006 – 2018 | Black |
| GMT-Master II 116719 | 2014 – 2018 | Blue/Red |
| GMT-Master II 116710LN | 2007 – 2019 | Black |
| GMT-Master II 126710BLNR | 2019 – Present | Blue/Red, Blue/Black |
| GMT-Master II 126715CHNR | 2018 – Present | Brown/Black |
| GMT-Master II 126719 | 2019 – Present | Blue/Red |
Air-King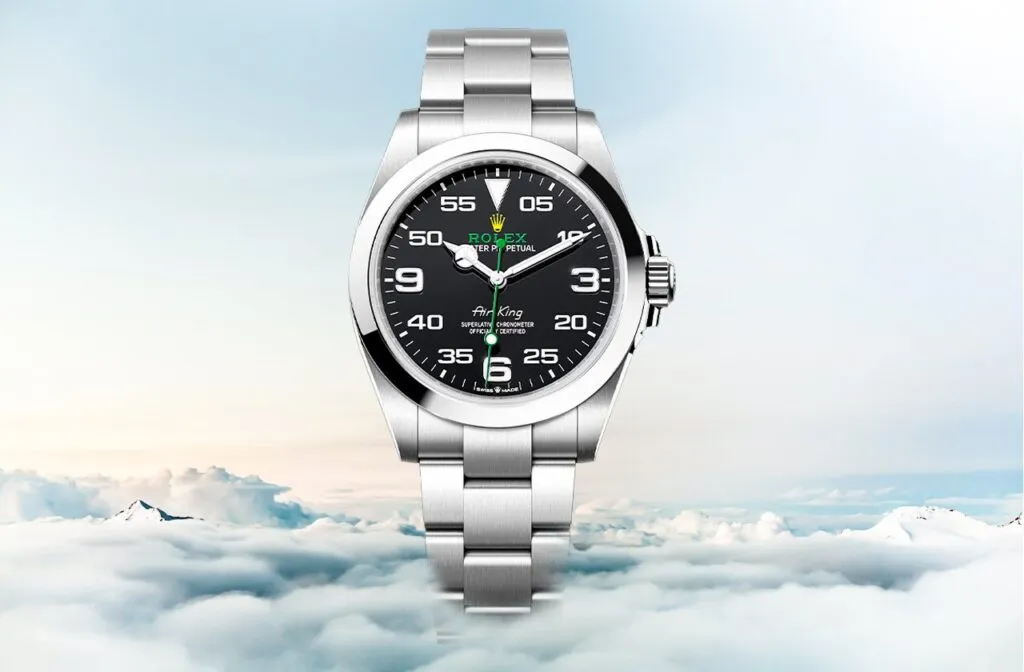 The Air-King is an aviation-inspired model with a unique green seconds hand and a simple yet bold design. With its roots deeply embedded in the golden era of aviation, the Air-King stands out with a clean, easy-to-read dial with Arabic numerals, ensuring that pilots can glean the time at just a quick glance during flights.
And while the Air-King ref. 116900 mesmerized enthusiasts with its 40mm Oyster case, black dial adorned with a unique green and yellow Rolex logo, and a striking green seconds hand, the Air-King ref. 126900 unfolds in 2022, presenting subtle yet noteworthy transformations.
Here's a bulleted list contrasting the features and improvements of the Rolex Air-King 126900 with its predecessor, the Air-King 116900:
Case Design:
Ref. 116900: Classic case without crown guards.
Ref. 126900: Updated case featuring crown guards, providing additional protection to the winding crown.
Hour Markers:
Ref. 116900: Lacks lume on the hour markers.
Ref. 126900: New lume-coated hour markers for enhanced legibility in low-light conditions.
Five-Minute Marking:
Ref. 116900: Absence of a "0" at the five-minute mark.
Ref. 126900: Added a "0" at the five-minute mark on the dial.
Bracelet Design:
Ref. 116900: Features a traditional Oyster bracelet with standard link width.
Ref. 126900: Introduces a bracelet with wider links, crafting a subtly bolder and sportier aesthetic.
Clasp:
Ref. 116900: Standard clasp mechanism.
Ref. 126900: Improved clasp design ensuring a more secure and comfortable fit.
Power Reserve and Movement:
Ref. 116900: Equipped with calibre 3131, providing a power reserve of 48 hours.
Ref. 126900: Upgraded to caliber 3230, boosting the power reserve to an impressive 70 hours.
Oyster Classic Models
The "Oyster" in Rolex's collection signifies a line of watches that adopted a pioneering waterproof case technology developed by the brand. In 1926, Rolex released the Oyster case, which was revolutionary at the time due to its outstanding water and dust resistance.
Later on, the Oyster case became a foundational design for many Rolex watches and is lauded for its durability and resistance to water and other harsh elements.
Here are the models under this line:
Datejust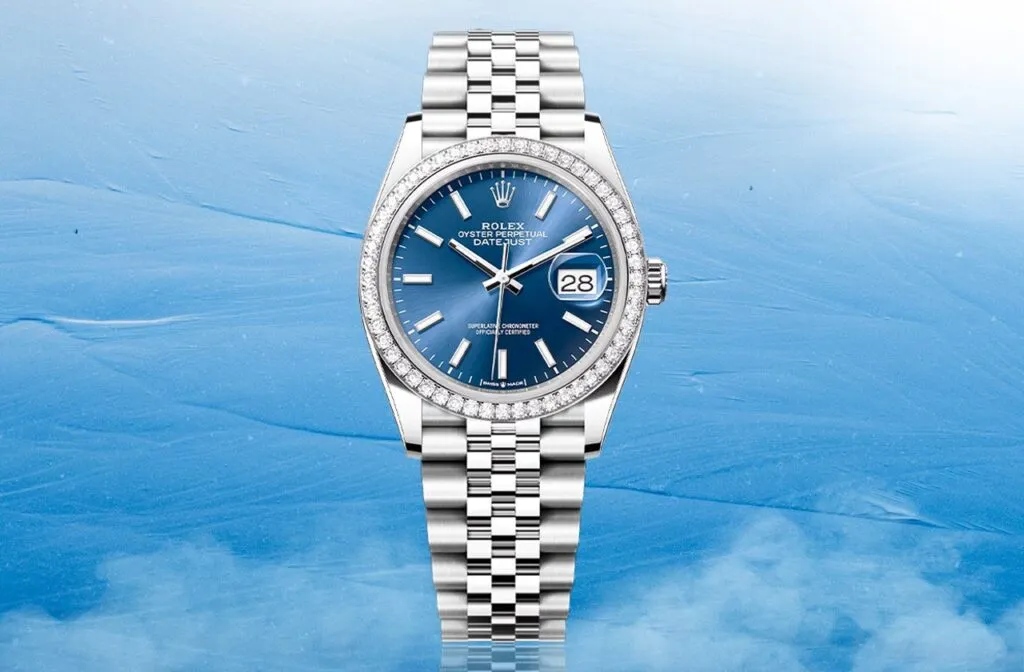 The Rolex Datejust, since its inception in 1945, is celebrated as the first self-winding wristwatch to feature a date window prominently at the 3 o'clock position.The Datejust is recognized for its classic design, which has subtly evolved over the decades.
Whether it's the fluted bezel, the jubilee bracelet, or the cyclops lens over the date – every element of the Datejust reflects Rolex's commitment to creating a piece that is both a technical marvel and a symbol of style.
Meanwhile, here are some of the various models the Rolex Datejust comes with:
Datejust 41: As a relatively larger and more contemporary version, the Datejust 41 boasts a 41mm case size. Notably, it also houses the calibre 3235, a movement that enhances precision, power reserve, and resistance to shocks and magnetic fields.
Datejust 36: A balanced option that resonates with both men and women, the Datejust 36 model is available in a range of precious metals and dial options. This also comes in a 36mm case size, a white-gold bezel in some models, with a 3235 calibre.
Lady-Datejust: Specifically crafted to elegantly grace a woman's wrist, the Lady-Datejust comes in a smaller 28mm size with the calibre 2236 and a power reserve of 55 hours.
Datejust Turn-O-Graph: Also known as the "Thunderbird", it offers a rotating bezel, initially intended for measuring time intervals, which brings a sportier look to the collection.
Datejust II: Having a relatively short production run, the Datejust II offers a larger 41mm case and a wider bezel, catering to contemporary preferences for larger watches.
Day-Date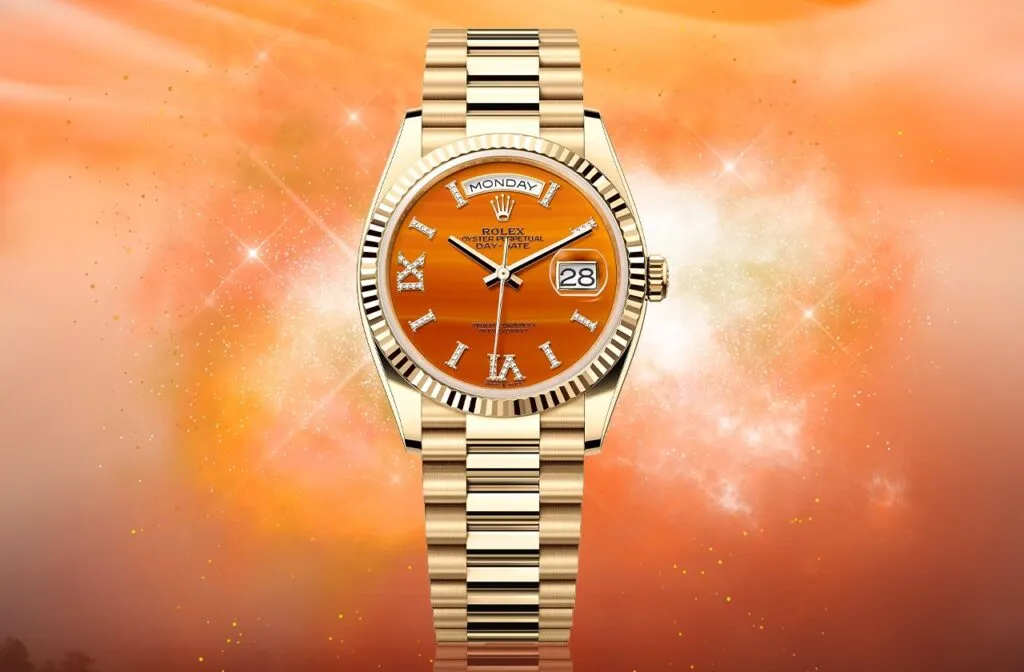 The Rolex Day-Date, or the "President's Watch," features a distinctive day display at the top of the dial and a date window at 3 o'clock, both set against the collection's characteristic clean and uncluttered background.
Additionally, the watch traditionally comes in precious materials like gold or platinum and is fitted with the renowned President bracelet, known for its semi-circular three-piece links, providing a comfortable yet secure fit.
Currently, the Rolex Day-Date collection spans numerous models, each bringing a subtle, yet distinctive variation to the classic design.
Some notable models include:
Day-Date 36: The Day-Date 36 model maintains a moderate 36mm case size, offering various dial colors, materials, and even diamond hour markers for those who appreciate an added sparkle.
Day-Date 40: With a slightly larger 40mm case size, the Day-Date 40 often features a new movement, calibre 3255, which enhances its power reserve to approximately 70 hours and improves its precision.
Day-Date Oysterquartz: Distinct for its quartz movement, calibre 5055, and integrated bracelet design, the Day-Date Oysterquartz deviates from the traditional Day-Date models while maintaining the signature day and date windows.
Day-Date President: Iconic and immediately recognizable, the President model maintains the line's classic aesthetics while offering the calibre 3155 and a case material in yellow-gold, among others.
Lady-DateJust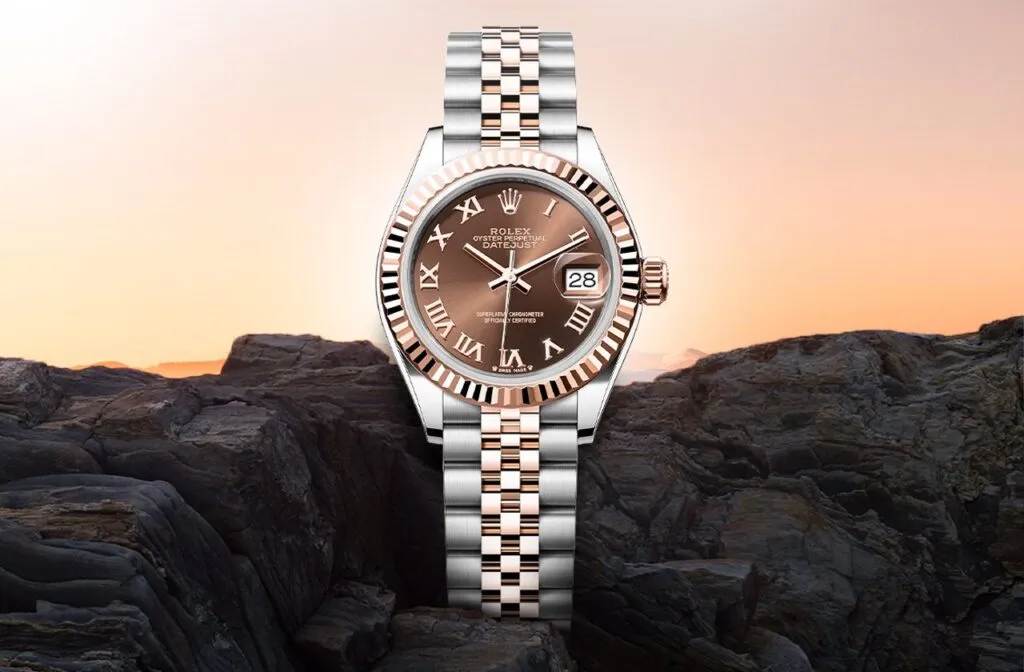 The Rolex Lady-Datejust is a testament to timeless elegance, perfectly crafted for smaller wrists. This feminine interpretation of the classic Datejust adheres to the exquisite craftsmanship and reliable performance.
It maintains key features of the original Datejust, such as the instantly changing date and the Cyclops lens for easy readability.
It's worth noting that Rolex has offered a myriad of Lady-Datejust models over the years, with various materials, dials, and bezel configurations.
Here are some prominent models:
Lady-Datejust 28 (Ref. 279160): Comes in a 28mm size, with a smooth bezel and an Oystersteel bracelet.
Lady-Datejust 28 (Ref. 279381RBR): Feature a 28mm, Rolesor case, set with diamonds on the bezel and also available with various dial options.
Lady-Datejust 31 (Ref. 278274): Feature a 31mm case, available in Oystersteel, with a fluted bezel, Oystersteel bracelet, and various dial options.
Lady-Datejust 31 Ref. (278288RBR): Come in a 31mm, crafted in yellow gold, featuring a diamond-set bezel, and various dial options.
Lady-Datejust 26 (179174): The ref. 179174 has a 26mm, constructed with Oystersteel and white gold, offering different bezel and dial options. (Note: This size is now discontinued but still available in the secondary market.)
Oyster Perpetual
The Rolex Oyster Perpetual is a collection that directly descends from the original Oyster launched in 1926, and an archetype embraced by Rolex for its intrinsic durability and elegance.
Generally, the Rolex name "Perpetual" points to the self-winding perpetual rotor mechanism, a noteworthy invention introduced by Rolex in 1931.
Various Oyster Perpetual Models:
Oyster Perpetual 41 (Ref. 124300): Feature a 41mm case size in Oystersteel and is available in various vibrant dial colors including green and yellow.
Oyster Perpetual 36 (Ref. 126000): Comes in a 36mm case in Oystersteel and is available with a range of distinct, colorful dials such as turquoise blue and coral red.
Oyster Perpetual 34 (Ref. 124200): Exhibits the 34mm case in Oystersteel and has the options for dials including pink, blue, and black.
Oyster Perpetual 31 (Ref. 277200): 31mm case in Oystersteel offering bright dial colors including green and candy pink.
Oyster Perpetual 28 (Ref. 276200): Displays a 28mm Oystersteel case available with a variety of dial colors like forest green and coral red.
Sky-Dweller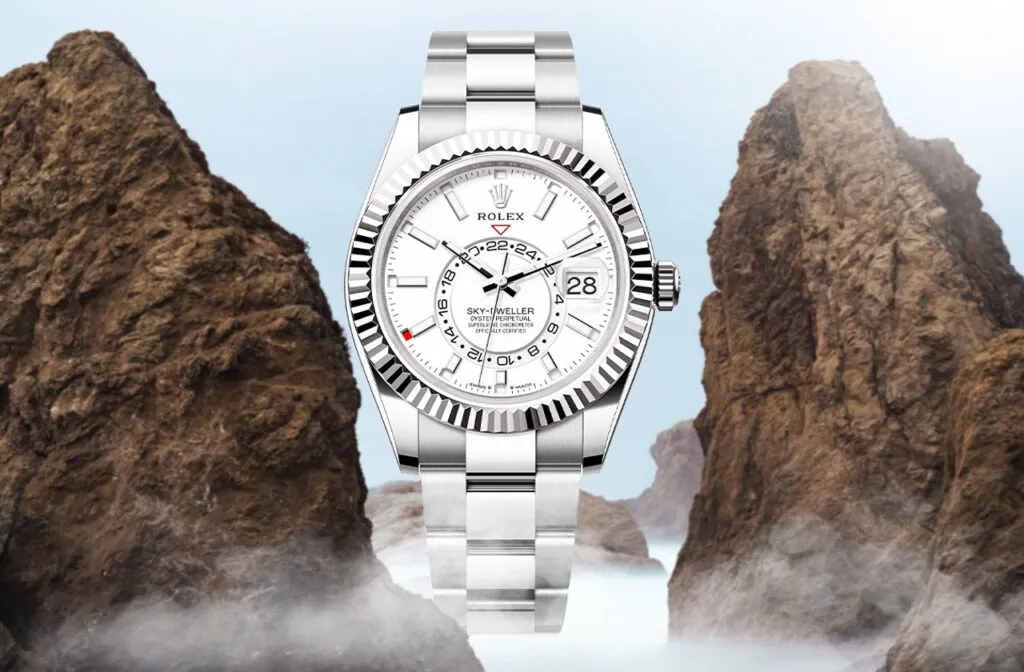 The Rolex Sky-Dweller collection, introduced in 2012, is notably one of Rolex's most complex offerings, prominently featuring a distinctive, practical annual calendar. Unlike a perpetual calendar that accounts for leap years, an annual calendar requires resetting once a year.
Additionally, the Sky-Dweller houses a dual time zone feature, with the local time displayed via the conventional hands and the reference time through a rotating disc on the dial.
Overview of the Sky-Dweller Collection:
Sky-Dweller (Ref. 326934): Oystersteel and white gold, 42mm case size, offering a selection of dial colors, including white, black, and blue.
Sky-Dweller (Ref. 326235): Everose gold, 42mm case size, with options such as a chocolate or white dial.
Sky-Dweller (Ref. 326238): Yellow gold, 42mm case size, available with a bright black, white, or champagne-color dial.
Sky-Dweller (Ref. 326139): White gold, 42mm case size, featuring a leather strap and a selection of dials like black and ivory.
Perpetual 1908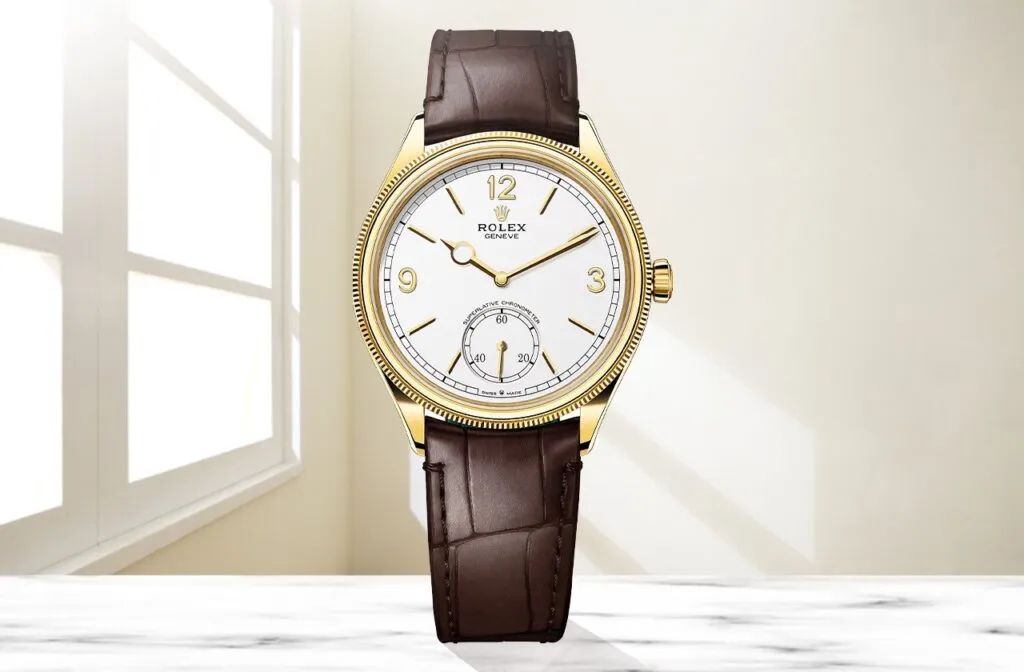 Introducing Rolex's new classical dress watch collection, where tradition meets timeless style, ensuring each timepiece transcends fleeting fashion trends and holds enduring appeal. 
Rooted in Rolex's history and its commitment to exemplary craftsmanship, Perpetual 1908 watches are not only accessories but also lifelong companions that subtly punctuate sophistication.
Rolex Perpetual 1908 Features and Specifications:
Case Material: Options in Oystersteel, Everose gold, or white gold, offering robustness and versatility in style.
Case Size: A modest 39mm, appealing to classical proportions and ensuring an elegant presence on the wrist.
Movement: Equipped with calibre 7140, a self-winding mechanical movement developed in-house, providing approximately 66 hours of power reserve.
Dial: Available in various color options, such as bright black or sunburst silver, each with a distinct, clean finish.
Bracelet: Usually comes in leather straps.
Water Resistance: A water resistance of up to 50 meters (165 feet), ensuring durability in various environments.
Certification: The Superlative Chronometer certification, guaranteeing exceptional performance on the wrist.
Discontinued Rolex Models
Rolex, while known for its timeless and meticulously crafted watches, has also seen a number of models being discontinued throughout its history. The decision to discontinue particular models is often a strategic move by the brand to refresh its collection, adhere to evolving manufacturing technologies, or respond to changing market demands and trends.
Discontinuation might also be driven by the desire to make room for innovative designs and improved functionalities, ensuring that the offerings from Rolex remain at the forefront of watchmaking excellence.
Milgauss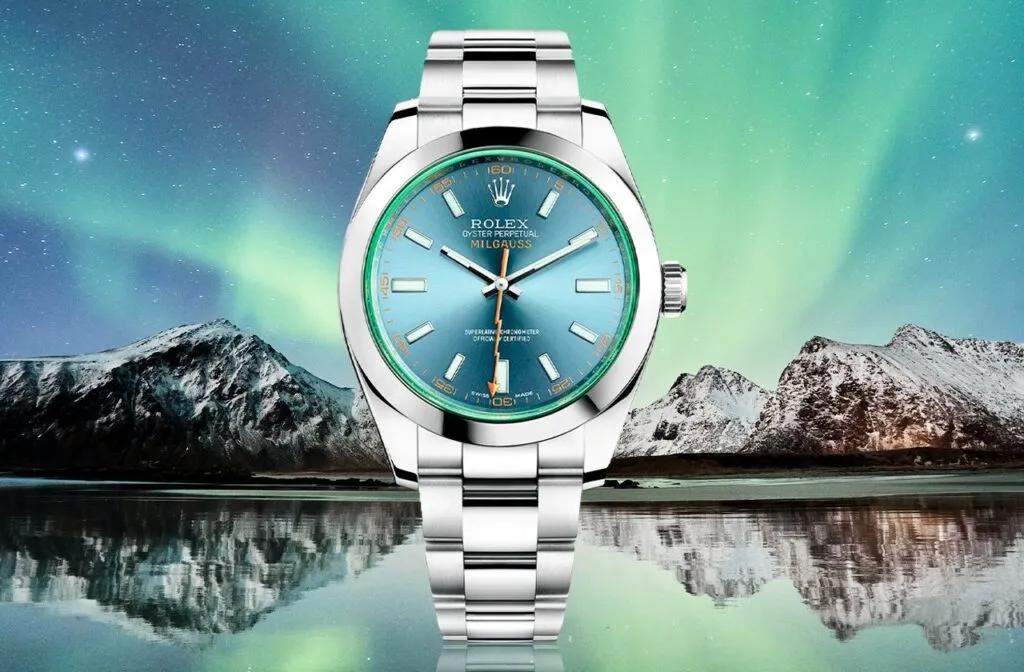 The Rolex Milgauss, designed with the scientific community in mind, boasts a distinct feature: its resistance to magnetic fields. Its unique quality stems from the necessity to provide accurate timekeeping in environments that are dense with magnetic interference. These magnetic fields can significantly disturb the performance of a mechanical watch.
Hence, the Milgauss, developed in 1954, can withstand up to 1,000 gauss, a unit of magnetic induction, which is notably high compared to conventional watches.
Meanwhile, the exact reasons for the discontinuation of specific Rolex models like the Milgauss are not often disclosed by the brand. However, it can be speculated that factors such as evolving technological innovations, market demands, and the introduction of new models might play a role in the decision to cease production of certain watches.
Distinct Features of the Milgauss:
Magnetic Resistance: Can resist magnetic fields up to 1,000 gauss, which is significantly higher than typical watches.
Caliber 3131: Equipped with a magnetic shield to protect the movement, ensuring precision even in magnetically dense environments.
Faraday Cage: Houses the movement, offering additional magnetic resistance by redistributing electromagnetic currents.
Z Blue Dial: Known for its electric Z blue dial, providing a vibrant backdrop for its luminescent hour markers and orange lightning bolt second hand.
Oystersteel: Manufactured from a highly corrosion-resistant material, ensuring durability and a polished aesthetic.
Green Sapphire Crystal: Some models feature a unique green sapphire crystal, adding a distinctive look and enhancing readability by reducing glare.
Cellini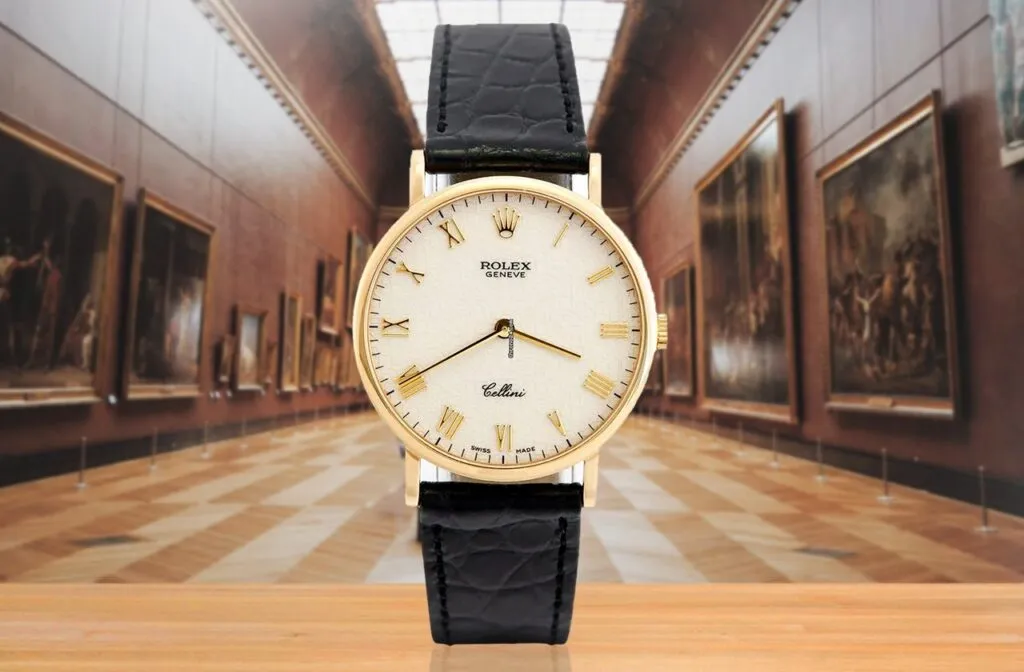 The Rolex Cellini collection presents a divergence from the brand's signature aesthetic, embracing a formal, traditional watch design that leans into classic watchmaking. While Rolex is renowned for crafting sporty and luxurious timepieces that can transition from adventurous exploits to formal occasions, the Cellini line focuses on elegance and sophistication.
The collection deviates by offering slim profiles, clean dials, and a distinctly dress-watch appeal, which subtly communicates luxury without the usual sporty attributes Rolex is renowned for.
Discontinued Cellini Models:
Cellini Time: A simply elegant model that displayed hours, minutes, and seconds, prioritizing a sleek and straightforward dial.
Cellini Date: Added a date function via a subdial at 3 o'clock, combining practicality with the maintenance of its graceful design.
Cellini Dual Time: Offered a second time-zone via an additional hour hand and a day/night indicator, balancing functionality with its refined aesthetic.
Cellini Moonphase: Displayed the phases of the moon and the date through an elegant subdial, merging celestial aesthetics with classical watchmaking.
Cellini Danaos: Featured a unique cushion-shaped case and was available in various material combinations.
Cellini Prince: Known for its rectangular case and its visible movement through a clear case back, which is atypical for Rolex watches.
Frequently Asked Questions
1. Which Is the Cheapest Rolex to Buy?
When looking for the most affordable Rolex watch, the Oyster Perpetual, Datejust, and Air King are some of the cheapest Rolexes to buy. These three combined have a price range of around S$1,545 to S$292,969 in the grey market (the highest price being gem-set).
This is mainly due to their less complex mechanisms, fewer complications, and their cost production, which is quite low compared to other remarkable Rolex models.
Moreover, these models are often targeted towards a wider audience, including those who might want to buy their first Rolex watch. Keeping the price more accessible allows Rolex to capture this market segment.
2. What Is the Hardest Rolex Model to Get?
Models like the Daytona, specifically the stainless steel versions with ceramic bezels, are known to have waitlists at authorized dealers. Similarly, the Rolex Submariner "Hulk" ref. 116610LV is another highly sought-after model that's hard to come by.
In the context of acquiring old versus new models, vintage ones often necessitate a search through secondary markets, demanding thorough verification of authenticity and condition. 
On the other hand, obtaining new models, especially popular ones like the Daytona or the GMT-Master II "Pepsi", can involve navigating through extensive waitlists and limited stocks at authorized dealers, posing a significant challenge for buyers who must decide whether to wait or explore alternative models or purchasing avenues.
3. How Many Rolex Models Are There?
Rolex has an extensive collection of watch models, with each series offering multiple variations. Currently, there's no official statement from the Rolex brand that details exactly the total Rolex watches they have produced.
However, what we're sure of are the total number of collections from this luxury watchmaker, which we list below:
1. Rolex Yachtmaster
2. Rolex Cosmograph Daytona
3. Rolex Submariner
4. Rolex Sea-Dweller
5. Rolex Explorer
6. Rolex GMT-Master II
7. Rolex Air-King
8. Rolex Datejust
9. Rolex Day-Date
10. Rolex Lady-Datejust
11. Rolex Oyster Perpetual
12. Rolex Sky-Dweller
13. Rolex Perpetual 1908
14. Rolex Milgauss
15. Rolex Cellini
4. What Is the Least Popular Rolex Model?
It is difficult to pinpoint the exact least popular Rolex model, as preferences vary among individuals and markets. However, certain models may not have as much demand as their counterparts.
For example, the Rolex Cellini series, known for its dressier and more traditional designs, may not generate the same interest as the sportier models in the Oyster collection. This is all the more so because the line has been discontinued.
Final Word
Rolex meticulously curates a diverse portfolio of timepieces, ensuring that every watch enthusiast finds a piece for their unique tastes and requirements. From the adventurous spirit encapsulated within the GMT Master II, to the vintage charm of the Air-King, Rolex invites people to its various watch collection.
And, for those who seek the allure of the rare and the early models, discontinued models are still available in the gray market. So whether you're up for modern or vintage Rolex watches, you'll still be able to get a hold of them in many ways.
Key Takeaways
Diversity in Rolex Collections: Rolex provides an array of models and collections, from the sporty GMT Master II and Air-King to the classic elegance of the Datejust, catering to various tastes.
Discontinued Models: Rolex has several discontinued models, like the Milgauss and certain Cellini models, which might not be in current production but continue to hold value and can be sought in the grey market.
Attention to Specificities: Whether in the robust, anti-magnetic features of the Milgauss or the luxury and complicated calendar functions of the Sky-Dweller, Rolex crafts each model with detailed attention to serve specific purposes.
Looking to buy or sell your luxury watches? Watch Exchange is your one-stop destination for trading Rolex, Patek Philippe, Tissot, Sinn, Zenith, and other luxury timepieces. Find your next watch today or list your item for free!
---