The Rolex Submariner is a legendary piece known for its durability and elegant design. One of its most significant features is its dial. The dial displays time by presenting the hour, minute, and second hands, along with a date display in some models. The Sub has been crafted in various styles and color schemes, with each iteration garnering attention from luxury watch enthusiasts worldwide.
A common favorite among collectors and casual wearers is the black dial option. This color choice combines sophistication and versatility, making it suitable for casual and formal occasions. However, there are other unique dial colors, including the highly sought-after "Red Sub" models of the ref. 1680 which are popular collector's items due to their limited production and distinct red typography on the dial.
As for customization, it's possible to change the dial of a Rolex Submariner. However, it's recommended to consult with an authorized Rolex service center or a trusted watch expert to ensure the preservation of the timepiece's value and authenticity. Swapping the dial can significantly impact the value and resale potential of the watch, so one must proceed with caution when considering alterations to their Rolex Submariner.
Looking to own a vintage Rolex watches? The guide below provides some of the main Rolex Submariner dials plus top watch examples in each category to help you decide. Enjoy!
Types of Dial
The Rolex Submariner offers four main kinds of dial variations. Here's more about them, plus examples of timepieces with each of them:
Gilt Dial
The gilt dial was an early style of Rolex Submariner dials produced from the 1950s to the early 1960s. These dials featured gold lettering and details, such as the Rolex logo and markers, set against a black, matte background.
Gilt dials were known for their warm, rich tone, giving them a distinctive look that has become highly sought after by collectors today. Their production process was complex and slow, hence their brief use. Here's an overview of the process:
Dial Base Preparation: The foundation of a gilt dial is a matte or slightly textured black dial base. This base provides a contrasting background against which the gold or gold-colored elements will stand out. The dial base was typically made of metal, such as brass, and coated with a layer of black paint.
Printing Process: The next step involves printing the text, markers, and other design elements onto the dial. The printing process for gilt dials often used a silk-screen printing technique. Silk-screen printing comprises making a stencil of the design and then utilizing a mesh screen to apply the gold or gold-colored paint onto the dial's surface through the stencil.
Application of Gold Paint: The gold or gold-colored paint is carefully applied onto the dial's surface using the silk-screen printing method. This paint gives the text and indices their reflective and glossy appearance. The paint used for gilt dials was often a metallic gold color, contributing to the dial's luxurious and distinctive look.
Drying and Curing: After the paint application, the dial would undergo a drying and curing process to ensure the paint adhered properly to the dial's surface. This step was crucial to prevent smudging or fading of the printed elements over time.
Quality Control and Finishing: Skilled artisans would inspect each dial for quality control, ensuring that the printed elements were well-aligned, evenly applied, and free from defects. Any imperfections would be corrected at this stage.
Aging and Patina Development: Over time, the gold paint on the dial could develop a unique patina due to exposure to light, air, and environmental factors. Collectors often value this aging process, as it adds character and authenticity to the watch. The patina can vary in color and intensity, creating a one-of-a-kind appearance.
Final Assembly: Once the gilt dial was prepared, it would be assembled into the watch case along with the movement, hands, and other components to create the complete timepiece.
Examples of vintage watches with the gilt dial are:
The Rolex Submariner ref. 5512 with a 40mm 904L stainless steel case
The Rolex Submariner ref. 5513 with a 40mm 904L stainless steel case
The rare Rolex Submariner Date Gilt Black Nipple Dial ref. 1680 with a 40mm Yellow Gold case.
Matte Dial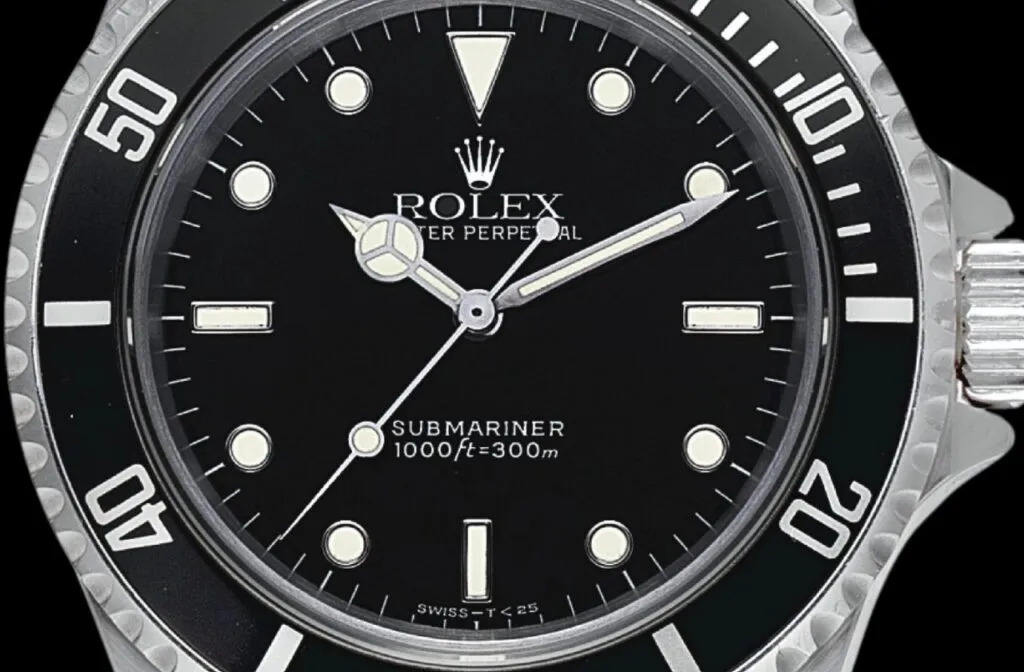 Rolex introduced matte dials in the late 1960s and continued featuring them in Rolex Submariner models until the mid-1980s. These dials have a flat, non-reflective surface designed for easy legibility, even in low-light conditions.
Matte dials are characterized by their straightforward design, with painted markers and text, making them popular among enthusiasts for their utilitarian appeal. Some iconic Rolex Submariner references with matte dials include:
The vintage Rolex Submariner Red ref. 1680 with a 40mm 904L stainless steel case
The Rolex Submariner No Date ref. 14060 with a 40mm 904L stainless steel case
The Rolex Submariner ref. 14060M with a 40mm 904L stainless steel case and COSC-certified movement
Gloss Dial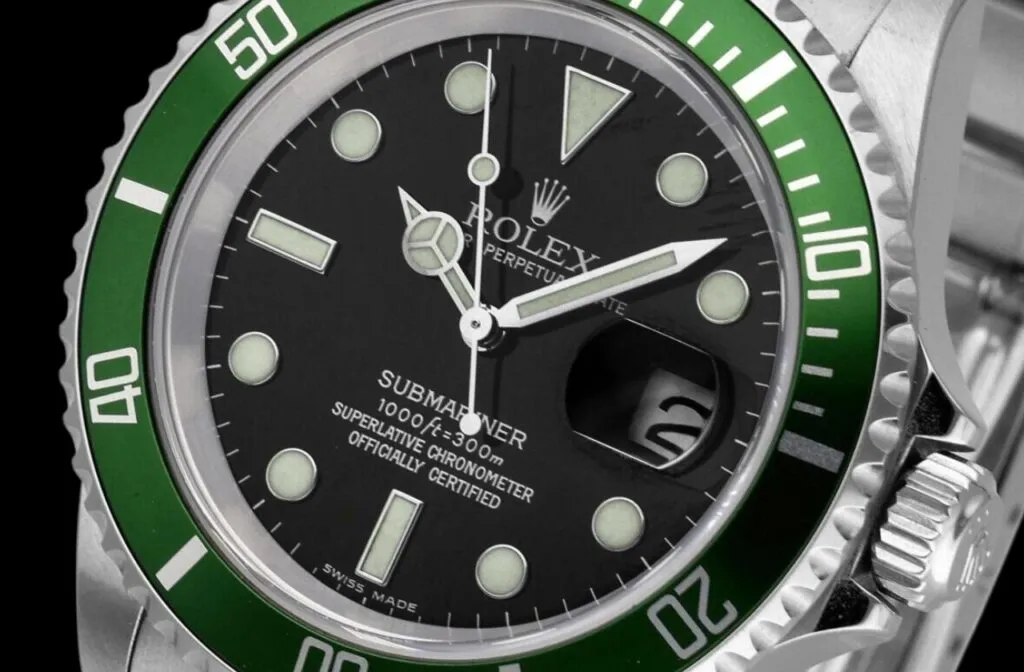 Gloss dials were introduced in the mid-1980s, replacing the matte dials in Rolex Submariner models. This Submariner dial has a shiny, reflective surface designed to provide a more modern and luxurious appearance.
Their reflective quality can add depth and luminosity to the dial's design. The glossy surface captures and reflects light, emphasizing the text, markers, and other design elements.
They feature applied white gold markers and text, as well as a glossy finish that adds depth to the color of the dial. They often have rich, vibrant colors that can appear more vivid due to the glossy finish. This can contribute to the overall visual impact of the watch.
These glossy gilt dials can be found in various Submariner models produced from the mid-1980s onwards, such as the:
Rolex Submariner Date ref. 16610 with a 40mm 904L stainless steel case
Rolex Submariner Date ref. 16613 with a 40mm stainless steel and Yellow Gold case
Rolex Submariner No Date ref. 114060 with a 40mm 904L stainless steel case
Maxi Dial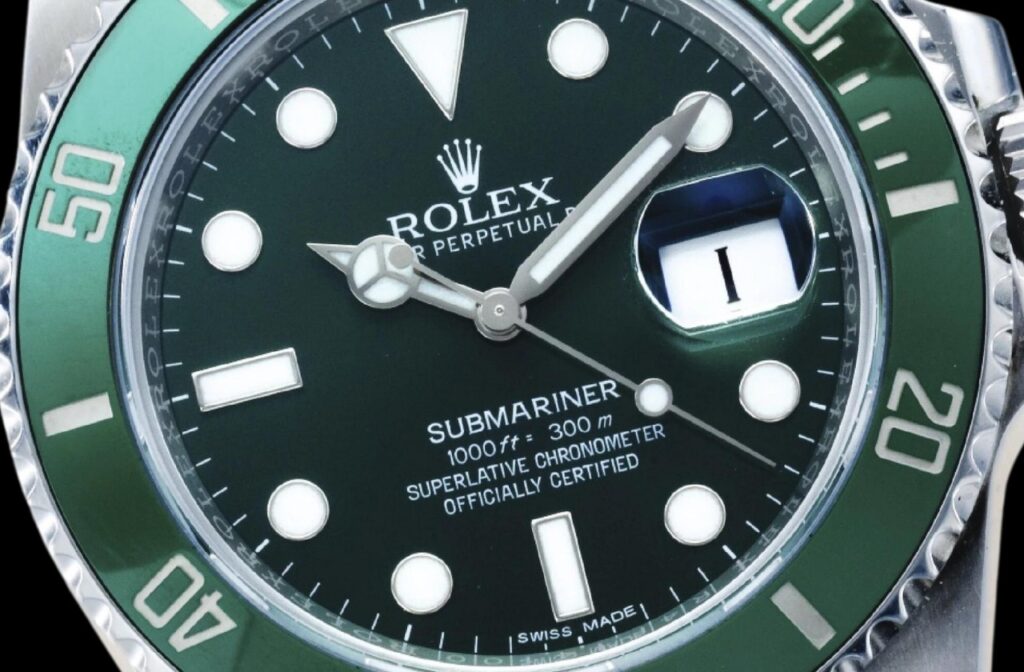 The Maxi dial is a more recent addition to the Rolex Submariner lineup, first appearing in the early 2000s. This dial design features larger, bolder hour markers and hands, which improve legibility and create a more contemporary aesthetic.
These dials are characterized by their modern, clean look and are typically found on newer Submariner models. The Maxi dial is particularly popular among fans of the Rolex Submariner due to its unique style and increased readability.
Examples of Rolex Submariners with this dial type include:
The Rolex Submariner 'Kermit' ref. 16610LV
The Rolex Submariner 'Hulk' ref. 116610LV
The Rolex Submariner 116610LN
Final Word
Rolex Submariner watches offer enthusiasts multiple unique and extraordinary dial options to choose from. Each dial represents a piece of the Submariner's captivating history and is a testimony to the brand's unwavering commitment to excellence in precision, function, and design.
Key Takeaways
The Rolex Submariner is an iconic luxury dive watch with a rich history and bold personality. Over the years, it has undergone multiple updates and refinements, giving it a distinct appearance and adding value to vintage and collector models.
One of the Rolex Submariner's most notable features is its various dial configurations, namely gilt dials, matte dials, gloss dials, and maxi dials.
The black dial option is the most popular among Rolex Submariner timepieces. It's famous since it's seen as a symbol of sophistication and power and is highly versatile.
Looking to buy or sell your luxury watches? Watch Exchange is your one-stop destination for trading Rolex, Patek Philippe, Tissot, Sinn, Zenith, and other luxury timepieces. Find your next watch today or list your item for free!
---