A watch can be a thoughtful and meaningful present, serving as both a fashionable accessory and a functional tool. But with so many options out there, it can be overwhelming to choose the right one. From considering her personal style to choosing the right size and materials, these tips will help you find a timepiece that complements her preferences and needs.
Read on to learn how to pick the perfect ladies watch.
1. Consider her personal style
Taking her personal style into account is crucial when selecting a lady's watch, as it ensures the timepiece complements her wardrobe and preferences. A watch that resonates with her unique taste will not only serve as a beautiful accessory but also as an extension of her personality.
Types of styles
Classic and Sophisticated: Timeless elegance and refinement characterize this style. Classic watches with simple, elegant designs, such as the Rolex Datejust, can complement her wardrobe and transition effortlessly between various occasions.
Bold and Fashion-Forward: Trendy individuals seeking a statement piece can opt for watches with unique designs or materials, such as bold colors or unusual case shapes. These timepieces reflect their distinctive taste and make a lasting impression.
Adventurous and Sporty: For those with an active lifestyle, sports watches like the Omega Seamaster offer durability and performance. These watches are built to withstand various conditions and often come with features like water resistance, luminescent markers, and chronographs.
Creative and Artistic: Those with a penchant for artistic expression may be drawn to watches with unconventional designs or intricate details. Timepieces featuring artistic dials, unconventional materials, or avant-garde designs can complement their creative flair.
Elegant and Refined: Ladies who prefer understated elegance might lean towards refined, minimalist designs. Sleek, simple watches with clean lines and subtle details convey a sense of sophistication while seamlessly blending with her existing wardrobe.
How to identify her style
To identify her personal style, observe her clothing choices, accessories, and overall aesthetic. Consider the colors, patterns, and materials she typically wears, as well as any favorite brands or designers. You can also ask for her input or seek guidance from her friends or family members who know her well.
Consider her natural complexion to complement the watch
Many people inquire about matching a watches to one's skin tone, and it's a valid consideration. To find a complementary watch, think about the metal and strap colors that would best suit her complexion.
For example, warmer skin tones might pair well with gold or rose gold watches, while cooler skin tones could opt for silver or platinum watches.
2. Choose the right size and shape for Ladies watches
Choose the Right Size
Selecting the appropriate size for a ladies watches is essential for ensuring a comfortable fit and enhancing the overall appearance. The usual size range for women's watches is generally considered to be between 26mm to 34mm in diameter, with 30mm being the most popular size. However, larger sizes up to 40mm are becoming increasingly popular as statement pieces.
Petite (26mm – 29mm): Best for those with smaller wrists or those seeking a delicate, understated look watches.
Medium (30mm – 34mm): Ideal for most women, providing a balanced and versatile look suitable for various occasions.
Large (35mm – 40mm): Perfect for those who prefer a bolder statement or have a larger wrist, adding a contemporary touch to any outfit.
Choose the Right Shape
The shape of a ladies watches can greatly influence its overall style and appeal. Popular gender women watch shapes include round, rectangular, square, and tonneau (barrel-shaped). Each shape of watches also offers a unique aesthetic, making it important to select the one that best suits the gender women wearer's preferences and style.
Round: Classic and timeless, this shape is perfect for those seeking a versatile and elegant look.
Rectangular: A sleek and modern option, ideal for those who appreciate contemporary designs and clean lines.
Square: A unique choice, best for those looking to make a subtle yet distinct statement with their timepiece.
Tonneau: This barrel-shaped design offers a touch of personality and flair, appealing to those who enjoy a slightly unconventional style.
3. Look for quality materials
When looking for the perfect lady watch, it is important to consider the quality of the materials used.
The two primary materials ladies watches are the case and the band. Both should be made of strong and durable materials such as stainless steel, titanium steel, or gold-plated metals. If a watch has a leather band, make sure it is genuine leather straps, as synthetic leather straps may not last as long.
When making your selection, consider how often you plan to wear your watch and look for materials suited to your lifestyle.
4. Decide on the type of movement
Manual Winding
Manual winding women watches, also known as hand-wound ladies watches, need to be wound daily by hand with the crown on the side of the case. This type of movement can be found on many antique or vintage timepieces and is often considered collector's items due to their craftsmanship and storied history.
Automatic Winding
Automatic women winding watches contain weights called "rotors" which move and swing in response to wrist motion while being worn, powering a watch's internal mechanisms and keeping them charged with no manual effort required. This is an incredibly convenient feature for contemporary women who maintain busy lifestyles. Automatic movements also tend to be more accurate than manual movements as they remain powered up as long as they are worn.
Quartz
Quartz women's watches are powered by a battery and a tiny quartz crystal, which oscillates at a precise frequency to regulate timekeeping. This type of movement is known for its exceptional accuracy and low maintenance, as it only requires a battery change every few years. Quartz women's watches are generally more affordable than their mechanical counterparts, making them an attractive option for those seeking a reliable and budget-friendly timepiece.
5. Consider the occasion and functionality
Women's watches come in various styles and functionalities, catering to women's watches for different occasions and needs.
Formal Events
Luxury gold and watches are perfect for formal events, such as weddings, galas, and black and blue or white-tie affairs. A classic white gold dress watch with a simple, elegant design is a popular choice for these occasions.
Business Meetings
In the business world, a luxury watch can be a symbol of success and professionalism. A watch with a simple, classic design is appropriate for business meetings.
Casual Outings
A luxury watch can be worn for casual outings, such as a dinner with friends or a day out shopping. A sporty or casual watch with a more relaxed design can be a good option for these occasions.
Sports and Outdoor Activities
Luxury watches designed for sports and outdoor activities, such as diving or hiking, are rugged, durable, and water-resistant. These watches are perfect for active individuals who enjoy outdoor pursuits.
Special Occasions
Luxury watches are often given as gifts for special occasions, such as birthdays, graduations, or anniversaries. A personalized gold luxury watch can be a thoughtful and memorable gift that will be cherished for years to come.
Best Elegant Watches for Ladies to Consider
1. Rolex Datejust 36mm – Stainless Steel & Mother of Pearl Diamond Dial Ref No. 126234-0019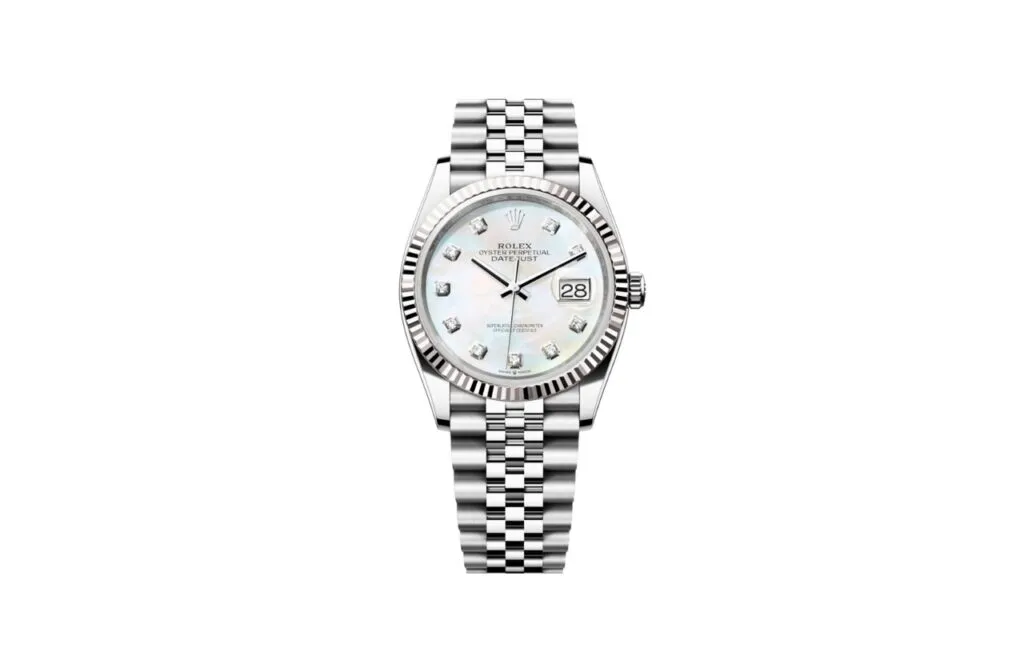 Best For: Women who value timeless elegance and refined sophistication.
The Rolex Datejust 36mm Ref No. 126234 exudes classic beauty, featuring a 36mm stainless steel case, an 18k white gold fluted bezel, and a stunning Mother of Pearl diamond dial. This exquisite timepiece is adorned with a five-link white gold Jubilee bracelet, adding a touch of elegance to her wrist. Powered by a reliable self-winding movement and offering a convenient date function, the Rolex Datejust 126234 perfectly combines style and performance.
Shop this iconic piece for a market price of SGD $22,752 and elevate her style to new heights.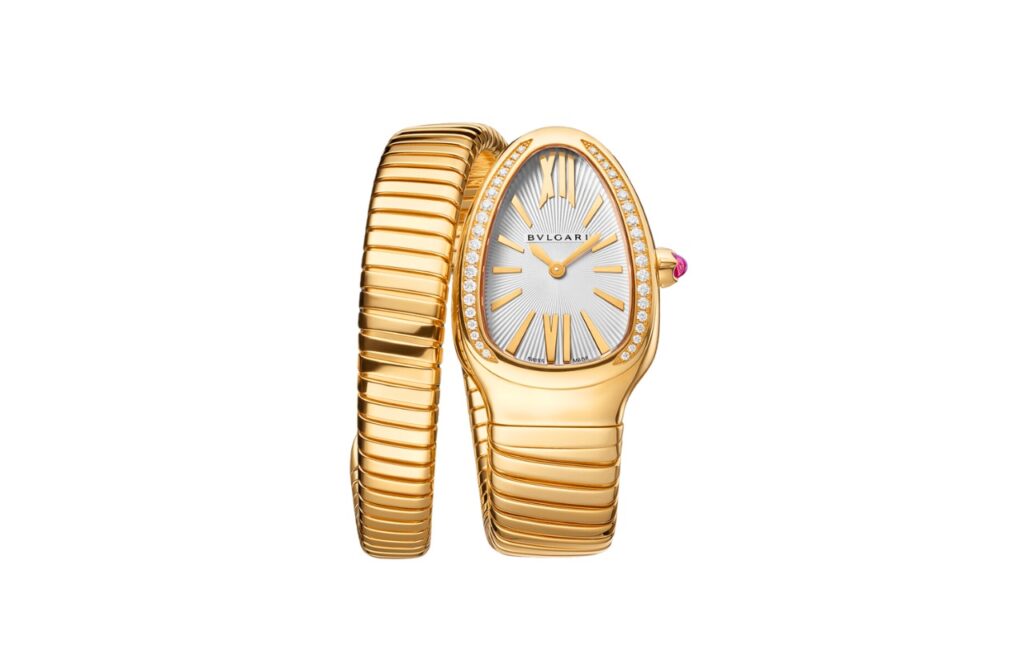 Best For: Women seeking a bold, fashion-forward statement piece.
The Bulgari Serpenti Tubogas Ref No. 101924 is a stunning, eye-catching timepiece perfect for those with a bold and fashion-forward sense of style. This exquisite watch features a striking 18k yellow gold snake-inspired case and bracelet, coupled with a captivating silver dial. Powered by a reliable quartz movement, the Serpenti Tubogas seamlessly combines high fashion with practicality.
Make a lasting impression with this extraordinary piece, available at the shop for a market price of SGD $55,885.
3. TAG Heuer Formula 1 Lady – Stainless Steel & White Dial Ref No. WAC1215.BA0852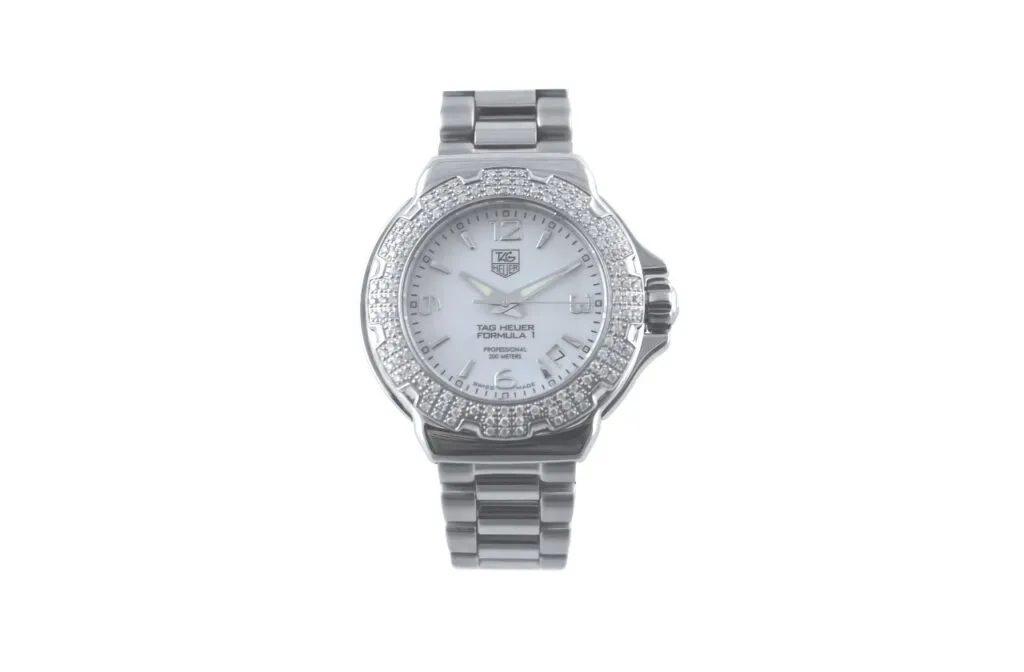 Best For: Women with an adventurous spirit and sporty style.
The TAG Heuer Formula 1 Lady Ref No. WAC1215.BA0852 is a versatile and sporty timepiece designed to keep up with an active lifestyle. Featuring a durable 37mm stainless steel case, a striking white dial, and a comfortable stainless steel bracelet, this watch is perfect for everyday wear. Powered by a reliable quartz movement and boasting water resistance up to 200 meters, the Formula 1 Lady ensures both style and performance. 
Embrace your adventurous side with the TAG Heuer Formula 1 Lady, available at the shop for a market price of SGD $1,894.
4. Jaeger-LeCoultre Reverso – Stainless Steel & Green Dial Ref No. 3978430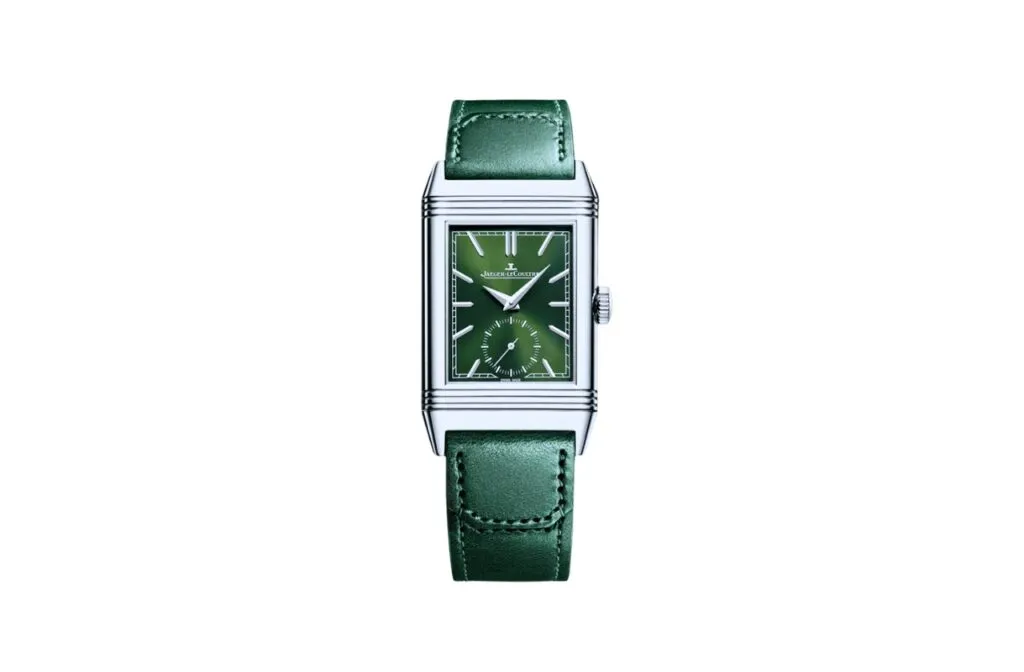 Best For: Women who appreciate innovative design and artistic flair.
The Jaeger-LeCoultre Reverso Ref No. 3978430 is a remarkable timepiece that captivates with its ingenious design and striking green dial. This unique watch features a 45.6 x 27.4mm stainless steel case with a reversible design, revealing two distinct faces to suit various styles and moods. Powered by a precise manual-winding movement, the Reverso demonstrates the brand's exceptional craftsmanship and creativity.
With its blend of artistry and functionality, the Jaeger-LeCoultre Reverso 3978430 is available at shop for a market price of SGD $10,615.
Best for: Women who are looking for a luxury timepiece that combines elegance and practicality.
This timeless watch is a perfect blend of classic elegance and contemporary technology designed for women. Its durable 36mm steel case houses an automatic movement that boasts a power reserve of 38 hours. The watch is protected by a scratch-resistant sapphire crystal, and its steel bracelet comes with a hidden fold clasp for added comfort and security.
This watch is available in the pre-owned market for approximately S$12,500, making it an attractive option for those looking for a luxurious and reliable timepiece.
Summary
| | | | | | |
| --- | --- | --- | --- | --- | --- |
| Model | Unique Key Feature | Type of Ladies Watch | Occasion | Functionality | Market Price |
| Rolex Datejust 36mm 126234-0019 | Mother of Pearl Diamond Dial | Classic & Sophisticated | Formal, Everyday | Date function | SGD $22,752 |
| Bulgari Serpenti Tubogas 101924 | Snake-inspired gold case & bracelet | Bold & Fashion-Forward | Special events | Time display | SGD $55,885 |
| TAG Heuer Formula 1 Lady WAC1215.BA0852 | Stainless Steel & White Dial | Adventurous & Sporty | Casual, Active | Water resistance (200m) | SGD $1,894 |
| Jaeger-LeCoultre Reverso 3978430 | Reversible case & Green Dial | Creative & Artistic | Versatile | Two distinct watch faces | SGD $10,615 |
| Cartier Ballon Bleu 36mm W4BB0024 | Steel & Diamond Bezel | Elegant & Refined | Formal, Everyday | Time display | SGD $12,500 |
Final Word
Finding the perfect lady watch requires careful consideration of her style, preferences, and occasion. By exploring the diverse selection and variety of timepieces available, you can discover a watch that complements her personality and enhances her daily experiences.
Key Takeaways
When choosing the perfect ladies' watch, it's essential to consider her personal style and preferences. Observe her clothing choices, accessories, and overall aesthetic to find a watch that resonates with her unique taste.
The size and shape of the watch can greatly influence its overall style and appeal. Choose a size and shape that best suits the wearer's preferences and style.
Deciding on the right movement type for the ladies' watch is essential. Manual winding, automatic winding, and quartz movements offer different benefits, including accuracy, convenience, and low maintenance.
Looking for a place to buy, sell, or trade luxury watches? Watch Exchange is your one-stop destination for trading Rolex, Patek Philippe, Tissot, Sinn, Zenith, and other luxury timepieces. Find your next watch today or list your item for free!
---