The NOMOS Tangomat is an automatic watch showcasing the brand's dedication to the Bauhaus movement's minimalist and functional design principles. As the first automatic watch by NOMOS Glashütte, it holds a special place in the company's lineup. It continues to impress watch enthusiasts with its timeless aesthetics and quality.
In addition to its elegant design, the NOMOS Tangomat is engineered with in-house movements that reflect the brand's commitment to precision and fine watchmaking. Thanks to their Glashütte Nomos heritage, these Nomos watches symbolize quality and are an attractive addition to any timepiece collection.
The Case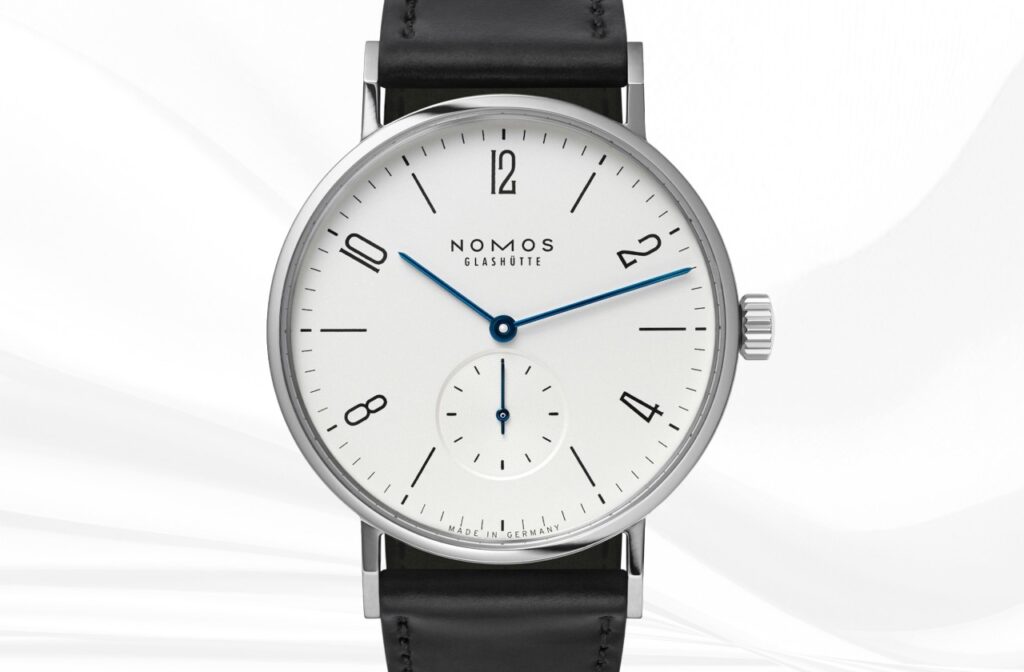 The NOMOS Tangomat watch features a classic round case crafted from polished stainless steel, which gives it an elegant and timeless appearance. With a case diameter of 38.3mm and a height of 8.2mm, the watch has a well-balanced size that ensures comfortable wear while maintaining a sophisticated look.
Meanwhile, the lug-to-lug measurement on this timepiece is 48.0mm, which allows it to wear slightly larger than expected, yet it remains flat on the wrist. This factor allows the Tangomat to easily pass for a slim dress watch, making it suitable for various casual or formal occasions and versatile for different wardrobe choices.
The Tangomat case is also water-resistant of about 3 ATM, providing basic protection against water splash and brief submersion. However, it may not be suitable for regular swimming or diving activities.
The Dial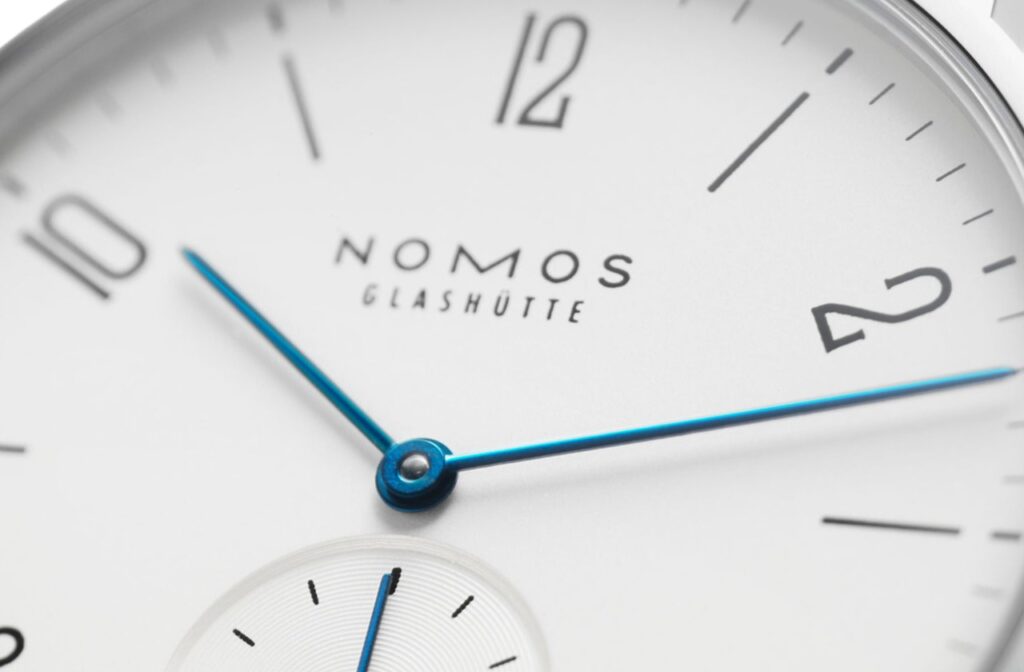 The NOMOS Tangomat watch features a minimalistic and elegant dial that reflects the brand's sophisticated design philosophy. It is available in two distinct variations: a white silver-plated dial and a ruthenium-coated dial, which appears almost black. Both options maintain the watch's generous proportions, as it is only available in a size of 38.3 millimeters and up, making it one of the larger offerings in the NOMOS collection.
These dials exhibit Traditional Bauhaus-inspired design elements, such as clean, sharp lines and legible typography. It allows for ease of readability and demonstrates an appreciation for functional, modernist design.
The Tangomat watch is also available in a GMT version, which features a sub-dial for tracking an additional time zone. This version sports a 40mm case and 11mm height, adhering to the Tangomat's larger-than-expected measurements while maintaining its slim profile.
Here is a list of key characteristics of the NOMOS Tangomat dial:
Available in white silver-plated or ruthenium-coated versions
Bauhaus-inspired design
Minimalistic and functional aesthetics
Displays an additional time zone in the GMT version
These unique features contribute to the NOMOS Tangomat's reputation as a modern, versatile, and sophisticated timepiece that perfectly balances form and function.
The clarity and simplicity of the dial attract many watch enthusiasts, particularly those who appreciate aesthetics rooted in the Bauhaus design movement.
The Strap/Bracelet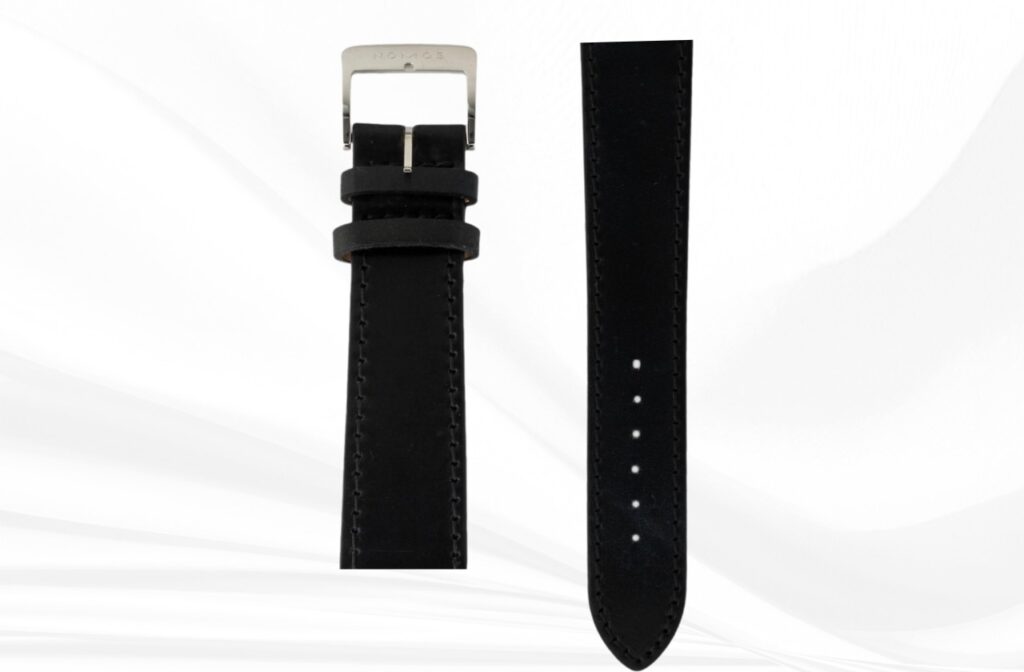 The NOMOS Tangomat watch features a highly durable and stylish strap, ensuring both comfort and longevity for the wearer. It is often adorned with a leather strap, which adds an elegant touch to any attire. The high-quality leather used in the construction of the strap ensures its durability while maintaining a refined appearance.
In addition to the standard leather strap, the Tangomat can also be accessorized with a stainless steel bracelet option. This bracelet is available for lug widths of 18mm, 19mm, and 20mm, making it suitable for diverse wrist sizes. It offers a more contemporary and sporty look, suitable for those who prefer a robust aesthetic on their timepiece.
The NOMOS bracelet is available in three sizes:
S (to fit sizes S to M)
M (to fit sizes M to L)
XL to fit larger wrists
All sizes can be easily adjusted with an included tool to ensure the perfect fit.
Overall, the NOMOS Tangomat watch offers a range of strap and bracelet options to suit individual tastes and preferences. With options including high-quality leather and sturdy stainless steel, the Tangomat is a versatile timepiece that can easily be customized to fit the wearer's unique style.
The Movement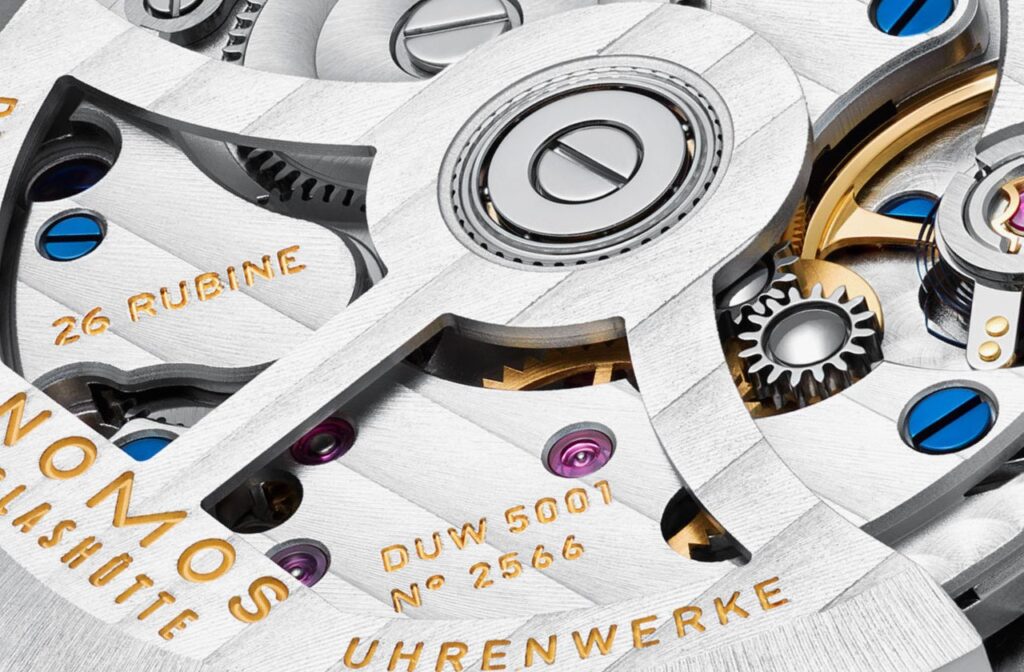 The heart of the NOMOS Tangomat watch is its movement, which sets it apart from its sibling, the Nomos Tangente Millenium or even the Nomos Metro. The Tangomat is equipped with an automatic movement, making it a self-winding timepiece. Various versions of the watch feature different movements, depending on the complications added to the dial.
Below lists the movements to expect from Tangomat Nomos watches:
DUW 5001: Powers the basic Tangomat model, which only tells the time. This movement provides the perfect balance of simplicity and craftsmanship that NOMOS is well known for.
DUW 5101: Includes a date complication in addition to the standard timekeeping function. This additional functionality makes the Tangomat a versatile option for those who require a date display on their wristwatch.
DUW 5201: Allows the wearer to easily track multiple time zones, making it an ideal choice for frequent travelers or individuals who regularly interact with people in different parts of the world.
All the movements used in the NOMOS Tangomat watch collection are developed in-house by NOMOS Glashutte, ensuring impeccable quality and performance. The result is a range of minimalist Glashütte watches built on a solid foundation of horological expertise and German engineering.
Pricing and Availability
The official NOMOS Glashütte website offers an overview of the Tangomat models, with prices starting from 2,980 USD for the Tangomat Reference 641/601 and 3,860 USD for the Tangomat Date Reference 602. It's important to check their website for the most up-to-date prices and availability of specific models.
To give you a better grasp on certain Nomos Tangomat watches, below is a table you can reference:
| | |
| --- | --- |
| Model Type | Starting Price |
| Nomos Tangomat Reference 641 | S$3,970 |
| Nomos Tangomat Reference 635 | S$6,530 |
| Nomos Tangomat Reference 604 | S$5,370 |
*Pricing and availability are subject to change
Alternatively, potential buyers can explore other platforms, such as WatchCharts, for price guides on the private sales market. The Nomos Tangomat collection typically sells for between $1,484 and $2,706, with the most popular model being the Nomos 602.
The Competitive Landscape
1. STOWA – Antea Klassik KS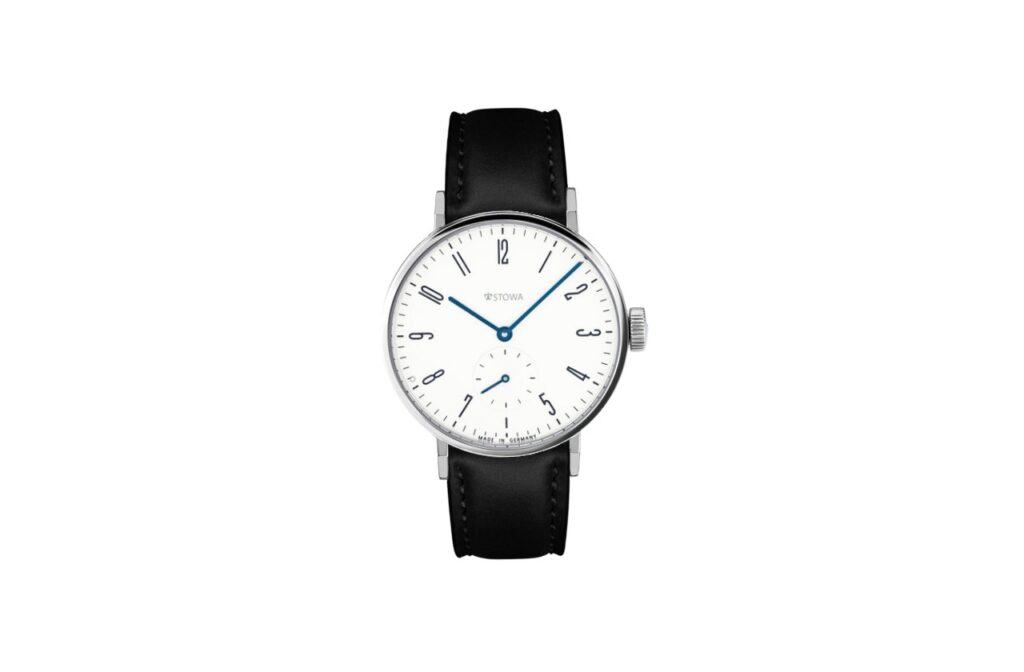 The Antea Klassik KS is a Bauhaus-inspired watch from Stowa. It features a clean and minimalistic design, with a round stainless steel case, a silver-plated dial, and thin line markers. The Klassik KS is powered by a Swiss ETA 2824-2 or Sellita SW200-1 automatic movement, providing a reliable and accurate timekeeping experience.
Specifications:
Production Year: 2017
Case Size: 35.5mm
Materials:

Dial – Silver coated and printed black
Bracelet – Leather strap; metal bracelet
Case – Stainless steel, polished

Function: Date, time
Mechanism: Mechanical, manual wind
2. Junghans – Max Bill Chronoscope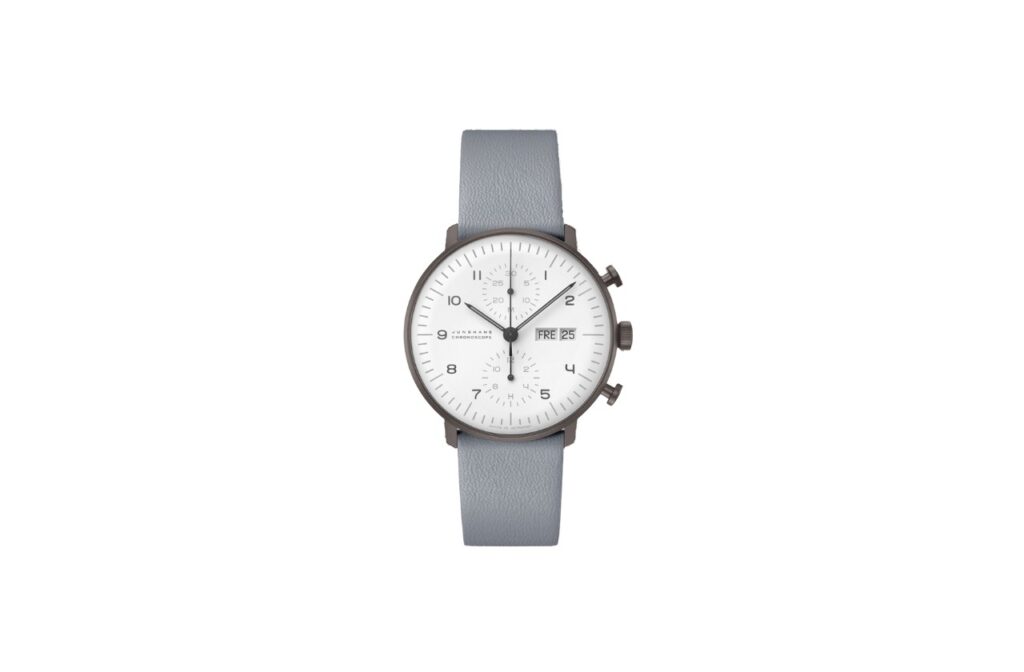 A true icon in the world of Bauhaus-designed watches, the Junghans Max Bill Chronoscope is a testament to the artistic vision of designer Max Bill. The watch exhibits a stainless steel case, a domed plexiglass crystal, and a clean dial with Arabic numerals and line markers. Its caliber is the J880.2 automatic movement, which powers its chronograph functions, providing both style and utility to the wearer.
Specifications:
Production Year: 2023
Case Size: 40mm
Materials:

Dial – Matt white, dial markings and hands with environmentally-friendly luminous substance
Bracelet – Calf leather strap with stainless steel buckle, PVD-coated
Case – Stainless steel PVD-coated

Function: Stop function, date. Also available with English weekday displays
Mechanism: Self-winding movement calibre J880.2, power reserve indicator of up to 42 hours
3. Junkers – Dessau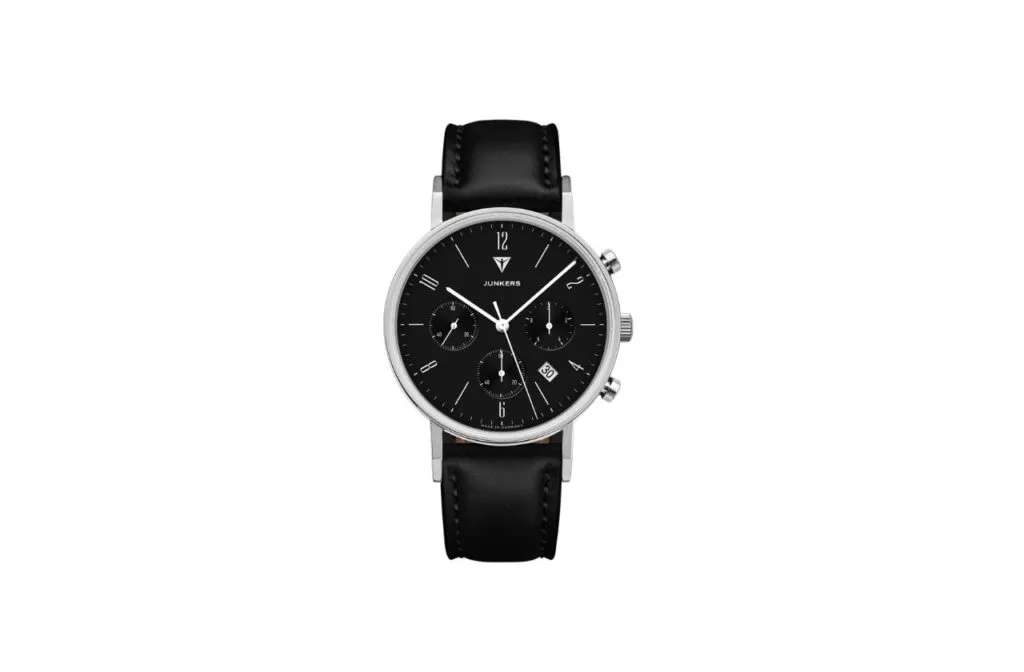 The Junkers Dessau collection, paying homage to the iconic German design movement, offers a variety of watches with simplistic yet elegant aesthetics.
The Dessau line features stainless steel cases, clean dials with a mix of Arabic numerals and line markers, and reliable automatic movements. Also, the Junkers Dessau collection provides a range of options for watch lovers seeking a Bauhaus-inspired timepiece.
Specifications:
Production Year: Unknown
Case Size: 41mm
Materials:

Dial – Black; Arabic / indexes
Bracelet – Leather
Case – Sapphire crystal

Function: Hours, minutes, small seconds, and a date
Mechanism: Quartz
Why You Should Invest?
The NOMOS Tangomat watch offers multiple reasons to consider it as an investment. One of the primary reasons is its origin in the renowned Glashütte region of Germany, which is famous for producing high-quality timepieces.
The watchmaker has a strong reputation for providing in-house movements, such as the Nomos swing system which is its own escapement, unique designs, and excellent quality at affordable prices.
Thanks to its Bauhaus influence, the Tangomat watch has become a sought-out collector's item with a current market price of S$1,947, according to WatchCharts. Although it has decreased from S$2,270 in the past six months, the market range stays anywhere between S$1,731 to S$2,150, potentially increasing in the future.
Lastly, investing in a NOMOS watch means supporting a company with a core commitment to quality and craftsmanship. The brand's adherence to these principles ensures that your investment is not just for fashion but also a representation of the dedication and passion behind each timepiece.
Frequently Asked Questions
1. Is Nomos a Good Brand?
NOMOS Glashutte is a reputable German watch brand known for its Bauhaus-inspired designs, high-quality craftsmanship, and in-house movements. One of their popular Nomos watches, the Tangomat timepieces, are automatic mechanical watches that maintain their iconic styling while offering an impressive automatic movement.
The brand has gained recognition and respect among watch enthusiasts for its commitment to excellence and unique designs.
2. Is Nomos Better than Rolex?
Comparing NOMOS and Rolex would be unfair as both brands cater to different segments of the watch industry. While Rolex is an established Swiss luxury watch brand known for its incredibly durable and precise timepieces, NOMOS focuses on creating modern designs with a minimalist Bauhaus aesthetic.
In terms of design and style, it depends on personal preferences. However, both brands are esteemed for their craftsmanship and the quality of their timepieces, so choosing one over the other depends on individual preferences and budget.
3. Is Nomos a Luxury Watch Brand?
Nomos Glashütte is considered a luxury watch brand. The company produces high-quality mechanical timepieces that are known for their precision engineering and minimalist design. Nomos Glashütte watches are typically priced at the higher end of the market, which is one of the factors that contribute to their luxury status.
Additionally, the brand has a strong reputation for quality and craftsmanship, which further reinforces its luxury status.
4. Is Nomos High-End?
While NOMOS may not be considered as high-end as some well-known Swiss luxury brands like the world renowned Rolex or Patek Philippe, it still takes a respectable position in the mid-to-high-end range of the watch market. The Nomos family is known for their meticulous craftsmanship, modern designs, and competitive pricing.
NOMOS watches, including the Tangomat GMT, Nomos sports watch, and Nomos club watches, exude elegance and are appreciated by watch enthusiasts seeking high-quality timepieces without ostentatious branding.
Final Word
The NOMOS Tangomat watch embodies the marriage of expert craftsmanship and iconic design elements, making it a suitable addition to any watch collection or as a standalone timepiece. With its outstanding features and options, the Tangomat continues to impress both watch enthusiasts and those who appreciate the lasting appeal of Bauhaus design.
Key Takeaways
The Tangomat is comfortable and wearable, designed to fit well even for those with slimmer wrists.
It was the first Nomos watch to feature an automatic movement, making it perfect for those always on the go.
NOMOS Tangomat watch is available at various price points starting from nearly S$4,000, depending on the specific model and edition.
In search of a reliable marketplace for pre-owned luxury watches? Watch Exchange is the go-to boutique for all the breathtaking holy grails of timepieces. With our team of professionals, we can help you find the watch you want or sell and trade your current one!
---