Looking for an OysterQuartz rolex guide that thoroughly unpacks its origins, stunning timepieces, features, and value? Well, you've come to the right place. Like you, we have been mesmerized by the unique and intriguing Rolex OysterQuartz series, mainly due to the brand diverting itself from the production of mechanical timepieces.
As with the name, the collection features its own quartz movement that is nothing short of precise. The models from the collection also exhibit a distinct appearance and have used advanced technology that allows them to stand out from other Rolex models and wristwatches from other Swiss brands.
Why is this so? What makes Rolex OysterQuartz worth the discussion? Is it a great investment? If you want to discover the significance of the Rolex quartz watches, this article will give you all the details you need.
The Historical Background of the Rolex OysterQuartz
The Rolex OysterQuartz has a unique and intriguing history, as it represents Rolex's venture into the world of quartz watches during a critical period in the watch industry, specifically when Seiko's first quartz watch emerged.
1950s: Rolex began researching electronic timekeeping.
1952: Rolex received its first patent for an electro-mechanical watch design.
Late 1960s: Development of the Beta 21 movement through collaboration between Rolex and other watch brands.
1970: Release of the Rolex OysterQuartz 5100, Rolex's first-ever quartz watch.
1972-1977: Rolex spent five years conceptualizing, designing, developing, and testing its in-house quartz movements.
1977: Introduction of the 5035 quartz caliber for the Rolex Oysterquartz Datejust watches. Launch of the high-quality 5055 quartz caliber for the Oysterquartz Date-Date timepi eces.
Late 1970s: The Swiss watch industry faced the quartz crisis due to an influx of Japanese quartz watches, pushing Swiss brands, including Rolex, to delve deeper into quartz technology.
Overview of the OysterQuartz Design and Technology
The Rolex OysterQuartz collection mainly stands out due to its models' unconventional design and use of quartz technology. Unlike Rolex's traditional appearance, the OysterQuartz features the following:
It has an integrated bracelet: Unlike most Rolex models that feature lugs to attach various bracelets or straps, the OysterQuartz has an integrated bracelet design. This means that the bracelet flows seamlessly from the watch case, offering a more unified and continuous look.
It features an angular case: The Oysterquartz has a more distinct angular and sharp-edged case design, in contrast to the rounded and softer contours that are more typical of most Rolex Oyster cases.
It has different dial types: For the Datejust Oysterquartz, choices ranged from sunburst finishes in classic shades like black, silvered, champagne, and blue. However, the Day-Date Oysterquartz took customization to another level. Drawing from Rolex's rich tradition, the Day-Date range showcased sunburst dials and intricate designs using African mahogany, walnut, and pyramid styles.
It has a second-hand movement: While not strictly an appearance trait when static, one notable difference when observing the Oysterquartz in operation is the tick movement of the second hand, indicative of its quartz movement. In contrast, traditional Rolex models with automatic movements feature a sweeping second hand.
It differs in size & proportions: The Oysterquartz models typically come in a 36mm case size comparable to the traditional Datejust models. However, because of its distinct case and bracelet design, the Oysterquartz can appear more prominent and has a different wrist presence.
Made with Rolex's excellent craftsmanship and finest materials, the OysterQuartz collection offers an interesting choice for those who appreciate the Rolex brand's reputation for quality but desire a watch with a distinctly different design than its typical Rolex watches.
Significant Features of the Rolex Oysterquartz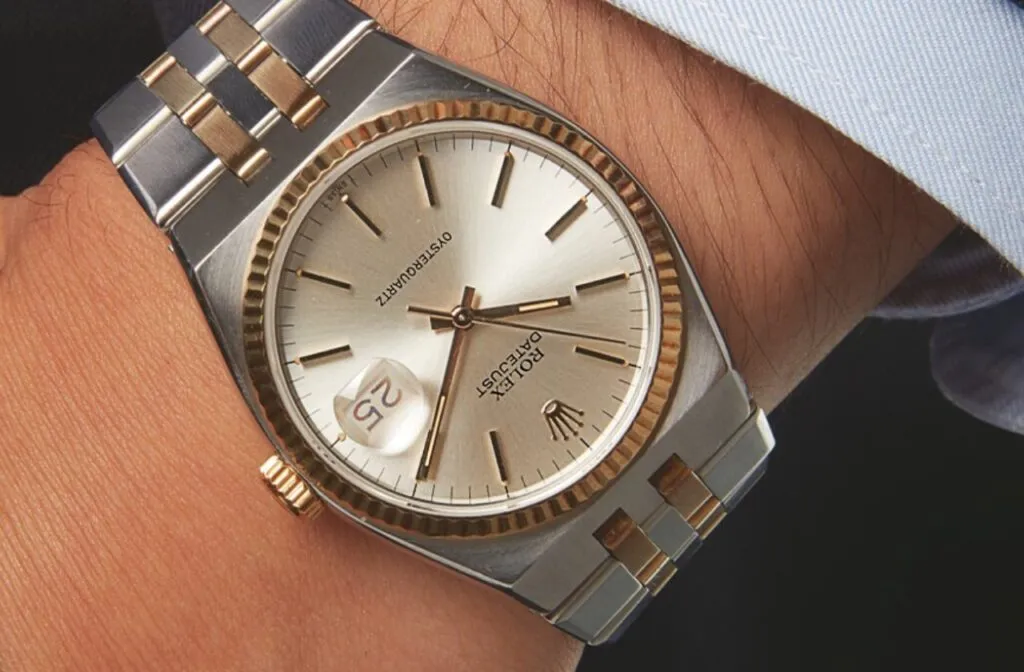 The Rolex Oysterquartz, a pinnacle of horological craftsmanship, seamlessly marries precision with elegance.
In this section, we will explore the distinctive features of the Rolex Oysterquartz, from its unrivaled accuracy to its luxurious design elements.
Certification and Accuracy:
Both the Caliber 5035 (for Datejust) and 5055 (for Day-Date) Rolex Oysterquartz movements are COSC-certified.
They have undergone rigorous testing by the Official Swiss Chronometer Testing Institute to meet stringent accuracy standards.
Battery Life:
The Rolex Oysterquartz showcases an impressive use of the quartz crystal and has a long-lasting battery life.
It's designed to function for 2 to 3 years on a single battery without compromising accuracy.
Some Oysterquartz owners reported their watches lasted up to five years before requiring a battery replacement.
Size and Materials:
Distinctive appearance attributed to its size and materials.
Features a large (around 36mm) and thick angular case made of 18k yellow gold.
The case was specially designed to accommodate the large Beta-21 movement.
Also includes a fluted bezel, sapphire crystal, and an integrated three-link bracelet with wide center links, contributing to its unique and luxurious design.
The OysterQuartz Movement
Developed by Rolex over five years, the Caliber 5035 (for the Datejust OysterQuartz) and the Caliber 5055 (for the Day-Date OysterQuartz) are the Swiss-made quartz movements powering these unique watches.
They are highly precise and reliable movements with the following features:
32 kHz
11 jewels
Thermo-compensation
Note: The thermo-compensation adjusts the quartz frequency based on temperature variations for optimal accuracy.
All these showcase Rolex's commitment to accuracy and performance when it comes to its watches.
It is worth noting that these quartz movements also feature a hybrid construction, combining both electronic and mechanical features, making them quite remarkable achievements for their time.
Rolex OysterQuartz Models
Despite their relatively unsuccessful status compared to other well-known Rolex watches, such as the Daytona and Submariner, the Oysterquartz still seems to catch the interest of watch enthusiasts.
During its period of production between 1977 and 2001, there were only about 25,000 pieces that were distributed.
All these come in various iconic models, each distinguished by their reference numbers.
Let's take a closer look at some of the most standout Rolex OysterQuartz references.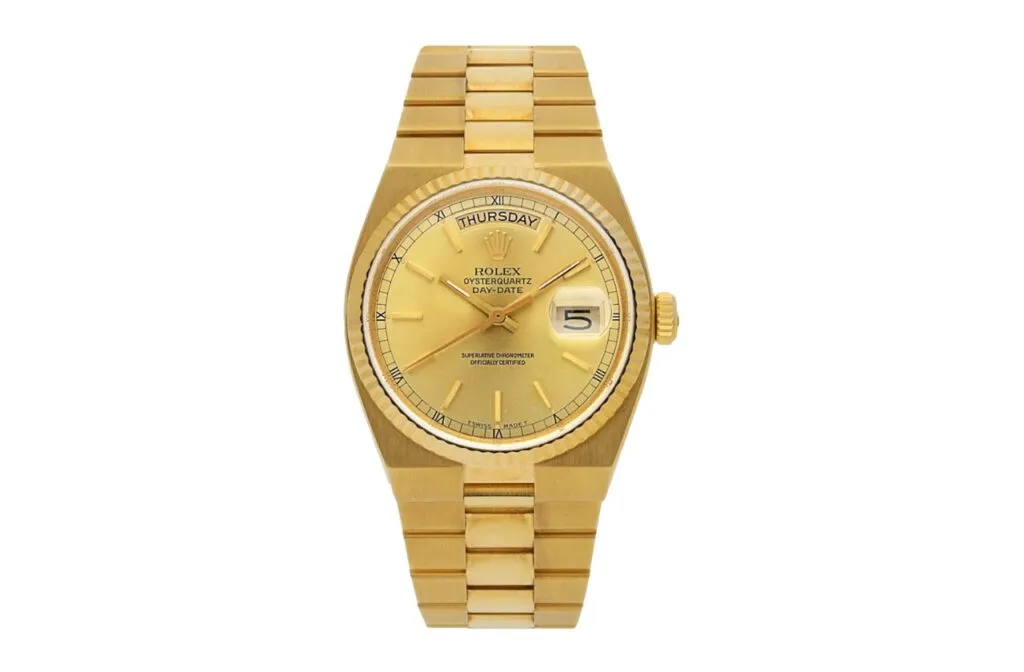 The Rolex Day-Date Oysterquartz ref. 19018 is one of the most iconic OysterQuartz watches. It was made in 18k yellow gold, aligning with the luxury status of the Day-Date lineup, also known as the "President."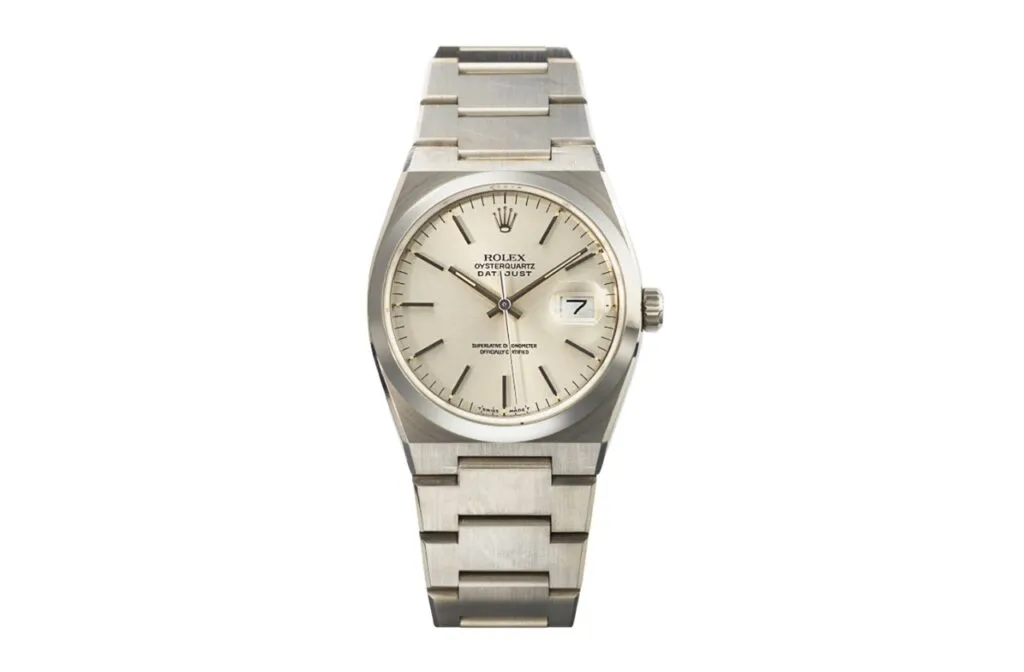 The Rolex Datejust OysterQuartz ref. 17000 was launched around the same time as the Day-Date OysterQuartz. This model is made from stainless steel, offering a more contemporary and sporty look. It showcases the distinguishable OysterQuartz integrated bracelet, allowing for a seamless transition from case to bracelet enhancing the overall design.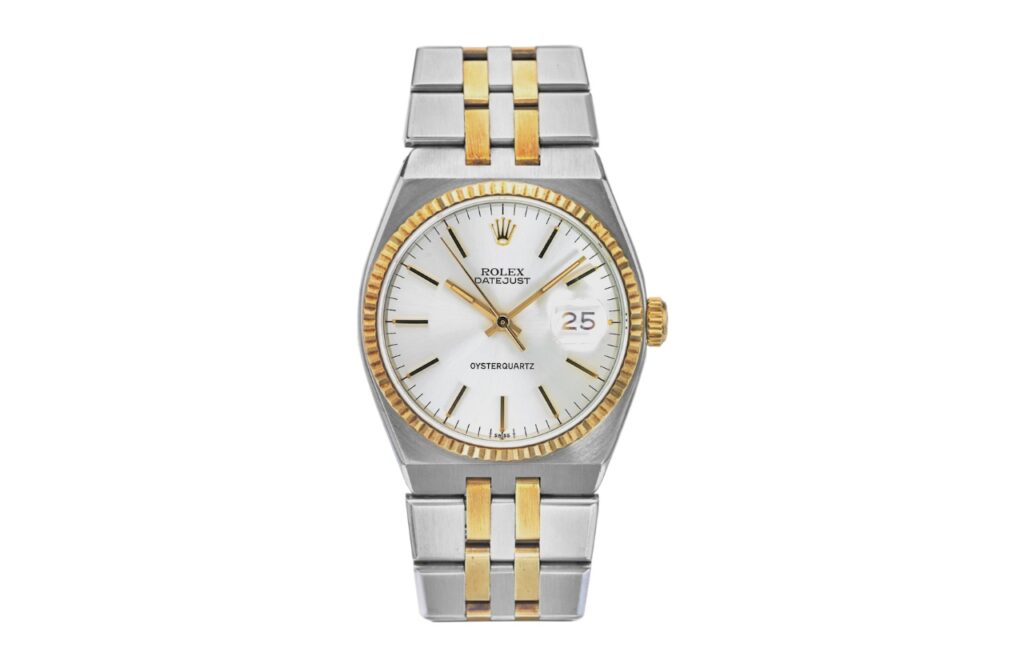 A more luxurious iteration of the Datejust OysterQuartz is the ref. 17013, forged from stainless steel and 18k yellow gold. This combination, known as Rolesor, contrasts strikingly and adds elegance to the timepiece. The gold fluted bezel is another key feature that elevates the watch's appearance, making it suitable for casual and formal occasions.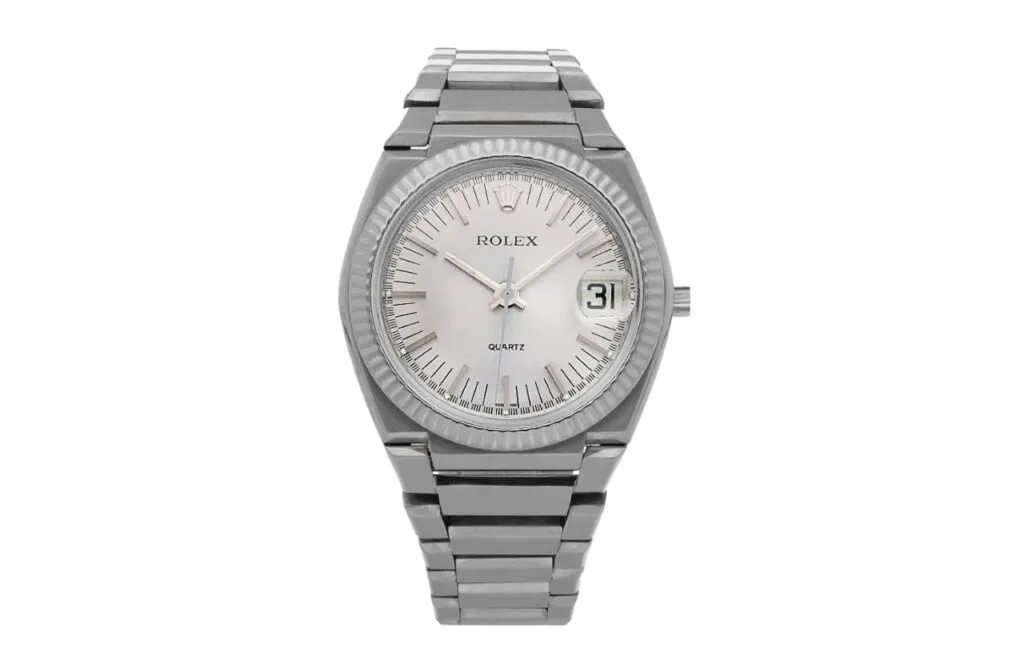 The Rolex OysterQuartz ref. 5100 is the first watch to feature the Beta 21 quartz movement, a collaborative effort between Rolex and several other prestigious watchmakers. The Reference 5100 paved the way for Rolex's OysterQuartz series, although it was not yet under the OysterQuartz name.
The Rolex Oysterquartz ref. 19019 is powered by the reliable Caliber 5055. This model's popularity can be attributed to its precise quartz movement and distinct design. Also, the harmonious blend of the deep blue dial with the luster of white gold gives it a modern yet timeless appeal, making it a sought-after piece.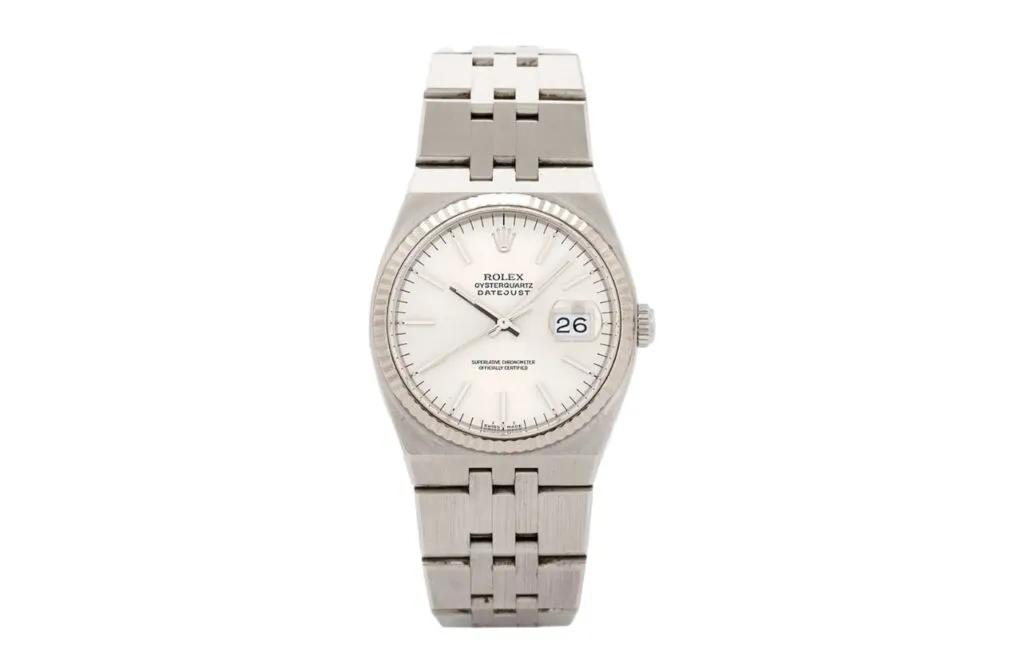 The Rolex Oysterquartz ref. 17014 is housed in a 36mm case. It features a radiant white dial that contrasts beautifully with its white bezel. Meanwhile, the steel bracelet enhances its refined look, offering a seamless blend of luxury and durability.
They also have their corresponding market price estimates, according to Chrono24 and Watch Charts.
| | | |
| --- | --- | --- |
| Reference | Model | Price |
| 19018 | Yellow Gold Day-Date | S$16,325 – S$23,638 |
| 17000 | Stainless Steel Datejust | S$6,316 – S$34,269 |
| 17013 | Steel/Yellow Gold Datejust | S$5,368 – S$18,883 |
| 5100 | Yellow Gold Datejust | S$22,189 – S$111,527 |
| 19019 | White Gold Day-Date | S$4,194 – S$29,765 |
| 17014 | Steel/White Gold Datejust | S$7,240 – S$18,615 |
These models were produced for 25 years and became highly sought-after by collectors due to their rarity and unconventional design compared to their mechanical watches. Additionally, Rolex offered special versions of these models with jeweled dials, bezels, and bracelets.
Rolex OysterQuartz: Its Popularity and Collector's Appeal
The Rolex OysterQuartz has long been a subject of debate among watch enthusiasts. Many purists were taken aback by Rolex's foray into quartz, traditionally a brand celebrated for its mechanical movements.
Its distinct angular design, contrasting the typical rounded Rolex aesthetic, further divided opinions. Some saw this divergence as a break from the brand's iconic style, while others appreciated its uniqueness.
Yet, the OysterQuartz's unique place in watchmaking history grants it undeniable appeal:
Historical Significance: As Rolex's answer to the Quartz Crisis of the 1970s, it represents the brand's adaptability during a pivotal era.
Distinctive Design: For those seeking something different within Rolex's lineup, its design offers a refreshing departure.
Quality: Rolex's commitment to precision is evident in its high-quality in house quartz movement.
Collectibility: Its limited production run has made it an intriguing piece for collectors in recent years.
Considering these great characteristics, Oysterquartz watches have made a name in the world of watches and have become worth investing in.
Here are some objective insights into the collector's market and potential for future value appreciation for OysterQuartz watches:
Limited production: Rolex produced the OysterQuartz for a relatively short period, which means fewer are available compared to many other Rolex models. Limited availability can influence demand and value.
Unique position in history: As a product of the Quartz Crisis era, the OysterQuartz represents a distinctive chapter in Rolex's legacy, which can appeal to collectors interested in timepieces with historical significance.
Growing niche interest: While the OysterQuartz may not have been as popular as its mechanical counterparts upon release, there's a growing interest in the model among modern collectors, recognizing its unique design and story.
Condition and originality: As with all collectible watches, value is significantly influenced by the condition of the piece and the presence of original parts, such as the bracelet, dial, and hands.
Brand power: The Rolex name carries considerable weight in the watch collector's market, which could favorably impact OysterQuartz's future appreciation potential.
Certainly, all these sound good for enthusiasts and collectors. No doubt, the Rolex Oysterquartz can bring about a significant spike in its value, especially with the name "Rolex" attached. However, note that the grey watch market, like any collectibles market, is influenced by trends, economic factors, and collector preferences, making future appreciation unpredictable.
Frequently Asked Questions
1. Is the Rolex Oysterquartz Waterproof?
The Rolex Oysterquartz watches do offer a degree of water resistance. In particular, the Oysterquartz Datejust models have a water resistance of up to 100 meters (330 feet), thanks to their screw-down case back and winding crown.
On the other hand, the Cellini quartz model has a water resistance rating of 50 meters (164 feet). While these watches are not designed for rigorous underwater activities, they can handle everyday splashes and brief water immersion.
2. Who Designed the Rolex OysterQuartz?
The specific designer or team behind the Rolex OysterQuartz has never been officially disclosed or credited by Rolex. This aligns with Rolex's general approach; the company tends to emphasize its brand and heritage over individual watch designers or makers.
It's worth noting that during the era when the OysterQuartz was introduced, several watch brands were experimenting with similar design languages, influenced by the aesthetics of the 1970s and the quartz movement itself.
That said, it can be said that this style could be associated with Gerald Genta, the iconic watch designer behind the Audemars Piguet Royal Oak and the Patek Philippe Nautilus. Still, no direct evidence links him to the OysterQuartz's design.
As with many aspects of Rolex's operations and history, a certain level of charisma and privacy surrounds the design origins of their timepieces.
3. Is the Rolex Oysterquartz Rare?
Relative to other Rolex models, the Rolex OysterQuartz is indeed rarer. Here's a brief overview:
Production Span: The OysterQuartz was produced from the late 1970s to the early 2000s, a relatively short period in Rolex's history.
Limited Numbers: Compared to many of Rolex's mechanical models, fewer OysterQuartz watches were produced. Rolex, at its core, has always been a producer of mechanical timepieces, and the OysterQuartz was a special line developed in response to the Quartz Crisis of the 1970s.
Growing Interest: When they were first introduced, OysterQuartz watches weren't as sought after as their mechanical counterparts. However, in recent years, interest in these models has grown, especially among collectors who value the unique design and historical significance of the OysterQuartz.
Condition & Originality: While the OysterQuartz itself might be rarer than other Rolex models, finding one in excellent condition or with all its original components can be even more challenging, adding to its rarity in the collectors' market.
While the Rolex OysterQuartz might not be "rare" in the strictest sense of the word, it's less commonly found than many other Rolex models. Its distinctive design and place in Rolex's history have made it a sought-after piece for collectors.
Final Word
In summary, the Rolex Oysterquartz is an important chapter in the brand's history and offers an intriguing and stylish alternative to traditional mechanical Rolex watches. Its rarity and distinct design make it an appealing option for those seeking to add a truly unique timepiece to their collection.
Key Takeaways
The Oysterquartz line represents Rolex's foray into quartz watches during the 1970s and 1980s when quartz watches were immensely popular.
The Rolex Oysterquartz watches are powered by the in-house calibers 5035 (for Datejust) and 5055 (for Day-Date) quartz movements, which are thermo-compensated and highly accurate.
The Oysterquartz collection has a distinct and angular case design that is strikingly different from the brand's traditional rounded cases.
Looking to buy or sell your luxury watches? Watch Exchange is your one-stop destination for trading Rolex, Patek Philippe, Tissot, Sinn, Zenith, and other luxury timepieces. Find your next watch today or list your item for free!
---