In the world of luxury watches, the Patek Philippe Nautilus collection stands out as an icon, combining elegance and performance in a single timepiece. Since its introduction in 1976, Nautilus' history has captivated both collectors and enthusiasts alike with its unique design and impeccable craftsmanship in the watch world.
With its distinctive style, the Nautilus has continually reinvented itself through various iterations, keeping this classic watch at the forefront of modern horology. The Patek Philippe Nautilus features sophisticated and intricate design elements, showcasing the exceptional finishing for which the brand is renowned.
In this Patek Philippe Nautilus review, we will discuss Its highly recognizable dial, bracelet, and case that seamlessly blend form and function, embodying the essence of a true luxury sports watches.
The Case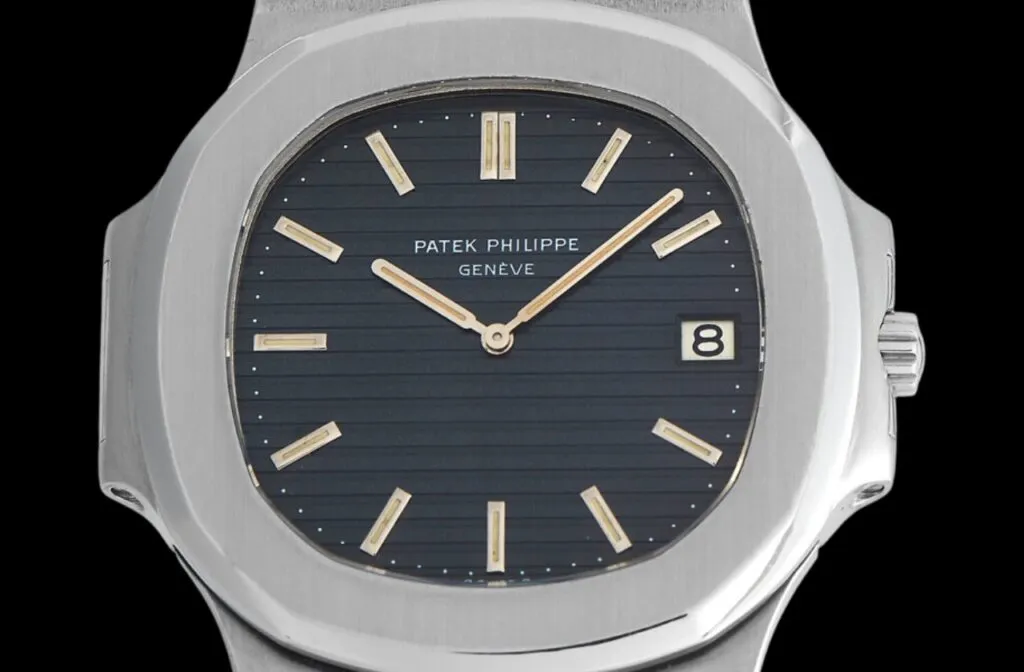 The Nautilus 3700 featured a massive 40mm diameter case, which was considered significant for its time, earning the watch its "Jumbo" nickname. Constructed primarily from stainless steel, the Nautilus represented a departure from the traditional Patek Philippe dress watches. The case's odd shape was designed to be water-resistant to an impressive 120 m, emphasizing its capabilities as a sports watch.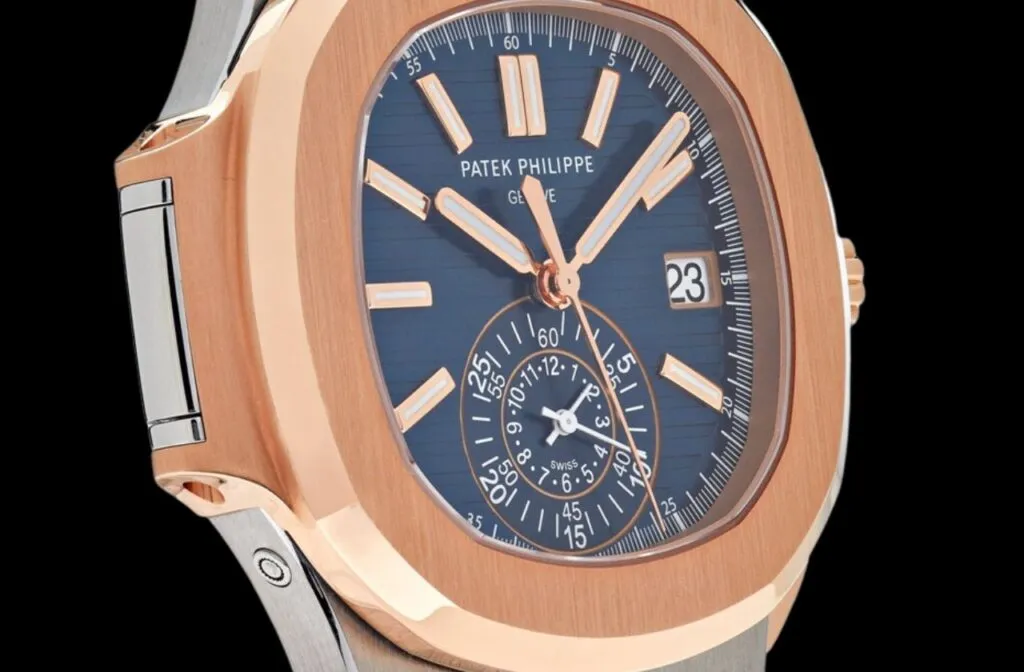 Over the years, the Nautilus case has evolved, with variations in material and size. A notable example is the Nautilus Ref. 5980/1AR, which sports a slightly thicker case at 40.5mm. The added thickness, along with chronograph pushers and gold-applied hour markers with luminescent coating gives the watch a more youthful and sporty appearance.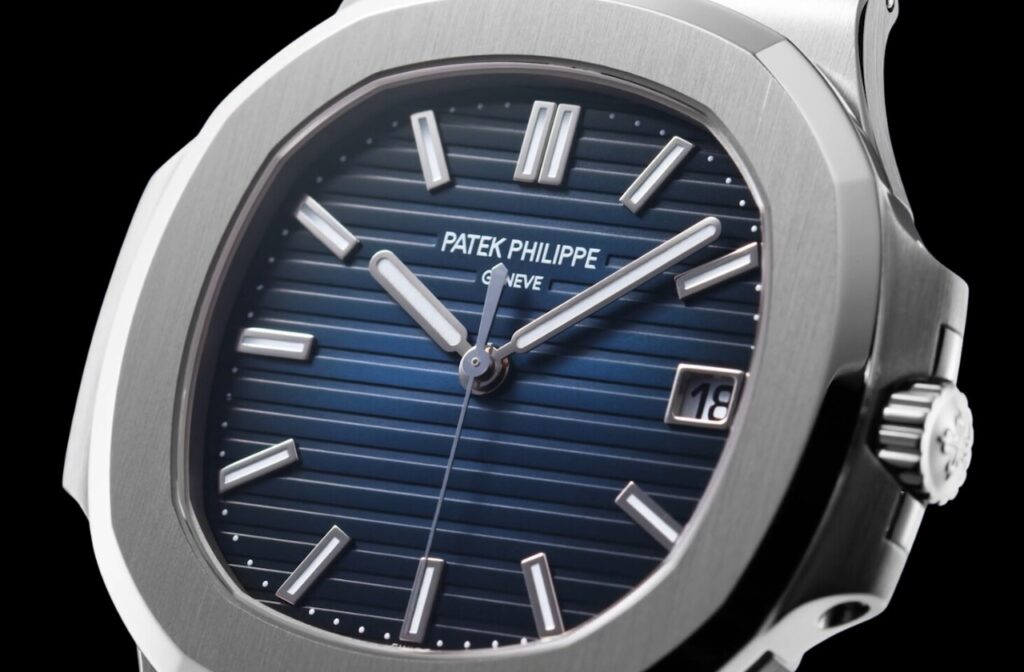 Patek Philippe has also experimented with precious metals for the Nautilus, such as white gold. The Nautilus Ref. 5811/1G features a 41mm case with a white gold case and bracelet, accompanied by a new patented fold-over clasp with four independent catches and a lockable adjustment system.
The Dial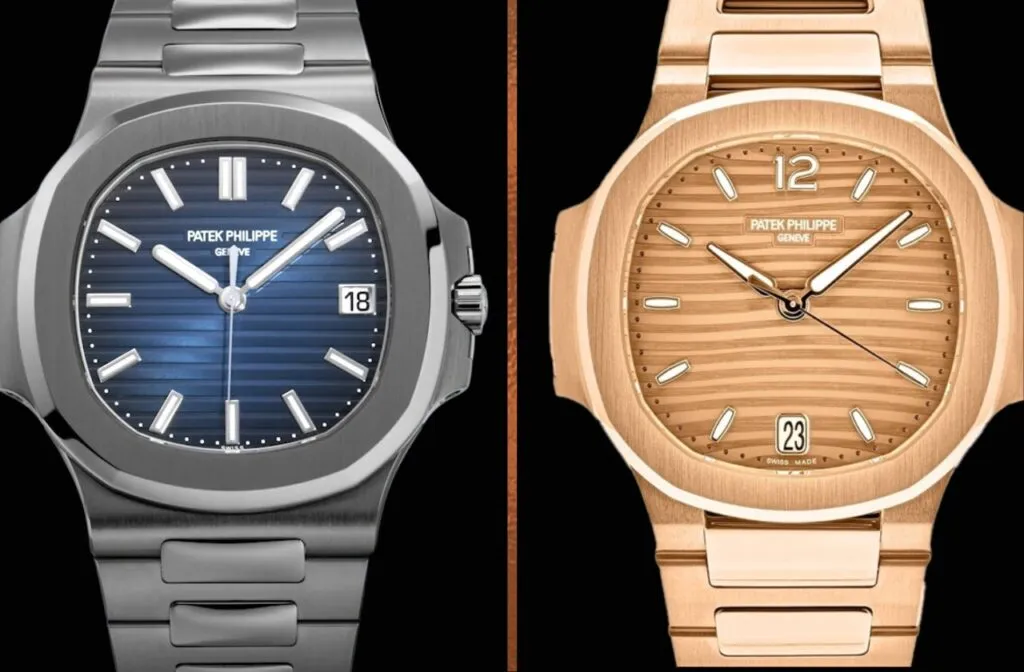 The Patek Philippe Nautilus significant aspect contributing to its prestige is the dial, which showcases the watch's exceptional design and quality. The Nautilus features a distinctive dial, characterized by its horizontally embossed grooves that create a visually appealing texture.
This unique design was inspired by nautical elements, mirroring the watch's overall motif. Dials are available in various colors, including the iconic blue hue in the Nautilus Ref. 5811/G as well as more recent variations, such as the rose gold dial in the Nautilus 7118/1R-010 model.
In terms of legibility, the Nautilus dial boasts applied luminous hour markers and hands, which provide excellent visibility in different lighting conditions. Additionally, the watch's date function at the 3 and 6 o'clock position is a practical element for daily wear.
The Strap/Bracelet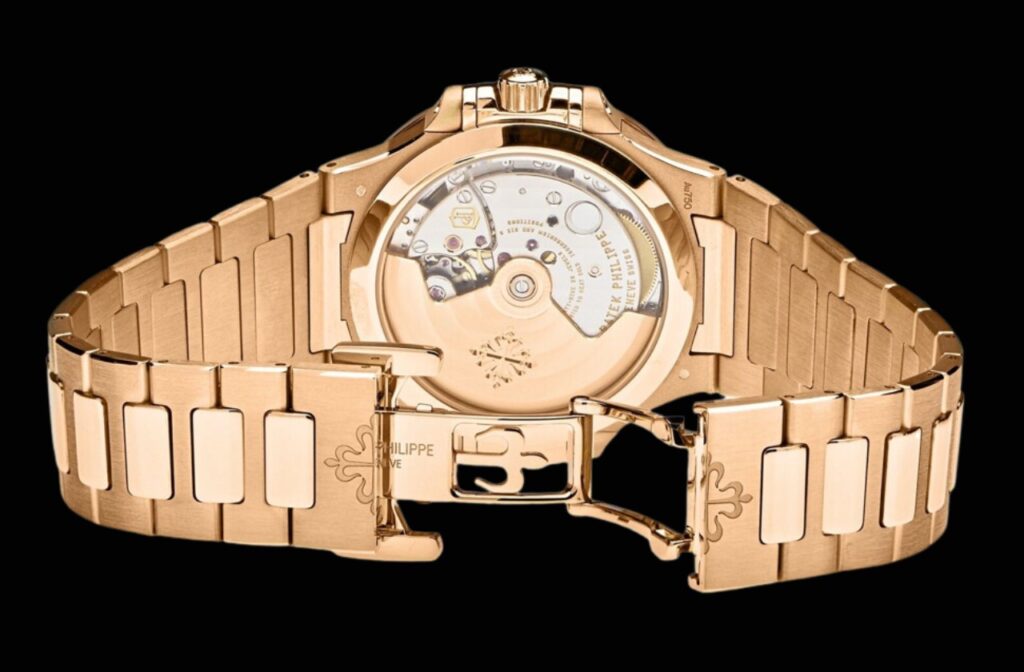 The Patek Philippe Nautilus is an elegant sports watch that features a stainless steel bracelet for most of its models, contributing to the overall sleek and sophisticated appearance. 
The bracelet's design is an integrated one, seamlessly connecting with the watch case and following the contours of the wrist for utmost comfort and visual appeal. It boasts a combination of polished and brushed finishes, which enhances the overall aesthetics and reflects the attention to detail that Patek Philippe is renowned for.
One of the standout features of the Nautilus bracelet is its folding clasp. Made from stainless steel, the fold-over double-push button clasp ensures a secure and comfortable fit on the wrist. Additionally, it offers a certain level of convenience for the wearer, as it is easy to open and close while providing a snug fit during daily wear.
The Movement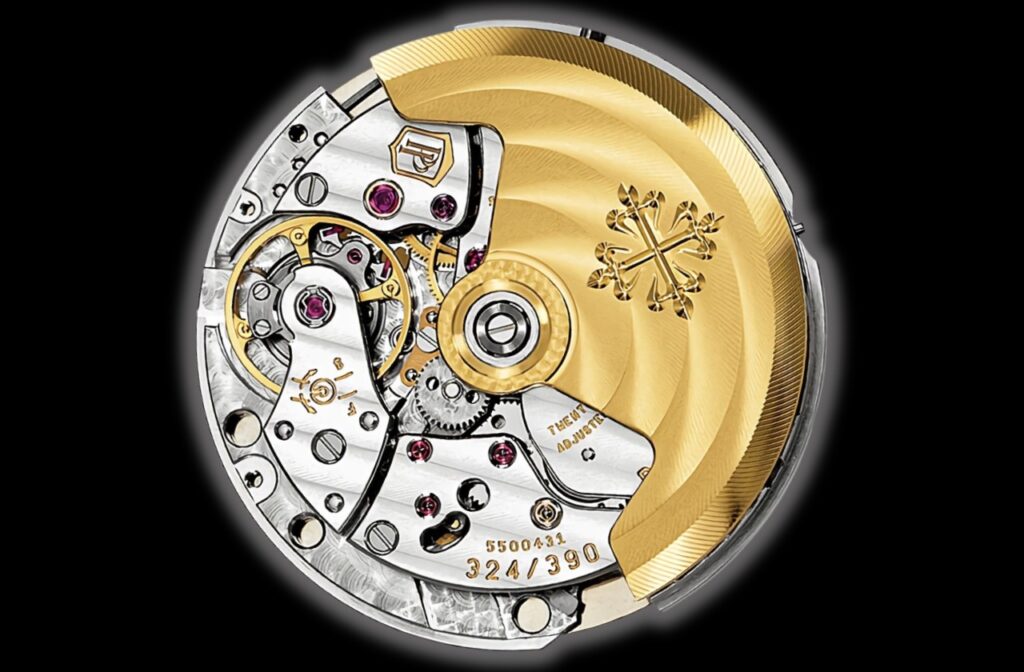 The Patek Philippe Nautilus boasts a superior and sophisticated movement that adds to its prestige and allure. One of the key aspects of the Nautilus is the use of an in-house movement, which is a hallmark of not only Patek Philippe but also other revered watchmakers like Audemars Piguet. The in-house movements are known for their precision, complications, and intricate craftsmanship.
In the Patek Philippe Nautilus Ref. 5711, the watch is powered by the new movement automatic caliber 324 S C movement. The Gyromax balance wheel, a key component of the movement, ensures accuracy and stability over time. With its fine-tuned engineering, this element offers an impressive level of precision unmatched by generic balance wheels.
Top 3 popular models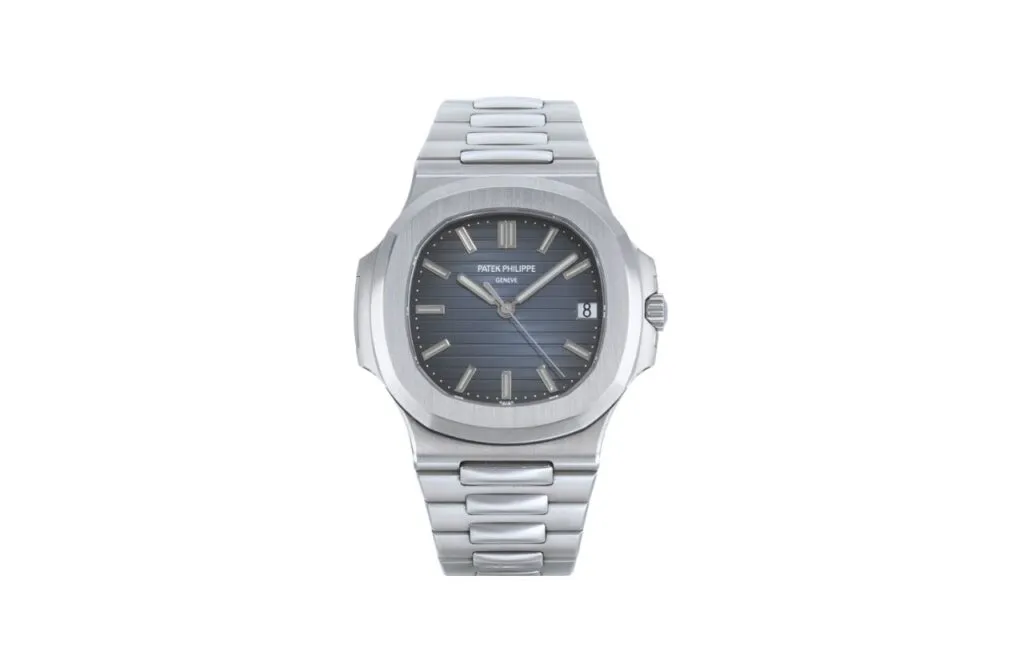 About
When it comes to iconic timepieces, few can compete with the Patek Philippe Nautilus Ref. 5711/1A-001. With its perfect proportions and timeless design, this classic stainless steel watch is one of the most sought-after watches for connoisseurs.
From the 6-6:30 position bezel and screw-down crown to the eye-catching integrated bracelet and recessed lugs, each component of the Nautilus with a reference number of 5711/1A-001 is a testament to Patek Philippe's dedication to luxury craftsmanship.
Features
Where attention to detail truly shines through is in the clasp of the watch. It features a unique system that allows for two micro-adjustments, allowing you to find your perfect fit every time.
Specifications
Production Year: 2006
Case Size: 40mm
Materials:

Dial – Blue
Bracelet – Integrated stainless steel bracelet
Bezel – Stainless steel

Function: Hours, Minutes, Seconds, Date Window
Mechanism: The watch is powered by Patek Philippe's Calibre 26-330 S C, an automatic movement, a power reserve of 45 hours
2. Patek Philippe Nautilus – Stainless Steel & Blue Dial Ref. 5980/1A-001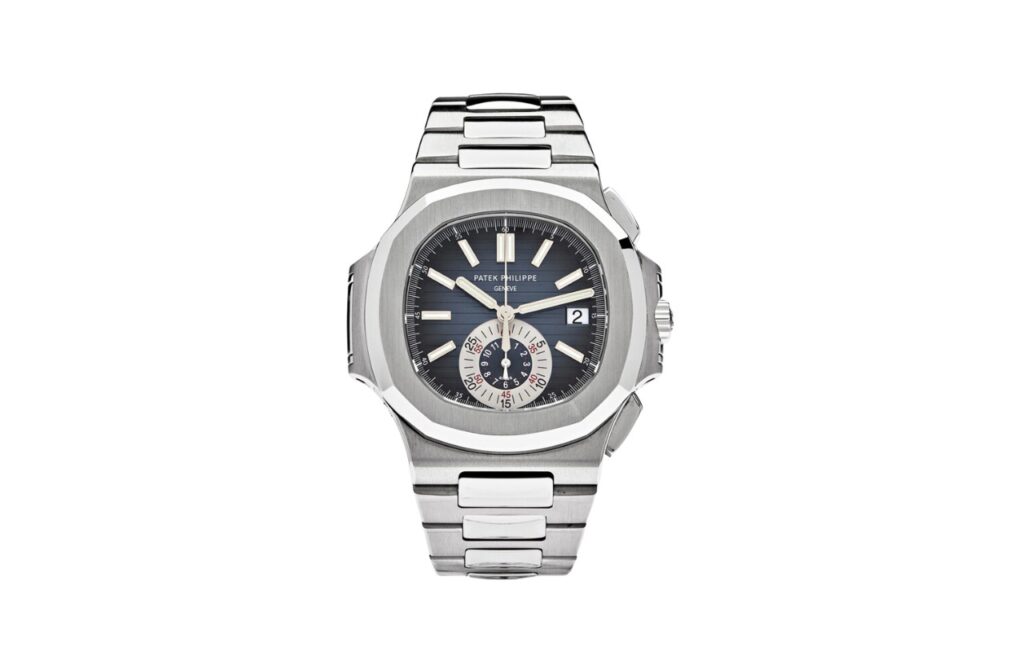 About
The new Patek Philippe Ref. 5980/1A-001 is often coveted by watch aficionados, and it's not hard to see why. The self-winding chronograph combines a sporty design with the craftsmanship and quality of Patek, making it a timeless classic.
The design elements used for this luxury timepiece are truly captivating. Its case itself is made from stainless steel sports watch, complemented by the blue dial which gives it its unique color combination. The hour markers are also distinct – featuring applied diamond hour markers along with luminous coatings for easier nighttime visibility.
Features
Powering the 5980/1A is the Caliber CH 28-520 C movement, which boasts an impressive power reserve of 48 hours and a water resistance of up to 120 meters.
Specifications
Production Year: 2006
Case Size: 40.5mm
Materials:

Dial – Blue
Bracelet – Stainless steel
Bezel – Stainless steel

Function: Hours, Minutes, Date, Chronograph, Column wheel
Mechanism: The 5980/1A operates on Patek Philippe's in-house automatic Calibre CH 28-520 C, with a power reserve of 55 hours
About
The revered Patek Philippe Nautilus is an iconic watch that has been crafted to perfection with its superior craftsmanship. This luxurious watch boasts a stainless steel sports watch case with a 40 mm diameter, which houses a beautiful blue dial, protected by anti-reflective sapphire crystal glass.
Features
It features traditional baton hands, applied indices, and an exquisite gold-tone bezel that adds an extra touch of sophistication to the piece. Moreover, the iconic horizontal embossed lines on the sides of the case emphasize its unique design and create an unforgettable aesthetic.
Specifications
Production Year: 2010
Case Size: 40.5mm
Materials:

Dial – Black
Bracelet – Stainless steel
Bezel – Stainless steel

Function: Hours, Minutes, Seconds, Additional 24-Hour Hand (Fixed), Date, Annual Calendar, Day, Month, Moonphase
Mechanism: Powered by a Patek Philippe Calibre 324 S QA LU 24H/303. It's an automatic movement with an approximate power reserve of 35-45 hours
The competitive landscape of Patek Philippe Nautilus Collection
The luxury watch market is highly competitive, with several high-end brands vying for attention. For the Patek Philippe Nautilus, a luxury sports watches, some of the main competitors include:
1. Rolex Submariner: Rolex's flagship sports watch is a direct competitor in terms of price, history, and prestige. The Submariner is a bit more robust and tool-like, but its luxury status and popularity make it a strong contender.
2. Audemars Piguet Royal Oak: Designed by the same person who crafted the Nautilus, Gerald Genta, the Royal Oak is often compared to the Nautilus due to their similar aesthetics, high-quality construction, and luxury status.
3. Vacheron Constantin Overseas: Another luxury sports watch, the Overseas offers a similar blend of ruggedness and elegance. It's often overlooked in favor of the Nautilus or Royal Oak, but it's still a significant player in the market.
4. Omega Seamaster: Although Omega generally operates at a lower price point, their Seamaster line, particularly the Aqua Terra, is often viewed as a competitive alternative for someone seeking a luxury sports watch.
Below is a comparative table that provides an overview of some of the main competitors of the Patek Philippe Nautilus.
| | | | |
| --- | --- | --- | --- |
| Brand | Model | Known For | Average Price (SGD) |
| Patek Philippe | Nautilus | Iconic design, superior craftsmanship, and prestige | S$12,420 – S$753,087 |
| Rolex | Submariner | Robust design, history, luxury status | S$2,002 – S$180,192 |
| Audemars Piguet | Royal Oak | Unique octagonal design, high-quality construction | S$8,172 – S$556,980 |
| Vacheron Constantin | Overseas | Blend of ruggedness and elegance, luxury status | S$14,631 – S$244,258 |
| Omega | Seamaster | Versatility, durability, and value for money | S$373 – S$60,011 |
*Due to the high demand and limited supply, prices for the Patek Philippe Nautilus on the secondary market can greatly exceed the price.
Why you should invest?
Investing in a Patek Philippe Nautilus is not just about owning a piece of horological artistry, it's also a strategic financial decision. As the most popular collection in the Patek Philippe brand, the Nautilus holds significant value in the private sales market. With over 5,513 listings from the last 12 months, it's clear that the demand for these watches is consistently high.
Pricing & Availability
The retail price of a Patek Nautilus can vary greatly depending on the specific model and materials used. The basic stainless steel variant with a black or white dial typically starts at around $30,000. However, as the watch incorporates precious metals and other premium features, the price can significantly increase. For example, a Nautilus with a rose gold case and a black dial can cost upwards of S$160,117.
The Nautilus collection also includes some limited-edition titanium models, which are especially coveted by collectors due to their rarity and unique aesthetic. Titanium Nautilus watches are known for their lightweight and durable construction, with prices often exceeding S$700,000, depending on the specific model and rarity.
It is essential to note that they are often challenging to find due to their high demand and limited production. For instance, stainless steel models with black or white dials might be more accessible, but those made from titanium or precious metals are often scarce, and waiting lists can be extensive.
FAQs
1. How much is a Patek Philippe Nautilus 5711 now?
The retail price of a 5711 was approximately S$30,000. However, due to its immense popularity and limited availability, it often trades for significantly higher prices on the secondary market pricing approximately S$147,667. Please consult with an authorized retailer or a trusted watch seller for the most accurate and current pricing information.
2. Why is Patek 5711 so expensive?
The Patek Nautilus 5711 is expensive due to a combination of factors. First, it's from Patek Philippe, one of the most prestigious luxury watch brands in the world known for their craftsmanship and quality. Secondly, the Nautilus line, and the 5711 model in particular, has become incredibly popular among collectors, leading to high demand and limited supply.
3. What is the rarest 5711?
The Patek 5711 in platinum (5711/1P) is one of the rarest and most coveted versions. Released in a limited edition to celebrate the Nautilus's 40th anniversary in 2016, this model features a 44-diamond set into the bezel and a blue dial. The 5711/1P is considered highly collectible and commands premium prices on the secondary market.
4. Is Patek more expensive than Rolex?
While both Patek Philippe, the Nautilus model, and Rolex produce high-end luxury watches, Patek Philippe's watches tend to be more expensive on average. However, certain modern Rolex Explorer models can also command high prices, especially rare or highly sought-after versions of modern sports watch.
Final Word
The Patek Philippe Nautilus, with its distinctive olive green dial and robust steel bracelet, represents a true grail watch for those delving into the realm of watch collecting. Despite Patek discontinued certain models, the allure of the Nautilus remains undiminished. While the Omega Constellation or the IWC Ingenieur may offer their unique charm, the Nautilus, particularly the white dial version with a sapphire caseback, stands in a league of its own.
Key Takeaways
The Nautilus is more than just a beautiful watch. Its prestige and craftsmanship rival even the iconic AP Royal Oak, and its sapphire crystal case is a testament to Patek's dedication to quality.
The Nautilus competes strongly with the Omega Constellation, IWC Ingenieur, and AP Royal Oak, not just in terms of aesthetics but also in terms of superior craftsmanship and quality.
The Patek Philippe Nautilus, especially the gradient blue dial variant, is a grail watch for many collectors, offering a blend of sporty functionality and refined elegance.
Looking to buy or sell your luxury watches? Watch Exchange is your one-stop destination for trading Rolex, Patek Philippe, Tissot, Sinn, Zenith, and other luxury timepieces. Find your next watch today or list your item for free!
---