Quartz watches have revolutionized the watch industry with their incredible quartz watch movements. The quartz watch movement is a movement that uses an electronic oscillator controlled by a quartz crystal, ensuring its accuracy surpasses that of mechanical clocks by an order of magnitude.
It functions through a continuous electrical current that passes through the quartz crystal, causing it to oscillate at a specific frequency. This precise frequency creates a consistent signal that drives the motor, which in turn moves the watch hands or digital display.
In addition to their remarkable accuracy, quartz watches are known for their affordable price points and low maintenance requirements. As technology has matured, it has become more versatile, finding its way into numerous watch designs, from elegant dress watches to rugged sports timepieces.
Interested in buying a luxury quartz watch? The quartz watch guide below gives a detailed take on the quartz movement magic, from its history to its maintenance. Keep reading for more.
A Brief History of Quartz Watch Movements
The invention of the quartz movement dates back to 1927, with Canadian engineer Warren Marrison's work. However, the modern era of quartz wristwatches began in 1969, when Japanese brand Seiko introduced the world's first commercially available quartz wristwatch, the Astron12. This groundbreaking innovation caused a significant upheaval in the traditional watch industry, which was initially slow to adapt to the changing technology.
Switzerland has always been known for its prestigious history and craftsmanship in the watchmaking industry. Before the 1970s, watches were powered by relatively complex automatic and manual watch movements, which relied on input from the wearer.
However, the advent of quartz watch movements threatened the Swiss watch industry's dominance as quartz technology provided several advantages over mechanical movements, such as increased accuracy, lower production costs, and reduced complexity.
When Seiko launched the highly innovative Astron in 1969, the Swiss watch industry faced the so-called "Quartz Crisis" in the 70s and 80s. The Astron was accurate and reasonably priced compared to traditional Swiss watches. This forced Swiss watchmakers to adapt or risk becoming obsolete in the face of the new technology.
In the following years, Swiss watch manufacturers scrambled to develop their quartz watches. The first Beta 1 prototypes were tested at CEH (Centre Electronique Horloger) in 1967, while the first Beta 21 watches were launched by some 20 firms in 1970. However, the delivery of ready-for-market quartz watches lagged behind in Switzerland initially, putting further pressure on the traditional watch industry.
Benefits and Drawbacks of a Quartz Watch Movement
Here are the most common advantages and disadvantages of quartz watch movements in comparison to automatic movements:
Benefits
There are several advantages that quartz watch movements have over automatic ones.
1. Accuracy
Quartz watches are known for their precision and reliability in timekeeping. They use quartz crystals as "timing bases" that translate 32,768 oscillations into 1 second by sending a pulse to an electronic circuit, providing an accuracy generally superior to automatic watches. 
On the other hand, automatic movements are generally less precise than quartz movements. They can deviate by a few seconds to several seconds per day, which may require regular adjustment.
2: Less Maintenance
High accuracy quartz movements also require less maintenance than automatic ones, as they usually only need a battery replacement every few years at most. 
Automatic movements have more complex mechanisms with many moving parts. They require regular servicing to ensure proper functioning and longevity. This can be time-consuming and costly.
3. Affordability
A quartz movement tends to be more affordable than a mechanical movement. With fewer moving parts and less expensive materials used in their production, it's easier for manufacturers to produce quartz watches at a lower cost.
High-quality automatic watches, especially those with complicated features, can be expensive to manufacture and purchase.
Drawbacks
1. No Mechanical Appeal
Quartz movements have fewer intricate components than automatic movements, which means they may lack the detailed craftsmanship and artistry that some watch enthusiasts appreciate. 
They appreciate the intricate craftsmanship and artistry of an automatic movement, which can increase a timepiece's perceived value and prestige. Automatic movements consist of hundreds of tiny parts, often assembled by skilled watchmakers, showcasing the artistry and engineering of traditional watchmaking.
Additionally, some people enjoy the ritual of winding and maintaining an automatic watch, which provides a sense of connection to the mechanics of timekeeping.
2. Battery Reliance
Another drawback is that quartz watches rely on batteries. When the battery dies, the watch stops. Replacing the battery involves a trip to a watch service center. This could pose a minor inconvenience and cost in the long term, although it's usually a tiny aspect to consider.
On the other hand, Automatic timepieces are powered by the motion of the wearer's wrist, eliminating the need for batteries. As long as you wear the watch frequently, it will continue functioning.
3. Ticking Motion
Quartz watches have a characteristic ticking motion of the second hand.
Meanwhile, the smooth, sweeping motion of the second hand in automatic watches is considered more aesthetically pleasing to many people compared to the ticking movement of quartz watches.
In summary, quartz watch movements offer significant advantages in terms of accuracy, reliability, and affordability but lack the mechanical allure and tradition of automatic movements. Each type of watch has unique qualities, and the choice between them ultimately depends on individual preferences and priorities.
Top 10 Watches with Quartz Movement
The following are some of the best men's and women's affordable quartz watches in the market:
1. TAG Heuer Formula 1 Quartz – Stainless Steel, Black Dial ref. WAZ1110.BA0875
Retail Price: S$1,345
About
The TAG Heuer Formula 1 Quartz ref. WAZ1110.BA0875 is a luxury men's sports watch. It features a reliable 41mm stainless steel case, a black dial with an opaline finish, a 60-minute unidirectional rotating bezel, and a battery-operated quartz movement, offering exceptional precision. Known chiefly for its cool and casual design, it's perfect for those seeking a stylish and durable timepiece.
2. Sinn Diving Watch – Stainless Steel, Black Dial ref. UX S GSG 9 (EZM 2B)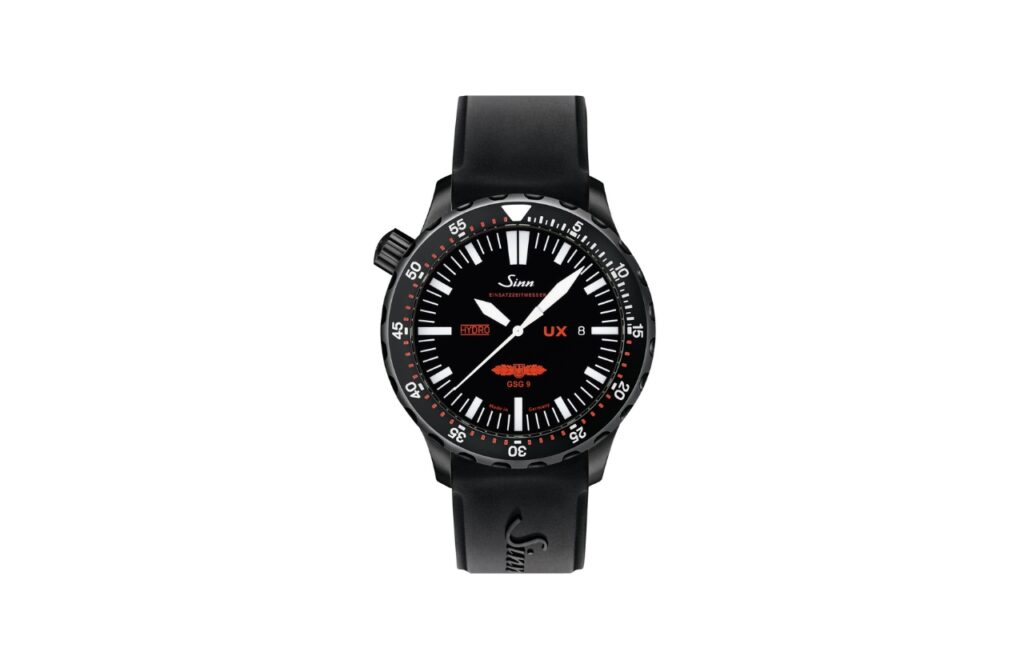 Retail Price: S$3,831
About
The Sinn Diving Watch ref. UX S GSG 9 (EZM 2B) is a luxury men's dive watch. It's designed for serious divers, with its black German submarine 41mm stainless steel case, luminous black dial, providing optimal readability under harsh conditions, and sporty black silicone strap.
It also has an ETA 955.652 quartz movement with 7 jewels that ensures accurate timekeeping, making it an indispensable companion for underwater adventures.
3. Tissot PRC 200 Chronograph – Stainless Steel, Black Dial ref. T055.417.11.057.00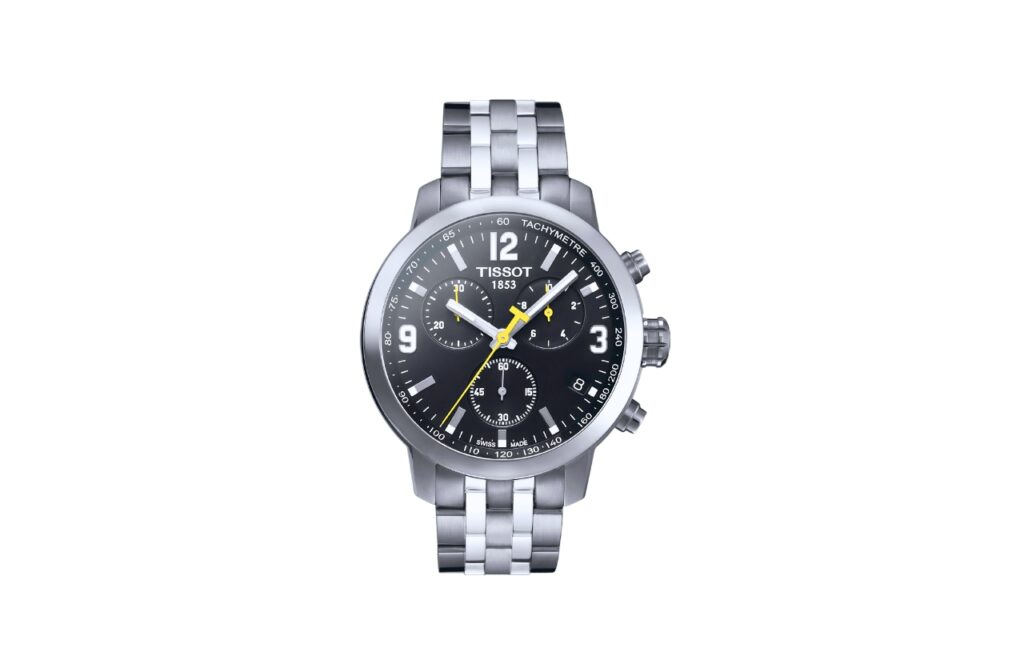 Retail Price: S$713
About
The Tissot PRC 200 Chronograph ref. T055.417.11.057.00 is a luxury men's sports watch that combines functionality with a sleek design. It's among the more affordable quartz watches and boasts a 42mm stainless steel case, a black dial with yellow details and 3 subdials, and a G10.211 quartz movement with 4 jewels that provides accurate timekeeping, making it an ideal choice for sports enthusiasts.
4. Seiko Prospex Diver's Watch – Titanium, Blue-Black Dial ref. S23635J1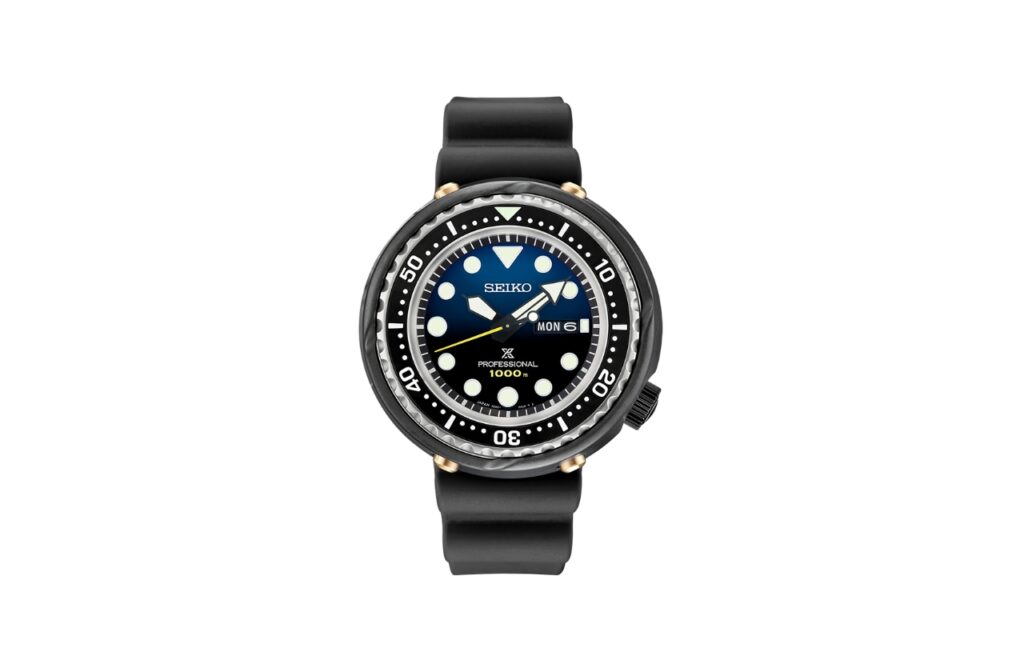 Retail Price: S$3,496
About
Seiko's Prospex Diver's watch ref. S23635J1 is a limited-edition (limited to 1,200 pieces) luxury men's dive watch. It's crafted from lightweight titanium and has a 49.9 x 16.3mm utilitarian case, a blue-black dial, and a 1,000m water resistance rating.
Its reliable quartz Caliber 7C46 movement guarantees precise timekeeping, while the high-quality materials ensure durability and longevity.
5. Breitling Aerospace Evo – Titanium, LCD Digital Display ref. E79363101B1E1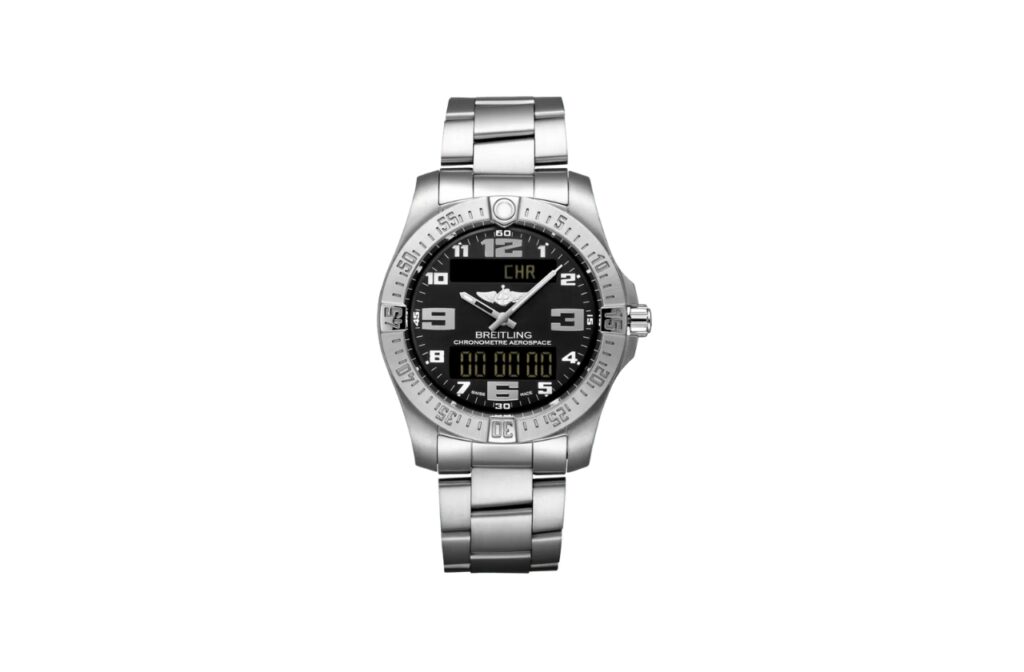 Retail Price: S$6,005
About
The Breitling Aerospace Evo ref. E79363101B1E1 is a luxury men's pilot's watch. It showcases innovative features, including an LCD digital display and a highly accurate Caliber Breitling 79 SuperQuartz™ movement. Constructed with a 43mm Titanium case and bracelet, it offers a modern, lightweight design for optimal comfort.
6. Omega Constellation Quartz 28mm – Stainless Steel, Blue Dial ref. 131.10.28.60.03.001
Retail Price: S$4,303
About
Elegant and sophisticated, the Omega Constellation Quartz 28mm watch ref. 131.10.28.60.03.001 is a luxury women's watch. It boasts a 28mm stainless steel case and matching bracelet, plus a sexy, dramatic celestial blue dial with golden details.
Its accurate Omega Caliber 4061 quartz movement ensures the highest level of precision, making it an exquisite choice for ladies seeking an elegant and functional piece.
7. Hublot Classic Fusion 3-Hands – Yellow Gold, Black Dial ref. 581.VX.1230.RX.MDM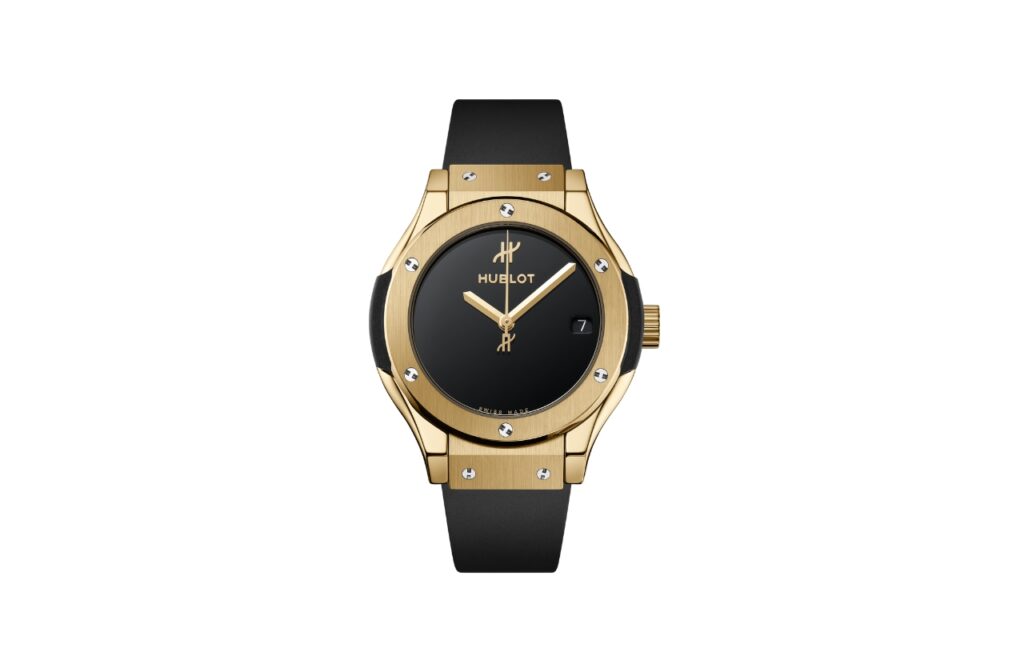 Retail Price: S$23,935
About
The Hublot Classic Fusion 3-Hands ref. 581.VX.1230.RX.MDM is part of Hublot's 2023 Classic Fusion Original collection. It's a luxury ladies' watch with a striking 33mm Yellow Gold case, black dial with golden details and no hour markers, and black rubber strap. With its precise MHUB2913 quartz movement, it perfectly blends luxury and performance.
8. Baume & Mercier Classima – Stainless Steel, Mother of Pearl Dial ref. 10490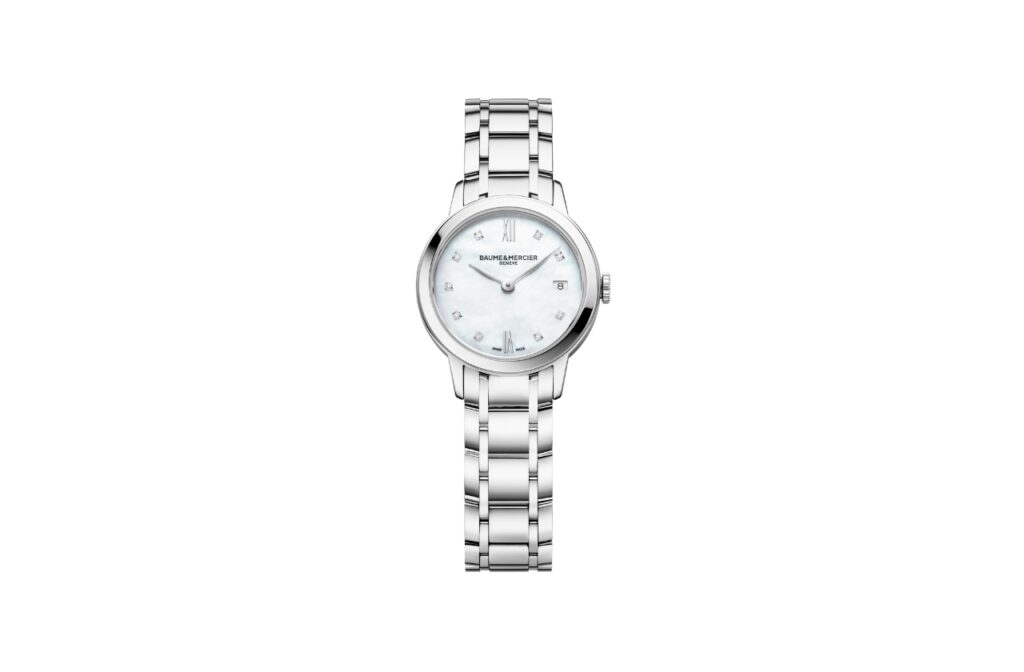 Retail Price: S$2,555
About
Looking for a classy timepiece with bold elegance? The Baumer & Mercier Classima ref. 10490 is just what you need. It's a luxury ladies' watch with a well-polished 27mm stainless steel case and matching bracelet, plus a beautiful mother of pearl with diamond details.
Its reliable quartz movement with five rubies ensures precision and accuracy, making it a luxurious yet practical option.
9. Breitling Galactic Quartz Chronometer Watch – Stainless Steel, Mother of Pearl Dial ref. A71356LA/A708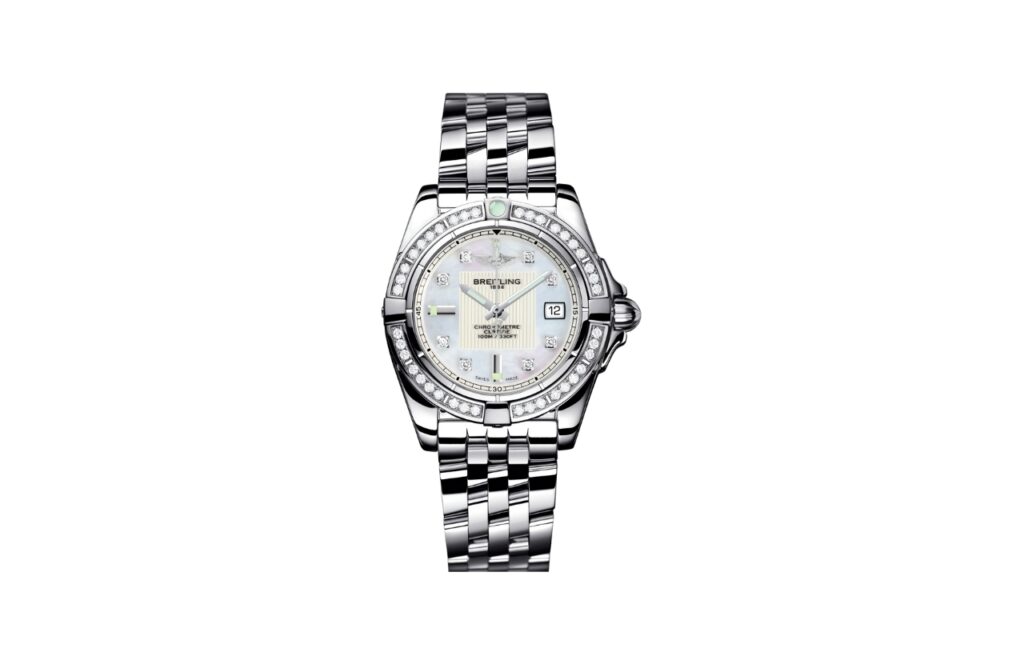 Retail Price: S$6,591
About
The Breitling Galactic Quartz Chronometer watch ref. A71356LA/A708 is a luxury women's timepiece. It features a stunning 32mm stainless steel case, a diamond-set unidirectional rotating bezel, and a Mother of Pearl dial.
It also has a precise Breitling Caliber 71 quartz movement that guarantees optimal timekeeping and adds a touch of technical sophistication to it.
10. Longines Conquest – Stainless Steel, Black Dial ref. L3.377.4.58.6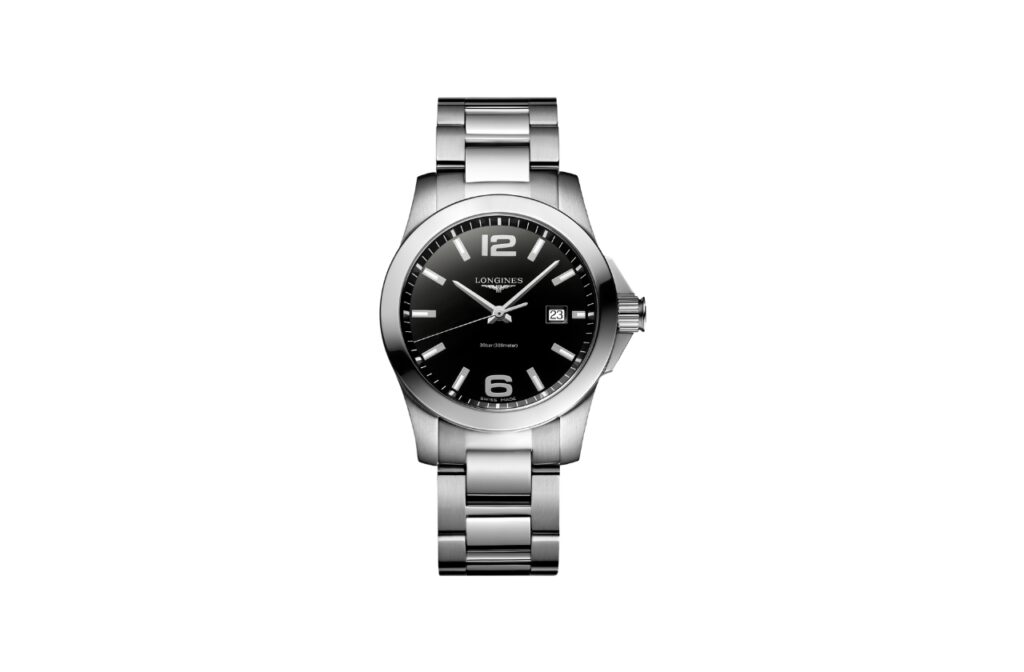 Retail Price: S$1,116
About
The Longines Conquest ref. L3.377.4.58.6 is a luxury ladies' sports timepiece with a simple yet eye-catching design. It has a 34mm stainless steel case with smooth lines and gentle curves, a black dial with silver-tone details- offering a refined aesthetic, and a trusted quartz Caliber L156 movement that ensures precision and reliability.
Maintenance of a Quartz Watch
A quartz watch is known for its durability and long-lasting performance. With fewer moving parts than a mechanical watch, quartz watches often require minimal maintenance. Here are some essential tips to keep your quartz watch functioning smoothly for years.
Regular cleaning of the watch: It's crucial for preserving its appearance and functionality. Use a smooth cloth to wipe the band and watch gently, removing any dirt or dust that may accumulate on the timepiece. Cleaning your watch every few months will help maintain its pristine condition and extend its lifespan.
Battery replacement: it ensures accurate timekeeping. Although quartz watches are low-maintenance, their batteries will eventually run out, and you must replace them. The typical battery life of a quartz watch is around 2-3 years. However, it's essential to consult your watch's user manual for specific battery life expectancy and replacement recommendations.
Avoid exposing your quartz watch to extreme temperatures: It can negatively impact its accuracy. Sudden temperature changes can cause internal components to expand or contract, which may lead to malfunction or inaccurate timekeeping. Keeping your quartz watch away from strong magnetic fields is also essential, as magnets can interfere with its electronic components and disrupt its timekeeping capabilities.
Follow water resistance instructions: This is another crucial aspect to consider in maintaining your quartz watch. Ensure to follow the manufacturer's guidelines for water exposure, and avoid using your watch when it may come in contact with water or moisture beyond its water-resistant rating. If your watch has any seals or gaskets, it may be necessary to have them checked and replaced periodically to maintain proper water resistance.
Have your quartz watch serviced every three to four years: This service may include inspecting the watch for wear and tear, replacing any worn-out components, cleaning, and lubricating the movement. Though quartz watches may not require as frequent servicing as mechanical watches, periodic checkups will help ensure your watch's longevity.
Final Word
Quartz watches have revolutionized the watchmaking industry because of their accuracy, affordability, and low maintenance requirements. They use a quartz crystal to measure time and require very little power to function. They're an excellent choice if you prefer a hassle-free timepiece.
Key Takeaways
Quartz watches are known for their high timekeeping accuracy, making them a popular choice for those who value precision. They offer reliability and affordability thanks to their durability and low maintenance requirements.
In terms of longevity, quartz watches won't last forever, but with excellent care and maintenance, they can serve you for an extended period. Accuracy, reliability, and reasonable pricing make them an attractive option for many consumers.
The quartz watch movement has become popular today thanks to the quartz crisis of the 70s and 80s. It resulted in the production of more reliable, diverse, and durable quartz timepieces.
Looking to buy or sell your luxury watches? Watch Exchange is your one-stop destination for trading Rolex, Patek Philippe, Tissot, Sinn, Zenith, and other luxury timepieces. Find your next watch today or list your item for free!
---