Singapore, a horological hub, boasts an expansive market for premium watch brands, attracting collectors worldwide with their elegant craftsmanship and advanced technology.
Rolex, Singapore's most popular luxury watch brand, is renowned for reliability, enduring design, and high resale value. Its iconic collections like Submariner and Daytona adorn the wrists of discerning watch enthusiasts in the city-state.
The elite echelon of horology in Singapore includes Rolex, Patek Philippe, and Audemars Piguet, representing the pinnacle of craftsmanship, heritage, and luxury. Patek Philippe's elegant designs and complex mechanics, along with Audemars Piguet's focus on innovation and distinctive aesthetics, make them highly sought-after brands.
Audemars Piguet
Founded in 1875 in the Swiss village of Le Brassus, Audemars Piguet is renowned for crafting exceptional timepieces of high horological complexity and unprecedented craftsmanship. The brand gained worldwide fame with the Royal Oak, the first high-end sports watch made of steel, launched in 1972. The Royal Oak's distinctive octagonal bezel, exposed screws, and integrated bracelet continue to be the hallmark of the brand's innovative approach.
In Focus: Audemars Piguet Royal Oak Chronograph 41mm Steel Blue Dial Ref. 26331ST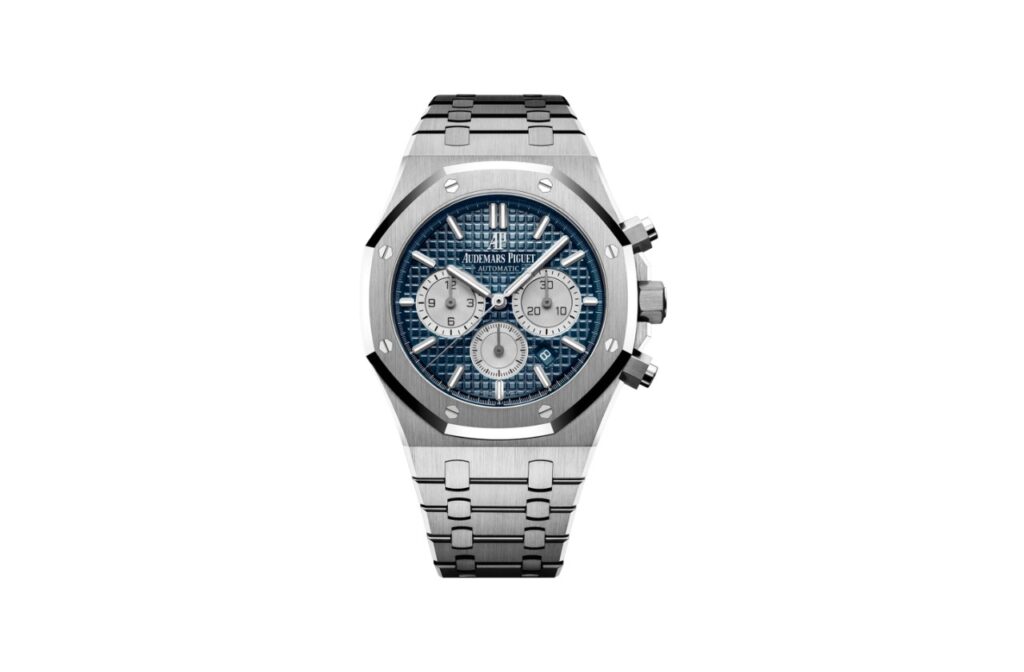 The Audemars Piguet Royal Oak Chronograph Ref. 26331ST is a stunning timepiece offering a harmony of rugged elegance and sophisticated design. This stainless steel watch, with its distinctive blue duo-toned "Grande Tapisserie" dial, makes a statement on any wrist. The Royal Oak Chronograph boasts a 41mm stainless steel case, glare-proof sapphire crystal, and a screw-locked crown. Plus, it has a water resistance of up to 50 meters, ensuring durability in various environments.
Patek Philippe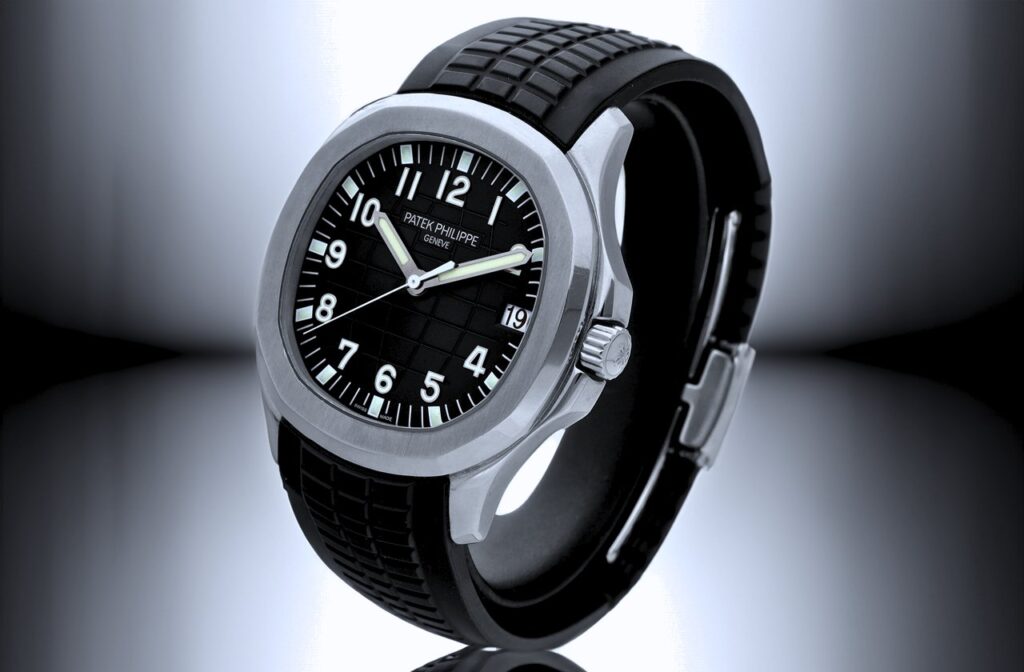 Established in Geneva in 1839, Patek Philippe is universally acknowledged as one of the most prestigious watch manufacturers in the world. Known for their craftsmanship, complex mechanisms, and traditional styling, they pioneered many innovations such as the split-seconds hand, the perpetual calendar, and the minute repeater. Their famous slogan, "You never actually own a Patek Philippe. You merely look after it for the next generation," encapsulates the brand's emphasis on enduring value.
In Focus: Patek Philippe Nautilus Chronograph 44mm Steel Black Dial Ref. 5980/1A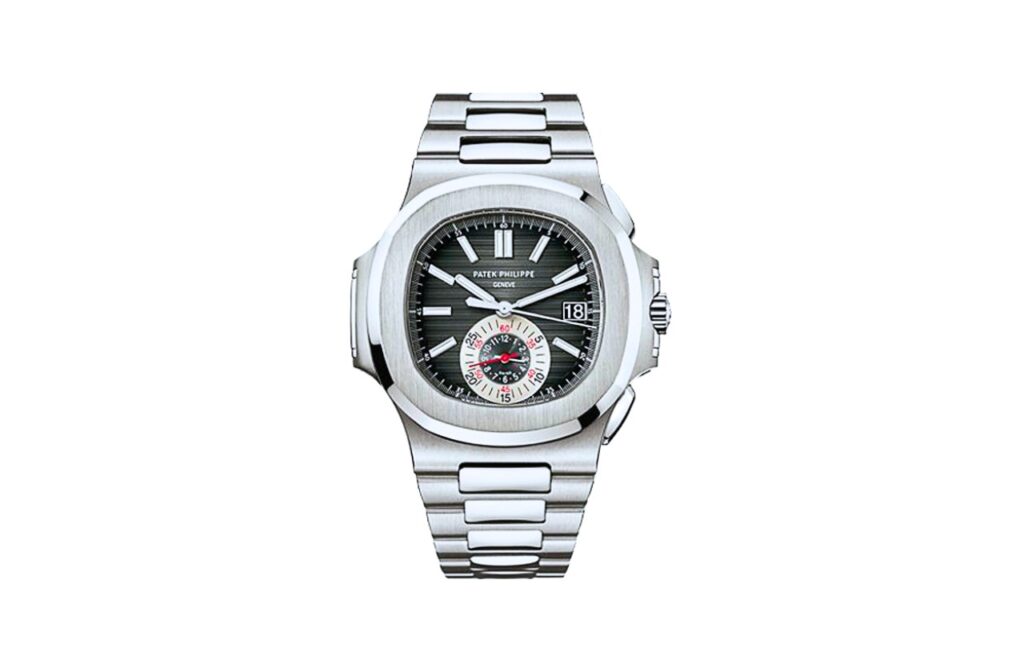 The Patek Philippe Nautilus Chronograph Ref. 5980/1A is a finely crafted wristwatch that gracefully blends elegance with sportiness. A part of the prestigious Nautilus collection, this timepiece exemplifies the art of Swiss watchmaking.
Vacheron Constantin
Vacheron Constantin has upheld a tradition of excellence in Swiss watchmaking since 1755. Known for their sophisticated designs and exceptional craftsmanship, the brand's watch collections, such as the Patrimony, Overseas, and Historiques, demonstrate the ability to create timepieces of great complexity, maintaining their reputation for quality and innovation over centuries.
In Focus: Vacheron Constantin Patrimony Moon Phase Retrograde Date 40mm White Gold Silver Dial Ref. 4010U/000G-B330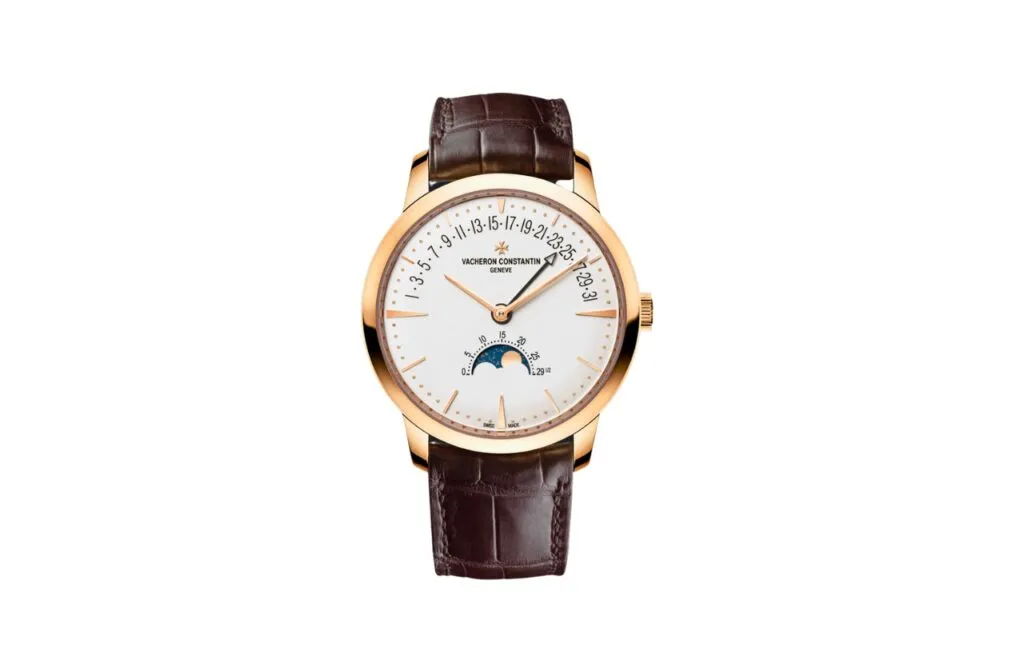 The Vacheron Constantin Patrimony Moon Phase Retrograde Date is a timepiece that exudes elegance and sophistication. As part of the esteemed Patrimony collection by Vacheron Constantin, you can expect a fine balance of aesthetics and functionality in this watch.
Omega
Founded in 1848, Omega is a Swiss luxury watchmaker that has consistently defined watchmaking standards. Known for their precision and durability, Omega has been associated with significant historical events and missions, including being the first watch on the moon during the Apollo missions. Omega's Seamaster luxury dive watches and Speedmaster collections are iconic offerings from the brand, embodying the spirit of adventure and technical innovation.
In Focus: Omega Speedmaster Moonwatch Professional 42mm Steel Black Dial Ref. 311.30.42.30.01.005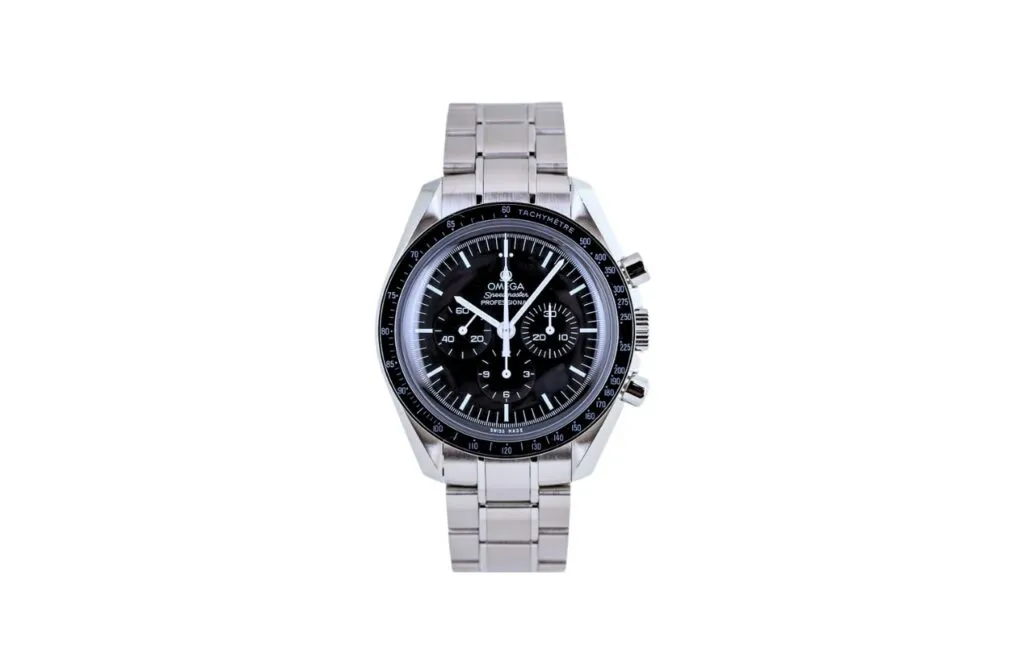 The Omega Speedmaster Moonwatch Professional Ref. 311.30.42.30.01.005 is a highly-regarded timepiece with a rich history in space exploration. As part of the iconic Speedmaster collection, it exudes both style and precision engineering.
Rolex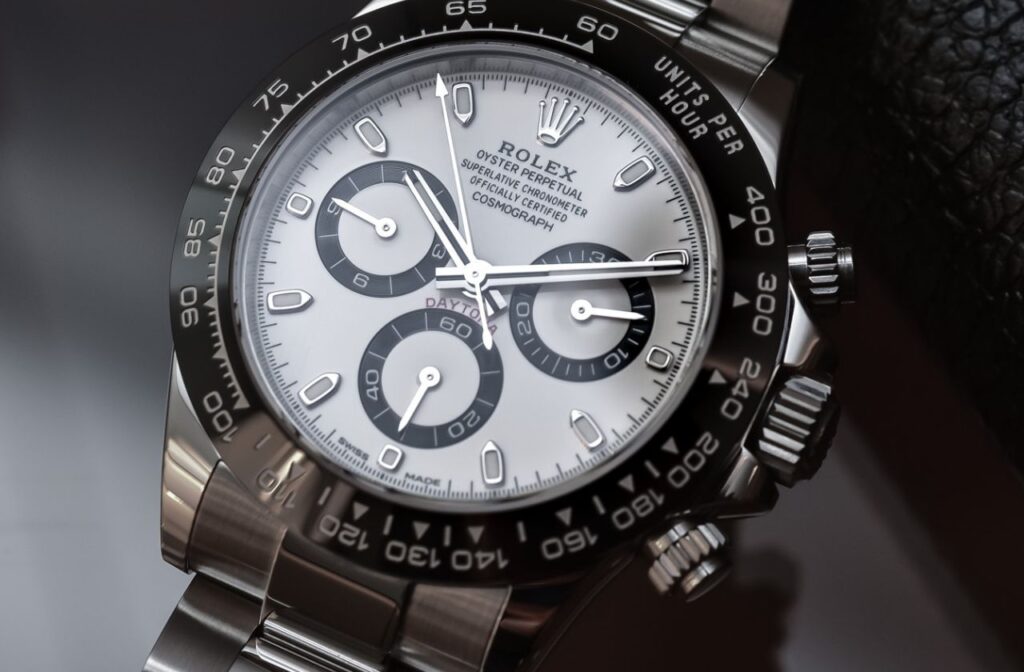 Rolex, established in 1905, is arguably the most famous watch brand worldwide, known for its durability, performance, iconic designs, and limited edition timepieces. Rolex is credited with numerous innovations in watchmaking, including the first waterproof wristwatch, the "Oyster," and the first self-winding mechanism with a Perpetual rotor. Their Submariner, Daytona, and Datejust models are globally recognized symbols of prestige and success.
In Focus: Rolex Cosmograph Daytona 40mm Steel Black Dial Ref. 116500LN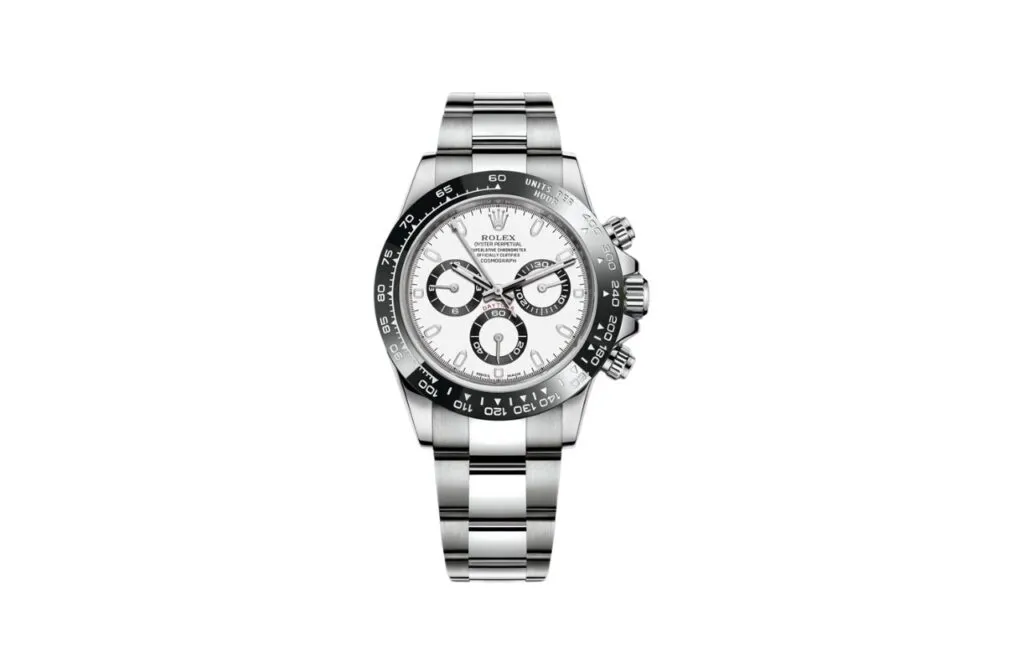 This exceptional Rolex Cosmograph Daytona watch boasts a sturdy yet elegant Oystersteel construction and features a black dial, making it an ideal choice for watch enthusiasts who value both style and durability.
Cartier
Cartier, founded in Paris in 1847, is a globally renowned luxury goods brand known for its jewelry and wristwatches, such as the famous Tank and Santos models. Synonymous with elegance and refinement, Cartier's designs blend innovation with craftsmanship, resulting in timepieces that are both timeless and modern. Its jewelry creations have been favored by royalty and celebrities alike, underscoring the brand's reputation for style and sophistication.
In Focus: Cartier Tank Française 25mm Steel Silver Dial Ref. WSTA0005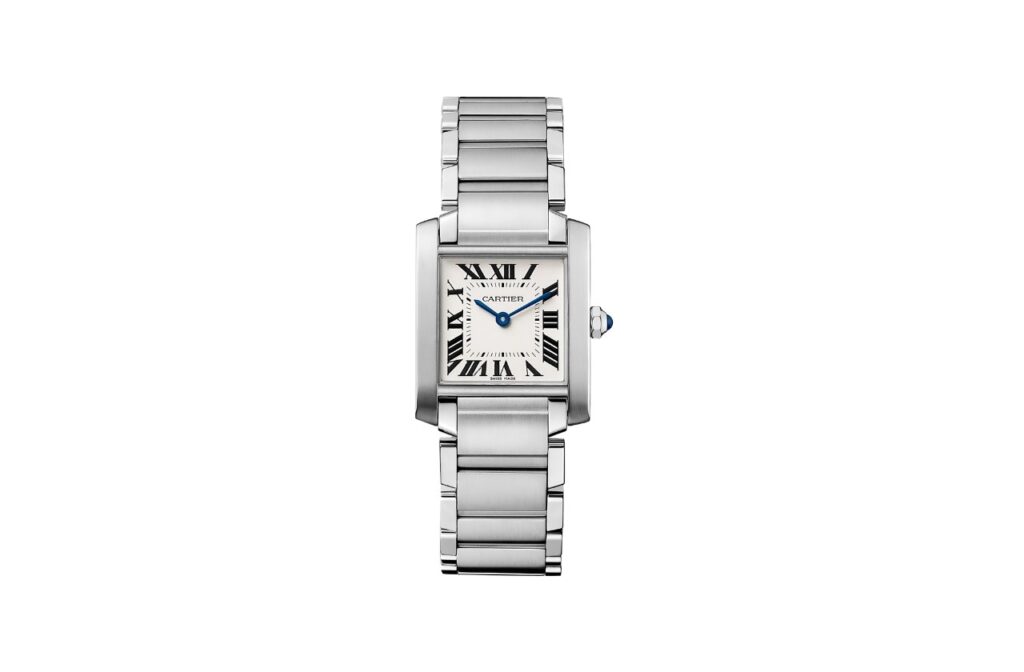 The Cartier Tank Française Ref. WSTA0005 is a stunning timepiece, crafted with the utmost precision and care. This elegant watch is designed for both men and women, offering a versatile and sophisticated style that you can appreciate.
Richard Mille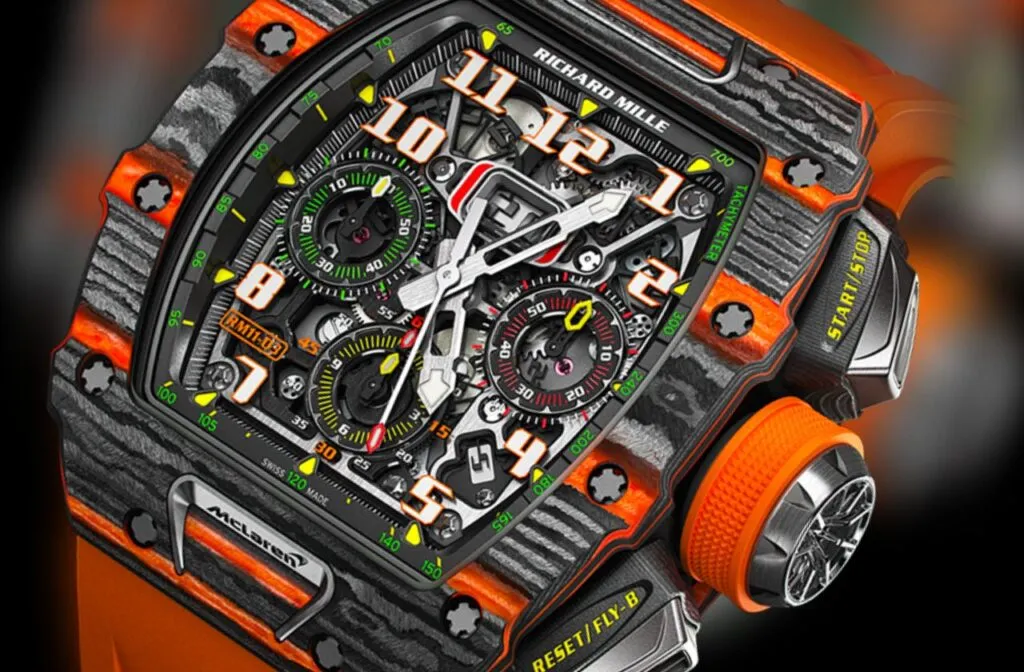 Richard Mille, established in 1999, rapidly gained a reputation for creating watches with revolutionary technical innovations and avant-garde designs. Known for producing extremely robust yet lightweight timepieces, they often incorporate materials used in Formula 1 and aerospace technology. The brand's iconic tonneau-shaped watches, such as the RM 011 and RM 056 models, stand testament to Richard Mille's commitment to pushing the boundaries of horology.
In Focus: Richard Mille 46mm Green with Diamonds Ref. RM 07-01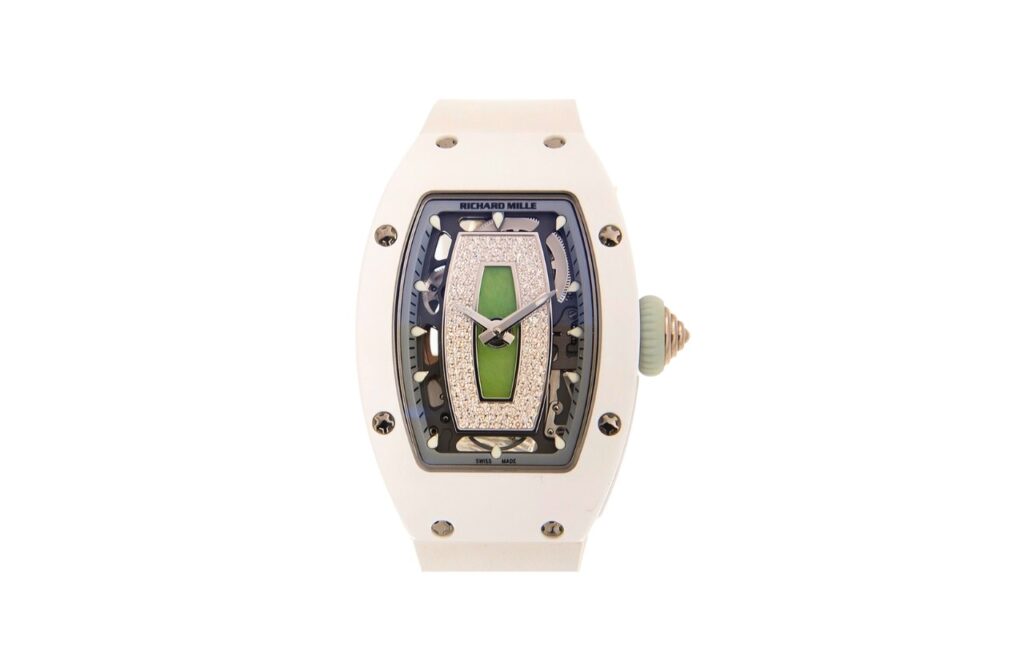 The Richard Mille RM 07-01 is a timepiece that embodies elegance, sophistication, and outstanding craftsmanship. It features a green dial and is adorned with diamonds, making it an excellent choice for those who appreciate the attention to detail. It boasts an automatic winding movement for precision timekeeping, silver-toned hands, and index hour markers.
Grand Seiko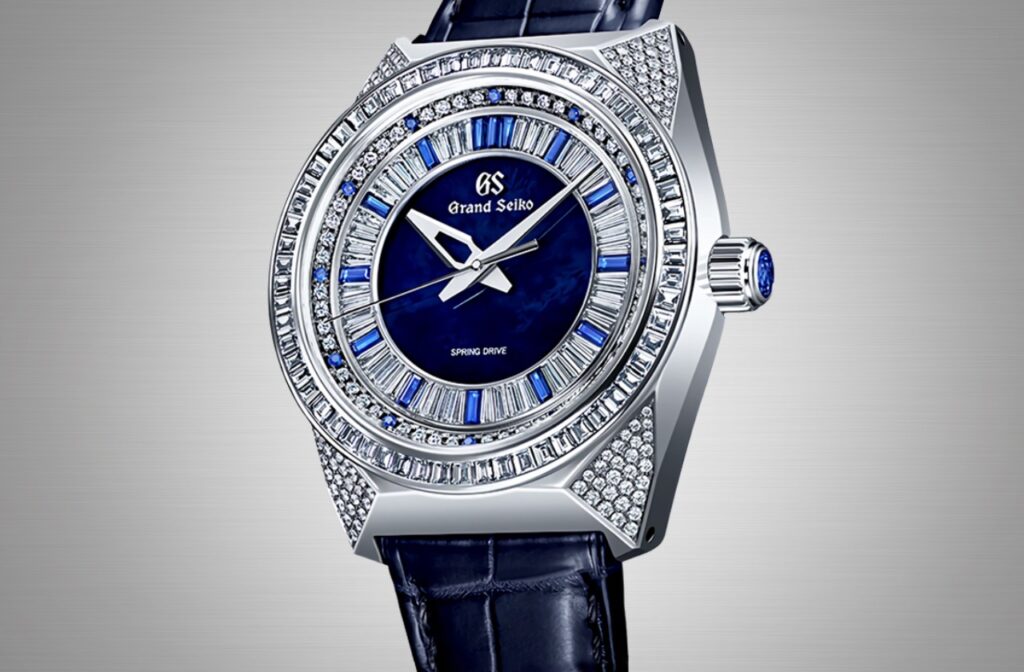 Founded in 1960 as a subsidiary of Seiko, Grand Seiko was born out of a desire to create the world's best practical watch. The brand's timepieces are revered for their precision, durability, and legibility, showcasing the finest Japanese craftsmanship and innovative technology. Their Spring Drive and Hi-Beat movements are embodiments of Grand Seiko's relentless pursuit of watchmaking perfection.
In Focus: Grand Seiko Mechanical Ladies 36mm Stainless Steel Ref. STGK013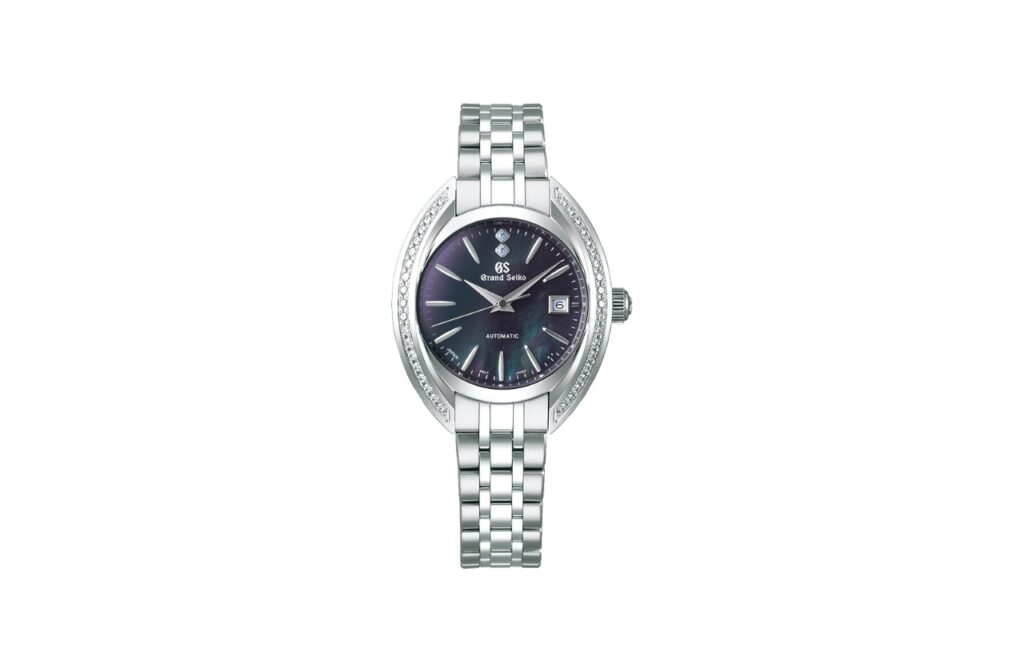 The Grand Seiko Mechanical Ladies Ref. STGK013 is a beautiful and refined timepiece designed for women. Inspired by the 1967 Grand Seiko classic known as the 62GS, this watch features a bezel-free case construction with a dial surrounded by diamonds source. The watch is powered by a manual-winding 9S27 caliber, contributing to its slim profile source. Apart from its sophisticated design, the watch showcases a stormy purple color of mother of pearl, known as "Koki-Murasaki," which holds significant status in Japan source.
Jaeger-LeCoultre
Established in 1833 in the Swiss Jura Mountains, Jaeger-LeCoultre is a highly respected watchmaker known for its technical prowess and beautiful craftsmanship. The brand has created more than a thousand calibres and holds several patents, including one for the world's smallest movement. The Reverso, with its swivel case, is one of the most iconic Jaeger-LeCoultre models, exemplifying the brand's unique blend of form and function.
In Focus: Jaeger-LeCoultre Rendez-Vous Night & Day Medium 34mm Steel Silver Dial Ref. 3448420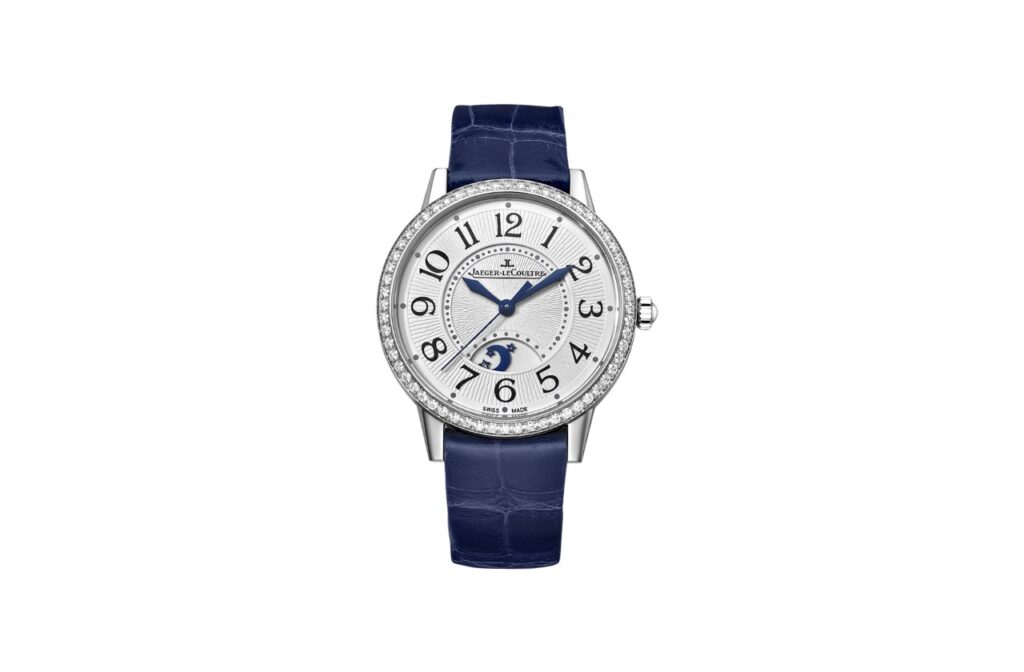 The Jaeger-LeCoultre Rendez-Vous Night & Day Medium is a sophisticated timepiece designed for modern women who appreciate elegance and timeless style. This watch is crafted from stainless steel, featuring a silver dial that adds a touch of class to any wardrobe. With its day/night indicator displayed above six o'clock, the Rendez-Vous Night & Day Medium ensures you know whether it's day or night at a glance. Along with the stainless steel case, the watch also features a stylish leather strap, ensuring comfort and durability.
Piaget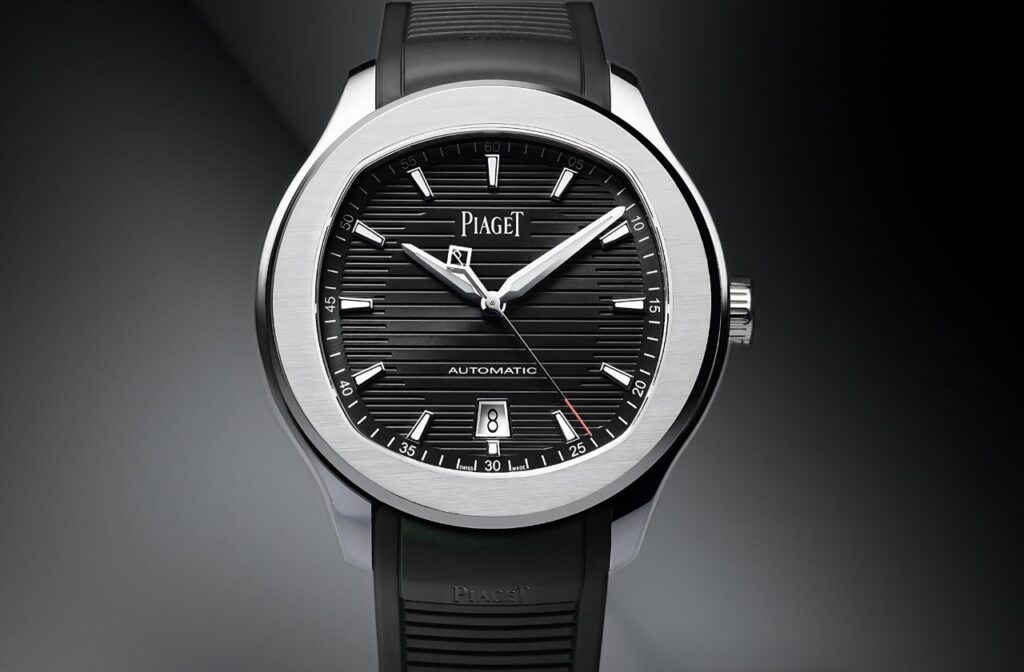 Since its establishment in 1874, Swiss luxury watchmaker and jeweler Piaget has been celebrated for its exceptional craftsmanship and innovative designs. Piaget has made a significant mark in watchmaking history with ultra-thin movements, showcased in its iconic Altiplano collection. Additionally, Piaget's creative jewelry pieces and timepieces, such as the glamorous Limelight Gala collection.
In Focus: Piaget Altiplano 34mm Rose Gold Silver Dial Ref. G0A39105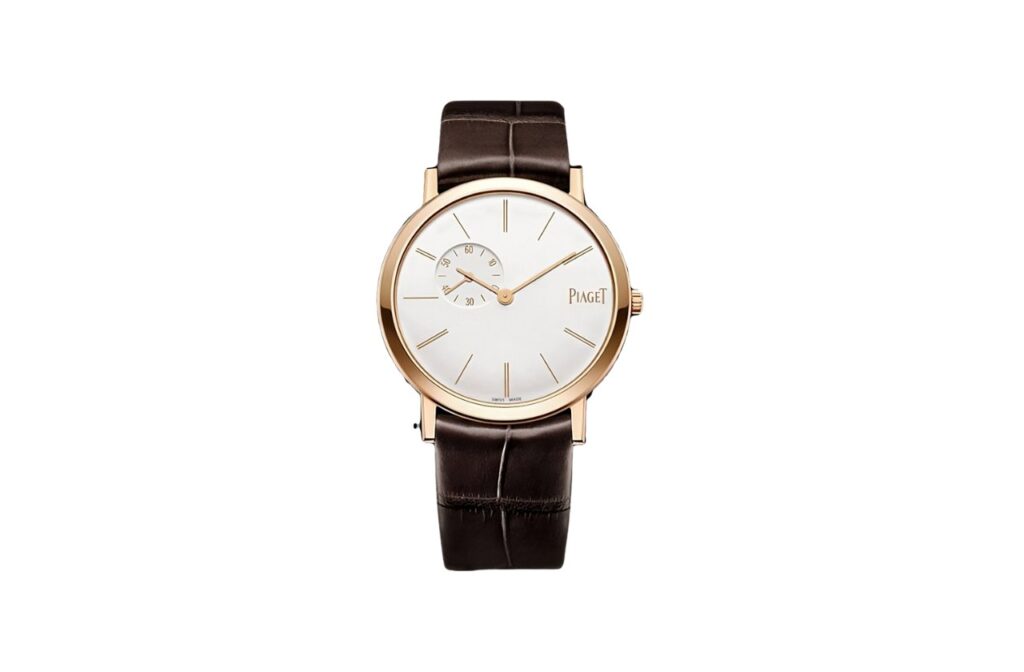 The Piaget Altiplano Origin watch Ref. G0A39105 is a stunning and elegant timepiece crafted with luxurious materials, perfect for elegant occasions. This sophisticated piece showcases Piaget's expertise in crafting ultra-thin mechanical movement watches. The silver dial features an off-center small seconds display, further enhancing the uniqueness and charm of this timepiece. To complete your sophisticated look, the watch comes with a leather bracelet that feels comfortable and secure on your wrist.
Comparison Table
Whether you're interested in the iconic designs of Audemars Piguet and Rolex, the sophistication of Patek Philippe and Jaeger-LeCoultre, or the innovation of Omega and Richard Mille, the table below offers a comprehensive overview of ten exquisite and beautiful watches.
By comparing the luxury men and women's watches' features and current average prices in the private sales market, you can make informed decisions while appreciating the craftsmanship and beauty of these remarkable timepieces.
Model
Key Features
Price
Audemars Piguet Royal Oak Chronograph
• 41mm stainless steel case
• Oversized chronograph counters
• Water-resistant up to 50m
S$63,830
Patek Philippe Nautilus Chronograph
• Rounded octagonal bezel
• Horizontal embossed dial pattern
Self-winding mechanism
S$163,631
Vacheron Constantin Patrimony Moon Phase Retrograde Date
• 18K white gold case
• Retrograde date display
• Precise moon phase indicator
S$17,464
Omega Speedmaster Moonwatch Professional
• Hesalite crystal
• Small seconds sub-dial
• 30-minute and 12-hour recorders
S$6,437
Rolex Cosmograph Daytona
• Cerachrom bezel
• Engraved tachymetric scale
• High-performance chronograph capabilities
S$39,959
Cartier Tank Française
• Quartz movement
• Stainless steel case
• Blue-steel hands
S$2,631
Richard Mille
• Automatic winding movement
• Silver-toned hands
• Diamond-adorned green dial
S$193,303
Grand Seiko Mechanical Ladies
• Zaratsu-polished surface
• Aligned diamonds
• Manual-winding caliber
S$22,311
Jaeger-LeCoultre Rendez-Vous Night & Day Medium 34mm
• Day/night indicator
• Diamond-adorned bezel
• Leather strap
S$16,767
Piaget Altiplano
• 18K rose gold case
• Ultra-thin mechanical movement
• Off-center seconds
S$10,200 – S$23,618
Final Word
The vibrant luxury watch industry in Singapore offers a captivating array of options for watch collectors seeking the finest timepieces. Among the most popular brands include Rolex, Patek Philippe, and Audemars Piguet, representing the pinnacle of horological craftsmanship and luxury.
Key Takeaways
Singapore offers a wide variety of watch brands to cater to different styles, needs, and budgets. Based on the selections above, prices may range between S$2,631 and S$163,631.
Do thorough research on the features, price points, and craftsmanship of the watch brands available in Singapore. For instance, if you want a watch that marries elegance with sportiness, then you will love the Patek Philippe Nautilus Chronograph 44mm.
Always aim to purchase your watches from reputable gray market dealers and authorized luxury watch dealers in Singapore, be it online or in brick-and-mortar stores. This helps to guarantee the authenticity and quality of the timepiece you choose, giving you peace of mind with your purchase.
Looking to buy or sell your luxury watches? Watch Exchange is your one-stop destination for trading Rolex, Patek Philippe, Tissot, Sinn, Zenith, and other luxury timepieces. Find your next watch today or list your item for free!
---