High-end watchmaking is a delicate process that requires skill and patience. Several watchmaking brands have mastered this art and perfected it over the years, including members of the Holy Trinity- Audemars Piguet, Vacheron Constantin, and Patek Philippe- and heavyweights in the watch industry like Richard Mille.
Innovation and craftsmanship are crucial in the high-end watchmaking industry. They ensure that aesthetically pleasing and unique timepieces grace the watch market. Richard Mille has set itself apart from the rest by taking these virtues to a new level.
The successful Swiss watchmaking brand has been in business for over two decades. It has captured the attention of watch enthusiasts with its high-end timepieces crafted from unique materials like silicon nitride. Its watches are expensive for a good reason, as we shall see in this comprehensive Richard Mille watch review.
1. RM 50-03 Tourbillon Split-Seconds Chronograph Ultralight McLaren F1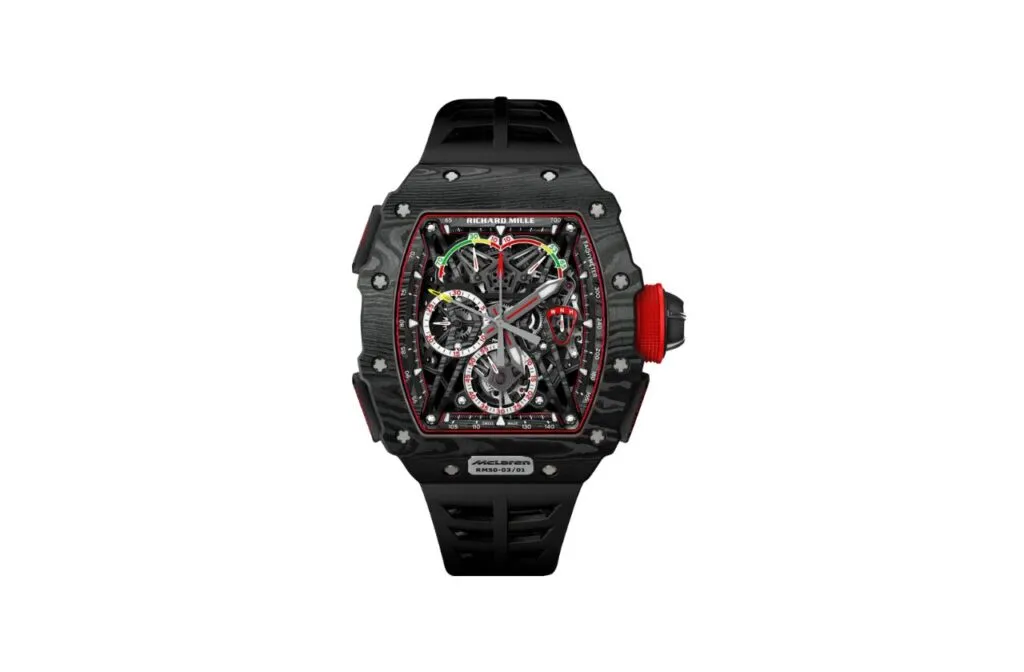 Features and Design
This first watch on our list is impressively light (40 grams) despite its bulky-looking nature, thanks to its ultra-lightweight construction and racing-inspired aesthetic.
Its three-part tonneau case is created from Carbon TPT and Titanium enhanced by graphene (Graph TPT) injections. This exclusive combination is also responsible for the watch's striated look.
It also boasts a carbon bezel and case back, a torque indicator between 12 o'clock and 2 o'clock, a function indicator at 3 o'clock, chronograph pushers resembling a McLaren Formula 1 race car's air intakes, a Caliber RM 50-03 movement, and a graphene-injected rubber strap.
Materials Used in the Watch's Construction
Manufacturers use Carbon TPT, Titanium, and Graph TPT to create the watch, its seven-gram movement, and its skeletonized movements. They make the Carbon TPT from parallel filaments and then infuse it with a resin containing graphene.
The mixture is heated at over a hundred degrees, after which experts conduct the necessary tests before giving it the thumbs up.
The Watch's Partnership With McLaren
The technological marvel is a result of a partnership between two men, British Formula 1 automaker McLaren-Honda and Swiss watchmaker Richard Mille. The partnership comes as no surprise, considering Richard Mille is a Formula 1 fanatic, and the watch is associated with high-performance racing.
Movement and Function
The movement offers a 70-hour power reserve, has 43 jewels, and beats at 21,600vph. It also features a new-improved split-seconds chronograph function that optimizes the mechanism's stability and streamlines its movement.
Price and Availability
This limited edition timepiece sells for a well-deserved S$1,324,176. And only 75 pieces are available. It's appealing to racing enthusiasts and watch collectors for its unique design and superior chronograph and movement that ensure precise timekeeping.
2. RM 56-02 Sapphire Tourbillon
Features and Design
This model is a beautiful chronograph tourbillon with a sapphire case. It's heavily inspired by the RM 27-01 Rafael Nadal watch belonging to tennis star Rafael Nadal.
It has a three-part solid transparent sapphire case, a grade 5 titanium baseplate suspended by a structure of four pulleys on the case, and an extra six on the plate, all held firmly in place by a single-braided cable and a translucent silky strap.
It also has an intricate movement with the winding barrel bridge, center bridges, and tourbillon in sapphire, allowing the user to view the works of the skeletonized engine in exquisite detail.
Materials Used in the Watch's Construction
Various materials are used, such as the aforementioned sapphire and grade 5 titanium, as well as silver and white gold.
Creating a single RM 56-02 is an involving process, considering it takes over a month to make the case alone!
The Watch's Tourbillon Function
It's interesting to watch the tourbillon at work. This mechanism prevents gravity from affecting the piece's timekeeping precision.
It enhances accuracy by countering the drag impact gravity has on several tiny parts in the watch's escapement when you hold it in particular positions. It achieves that by placing the components in a rotating cage and turning the cage slowly. This complex yet beneficial function is what keeps gravity's effects away.
Price and Availability
The watch currently sells for S$2,729,424. It's available in a limited ten pieces, most of which have been snatched off the market by enthusiastic connoisseurs. It's attractive to watch collectors and enthusiasts due to its breathtaking case, advanced movement, and mouth-watering design.
3. RM 11-03 Automatic Flyback Chronograph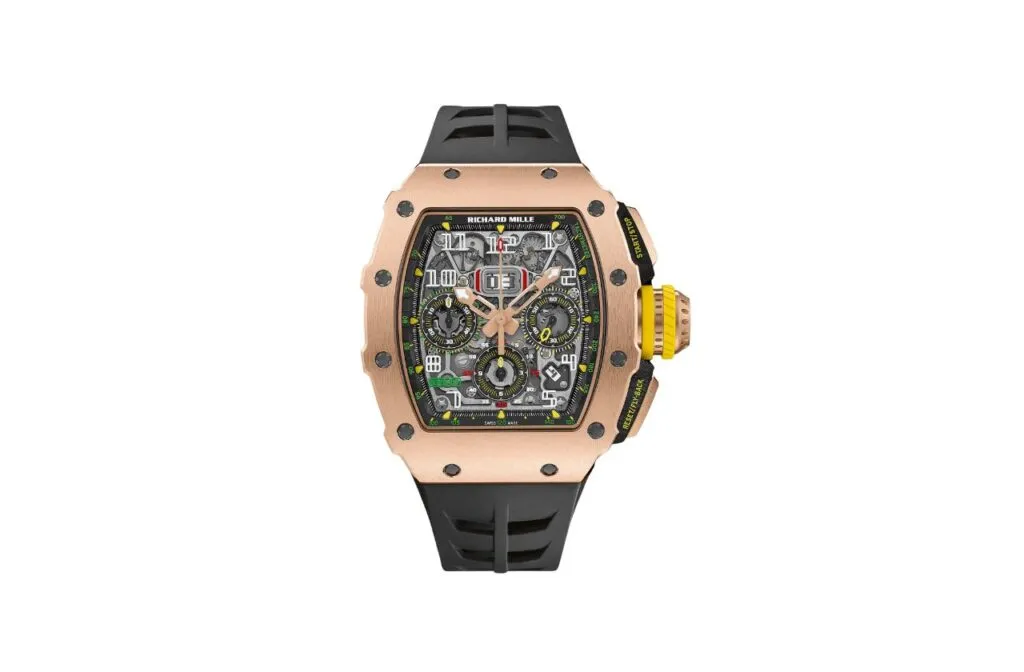 Features and Design
The RM 11-03 automatic flyback chronograph is a perfect example of how far Richard Mille stretches in terms of innovation. It has an attractive design amplified by bold color combinations (Rose Gold and black, for example) and a high-performance movement.
This piece's tripartite tonneau case boasts a sportier and more ergonomic silhouette. Additionally, it has attention-grabbing features such as a Caliber RMAC 3 movement, an outsized date window, a 12-hour chronograph counter, a flyback chronograph, and a skeletonized dial with Arabic numerals.
Materials Used in the Watch's Construction
Richard Miller used several materials to create the watch. They are Rose Gold, ceramic, Grade 5 Titanium, 18K White Gold, and NTPT carbon. NTPT carbon is strong, durable, and amazingly lightweight. Each material undergoes intense testing before passing for use on the watches.
The Watch's Chronograph Functions
The advanced self-winding Caliber RMAC movement contains the flyback chronograph. A typical chronograph is used to measure elapsed time. And you can control it through two pushers at 2 o'clock and 4 o'clock on either side of the crown.
Typically, you start and stop the function through the top pusher. On the other hand, you can reset the chronograph to zero using the bottom pusher. A flyback chronograph, like the one in the RM 11-03 Chronograph, is more advanced.
It enables you to time several events in a sequence. And here's the best part: You don't have to stop, reset, and restart the chronograph when you want to time a second event. You can achieve all that with just a single press of a button!
This is a beneficial feature for users looking to keep track of time with precision since they can do so with minimal effort.
Price and Availability
The watch currently goes for approximately S$720,890. Moreover, it's available in at least 500 pieces since, like all the other RM options on our list, the creation process is pretty involving.
However, the eye-watering price and limited availability haven't made it less desirable to collectors and watch enthusiasts. Its flyback chronograph function, durable and expensive unique materials and sturdy build are some reasons it's gaining positive attention.
4. RM 037 NTPT Automatic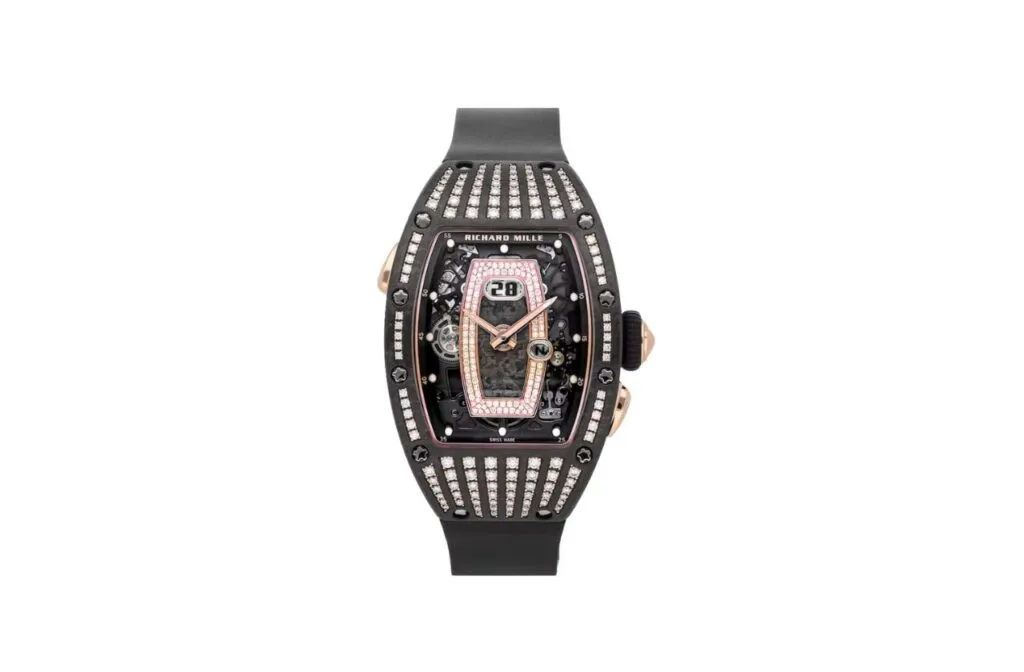 Features and Design
This next special offering from Richard Mille combines sophistication with functionality yet again. It's a women's watch with the trademark NTPT Carbon case, beautified further with gems.
NTPT carbon comprises several layers of parallel filaments obtained by splitting carbon fibers. The layers are then filled with resin and woven on a machine that modifies the weft's direction by 45 degrees between layers. Special machines armed with diamond tools handle the gem-setting procedure.
The watch's features include an oversize date display at 12 o'clock, an automatic CRMA1 movement, and a function selector on the pusher at 4 o'clock.
The Watch's Automatic Movement and Bold Design
The watch's self-winding CRMA1 movement is crafted from skeletonized Grade 5 titanium. It has the oversize date display at 12 o'clock and a function window at 4 o'clock. There's also a function selector on the pusher at 4 o'clock. The pusher operates the selector, enabling the wearer to choose 'winding,' 'hand-setting,' or 'neutral mode.'
The piece's bold gem-and-NTPT Carbon-design gives it an elegant and feminine appearance that's sure to please the modern woman with a taste for the best.
Price and Availability
The beautiful timepiece goes for at least S$202,680. Additionally, it's available in any Richard Mille store in the world.
5. RM 052 Tourbillon Asian Fitted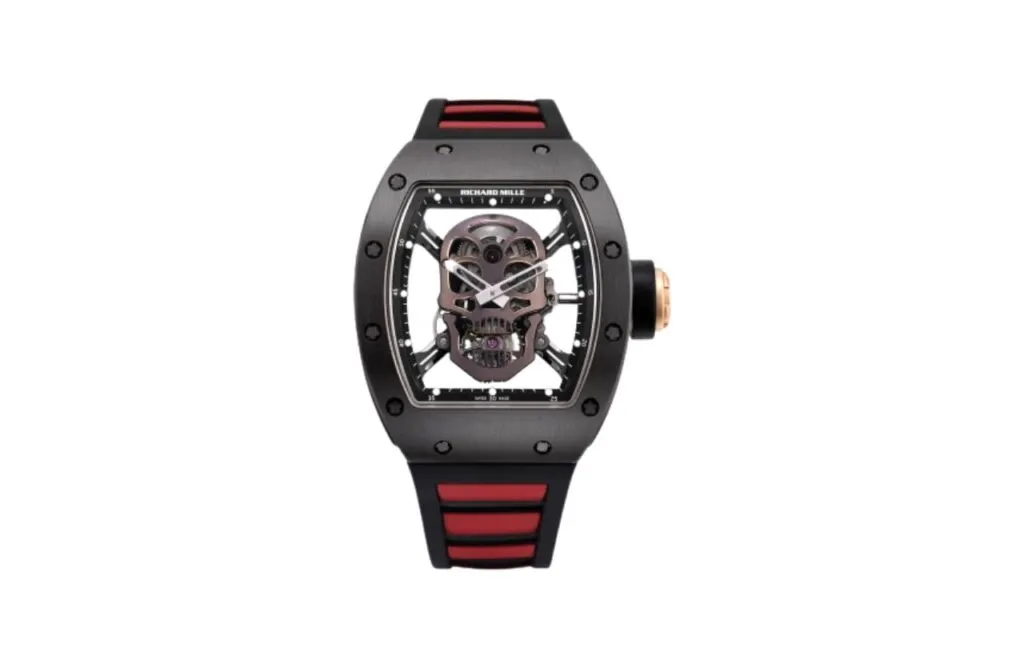 Features and Design
The RM 052 is a high-end watch that represents liberty and free will. It has a smooth tripartite tonneau titanium case, sapphire crystal with anti-glare coating, and a black rubber strap that's easy on the wrist and wear-resistant. The timer uses unique materials like red gold, Grade 5 titanium, and titanium.
The watch's main feature is the unique skull that's the heart of the watch. The Richard Mille brand skillfully incorporated it into the watch's movement. The skull is made from Grade 5 titanium. Its front part includes the watch's skeletonized bridge and baseplate, its back creates the movement's center bridge, and its 'jaws' hold the ruby of the tourbillon cage.
Other features include skeletonized hour and minute hands, a torque-limiting crown, a manual-winding tourbillon movement, and water resistance to 50m, made possible by two O-ring seals.
The Watch's Movement
The timepiece boasts a manually-wound Caliber RM052 tourbillon. It features 19 jewels, Kif Elastor KE shock protection, a Glucydur balance wheel with four setting screws, Elinvar by Nivarox balance spring, a 48-hour power reserve, and a 21,600vph. Its design and function are inspired by traditional Asian craftsmanship.
Tourbillon Function
It's the watch's brain and keeps the timepiece from being affected by gravitational pull. It accommodates a rotating cage with escapements, and the cage moves constantly. This movement ensures everything is in order in terms of accurate timekeeping.
Aside from serving a functional purpose, it's also alluring to collectors and watch enthusiasts with its unique skull design.
Price and Availability
The piece sells for a pricey S$675,600. As for availability, Richard Mille presented it in a limited edition of 21 pieces- 6 unique set pieces in white or red gold and 15 in titanium. Its overall design and function keep collectors and watch enthusiasts interested.
Final Word
Richard Mille is a watch brand that's ahead of its time. Its hardwork and commitment to the best are evident in its breathtaking collection of quality, ultra high-end timepieces.
Key Takeaways
Richard Mille is a unique high-end brand that practices fine watchmaking. It crafts its watches from lightweight materials like silicon nitride.
Richard Mille watches have a unique feature and design that sets them above other timepieces.
The watches hold value and are likely to do even better in the market, considering their current impressive price tags.
Looking to buy or sell your luxury watches? Watch Exchange is your one-stop destination for trading Rolex, Patek Philippe, Tissot, Sinn, Zenith, and other luxury timepieces. Find your next watch today or list your item for free!
---