Drawing inspiration from the iconic Daytona International Speedway, this paragon of craftsmanship isn't merely a watch; it's a testament to Rolex's relentless pursuit of perfection. Each meticulous detail, from its ceramic bezel to its unparalleled movement, speaks to decades of watchmaking artistry.
Yet, beyond its technical brilliance lies a narrative of heritage and prestige. The Daytona's history is interwoven with the racing history, reflecting a symbiotic relationship between speed and time. 
In our Rolex 116500LN review, as we delve deeper into this exquisite timepiece, one comes to appreciate not only its engineering marvel but also the passion and narrative it encapsulates. 
The Case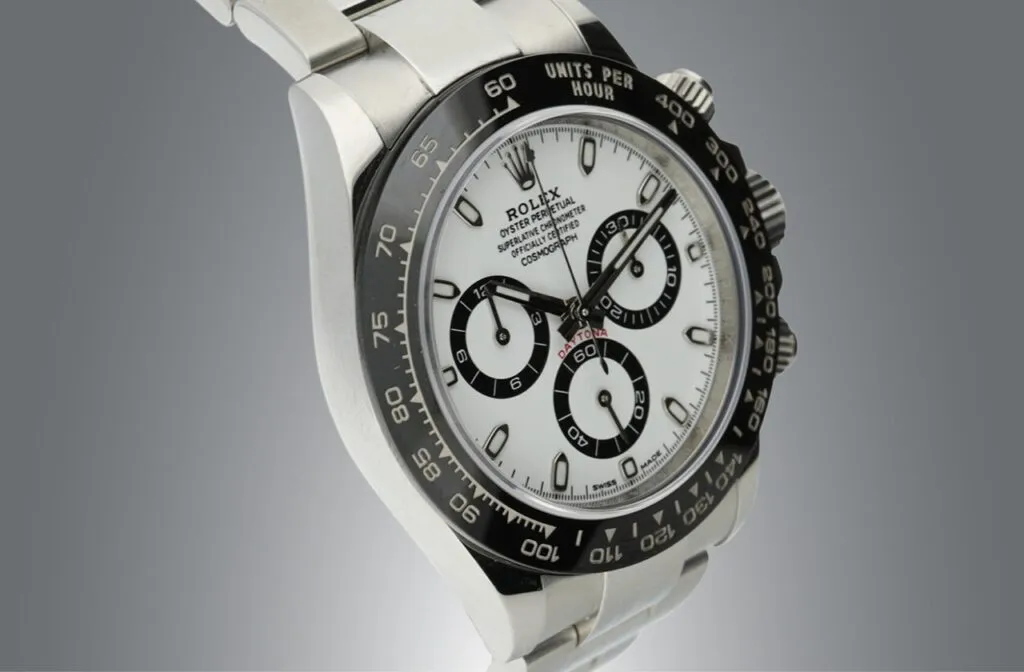 The Rolex Daytona's Oyster case, precisely crafted at 40 mm in Oystersteel, is a symphony of robust elegance. This monobloc construction boasts a screw-down case back and winding crown, ensuring its resilience against external pressures. With a bezel forged from black monobloc Cerachrom ceramic, it effortlessly melds aesthetics with functionality, complete with a moulded tachymetric scale.
Its Triplock screw down crown triple waterproofness system stands as a testament to Rolex's dedication to durability, guaranteeing waterproofness up to a commendable 100 meters or 330 feet. Coupled with a scratch-resistant sapphire crystal and an oysterlock safety clasp, the Daytona doesn't merely tell time; it shields its intricate workings with an armor of unmatched brilliance.
In sum, the case of the Rolex Daytona ref. 116500LN showcases Rolex's commitment to precision, merging classic design with advanced material technology. This timepiece is more than a watch; it's an embodiment of horological excellence.
The Dial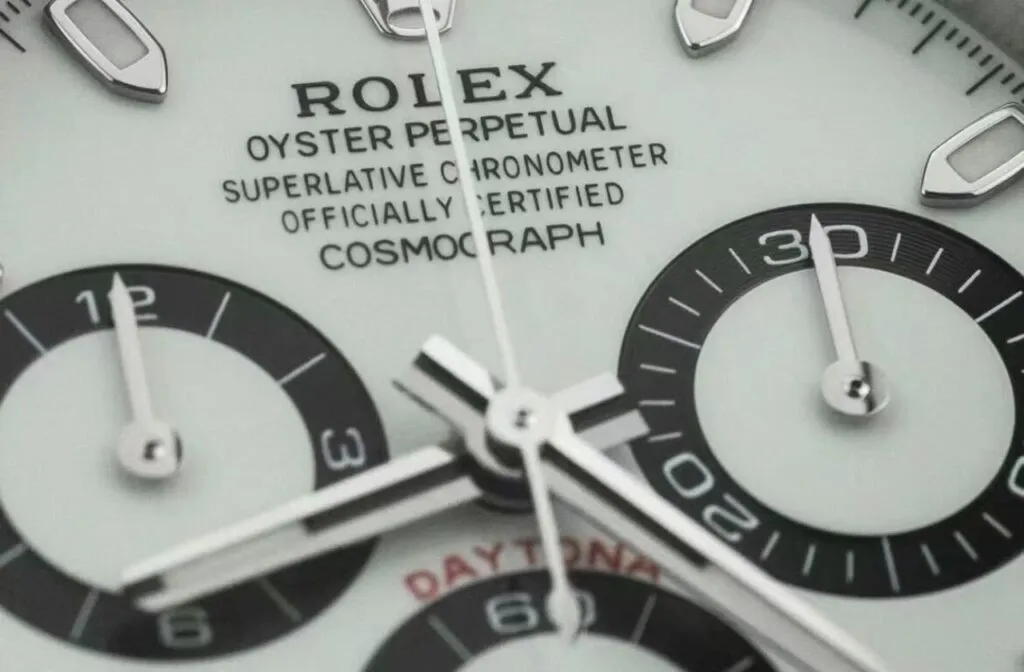 At first glance, the Rolex Daytona 116500LN's dial captivates with its pristine white panda dial backdrop juxtaposed against snailed countersa striking black Cerachrom bezel. But it's the meticulous details – the 18 ct gold applique hour markers and hands, illuminated by the luminous glow of the Chromalight display – that truly elevate its aesthetic.
Functionality is seamlessly intertwined with elegance. The central sweep seconds hand, offering precision to 1/8 of a second, is a testament to Rolex's commitment to accuracy. Complemented by two distinct counters, drivers have an indispensable tool, ensuring that every second counts and every tactic is meticulously mapped.
In the realm of watchmaking, this dial doesn't just tell time; it narrates a tale of precision, luxury, and unmatched performance, marking the Rolex Daytona 116500LN as a paragon in its class.
The Strap/Bracelet
Rolex's bracelet is the epitome of horological innovation, harmonizing advanced technology with artisanal oversight. Each clasp and link undergoes rigorous testing, ensuring resilience without compromising elegance. The meticulous scrutiny by discerning eyes further attests to its impeccable aesthetic.
The iconic Oyster bracelet stands out, not merely for its durability but for its storied past. Birthed in the 1930s, its unique flat three-piece link design offers both comfort and enduring style, making it a timeless piece in the Rolex Oyster collection.
The Movement
The Rolex Caliber 4130 isn't just another in-house chronograph movement; it's an exemplar of modern horological innovation with mechanical self-winding movements. This automatic winding chronograph Incorporates the brand's own Parachrom anti-magnetic balance spring, not only solidified the Daytona's reputation but set new standards for watchmaking.
The integration of a column wheel in the new Daytona with a vertical clutch is a testament to Rolex's commitment to excellence, ensuring seamless chronograph function engagement. Notably, its power reserve leaped to a commendable 72 hours, a significant enhancement from the 54 hours of its predecessor, the 4030. Furthermore, its free-sprung adjustable mass balance with Microstella timing weights speaks to the brand's dedication to finesse and accuracy.
Yet, beyond these advancements, what truly distinguishes the 4130 is its user-centric design. With only 12 types of screws, as opposed to the 4030's 40, the movement Rolex showcased an unmatched flair for simplifying intricate mechanics in the automatic chronographs. This design ethos not only streamlines the production process but immensely aids serviceability, making the 4130 a robust blend of elegance and functionality.
Rolex Daytona 116500 Variations
1. Rolex Cosmograph Daytona "Panda" – Stainless Steel Case & White Dial Ref. 116500LN-0001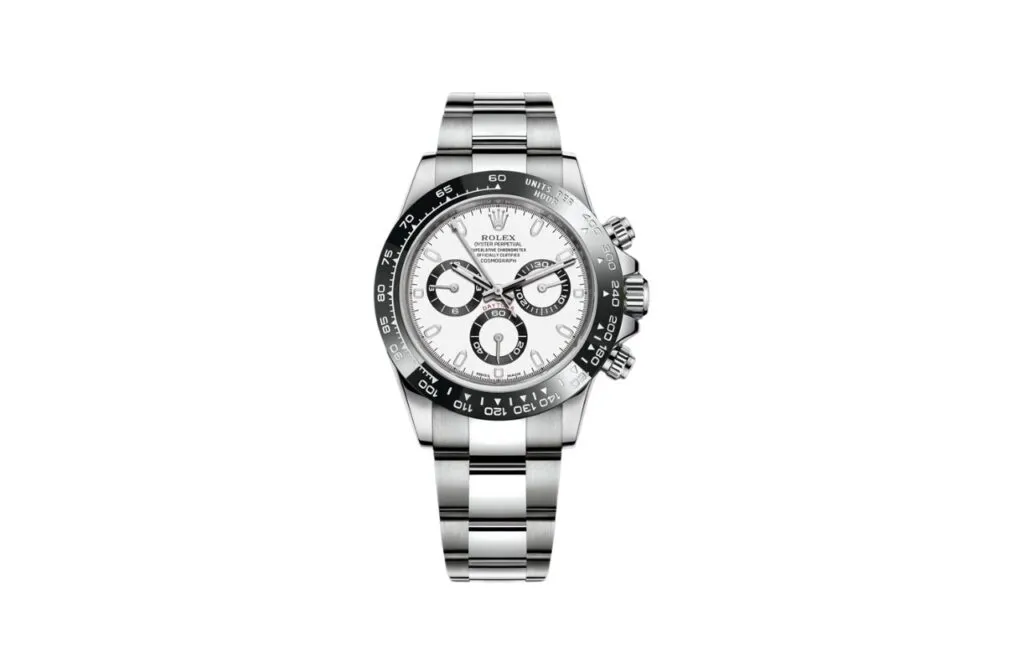 About
Encased in a 40mm stainless steel frame with a contrasting black ceramic bezel, this iconic "Panda" design is so-named for its striking resemblance to the beloved animal, featuring a pristine white dial set against the dark bezel. Free of numerals and protected by a sapphire crystal cover, the design not only enhances readability but also delivers a discreet yet compelling statement. Its robust construction ensures remarkable durability and water resistance up to 10 ATM.
Features
The watch's monobloc Cerachrom bezel not only features a tachymetric scale for measuring speeds up to 400 mph or km/h but also offers unparalleled durability, being corrosion-resistant, virtually scratchproof, and immune to color fading from UV rays. This high-tech ceramic bezel pays homage to the 1965 model, effortlessly merging modern innovation with vintage allure.
Specifications
Production Year: 2016-2023
Case Size: 40mm
Materials:

Dial – Matte white
Bracelet – Stainless steel
Bezel – Ceramic black tachymeter scale

Function: Hours, Minutes, Small Seconds, Chronograph, Column Wheel, Chronometer
Mechanism: Self-winding mechanical chronograph ; Rolex caliber 4130
2. Rolex Cosmograph Daytona "Godzilla"- Stainless Steel Case & Black Dial Ref. 116500LN-0002
About
Dubbed the "Godzilla," this Rolex Cosmograph Daytona captures the awe and might of the iconic monster through its fearsome black dial and commanding stainless steel body. The 40mm casing houses Rolex's Calibre 4130 movement, which offers an impressive 72-hour power reserve. The dial, reminiscent of Godzilla's dark, impenetrable scales, is highlighted by 18kt gold markers and amplified by a Chromalight display for unparalleled legibility.
Features
A key standout feature is its engraved tachymetric scale on the bezel, designed for high-precision speed calculations up to 400 miles or kilometers per hour, a modern nod to the iconic 1965 model's black Plexiglas bezel. With water resistance up to 100 meters, this Daytona model artfully fuses cutting-edge technology with vintage-inspired aesthetics.
Specifications
Production Year: 2016-2023
Case Size: 40mm
Materials:

Dial – Black
Bracelet – Stainless steel
Bezel – Ceramic black tachymeter scale

Function: Hours, Minutes, Small Seconds, Chronograph, Column Wheel, Chronometer
Mechanism: Self-winding mechanical chronograph ; Rolex caliber 4130
The Competitive Landscape
In the realm of luxury timepieces in the watch industry, the name Rolex specifically the new Cosmograph Daytona faces fierce competition. Five notable competing models include the Omega Speedmaster Professional, TAG Heuer Carrera, Breitling Navitimer, IWC Portugieser Chronograph, and the Patek Philippe Nautilus Chronograph, each vying for dominance with their distinct designs and horological innovations.
Omega Speedmaster Professional: Often referred to as the "Moonwatch", this iconic timepiece is recognized for its history with NASA and the Apollo missions. It features a hand-wound chronograph movement.
TAG Heuer Carrera: An emblem of motorsport heritage, the Carrera is known for its sleek design combined with reliable automatic chronograph mechanisms, echoing its racing roots.
Breitling Navitimer: A pilot's favorite, the Navitimer stands out with its unique slide rule bezel, aiding aviators with flight calculations. It's a fusion of style and functionality.
IWC Portugieser Chronograph: With its clean, balanced dial and precision mechanics, the Portugieser melds Swiss craftsmanship with a touch of maritime flair, making it an elegant choice for enthusiasts.
Patek Philippe Nautilus Chronograph: Representing the pinnacle of luxury sports watches, the Nautilus Chronograph combines an unmistakable design with Patek's unrivaled watchmaking expertise, making it a coveted piece for collectors.
| | |
| --- | --- |
| Brand | Known For |
| Omega Speedmaster Professional | "Moonwatch" with a history tied to NASA's Apollo missions; hand-wound chronograph |
| TAG Heuer Carrera | Sleek design with automatic chronograph; embodiment of motorsport heritage |
| Breitling Navitimer | Pilot's watch with a slide rule bezel for flight calculations  |
| IWC Portugieser Chronograph | Balanced dial and precision with a maritime touch |
| Patek Philippe Nautilus Chronograph | Luxury sport watch with unique design; pinnacle of watchmaking expertise |
Why You Should Invest?
The Rolex 116500LN-0001 Cosmograph Daytona is not merely the first watch of its kind, but a sound investment, showcased by an impressive 2,549 units sold over the past 12 months alone. Among many watches in the luxury segment, its enduring demand speaks volumes about its prominence.
Available in the grey market, it stands out not only from other Rolex models but also from vintage Daytonas that have captivated collectors for years. Its market range, between S$39,774 and S$44,314, reflects both its prestigious value and the potential for significant returns.
While many watches, especially the new Rolex Cosmograph Daytona models, are frequently on waiting list that can extend for years, investors have a clear understanding of the potential resale price they can anticipate with the 116500LN-0001.
Thanks to its automatic winding mechanism, the Cosmograph Daytona displays a volatility of just 5.4%. This relatively low percentage demonstrates its stable value, making it a less risky proposition for those looking to invest in timeless assets compared to other options.
Pricing & Availability
The Rolex Cosmograph Daytona 116500LN with a white dial, model number 116500LN-0001, is a sought-after timepiece that often finds itself in high demand. As of February 2023, authorized dealers have listed this particular model at a retail price of S$20,650. Yet, its allure is such that the market has responded differently.
In the pre-owned market, this Rolex Daytona's price has nearly doubled, currently estimated at a significant S$41,494. This surge in market price not only attests to the watch's prestige but also highlights its limited availability and increased desirability among collectors and enthusiasts.
For those keen on acquiring this masterpiece, it's essential to be mindful of these price dynamics and the potential waiting times at authorized dealers, given its soaring popularity.
Final Word
The Rolex Cosmograph Daytona 116500LN isn't just a testament to Rolex's impeccable craftsmanship; it's a piece that symbolizes history, prestige, and a passion for perfection. Its rise in both demand and market price signifies not only its inherent value but also its ability to transcend time, appealing to both old and new generations of watch enthusiasts.
Key Takeaways
The Rolex Daytona 116500LN is a fusion of meticulous craftsmanship and rich heritage.
Its market price, almost double the retail, reflects its desirability and limited availability.
Beyond aesthetics, it represents a sound investment with a stable value and enduring demand.
Looking to buy or sell your luxury watches? Watch Exchange is your one-stop destination for trading Rolex, Patek Philippe, Tissot, Sinn, Zenith, and other luxury timepieces. Find your next watch today or list your item for free!
---