In celebration of the Explorer II's 50th anniversary, Rolex unveiled the 226570 in 2021, quickly gaining attention in the world of luxury watches. This updated model stands out for its refined design and advanced features.
In particular, Rolex 226570 comes in two variations: the polar and black color variations. With these options, the Rolex brand caters to diverse preferences among its clientele. 
So, what specifically makes Rolex Explorer II Ref. 226570 great? We'll discuss its merits in detail below.
The Case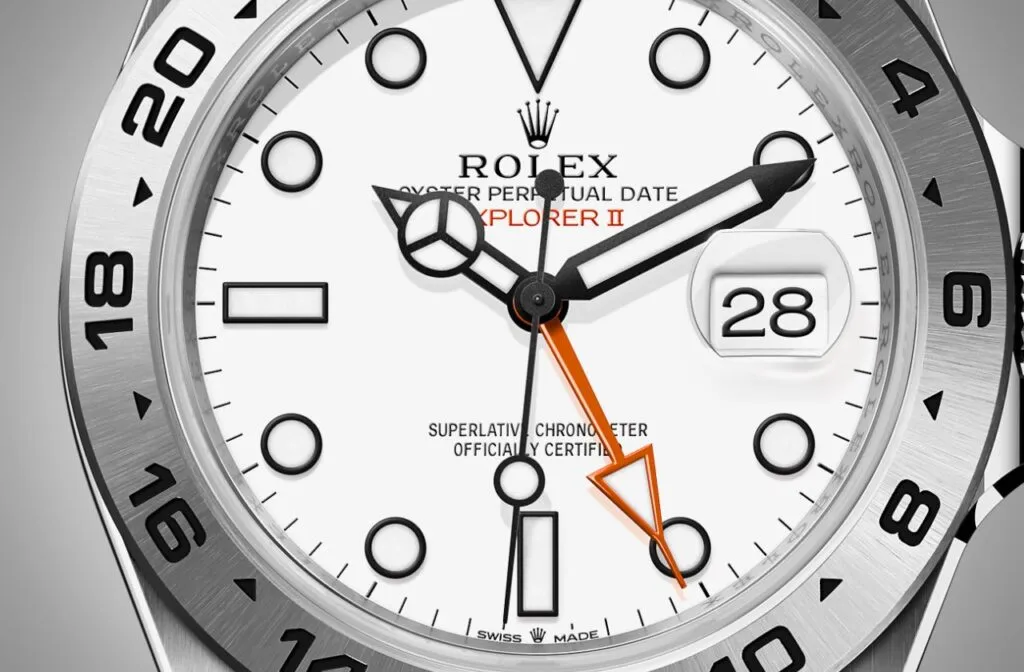 The Rolex Explorer II 226570 features a 42mm case with a 12.5mm thickness made of Oystersteel, which is different from the brand's typical ceramic bezel on some models. 
This Oystersteel material is known for its durability and resistance to corrosion. What further contributes to the watch's quality is its water-resistant feature, made possible by the monobloc middle case, screw-down case back, and a durable winding crown.
Regarding aesthetics, the predominantly brushed steel finish gives the watch a robust and versatile appearance, making it suitable for casual and formal occasions.
At first glance, one of the prominent features you'd notice from the Explorer II 226570 is its sapphire crystal dial cover. While Rolex has historically been conservative in using anti-reflective coating on its watches, recent models like this have improved.
The Dial
The Rolex Explorer II 226570 features an elegant dial available in two distinct color variations: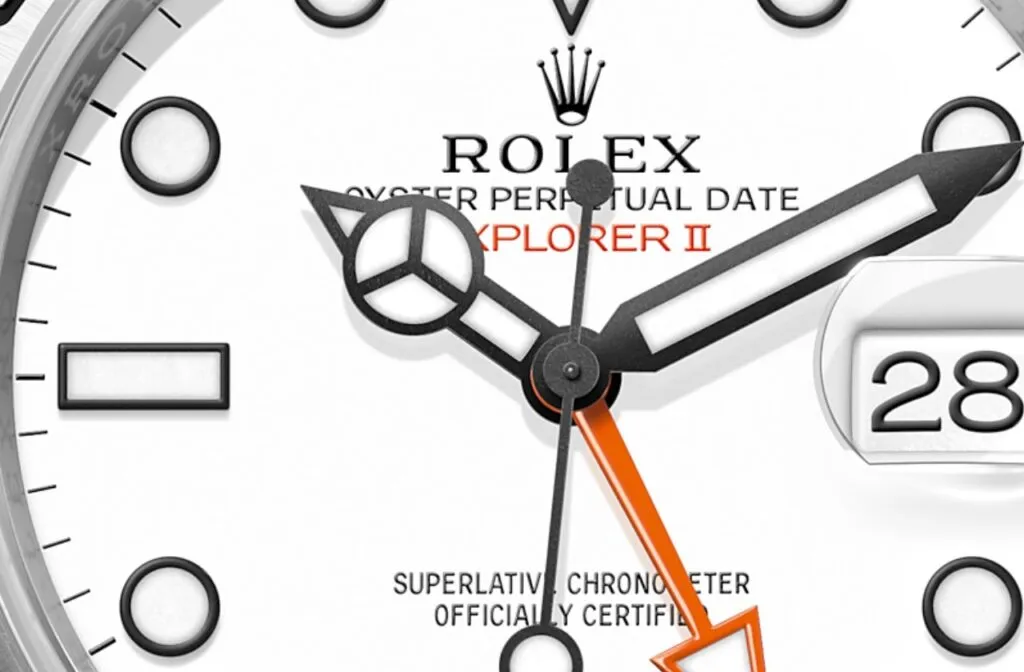 White: The white dial version provides a clean and classic look.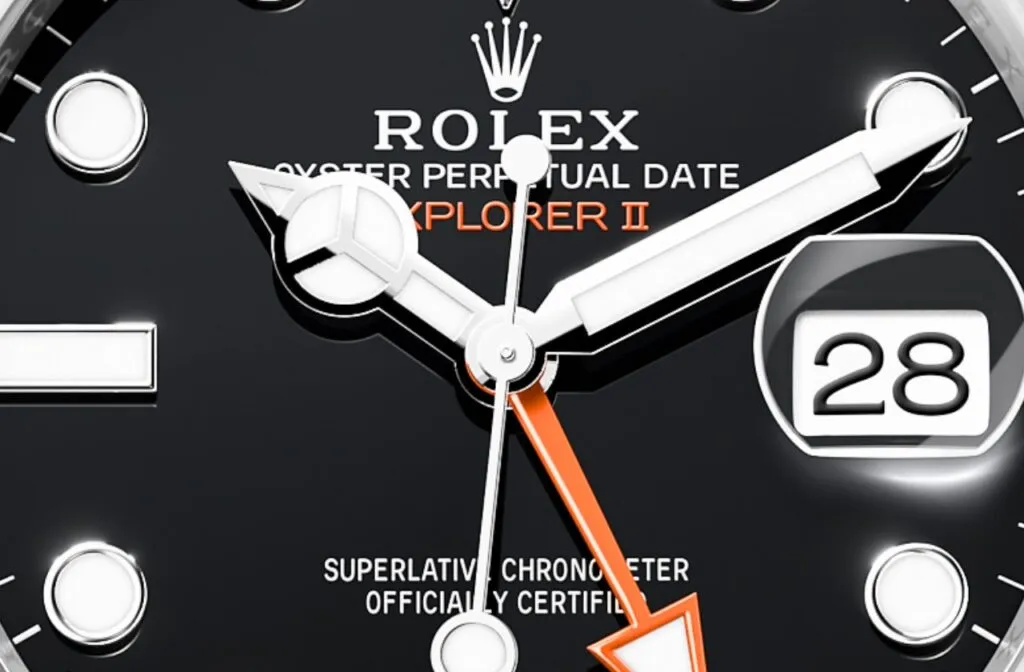 Black: The black dial version offers a bold and striking appearance.
Compared to the previous Rolex 216570 model, the Rolex 226570 introduces changes in the design of the hands. The black dial version now features steel-toned hands, treated with Rolex's proprietary highly legible chromalight display for optimal visibility in low-light conditions without the black coatings found on the previous reference 216570.
Meanwhile, the white dial version retains its solid black central hands for maximum contrast against the white background.
Here are more of the key functions of the Explorer II:
24-hour fixed bezel: Allows for tracking a second-time zone or determining the time of day where darkness reigns supreme. According to Rolex, this essential feature was initially developed for cave explorers, who needed a reliable way to know the time while unable to see the sun.
GMT Hand: Echoes the design of the original 1971 model, allowing wearers to track a second-time zone. 
All in all, the choice between white and black dial versions enables individual preference to shine. At the same time, the thoughtful refinements in hand design and luminescent materials ensure that the Rolex Explorer 226570 remains a trusted timekeeping companion in any situation.
The Strap/Bracelet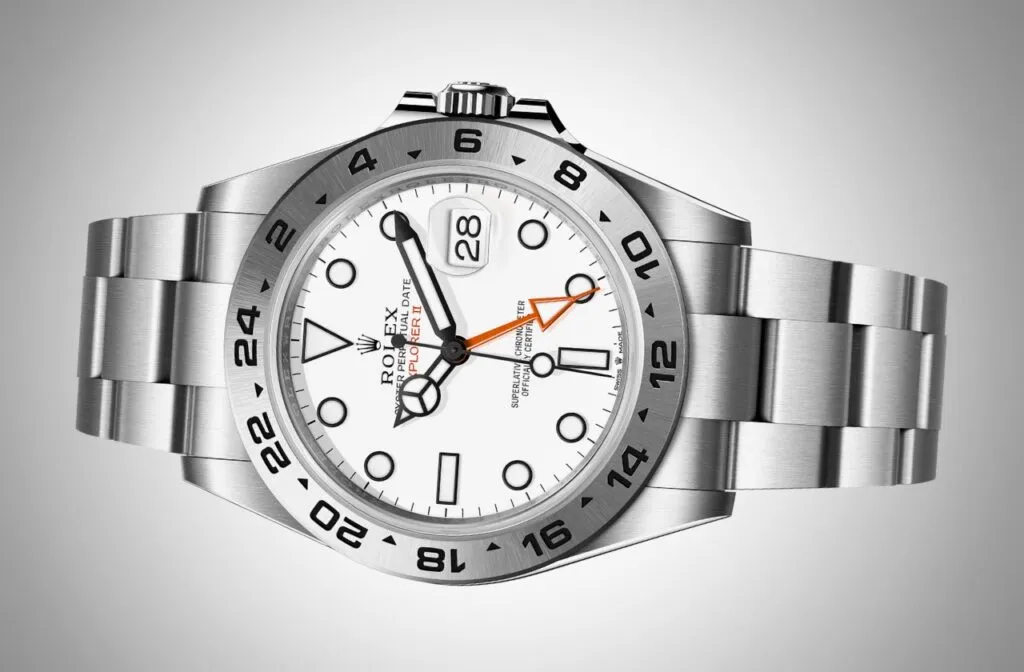 The Rolex Explorer II Ref. 226570 features a brushed Oyster bracelet, which is known for its durability and comfort. Designed for wear in harsh environments, it is an ideal choice for a watch as it's suited for adventurers, explorers, and even watch enthusiasts who are into supremely robust timepieces.
In addition to the standard Oyster bracelet, alternative strap options exist.
If you want your Rolex Explorer II synonymous with versatility, here are some of the popular strap alternatives you can choose from:
Rubber Straps: Brands like RubberB make high-quality rubber straps designed to fit Rolex watches, providing a sporty and casual look.
Leather Straps: A leather strap can provide the Explorer II a vintage or dressier aesthetic. Numerous aftermarket brands offer leather options in various finishes, from smooth to distressed.
NATO Straps: These are popular for their comfort and casual style. According to Forbes, a NATO strap can transform the watch's appearance into something military-ish and is easily interchangeable.
Canvas or Fabric Straps: These can provide a rugged, practical look suitable for outdoor activities.
Perlon Straps: Made of braided nylon, Perlon straps offer a unique look and are breathable, making them perfect for warmer climates.
Stainless Steel Bracelets: While the Explorer II already comes with an Oyster bracelet, aftermarket versions exist, sometimes offering different designs or micro-adjustment capabilities.
When considering an alternative strap, it's essential to ensure it fits the lug width of the Explorer II and, ideally, is designed to accommodate the specific curvature and shape of the Rolex case. This ensures a seamless fit and maintains the watch's distinctive and timeless aesthetics.
The Movement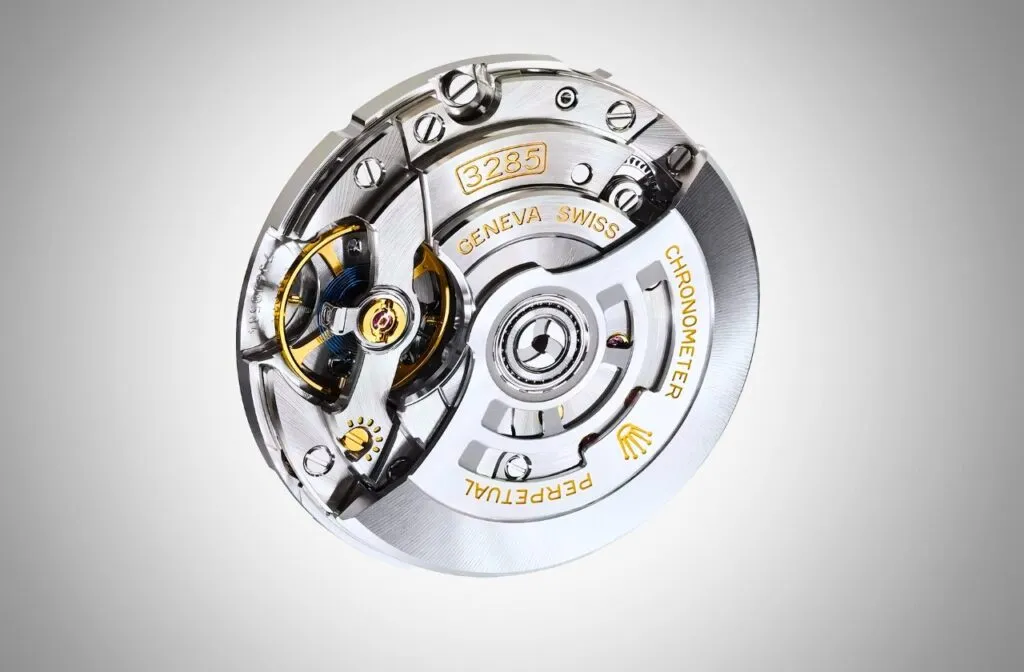 The Rolex Explorer II 226570 features an updated in-house movement, the caliber 3285. This automatic movement boasts a longer power reserve and better performance than the previous Explorer II 216570 model.
The caliber 3285 boasts several technical features that improve the watch's reliability and precision:
Chronergy escapement: This Rolex-patented system offers greater efficiency and improved energy transmission, resulting in better timekeeping accuracy.
Paraflex shock absorbers: These shock absorbers provide increased shock resistance, making the movement more robust in various conditions.
Blue Parachrom hairspring: This paramagnetic hairspring is resistant to temperature variations and magnetic fields, ensuring stability in timekeeping.
The upgraded movement provides an impressive 70-hour power reserve, a significant improvement compared to the 48-hour reserve of the previous model. This function enables users to take off their Explorer II for an extended period without worrying about the watch stopping.
With this new movement, the Rolex Explorer II 226570 sets a new standard for watch enthusiasts who value functionality and style. Instantaneous date display and a hacking seconds feature further enhance this remarkable timepiece's user experience and practicality.
What Is the Difference Between Rolex Explorer II 216570 and 226570?
The Rolex Explorer II 226570 features several enhancements compared to its predecessor, the 216570. Key differences include:
An updated movement, the Calibre 3285, offers improved power reserve, precision, and shock resistance.
There are slight changes to the case and bracelet, such as slimmer and less blocky lugs and the "Easylink" system for easier size adjustments.
A refreshed design for the hands and dial elements, resulting in better legibility and distinction between the hour markers and minute hands.
The Competitive Landscape
In the world of luxury sports watches, the Rolex Explorer II 226570 faces competition from several other models. Below, we will briefly overview three key rivals – the Grand Seiko SBGM245, the Tudor Pelagos 25407N, and the Omega Planet Ocean 600M GMT.
1. Grand Seiko SBGM245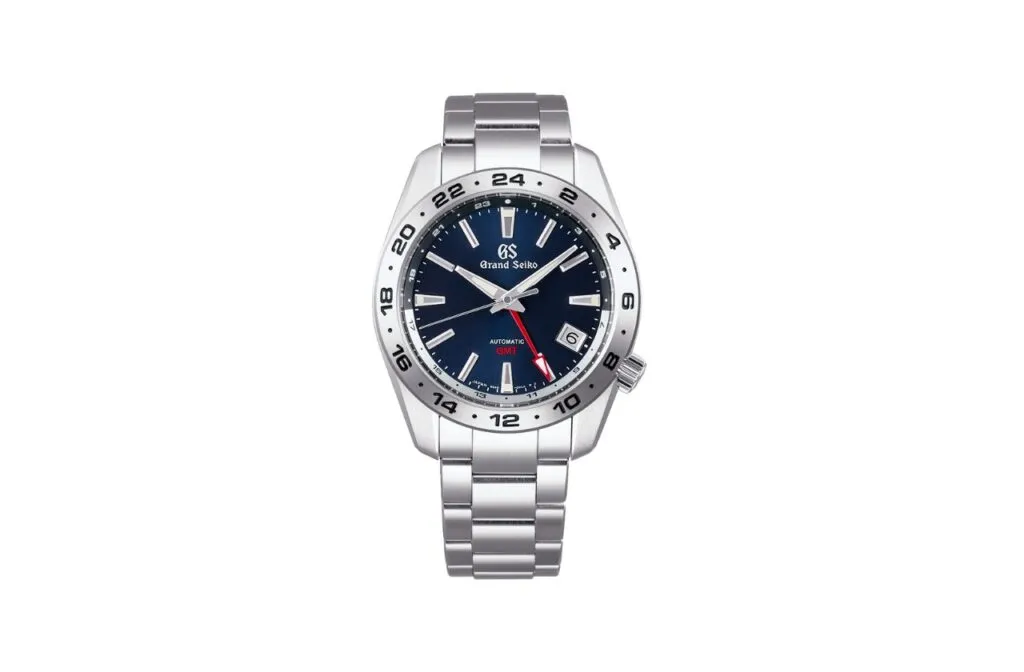 The Grand Seiko SBGM245, adorned with a captivating deep blue dial, is a nod to the brand's Japanese heritage. The silver indices and hands stand out against the blue, enhancing readability. In contrast, the additional red GMT's dedicated hand circles around the watch, providing a pop of color and essential functionality for tracking a second time zone.
Specifications:
Production Year: 2022
Case Size: 40.5mm
Materials:

Dial: Blue
Bracelet: Steel
Case: Steel

Function: Date and GMT
Mechanism: Automatic, Caliber 9S66, 72-hour power reserve
2. Tudor Pelagos 25407N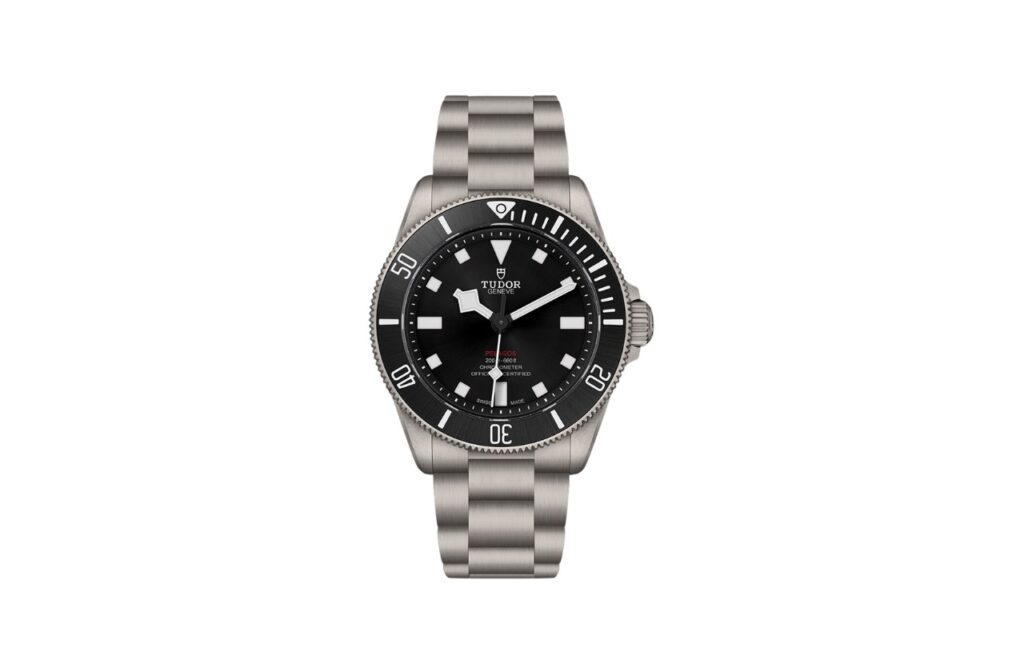 The Tudor Pelagos 25407N is a high-performance dive watch with a titanium case and a black dial. Equipped with a manufactured caliber MT5400 automatic movement, this model showcases a power reserve of approximately 70 hours. 
Specifications:
Production Year: 2023
Case Size: 39mm
Materials:

Dial: Black
Bracelet: Titanium
Case: Titanium

Function: Hours, Minutes, Seconds
Mechanism: Automatic, caliber MT5400, 70-hour power reserve
3. Omega Planet Ocean 600M GMT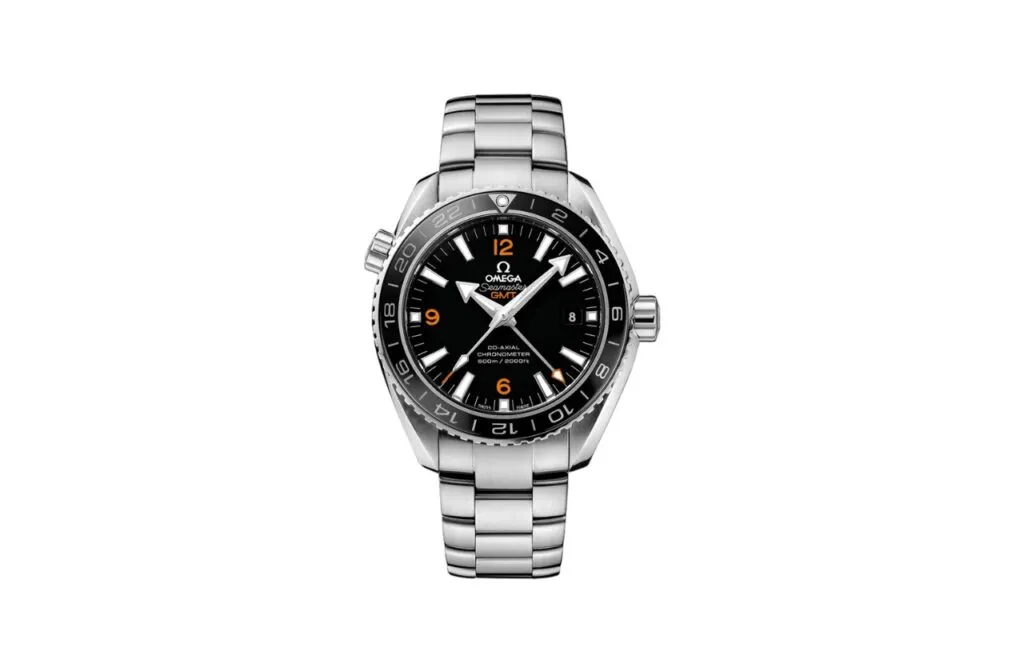 The Omega Planet Ocean 600M GMT is a remarkable creation with a GMT complication, allowing travelers and adventurers to track two time zones simultaneously. The additional GMT hand, often in a different color or design for distinction, completes a 24-hour cycle, indicating the time in a secondary timezone.
Specifications:
Production Year: 2022
Case Size: 43.5mm
Materials:

Dial: Black
Bracelet: Steel
Case: Steel

Function: Date and GMT
Mechanism: Automatic; Caliber 8605; 60-hour power reserve
Why Should You Invest?
The Rolex Explorer II 226570 is a watch with potential for investment due to its combination of technical upgrades, iconic status, and timeless design.
Investing in the Rolex Explorer II 226570 can be considered for several reasons:
Brand Reputation: Rolex is one of the world's most recognizable and respected luxury watch brands. Owning a Rolex, such as the Rolex Explorer II 226570, is often seen as a status symbol and represents a certain level of achievement and taste.
Historical Significance: The Rolex Explorer series has a rich history connected to exploration and adventure, enhancing its allure and collectability, especially for speleologists, volcanologists, and polar explorers.
Limited Production: Like many Rolex models, the Explorer II is produced in limited quantities, which can create demand exceeding supply. This scarcity can contribute to value appreciation over time.
Durable Design: The Rolex Explorer II 226570 is designed with durability in mind, showcasing a stainless steel construction, sapphire crystal, and Rolex's precision in-house movement. It's built to last generations.
GMT Functionality: The 226570 model boasts a GMT function, allowing watch wearers to track two time zones, like the GMT Master II models. This functionality provides utility and can increase the watch's desirability among collectors and travelers.
Value Retention: Rolex watches are known to retain their value exceptionally well and sometimes even appreciate over time. This is due to the brand's reputation, quality of craftsmanship, and the global demand for Rolex timepieces.
Transcendent Style: The Explorer II's design is contemporary and timeless, ensuring that it remains stylish and sought after for years.
Liquid Asset: If needed, a Rolex watch like the Oyster Perpetual Explorer II can often be sold relatively quickly, given its demand in the secondary market.
While the Rolex Explorer II features many qualities that could make it a good investment, it's essential to note that the watch market, like any other, has fluctuations.
Pricing & Availability
The Rolex Explorer II 226570 is a highly sought-after timepiece recognized for its durability and versatile design. Available in both white and black dial variations, this iconic watch can be found on several online platforms.
The Rolex Explorer II 226570 with a white dial is listed at around S$14,946 to S$27,810. In comparison, the same model with a black dial is priced at approximately S$13,829 to S$23,519. Prices may vary based on condition, availability, and market demand.
Meanwhile, according to WatchCharts, the retail price for the Rolex 226570 as of June 2023 is around S$13,450, while its market price is approximately S$15,348.
When considering purchasing the Rolex Explorer II 226570, it is essential to remember that pre-owned options may be more affordable than new, unworn models. 
If you want to have your Rolex watch without being on a waitlist, the grey market has several reputable watch dealers with legit Rolex Explorer watches to offer with their own warranties. Of course, you may also opt for an authorized dealer if you're particular with the manufacturer's warranty.
Final Word
The Rolex Explorer II Ref. 226570 represents a subtle update to its predecessor, offering key improvements that appeal to watch enthusiasts. This watch model retains the iconic design of the original Explorer II but introduces new changes that make it stand out among its peers.
Key Takeaways
The Rolex Explorer II 226570 is equipped with the in-house 3285 caliber, providing robust and reliable timekeeping performance.
Compared to its predecessor, one notable change is removing the floating/mystery hands on the black dial variant, streamlining the overall aesthetic of the timepiece.
The new 226570 offers a more balanced and comfortable feel on the wrist, which is imperative for the long-term enjoyment of the watch.
The Rolex Explorer II Ref. 226570 is available in Polar and Black dial variants, catering to different tastes and preferences among watch lovers.
Looking to buy or sell your luxury watches? Watch Exchange is your one-stop destination for trading Rolex, Patek Philippe, Tissot, Sinn, Zenith, and other luxury timepieces. Find your next watch today or list your item for free!
---