The Rolex GMT Master II 116710BLNR, affectionately known as the "Batman," or "Dark Knight," made a notable entrance into the horology scene in 2013. It was Rolex's inaugural foray into a two-tone ceramic bezel, presenting a striking black and blue combination that instantly garnered attention and earned its moniker.
This model seamlessly blends sporty functionality with business casual elegance, making it an ideal choice among Rolex Sports watches. Its sturdy design coupled with the GMT feature caters to the dynamic lifestyle of the active professional.
Despite its initial positioning, the Rolex Batman watch has transcended boundaries, now gracing wrists in the most formal of gatherings. Its market performance echoes this versatility, with a second-hand value that underscores the watch's lasting appeal and enduring prestige.
The Case
The Rolex GMT Master II 116710BLNR is quite the standout piece, and not just for its sleek looks. Rocking a 40mm case with a depth of 12.4mm, it's crafted from 904L stainless steel, which is the good stuff—super durable and resistant to corrosion. Additionally, it boasts a scratch-resistant sapphire crystal, enhancing the durability and longevity that Rolex Sports watches are renowned for.
But the real showstopper is its bezel. This watch boasts the first-ever bi-color ceramic bezel on a Rolex. Launched in 2013, the GMT-Master II Batman wowed everyone with its sleek Cerachrom ceramic black and blue bezel—a single, seamless piece that's a testament to Rolex's innovation and craftsmanship.
You might hear some chatter about the ceramic "Pepsi" bezel – a blue and red bezel, being the first dual-tone, but that's not the case. The Batman Rolex swooped in first as the first GMT Master II with a midnight and twilight hues that are not only eye-catching but also incredibly tough, resisting scratches that would mar other materials.
Rolex's patented process creates this bezel as a unitary piece, which is no small feat, given how tricky ceramic can be to work with. The Rolex "Batman" is not only stylish but also robust, with a water resistance of up to 100 meters. Its secure screw-down crown is flanked by protectors, safeguarding against water damage.
The Dial
Born as a stunner, The Rolex GMT Master II Batman boasts a dial that's both sleek and functional. Crafted with a deep black dial background, the dial is punctuated by hour markers made from 18K white gold, giving it that touch of sophistication that Rolex aficionados love. But it's not just about looks; this timepiece is a traveler's best friend. Thanks to its GMT feature, the "Batman" sports an arrowhead blue GMT hand, filled with a special luminous material.
When the lights go down, this timepiece truly shines—literally. The hands and hour markers are packed with a luminous material that glows with an intense blue radiance, ensuring the time is just a glance away, no matter how dark it gets, weather during day and night hours.
Let's not overlook the date feature at 3 o'clock, Rolex developed a sync perfectly local time, always keeping you in the know. And if you've ever squinted at a date window, you'll appreciate the cyclops lens on this one, magnifying the date for easy reading.
The Strap/Bracelet
Adorning the Rolex GMT Master II 116710BLNR is the iconic Oyster bracelet, 20mm in width, marrying casual sophistication with engineered functionality. The "EasyLink" comfort extension system is a highlight, permitting a 5mm bracelet adjustment for optimal fit—a small but crucial feature for day-long comfort.
Crafted from 904L stainless steel bracelet, the oyster bracelet with anti-corrosive properties are akin to a submarine's resilience, yet it maintains the finesse expected of a luxury timepiece. The "Triplock" screw-down crown, a Rolex signature, ensures the casing is watertight, reinforcing the watch's robustness while safeguarding the sophisticated 31-jewel Rolex 3186 caliber movement within.
In the newer model, the new Rolex Batman (AKA Batgirl), Rolex has opted for the Jubilee bracelet, known for its elegance and comfort, adding a fresh twist to the "Batman" while maintaining its legacy of precision and durability. This update provides a refined aesthetic, aligning with the desires of those who appreciate a classic look paired with contemporary innovation. Read to learn more about the differences between a Rolex Batman and Batgirl.
The Movement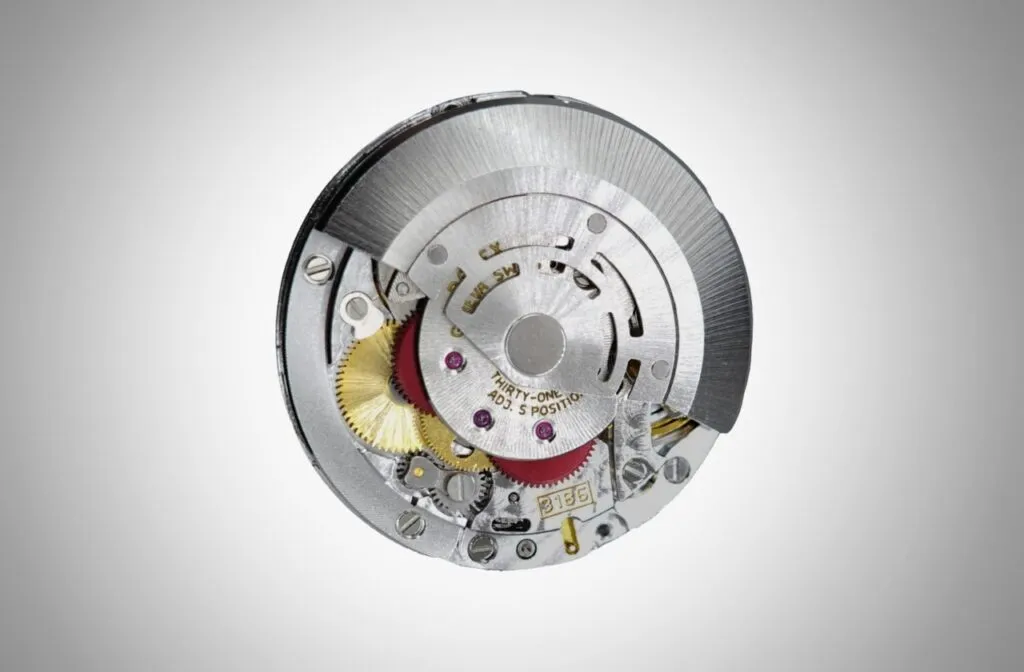 Tucked inside the robust case of the Rolex "Batman" GMT-Master II 116710BLNR is the Rolex 3186 caliber—this isn't just any movement, it's a self-winding maestro. Certified by COSC as a Certified Superlative Chronometer, a Swiss-watchmaking at its finest, boasting a precision of -2/+2 seconds per day.
With 31 jewels and a hearty 28,800 vibrations per hour, this movement is the silent powerhouse behind the GMT-Master II performance. And it's not just about keeping the hands ticking; it manages a 50-hour power reserve, so your watch keeps its cool even when it's off your wrist for a couple of days.
The Rolex GMT-Master II shines with its dual time zone capability. Whether you're tracking the stock markets in Tokyo or setting up a conference call in New York, this watch displays two time zones simultaneously with effortless elegance. The local time hands move independently, making it a cinch to set without disturbing your reference time. It's a timepiece for the suave jet-setter, someone who appreciates a blend of refined aesthetics and mechanical ingenuity.
The Competitive Landscape
The luxury watch market thrives on diversity and distinction, with each brand carving out its niche through signature features and styles.
TUDOR Black Bay GMT S&G M79833MN-0001: This watch presents a compelling alternative to the Rolex "Batman" with its two tone bezels – matte brown and black bi-colored bezel. While it doesn't feature the signature blue of the "Batman," its bi colour ceramic bezel offers a distinctive aesthetic, and the robust build quality is a hallmark shared with its Rolex cousin.
OMEGA's Seamaster Planet Ocean Ref. 215.92.46.51.01.001: Although not bi-colored, brings to the table a strong brand reputation and a focus on diving functionality with a sleek, all-black ceramic bezel that speaks to a different but equally discerning audience.
GRAND SEIKO Spring Drive GMT Ref. SBGE257: stands out with its Spring Drive movement, offering supreme accuracy. It lacks the bi-colored bezel but compensates with a sophisticated design and a unique movement not found in the Rolex.
Hublot Classic Fusion Orlinski Titanium: This watch offers a bold, artistic design with its faceted case and bezel, appealing to those who prefer a more avant-garde look over the classic style of the "Batman."
Breitling SuperOcean Heritage Chronograph 44: This watch combines a retro-inspired design with modern-day watchmaking technology, although uni-colored, which makes it a stylish yet durable contender in the luxury watch market.
| | | |
| --- | --- | --- |
| Model | Short Key Feature | SGD Market Price |
| TUDOR Black Bay GMT S&G M79833MN-0001 | Matte brown/black bi-colored bezel, robust build | SGD $7964.51 |
| OMEGA Seamaster Planet Ocean 215.92.46.51.01.001 | All-black ceramic bezel, diving functionality | SGD $11,328 |
| GRAND SEIKO Spring Drive GMT SBGE257 | Spring Drive movement, sophisticated design | SGD $5,546 |
| Hublot Classic Fusion Orlinski Titanium | Faceted case and bezel, avant-garde design | SGD $17303.73 |
| Breitling SuperOcean Heritage Chronograph 44 | Retro-inspired, ceramic uni-colored bezel | SGD $9,400 |
Why Should You Invest?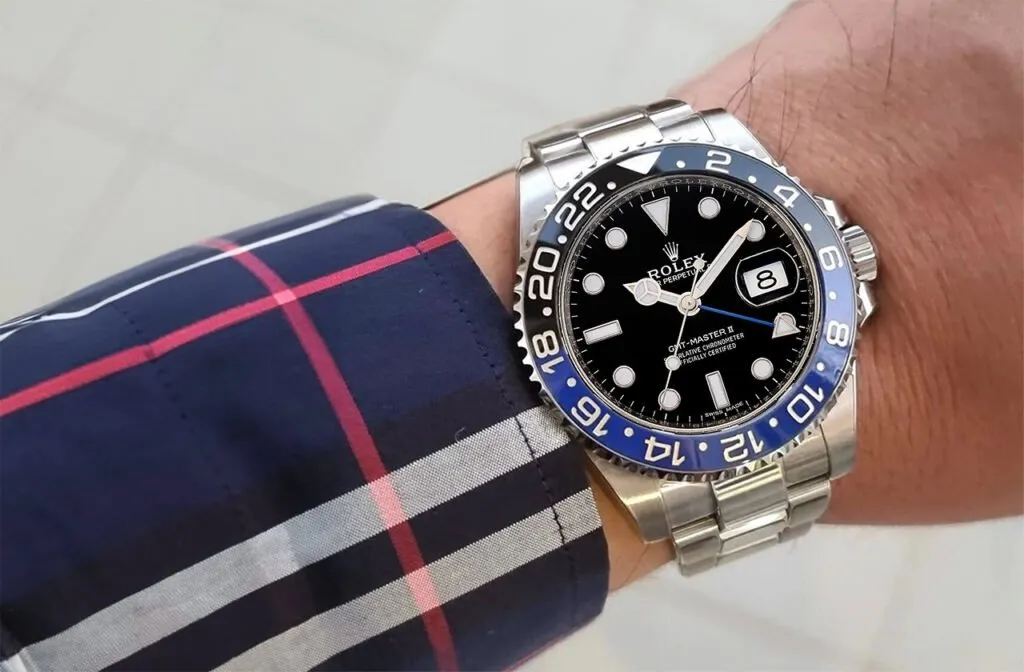 When it comes to smart investment pieces in the horology world, the Rolex "Batman" GMT Master II, affectionately dubbed the "Batman," is a standout contender. With a market appreciation of +61.3%, it demonstrates remarkable value retention and robust demand, setting it apart as a prime investment piece. This performance is particularly impressive given that most watches depreciate after purchase — the "Batman" is a rare breed that not only maintains its worth but appreciates significantly.
The resilience of the Rolex "Batman" GMT Master II is also evident when stacked against the WatchCharts Overall Market Index, which has dipped by 6.9% over the last six months. In contrast, the "Batman" has seen a mere 4.8% decrease, outstripping the market index by 2.1% and even its own Rolex Market Index by 0.3%. Such figures underline the model's robust market standing and hint at its potential for continued appreciation.
Endorsements by high-profile personalities like Roger Federer, Kasper Schmeichel, and Karim Benzema, not to mention watch aficionado John Mayer, add a layer of prestige and desirability to the Rolex GMT Batman and other Rolex watches. Their choice to wear this model at significant events speaks volumes about its status as a symbol of triumph and excellence.
Pricing & Availability
The Rolex "Batman" GMT Master II 116710BLNR had a retail price tag of approximately S$12,300 as of January 2020, when bought directly from authorized dealers. However, the market tells a different story; its pre-owned value has soared to an average of S$19,755. This uptick reflects not just the watch's prestige but also its scarcity and demand.
In the past 12 months, the "Batman" has seen a notable number of transactions, with 1,687 sales recorded, indicating its popularity in the pre-owned market. The selling prices have ranged between S$18,674 and S$20,889, showing a relatively tight market range that underscores its stable allure among collectors.
Despite the fluctuations common in luxury goods, the Batman watches maintain a low volatility rate of 5.6%, suggesting that its market price is relatively consistent, a reassuring sign for potential GMT Master II collection investors and enthusiasts alike.
FAQs
1. What is the most obvious difference between the original Batman and the newer GMT-Master II models?
The most obvious difference is the bracelet design. The original "Batman" comes with the Oyster bracelet, while newer models like the 126710BLNR feature a Jubilee bracelet. Similarly, both the two watches, original and new Rolex Batman had a black and blue bi-color bezel, which was a first watch for Rolex, showcasing two tone bezels in ceramic material.
2. How does the bi-color bezel on the Rolex "Batman" GMT-Master II enhance its functionality for tracking night hours?
The bi-color bezel on the Rolex "Batman" represents day and night hours, with the black portion indicating the night hours. This, along with a 24-hour GMT hand and hour markers, allows wearers to easily distinguish between day and night in a second time zone.
3. Are there any technical specifications that distinguish GMT-Masters with two-tone bezels like the "Batman"?
GMT-Masters like the "Batman" with two-tone bezels feature Rolex's proprietary Cerachrom material, which is highly scratch-resistant and retains its color over time. They also have an efficient escapement and gear train, contributing to their precise timekeeping.
4. How does the winding crown on the Rolex "Batman" GMT-Master II contribute to its reputation as a precious metal timepiece?
The winding crown on the Rolex "Batman" GMT-Master II is made from precious metal and includes the Triplock waterproof system, ensuring water resistance and enhancing the watch's value. The crown's design also contributes to the overall sleek look of the timepiece, complementing its black and blue ceramic bezel.
Final Word
In the Rolex Batman review, it's clear that the "Batman" has soared beyond its initial sporty-business casual niche to become a staple at even the most upscale events. Its robust market performance and strong secondary value are testaments to its broad appeal and sustained prestige.
Key Takeaways
Its distinctive two-tone ceramic bezel is not only a design triumph but also a functional enhancement for travelers.
A strong secondary market positions its price at S$19,839, reflecting its desirability.
Its investment potential is bolstered by its popularity among notable figures like Roger Federer, enhancing its cachet.
Looking to buy or sell your luxury watches? Watch Exchange is your one-stop destination for trading Rolex, Patek Philippe, Tissot, Sinn, Zenith, and other luxury timepieces. Find your next watch today or list your item for free!
---