The Rolex GMT-Master is a renowned timepiece that traces its origins back to 1954 when it was developed in collaboration with Pan American World Airways. Designed for pilots to track dual time zone, it became a favored companion for travelers and aviation enthusiasts.
The concept of Greenwich Mean Time (GMT) serves as a basis for timekeeping across regions, and among the sought-after variations is the Rolex Coke GMT, distinguished by its red and black bezel resembling the Coca-Cola logo.
Exploring the Rolex GMT history, we trace the roots of the first Rolex GMT Masters and witness how Rolex's innovative GMT-Master lineup has evolved, standing as an enduring symbol of precision and luxury.
1954: The Birth of the Rolex GMT-Master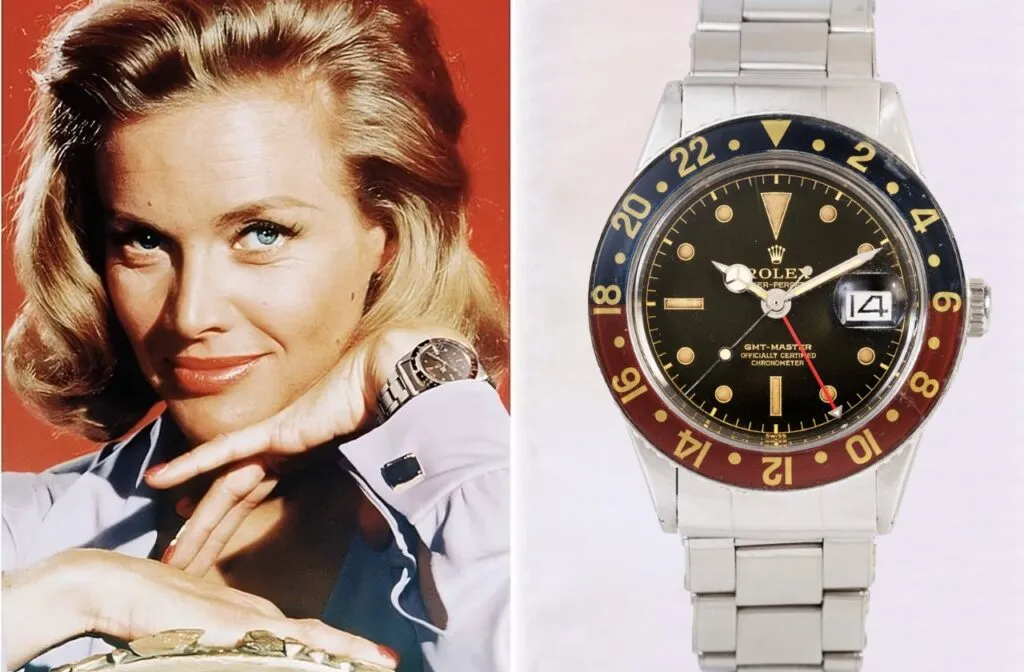 In 1954, Rolex marked a significant milestone in horological history with the introduction of Rolex's first GMT Master ref. 6542. This groundbreaking timepiece was developed in collaboration with Pan American World Airways (Pan Am) to cater to the needs of international proper pilot's watch and travelers, who required an accurate way to track multiple time zones.
The Original GMT master watch ref. 6542 boasted several distinctive features that set it apart from other watches of its time. One of its most notable characteristics was the luminous bakelite bezel insert, which initially glowed beautifully and provided a striking aesthetic appeal.
Notably, the first GMT Master 6542 was also recognizable to fans of the legendary James Bond franchise. It graced the wrist of Pussy Galore, portrayed by actress Honor Blackman, in the iconic 1964 film "Goldfinger."
This association with such a well-known character further enhanced the watch's allure and cemented its status as an enduring symbol of sophistication and adventure.
1959: A Legendary Chapter Unfolds
In 1959, Rolex GMT Master ref. 1675, is a revered vintage Rolex model that has remained cherished throughout the brand's history. This iconic timepiece brought several significant enhancements compared to its predecessor.
Notably, pointed crown guards were incorporated to protect the winding crown while lending a touch of sophistication. The addition of a chapter ring encircling the dial further enhanced its refined appearance.
Rolex's dedication to precision was evident in the movement upgrade of the Rolex GMT Master ref. 1675. Originally equipped with the caliber 1565, it later received the caliber 1575 in 1965, boasting a higher frequency of 19,600 vibrations per hour (vph) for improved accuracy and reliability.
The watch also featured a remarkable innovation in 1971, with the hacking feature added to the caliber 1575, enabling the seconds hand to stop when the winding crown was pulled out, allowing precise synchronization.
The dial of the ref. 1675 also showcased Rolex's commitment to excellence, featuring the inscription "Superlative Chronometer Officially Certified," reaffirming its exceptional precision and adherence to rigorous chronometric standards. The Rolex GMT Master ref. 1675 remains an enduring symbol of luxury, reliability, and technical prowess in the world of horology.
1980: A Paradigm Shift in Luxury Timekeeping
In the early 1980s, Rolex unveiled the GMT-Master ref. 16750, a watch that revolutionized luxury horology and succeeded the beloved GMT-Master ref. 1675. Powered by the caliber 3075 movement. Notably, this new movement featured a quick-set date function, allowing users to adjust the date independently from the hour hand. Moreover, the addition of hacking, the ability to stop the seconds hand when setting the time, further enhanced its precision and ease of use.
The dial of the Rolex GMT Master ref. 16750 showcased two striking variations, each contributing to the model's allure. One version featured a unique matte dials finish with printed luminous indexes, a rarity prized by enthusiasts and collectors alike. The other dial variation boasted a glossy surface, complemented by applied white gold indexes, exuding a luxurious and refined aesthetic.
Rolex also addressed the watch's durability, enhancing its water resistance to an impressive 100 meters (330 feet), making it an ideal companion for any adventure, including underwater exploration. The GMT-Master, like its sister model the Rolex Submariner, is designed to withstand the elements and deliver exceptional performance in any environment.
1988: A Timekeeping Marvel of Transition and Versatility
In 1988, the Rolex GMT Master ref. 16700, succeeded the Rolex GMT Master 16750 with technical advancements and options. Featuring the caliber 3175 movements. Notably, the GMT-Master ref. 16700 retained the non-independent hour hand, allowing users to track two time zones simultaneously, making it an ideal companion for travelers and aviation enthusiasts.
Distinguished by its tritium dials, the Rolex GMT Master 16700 offered exceptional luminosity in low-light conditions. Later, Rolex updated the dials to Super-LumiNova, a luminescent material known for its improved brightness and longevity. This enhancement elevated the watch's functionality and legibility, further solidifying its reputation as a practical and reliable timekeeping instrument.
Another unique feature of the Rolex GMT Master ref. 16700 was the option for both Jubilee and Oyster bracelet. This choice provided wearers with the freedom to customize their timepieces according to their personal preferences, adding an element of individuality to the iconic design.
1989: Technical Advancements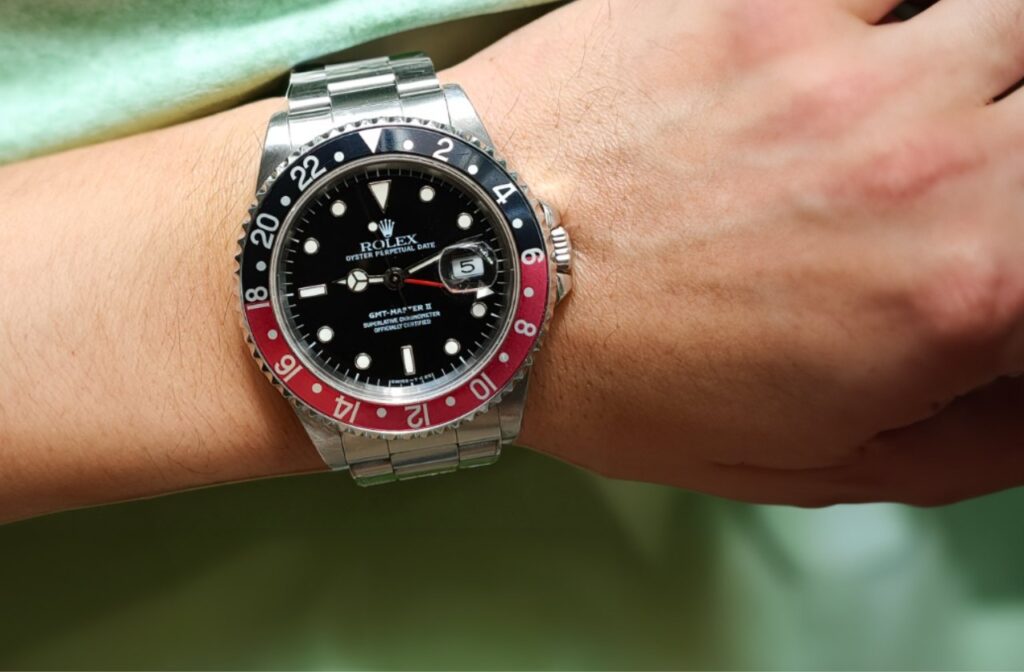 In 1989, Rolex GMT Master ref. 16710, succeeded the GMT-Master 16700 and brought a series of updates and refinements to the iconic timepiece. Spanning its production until 2007, the ref. 16710 underwent several notable changes, particularly in its bezel, dial, and bracelet designs, making it a distinctive and sought-after model among watch enthusiasts.
The Rolex GMT Master ref. 16710, often fondly referred to as the "Fat Lady," took over from its predecessor with aplomb. Initially equipped with tritium dials, Rolex later transitioned to the use of Super-LumiNova for improved luminescence and longevity, showcasing the brand's dedication to continuous improvement and customer satisfaction.
At its core, the Rolex GMT Master 16710 was powered by the caliber 3185, a reliable and precise movement known for its performance and durability. This technical prowess, coupled with its refined aesthetics and functional enhancements, solidified the GMT-Master ref. 16710's position as an emblem of horological excellence and a beloved timekeeping companion for travelers and adventurers alike making it an ideal Rolex sports watch.
2007: Enhanced Precision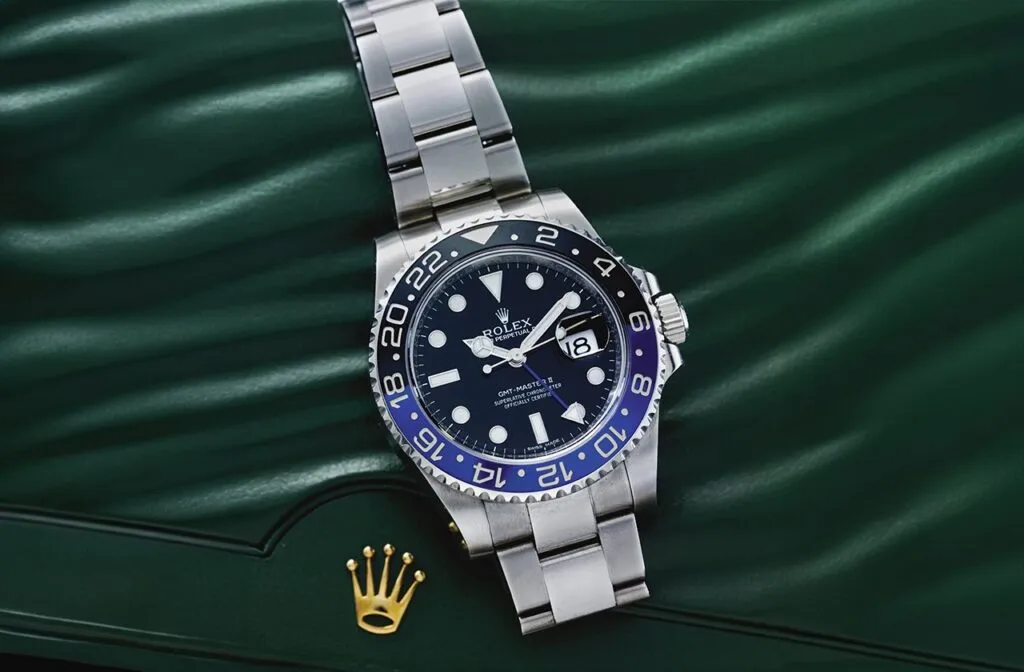 In 2007, Rolex introduced the GMT II 116710, featuring a new design with significant upgrades. It included an anti-reflective Cyclops lens, green 24-hour hand, maxi dial, ceramic bezel with 24 clicks, and a redesigned bracelet.
The short-produced Rolex GMT Master II models featuring the caliber 3186 movement, identifiable by M- and Z-serial numbers, have since become highly coveted timepieces in the luxury watch market. Their rarity and enhanced technical features have led to these models fetching remarkably high prices among collectors and enthusiasts.
The watch housed the caliber 3186 movement with a new Parachrom Bleu hairspring, offering improved timekeeping and reliability. Crafted from a highly stable paramagnetic alloy, it was exceptionally resistant to magnetic fields and shocks.
2008: A New Era
In 2008, Rolex released the GMT-Master II ref. 116710LN (Lunette Noir), a timepiece that introduced several noteworthy updates to the iconic collection. The Rolex GMT Master II 116710LN showcased a ceramic bezel, replacing the traditional aluminum bezel, offering enhanced scratch resistance and an overall refined appearance. The watch's case underwent a subtle redesign, featuring beefier lugs and a triplock crown, elevating its water resistance capabilities and ensuring superior protection against the elements.
One of the standout features of the ref. 116710LN was its "maxi dial," characterized by larger numerals and wider hands. This design choice enhanced legibility and imparted a modern and bold aesthetic to the timepiece.
Despite the same 40mm diameter as its predecessor, the Rolex GMT Master II 116710LN was perceived as more substantial on the wrist due to the redesigned case and dial elements. This subtle perception of added size further distinguished the watch, offering wearers the best of both worlds – a classic 40mm size with a contemporary and robust presence.
2013: The Captivating 'Batman'
In 2013, Rolex delighted watch enthusiasts with the introduction of the Rolex GMT Master II ref. 116710BLNR, affectionately known as the 'Batman.' This new version presented a captivating twist to the iconic timepiece, featuring a black and blue ceramic bezel, adding a touch of sophistication and flair. The blue GMT hand further enhanced its allure, creating a visual contrast that earned it the "Batman" nickname.
The Rolex GMT Master II 116710BLNR was an instant hit, drawing admiration for its distinctive color combination and sleek design. The dual-colored ceramic bezel not only provided exceptional durability but also represented a testament to Rolex's commitment to pushing the boundaries of innovative materials in horology.
With the introduction of the "Batman," Rolex demonstrated its ability to infuse a classic design with fresh and exciting elements, catering to the evolving tastes of the modern watch enthusiast.
2014: The White Gold Pepsi
In 2014, Rolex delighted ardent GMT-Master enthusiasts with the introduction of the ref. 116719BLRO, fondly known as the "Pepsi" GMT Master II. This timepiece had long been a dream for Rolex fans, as it combined the iconic Pepsi bezel – featuring the striking red and blue bezel color combination – with the renowned GMT-Master II functionality.
However, Rolex being Rolex, the watch came with a twist that set it apart from its predecessors – it was crafted from luxurious white gold.
The GMT-Master II ref. 116719BLRO represented a harmonious blend of vintage appeal and contemporary luxury. The Pepsi bezel evoked nostalgia for the classic models of the past, while the use of white gold version added a touch of opulence and exclusivity.
This unique combination of colors and materials set the watch apart as a true collector's piece, appealing to those who sought both the charm of tradition and the allure of modern craftsmanship.
2018: The Iconic Pepsi and Batman
In 2018, Rolex unveiled a series of captivating GMT-Master II models, each possessing its own distinct charm and appeal.
The first to catch the eye was the ref. 126710BLRO, also known as the 'Pepsi' GMT-Master II. This stainless steel GMT Master timepiece featured the iconic Pepsi with blue and red bezel. Paired with a Jubilee bracelet, the watch is powered by the caliber 3285 movements.
The ref. 126710BLNR, popularly referred to as the 'Batman' GMT-Master II, shared the same stainless steel case and Jubilee bracelet as its Pepsi sibling. However, its unique allure lay in the black and blue ceramic rotating bezel, which inspired the evocative Batman moniker. Like its counterpart, the Batman GMT-Master II housed the caliber 3285 movements, combining Rolex's expertise in horological precision with its iconic aesthetics.
Beyond the Pepsi and Batman variations, Rolex introduced several other captivating GMT-Master II models in gold/steel and full gold, including ref. 126711CHNR and ref. 126715CHNR. These luxurious timepieces showcased the seamless fusion of precious metals with stainless steel, resulting in a harmonious balance of opulence and ruggedness.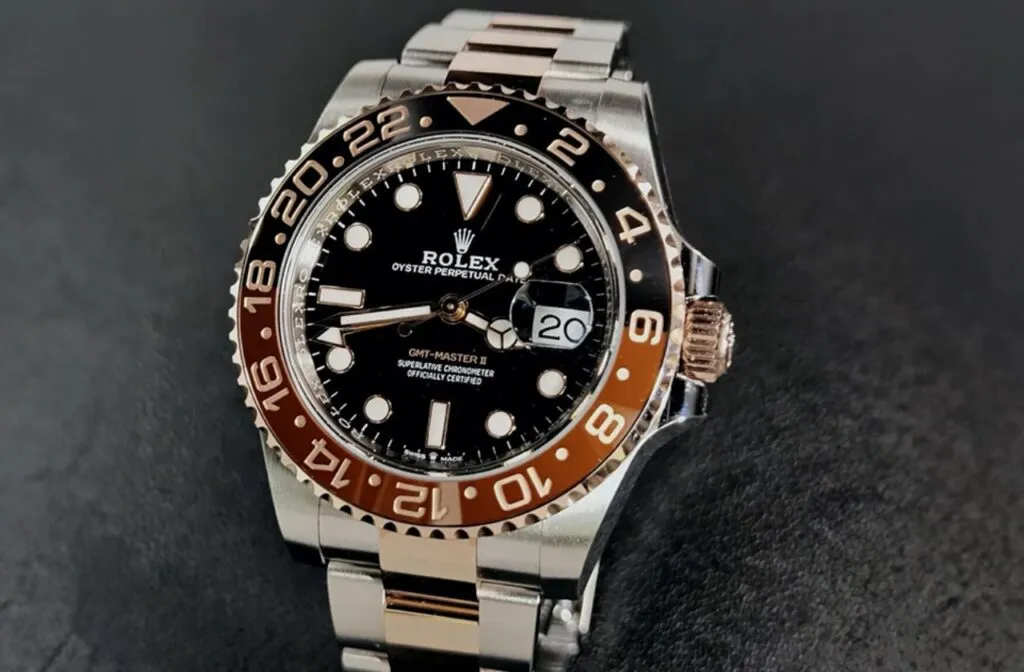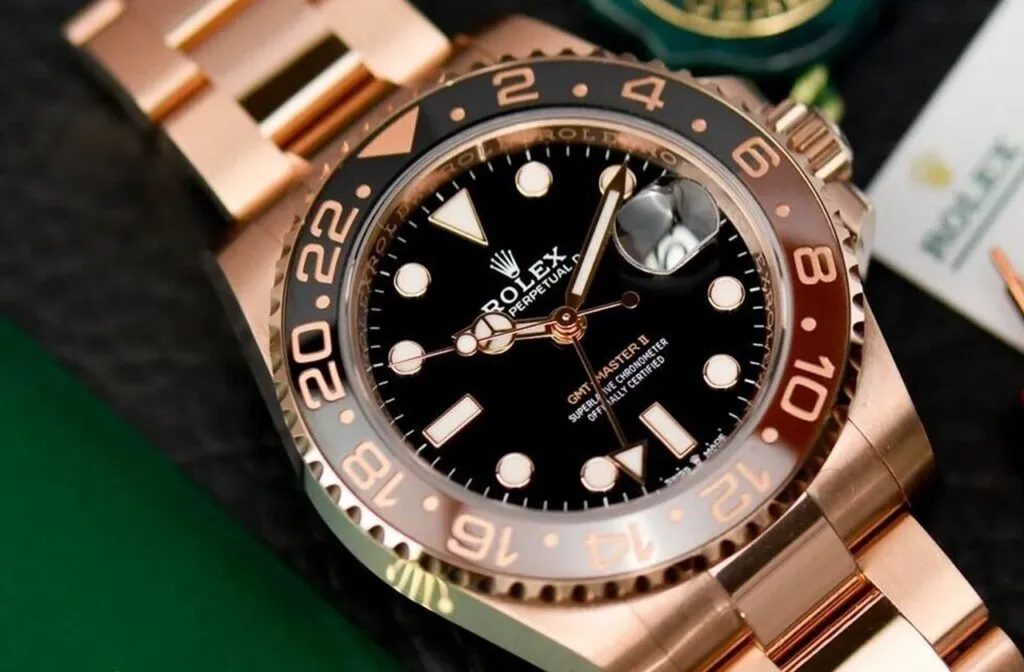 2019: Evolution of White Gold
In 2019, Rolex made notable updates to its white gold GMT-Master II offerings, resulting in a shift in the collection's composition and style.
Rolex discontinued the white gold ref. 116719, previously featuring a black dial in 2019. This decision marked the end of an era for the black-dial white gold GMT-Master II, making it a sought-after piece among collectors due to its exclusivity.
However, Rolex developed two enticing alternatives to fill the gap. The white gold GMT-Master II was now available with a captivating blue dial, denoted by the ref. 126719BLRO. The deep blue hue of the dial added a touch of refinement to the timepiece, enhancing its overall elegance and appeal.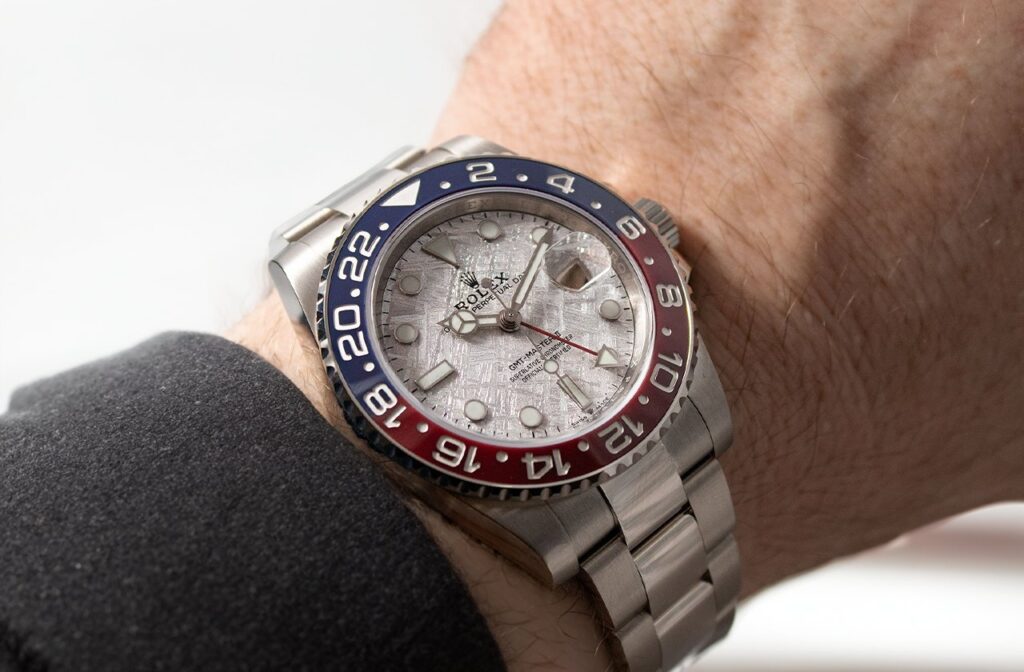 Another intriguing option that emerged in 2019 was the white gold GMT-Master II with a meteorite dial, also bearing the same reference number as the blue dial variant. This meteorite dial variation offered a rare and unique visual experience, with the dial showcasing the mesmerizing patterns characteristic of the extraterrestrial material.
2020: The Upgraded "Batman"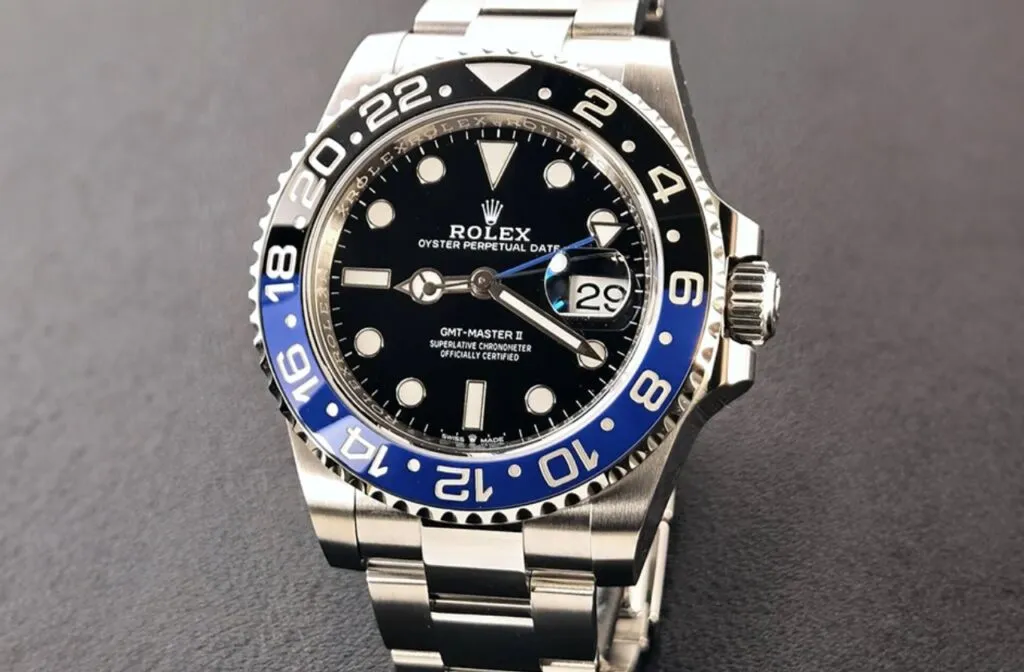 In 2020, Rolex continued to captivate watch enthusiasts with the release of the GMT-Master II ref. 126710BLNR, a remarkable update to the beloved "Batman" model.
The GMT-Master II 126710BLNR retained the iconic black and blue ceramic bezel, which had earned it the evocative "Batman" nickname. This striking color combination represented a contemporary twist on Rolex's heritage, appealing to those seeking a modern and dynamic design with a nod to the classic roots of the GMT-Master collection.
However, the real transformation lay within the watch's heart. The Caliber 3285 movement brought a host of improvements, enhancing the GMT-Master II's precision, reliability, and power reserve. The advanced movement incorporated Rolex's latest technological innovations, such as the Chronergy escapement, Parachrom hairspring, and optimized gear train, contributing to its superlative performance.
2023: Embracing Connectivity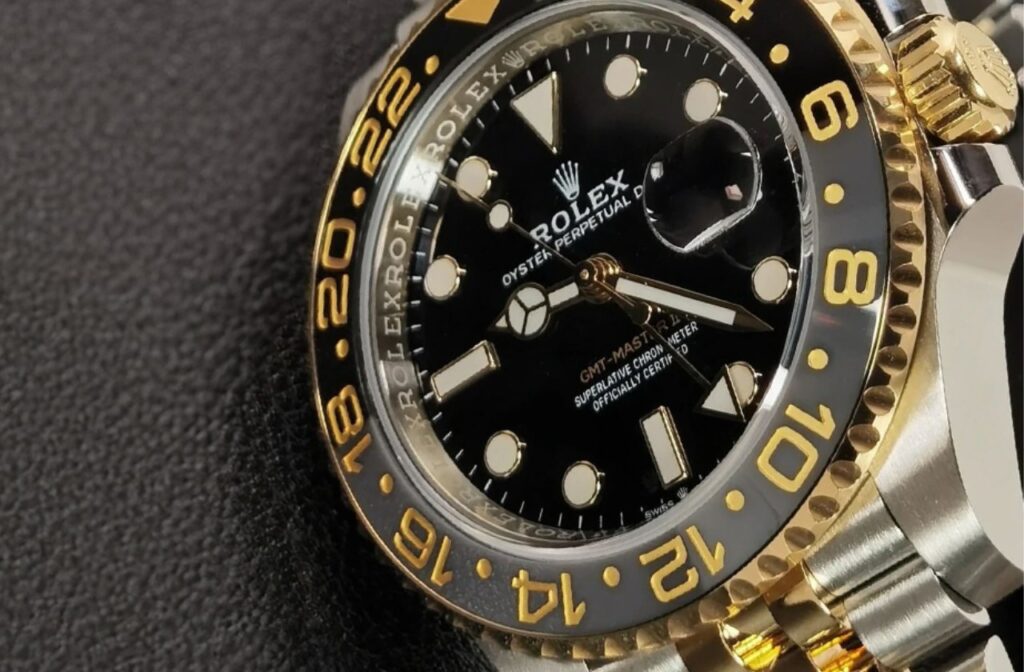 Embracing the essence of connectivity to the world, the GMT‑Master II timepieces continue to weave stories of exploration and global engagement.
In a captivating blend of luxury and functionality, Rolex introduces two new versions of this iconic model in 2023 – the 18 ct yellow gold and yellow Rolesor editions. What sets these models apart is the alluring Cerachrom bezel insert in a mesmerizing combination of grey and black ceramic, a first-of-its-kind color pairing.
The gleaming gold of the Jubilee bracelet harmoniously contrasts with the bezel's dark, muted tones, creating a visual representation of the sun's journey and the rhythmic dance of day and night.
As an exceptional touch, the new GMT‑Master II watches are exclusively fitted on the renowned Jubilee bracelet, further elevating their elegance and appeal.
The choice of 18 ct yellow gold and yellow Rolesor adds a luxurious touch to these timepieces, enhancing their allure as exquisite expressions of horological excellence and craftsmanship.
Summary
This table presents a glimpse into the remarkable journey of the GMT Master model, highlighting some of its major references and significant transformations over the years.
| | | |
| --- | --- | --- |
| Year | Notable Transformation | Pre Owned Price (SGD) |
| 1954 | Debut of GMT-Master ref. 6542 | S$145,757 |
| 1959 | Introduction of GMT-Master ref. 1675 | S$17,731 |
| 1980 | GMT-Master ref. 16750 unveiled | S$15,950 |
| 1988 | GMT-Master ref. 16700 introduced | S$16,800 |
| 1989 | GMT-Master ref. 16710 successor | S$15,750 |
| 2007 | GMT-Master II ref. 116710 upgrade | S$15,950 |
| 2008 | GMT-Master II ref. 116710LN launch | S$14,900 |
| 2013 | GMT-Master II ref. 116710BLNR "Batman" | S$24,891 |
| 2014 | GMT-Master II ref. 116719BLRO "Pepsi" | S$26,800 |
| 2018 | Diverse GMT-Master II models (126710BLRO; 126710BLNR) | S$25,300 ; S$22,900 |
| 2019 | Changes in white gold GMT-Master II 126719BLRO with Meteorite Dial | S$77,900 |
| 2020 | GMT-Master II ref. 126710BLNR update | S$22,900 |
| 2023 | New GMT-Master II versions with unique bezels | S$38,169 |
It is essential to note that this timeline covers only the major references, and Rolex's dedication to innovation continues to yield new GMT-Master models, captivating collectors and enthusiasts worldwide.
Final Word
In conclusion, the Rolex GMT Master history is a fascinating one, making it an iconic timepiece sought after by collectors worldwide. Its value and appeal have stood the test of time, making it a sound investment.
Key Takeaways
The Rolex GMT Master II family boasts a rich history of innovation and collaboration, making it an iconic timepiece with enduring appeal.
Pre-owned Rolex GMT watches offer a compelling option for those seeking luxury timepieces at competitive prices.
Investing in a Rolex GMT-Master can be a wise decision, as these timepieces often appreciate in value over time, making them both a statement of style and a potential financial asset.
Looking to buy or sell your luxury watches? Watch Exchange is your one-stop destination for trading Rolex, Patek Philippe, Tissot, Sinn, Zenith, and other luxury timepieces. Find your next watch today or list your item for free!
---