Rolex, a name synonymous with horological excellence, traces its origins to 1905 when Hans Wilsdorf and Alfred Davis founded Wilsdorf and Davis in London. Initially, they focused on distributing timepieces, but in 1908, they registered the brand "Rolex," marking the inception of a pioneering era in watchmaking.
Hans Wilsdorf, driven by a vision of creating precise and reliable wristwatches, achieved a major milestone in 1931. He introduced the world's first self-winding mechanism with the Perpetual rotor, a groundbreaking innovation that remains central to modern automatic watches.
Rolex's journey wasn't limited to innovation; it encompassed remarkable collaborations. In the 1930s, the brand formed strong bonds with influential figures like Sir Malcolm Campbell, reflecting Rolex's dedication to precision and durability.
As we delve into Rolex's extraordinary history, we unveil a legacy woven with exploration, sportsmanship, and human achievement. Every chapter in Rolex's past underscores its enduring commitment to excellence and superior craftsmanship.
Rolex History: A Timeless Heritage
Rolex Origins (1905-1930)
Rolex's journey began in 1905, when founder Hans Wilsdorf, along with his brother-in-law, Alfred Davis, established Wilsdorf & Davis Ltd. The company initially focused on importing watch components from Switzerland and London to assemble and market wristwatches. In 1908, they registered Rolex as their brand name, and by 1915, they changed their company's name to Rolex Watch Co. Ltd.
Here is a quick overview of the first fundamental years of this iconic luxury watch brand:
1905: Rolex was founded in London by Hans Wilsdorf and his brother-in-law, Alfred Davis. Initially, the company was named "Wilsdorf and Davis." Instead of producing their own movements, they imported Swiss movements, placed them in watch cases, and then sold them to jewelers who would imprint their own brand name on the dial.
1908: Wilsdorf wanted a brand name that was short, easy to remember, and sounded good in any language. That's when he coined the term "Rolex." There's some mystery surrounding the origin of the name, but it is believed Wilsdorf wanted a name that was onomatopoeic, resembling the sound a watch makes when wound.
1910: Rolex achieved a significant milestone when one of its wristwatches became the first to receive a Swiss Certificate of Chronometric Precision from the Official Watch Rating Centre in Bienne, Switzerland.
1914: Further cementing its commitment to precision, Rolex received a Class A precision certificate from the Kew Observatory in London. This was an honor previously reserved for marine chronometers.
1919: Due to the post-war economic situation, including high wartime taxes in Britain, Wilsdorf decided to move the company to Geneva, Switzerland, a hub for watchmaking.
1926: The First Waterproof Watch
In 1926, Rolex made history by introducing the first waterproof watch, the "Oyster". This revolutionary invention featured a screw-down crown and a hermetically sealed case, protecting it from water and dust.
Its hermetically sealed case was a game-changer, offering a much-needed shield against potential water damage. Moreover, the introduction of a screw-down crown ensured that the case remained impenetrable, preventing both water and dust from entering the watch.
This invention wasn't just a technical marvel but also a marketing triumph. Rolex cleverly promoted the Oyster's prowess by showcasing its water-resistant features, solidifying the brand's association with innovation and precision.
1933: Explorer
In 1933, Rolex delved into the world of exploration, providing Rolex Oyster watches to the successful British expedition attempting to fly over the summit of Mount Everest. This partnership helped cement Rolex's reputation for crafting durable and reliable timepieces.
Although the title "Explorer" for a Rolex model would officially come later in the 1950s, this 1933 partnership can be seen as an early testament to the watch's exploration roots. The Oyster's performance during the expedition was impeccable, further proving its durability and reliability in even the most extreme conditions. This venture not only underscored Rolex's commitment to precision but also aligned the brand with the spirit of exploration and human endeavor.
1935: Motorsports Rolex Oyster
By 1935, the Rolex Oyster watch became associated with motorsports. Racing driver Sir Malcolm Campbell, who broke the world speed record on land, praised the watch for its accuracy and resilience. This connection to motorsports further elevated the brand's prestige.
Campbell's feats on the racetrack were a testament to human skill and machinery's precision, and his personal acknowledgment of the Rolex Oyster's accuracy and durability during these record-breaking runs added another feather in Rolex's cap.
1945: The Datejust & The Jubilee
In 1945, Rolex introduced the Datejust, a watch featuring a date display—an innovation at the time. The Datejust is the world's first automatic wristwatch that can change the date on its dial instantaneously. This innovation was a significant advancement in the world of horology, offering wearers not just the time, but also a clear display of the date, all at a glance.
To complement this cutting-edge watch, Rolex also launched the Jubilee bracelet. With its five-piece link design, the Jubilee bracelet combines elegance with comfort. Its name was chosen to celebrate Rolex's 40th anniversary or "Jubilee."
Together, the Datejust and its accompanying Jubilee bracelet showcased Rolex's commitment to marrying technological innovation with timeless aesthetics.
1950s: Deepsea
In the 1950s, Rolex ventured into this deep blue realm with the Deepsea, a timepiece built specifically for the demands of underwater exploration. The Deepsea was designed to operate even at extreme depths, furthering Rolex's reputation as a maker of robust, water-resistant watches.
With features tailored to divers' needs and exceptional water resistance capabilities, the Deepsea positioned Rolex not just as a luxury watch brand but also as a frontrunner in crafting timepieces suitable for professional and demanding environments. This pioneering spirit and technical prowess further fortified Rolex's esteemed place in watchmaking history.
1953: The Submariner & The Ascent of Everest
In the same year as the first successful ascent of Mount Everest, Rolex unveiled the Submariner, a watch designed for divers. Reliable, accurate, and water-resistant, the Submariner became popular among professional divers and adventurers alike.
The watch boasted a water resistance of up to 100 meters, a rotatable bezel to track dive time, and a design that was both functional and stylish. The Submariner quickly became the benchmark for dive watches, embraced by both professional divers and those who simply admired its robust, yet elegant design.
In parallel to this horological feat, 1953 also marked the year when Sir Edmund Hillary and Tenzing Norgay achieved the first successful ascent of Mount Everest. While the connection between the Submariner and the Everest ascent is often brought up in tandem due to the proximity of their occurrences, it's important to note that it was the Rolex Oyster Perpetual Watch Explorer Ref. 6350, and not the Submariner, that accompanied the climbers.
1955-1960: The GMT-Master, Day-Date & Milgauss
Between 1955 and 1960, Rolex developed multiple groundbreaking models. The GMT-Master, designed for pilots and world travelers, allowed users to read two time zones simultaneously.
The iconic Day-Date, a luxury watch displaying both the day and date, became associated with power and success. Finally, the Milgauss was specially designed for engineers and scientists, offering protection from magnetic fields.
1960s-70s: Daytona
In the 1960s and 70s, Rolex introduced the Daytona chronograph, a watch designed for professional racing drivers. With its tachymeter bezel and precise stopwatch function, the Daytona offered drivers the ability to measure speed and time with unparalleled accuracy. The watch's popularity skyrocketed, making it a beloved model and a symbol of Rolex's ability to adapt and innovate.
Types of Rolex Watches
From iconic classics that defined eras to contemporary masterpieces that continue to set standards, the Rolex collection is vast and varied. Currently, Rolex categorizes its timepieces into 14 distinct models.
Diving deeper, 8 of these are hailed as "professional models," tailored for specific activities and adventures, from deep-sea diving to motorsport racing. On the other hand, 6 models are celebrated as "classic watches," exemplifying timeless elegance and Rolex's rich heritage.
However, this classification merely scratches the surface. When one delves into the myriad iterations and references introduced over the decades, Rolex's offerings soar into the thousands. While many of these models have gracefully retired and are no longer in production, they remain an indelible part of Rolex's illustrious legacy.
Classics Watch
Oyster Perpetual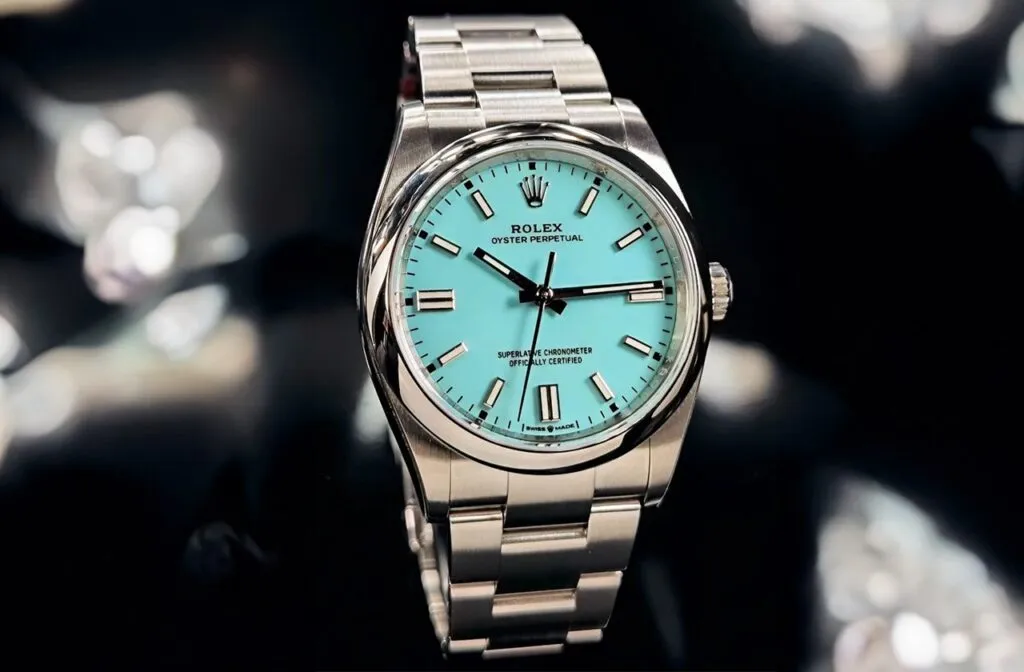 The Oyster Perpetual is the foundation of Rolex's watch collection. It combines the essential elements of the brand, such as the waterproof Oyster case and the self-winding Perpetual rotor movement. Both old and new models feature these hallmark characteristics, providing a timeless design and renowned durability.
The most popular Rolex Oyster Perpetual model is the Rolex Oyster Perpetual 41 Ref. 124300 with a retail price of S$8,900 as of June 2023. It is currently priced at S$11,707 on the private sales market.
Datejust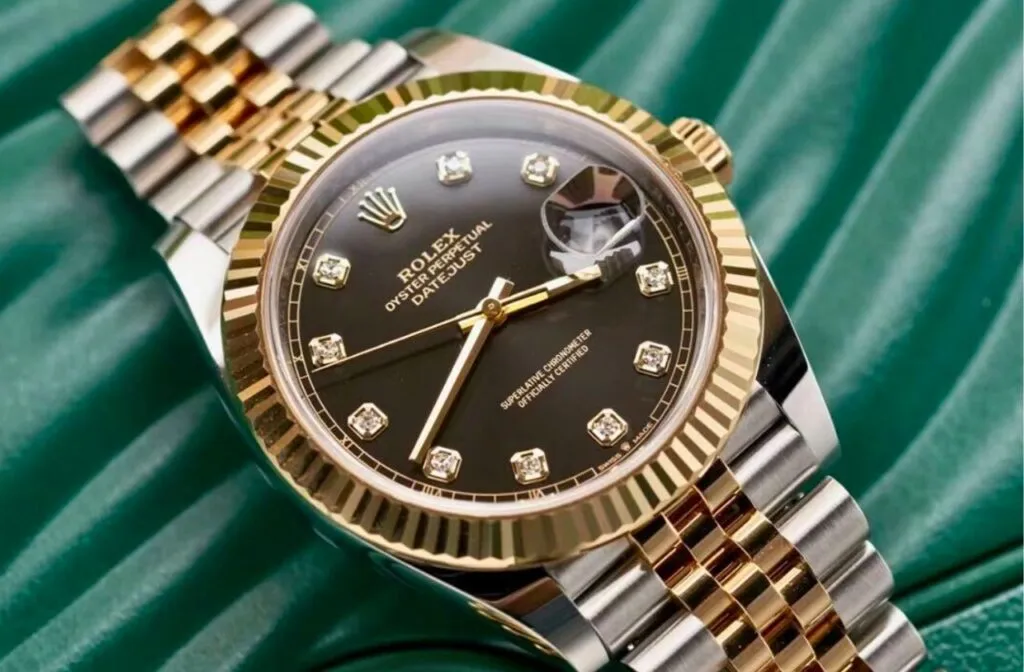 The Datejust is another iconic model in the Rolex collection. Known for its date display, this watch demonstrates the perfect balance between function and form. Over the years, the Datejust has been released in various sizes and materials, ensuring that there is a model for everyone.
The Rolex Datejust 41 mm Steel Ref. 126334 is the most sought-after Datejust model. Though its retail value stands at S$14,350, it often fetches around S$16,967 in private sales.
Day-Date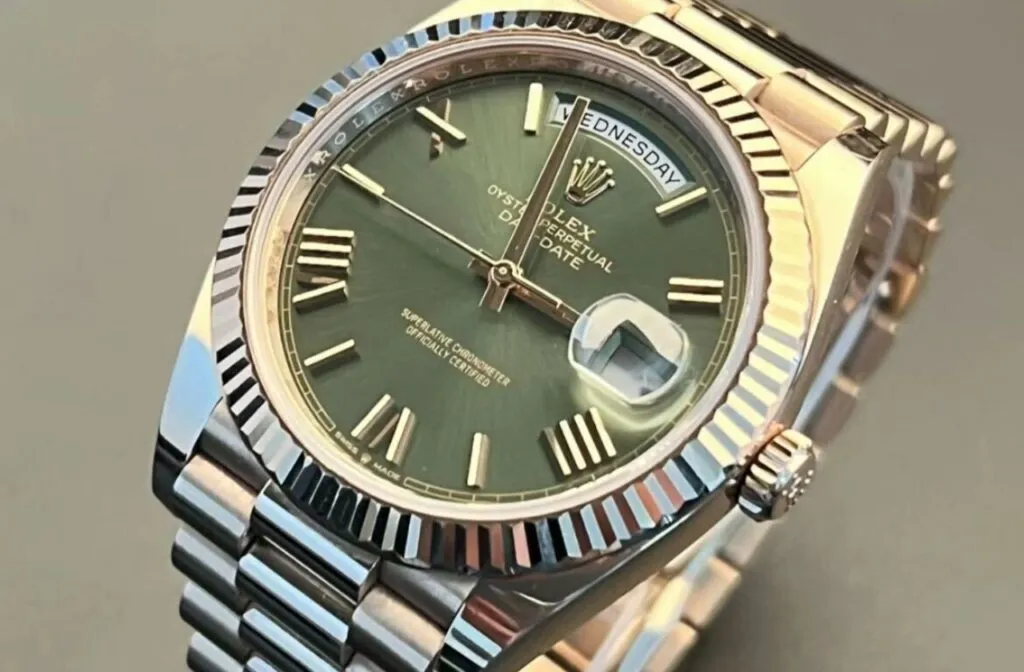 As the name suggests, the Day-Date watch is distinguished by its day and date display. Available exclusively in precious metals, such as gold and platinum, the Day-Date is a symbol of prestige and luxury. The design has evolved throughout its history, but its iconic status remains unchanged.
The Rolex Day-Date 40mm Rose Gold Green Dial Ref. 228235 is the most favored model of the Day-Date series. As of June 2023, it retailed at S$58,000 but can command around S$66,234 in private transactions.
Sky-Dweller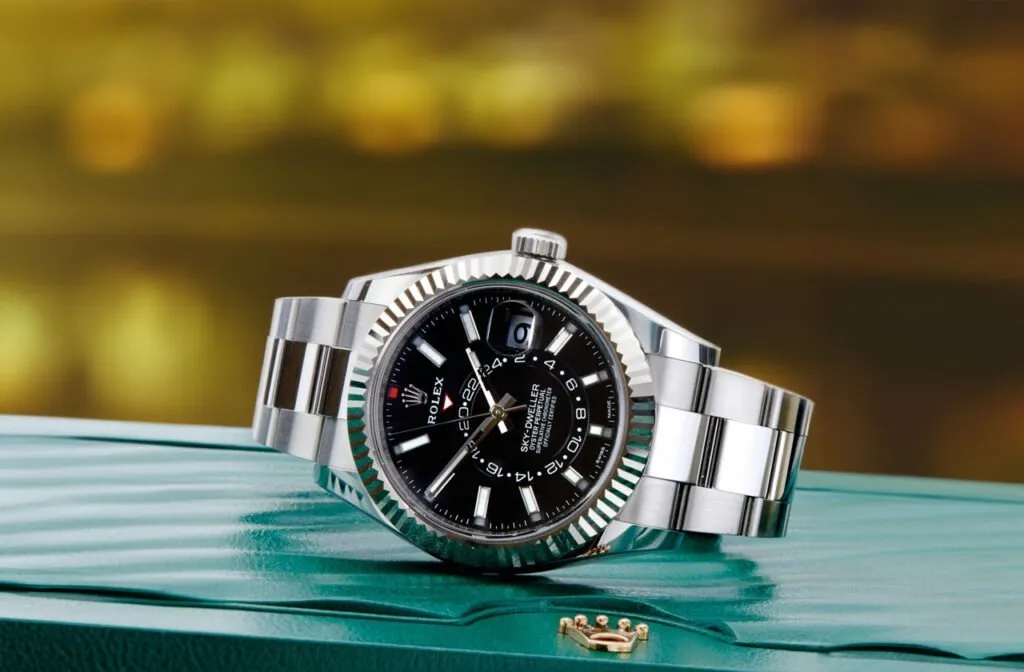 The Sky-Dweller is a sophisticated timepiece, designed for world travelers. It features dual time zones, with a 24-hour display on an off-center disc, as well as an annual calendar. This complex yet elegant watch is perfect for those who require precise timekeeping while on the move.
The Rolex Sky-Dweller 42mm Steel Black Dial Ref. 326934 stands out as the most sought-after Sky-Dweller model. In February 2023, it had a retail price of S$21,850, but it's now garnering approximately S$28,299 in private sales.
Cellini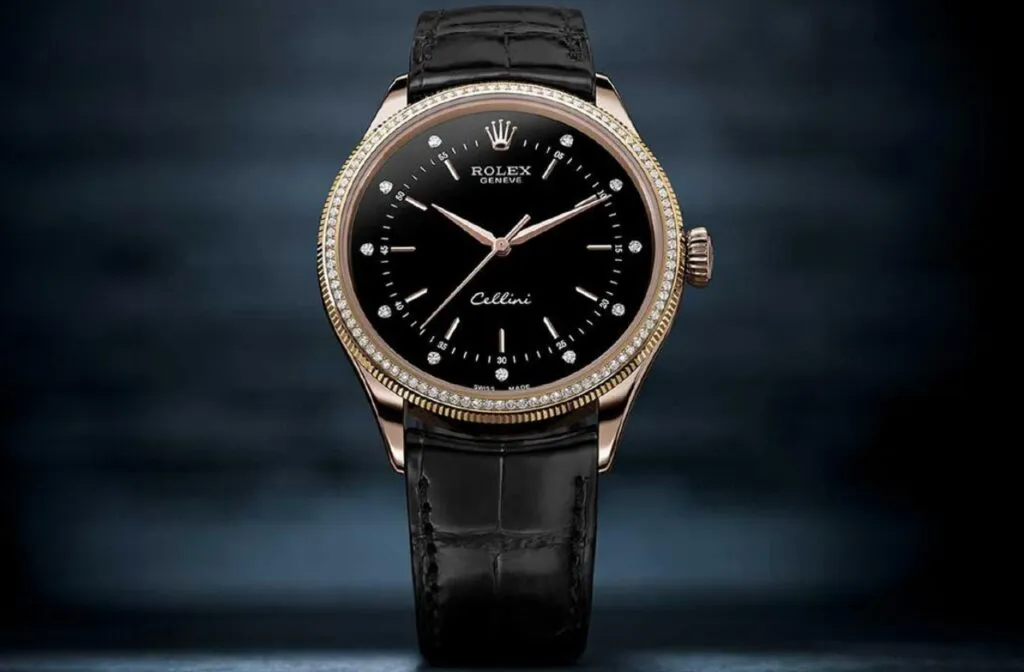 The Cellini line offers a more refined and elegant take on the classic Rolex design. These timepieces feature slim cases and intricate dials, embodying the essence of timeless style. The Cellini collection includes various models, each focusing on different aspects of horological craftsmanship.
The Rolex Cellini Dual Time 39mm Rose Gold White Dial Ref. 50525 is the top choice among the Cellini models. Three years ago, its retail price was S$28,300, but it now goes for around S$19,862 in private sales.
Lady Datejust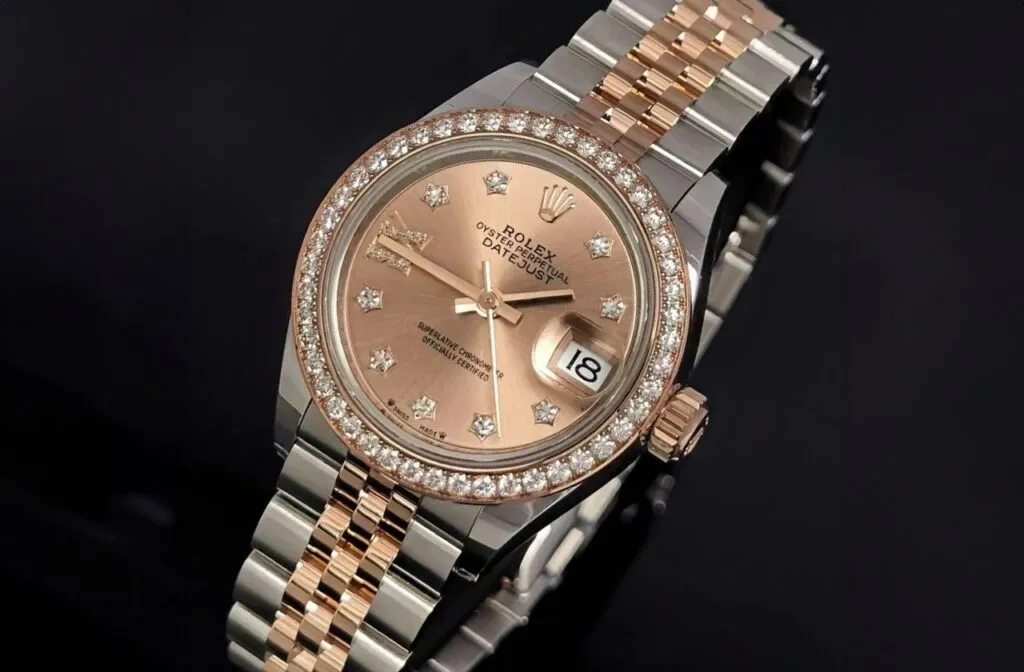 Designed specifically for women, the Lady Datejust is a smaller version of the classic Datejust. It offers the same features and craftsmanship but in a size tailored for feminine wrists. This versatile and elegant watch is perfect for both casual and formal occasions.
The Rolex Lady Datejust President 26mm Yellow Gold Ref. 69178 is among the most emblematic models of the Lady Datejust series. While its retail price is S$15,300, it currently commands around S$10,849 in private transactions.
Pearlmaster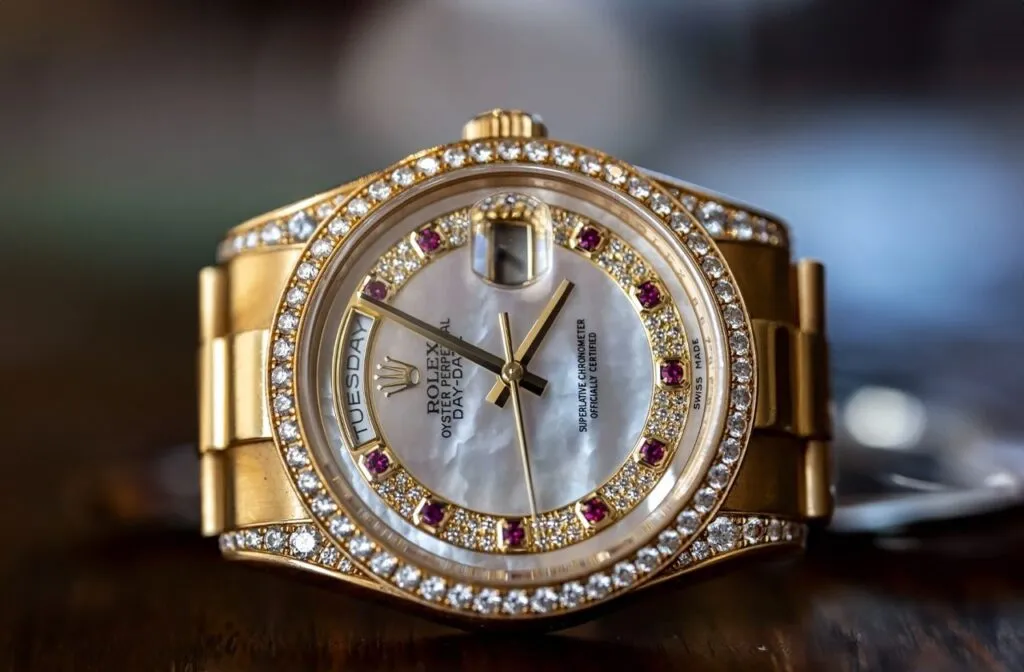 The Pearlmaster is Rolex's jewelry watch collection, combining the precision and reliability of a Rolex timepiece with the beauty of precious metals and gemstones. Each watch in this series is a masterpiece of design and craftsmanship, made for those who appreciate luxury and elegance in every detail.
The Rolex Pearlmaster 29mm Yellow Gold Mother of Pearl Ref. 80318 is the leading choice among the Pearlmaster models. On the private sales market, it's currently valued at approximately S$21,011.
Professional Watch
Explorer
Inspired by the adventures of mountaineers, the Explorer is built for endurance and reliability. Featuring a highly legible dial and a robust Oyster case, this watch is designed to withstand extreme conditions. With its simple yet functional design, the Explorer is a testament to Rolex's commitment to uncompromising performance.
The Rolex Explorer 36mm Steel Black Dial Ref. 124270 is the most favored model in the Rolex Explorer line. While its retail price was S$10,100 in June 2023, it's now going for approximately S$10,925 in private sales.
Submariner
The Submariner is Rolex's iconic dive watch, trusted by professional divers and enthusiasts alike. Known for its robust construction, the Submariner offers exceptional water resistance and a unidirectional rotating bezel for precise measurement of dive times. Both old and new models have been highly sought after by collectors and enthusiasts.
Rolex Submariner watches generally fetch between S$12,357 and S$52,744 in private sales. Of these, the Rolex Submariner Date 41mm Steel Black Dial Ref. 126610 is the most sought-after, with an average private sale price of S$18,258.
Cosmograph Daytona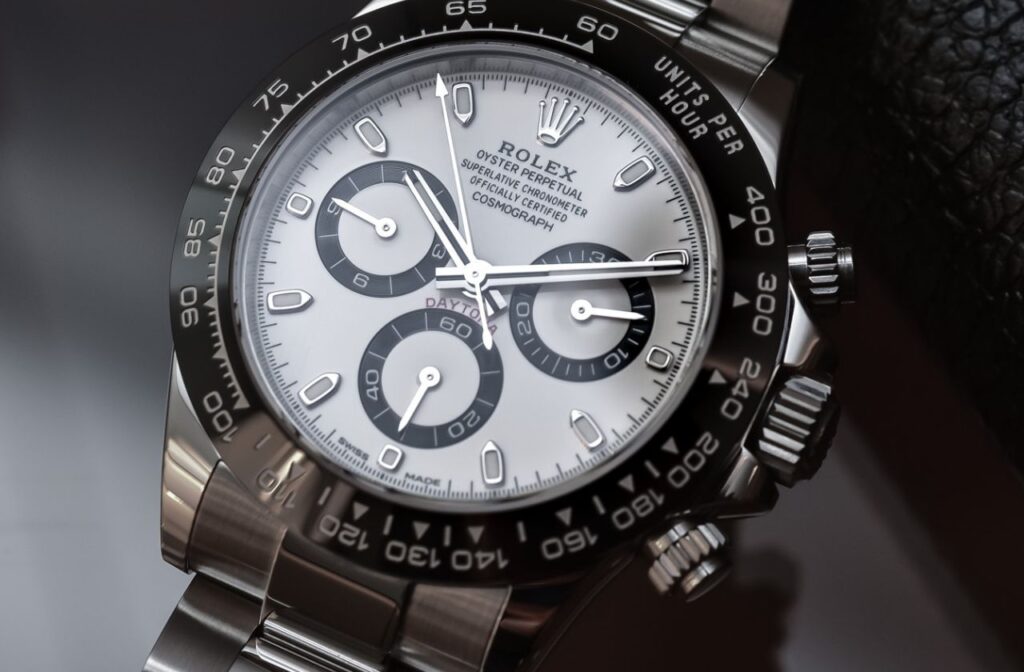 The Cosmograph Daytona is Rolex's legendary racing watch. Equipped with a tachymetric scale and a chronograph, this timepiece was designed to meet the precise timing needs of professional racers. With its attractive design and high-performance features, the Cosmograph Daytona has become a status symbol among watch enthusiasts.
A standout in the Rolex wristwatch collection is the Rolex Cosmograph Daytona Panda Ref. 116500 40mm Steel White Dial. On the private sales market, this particular model, the 116500, has an average price of S$38,194.
Sea-Dweller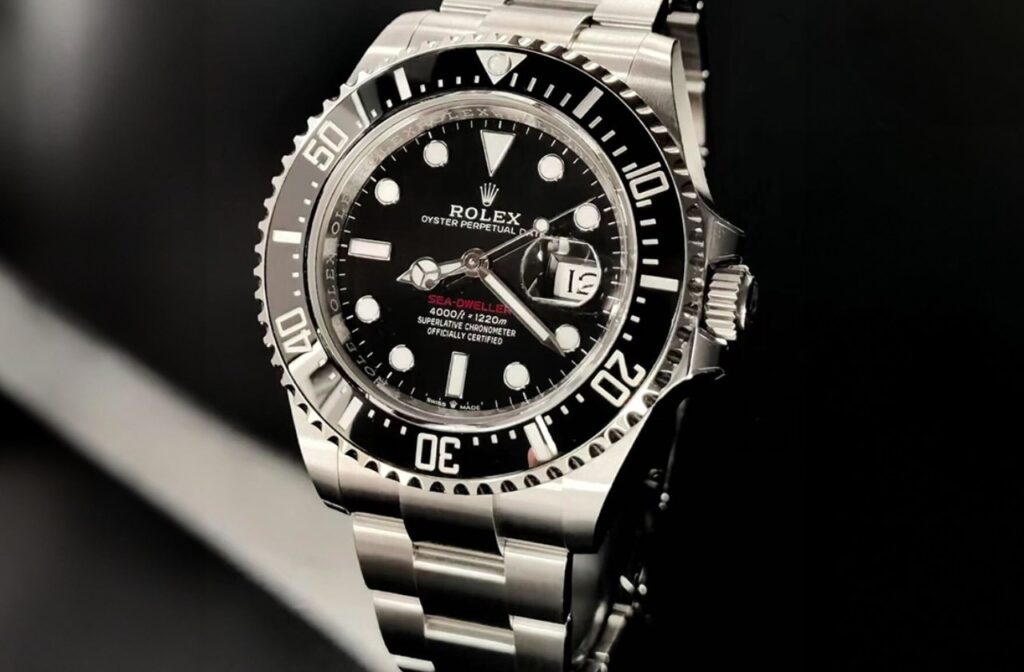 Building upon the success of the Submariner, the Sea-Dweller offers even greater water resistance and functionality for deep-sea diving. Equipped with a helium escape valve, this impressive timepiece is able to withstand the extreme pressures encountered during saturation diving. The Sea-Dweller continues to push the limits of what a dive watch can achieve.
Watches from the Rolex Sea-Dweller collection generally range from S$12,953 to S$50,671 in private sales. The Rolex Sea-Dweller 43mm Steel Black Dial Ref. 126600 is notably the most sought-after model. Although it had a retail price of S$18,450 in June 2023, it's now going for about S$17,631 in private transactions.
Read Also: Rolex Sea-Dweller Vs Submariner
GMT Master II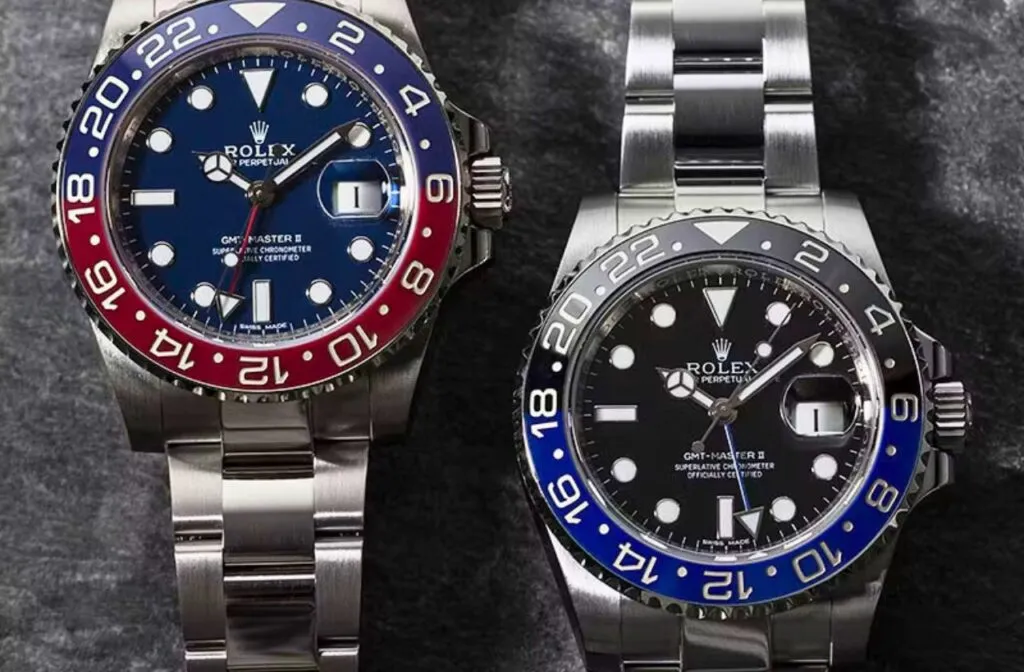 The GMT Master II is designed for world travelers, with the ability to display multiple time zones simultaneously. The rotating 24-hour bezel allows for quick and easy adjustments, making it an indispensable tool for globetrotters. With its practical functions and attractive design, the GMT Master II has become a classic in its own right.
The Rolex GMT-Master II Ref. 16710, affectionately known as the "Coke" due to its bi-color aluminum bezel reminiscent of the Coca-Cola branding, is among the most sought-after GMT-Master II models. While it had a retail price of S$7,800 two years prior, it's now fetching approximately S$16,799 in private sales.
Read Also: The History Of GMT-Master
Yacht-Master
Developed for nautical enthusiasts, the Yacht-Master is both elegant and functional. With its precise timekeeping and rugged construction, this watch is the perfect companion for those who enjoy a life at sea. Offered in various sizes and materials, the Yacht-Master is a must-have for any sailing aficionado.
In the private sales market, Rolex Yacht-Master watches typically range from S$6,389 to S$55,457. The standout model among them is the Rolex Yacht-Master 40mm Steel Blue Dial Ref. 126622, which currently commands around S$18,638.
Milgauss
Created for scientists and engineers, the Milgauss is designed to withstand high levels of magnetic interference. This unique feature, combined with its distinctive orange lightning bolt seconds hand, makes the Milgauss a standout model in Rolex's collection.
From the watch collection, the Rolex Milgauss 40mm Steel Green Dial Ref. 116400GV stands out as the most sought-after. While it had a retail price of S$13,050 in February 2023, it now fetches approximately S$14,279 in private transactions.
Air King
The Air King is a homage to the world of aviation, offering a classic design and exceptional legibility. With its clean dial and bold Arabic numerals, the Air King is a versatile and reliable timepiece that pays tribute to the pioneers of flight.
Rolex Air-King watches generally range from S$3,969 to S$11,995 in private sales. The Rolex Air King 40mm Steel Black Dial Ref. 116900 is notably one of the most popular models from this collection, commanding a price of approximately S$10,266 in private transactions.
List of Discontinued Models
In Rolex's rich and storied history, there have been numerous models that have been discontinued, making way for upgraded designs, features, or materials. Here, we've compiled a brief list of noteworthy discontinued Rolex models to give you an idea of how the Rolex watch company has evolved over time.
Air Series: During the late 1940s, Rolex introduced a range of "Air" models, including the Air-Tiger, Air-Giant, and Air-Lion. However, only the Air-King remains in production.
Daytona Models: A number of iconic Daytona models have been discontinued, as Rolex refines and updates its collection. Examples of discontinued Daytona models from 2023 include 116503, 116508, 116509, 116505, and 116500LN, among others.
Sky-Dweller Models: Sky-Dweller series has also seen some changes in recent years. The 326239, 326238, and 326235 models were discontinued in 2023.
Cellini Moonphase: The elegant Cellini Moonphase 50535, which beautifully combines a classic design with modern watchmaking technology, was retired in 2023.
While this list is by no means exhaustive, it offers a glimpse into how Rolex has evolved and progressed over the years. As a brand that continually seeks to innovate and perfect its timepieces, you can expect new and improved models to take the place of older versions in the years to come.
Most Popular Rolex Watch Models and Reference Numbers
1. Rolex Submariner Ref. 126610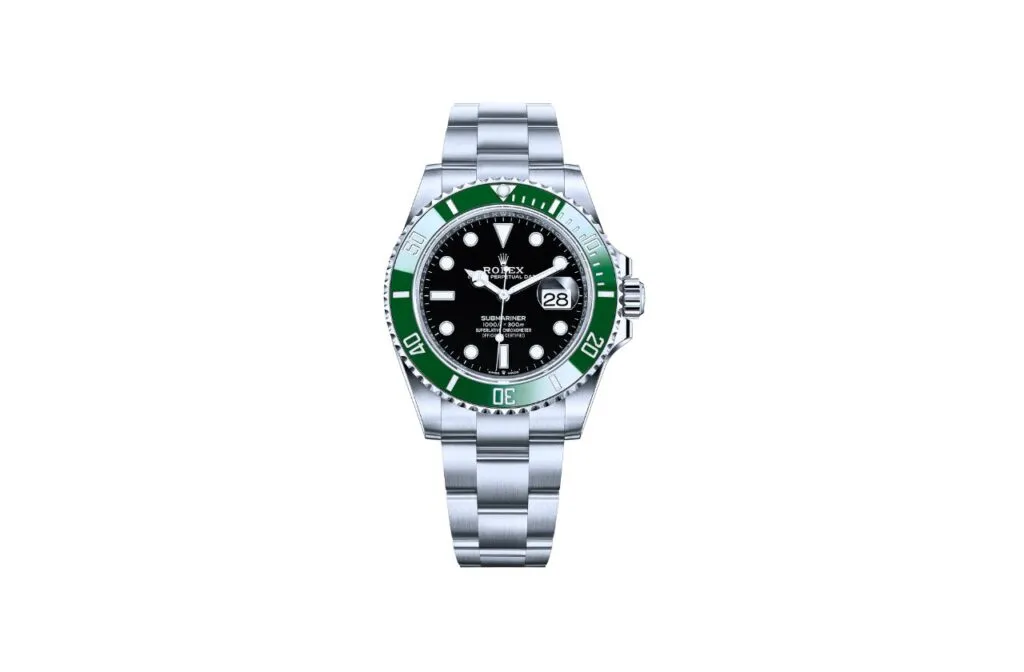 The Rolex Submariner Ref. 126610 is an iconic dive watch known for its robust design, 300-meter water resistance, and timeless aesthetics. Its features include a date function, a unidirectional rotating bezel, and the Calibre 3235 movement.
2. Rolex Daytona Ref. 116520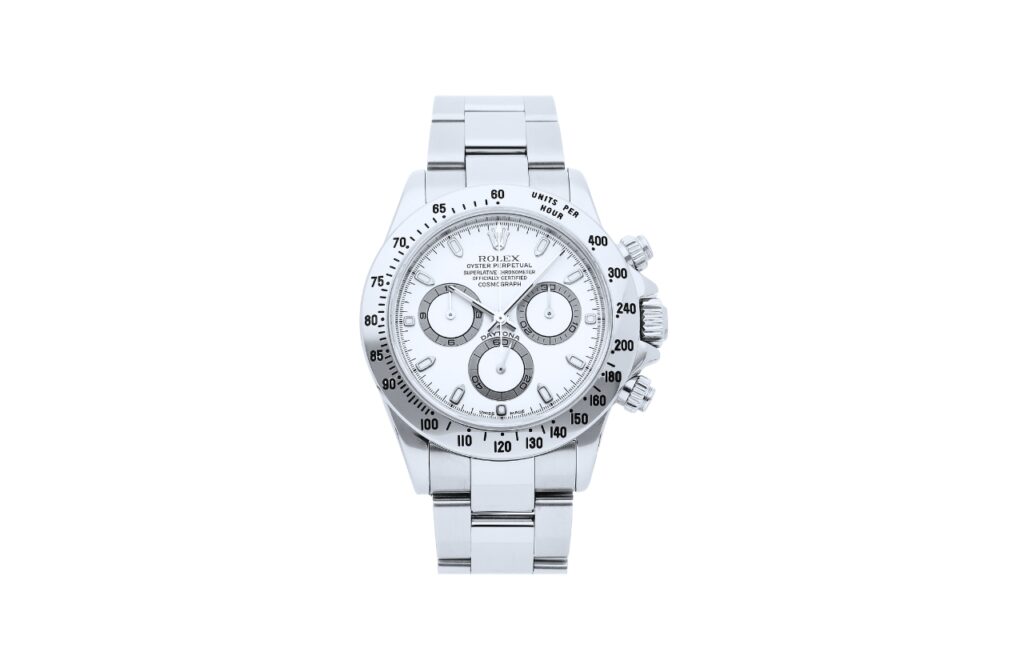 Introduced in 2000, the Rolex Daytona Ref. 116520 is a highly sought-after chronograph timepiece featuring a self-winding movement, three sub-dials, and an engraved tachymetric scale on its bezel, designed for measuring speed over distance.
3. Rolex GMT-Master II Ref. 126710BLRO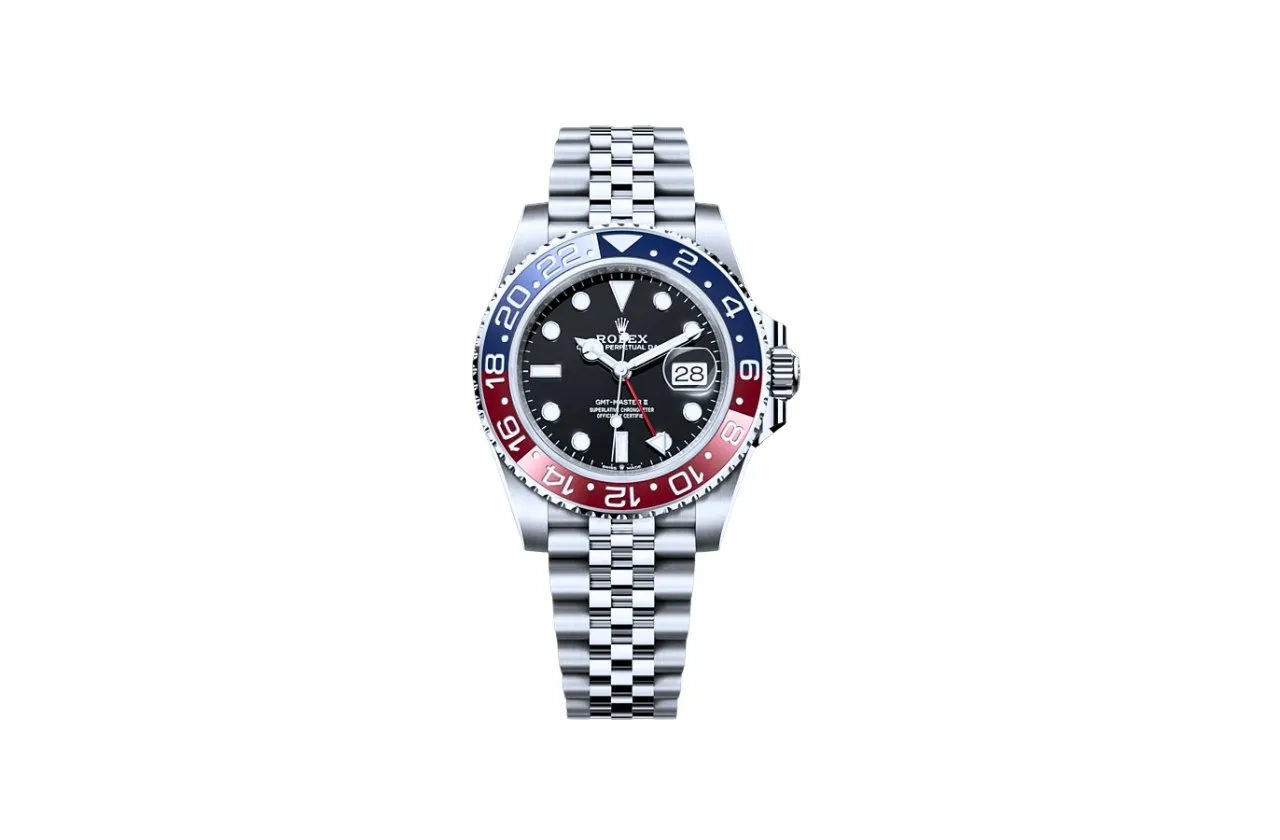 The Rolex GMT-Master II Ref. 126710BLRO is known as the "Pepsi" due to its distinctive red and blue Cerachrom bezel. This model features an additional GMT hand, allowing users to track multiple time zones simultaneously.
4. Rolex Datejust Ref. 126334
A versatile and timeless classic, the Rolex Datejust Ref. 126334 comes with a variety of dial colors, bracelet options, and materials. This model features a date window at the 3 o'clock position and the signature Cyclops lens for enhanced date visibility.
5. Rolex Sea-Dweller Ref. 126600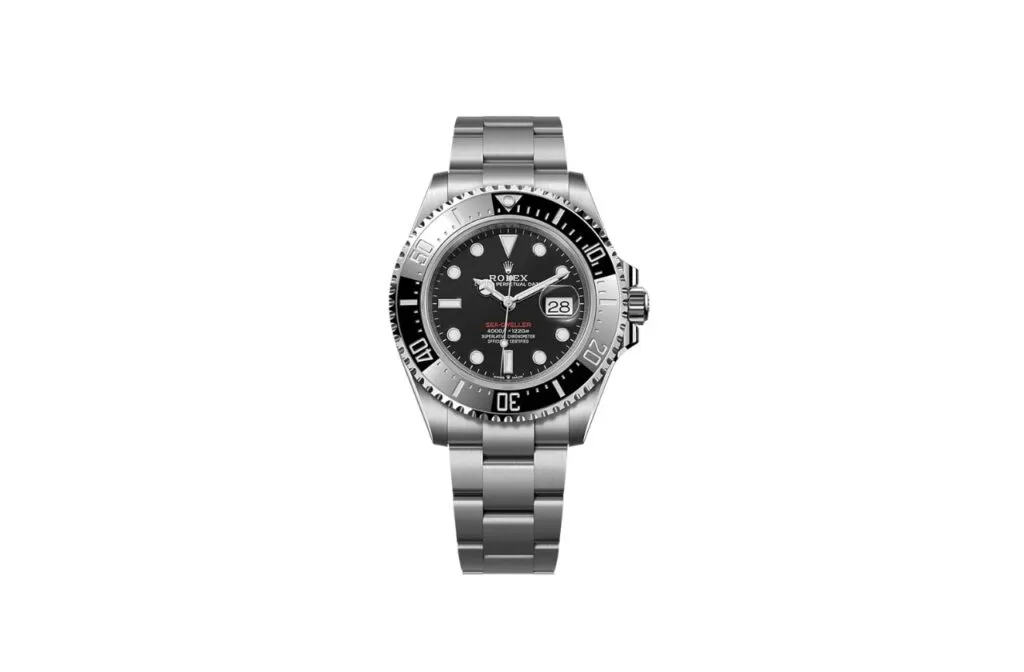 Engineered for extreme depths, the Rolex Sea-Dweller Ref. 126600 boasts 1,200 meters of water resistance and is equipped with a helium escape valve for professional saturation diving.
6. Rolex Explorer Ref. 124270
Designed for adventurers and mountaineers, the Rolex Explorer Ref. 124270 has a smaller, more understated design with a 36mm case. Its notable features include luminescent hands and hour markers as well as a highly legible dial.
7. Rolex Explorer II Ref. 16570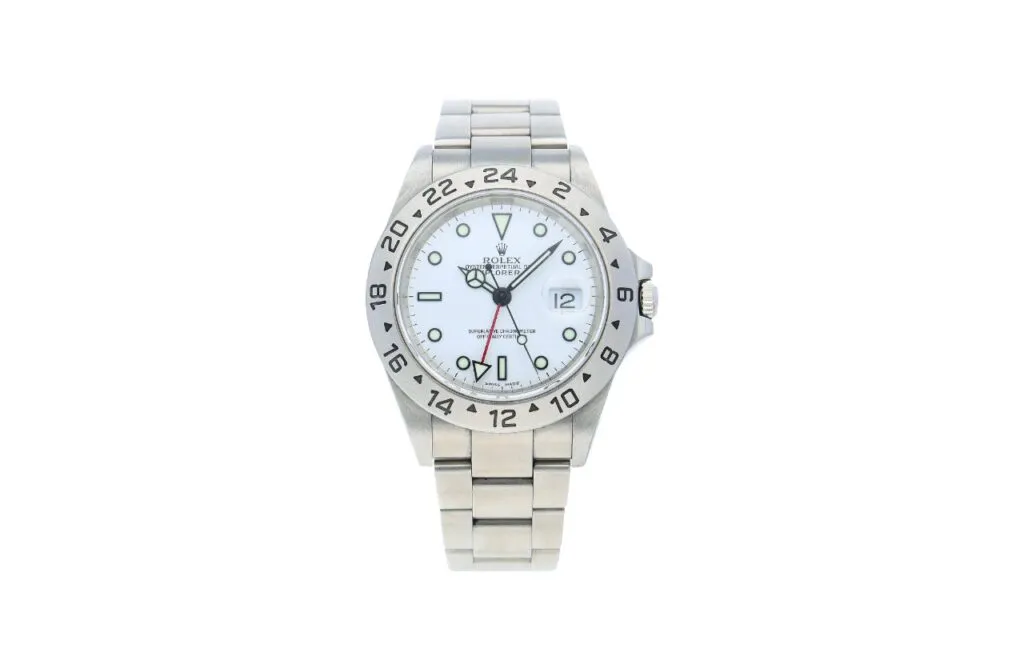 With dual time zone capabilities, the Rolex Explorer II Ref. 16570 is ideal for travelers and explorers. This sturdy watch comes with a 24-hour hand, a fixed 24-hour engraved bezel, and a date function.
8. Rolex Oyster Perpetual Ref. 124300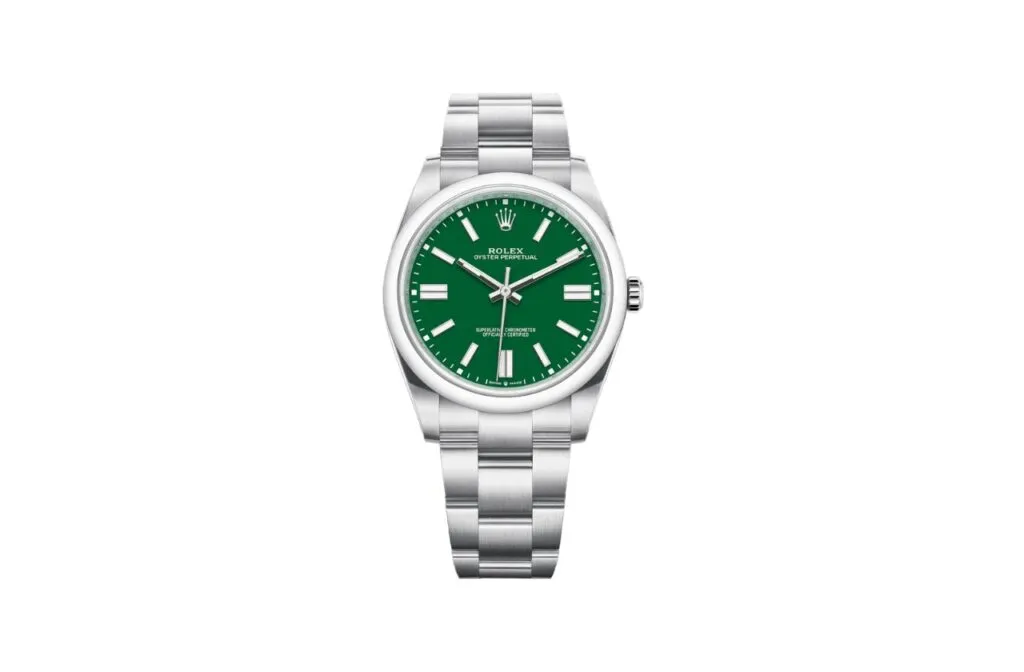 Simplicity and elegance define the Rolex Oyster Perpetual Ref. 124300. Its clean yet functional design includes luminescent hands and applied hour markers on a smooth, stainless steel construction.
9. Rolex Yacht-Master Ref. 126622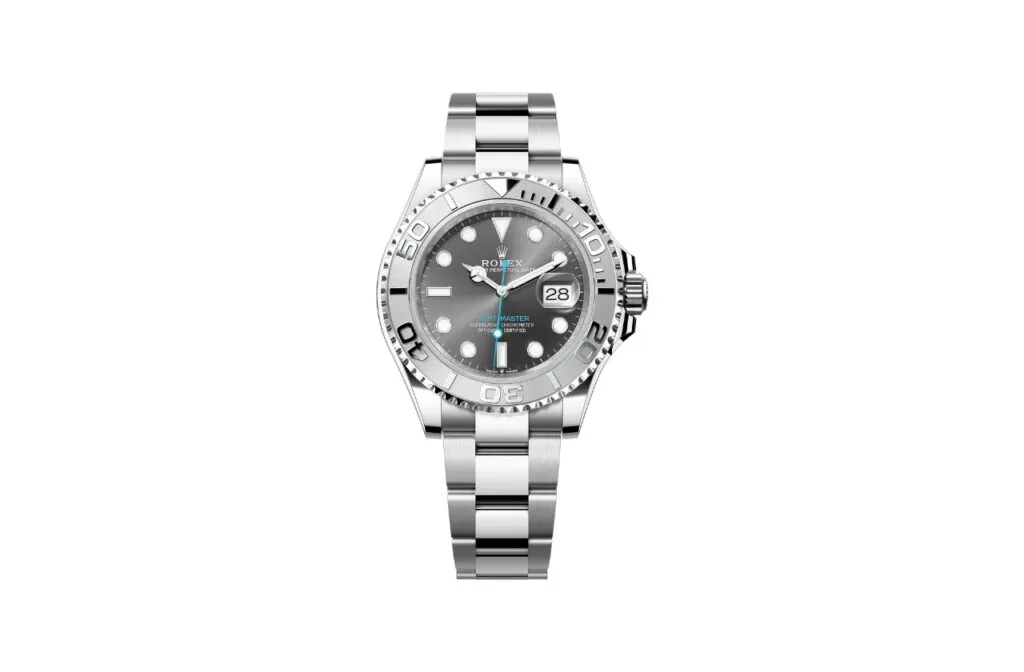 A luxurious sports watch, the Rolex Yacht-Master Ref. 126622 presents a combination of style, functionality, and seaworthiness. It features a bidirectional 60-minute graduated bezel, designed for measuring elapsed time while sailing.
10. Rolex Milgauss Ref. 116400GV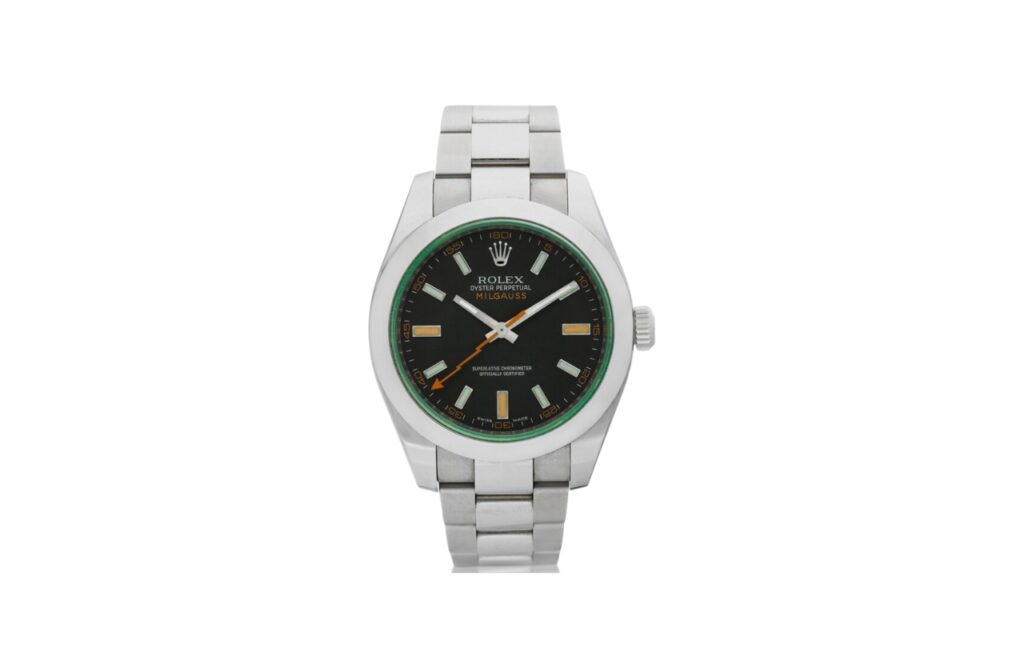 Engineered for scientists, the Rolex Milgauss Ref. 116400GV is renowned for its resistance to magnetic fields up to 1,000 gauss. This anti-magnetic watch features a unique lightning bolt-shaped seconds hand and a green sapphire crystal.
Final Word
Rolex, founded in 1905 by Hans Wilsdorf, has a rich history that spans over a century. The company has achieved various milestones, including the creation of the first waterproof wristwatch named Oyster in 1926.
Key Takeaways
Rolex was established by Hans Wilsdorf in 1905 in London as a company specializing in the distribution of timepieces.
The Rolex brand is renowned for its pioneering spirit, such as the development of the Oyster, the first waterproof and dustproof wristwatch, in 1926.
A Rolex watch is known for its longevity and durability throughout generations, thanks to its high-quality materials and craftsmanship.
Looking to buy or sell your luxury watches? Watch Exchange is your one-stop destination for trading Rolex, Patek Philippe, Tissot, Sinn, Zenith, and other luxury timepieces. Find your next watch today or list your item for free!
---