The Rolex Kermit is a highly sought-after timepiece that symbolizes the brand's commitment to quality and performance. Introduced in 2003, the Submariner 16610LV celebrates Rolex's 50th anniversary and has since continued to captivate watch enthusiasts worldwide.
As you explore the world of the Rolex Kermit, you will quickly realize its distinctive and iconic appearance. The timepiece features a green bezel that stands out in contrast to the traditional black dial, earning its nickname in honor of the popular muppet, Kermit the Frog. This blend of classic elegance and modern edginess has elevated the Rolex Kermit as a must-have for many watch collectors.
Understanding the variations and intricacies of the Rolex Kermit requires careful examination. In this guide, we will delve into the history of the Rolex Kermit, its unique features, and what makes it a valuable addition to your collection. As you dive into the fascinating world of the Rolex Kermit, your appreciation for the brand's dedication to exceptional craftsmanship and timeless design will undoubtedly grow.
Brief History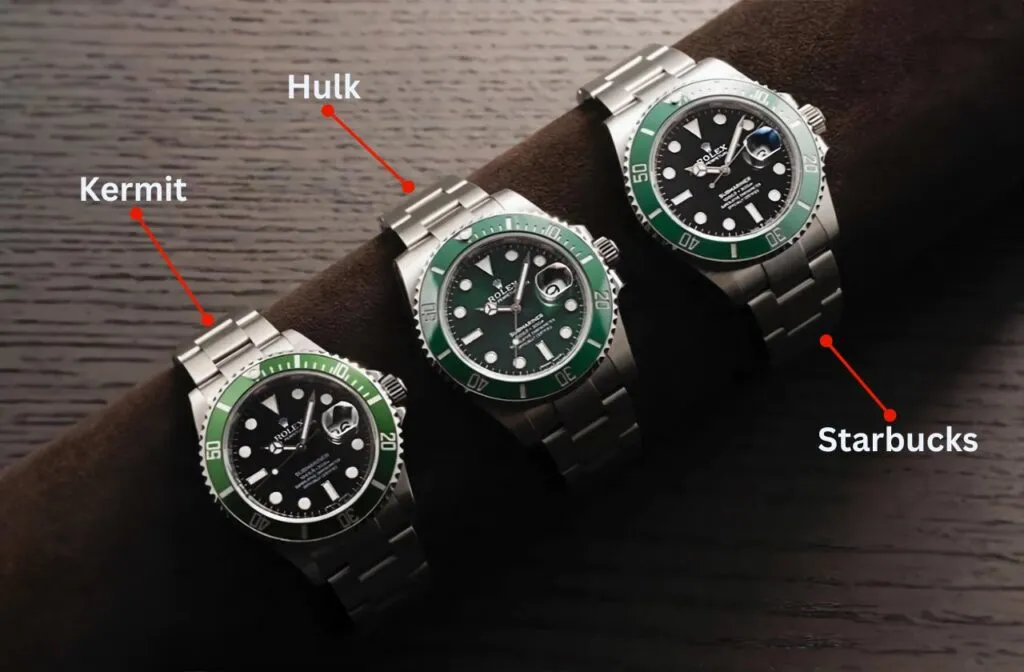 The Rolex Submariner was launched in 1953, designed as a robust, waterproof timepiece for deep-sea divers. Its classic design quickly made it a flagship offering from Rolex.
In 2003, to celebrate the Submariner's 50th anniversary, Rolex released a special model, the Submariner Date Ref. 16610LV. This model featured a striking green bezel, a departure from Rolex's typically understated designs, and quickly earned the nickname "Kermit."
The color green is symbolic of luck, wealth, and affluence, but also carries special significance for Rolex as it is their corporate color. This color is ever-present in their logo, packaging, and tags. By choosing a green bezel for the anniversary Submariner, Rolex successfully tied in its brand identity with its iconic watch.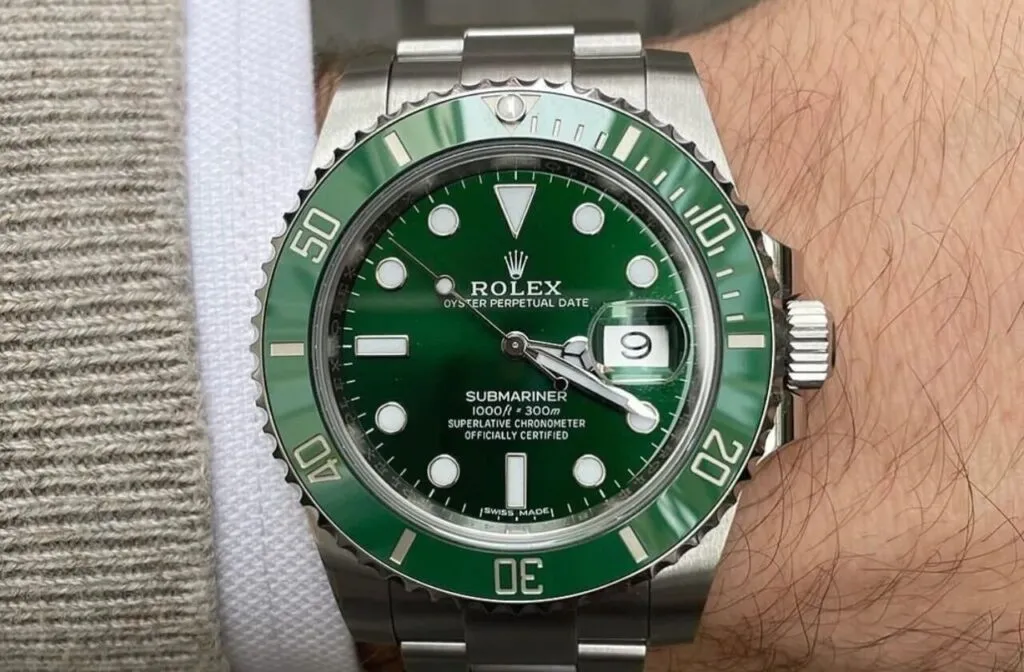 The Kermit was produced until 2010 when it was replaced by the "Rolex Hulk," a Submariner with both a green dial and bezel. Despite this, the original Kermit remained a favorite among watch enthusiasts, largely due to its unique look and relative rarity.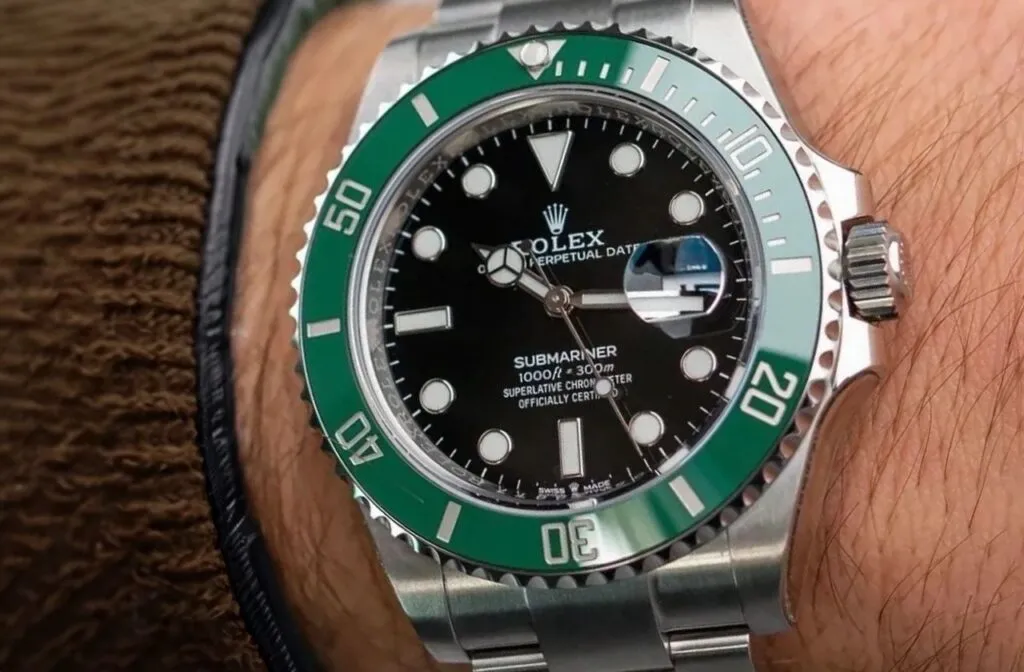 In 2020, much to the delight of fans, the Kermit was re-released with an updated design under the reference number Ref. 126610LV. The new Kermit (also known as rolex starbucks) retained the signature green bezel, paired with a black dial, and featured an increased case size of 41mm and a new movement, the Calibre 3235.
Features of the Kermit
The Case
When looking at the Rolex Kermit, you'll notice that its case stands out due to its unique combination of materials and design. The 40mm Oyster case] is made from 904L stainless steel, which is known for its superior corrosion resistance and durability. This material ensures that your watch will maintain its pristine appearance even after years of wear and exposure to water or other harsh conditions. Some key features of the case include the screw-down case back and the Triplock winding crown, providing water resistance of up to 300 meters.
In addition to the high-quality materials used in its construction, the Kermit's case features a unidirectional rotating bezel with a distinctive green insert, setting it apart from other Submariner models. The green color not only creates an eye-catching contrast against the black dial but also serves as a functional aspect for divers, allowing for easy tracking of elapsed time during underwater activities.
The case of the Rolex Kermit combines high-quality materials, functional design elements, and that iconic green bezel to create a watch that's not only robust and reliable but also easily recognizable as a symbol of luxury and status. As you wear your Kermit, you can be confident that its sturdy construction will endure the test of time, while its striking appearance continues to turn heads and make a statement.
The Dial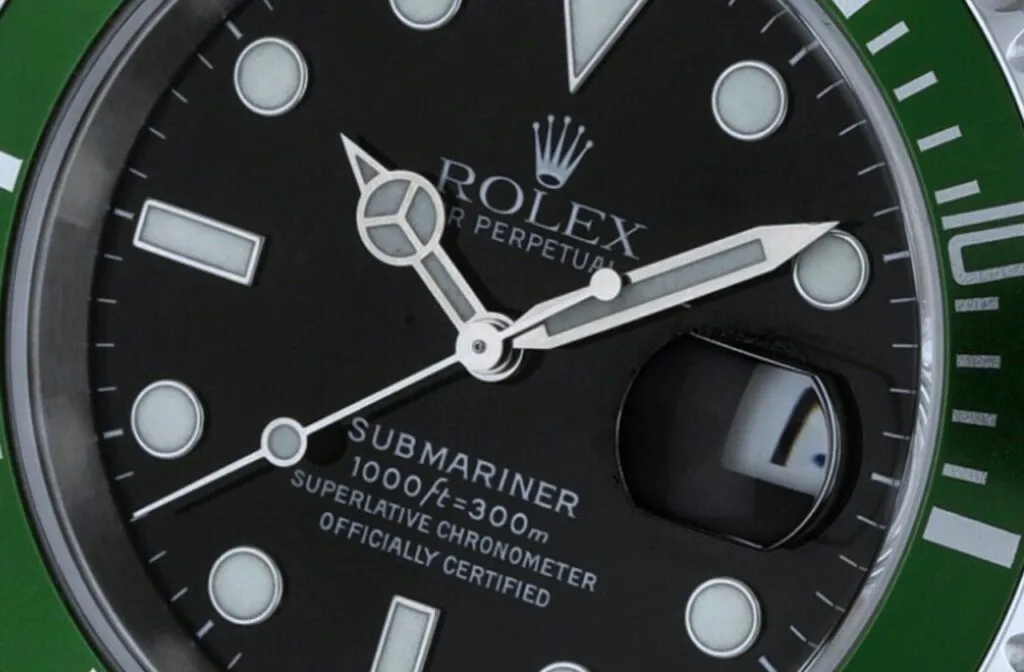 When examining the Rolex Kermit, one of the most noticeable features is its unique dial. This watch features a black 'Maxi' dial, characterized by slightly larger indexes and hands compared to standard Submariner watches. This design enhances legibility and offers a striking contrast to the vibrant green bezel.
Another detail contributing to the Kermit's appeal is the use of a scratch-resistant sapphire crystal, which protects the face of the watch and ensures clear, unobstructed viewing of the time and date. For added functionality in low-light conditions, Rolex has applied Super-LumiNova to the hour markers and hands. As you wear your Rolex Kermit, you'll appreciate the glow emitted by the luminescent elements that make it easy to read the time, even at night or underwater.
Maintaining functionality, the Rolex Kermit also features a date aperture at the 3 o'clock position. The date display dons the signature Rolex Cyclops lens, magnifying the date for easier reading while staying true to the brand's design heritage.
The Strap/Bracelet
The strap plays an essential role in the overall design and appeal of the timepiece. The Kermit comes with an Oyster bracelet made of stainless steel, providing a durable and sleek look to the watch. The Oyster bracelet is considered classic and timeless, complementing the Submariner's design without overshadowing its distinctive features.
The Oyster bracelet's construction is noteworthy, as it consists of three-piece links that are both robust and aesthetically pleasing. It is designed for optimal comfort, ensuring that your wrist doesn't feel weighed down while wearing your luxurious timepiece. Additionally, the bracelet is made of 904L stainless steel, which offers excellent corrosion resistance and is known to be exceptionally reliable.
One key feature of the Rolex Oyster bracelet is the Oysterlock safety clasp that ensures your watch stays securely on your wrist. Rolex incorporated a folding safety clasp that adds an extra layer of protection against accidental opening. This means you can have peace of mind while wearing your valuable Submariner, knowing that it's safely secured on your wrist.
Another impressive aspect of the Oyster bracelet is the Easylink 5mm comfort extension link. This innovative system allows you to quickly adjust your bracelet's length by up to 5mm without needing any tools. The Easylink mechanism provides added flexibility, ensuring that your Submariner fits comfortably on your wrist, even if it expands or contracts due to temperature changes or varying physical activity levels.
The Movement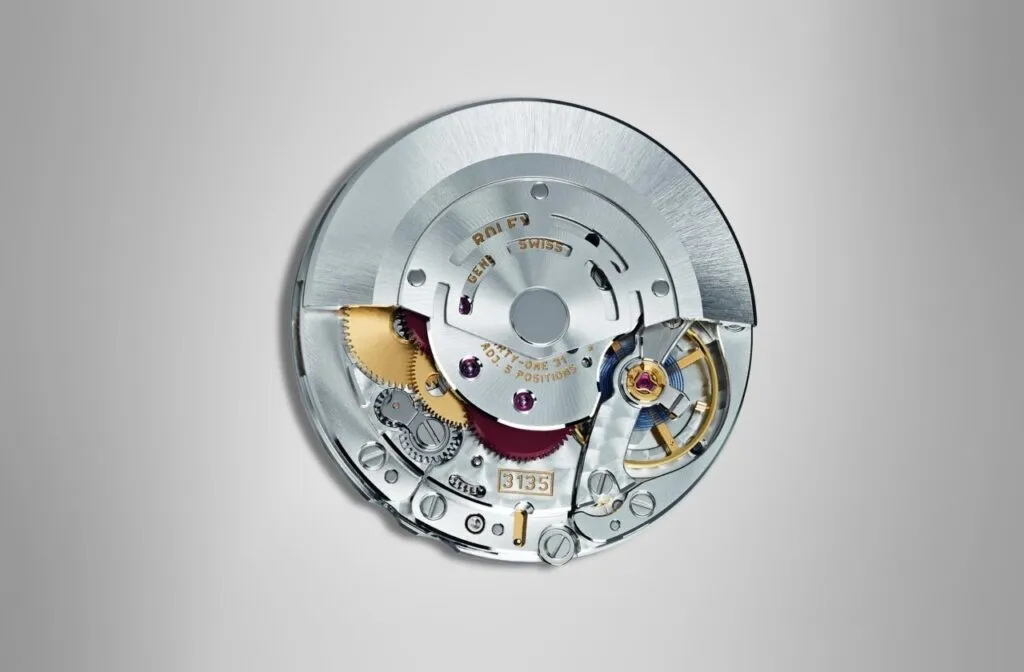 As you explore the Rolex Kermit, it's crucial to understand its movement. The watch is powered by a 31-jewel movement, which is specifically the Caliber 3135. This reliable and accurate caliber has been the heart of various Rolex models since its introduction in 1988. The Kermit is no exception, and the Caliber 3135 provides it with long-lasting performance and durability.
The movement operates at a frequency of 28,800 vibrations per hour (vph), ensuring a smooth sweep of the seconds hand and accurate timekeeping as you wear your Rolex Kermit. Furthermore, the caliber is equipped with a 48-hour power reserve, providing you ample time between winding or wearing your watch without losing time.
One notable feature of the movement is its 300-meter water resistance, which is standard for Rolex Submariner watches. This impressive level of water resistance is achieved through the use of a trip-lock crown and a very hard sapphire crystal. The trip-lock crown provides an additional layer of protection, and the sapphire crystal is highly resistant to scratches compared to other materials such as plexi.
The movement of the Rolex Kermit is a key element in its performance and appeal. The Caliber 3135's reliability, accuracy, and long power reserve are crucial in providing you with a timepiece that you can trust for years to come. Meanwhile, the 300-meter water resistance ensures that your watch can accompany you on a variety of adventures, both on land and underwater.
Variations: Original Kermit Submariner and Kermit Flat 4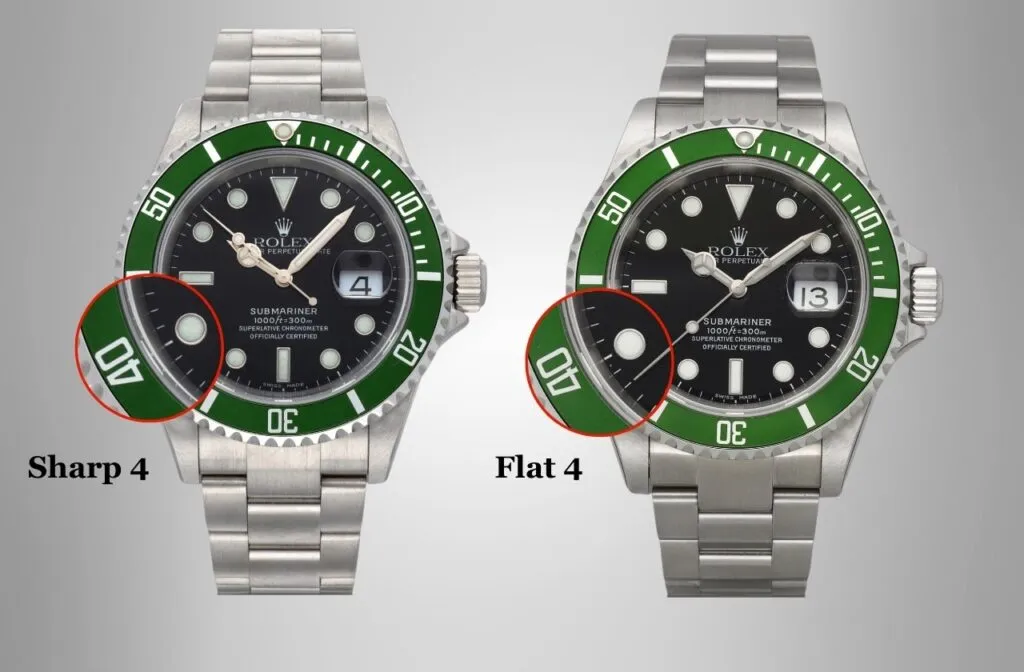 When exploring the Rolex Kermit watches, you'll come across two main variations: the Original Kermit Submariner and the Kermit Flat 4. These two models showcase minimal differences but are widely discussed among collectors.
The Original Kermit Submariner (16610LV) was introduced in 2003 to celebrate the 50th anniversary of the iconic Rolex Submariner. Its most prominent feature is the vibrant green aluminum bezel that sets it apart from the standard black Submariner references. This timepiece quickly gained popularity among watch enthusiasts and became a highly sought-after collectible model.
In addition to the Original Kermit Submariner, there's the Kermit Flat 4 (16610LV) variation. The key distinction between the two versions lies in the bezel insert. The Flat 4 bezel exhibits a slightly different shape in the numeral 4 on the insert – more of a trapezoid with a flat top, leading to the name "Flat 4." This unique attribute is considered desirable among collectors and can significantly impact the watch's value.
The primary differences between the Original Kermit Submariner and the Kermit Flat 4 lie in the bezel insert and the numeral 4's shape, with the Flat 4 featuring a more flattened appearance. As you delve into the world of Rolex Kermit watches, understanding these subtle variations will surely enrich your appreciation for these collectible timepieces.
Price and Availability
As of July 2023, the average price for a Rolex Kermit 126610LV on the private sales market stands at S$21,692. Comparatively, the retail price was S$15,050 just a month prior in June 2023. This notable difference showcases a considerable increase in value within a relatively short period, making it an impressive uptick of S$6,642, or around 44% in value.
Given its 4.7% price volatility, investing in a Rolex 126610LV can be seen as relatively stable compared with many other forms of investment. Price volatility is a statistical measure of the dispersion of returns for a given security or market index, and in this context, a lower percentage indicates less price fluctuation and thus less investment risk.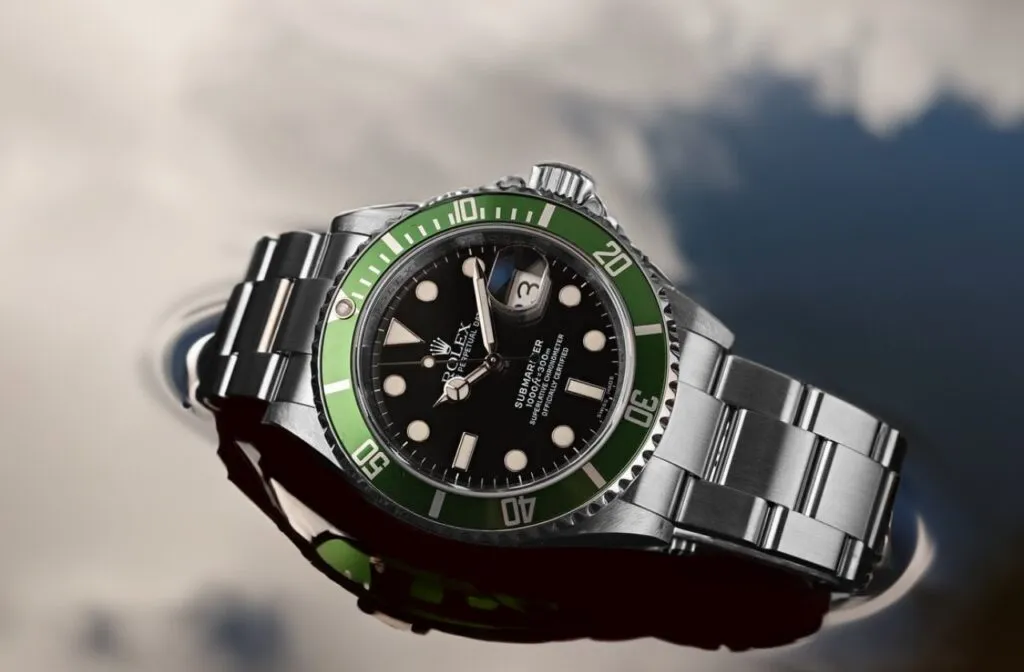 So, is a Rolex 126610LV a good investment?
The Rolex Kermit Ref 126610LV's strong performance over just a month suggests the potential for appreciation in value. However, prospective investors should be mindful that past performance is not a reliable indicator of future results, and numerous factors that could affect the watch's resale value.
Why Should You Invest?
Here are several factors to consider when evaluating whether you should invest in the Kermit Rolex:
The Kermit has a rich history and a unique design. It caught attention with its green bezel and Maxi Dial, which features larger hour markers and fatter hands for increased legibility. This characteristic design makes it stand out among other Rolex timepieces, increasing its collectability and desirability among enthusiasts.
Rolex has a reputation for high-quality and luxurious timepieces, which often retain or even appreciate in value over time.
The Kermit has undergone a few updates since its initial release. For instance, the "Flat 4" version of the original Kermit refers to the models where the number '4' in the '40' on the bezel insert is flat at the top, rather than pointed. This minor detail is highly sought after by collectors due to its rarity, increasing the desirability and potential value of this specific variant.
The Kermit commands a premium in the pre-owned market value, currently priced at S$21,692, due to its rarity and demand, especially for well-maintained pieces. The market value has seen a significant increase over the years, and this upward trend is expected to continue.
While the Kermit Rolex has shown positive investment potential so far, the watch market can be unpredictable. Prices may fluctuate due to various factors such as market trends, overall demand, and the condition of individual timepieces. As with any investment, you must research and make informed decisions.
Where to Buy?
Authorized Dealers
Pros: Purchasing your Rolex Kermit from an authorized dealer ensures that your watch is authentic and comes with a full manufacturer's warranty. Authorized dealers can provide you with expert advice and assistance, making your purchase a more secure and enjoyable experience.
Cons: However, buying from an authorized dealer may result in higher prices, as they often have limited discounts compared to grey market sellers.
Grey Market
Pros: Grey market dealers often have a broader selection of watches and might have access to models that are waitlisted or sold out at authorized dealers.
Cons: Be cautious when purchasing from the grey market, as you may not receive a manufacturer's warranty, and the watch's authenticity cannot be guaranteed.
Remember to carefully weigh the pros and cons of each option before making your decision. A Rolex Kermit watch is a significant investment, and it's essential to choose the buying route that best suits your needs and preferences.
FAQs
1. Will Rolex discontinue the Kermit?
While it's impossible to predict Rolex's decisions with complete certainty, it's worth noting that they do have a history of making changes to their lineup. For example, the brand discontinued the original Kermit (Ref. 16610LV) in 2010, and replaced it with the updated "Hulk" model (Ref. 116610LV), which features a green dial in addition to the bright green bezel. This signifies that Rolex is open to change and may continue to evolve its offerings in the future.
But as of this writing, there has been no official announcement from Rolex about discontinuing the Submariner "Kermit" (Ref. 126610LV). Rolex is traditionally very secretive about its future plans and production decisions, making it challenging to predict which models it will discontinue or when that may happen.
If you're considering purchasing one, it's a good idea to stay in touch with authorized Rolex dealers or to follow reputable watch news sources for the most current information.
2. How Rare is Kermit Rolex?
The Rolex Submariner "Kermit" (both the original Ref. 16610LV and the re-released Ref. 126610LV versions) is considered relatively rare, especially in comparison to the standard black Submariner models. The Kermit's distinct green bezel, combined with its stainless steel case and black dial, make it a unique addition to any Rolex collection.
The original Kermit was produced for only seven years (from 2003 to 2010), which is a relatively short production period in the world of Rolex. This shorter production run, coupled with the initial mixed reception due to its unique green bezel, resulted in fewer units being sold during its first few years, further contributing to its relative scarcity.
The 2020 re-release of the Kermit was met with high demand, and like many Rolex models, it was challenging to purchase at retail due to limited supply. This model is also viewed as relatively rare because it's not as widely available as standard Submariner models.
Both versions of the Kermit are considered highly desirable by watch collectors and Rolex enthusiasts, which also contributes to the perception of rarity. High demand and limited supply often result in watches being traded in the secondary market at prices significantly above their original retail price.
However, it's important to note that 'rarity' in the context of Rolex watches doesn't mean they are impossible to find. It simply means that they are produced in smaller quantities and are harder to come by compared to more standard models, which increases their desirability and value.
3. Will Rolex Kermit Increase Price?
Based on the historical trends over the past ten years, along with insights gleaned from experienced Rolex collectors. Based on these informed perspectives, it appears that the "Kermit" model will continue on its trajectory of value appreciation in the foreseeable future.
Final Word
The Rolex Submariner "Kermit" is a storied timepiece with a history that's deeply intertwined with Rolex's brand legacy. Its value, bolstered by distinctive design elements and robust performance, continues to show promising trends. For those contemplating an acquisition, understanding this model's history and prospective value is crucial for an informed purchase.
Key Takeaways
With its distinct green bezel and black dial, the Kermit offers a unique blend of the classic Submariner aesthetics and a bold, modern touch.
In addition to its iconic green bezel, the Kermit features a sapphire crystal, a unidirectional 120-click bezel, a calendar date function, and a waterproof rating up to 300 meters.
Due to its limited production and discontinuation in 2010, the Rolex Kermit has gained significant value in the collectors' market.
Looking to buy or sell your luxury watches? Watch Exchange is your one-stop destination for trading Rolex, Patek Philippe, Tissot, Sinn, Zenith, and other luxury timepieces. Find your next watch today or list your item for free!
---