The Rolex Panda has captured the attention of most watch enthusiasts for years, earning a reputation as a statement piece that combines style and functionality. Its unique panda-like dial design, found in the reference 6263 and 6265 models, has fueled the allure of this timepiece, making it a highly sought-after collectible.
Given its rarity and timeless design, it has proven to be a good investment for collectors. Its appeal also extends to celebrities and watch aficionados alike, as many appreciate its craftsmanship and the attention to detail that demonstrates Rolex's pursuit of perfection.
As for its name, it gets its unofficial nickname from the distinct black-and-white contrasting design on its dial, reminiscent of the beloved animal (panda)'s markings. To most watch fans' excitement, Rolex has introduced a new member of the Rolex Panda family-126500LN- to the watch industry. Is it worth admiration? Let's find out in the Rolex Panda review below.
The Case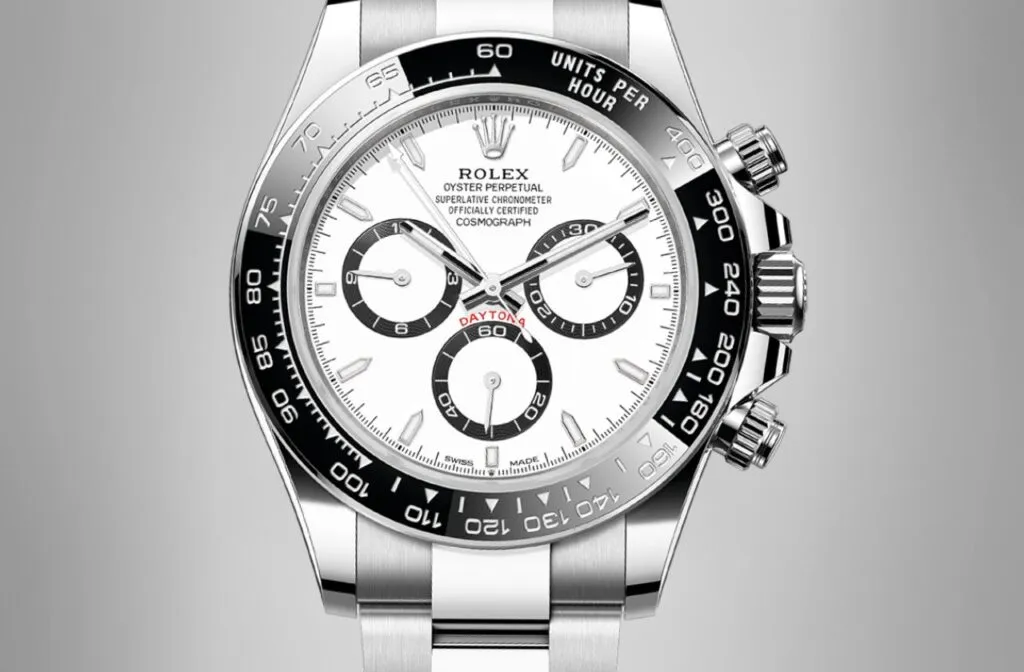 The Rolex Panda ref.126500LN's case is a timeless statement in design and engineering. Crafted with precision, it showcases the brand's commitment to craftsmanship and performance.
It pretty much resembles its predecessor, the 116500LN's, from afar, having a similar Oystersteel material and 40mm diameter. Oystersteel is known for its robustness and ability to withstand harsh conditions, making the watch suitable for daily wear and various environments.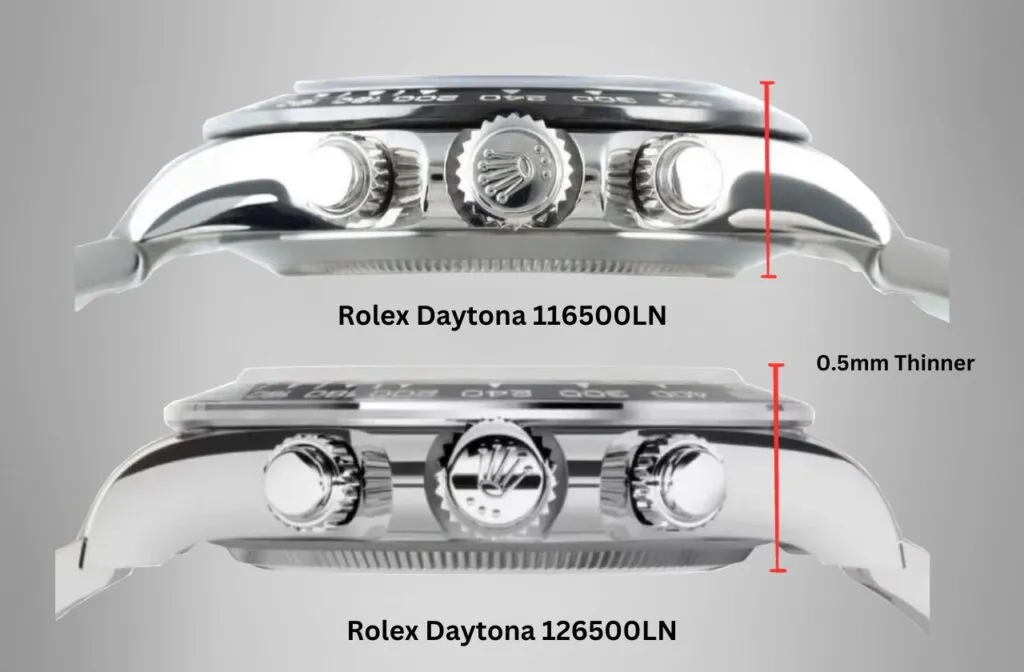 However, in typical Rolex fashion, the 126500LN boasts minor adjustments that make all the difference. Let's start with its thickness. It's 11.9mm thick, which is 0.5mm thinner than the now-discontinued Rolex Daytona 116500LN. This gives the steel Daytona a modern, stylish look which morphs into elegant masculinity due to its sexy, less wide feature.
Next are the crown guards, which take their place between the familiar Triplock screw-down crown with a coronet. They're smoother and blunter than the previous more pointed ones, making them look more confident and in tune with the case's progressive form.
And it's not just the guards. The lugs, too, have received an impressive upgrade. They're longer and rather than slide gracefully like the previous ones, they have flat feet that distort their flow with the bracelet a bit, but disappointment quickly turns to approval for most people once the watch rests on the wrist. The feeling of control the lugs bring is unmatched.
Above the face is a scratch-resistant sapphire crystal with an anti-reflective coating, offering crystal-clear visibility and adding to the timepiece's resilience. Its edges line carefully into the case, echoing the watch's overall beauty and Rolex's painstaking attention to detail.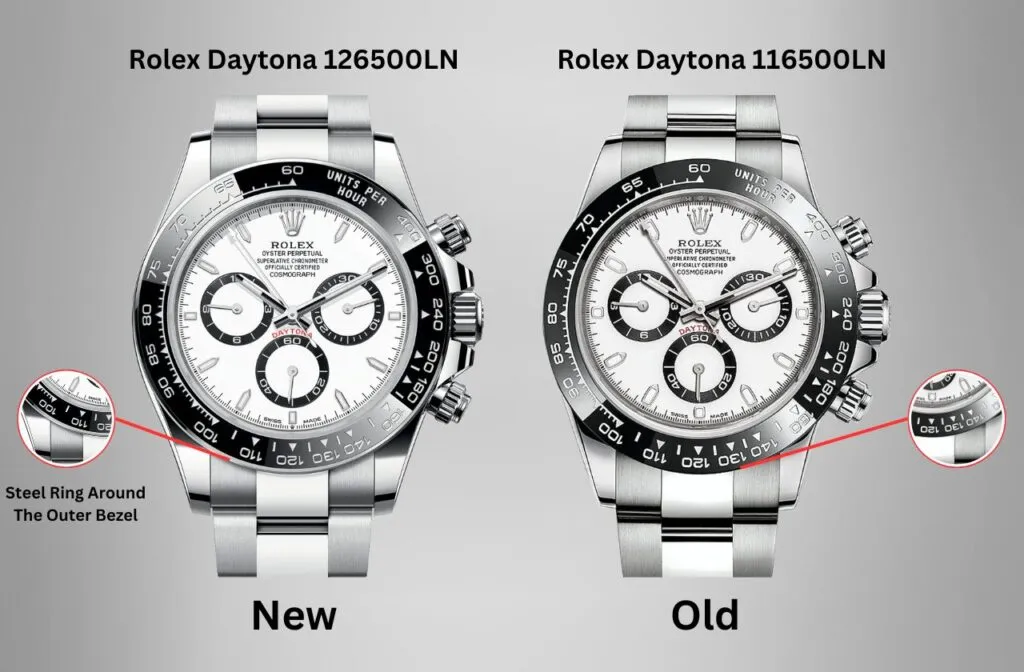 One of the most notable design elements of the new Rolex Panda is its bezel, featuring a black monobloc Cerachrom insert. This ceramic bezel is highly scratch-resistant and impervious to any fading or corrosion brought on by exposure to sunlight, saltwater, or harsh chemicals. Moreover, the tachymeter scale on the bezel is highly legible, ideal for measuring speed based on elapsed time. It features recessed graduations, inscriptions, and numerals-all coated in platinum through PVD.
The black ceramic bezel design stays the same in the 126500LN, save for the band of polished Oystersteel around the bezel's outer surface. It adds some substance to the case and a sense of completion compared to the infiniteness the previous bezel with no metal band had.
Finally, the 126500LN's caseback assumes the well-known solid design. It's screw-down and has the hallmark fluting, adding to the watch's water resistance and ensuring it can withstand depths up to 100 meters.
Fun Fact: There's a Rolex Panda with a sapphire caseback (the only one, for now). Don't worry. That's not a typo. We're talking about the 2023 60th Anniversary Platinum Daytona ref. m126506-0001 with an ice-blue dial and chestnut-brown Cerachrom ceramic bezel.
In summary, the Rolex Panda 126500LN's case is a prime example of Rolex's dedication to excellence in watchmaking. Combining robust materials, thoughtful design, and practical functionality, it offers a truly exceptional timepiece that looks impeccable and performs to the highest standards.
The Dial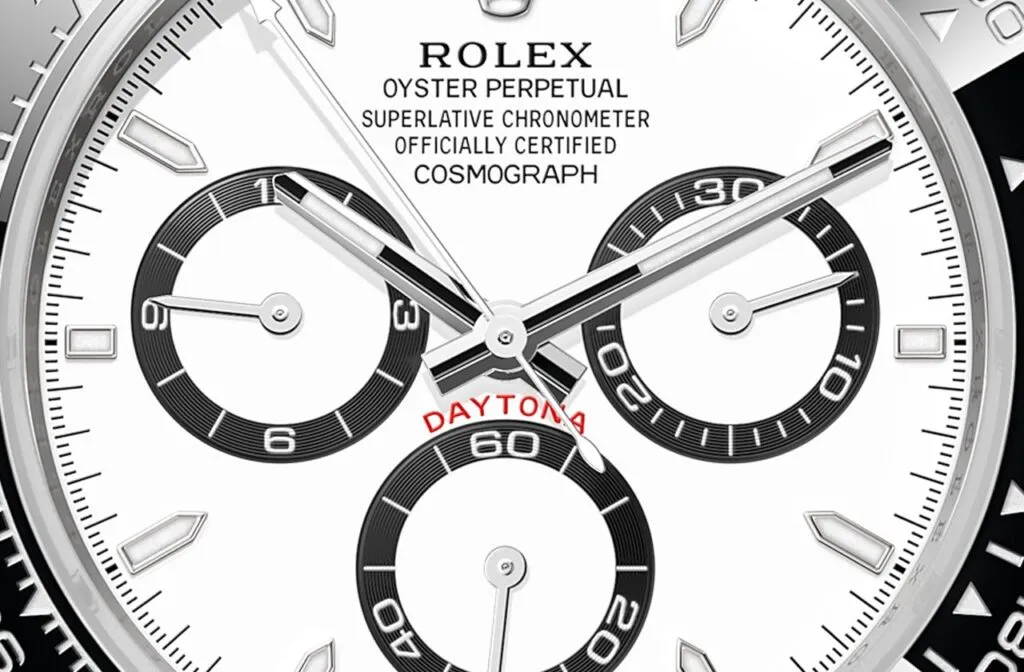 The Rolex Panda 126500LN is one of its loudest features. Look at it for a while and it's almost as if you're staring into the eyes of an adorable panda, thanks to its well-positioned subdials. But let's start from the beginning.
Like its predecessor, this ceramic steel Daytona is available in two dial options:
White (ref. m126500-0001), which is more elegant than sporty for its beautiful white dial-silver background aesthetic combo.
Black dial version (ref.m126500-0002), which is sportier and more adventurous-looking. Its black face gives it a masculine edge that appeals to mostly the younger watch lovers (and the young at heart)
We'll zoom in on the white dial variation.
It has the typical Rolex Cosmograph Daytona dial setup, with the usual culprits all set to take you on an exciting visual and functional adventure. It also has some noticeable adjustments that, in our option, suit the new Daytona's style.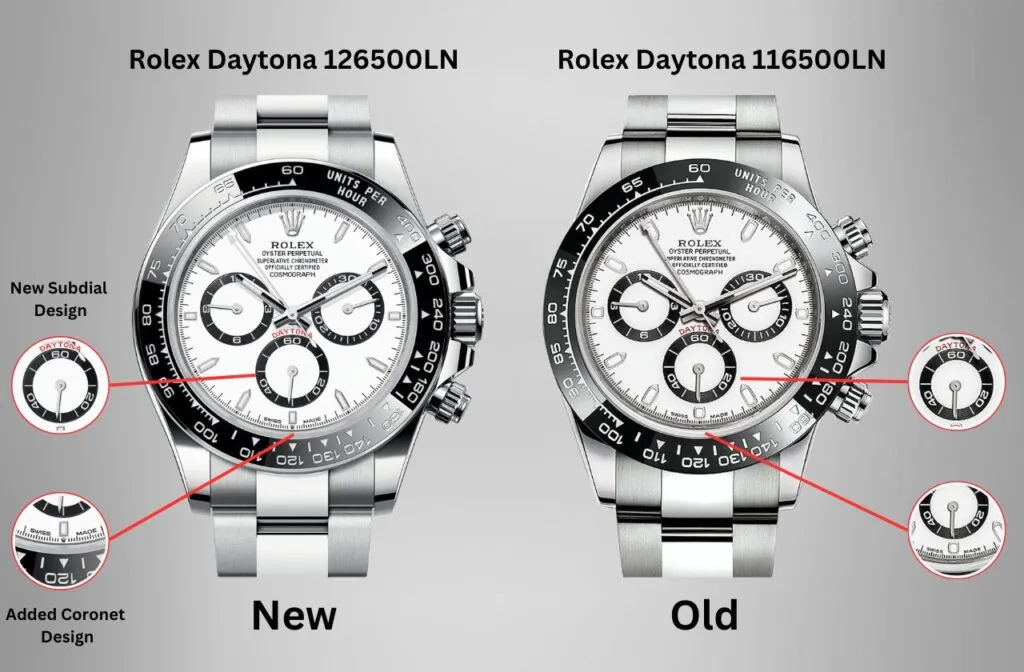 We'll start with the sub dials. Their black frames are slimmer than the previous model's, adding some character to the watch's overall design. It's also satisfying if you're attentive to the smallest details that now, the Arabic numerals in the counters fully fill the frames. Their hands are also slimmer, promoting consistency and modernity.
What's a bit of an eyesore is the imbalanced 3 and 9 o'clock subdial design that the new Cosmograph Daytona decided to keep. Oh well, it wears off with time as you get used to the luxury sports machine.
Moving on to the 18K White Gold index hour markers, they've received a refreshing improvement that also contributes to the timepiece's modern design. They're thinner, more angular and longer, a respectful touch from the 1988 Cosmograph Daytona ref. 16520. They're filled with chromalight lume, whose sea-blue color suits this iteration perfectly.
Chromalight is a proprietary luminescent material developed by Rolex. It's used on the watch dials and hands to provide visibility in low-light conditions. It's Rolex's answer to the demand for improved luminescence and is designed to emit a long-lasting blue glow.
Its key features and characteristics include:
Long-lasting Luminescence: Chromalight is known for its ability to provide a consistent and bright glow in the dark. Rolex claims that it lasts longer than traditional luminous materials.
Blue Glow: One of the distinctive features of Chromalight is its blue glow, which sets it apart from the more common green luminescent materials used in many other watches.
Even Illumination: Chromalight is applied to both the watch hands and markers, ensuring the entire watch face is evenly illuminated in the dark. This provides excellent legibility in low-light conditions.
Charge Time: Chromalight requires exposure to light (natural or artificial) to charge its luminescent properties. After being exposed to light, it can emit the blue glow for several hours.
Superlative Chronometer Certification: Rolex rigorously tests its watches for precision and performance. Chromalight's luminescence properties are also part of this testing, ensuring it meets Rolex's high standards.
Exclusive to Rolex: Chromalight is a proprietary material developed by Rolex and is exclusively used in their watches.
It's featured in various Rolex models across their lineup, including the Rolex Submariner, Rolex Sea-Dweller, Rolex GMT-Master II, Rolex Cosmograph Daytona, and others. It enhances the functionality of Rolex watches, especially for divers and individuals who require excellent readability in low-light or underwater conditions.
Another notable addition worth mentioning is the coronet beneath the 6 o'clock hour marker between the SWISS and MADE prints, indicating the presence of a new-generation movement in the sports watch.
Everything else remains the same, including the red 'DAYTONA' print beautifully spread out above the 6 o'clock subdial, the 5-line text above 12 o'clock, the 18K White Gold hands design, and the even spreading of the second markers around the dial's rim.
In conclusion, the Rolex Panda dial is a visually stunning design and a highly functional addition to any watch collection. Its classic yet bold appearance, coupled with Rolex's unwavering dedication to quality and precision, make it an excellent pick for those seeking a unique and prestigious timepiece that can stand the test of time.
The Movement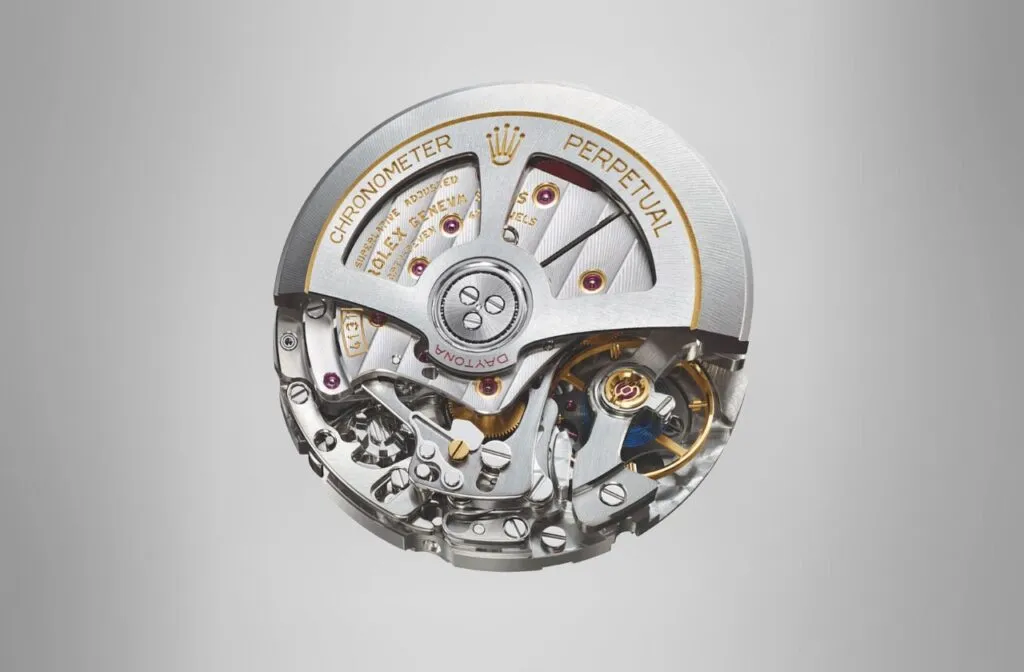 Drumrolls, please. Enter the new Rolex Caliber 4131 movement that's a big deal not just because it's new but also because of its proportions and extraordinary functionality. It's Rolex's choice for the Rolex Panda 126500LN stainless steel Daytona-having replaced the Caliber 4130 that has been in use since 2000.
It's a Superlative Chronometer-certified self-winding movement with 47 jewels, a 72-hour power reserve, a +2/-2 seconds per day precision, and a 28,800vph oscillating frequency. Additionally, it has a 30.50mm diameter, allowing it to fit into the new Rolex Panda. Okay, we're done with the basics. So, what sets it apart from its predecessor?
First of all, it has Rolex's patented Chronergy escapement. The Chronergy escapement is a key component in Rolex watches, specifically designed to enhance the precision and efficiency of their movements. Rolex introduced it in 2015 as an evolution of the traditional Swiss lever escapement. Here are some of its key features and benefits:
Improved Efficiency: The primary goal of the Chronergy escapement is to improve the energy efficiency of Rolex movements. It does this by optimizing the shape and design of the escapement components, including the escape wheel and the pallet fork. This efficiency leads to longer power reserves and enhanced overall performance.
Reduced Friction: Rolex uses LIGA (an acronym obtained from the German terms for lithography, electroplating, and molding) technology to manufacture the escapement components. This advanced manufacturing process allows for extremely precise and lightweight components with minimal friction.
Enhanced Magnetic Resistance: The materials used in the Chronergy escapement are non-magnetic, which helps protect the movement from the negative effects of magnetic fields, a common hazard for mechanical watches.
Durability: The Chronergy escapement is designed to be highly durable and require less frequent servicing compared to traditional escapements. This contributes to the long-term reliability of Rolex watches.
Accuracy: By reducing energy loss due to friction and improving overall efficiency, the Chronergy escapement contributes to the accuracy of Rolex movements. Rolex watches are known for their precision and reliability in timekeeping.
Secondly, it's more beautiful in terms of aesthetics. Solid caseback models like our choice for this review may have a skeletonized bi-directional winding rotor designed from non-precious metal, but the Platinum Daytona's rotor is crafted from solid 18K Yellow Gold and is visible from the open caseback. But that's just the icing on the horological cake.
Its bridges also have Rolex Cotes de Geneve decoration with a slightly polished groove between each band for a more sophisticated and appealing appearance.
Lastly, the new movement has an upgraded shock absorber-the Paraflex- which is more capable than the previous KIF shock absorber. It makes the Caliber 4131 at least 50% more resistant to shocks.
In terms of structure, the new movement is similar to the Caliber 4130, but it has fewer components to boost its functionality and appeal.
In summary, the Caliber 4131 movement is handsome with mouthwatering capabilities. However, it would be cool to see the golden rotor inside every caseback- not just the Platinum chronograph Daytona model. Consider that, Rolex.
The Strap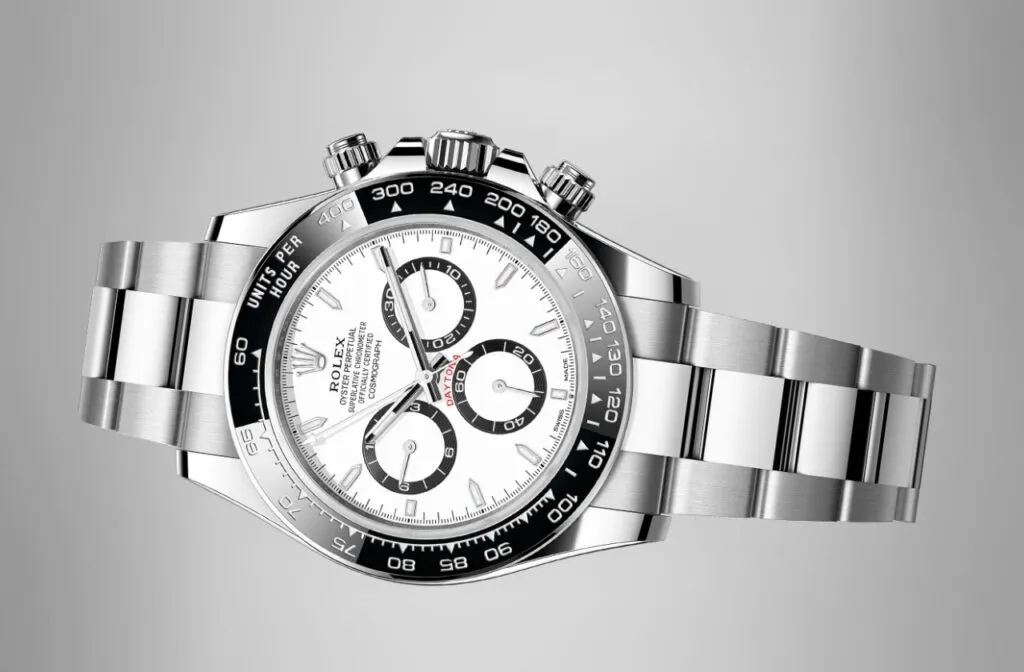 The Rolex Panda 126500LN maintains the classic, sporty, 3-link Oyster bracelet as its band of choice. It's thinner and more slender to match the improved beefier lugs and give it a more luxurious feel around the wrist.
It has satin-finished outer links, polished center links, and the convenient Rolex Easylink comfort extension link on its Oysterlock folding safety clasp, affording wearers a 5mm adjustment possibility.
Although people with smaller wrists might not fully appreciate this new design, we think Rolex has done an excellent job in balancing proportions, distributing the heft between the bracelet and case carefully. Wear the watch often and you'll start noticing the band's perceived heaviness grow on you.
The Competitive Landscape
The Rolex Panda has managed to create a distinct position for itself in the luxury watch market. Its striking aesthetics and rarity have made it a highly sought-after timepiece for most collectors, investors, and watch enthusiasts. That goes for the new 126500LN, too, which bears a promising S$20,551 price tag for now.
As expected, the Rolex Panda has attracted competitors with equally impressive features, designs, and accuracy over the years. Let's highlight some of its fiercest opponents:
The Omega Speedmaster Moonwatch Professional ref. 310.30.42.50.01.001 that has a bigger 42mm stainless steel case and matching 5-link bracelet, a hesalite glass above the masculine black dial, a tachymeter scale on the anodized aluminum bezel ring, and a Co-Axial Master Chronometer Caliber 3861 movement. According to WatchCharts, it retails for S$9,527.
The TAG Heuer Carrera Automatic Chronograph ref. CBN2A1AA.BA0643 with a larger 44mm steel case and matching bracelet, a ceramic bezel with a tachymeter scale, an exhibition caseback, and a powerful automatic Caliber 16 chronograph movement. It has a more affordable retail price of S$6,941.
The Audemars Piguet Royal Oak Chronograph ref. 26240ST.OO.1320ST.05 with a beefier 41mm stainless steel case and matching bracelet, an octagonal bezel with eight screws, a sapphire crystal caseback, a dial with a Grand Tapisserie pattern and 'Bleu Nuit, Nuage 50' color, and a self-winding Caliber 4401 movement. As per WatchCharts, it has a deserving higher retail price of S$50,901.
In comparison to its competitors, Rolex has always been a strong brand that consistently delivers high quality and craftsmanship. This becomes evident when we compare the Rolex Panda to other sports watches in the competitive landscape.
However, it's clear that the opponents also have admirable strengths, making beauty and victory lie in the eye of the beholder.
Why You Should Invest?
There are several valid reasons to invest in a Rolex Daytona Panda:
First, its striking design elements, such as the contrasting black and white dial layout, have made it highly sought-after in the secondary watch market. This high demand often leads to a premium price, which can be advantageous for those who choose to invest in this stunning timepiece.
Also, when it comes to investing in watches, brand reputation and name recognition play a crucial role in determining value and potential appreciation. Rolex, as a well-established luxury watch brand, has epitomized precision and prestige for centuries. Iconic models like the Daytona Panda, in particular, have proven to be excellent investments over time, yielding impressive returns for savvy collectors. For example, according to Timerating, its price increased by 268% between 1994 and 2016. The price has continued rising after 2004, and although the new Daytona ref. 126500LN is still relatively new in the watch market, we know it'll follow the price rise trend of its predecessors.
Read Also: Rolex Daytona History & Best Rolex Watches For Investment
Final Word
The new Rolex Panda Cosmograph Daytona 126500LN distinguishes itself through its more modern design, exceptional craftsmanship, and unparalleled functionality. Owning it isn't just a statement of style and prestige but also a wise investment in a piece of horological history.
Key Takeaways
The Rolex Panda is a highly sought-after timepiece known for its distinctive dial design resembling a panda's face. This unique feature has garnered attention from watch enthusiasts worldwide, making it a popular choice for collectors.
Some of the Rolex Panda 126500LN's most notable features are a thinner case with blunter crown guards, a band around the bezel's outer surface, thinner and angular hour markers, a slimmer bracelet, and a new-generation movement.
As an incredibly rare timepiece, the Daytona Panda is highly sought-after on the secondary watch market. Its rarity has even caused an auction frenzy among collectors and enthusiasts, further cementing its position as a valuable investment piece.
Looking to buy or sell your luxury watches? Watch Exchange is your one-stop destination for trading Rolex, Patek Philippe, Tissot, Sinn, Zenith, and other luxury timepieces. Find your next watch today or list your item for free!
---