The Rolex Submariner ref. m124060-0001 has been making waves in the world of luxury watches since its debut in 2020. With a larger body size and integration of the next generation of Rolex in-house movement, it showcases the brand's commitment to innovation while maintaining the classic aesthetic that Rolex is known for.
The design modifications, such as the slightly broader Oyster bracelet and more contour-rich proportions, elevate the overall appearance of this timepiece. These enhancements make the watch more visually appealing and provide a more comfortable fit for the wearer.
In this Rolex Submariner review, we'll comprehensively examine the Rolex Submariner 124060, exploring its features, design elements, overall performance, and much more. All set? Let's dive right in!
The Case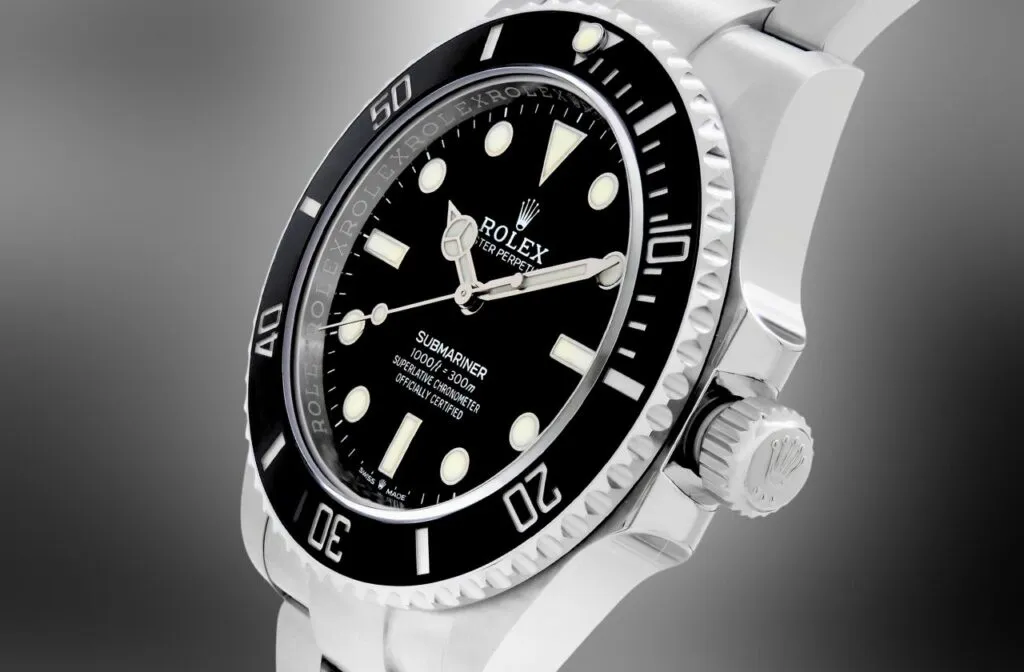 The Rolex Submariner 124060's case has a mostly satin finish and is polished on the sides. It features a new 41mm diameter, compared to its predecessors' previous 40mm size, earning it the title of the largest Sub in Rolex's catalog so far. This change has created quite a buzz in the watch community, as it represents a more significant update to the Submariner line.
The case is crafted from Rolex's proprietary Oystersteel, a highly durable material known for its resistance to corrosion and ability to hold a brilliant polish. It has sleeker lugs and a slightly thinner case profile- improvements that minimized its bulky feel around the wrist. The lug width has been increased slightly from the previous 20mm to 21mm.
These slightly slimmer and less boxy lugs, combined with the larger 41mm size, give the watch a more refined and modern appearance without straying too far from its iconic design. In addition to the updated case size and slimmer lugs, the Rolex Submariner 124060 has a flat scratch-resistant sapphire crystal with no Cyclops magnifier lens at 3 o'clock.
Plus, it has a stainless steel 120-click unidirectional rotating bezel with a knurled edge and Cerachrom insert. The insert is highly resistant to scratches, corrosion, and fading, ensuring the bezel remains legible and functional even after prolonged exposure to the elements. It has a PVD-coated 60-minute diver's scale with a luminous pearl circled with 18K White Gold at 12 o'clock and Arabic numeral graduations and batons.
The case also features a screw-down crown with Rolex's patented Triplock winding crown system. The Triplock winding crown system consists of multiple gaskets (three rubber, inside the crown tube) and seals that provide a triple waterproof barrier, hence the name "Triplock." It ensures that the watch is water-resistant up to 300 meters (1000 feet) and offers exceptional protection to the sophisticated movement in the case.
As a classic final touch, the case has a solid screw-down caseback with no engravings- in line with the watch's minimalistic yet sophisticated design.
The Dial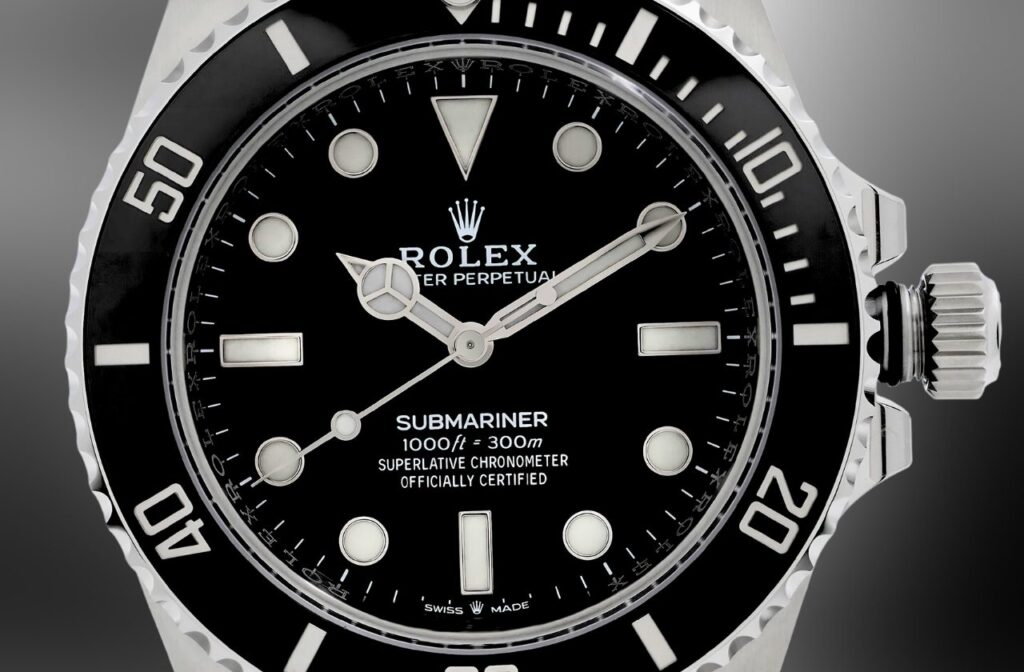 The dial of the Rolex Submariner 124060 may appear familiar to those acquainted with the Submariner series, as it maintains many classic design elements. However, upon closer inspection, one can notice subtle enhancements introduced in this model. These improvements include increased hour marker size and refined dial text, lending a contemporary aesthetic without losing the iconic Submariner essence.
Crafted with a stunning glossy black finish, the 124060 dial features luminescent hour markers, making it easy to read in dimly lit environments. The signature Mercedes hour hand and minute hand also display this luminescent material, ensuring optimal legibility in any condition. Rolex's unwavering attention to detail is evident in the improved, high-quality printing process for the dial text, contributing to an uncluttered and crisp presentation.
The ref. 124060 features a thicker White Gold applied Mercedes-style hour hand, a longer minute hand that reaches the minute track, and the traditional lollipop-style seconds hand with a luminous pip at the bottom. Additionally, it has bigger, bolder triangular/rectangular/round hour markers.
All these crucial features are coated with Rolex's Chromalight lume- a material that was introduced in 2008 and emits a relaxing blue hue. Although this blue color relates to the marine surroundings for which the timepiece is designed and gives off a muscular vibe, we feel Rolex could have picked an alternative lighting material.
Moving on, the dial is well-spaced, with everything in place and almost unnoticeable but vital tweaks. Some of them are:
A coronet between the words SWISS and MADE below six o'clock to signify the presence of an upgraded movement that now beats in the middle of the case.
More space between the hour markers due to the case's increased diameter and bigger dial
It shows Rolex's savoir-faire excellence in terms of balance, with the Rolex logo, Rolex, and 'Oyster Perpetual' wordings occupying the space below 12 o'clock and the famous 4-liner of text sitting snugly above 6 o'clock.
The ref. 124060 would have added some unique spice to its dial to show a change in iteration- a flashier, less serious look, maybe. Our thoughts. However, we like that it introduces some impressive adjustments in this 2020 model while staying true to the brand's reputation of consistency.
The Movement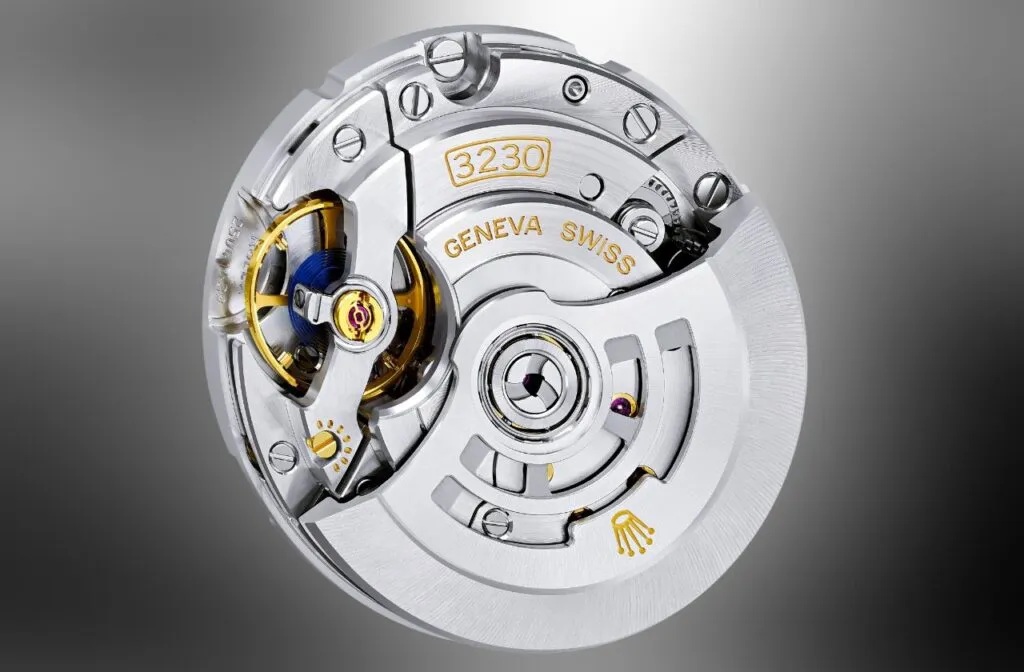 The movement is one of the areas Rolex has introduced a brand new change. The ref. 124060 is powered by the new in-house Superlative Chronometer Caliber 3230 perpetual (self-winding) movement, which made a debut in 2020 as well and has replaced the previous Caliber 3130 used in no-date Submariner models.
This new in-house movement offers increased precision and a longer power reserve, thanks to Rolex's patented Chronergy escapement system- which is made from nickel-phosphorous and is an improvement of the Swiss lever escapement.
It boasts a substantial 70-hour power reserve, a significant improvement over the previous 48-hour reserve. The increased energy level is mostly thanks to the new escapement and barrel architecture. It also has 31 jewels and beats at a 28,800vph frequency.
It benefits from Rolex's extensive experience in watchmaking and incorporates several advanced technologies. For instance, its blue Parachrom hairspring provides increased resistance to temperature variations and is less affected by magnetic fields since it's made from a paramagnetic alloy. This ensures the watch maintains a high level of accuracy in various conditions.
Reliability is a key aspect of the Submariner 124060's movement. Rolex has ensured that the caliber 3230 meets its stringent Superlative Chronometer certification standards, which require the watch to be accurate to -2/+2 seconds per day after casing. This level of performance underlines Rolex's commitment to delivering a reliable and precise timepiece.
The Strap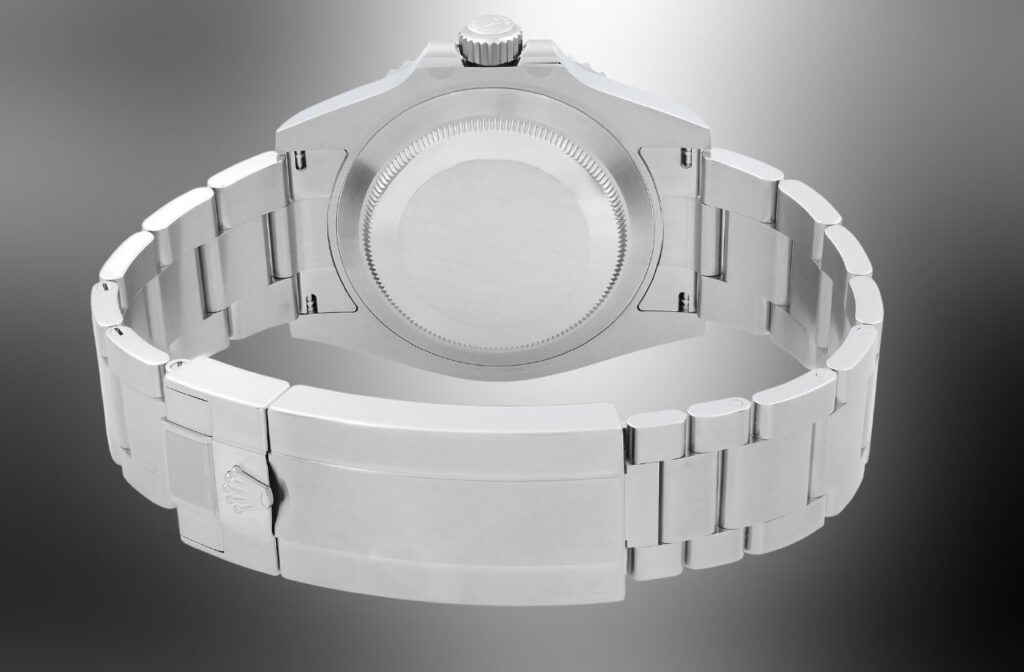 The Rolex Submariner 124060 features a slightly broader stainless steel Oyster bracelet, which adds to its overall elegance and aesthetic appeal. The updated bracelet accentuates the proportional width of the lugs, resulting in a more contoured and attractive profile. Crafted from high-quality stainless steel, the Oyster bracelet offers durability and comfort for its wearers.
One notable addition to the Rolex Submariner No Date 124060 model is the Rolex Glidelock system, which allows for easy and precise adjustments of the bracelet length by 20mm in 2mm increments. This feature ensures a perfect fit for the wearer and provides added versatility for various wrist sizes or when worn over a wetsuit.
It's a really convenient characteristic and is common in most steel Rolex sport watches. The best part is it's toolless. Here's how it works:
Sliding Mechanism: It features a small, discreet clasp with a sliding mechanism on the underside of the bracelet. It is usually located near the buckle of the bracelet.
Graduated Notches: The sliding clasp has several small, evenly spaced notches, which act as adjustment points.
Extending or Shortening: To adjust the bracelet length, the wearer simply pulls the clasp away from the bracelet to unlock it. Then, the bracelet can be extended or shortened by sliding it to the desired position along the notches.
Locking in Place: Once the desired length is set, the clasp is pushed back into place, securely locking the bracelet in position.
In terms of design, the iconic Oyster bracelet maintains the classic Rolex three-link style, a staple of the brand's sports watches for many years. The combination of polished and brushed finishes on the bracelet adds depth and character to the watch's overall appearance.
The Submariner 124060's strap contributes to its practicality and functionality as a dive watch while not sacrificing the elegance and refinement expected from a luxury timepiece. The combination of high-quality materials, precise craftsmanship, and thoughtful design elements results in a comfortable and secure wearing experience.
The Competitive Landscape
The Rolex Submariner ref. 124060, introduced in 2020, has garnered much attention for its new design elements and technical improvements. It features a larger case size, a next-generation Rolex in-house movement, and a fitting price tag to match. According to WatchCharts, it retails for S$12,071.
As a result, this updated Rolex watch faces fierce competition from other luxury dive watch brands, each vying for supremacy in the market. 
One notable competitor is the Omega Seamaster Diver 300M ref. 210.30.42.20.01.001, a well-regarded dive watch with a bigger 42mm steel case. It's equipped with Omega's advanced Co-Axial escapement and a 55-hour power reserve. Offering a black dial and matching black ceramic bezel insert, it caters to a wider audience with its customizable style. It's also more affordable than the Rolex Submariner 124060, coming in at S$7,826, according to WatchCharts. This makes it an attractive option for buyers seeking luxury at a lower price point.
Another key player in the market is Panerai Submersible ref. PAM02683, boasting a distinct design and an Italian military heritage. It offers a robust 42mm steel frame, water resistance up to 300 meters, and a consistently reliable movement. It's slightly costlier than the ref. 124060, having a retail price of S$15,793 as per the Panerai official website.
In terms of innovation, the Seiko Prospex ref. SPB143 takes the cake with its 40.5mm steel case, 24-jewel Caliber 6R35 automatic movement, and affordable pricing of S$1,592, as per WatchCharts. While it may not have the same prestige as Rolex, Seiko occupies an important niche for those who demand high-quality timepieces at a reasonable budget.
The competitive landscape is undeniably diverse, with major brands offering their unique mix of luxury, innovation, and affordability. Therefore, there's no clear winner among the options above. It depends on the wearer and their individual needs and personality.
Why You Should Invest?
Rolex has also consistently made improvements to the Submariner over the years, enhancing its performance and aesthetics. The 124060 model came with various updates and refinements compared to its predecessors, such as slimmer lugs and an updated movement. These improvements increased its desirability and added to the potential for long-term growth in its value.
For example, its price increased steadily between 2020 and 2023, according to WatchBase. It had a retail price of S$11,373 on September 1, 2020. The value increased once more to S$12,555 on January 19, 2022, and rose further to S$13,441 on January 10, 2023.
Also, the Rolex Submariner 124060 is known for its excellent craftsmanship and long-lasting quality, aspects that contribute greatly to its value and desirability among watch enthusiasts and collectors. This enduring appeal makes the watch a viable investment piece that can be enjoyed for years to come.
FAQs
1. Is A Rolex Submariner a good investment?
The Rolex Submariner is often considered a good investment due to its iconic status, popularity, and long-lasting reputation for quality. The demand for Rolex watches, particularly the Submariner, helps maintain their resale value.
Over time, some limited edition models or those with specific features have been known to appreciate in value. However, it is important to remember that the watch market can be unpredictable, and there are no guarantees of return on investment.
2. How good is the new Rolex Submariner?
The new Rolex Submariner Ref. 124060 has received positive reviews for its updated design and improvements in various aspects. With a larger 41mm case size and the next-generation in-house caliber 3230 movement integration, the new model offers increased precision, reliability, and power reserve.
The updated Submariner bracelet also adds to the watch's overall comfort and versatility. Many reviewers find it a welcome update to an already excellent timepiece, making it a solid option for those seeking a reliable, well-built, and stylish dive watch.
3. Why is the Submariner the best Rolex?
While opinions on the best Rolex may vary, the Submariner stands out for its timeless design, reliability, and recognizable status. As one of the world's most scrutinized dive watches, the watch community closely examines any change to the Submariner.
Its popularity as a sports watch and consistent quality over the years has made it a fan favorite and a staple in the Rolex lineup. Additionally, the Submariner's versatile design allows it to be worn in various settings, from formal occasions to outdoor adventures, adding to its appeal.
Final Word
The Rolex Submariner 124060 has made an impact in the luxury watch market. It successfully adds a few contemporary touches to a time-tested design, further solidifying its reputation as a horological classic. With its impressive technical specifications and enduring appeal, it's no surprise that the Submariner remains a popular choice among most watch aficionados and collectors.
Key Takeaways
The Rolex Submariner 124060 has garnered significant attention since its debut in 2020, mainly due to its larger 41mm case, no-date dial, broader bracelet, and upgraded movement.
The Rolex Submariner is the best Rolex for its timeless design, reliability, and recognizable status.
The ref. 124060's updates and refinements not only increased its desirability but also added to the potential for long-term growth in its value
Looking to buy or sell your luxury watches? Watch Exchange is your one-stop destination for trading Rolex, Patek Philippe, Tissot, Sinn, Zenith, and other luxury timepieces. Find your next watch today or list your item for free!
---