Rolex has consistently been at the forefront of luxury watchmaking, with numerous iconic models. Two of their most popular diving Rolex watches include the Sea-Dweller and the Submariner.
At first glance, these timepieces might appear nearly identical, but a closer examination reveals subtle differences that cater to different preferences and needs.
In this article, we'll explore the differences between two of Rolex's dive watch, to help you make an informed decision about which watch is best for you. We'll cover their key features, design, and performance capabilities so that you can choose one that fits your lifestyle and needs.
Sea-Dweller, Submariner: At A Glance
| | | |
| --- | --- | --- |
| Features | Rolex Sea-Dweller | Rolex Submariner |
| Water Resistance | Up to 4,000ft (1,220m) | Up to 1,000ft (300m) |
| Helium Escape Valve | Yes | No |
| Case Size | 43mm | 41mm |
| Movement | Calibre 3235 | Calibre 3230 |
| Material | Oystersteel | Oystersteel |
| Bezel | Unidirectional rotatable 60-minute graduated, scratch-resistant Cerachrom insert in ceramic, numerals, and graduations coated in platinum | Unidirectional rotatable 60-minute graduated, scratch-resistant Cerachrom insert in ceramic, numerals and graduations coated in platinum |
| Bracelet | Oyster | Oyster |
| Power Reserve | 70 hours | 70 hours |
| Date Display | Yes | Optional |
| Avg Collection Price Range | S$14,067 – S$44,527 | S$12,618 – S$54,893 |
| Watch Exchange Pre-Owned Price Range | S$17,900 – S$47,900 | S$14,500 – S$54,500 |
The Sea-Dweller may be more suitable for avid swimmers or individuals who participate in extreme activities like diving, skiing, or surfing due to its superior water resistance rating and improved helium escape valves.
On the other hand, the Submariner may be more suitable for those who prefer a timeless, understated design that can be worn in a variety of settings.
Ultimately, the decision should be based on individual style, needs, and preferences.
Rolex Sea-Dweller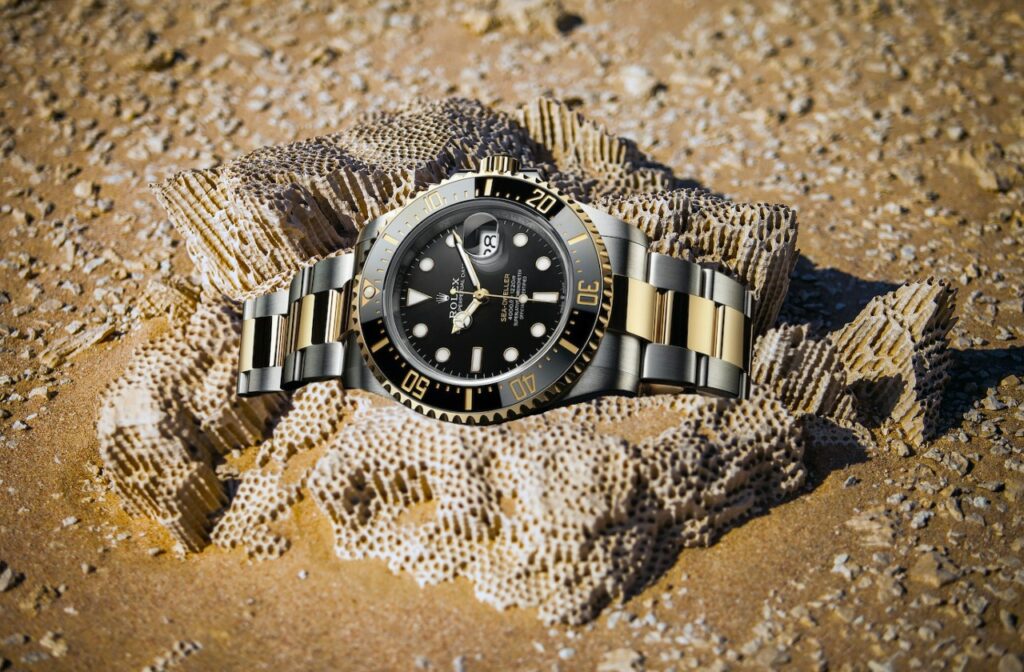 The Sea-Dweller collection was first introduced in 1967 by Rolex as an offshoot of their original Submariner model—a product that was specifically designed to meet the needs of professional divers who often work in the depths of the ocean.
Over the years, several updates have been made to this classic dive watch—including an exclusive depth rating of up to 1,220 meters (4,000 feet) in 2020 — making it a popular choice among professionals who need reliability and durability while they're underwater.
The distinct design of the Sea-Dweller blends innovation with tradition, with a 40 mm Oystersteel case, steel unidirectional rotatable bezel, and green Cerachrom and ceramic bezel and insert that makes it instantly recognizable as a Rolex. It also has a corrosion-resistant 904L stainless steel bracelet and Oysterlock safety clasp that offer comfort on land or at sea.
Top 3 popular models
1. Sea-Dweller 4000 (ref. 126600) – This captivates watch enthusiasts with its striking red text on the dial, paying homage to the original 1967 model. This robust timepiece features a 43mm case and the signature Cerachrom bezel, making it a perfect blend of Rolex's rich heritage and modern innovation.
2. Sea-Dweller Deepsea (ref. 116660) – The Deepsea stands out as a marvel of engineering, offering extreme water resistance up to 12,800 feet, making it ideal for professional deep-sea divers. Its innovative Ringlock System ensures exceptional strength and durability, while the striking
3. Sea-Dweller Deepsea D-Blue (ref. 126660) – The D-Blue captivates with its striking blue-to-black gradient dial, an homage to James Cameron's historic deep-sea exploration. This exceptional timepiece combines Rolex's advanced technology with a bold, unforgettable design, making it the ultimate choice for ocean adventurers and watch enthusiasts alike.
Rolex Submariner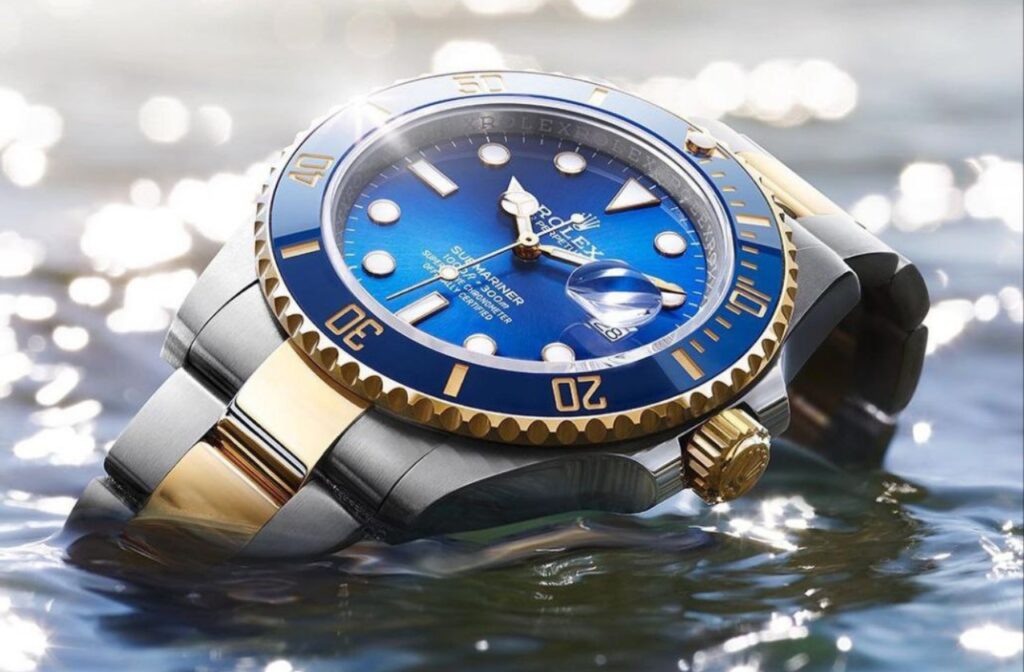 When it comes to Rolex's iconic Submariner, there is no denying how legendary it is. As one of the most sought-after dive watches in the world, it has stood the test of time since 1953 with its water-resistance capabilities and easy legibility underwater.
For starters, its trademark bezel design is a classic and timeless look that has been emulated by other watchmakers. The unidirectional rotating bezel allows you to quickly check how much time you have left underwater before needing to resurface as its markers track elapsed dive time in seconds and minutes.
Top 3 popular models
1. Submariner Date (ref. 126610LN) – This model captivates with its classic design, boasting a striking black dial and matching Cerachrom bezel. Its date display, enhanced by a Cyclops lens, adds a touch of practicality to this iconic timepiece, making it an ideal choice for both adventure and sophistication.
2. Submariner No Date (ref. 124060) – No Date is the epitome of minimalist elegance in a dive watch. This timeless model showcases a clean, uncluttered dial without a date display, highlighting Rolex's dedication to refined design and exceptional functionality for those who appreciate simplicity.
Submariner "Hulk" (ref. 116610LV) – The Hulk stands out with its striking green dial and matching bezel, creating an unforgettable and bold statement. This unique color scheme, combined with Rolex's exceptional craftsmanship, has turned the "Hulk" into a highly sought-after and cherished timepiece among collectors and enthusiasts alike.
Maintenance and Care for Rolex Sea Dweller & Submariner Watches
Choosing between a Sea Dweller and Submariner watch isn't just about aesthetics date function and purpose. Your choice should also consider the level of maintenance and care each requires.
Sea Dweller
The Sea Dweller is equipped with a water-resistant seal that can go up to 1,220 meters (4,000 feet) below sea level. As such, it requires more frequent maintenance to ensure its gaskets remain properly sealed. Under normal circumstances, you may want to take it in for servicing every three years.
Submariner
A Submariner can handle depths of up to 300 meters (1000 feet). Thanks to its improved seal design, it typically lasts longer than the Sea-Dweller between service intervals and often only needs servicing once every six years. However, this seal is still susceptible to wear and tear over time, so you do need to pay attention to how your watch is performing and take it in for maintenance as needed.
No matter which model you choose, regular cleaning and care can help maintain its performance while ensuring longevity.
Where to Purchase Sea Dweller & Submariner
Here are some purchasing options for Sea Dweller and Submariner watches.
| | | | |
| --- | --- | --- | --- |
| Option | Price | Availability | Building Relationship with Authorized Dealers |
| Authorized Dealers | Fixed | Limited | Yes, necessary to purchase your first Rolex |
| Pre-Owned Market | Depends, usually lower than authorized dealers | Wider selection | No, can purchase from registered dealer in Singapore regulated by the Ministry of Law |
| Online Retailers | Varies, typically lower than authorized dealers | Wide selection, convenience of online shopping | No, can purchase from multiple sellers |
When it comes to purchasing a Rolex watch, buying from an authorized dealer may not always be the most practical option. Due to their popularity and limited availability, buying a new Rolex can be a costly and time-consuming process.
That's why it's worth considering alternative options, such as exploring the pre-owned market or online retailers. Not only do these options offer a wider selection of watches at lower prices, but they also eliminate the need to build a relationship with authorized dealers. This can make purchasing your first Rolex a more budget-friendly and hassle-free experience.
FAQs
1. Is a Submariner or Sea-Dweller Better?
It depends on your personal preferences and needs. The Submariner is a smaller, more versatile dive watch, suitable for everyday wear and professional diving up to 300 meters.
The Sea-Dweller, on the other hand, is larger and has a higher depth rating of 1220 meters, making it more suitable for extreme professional diving scenarios. However, the Sea-Dweller has a slightly higher price tag and is only available in a stainless steel case, so these factors may also influence your decision.
2. What is the difference between Deep-Sea Dweller and Submariner?
The main difference between the Deepsea Sea-Dweller and the Submariner is their depth rating. The Deepsea Sea-Dweller is designed for extreme depths and can go as deep as 3900 meters, while the Submariner has a depth rating of 300 meters.
Additionally, the Deepsea Sea-Dweller is larger and thicker, featuring a 44mm case and an advanced Ringlock System that enhances its strength and durability. In contrast, the Submariner has a more compact 40mm case and is designed for versatility, making it suitable for both professional divers and everyday wear.
3. What is the difference between Rolex Sea-Dweller and Rolex Submariner?
The main difference between a Submariner and a Sea-Dweller is the depth rating. The Sea-Dweller can withstand pressure up to 4,000 feet (1,220 meters) while a Submariner is only rated to 300 meters (1,000 feet). The Sea-Dweller also has a helium escape valve which allows it to be used in professional diving applications where helium is used in pressurized environments.
4. Is a Rolex Sea-Dweller a good investment?
Investing in a Rolex Sea-Dweller can be a good investment, depending on several factors. The Sea-Dweller is a highly sought-after model among Rolex enthusiasts, known for its durability and diving capabilities. Its popularity and limited production can contribute to an increase in value over time.
Final Word
Regardless of which watch you choose, both the Rolex Sea-Dweller and Submariner are excellent choices that showcase Rolex's exceptional craftsmanship and innovative technology. They are both iconic timepieces that hold their value well in the secondary market, with specific models, condition, and rarity influencing their desirability and value. In the end, whichever watch speaks to your style and needs is sure to become a treasured companion for many years to come.
Key Takeaways
The Sea-Dweller and Submariner are both exceptional dive watches from Rolex, but they have some notable differences.
The Sea-Dweller has a higher water resistance rating and an additional helium escape valve, making it a better choice for more extreme water activities.
The Submariner, on the other hand, is a more versatile watch with a compact size that can be worn in many different settings.
Regardless of which model you choose, both watches feature Rolex's exceptional craftsmanship and innovative technology.
The value and desirability of these iconic timepieces can vary depending on factors like the specific model, condition, and rarity, particularly in the secondary market.
Looking to add a Rolex Sea-Dweller or Submariner to your collection? Look no further than Watch Exchange, Singapore's premier pre-owned luxury watch boutique.
Our exquisite selection of Rolex watches, combined with our unmatched expertise and service, ensure that you will have a seamless shopping experience. Start your Rolex journey today and shop with confidence with our authenticity guarantee.
---