When it comes to timepieces that effortlessly blend Japanese craftsmanship with luxurious design, Seiko stands in a league of its own.
Seiko's luxury collections epitomize precision, elegance, and innovation. From the iconic Grand Seiko to the opulent Credor series, each timepiece reflects Seiko's unwavering commitment to perfection.
The Prospex line satisfies the adventurous spirit with its durable and water-resistant features, while the Presage collection presents timeless designs inspired by Japanese aesthetics. Meanwhile, the Astron collection revolutionizes timekeeping with its advanced GPS solar-powered technology, ensuring unmatched precision.
Let's delve into a comprehensive review of some of Seiko's popular models, exploring their exceptional craftsmanship, design elements, and technological advancements.
The Case
Seiko's attention to detail and craftsmanship find full expression in the case design of its luxury watch collections, an integral component in the orchestration of timepieces such as Grand Seiko, Credor, Prospex, Presage, King Seiko, and Astron.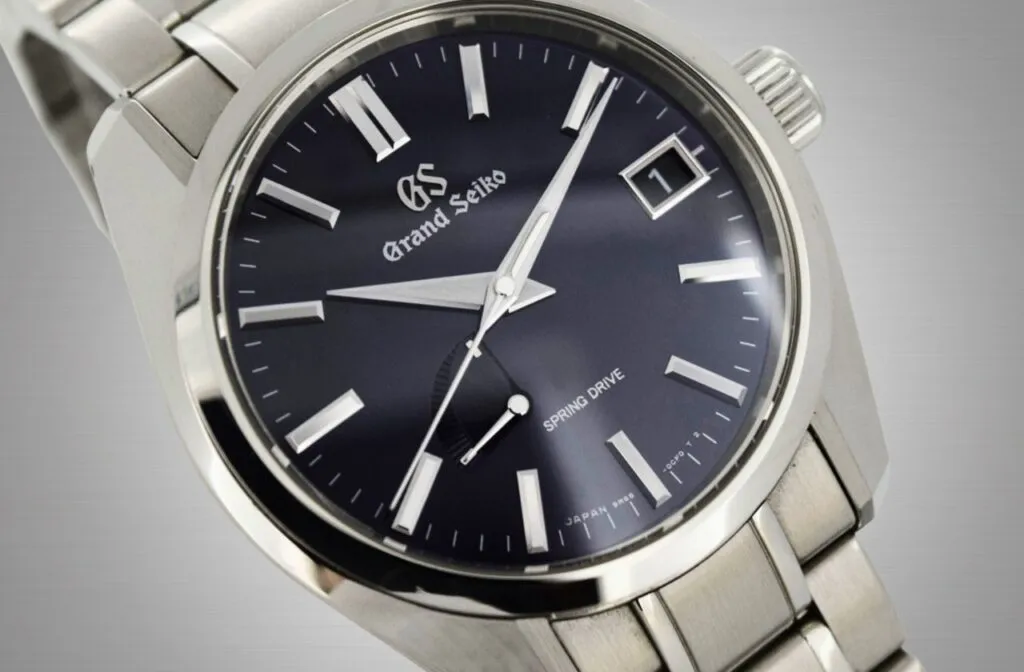 Grand Seiko SBGA375, for instance, showcases the harmonious union of form and function in its case design. The Zaratsu-polished cases, free from distortion, offer a mirror-like finish, radiating an understated sophistication that is quintessentially Japanese. Combined with high-grade sapphire crystal, the cases deliver not just visual appeal but also practical benefits like improved legibility.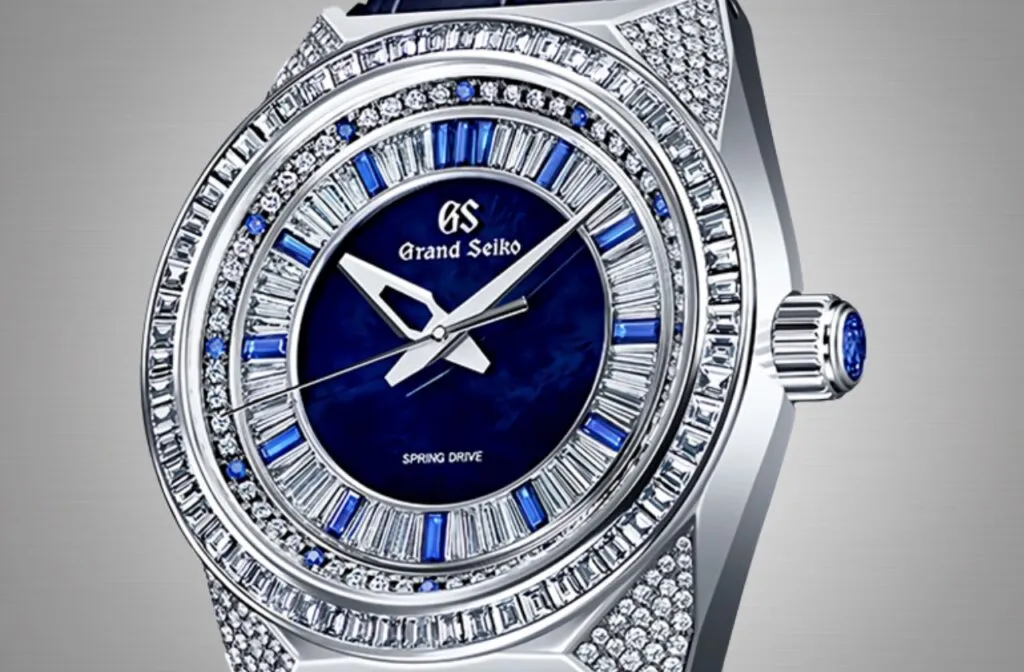 The Credor FUGAKU Tourbillon Limited Edition GBCC999, representing the zenith of Seiko's craftsmanship, features intricately detailed cases. Crafted from high-grade materials such as Platinum 950, 18K white gold, and 18K yellow gold, the cases are further embellished with 48 blue sapphires (3.22 carat in total), including the ones on the crown and lugs, they are a testament to Seiko's dedication to the fine art of watchmaking.
The Credor FUGAKU Tourbillon, a beacon of Seiko's horological pinnacle, features cases meticulously crafted as a tribute to Hokusai's esteemed artistry. The magnificent 43mm diameter platinum case is graced with forty-three blue sapphires, harmoniously arranged in tandem with the dial in a mesmerizing color gradation.
Further enhancing the allure, delicate mother-of-pearl stripes are nestled between the case's bars, lending an intricate finish. This timepiece stands as a testament to Seiko's enduring commitment to the fine art of watchmaking, offering an exquisite homage to Hokusai's legacy.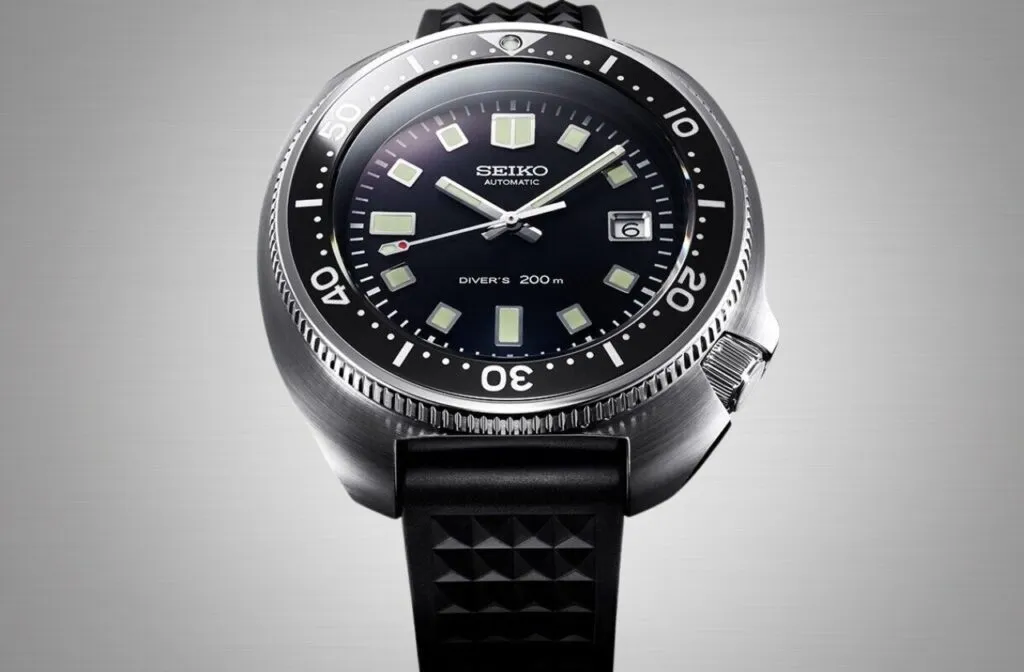 Meanwhile, the Prospex curated for the adventurers and thrill-seekers, with resilient cases engineered from robust stainless steel. These are meticulously designed to endure the intensity of outdoor pursuits. The iconic "Turtle" model, known for its wide, flowing design that ingeniously protects the crown at the 4 o'clock position, is one of the standout offerings in the Prospex series. This unique design, resembling the shape of a turtle shell, has earned it its distinctive name. The model is characterized by a darkened stainless steel case, treated with a super-hard coating for added durability and resistance. This design feature is evocative of the profound and tranquil ocean depths.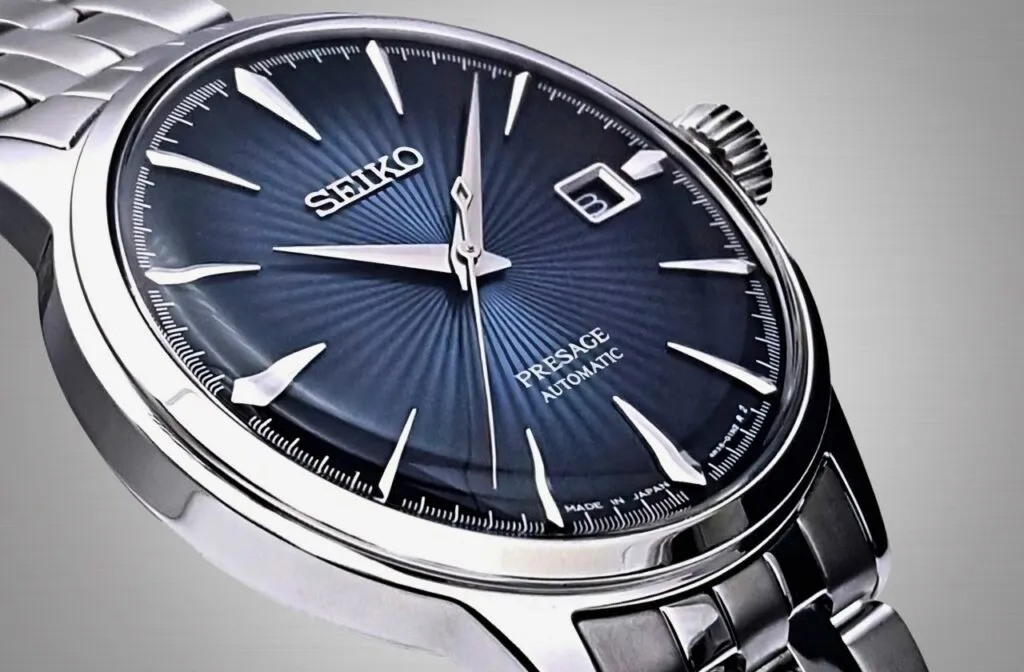 Presage, another splendid offering, ensures its cases reflect the collection's refined elegance. The popular Presage Cocktail Time SRPB41 comes with a polished stainless steel case, a showcase of Seiko's quality watchmaking that pairs perfectly with its enchanting dial designs.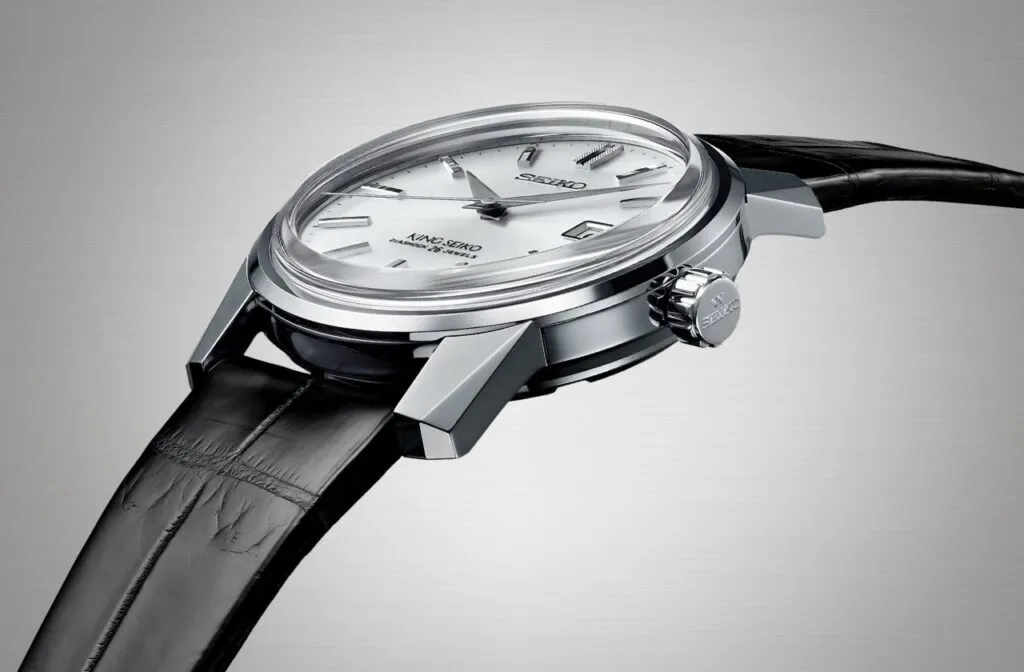 King Seiko, a sub-brand reinstated from Seiko's illustrious past, is famed for its minimalist yet sophisticated cases. The recently reissued King Seiko KSK SJE083J1, for example, features a sharp, angular stainless steel case with super hard coating, reminiscent of the original 1965 model, showcasing the brand's continuity in design philosophy.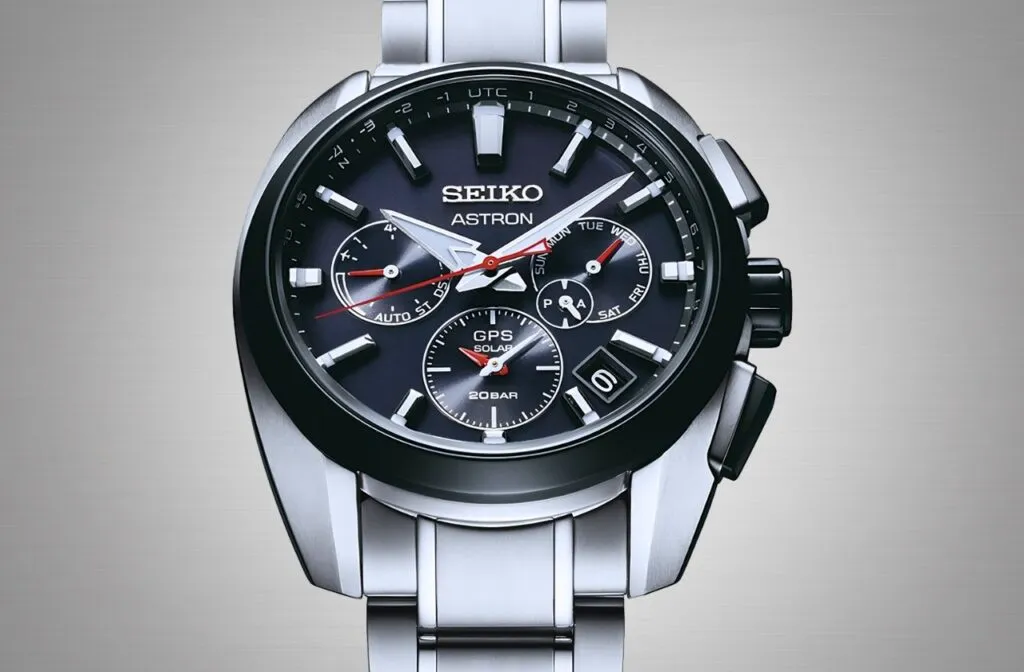 Finally, the Astron SSH03J1 flaunts a durable, yet stylish, titanium case with ceremic bezel, encapsulating the GPS solar movement within, presenting an eloquent marriage of form and function. Each case design in the Astron line ensures the watch stands up to its promise of global precision timekeeping, blending technical sophistication with physical elegance.
The Dial
Seiko, in its quest for timepiece evolution, has effectively transformed the art of dial design and coloration. Through the fusion of novel technologies and masterful craftsmanship, an unrivaled user experience is delivered.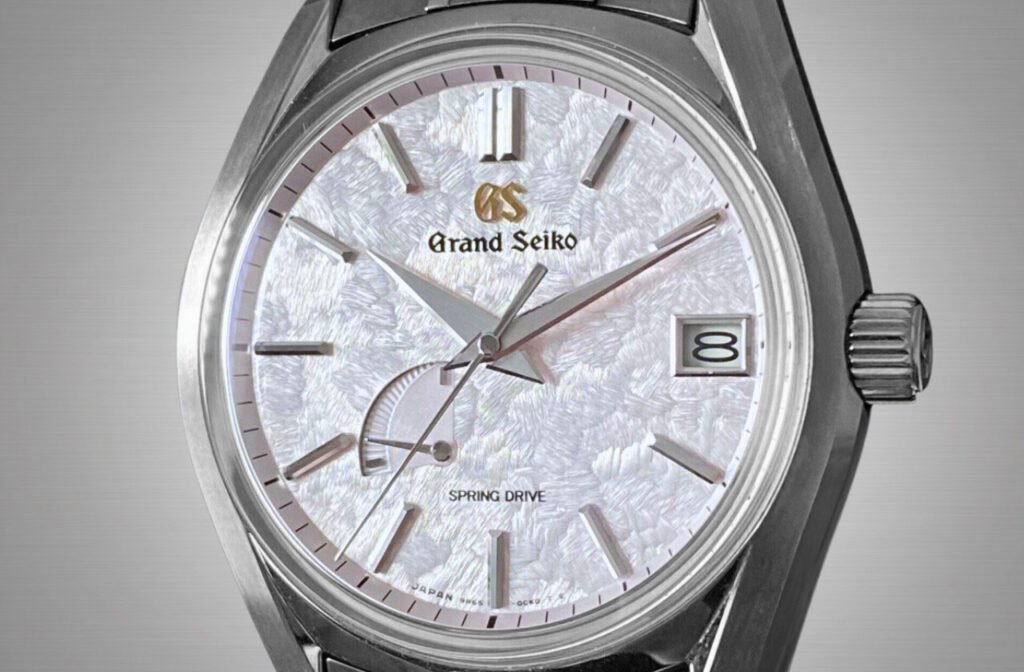 The Grand Seiko SBGA413, considered the zenith of Grand Seiko's creative prowess, enchants with its meticulously crafted dials. From the serene simplicity of the pale pink 24 sekki enamel dials, his timepiece takes its inspiration from the enchanting Sakura season of spring in Japan. The textured dial and its pale pink color capture the magic of this treasured moment in the Japanese calendar and not only express the beauty of Sakura but hint at the exquisite pleasure to be derived from a profound understanding of the ephemeral nature of time.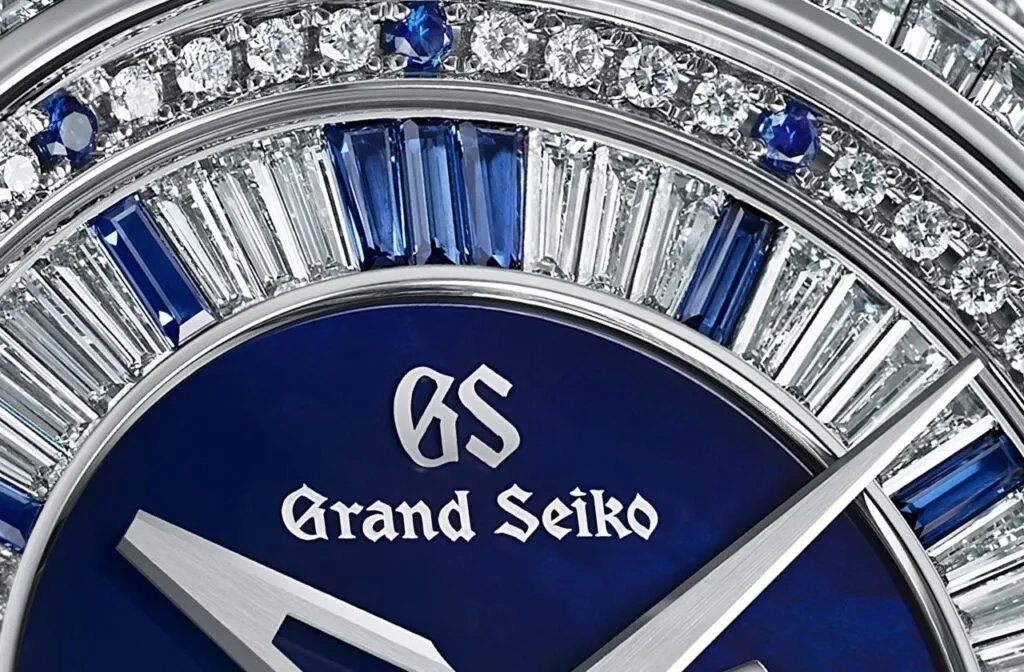 In comparison, the Grand Seiko "Lion" SBGD213 exemplifies the brand's unwavering commitment to luxury and craftsmanship. Serving as a tribute to the majestic Grand Seiko lion symbol, this special jewelry watch is intricately crafted in 950 Platinum, its case and dial adorned with diamonds and sapphires. The dial, resplendent with 94 diamonds and 26 blue sapphires, presents a compelling contrast reminiscent of the night sky. These gemstones, besides adding to the dial's allure, double up as minute markers.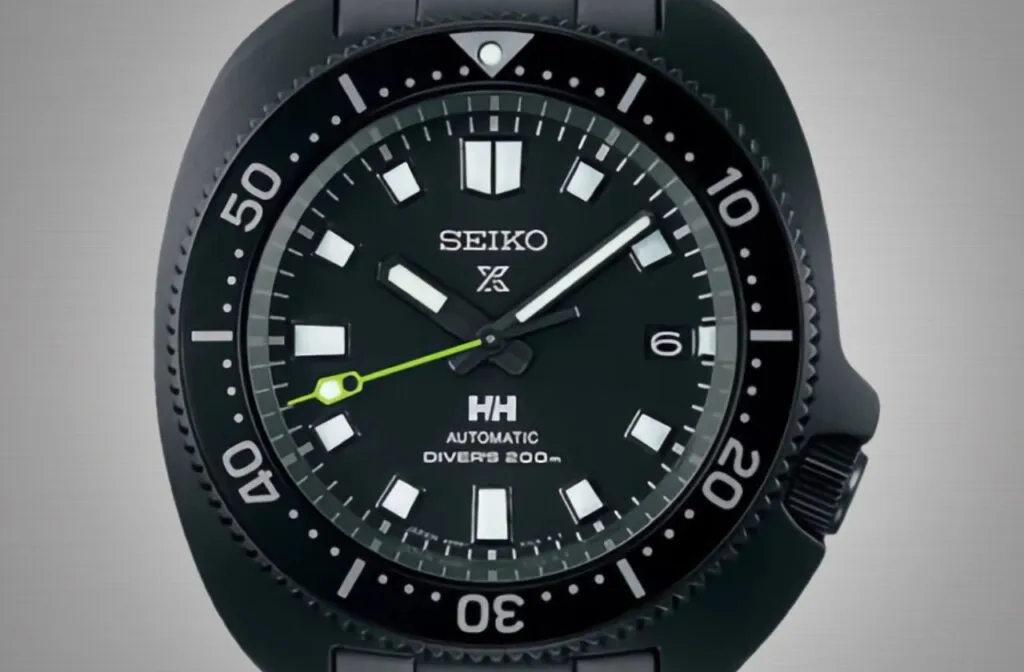 Perfectly suited for dive watches, the Seiko SBDC181 Prospex Diver 1970 Scuba Helly Hansen, crafted to meet professional diving standards, showcases a black dial with a matte finish, garnished with stick and dot indexes. The dial is augmented by sleek stick hands, offering a streamlined and sophisticated aesthetic to this commendable timepiece.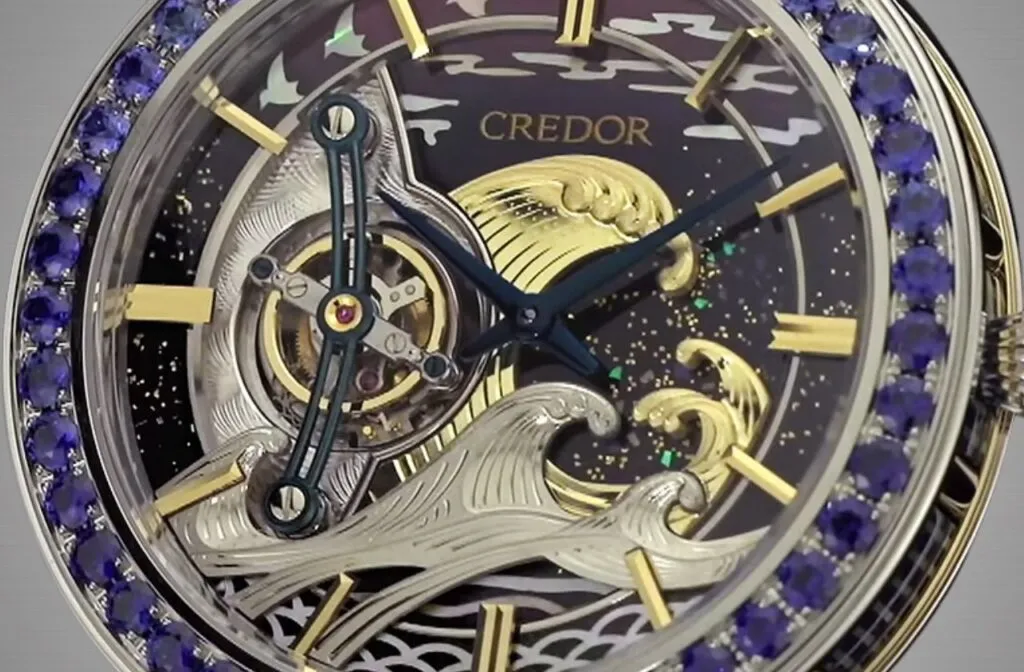 The Credor GBCC999, with its profound Bordeaux dial, epitomizes the finesse and sophistication characteristic of the Credor line. The dial and case back feature a wave motif reminiscent of the iconic Great Wave of Kanagawa, reflecting Japan's natural richness through traditional Seigaiha patterns and mother-of-pearl inlays. Furthermore, the dial, crafted by lacquer artist Isshu Tamura, presents an exquisite gradient from navy blue to purple, evoking a dawn sky, and is adorned with a Credor emblem handcrafted in gold lacquer. This timepiece is an elegant fusion of artistry and watchmaking precision.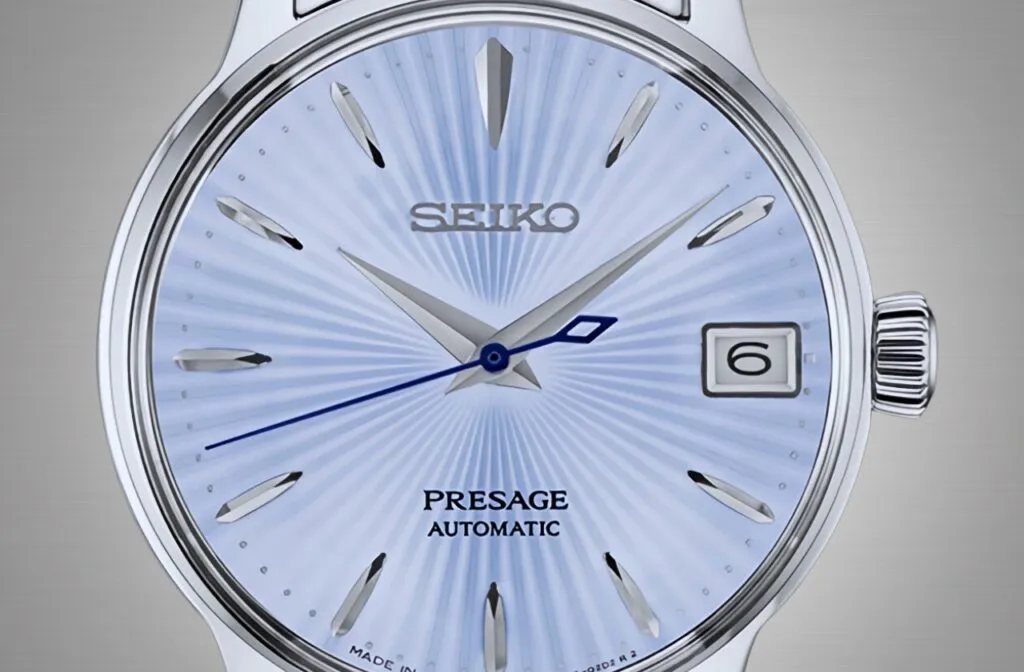 The dial of Presage Cocktail Time SRP841 is a distinctive feature of this watch model from Seiko. It's known for its deep and vibrant color palette, inspired by the hues found in cocktails, hence the name "Cocktail Time". The dial showcases a rich texture, often referred to as a sunburst dial, which exhibits a radial pattern that seems to burst from the center, catching and reflecting light to create an engaging effect.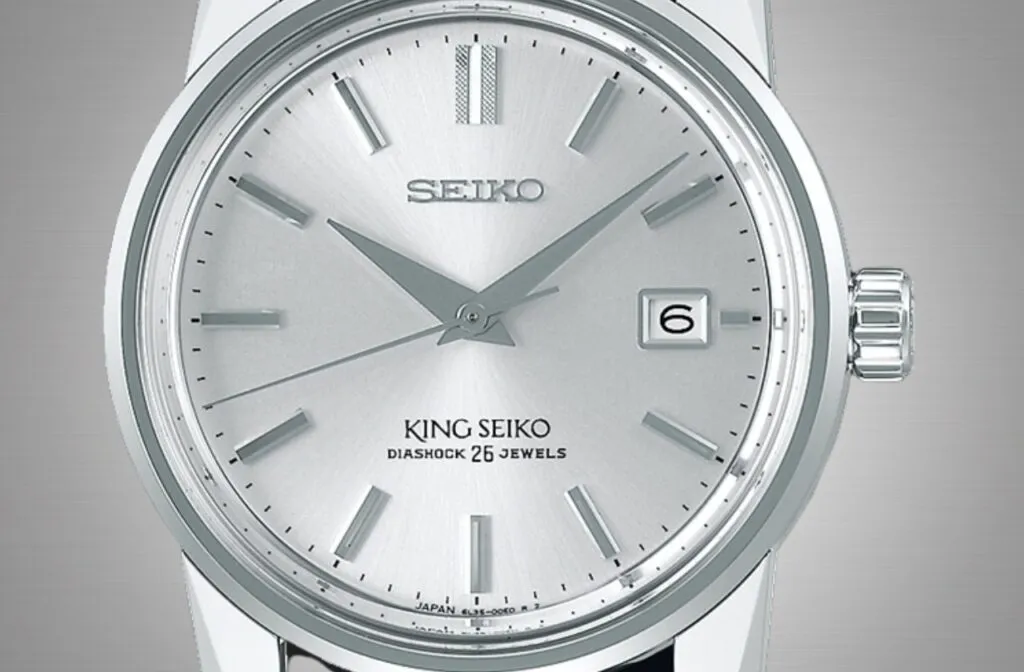 The King Seiko KSK SJE083J1, special edition re-creation to celebrate Seiko's 140th Anniversary, faithfully mirrors the timeless elegance of the original King Seiko design. The dial boasts a silver sunray finish, providing an air of subtle sophistication. The dial's clean lines and minimalist aesthetic, complemented by applied indices and dauphine hands, eloquently highlight King Seiko's commitment to simplicity and precision. As a testament to its exclusivity, this anniversary edition is limited to just 3,000 pieces worldwide, encapsulating a significant milestone in Seiko's illustrious horological journey.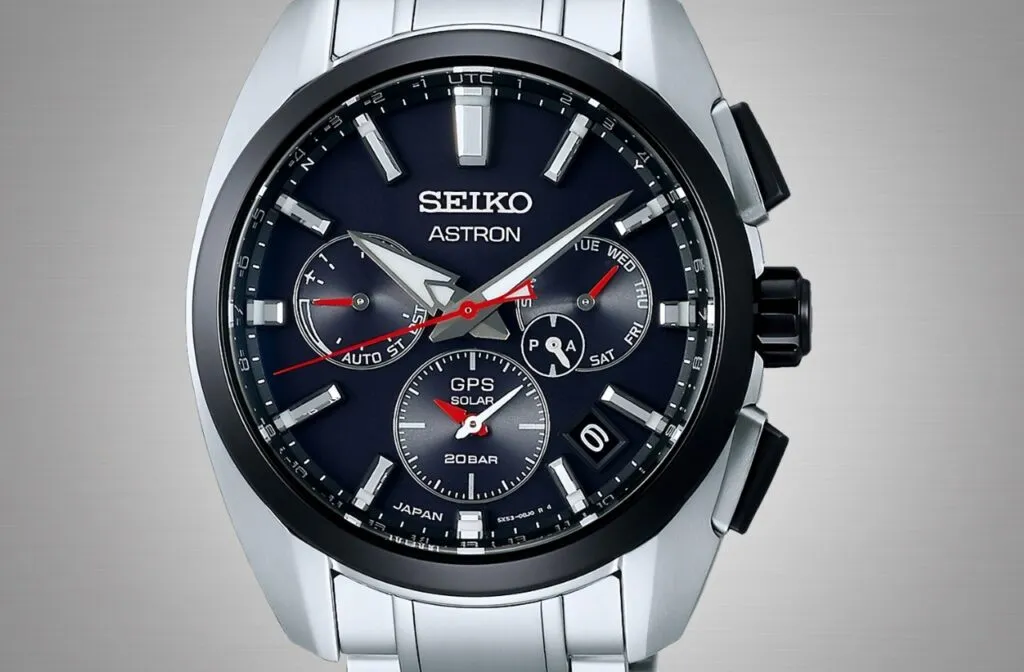 Lastly, the Astron SSH103J1 with its deep blue dial, is reminiscent of the infinite expanse of space, beautifully mirroring its namesake. The dial incorporates a world time function and inlaid markers, striking a balance between style and practicality. In addition, the use of Lumibrite on the hands and indices ensures easy readability, underscoring Astron's dedication to functionality along with its unique aesthetics. Accompanying these features are well-integrated sub-dials that enhance the watch's functionality, including a time transfer function that allows switching between the main dial and sub-dial.
The Strap/Bracelet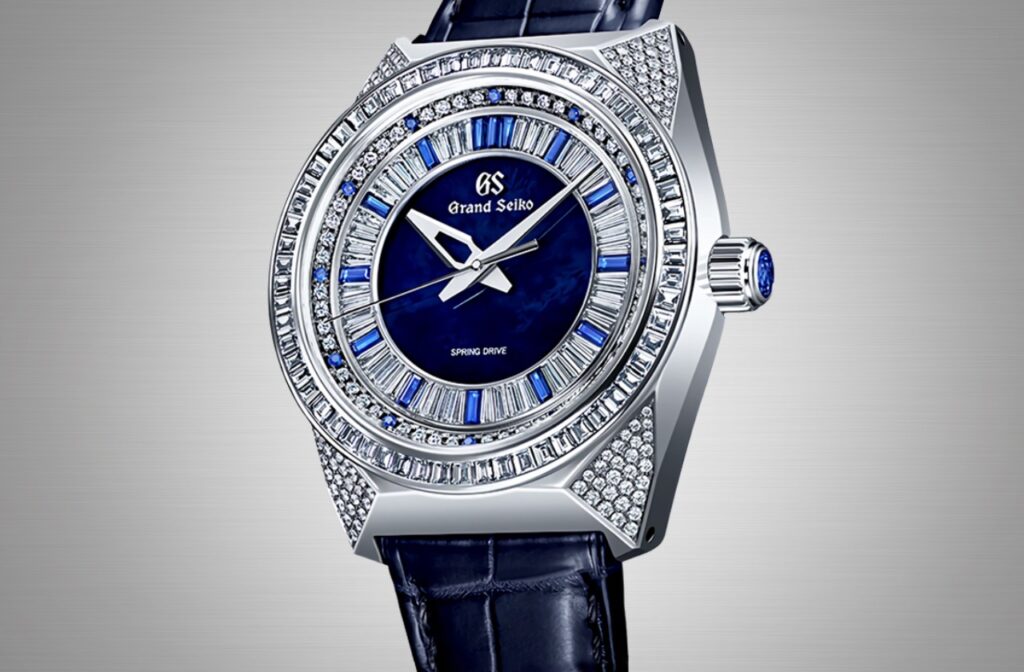 Seiko's attention to detail extends beyond the dial and case to the straps and bracelets of their luxury watch lines. The Grand Seiko SBGD213J, for instance, is adorned with a crocodile leather strap that exudes sophistication and refinement. The supple texture of the leather adds a touch of luxury to the timepiece, ensuring a comfortable fit and enhancing its overall elegance.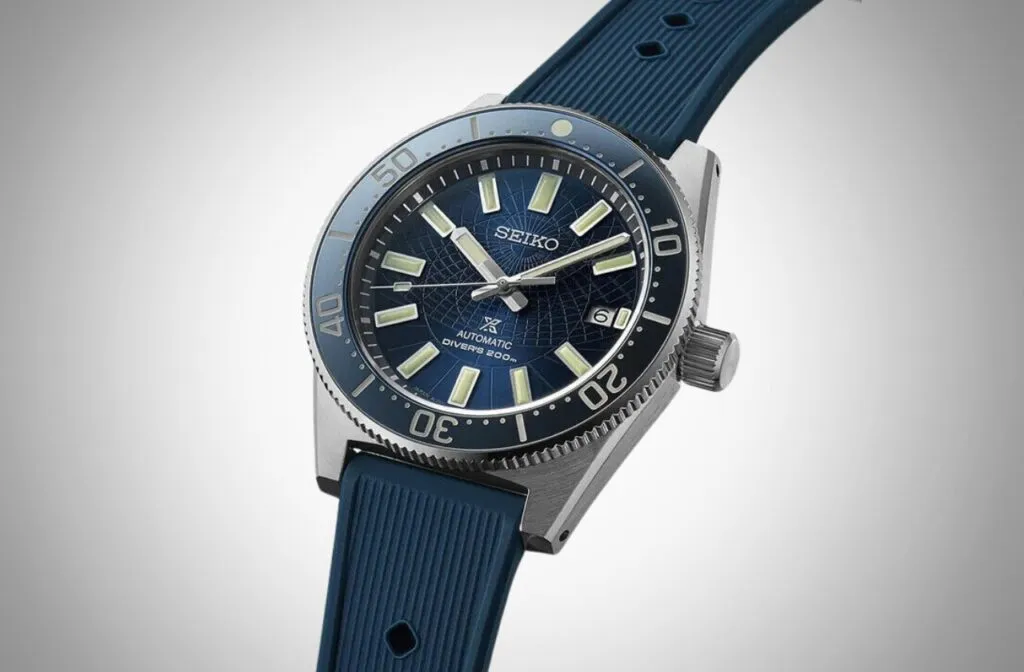 On the other hand, the Prospex Sea SLA065 embraces a sportier Seiko Diver aesthetic with its durable and versatile silicone strap. This watch, tailored for water-based pursuits and adventures, incorporates a strap resistant to moisture and simple to maintain. Coupled with a secure, comfortable fit and a hard-wearing ceramic bezel, it makes an excellent choice for a dive watch, and those on the lookout for a rugged yet wearable option with a rubber strap.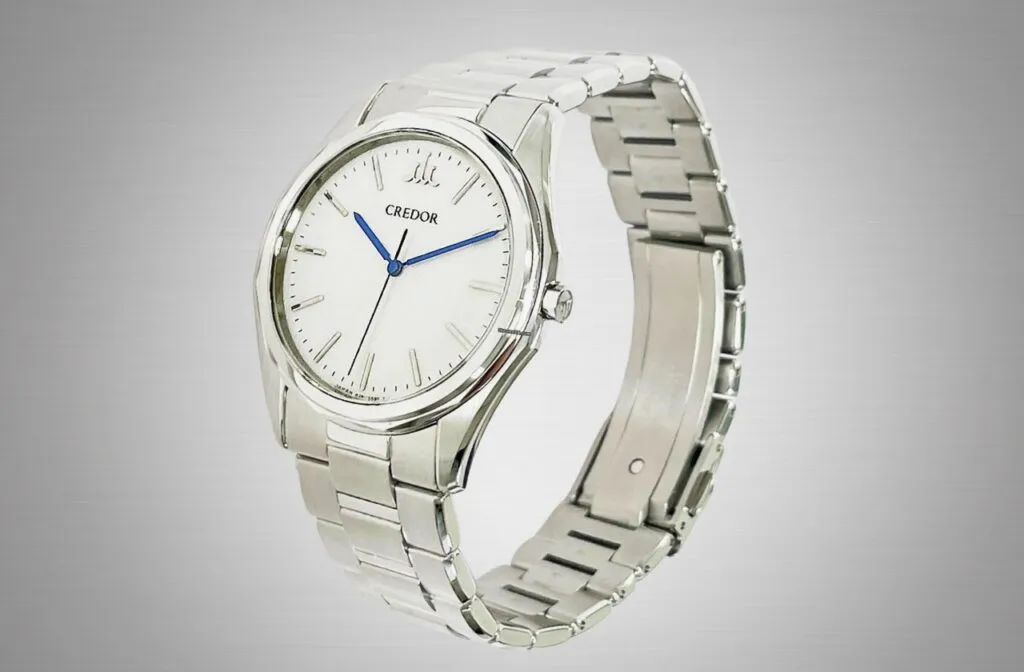 In the Credor GCAR059, a stainless steel bracelet enhances the watch's classic appeal. The intricate craftsmanship of the bracelet reflects Credor's commitment to refined luxury. Its polished links and precise construction create a seamless integration of steel bracelet with the watch case, resulting in a sophisticated and timeless combination.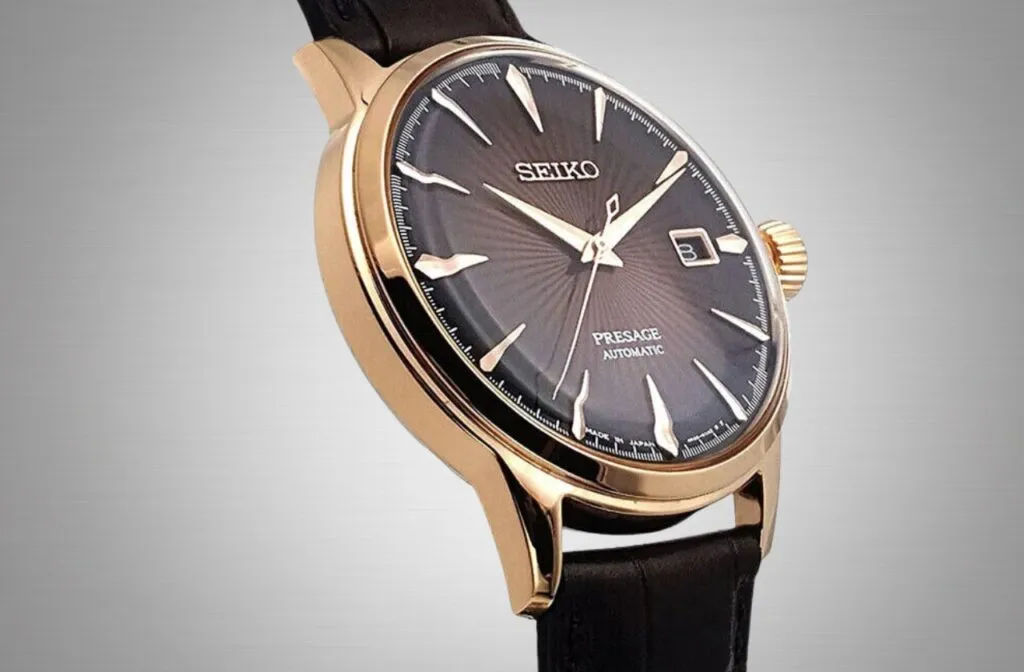 The Presage SRPB46, a notable model in its collection, often features a classic brown leather strap, evoking a sense of nostalgic charm. Its strap, with its burnished finish and alligator grain, complements the warm tones of the dial and enhances the watch's vintage appeal.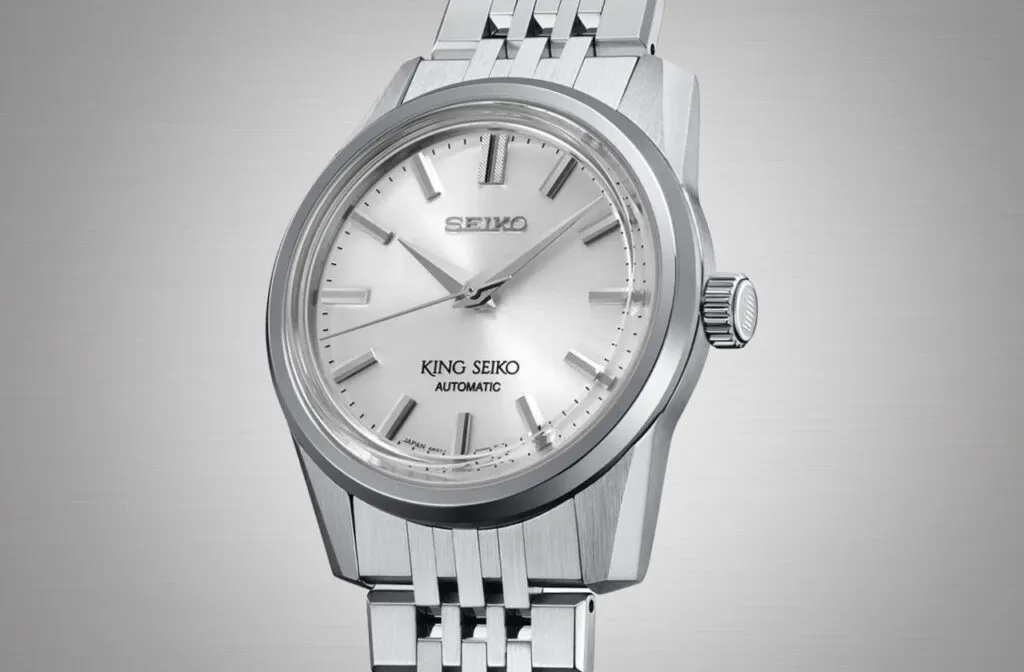 The King Seiko SPB279J1, on the other hand, features a sleek and sturdy stainless steel bracelet. The bracelet's polished links align with the case, creating a unified appearance that asserts a dignified presence.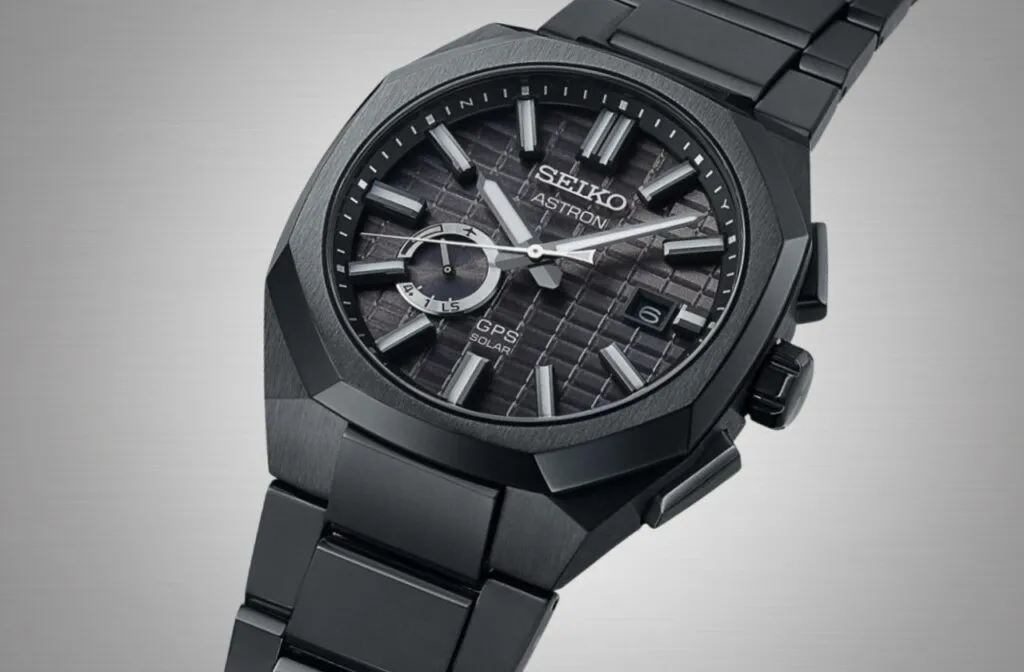 Lastly, the Astron GPS Solar SSH023 employs a durable bracelet made from ceremic. The bracelet's robust construction and stylish appeal stand as a testament to the collection's futuristic approach to watchmaking.
The Movement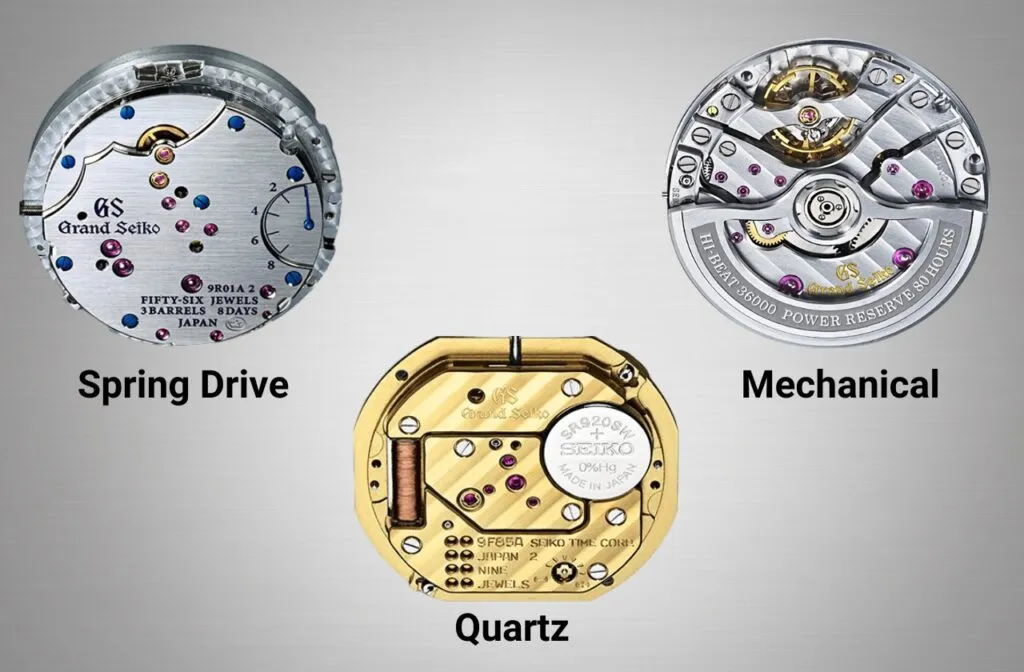 Seiko, a renowned watchmaker, has established itself as a leader in watch movements, offering a range of highly-regarded technologies across its models. Among these, the automatic, Spring Drive, the quartz crystal, and Kinetic movements stand out.
Seiko Presage's automatic with manual winding movements, such as those showcased in the Seiko Presage Sharp Edge SPB277, leverage the natural motion of the wearer's wrist. This not only merges elegance with practical self-winding capabilities, but it also actively helps to minimize battery waste, aligning with a more sustainable approach to horology.
The Spring Drive mechanism, as featured in the Grand Seiko SBGA211, is a distinctive watch technology that combines the traditional energy generation of a mechanical watch with the precision of an electronic regulator. This unique synergy, possible only due to Grand Seiko's proficiency in both mechanical and electronic watchmaking, results in unparalleled accuracy and a smoothly sweeping seconds hand. In essence, the Spring Drive is an innovative blend of the best of mechanical and electronic horological advancements, embodying the spirit of continuous innovation that defines Grand Seiko.
Since pioneering the world's first quartz watch in 1969, Seiko has perfected its quartz watches movements. The Seiko Astron "Novak Djokovic Limited Edition" GPS Solar SSE143J1 epitomizes this technology, a quartz solar-powered movement harnessing a small battery-powered oscillator to make quartz movement deliver unparalleled accuracy and reliability while incorporating GPS connectivity for precise timekeeping.
Within the realm of Seiko's esteemed collections, the Prospex SFJ001 captivates with its extraordinary capabilities driven by a solar movement type. King Seiko SJE091, on the other hand, embodies the perfect fusion of classic elegance and modern engineering. This distinguished model boasts an automatic movement with manual winding functionality, offering the best of both worlds.
Lastly, The Spring Drive Manual Winding mechanism, showcased in the Credor Eichi II. Unlike automatic movements, this manual-winding variant requires direct interaction from the wearer. The mechanism utilizes a unique Torque Return System that optimizes energy usage. When the mainspring is fully wound, and the torque output is at its peak, about 30% of the power is typically unnecessary for maintaining watch precision and would normally be wasted.
However, the Torque Return System cleverly redirects this "excess" energy to rewind the mainspring, thereby extending the power reserve. This innovation allows the watch to achieve a significant power reserve of 60 hours, merging technical excellence with efficient energy utilization.
Top 6 popular models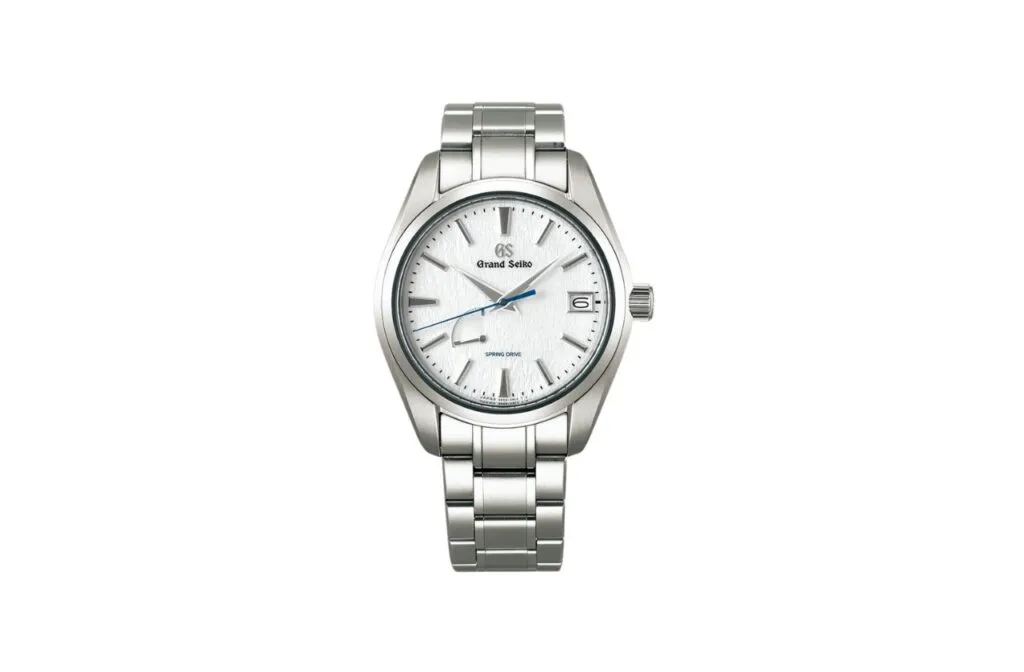 About
This model is an exquisite embodiment of traditional Japanese craftsmanship and advanced horology. Its stainless steel case provides sturdy protection, and it offers a water resistant of 10 bar, making it resilient in various environments. The dial, inspired by the snowy landscapes of Mount Iwate, enhances the watch's allure. Driven by Seiko's unique Spring Drive movement, this Grand Seiko watch offers unrivaled accuracy and an impressive power reserve of approximately 72 hours.
Features
This watch boasts a high-intensity, allergy-safe titanium case and a see-through screw case back, enhancing its elegant yet robust aesthetics. A unique combination of 30 jewels, a power reserve indicator, and Seiko's innovative Spring Drive technology complemented by a dual-curved, anti-reflective sapphire crystal glass, further elevates field watch in its functional sophistication.
Specifications
Production Year: 2017
Case Size: 41mm
Materials:

Dial – White
Bracelet – Stainless steel
Bezel – Stainless steel

Function: Hours, Minutes, Seconds, Date, Power Reserve Indicator
Mechanism: Caliber number 9R65, offers a 72-hour (approximately 3 days) power reserve and has an accuracy of ±15 seconds per month, which is about ±1 second per day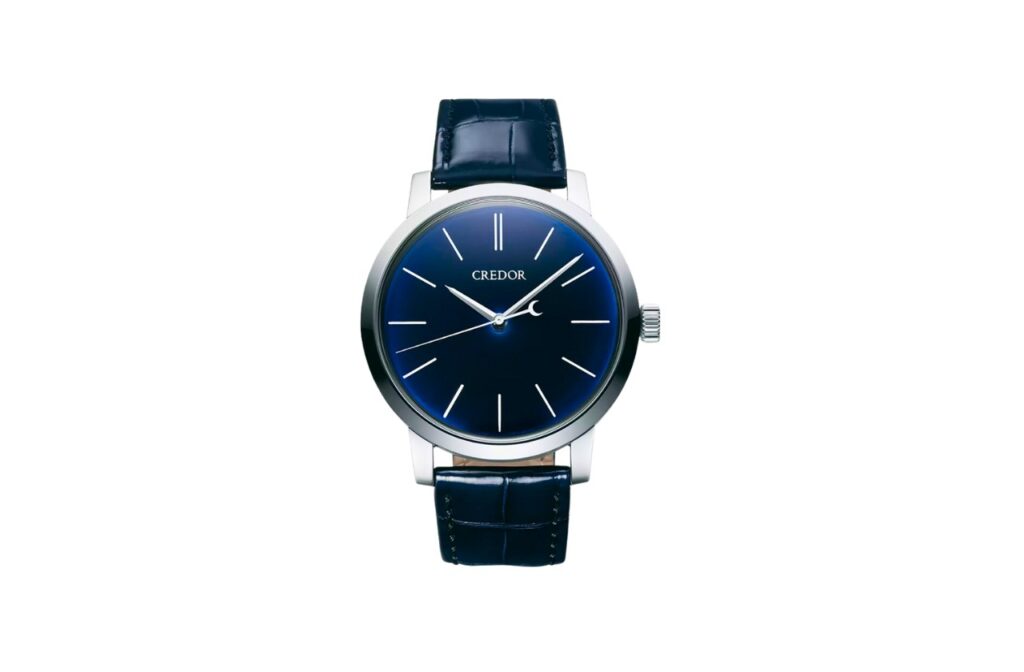 About
The Credor Eichi II is a pinnacle of Japanese watchmaking, featuring a lustrous platinum case and a stunning deep blue dial. It's powered by a handcrafted Spring Drive movement, promising precision and lasting durability. With a beautifully finished Rhodium-plated bridge and a power reserve of approximately 60 hours, this timepiece represents the blend of seiko Credor's horological excellence and aesthetic sophistication.
Features
This watch boasts luxurious Platinum 950 case, ensuring an impressive monthly accuracy of +/- 15 seconds and the durability of 41 jewels. The dual-curved, anti-reflective sapphire crystal, coupled with a transparent case back and a three-fold clasp with push button release, epitomizes fine watchmaking while offering water resistance up to 3 bar and substantial magnetic resistance of 4,800 A/m.
Specifications
Production Year: 2021
Case Size: 39mm
Materials:

Dial – Blue
Bracelet – Crocodile leather
Bezel – Platinum

Function: Hours, Minutes, Seconds
Mechanism: Manually wound movement with a power reserve of 60 hours, boasting an accuracy of +/- 15 seconds per month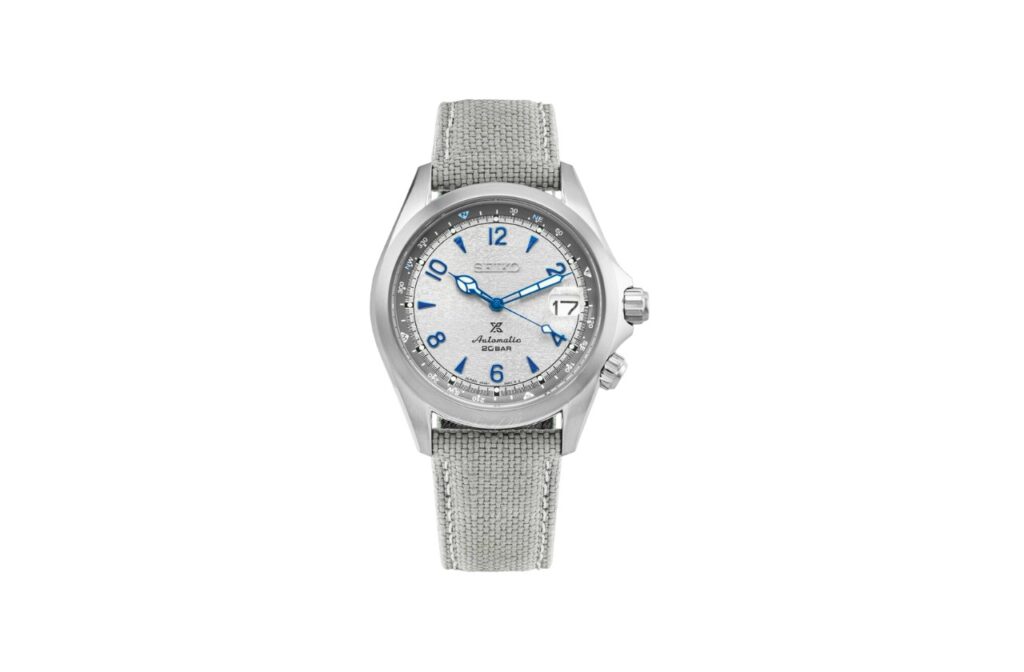 About
The "Rock Face" is an iconic timepiece expertly crafted in stainless steel with an exquisite grey dial, drawing inspiration from the rugged beauty of mountain landscapes. This limited edition European exclusive showcases the Seiko prospex's superior Japanese watchmaking craftsmanship, featuring an in-house automatic movement, a scratch-resistant sapphire crystal, and a robust 200-meter water resistance, perfect for outdoor enthusiasts and watch connoisseurs alike.
Features
This watch boasts a high-performance Caliber 6R35 automatic movement, highlighting Seiko's commitment to precision, durability, and horological expertise. Equipped with an impressive 70-hour power reserve and an intricate 24-jewel design, it minimizes battery waste, showcasing Seiko's balance between superior performance and sustainability.
Specifications
Production Year: 2023
Case Size: 39.5mm
Materials:

Dial – Grey
Bracelet – Steel
Bezel – Steel

Function: Hours, Minutes, Seconds, Date
Mechanism: Automatic with a 70hrs power reserve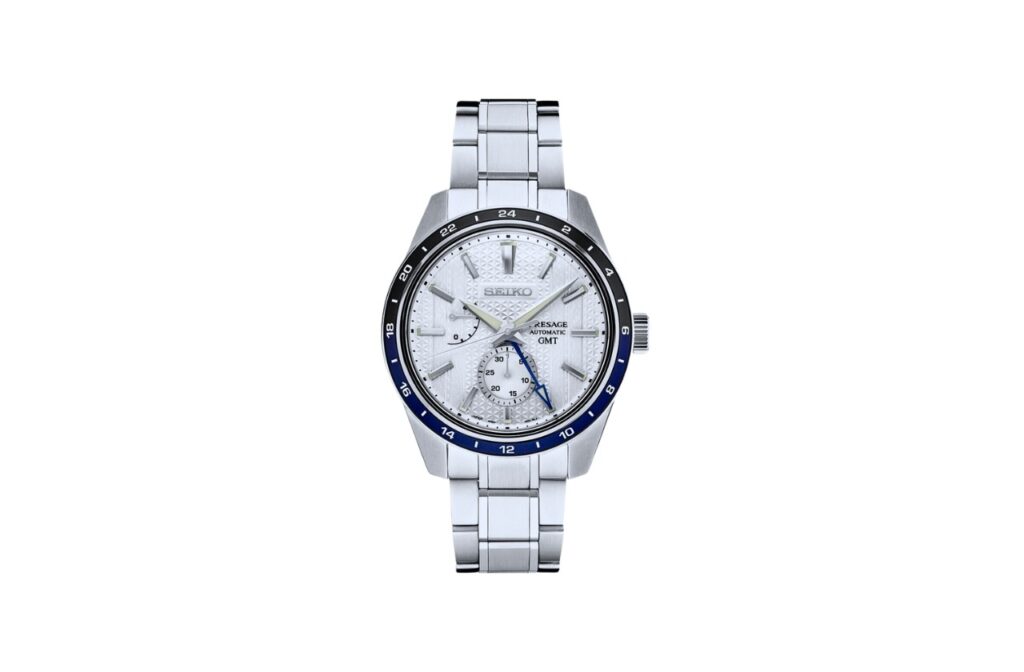 About
The "Zero Haliburton"is a striking timepiece that showcases a stainless steel case and a crisp white dial. Its design is inspired by the renowned Zero Halliburton aluminum cases, known for their exceptional durability and sleek aesthetics, making this watch a perfect blend of modern style and enduring quality.
Features
This watch features a power reserve indicator, a calendar-linked time difference function, a see-through and screw case back, and a water resistance of 10 bar, making it a versatile and reliable timepiece for the discerning wearer.
Specifications
Production Year: Unknown
Case Size: 42.2mm
Materials:

Dial – Lacquered white
Bracelet – Stainless steel
Bezel – Steel

Function: 24-Hour Hand, Date Hand, Calendar-Linked Time Difference Adjustment, Stop Second-Hand
Mechanism: Automatic with manual winding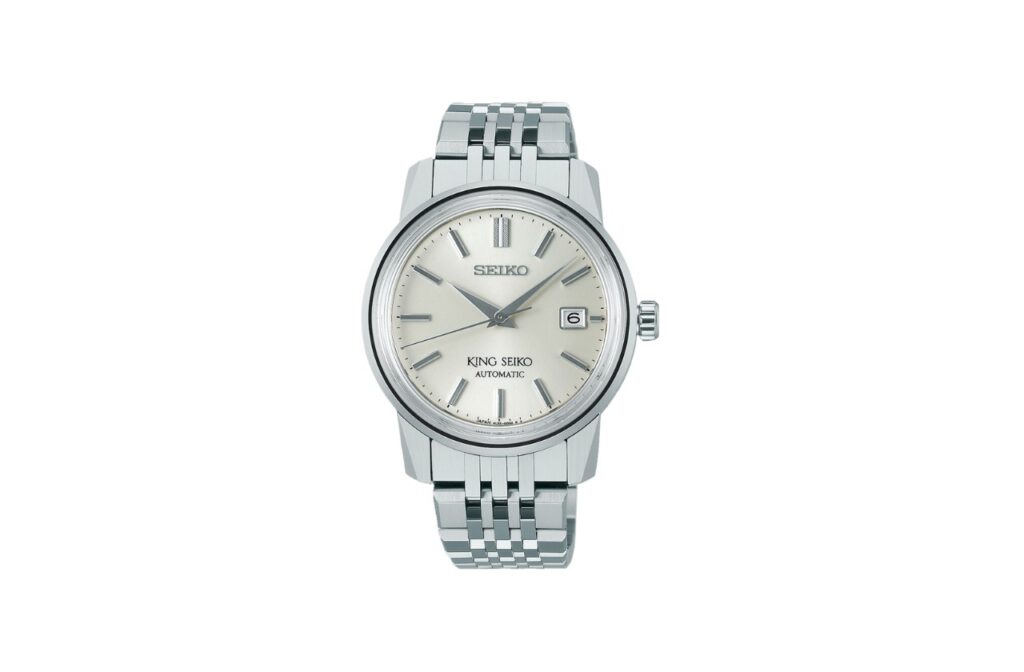 About
The King is a distinguished timepiece that showcases the brand's commitment to exceptional craftsmanship. Encased in a stainless steel case, it exudes timeless elegance, while the white dial adds a touch of sophistication. With its refined aesthetics and precise movement, the SJE089 exemplifies the essence of the King Seiko collection.
Features
This watch features a box-shaped sapphire crystal with an anti-reflective coating on the inner surface, providing enhanced clarity and protection. With a water resistance of 5 bar, it is designed to withstand everyday water exposure with confidence.
Specifications
Production Year: 2023
Case Size: 36.8mm
Materials:

Dial – White
Bracelet – Stainless steel
Bezel – Steel

Function: Stop Seconds, Date Display
Mechanism: Automatic with manual winding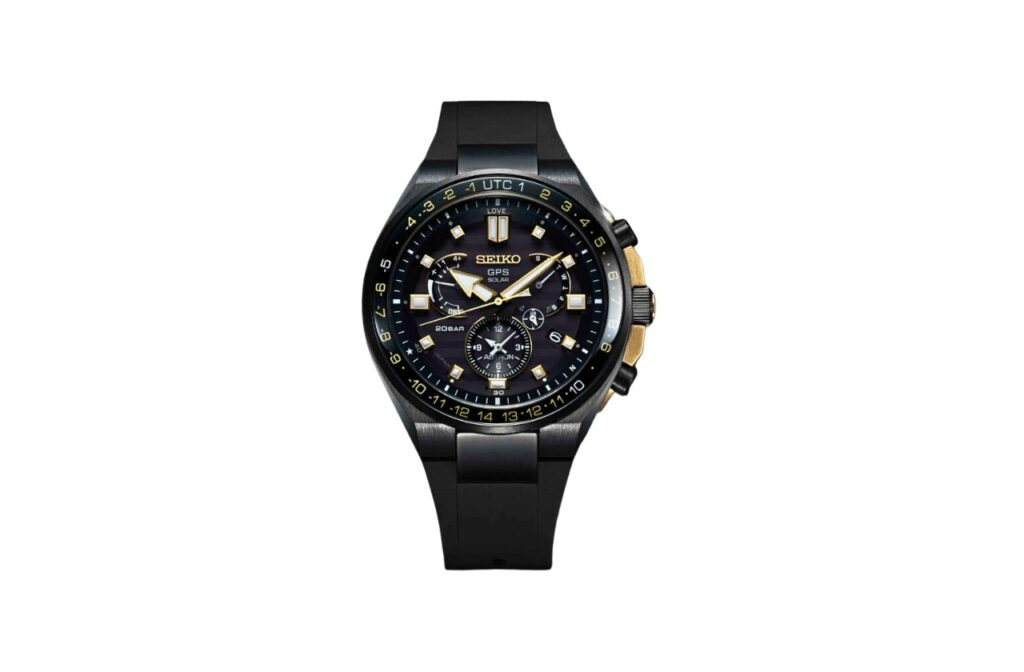 About
The "Novak Djokovic" is a remarkable timepiece featuring a titanium case and a sleek black dial. It is part of Seiko's Astron collection, renowned for its innovative GPS solar-powered movement, ensuring exceptional accuracy and reliability.
Features
This watch features a titanium case and black dial, offering a sleek and sophisticated look. It boasts impressive water resistance up to 20 bar and exceptional functionality, including time zone adjustment through GPS signal reception, DST (Daylight Saving Time), and the ability to prevent GPS signal reception during flights.
Specifications
Production Year: 2017
Case Size: 46.7mm
Materials:

Dial – Black
Bracelet – Silicone
Bezel – Ceramic

Function: Perpetual Calendar to the February 28, 2100, World Time Function, Dual-Time Function, Time Zone Adjustment by Receiving GPS Signals from GPS Satellites, Automatic Time Adjustment Function, Day/Date Display
Mechanism: GPS Solar
The Competitive Landscape
The competitive landscape for premium watches is fierce, with various esteemed brands offering high-quality, precision-engineered timepieces. Some key competitors for the Seiko are:
Rolex: Rolex is a global symbol of luxury, known for creating timepieces that merge timeless elegance with unparalleled mechanical sophistication. Rolex watches are synonymous with excellence and reliability, providing a strong competition to Seiko's Prospex line.
Omega: Omega offers a wide range of premium watches with an emphasis on precision, quality, and innovative design. Their heritage in watchmaking, including space and ocean exploration, offers a unique selling point that rivals Seiko's adventurous spirit.
TAG Heuer: TAG Heuer has carved its own niche in the watchmaking industry with its avant-garde designs and precision chronographs. The brand's focus on sporting precision and functionality provides a direct competition to Seiko's Prospex line.
Citizen: Known for their eco-friendly technology and high-quality materials, Citizen competes with Seiko's commitment to sustainable, durable watchmaking. Their Eco-Drive technology, powered by light, competes with Seiko's automatic movement watches.
Tudor: As a subsidiary of Rolex, Tudor focuses on manufacturing high-quality watches with a slightly more accessible price range. Their robust and functional watches, especially the Black Bay line, offer direct competition to Seiko's Prospex Alpinist "Rock Face" edition.
| | | |
| --- | --- | --- |
| Brand | Known For | Average SGD Price |
| Rolex | Global symbol of luxury, timeless elegance, unparalleled mechanical sophistication | S$2,212 – S$243,344 |
| Omega | Precision equal accuracy, build quality, innovative design, heritage in space and ocean exploration | S$324 – S$54,621 |
| TAG Heuer | Avant-garde watch designs, precision chronographs, and mechanical watches that focus on sporting precision and functionality | S$321 – S$22,749 |
| Citizen | Eco-friendly technology, high-quality materials, Eco-Drive technology powered by light | S$245 – S$3,562 |
| Tudor | High-quality watches with professional specifications at affordable prices more accessible pricing, robust and functional designs | S$797 – S$26,548 |
Why you should invest?
Investing in Seiko watches offers a promising return on your investment, especially considering the brand's recent performance. Over the last 180 days, Seiko watch prices have seen an uptick of 3.1%. This suggests an Annual Average Growth Rate (AAGR) of 3.0% over this period, indicating a positive trend in appreciation.
Moreover, looking at the five-year trend, Seiko watch prices have surged by an impressive 24.1%, averaging a substantial 5.3% increase year on year. This shows that despite short-term fluctuations, there is a strong longer-term upward trend in the value of Seiko watches. Thus, investing in a Seiko timepiece not only offers the joy of owning a high-quality watch but also the potential for an excellent long-term investment return.
Pricing & Availability
Seiko watches offer a broad range in terms of pricing, accommodating a variety of budgets and preferences. You can find Seiko models ranging from S$272 to as high as S$6,970, thus offering choices for both entry-level and luxury watch enthusiasts.
On the other hand, Grand Seiko, Seiko's high-end line, typically caters to the luxury market with prices generally starting from S$905 and reaching up to S$14,876. This line offers advanced craftsmanship, superior materials, and intricate design elements that justify the higher price point. Regardless of the line you choose, each Seiko timepiece promises exceptional quality, precision, and timeless appeal.
Seiko and Grand Seiko watches are widely available through various channels. You can purchase these timepieces directly from Seiko and Grand Seiko stores, authorized retailers, and the official Seiko website. In addition, various online platforms and watch boutiques also carry a selection of Seiko and Grand Seiko models.
FAQs
1. Is Seiko watch a good brand?
Yes, Seiko is generally regarded as a very good watch brand. The company is known for its craftsmanship, precision, and innovation. Seiko watches are reliable and durable, often offering high-quality movements and features at a more accessible price point than many Swiss watch brands. The company also has a reputation for diversity in its watch models, catering to a variety of tastes and preferences.
2. Is Seiko a luxury brand?
Seiko offers a range of watches, from affordable models to luxury timepieces. While some Seiko watches are budget-friendly, the brand's Grand Seiko line fashion watches is considered a luxury. These fashion watches are known for their exceptional quality, unique designs, and high-grade materials. They often feature a recessed crown, and advanced mechanical watch movements and are meticulously crafted, catering to the luxury market.
3. Are Seiko watches worth money?
Seiko watches are generally considered to be a good value for the money. From the cheaper models yet versatile Seiko 5 automatic winding watch, to the sophisticated charm of Seiko Presage, the dynamic allure of Seiko 5 Sports, to other mechanical watches, there's a well-crafted option tailored for everyone's style within Seiko's extensive range. In the luxury watches market, Grand Seiko watches are praised for their craftsmanship, durability, and innovative features.
4. Is Seiko as good as Tissot?
Seiko and Tissot are both reputable watch brands known for their quality and craftsmanship. They each cater to different segments of the watch market, with the sub brand of Seiko offering both affordable and luxury models, and Tissot being a sub brand known for its mid-range to luxury timepieces.
Final Word
The blend of timeless elegance, precision, and innovation, is what makes Seiko watches a worthy addition to any watch collection. Whether it's the luxurious Grand Seiko, the exquisite Credor, or the robust Prospex, Seiko offers an unparalleled timepiece experience, backed by a tradition of unmatched quality. With Seiko watches, you not only invest in a new watch itself, but you invest in a legacy.
Key Takeaways
Seiko's Luxury Collections: Seiko offers a range of luxury collections, including Grand Seiko, Credor, Prospex, Presage, King Seiko, and Astron, each showcasing precision, elegance, and innovation in their unique ways.
Meticulous Attention to Detail: Seiko's craftsmanship is evident in the intricate design of their cases, dials, and straps/bracelets, with each element reflecting a commitment to excellence and aesthetics.
Technological Advancements: Seiko blends traditional craftsmanship with cutting-edge technology, introducing innovations like GPS solar-powered technology in the Astron collection and the Spring Drive mechanism in Grand Seiko, ensuring precise and reliable timekeeping.
Looking to buy or sell your luxury watches? Watch Exchange is your one-stop destination for trading Rolex, Patek Philippe, Tissot, Sinn, Zenith, and other luxury timepieces. Find your next watch today or list your item for free!
---