Stuhrling watches, an American brand founded in 1999 by Chaim Fischer, imbued with a philosophy of the watch world where luxury meets affordability. Paying homage to Swiss watchmaking legend Max Stuhrling – the master of his craft in the 1800s – the Stuhrling watch company (AKA Stuhrling Original) borrows its name and continues his legacy of precision and elegance.
Anchored in traditional craftsmanship and propelled by modern design aesthetics, Stuhrling presents a unique nice touch fusion of detail-oriented artistry. With one of these timepieces on your wrist, you experience more than just timekeeping – it's an intimate encounter with a legacy of craftsmanship, a nod to refined aesthetics, and an affirmation of luxury within reach.
In this Stuhrling watch review, we will examine and compare several amazing and unique Stuhrling watches. Here are their respective reference numbers:
The Case
Let's begin with a standout for the ladies.
In the realm of women's timepieces, stainless steel takes center stage. The Lineage Quartz 31mm exudes strength and durability while embracing feminine charm. Its stainless steel case and screw-down caseback ensure longevity in design and function.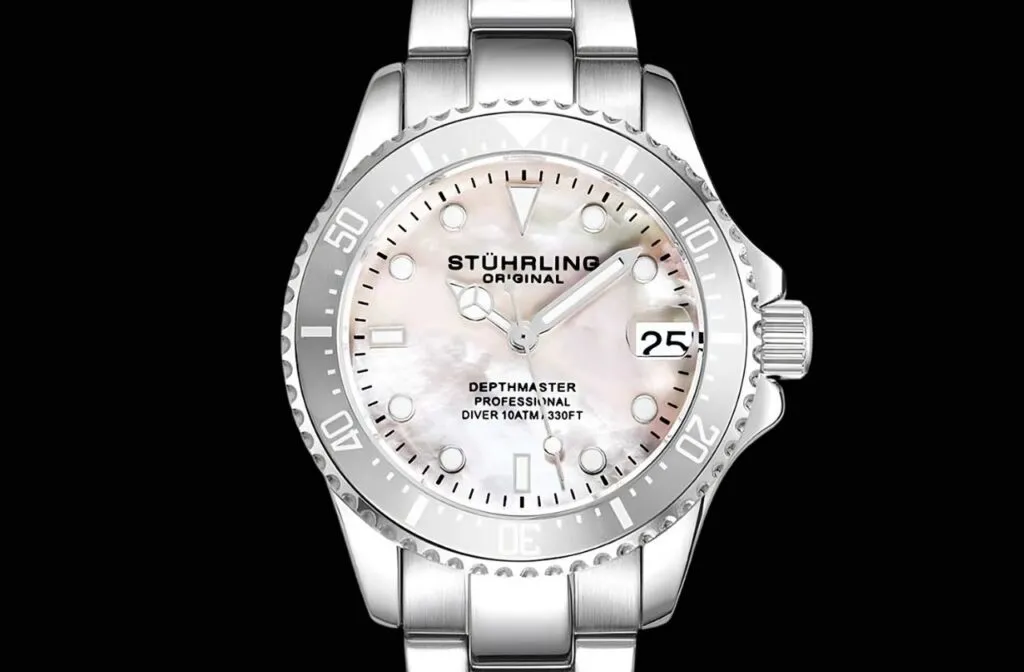 Similarly, the Depthmaster 3950L Quartz 32mm Fashion mirrors the resilience of the modern woman with its stainless steel case, blending fashion and functionality seamlessly.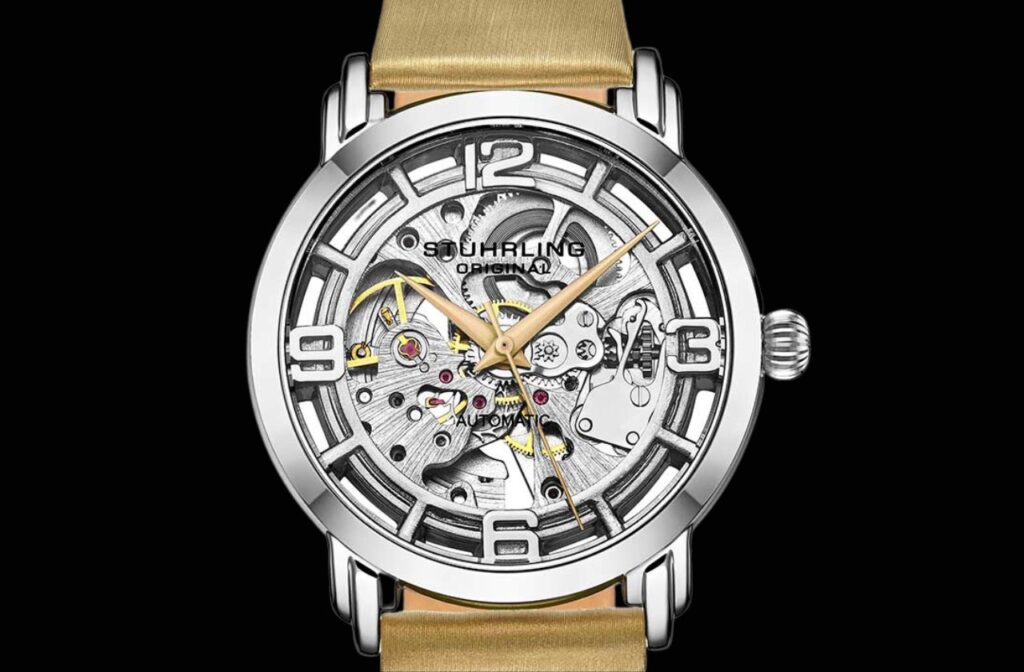 Lastly, the Winchester 3982 Automatic 40mm Skeleton showcases Stuhrling's unique aesthetic with a sporty touch. Its stainless steel case beautifully frames the intricate skeleton interior, adding intrigue and sophistication. These timepieces exemplify the seamless integration of artistry and durability.
Moving on to the gentlemen's collection.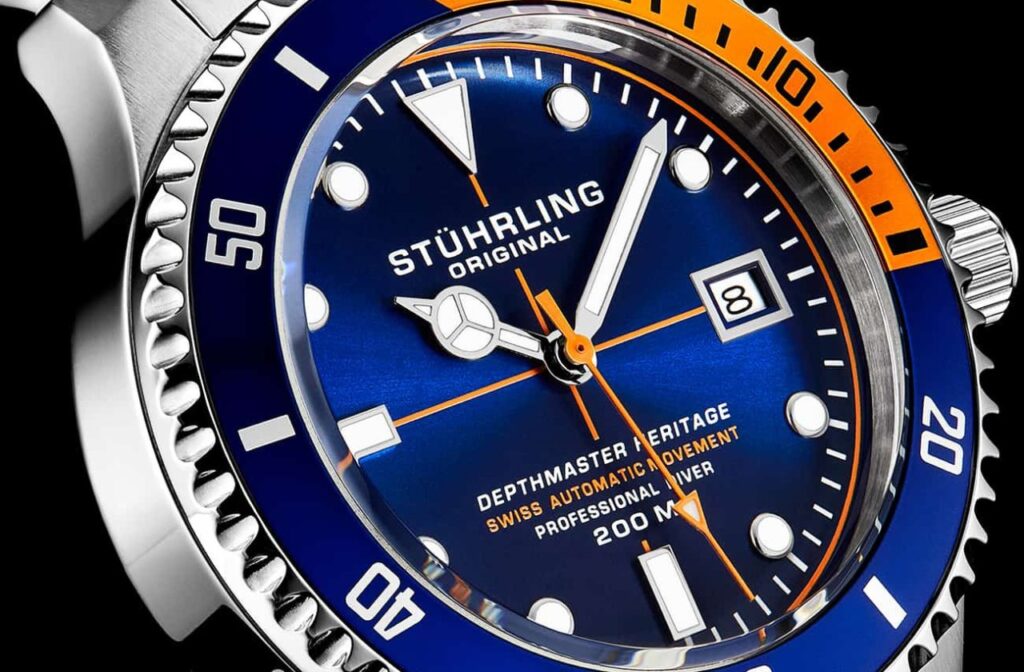 In the gentlemen's collection, all three models—ANATOL 371 Automatic 46mm Skeleton, Modena Dual Time Automatic 46mm Skeleton, and Swiss Automatic Depthmaster Heritage 42mm Classic Diver—feature stainless steel cases.
Stuhrling's commitment to quality and durability is evident through this common characteristic. The ANATOL 371 showcases intricate machinery within its stainless steel case, while the Modena Dual Time stands out with a Krysterna Crystal Case Back, adding depth to the design. The Swiss Automatic Depthmaster Heritage incorporates a screw-down stainless steel exhibition caseback, inviting enthusiasts to admire the watch's inner workings.
Exploring the cases of these Stuhrling watches uncovers a common thread of durability, elegance, and attention to detail that is synonymous with the brand. Each case is more than just a protective shell – it's a thoughtfully designed component integral to the watch's identity and appeal.
The Dial
In both the men's and women's collections, Stuhrling offers a range of captivating watches with distinct features and design elements.
Starting with the men's collection.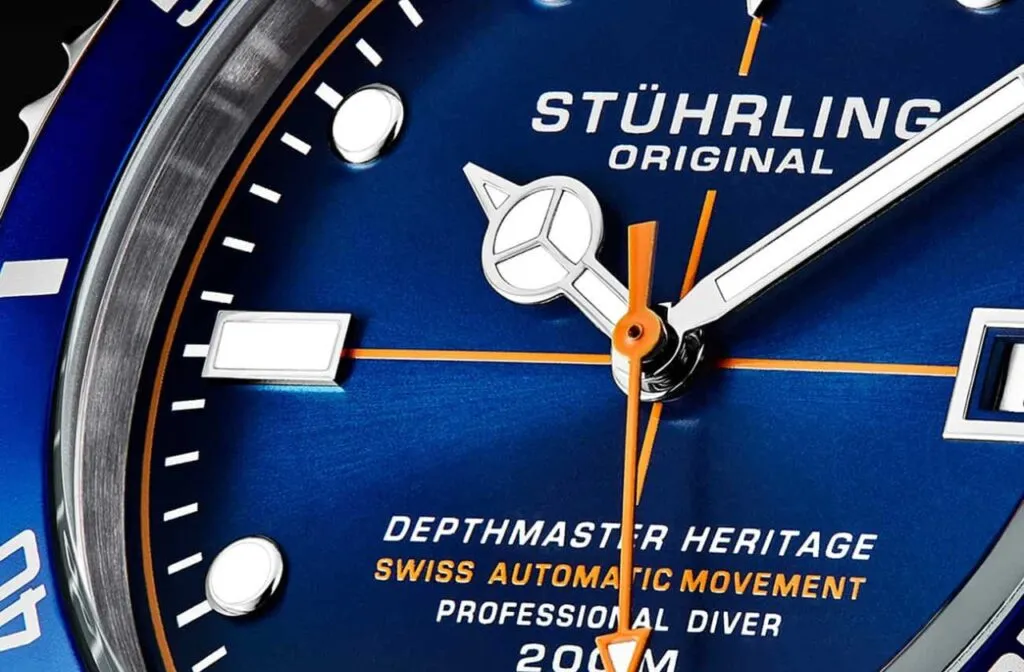 The Depthmaster Heritage 883H stands out with its luminous Mercedes hands and applied circle and index markers filled with luminescence, creating a bold contrast against its captivating blue watch face.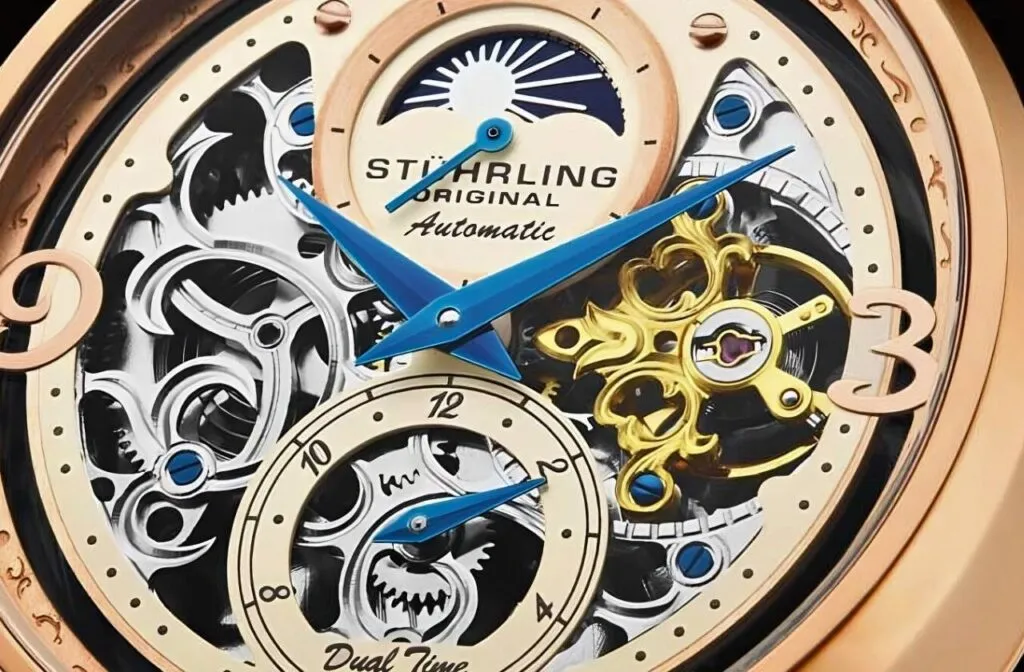 The Modena 889, a signature skeleton watch in the skeleton watches collection, showcases a skeletonized dial that reveals the watch's inner workings. It presents dual time display at 6:00 and commands attention with its second hand and AM/PM indicators at 12:00 and an arabic numerals marker.
The ANATOL 371, another exquisite skeleton watch, features a skeletonized dial that artfully exposes the intricate inner mechanisms, emphasizing unique elements like the second time-zone sundial.
In the women's collection.
The Lineage Ladies Quartz 31mm embodies understated elegance. Crystal markers complement the obelisk-style hands hour markers and marble dial, creating a harmonious and refined aesthetic.
On the other hand, the Winchester 3982 Skeleton makes a bold statement with its skeletonized dial and outer bezel. Dauphine-style hands and an onion-style crown enhance the overall look.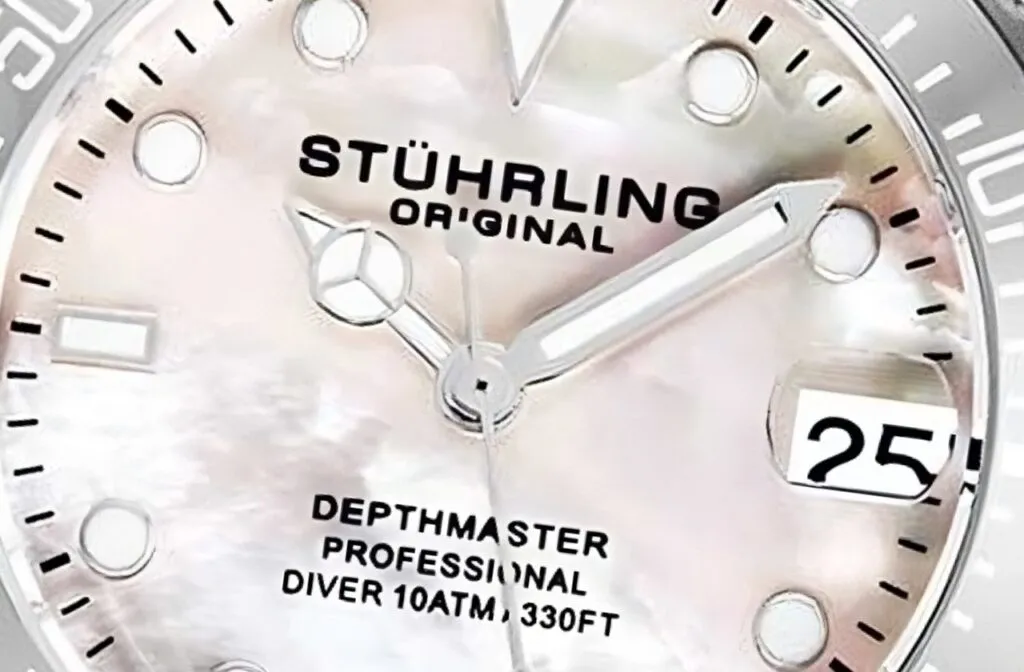 Lastly, the Depthmaster 3950L boasts a stunning Mother of Pearl dial with luminous baton-style hands and indices, all framed by a striking coin-edge bezel.
From classic elegance to bold extravagance, the dials of these Stuhrling models offer a unique blend of artistry and readability, making each glance at the time an experience in itself.
The Strap/Bracelet
In Stuhrling's collection, the straps play a crucial role in both the design and comfort of their watches.
The women's watches exhibit different strap options that highlight Stuhrling's attention to detail and practicality.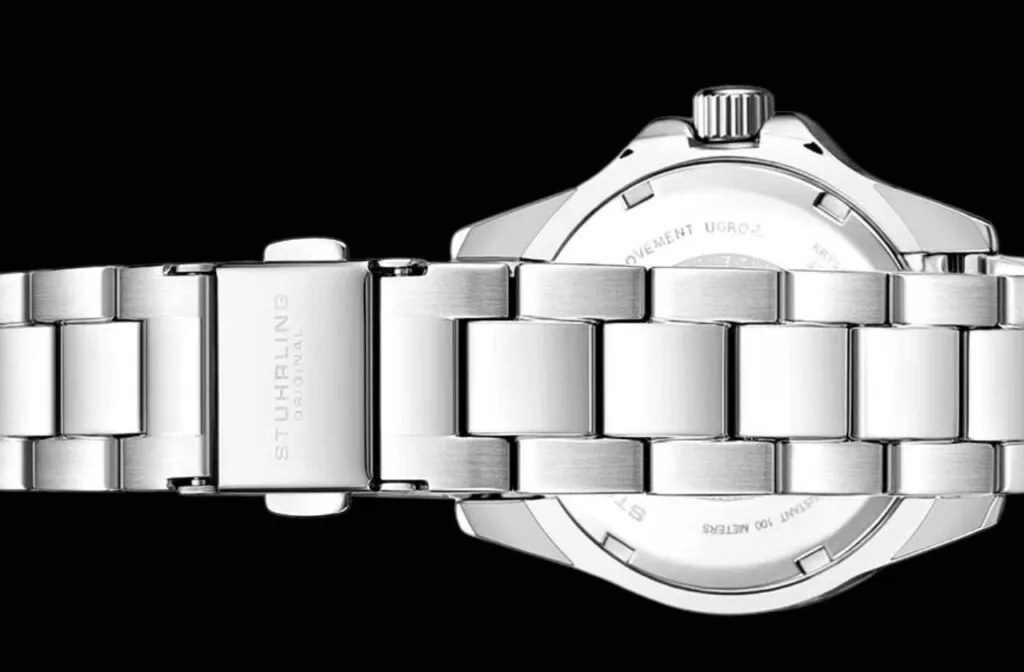 The Lineage Ladies Quartz 31mm features an original strap stainless steel link bracelet, secured with a deployant clasp for both style and security. On the other hand, the Depthmaster 3950L Quartz 32mm offers a fully adjustable stainless steel link bracelet, praised for its high comfort levels and secure fit.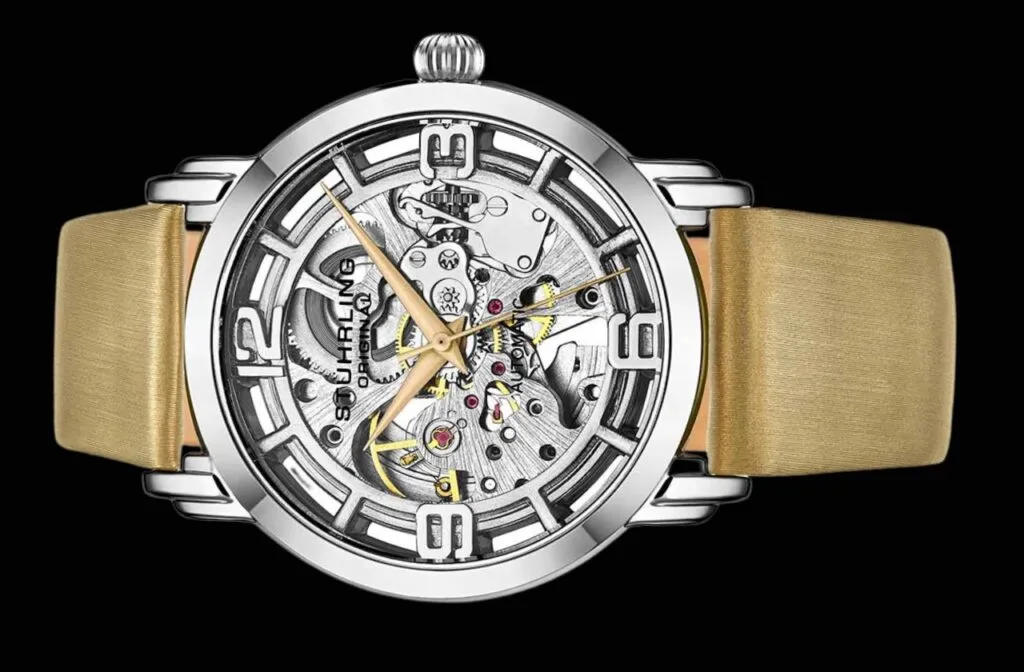 For a more personal preference of a casual yet sophisticated look, the Winchester 3982 Automatic 40mm Skeleton features a satin twill-covered leather strap, blending form and function seamlessly.
Among the men's watches, the ANATOL 371 and the Modena Dual Time Automatic 46mm Skeleton boast alligator-embossed leather straps. These straps not only provide unparalleled comfort but also make a bold fashion statement. The Modena 889 also features an alligator-embossed leather strap, complemented by an onion crown guard at 12 o'clock, adding a distinctive touch to its style.
Lastly, the Swiss Automatic Depthmaster Heritage 42mm Classic Diver comes with a robust and adjustable stainless steel bracelet, emphasizing its durability and readiness for any challenges it may face.
Stuhrling's collection showcases a range of strap options that cater to different preferences and occasions. Whether it's stainless steel link bracelets, leather straps, or alligator-embossed leather, Stuhrling pays attention to both style and comfort in their watch designs, offering a versatile selection for watch enthusiasts.
The Movement
Commencing with the Japanese Quartz movement, the Miyota 2115, renowned for its accuracy and dependability, powers two of our highlighted models. The Lineage Ladies Quartz 31mm, with its ultra-slim 9mm profile, and the Depthmaster 3950L Quartz 32mm, both employ this movement, providing consistent and precise timekeeping. Additionally, they are water-resistant, up to 50 meters for the Lineage and up to 100 meters for the Depthmaster making it an ideal dive watch.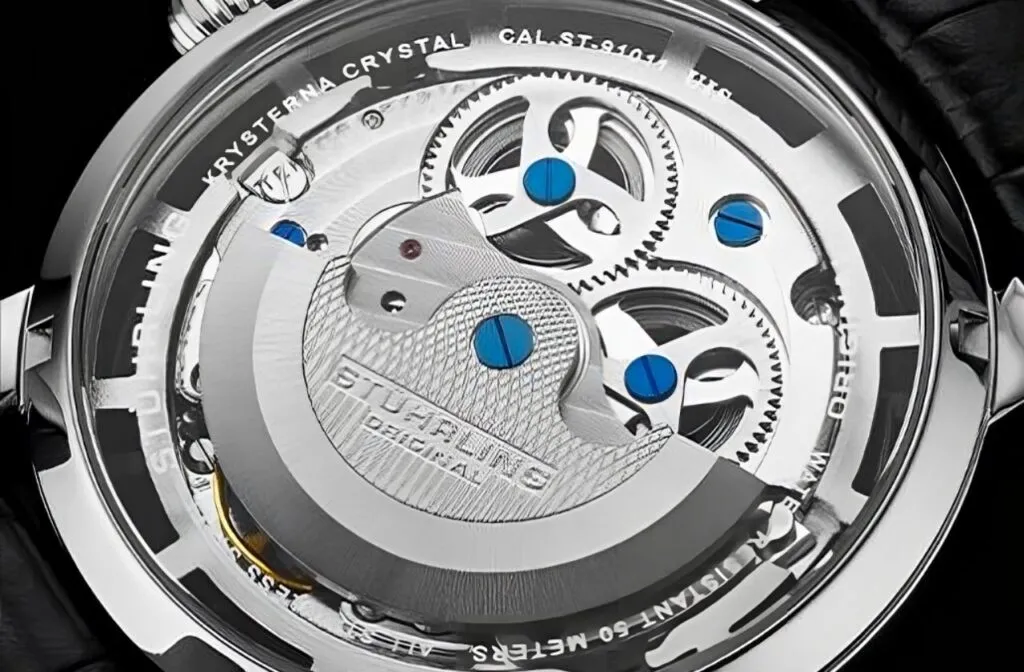 The Winchester 3982 Automatic 40mm Skeleton and the ANATOL 371 Automatic 46mm Skeleton both offer fully automatic movements, with the Winchester showcasing its movement through an exhibition caseback.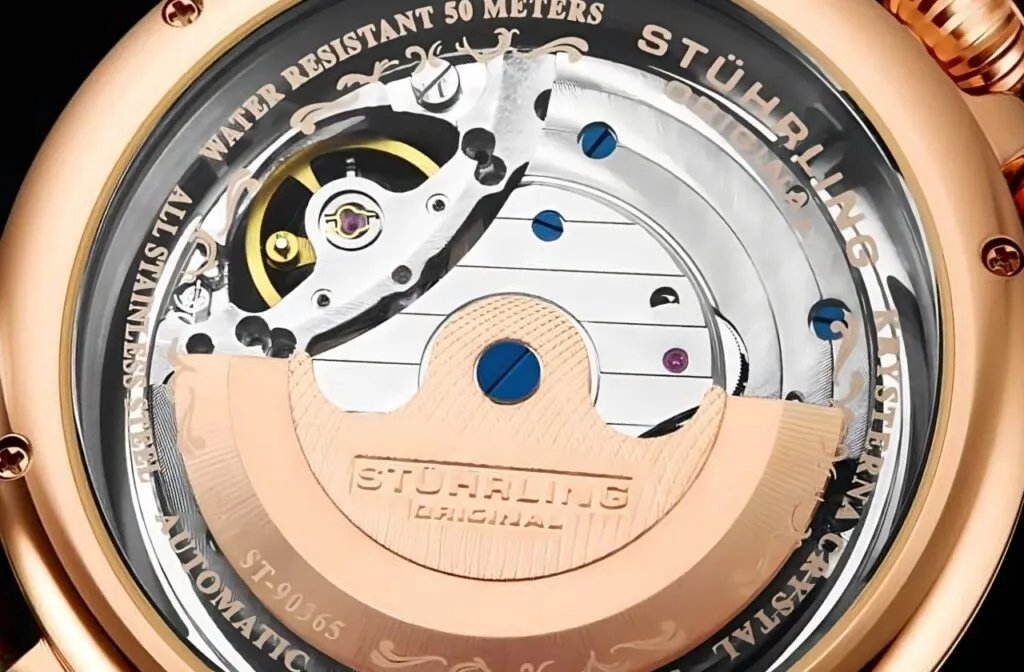 The Modena Dual Time Automatic 46mm Skeleton stands out with its in-house ST series of automatic movements. This watch not only ensures consistent timekeeping but also incorporates dual time and an AM/PM indicator, catering to global travelers and those managing multiple time zones. With a 42-hour power reserve and water resistance up to 50 meters, it combines functionality with style.
On the other hand, the Swiss Automatic Depthmaster Heritage 42mm Classic Diver utilizes the Swiss Automatic Precision CL-888 movement, known for its exceptional accuracy and smooth operation. With features like a quick-set date, sweep seconds hand, and a 36-hour power reserve, this watch caters to those seeking precision and reliability in a dive watch.
Regardless of your preference for the Swiss Quartz movement or Automatic watch movement, the Stuhrling brand offers movements that blend precision, reliability, and artistry, serving as the reliable heartbeat of these exquisite timepieces.
The Competitive Landscape
Stuhrling competes with other affordable luxury watch brands in the watch industry. With a diverse range of offerings and competitive price points, no quality issues, and bad news on Amazon reviews, Stuhrling combines design with higher quality, functionality, and affordability. Leveraging reliable Chinese movements, their automatic timepieces cater to cost-conscious consumers without compromising on quality.
Invicta: Known for offering a wide variety of styles and designs, Invicta is a strong competitor in the affordable luxury watch market.
Seiko: This Japanese brand's watches are renowned for their reliable movements and impressive quality considering their generally accessible prices.
Fossil: Fossil offers a range of both traditional and smartwatches, boasting a mixture of modern and vintage-inspired designs.
Citizen: Known for their Eco-Drive technology, Citizen watches are well-regarded for their quality, design, and value for money.
Orient: Another Japanese brand, Orient is famous for its automatic watches and provides a good blend of quality, style, and affordability.
| | | |
| --- | --- | --- |
| Brand | Known For | Average SGD Price |
| Invicta | Wide variety of styles and designs in the affordable luxury watch market. | S$77 – S$323 |
| Seiko | Reliable movements and impressive quality at accessible prices. | S$253 – S$12,016 |
| Fossil | Mixture of modern and vintage-inspired designs in both traditional and smartwatches. | S$44 – S$4,518 |
| Citizen | Eco-Drive technology, quality, design, and value for money. | S$270 – S$6,070 |
| Orient | Quality automatic watches that blend style and affordability. | S$202 |
Why You Should Invest?
Investing in a Stuhrling watch is investing in a piece of cost-effective luxury. With its rich heritage and unique blend of sophisticated design, reliable movement, and excellent build quality, Stuhrling offers more than just timekeeping—it provides a statement of style and personality. The brand's commitment to making luxury watches accessible means you're acquiring a product with remarkable value.
Moreover, Stuhrling's wide range of designs caters to various tastes, ensuring that there's a perfect watch for every individual. Whether you're a seasoned watch collector or a novice just beginning your horological journey, a Stuhrling watch is a cost-effective addition to any collection. It's not just a watch; it's a testament to your appreciation for craftsmanship, style, and value.
Pricing & Availability
Stuhrling's collection offers a wide range of pricing, spanning from approximately S$100 to S$900. This reflects the diversity of their designs and features, ensuring that there is a Stuhrling timepiece available to suit varying budgets and preferences.
For men, the Swiss Automatic Depthmaster Heritage 883H 42mm Diver stands as one of Stuhrling's premium offerings, priced at S$939.84. Meanwhile, the Modena 889 46mm Skeleton, with its unique aesthetic and remarkable features, comes at a moderate S$405.69. Lastly, the ANATOL 371 AUTOMATIC 46MM SKELETON, a watch that blends both style and function, can be acquired for S$338.07.
The women's selection offers great value as well. The Depthmaster 3950L is an attractively priced timepiece at S$128.47. The Winchester 3892 Skeleton, with its captivating design and quality build, is available for S$263.70. The Lineage Quartz 3936, a watch that combines elegance and simplicity, is the most affordable in this selection at S$106.83.
These timepieces are available through various authorized retailers, ensuring easy access to this fusion of affordability and luxury. Always remember to purchase from an authorized dealer to guarantee the authenticity of your Stuhrling watch.
FAQS
1. Is Stührling a good brand of watch?
Yes, Stuhrling is considered a good brand of watch. Stuhrling is an American Company watch brand that was founded in New York City. The company was established by Swiss immigrant Max Stuhrling in 1999, making it sounds European. While not in the same league as the more expensive ones, Stuhrling provides an excellent value proposition for those seeking a blend of style, functionality, and affordability.
2. Is Stuhrling a luxury brand?
Stuhrling positions itself as a provider of affordable luxury. While they might not compete with the likes of Rolex or Patek Philippe in terms of prestige or price point, Stuhrling offers a range of timepieces with sophisticated designs, reliable movements, and quality craftsmanship.
3. Is Stuhrling a Chinese brand?
While the brand name draws inspiration from Swiss watchmaking legend Max Stuhrling, and their quartz movements originate from Japan, the majority of Stuhrling's watches are manufactured in China. This allows Stuhrling to deliver high-quality and affordable timepieces, capitalizing on China's expertise in manufacturing.
Final Word
Stuhrling watches offer affordable luxury, combining timeless designs with reliable movements. With a range of models catering to varying budgets and preferences, Stuhrling provides an opportunity to embrace elegance and craftsmanship without breaking the bank.
Key Takeaways
Stuhrling offers a diverse range of timepieces with prices ranging from S$100 to S$900, catering to various budgets and preferences.
Stuhrling Original competes in the market of luxury watches, combining elegance, functionality, and reliable Chinese movements to stand out among other high-end brands making it a good deal watch.
Stuhrling's commitment to craftsmanship ensures that the quality of their timepieces is comparable to other high-end brands, making them a compelling choice for watch enthusiasts looking for both style and substance.
Looking to buy or sell your luxury watches? Watch Exchange is your one-stop destination for trading Rolex, Patek Philippe, Tissot, Sinn, Zenith, and other luxury timepieces. Find your next watch today or list your item for free!
---