TAG Heuer's Carrera Skipper makes a nostalgic return to the prestigious collection 40 years after its last appearance. Originally launched in 1968, this iconic chronograph captivated sailors with its practical functionality and vibrant design.
In 2023, TAG Heuer rejuvenates the Skipper with contemporary features inspired by the brand's commitment to excellence and innovation. The special sailing edition pays homage to the sea, featuring an eye-catching color combination of teal, orange, green, and blue.
The main blue dial recalls the ocean, while the orange, green, and light teal elements resemble boat rigging and decks. Each hue holds practical or symbolic significance, making the watch more than an accessory. With its sporty sophistication, this revitalized Skipper is a perfect timepiece for sailing and nautical enthusiasts.
The Case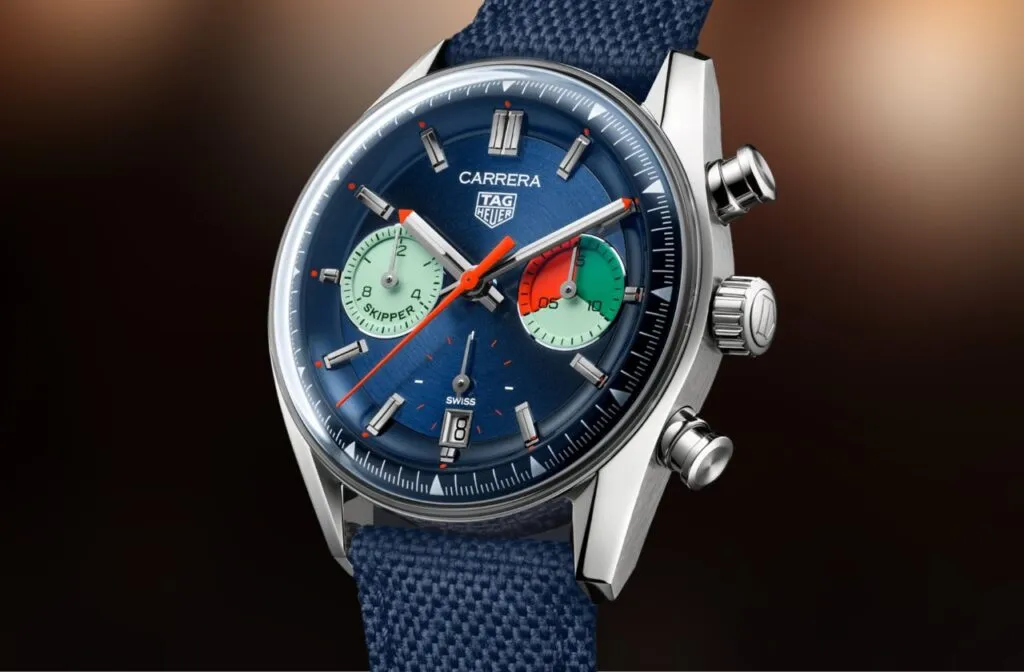 The TAG Heuer Carrera Skipper features a robust, elegant stainless steel case that ensures durability and style. Its case size of 39mm strikes the perfect balance between sportiness and sophistication, making it suitable for various occasions and activities.
As a nod to its nautical heritage, the case design incorporates elements from both the legendary Carrera collection and the iconic Skipper watch. The case shields the highly precise and reliable Calibre TH20-06 automatic movement with an impressive power reserve of 80 hours.
The case also includes functional features such as a screw-down crown and a water resistance rating of up to 100 meters. This makes the Carrera Skipper suitable for swimming and shallow diving, making it a fitting companion for your nautical adventures.
Lastly, the Carrera Skipper's case is designed to seamlessly integrate with the watch's blue water-resistant strap, providing a comfortable and secure fit on your wrist. Whether at the helm of a sailboat or attending a formal event, this Tag watch will meet all your needs while maintaining a professional and classy appearance.
The Dial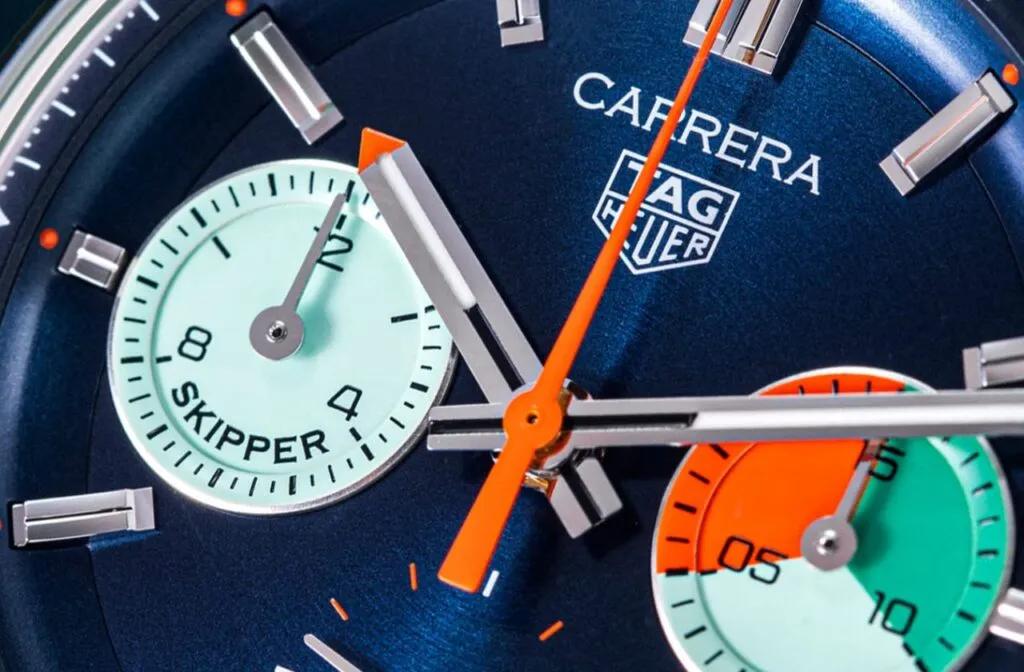 The dial of the TAG Heuer Carrera Skipper showcases an attractive combination of orange, green, and blue hues. Inspired by the original Heuer Skipper, the dual-counter design draws your attention to the functionality and aesthetics perfect for sailing enthusiasts.
Upon closer inspection, you will notice the intrepid teal regatta countdown prominently featured on the dial. This countdown is an essential tool for regatta races, informing you about the time remaining before the race starts. The bright orange central chronograph seconds hand adds color to the dial, ensuring legibility and visibility under various conditions.
One of the standout aspects of this timepiece is the unique "glass box" design. This feature introduces a vintage touch to the watch, reminiscent of the 1960s Tag Heuer watches. The domed sapphire crystal provides a clear view of the dial while protecting it from scratches and impacts during your nautical adventures.
Finally, the applied hour markers, polished hands, and lume-filled tips ensure readability even in low-light conditions. The dial layout ensures that all necessary information is easy to access, allowing you to focus on your sailing experience with the confidence that your timepiece is a reliable companion.
The dial of the TAG Heuer Carrera Skipper combines aesthetic beauty with practical functionality, making it a perfect choice for your next regatta or maritime adventure. Enjoy the mesmerizing colors and expert craftsmanship, knowing your timepiece is built with Tag Heuer's history of precision and style.
The Strap
The TAG Heuer Carrera Skipper has an attractive and comfortable strap that complements its nautical theme. Made of blue fabric, the strap adds a touch of elegance and sportiness to your wrist. The blue tone of the strap is harmoniously paired with the colorful dial, making it an excellent choice for both casual and formal occasions.
The strap features a stainless steel folding clasp, ensuring a secure and comfortable fit on your wrist. The double safety push-buttons on the clasp provide additional reliability, so you won't have to worry about the watch coming undone during an active day on the water or at the office. The width of the strap is designed to perfectly match the 39mm case size of the Carrera Skipper, providing a balanced and aesthetically pleasing appearance on your wrist.
To maintain the excellent quality of your blue fabric strap, it's essential to follow some simple care guidelines. If the strap gets wet, allow it to air-dry naturally, away from direct sunlight or heat sources. Also, avoid exposing it to chemicals such as detergents or perfumes, as these may damage the fabric or cause discoloration. By taking proper care of your Carrera Skipper's strap, you can ensure its lasting appeal and enjoy its stylish presence for years to come.
The blue fabric strap of the TAG Heuer Carrera Skipper is an excellent blend of style, practicality, and comfort. Its well-crafted design and secure stainless steel clasp make it a perfect addition to this exceptional timepiece.
The Movement
When considering the TAG Heuer Carrera Skipper Ref. CBS2213.FN6002, the movement plays an essential role in its functionality and precision. The watch integrates the Calibre TH20-06 movement, an efficient and reliable mechanism designed for high performance.
As a high-quality automatic movement, the Calibre TH20-06 features bi-directional winding. This technology ensures that your watch efficiently harnesses the energy generated by your wrist movements, maintaining a consistent power reserve and ensuring accurate timekeeping.
This movement provides you with an 80-hour power reserve, giving you the confidence to set sail on your adventures without worrying about your timepiece's performance. Your Carrera Skipper will efficiently power through long periods without being worn, maintaining reliability even during downtime.
The Calibre TH20-06 movement also contributes to the Carrera Skipper's 100-meter water resistance. As a tribute to TAG Heuer's sailing heritage, this feature ensures that your sporty and elegant wristwatch can withstand challenges posed by water exposure during your nautical escapades.
That said, the movement of the TAG Heuer Carrera Skipper Ref. CBS2213.FN6002 plays a significant role in its functionality and high performance. With the Calibre TH20-06, you can confidently trust your timepiece to reliably accompany you on all of your adventures.
Competitive Landscape
Rolex Yacht-Master II: The Rolex Yacht-Master II is a highly regarded competitor in the luxury nautical watch market. Its bold design and advanced functionality make it stand out, including a programmable countdown feature with a mechanical memory. Remember that the Rolex and Tag Heuer sells at different prices – Yacht-Master II is often priced higher than the TAG Heuer Carrera Skipper.
Omega Seamaster Diver 300M Chronograph: Another competitor to consider is the Omega Seamaster Diver 300M Chronograph. This chronograph watch offers a blend of elegance and functionality, featuring a unidirectional rotating bezel, helium escape valve, and chronograph function. As you compare the Seamaster Diver 300M Chronograph to the Carrera Skipper, consider the differences in design and target audience.
Breitling Superocean Heritage: Lastly, the Breitling Superocean Heritage provides a vintage-inspired option for those seeking a nautical timepiece. This collection offers numerous size and style choices, catering to a broad range of aesthetic preferences. Although the Breitling Superocean Heritage does not feature a dedicated sailing-specific complication like the Carrera Skipper, its classic dive watch features may still be appealing to you.
| | | |
| --- | --- | --- |
| Model | Known For | Pre-owned Price Range |
| Rolex Yacht-Master II | State-of-the-art functionalities | S$23,580 |
| Omega Seamaster Diver 300M Chronograph | Chronograph watches that combine elegance and functionality | S$4,155 |
| Breitling Superocean Heritage | Retro-style classic dive watches | S$3,395 – S$14,259 |
Why You Should Invest
Currently listed at a retail price of $6,750.00 (SGD 8,953.88), the TAG Heuer Carrera Skipper represents a luxury timepiece and an investment in horological history. With older versions of this coveted timepiece, known for their rarity and historical significance, having fetched prices as high as $120,000 (SGD 159,180) at auction, it's clear that the 'Skipper' holds immense value for watch enthusiasts and collectors.
Aside from its investment potential, this Tag Heuer watch is also rich in functionalities that enhance its worth. The watch's dial is meticulously designed for clear readability and precision, which are vital for professional sailors and casual users alike. The movement is yet another testament to TAG Heuer's unwavering commitment to technical excellence. Since the Tag Heuer brand is renowned for its Swiss precision, it ensures reliability and longevity, further reinforcing the Skipper's investment potential.
In the world of luxury timepieces, the TAG Heuer Carrera Skipper is much more than a watch – it's a symbol of maritime heritage, mechanical craftsmanship, and timeless design. Investing in this piece is a strategic move for both your personal style and financial portfolio.
Final Word
The new 2023 TAG Heuer Skipper is an impressive contender in the luxury nautical watch market. With its rich sporting heritage and precise timekeeping capabilities, it stands as a robust and sophisticated choice for both sailing enthusiasts and watch collectors. While it does face strong competition from other prestigious brands, the Carrera Skipper's unique blend of function, design, and affordability ensures it holds its own in the luxury timepiece arena.
Key Takeaways
Inspired by sailing's affinity for precision and speed, the TAG Heuer Carrera Skipper offers a bold and distinctive color scheme on its 39mm face, making it a stylish and eye-catching choice for your wrist.
Boasting the Calibre TH20-06 movement, you can trust in the accuracy and reliability of this timepiece, ensuring your watch stands up to the rigors of a maritime environment
With its release, the Carrera Skipper has garnered attention and interest among collectors and enthusiasts alike.
Looking to buy or sell your luxury watches? Watch Exchange is your one-stop destination for trading Rolex, Patek Philippe, Tissot, Sinn, Zenith, and other luxury timepieces. Find your next watch today or list your item for free!
---