Tissot, a prominent part of the Swatch Group, has been at the forefront of Swiss watchmaking since 1853. Its founding fathers, Charles-Félicien Tissot and his son Charles-Émile, made their mark in Le Locle, Switzerland. As part of the proud Swiss brands lineage, the Tissot brand distinguishes itself by balancing mechanical precision with a modern design sensibility.
Tissot's catalog is a testament to diversity and innovation, showcasing the brand's commitment to precise craftsmanship. Their range spans from signature styles of pendant watches to reliable beater watches, embodying the brand's dedication to detail. With the Tissot Heritage line, the brand presents a harmonious blend of tradition and modernity, creating watches of substance and style that appeal to both enthusiasts and casual wearers.
Immerse yourself in the timeless allure of Tissot as you explore this comprehensive Tissot watch review.
The Case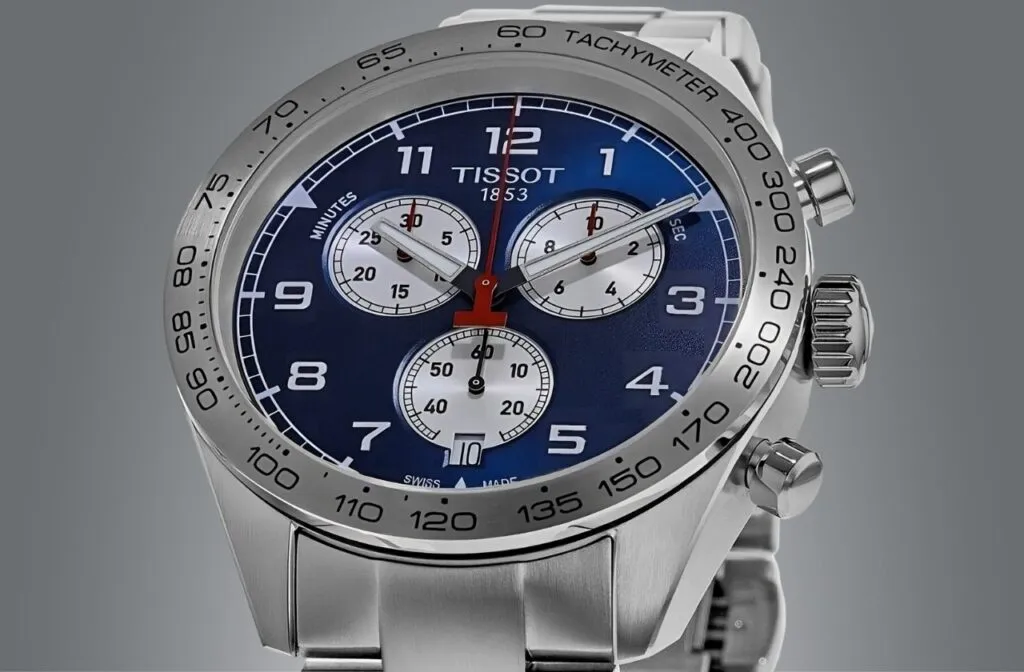 The case of a Tissot watch protects the internal movement and dial while also contributing to the timepiece's aesthetic appeal. Models like the Tissot PRS 516 feature stainless steel cases, which are popular for their affordability and scratch-resistant properties.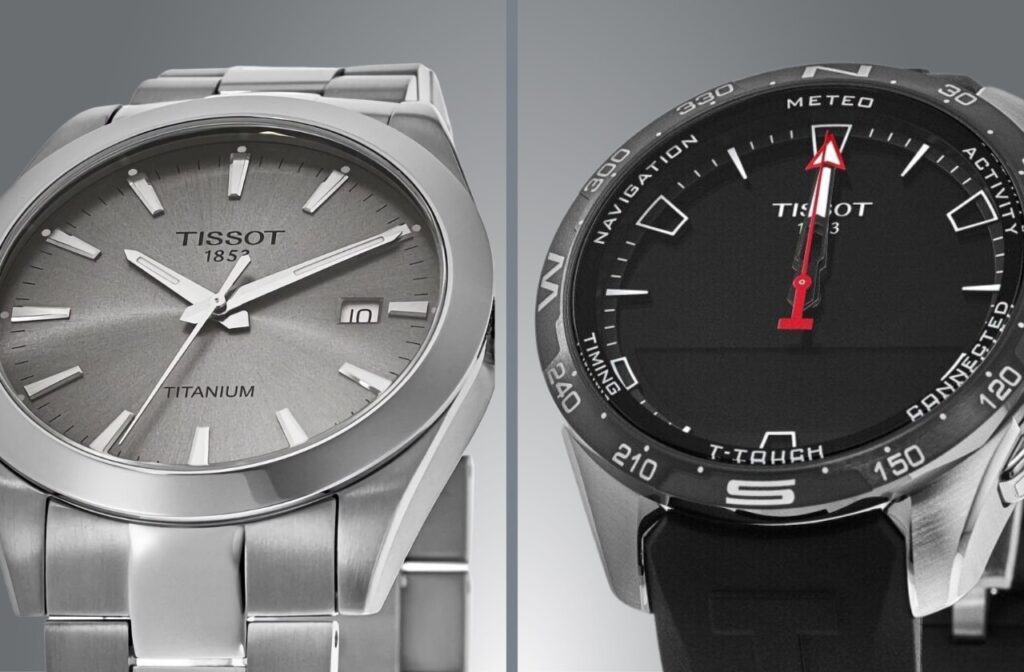 For a more premium feel, Tissot offers watches with titanium cases. Titanium is an ultra-light, hypoallergenic metal that provides an attractive silvery finish, adding a touch of sophistication to models like the Tissot Gentlemen Titanium, and the Tissot T-Touch Connect Solar with antimagnetic titanium case. These titanium-cased watches offer not only a luxurious appearance but also enhanced comfort and durability.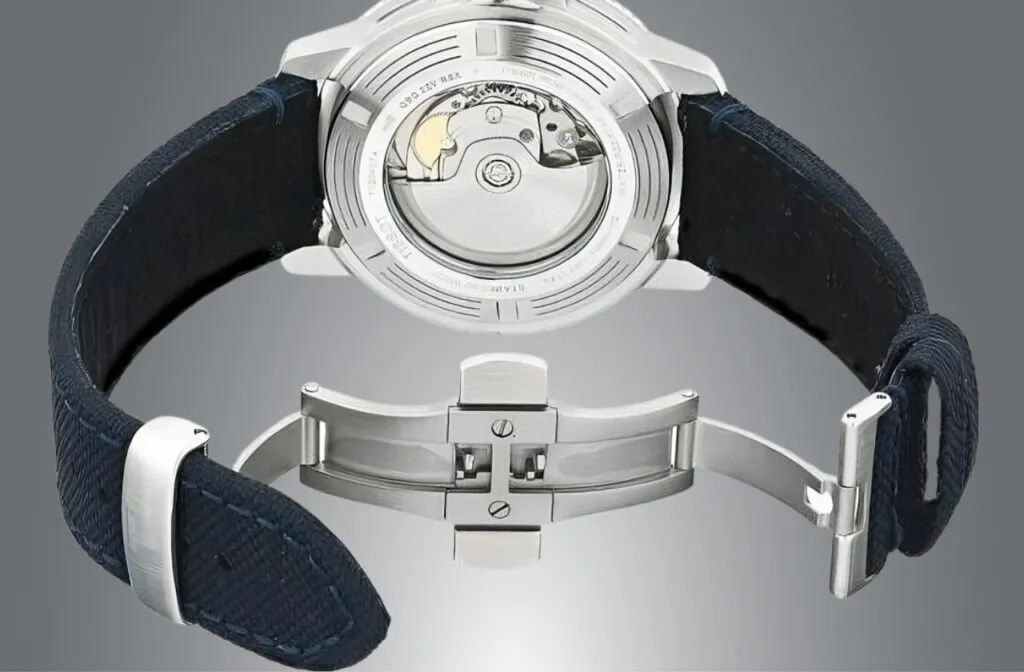 Some Tissot timepieces also feature see-through case backs, allowing the wearer to admire the intricate mechanical movement inside favorite watches. Notably, models equipped with Tissot's signature PRX Powermatic 80, Tissot Gentleman Powermatic 80 Silicium, Tissot Tradition PowerMatic 80 Open Heart, Tissot T-Race SwissMatic, and Tissot Seastar 1000 Powermatic 80 Silicium
The Dial
Tissot, known for its commitment to simplicity, combines style, readability, and functionality in its dial designs.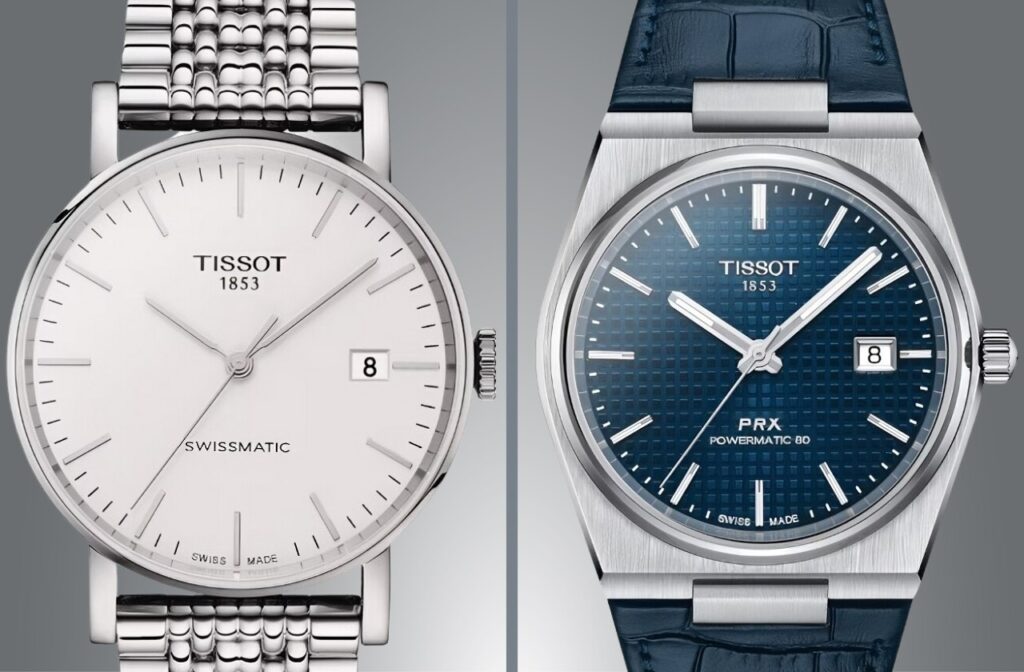 For instance, the Tissot Everytime Swissmatic 40mm presents a minimalistic silver dial adorned with rose gold accents and hands, creating a sophisticated and timeless aesthetic. In contrast, the Tissot PRX Powermatic 80 boasts a bold navy blue dial itself, making a striking statement on the wrist.
The brand also offers a wide range of dial colors to cater to diverse tastes. From the understated elegance of silver and white dials with yellow gold accents, seen in the Tissot Tradition Powermatic 80 Open Heart, to the vibrant forest green dial found in the Tissot Gentleman Powermatic 80 Silicium, there is a dial to suit every preference.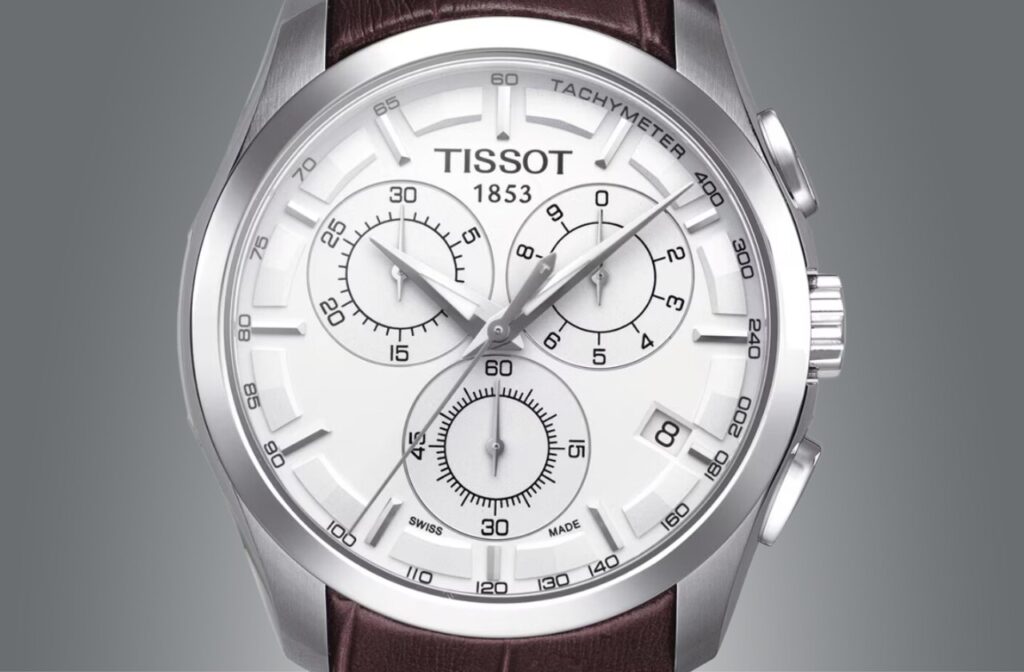 Tissot dials go beyond displaying the time. Many models integrate practical complications into mechanical chronograph, like date displays, day-of-the-week indicators, automatic chronograph functions, and even world time features. The Tissot Couturier Chronograph exemplifies this with its intricate dial design showcasing a chronograph sub-dial, date window, and tachymeter scale.
The Strap/Bracelet
Tissot provides a diverse range of high-quality strap options to suit individual preferences and styles.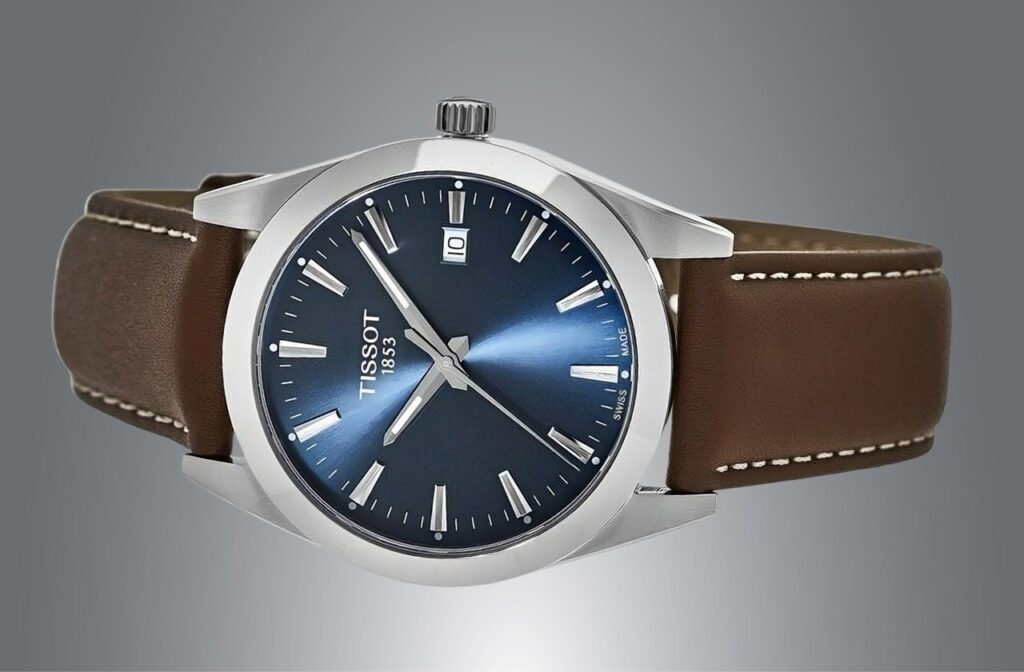 For those seeking a classic and sophisticated look, Tissot offers a leather strap option. The Tissot Gentleman T127.410.16.041.00, for instance, features a sleek brown leather strap that exudes elegance and pairs well with formal attire.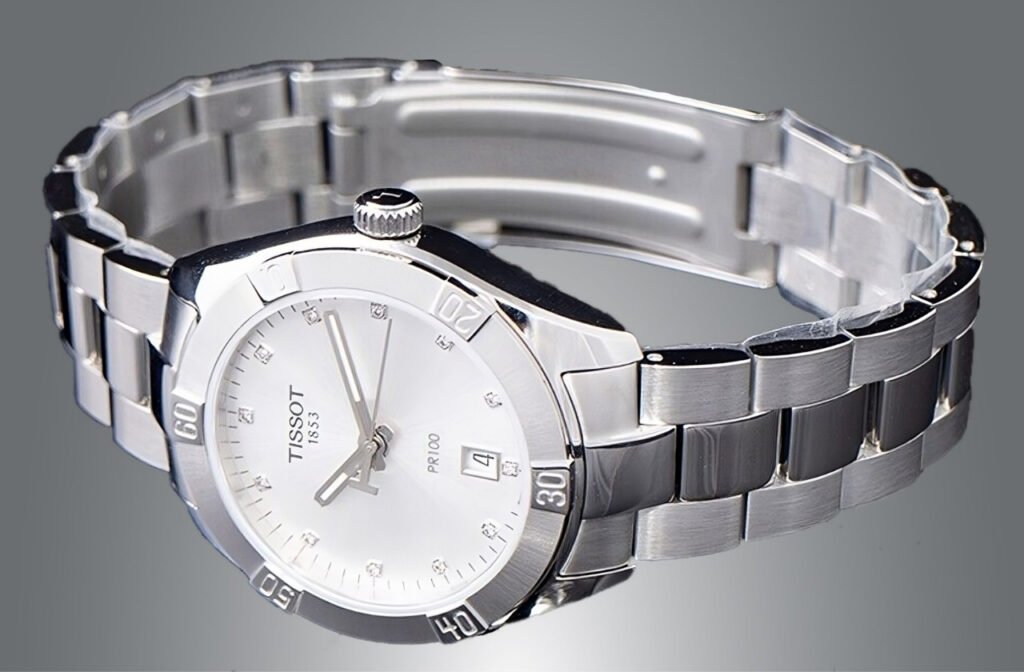 Metal bracelets are another popular choice, providing durability and versatility. The Tissot PR100 Sport Chic Chronograph incorporates a stainless steel bracelet that offers a timeless appeal, seamlessly blending with both casual and formal ensembles.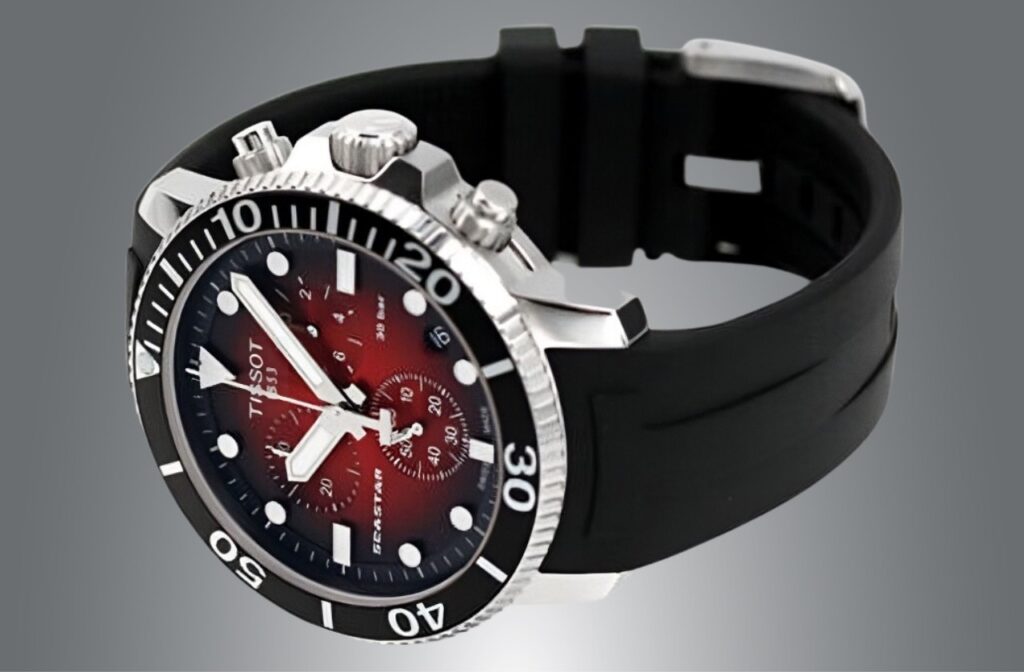 For more sporty and casual wear, Tissot offers rubber straps. The Tissot Seastar 1000 Chronograph features a comfortable and durable rubber strap that is perfect for water-related activities and outdoor adventures.
Tissot understands the importance of customization and personalization when it comes to watches. That's why in addition to their wide range of timepiece options, Tissot also offers a collection of straps to suit individual styles and preferences.
For a classic and sophisticated look, Tissot provides a selection of leather straps. One notable option is the Tissot Official Dark Blue PRX Leather Strap with Steel Independence. This strap adds a touch of elegance and refinement to any Tissot watch it accompanies, providing a timeless and stylish appearance perfect as a dress watch.
For those seeking a vibrant and bold statement, Tissot offers synthetic wrist straps in various colors. The Tissot Official Red Silicone Strap, featuring lugs of 22mm, is a striking choice that can instantly transform the look of a watch. This synthetic strap provides durability and versatility while adding a pop of vibrant color to the timepiece.
The Movement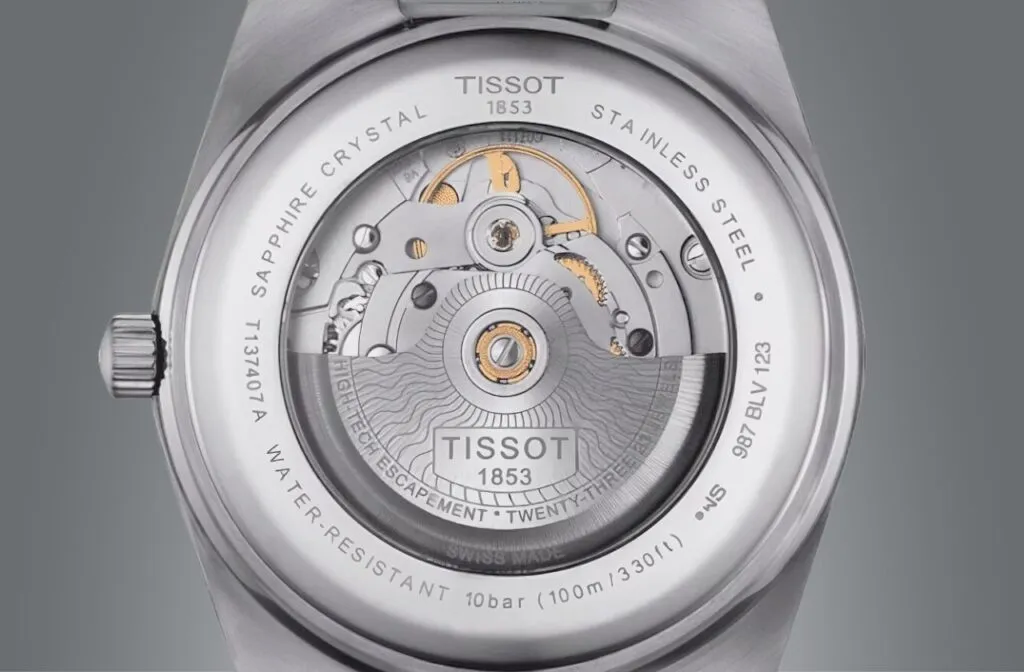 Tissot watches have earned the brand a reputation for their exceptional movements, delivering precise timekeeping and reliability. One prominent movement frequently featured in Tissot timepieces is the Powermatic 80 with up to 80-hour power reserve. The Tissot PRX Powermatic 80 is a prime example of a watch that combines contemporary design with reliable and efficient Powermatic 80 movement, ensuring accurate timekeeping for an extended period.
Another noteworthy automatic movement is the Swissmatic. Tissot equips the Tissot Classic Dream Swissmatic with this movement, providing remarkable accuracy and a generous 72-hour power reserve.
Despite its affordability, the Swissmatic movement delivers exceptional performance, making it an attractive option for those seeking precision at an accessible price point. Additionally, the overall thickness of watches equipped with the Swissmatic movement is designed to provide a comfortable fit, further enhancing its appeal.
Tissot also leverages automatic ETA movements, which are highly regarded for their precision and reliability. ETA is a renowned Swiss movement manufacturer that supplies movements to many watch brands. The Tissot Le Locle Automatic Lady, for example, features an automatic ETA movement known as the ETA caliber 2671. This movement ensures accurate timekeeping and provides a traditional watch experience in terms of performance and functionality.
For those who prioritize high accuracy and low maintenance, Tissot offers watches with reliable quartz movement. The Tissot Seastar 1000 36mm exemplifies this, featuring a precise quartz movement ideal for timing events and activities.
Moreover, Tissot showcases their innovation in the T-Touch collection swatch group, blending advanced touch-sensitive technology with high-quality movements. An exemplary model, the Tissot T-Touch Expert Solar, boasts a Swiss-connected quartz solar tactile solar-powered movement along with multifunctional capabilities like a compass, altimeter, and chronograph.
Top 3 Popular Models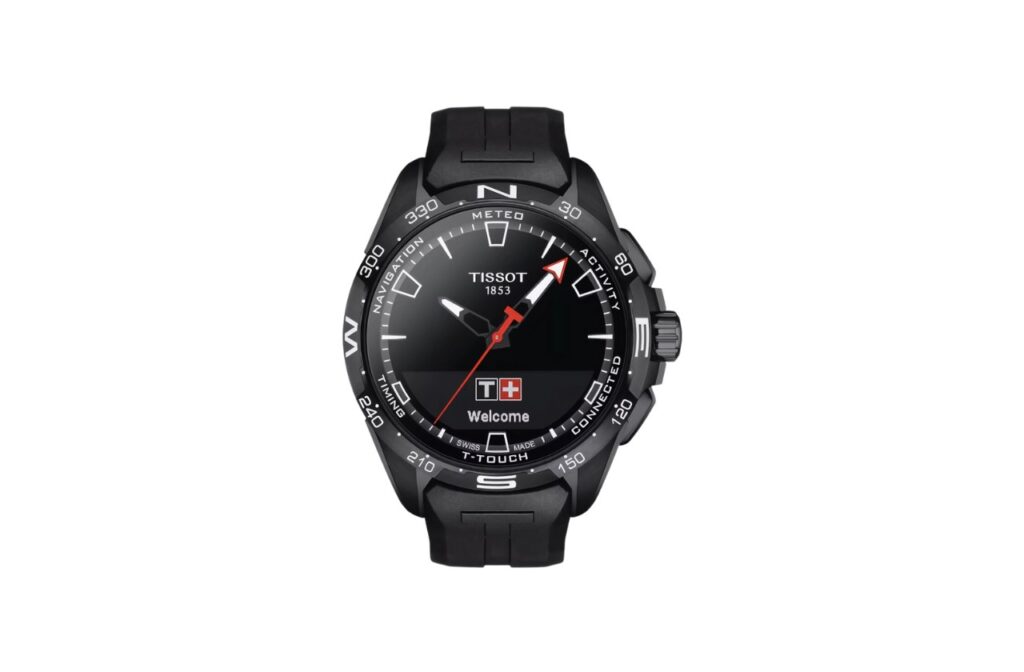 About
The Tissot T-Touch Connect Solar in Black Titanium is a cutting-edge timepiece that combines style, functionality, and durability. With an antimagnetic titanium case and a sleek black PVD coating, this watch exudes modern elegance. The tactile scratch-resistant sapphire crystal ensures optimal protection, while its water resistance of up to 10 bar (100 meters) makes it suitable for various activities.
Features
This watch has an altimeter, and compass, and is powered by a Swiss-connected quartz solar tactile movement, it offers cutting-edge technology, such as weather tracking and fitness tracking, seamlessly integrated into its stylish design.
Specifications
Production Year: 2020
Case Size:
Materials:

Dial – Black
Bracelet – Rubber
Bezel – Ceramic

Function: Big Date, Date, Day, Month, Perpetual Calendar, Chronograph, Countdown, Flyback, Foudroyante, Rattrapante, Sun Position / Rising Time, Altitude Indicator, Compass, Connected, Power Reserve Indicator, Smartwatch
Mechanism: Quartz EOL, ETA E32.001, and Water-resistant up to a pressure of 10 bar (100 m / 330 ft)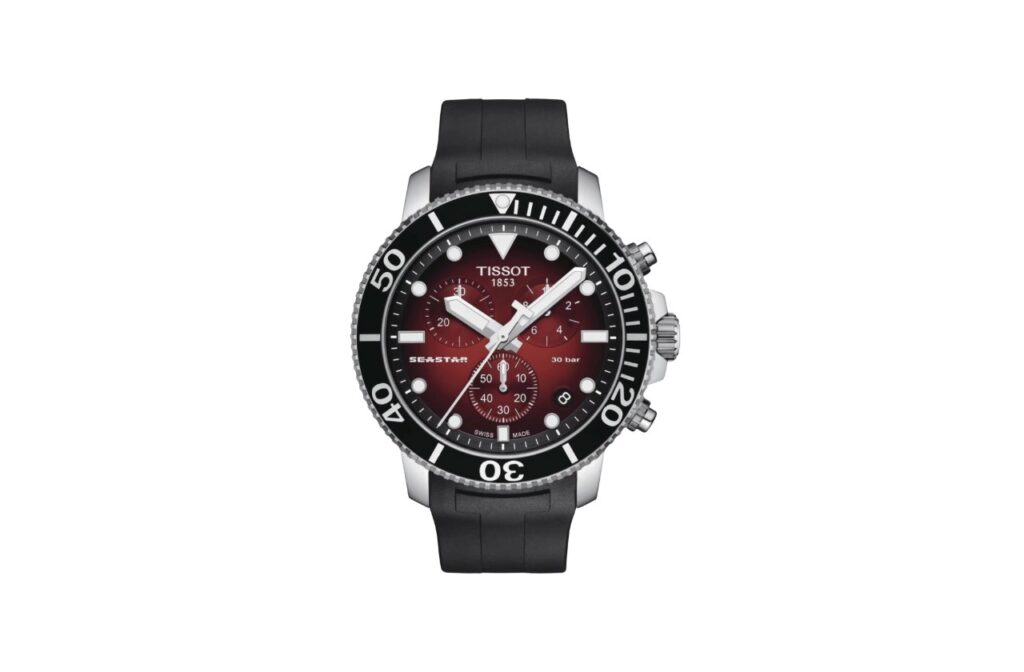 About
The Tissot Seastar 1000 Chronograph in Stainless Steel with a graded red-black dial is a remarkable timepiece that combines ruggedness and precision. With a water resistance of up to 30 bar (300 meters), this watch is built to withstand any aquatic adventure. The scratch-resistant sapphire crystal with double-sided antireflective coating ensures excellent visibility, while the stainless steel case and aluminum bezel ring provide durability and a sporty aesthetic.
Features
This watch offers impressive features such special materials such as a Renata 394 battery, aluminum bezel ring, screw-down crown and caseback, anti-clockwise rotating bezel, and screw-down pushers.
Specifications
Production Year: 2020
Case Size: 45.5mm
Materials:

Dial – Graded Red-Black
Bracelet – Rubber
Bezel – Aluminum

Function: Hours, Minutes, Small Seconds, Date, Chronograph, Rattrapante
Mechanism: Quartz EOL, ETA G10.212, Swiss quartz, and Water-resistant up to a pressure of 30 bar (300 m / 1000 ft)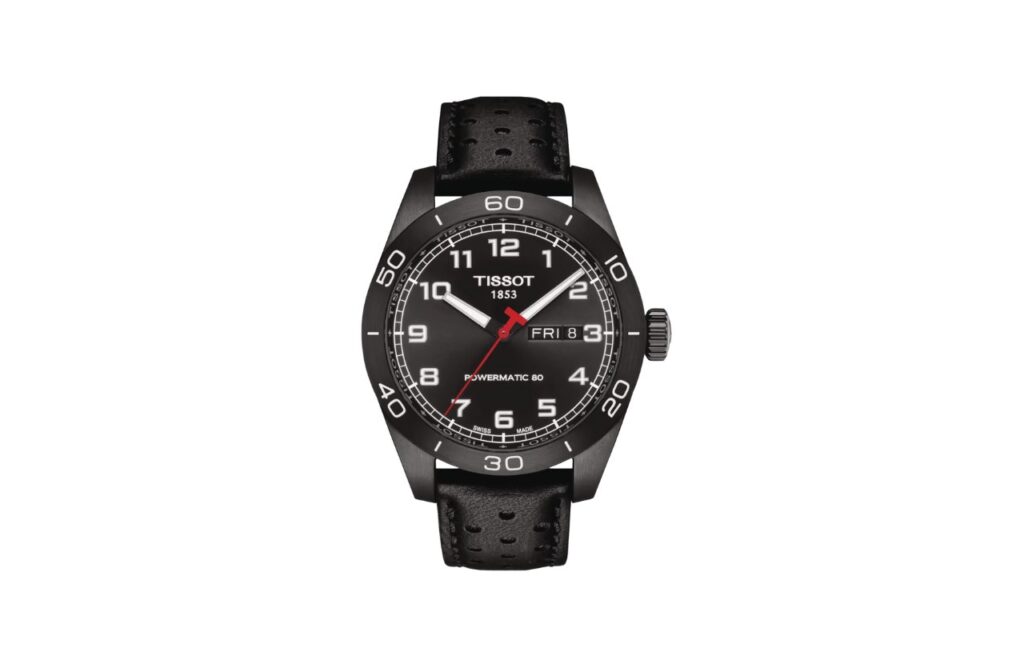 About
The Tissot PRS 516 Powermatic 80 PVD with a stainless steel case and black dial is the epitome of sporty elegance. Inspired by classic sports cars, this timepiece showcases classic design elements such as a perforated bracelet and piston-shaped pushers. With a water resistance of 10 bar (100 meters) and scratch-resistant sapphire crystal, this watch combines durability and style.
Features
The Tissot PRS 516 Powermatic 80 PVD features a scratch-resistant sapphire crystal with an antireflective coating, ensuring clear visibility. With a remarkable power reserve of up to 80 hours and a patented Nivachron balance spring, this timepiece delivers reliable performance and precision.
Specifications
Production Year: 2022
Case Size: 42mm
Materials:

Dial – Black
Bracelet – Leather
Bezel – Fixed

Function: Hours, Minutes, Seconds, Date, Day
Mechanism: Swiss automatic, Power reserve of up to 80 hours, and Patented Nivachron balance spring
The Competitive Landscape
In the dynamic watch industry, a multitude of renowned brands strive to capture market share and establish their dominance. Each brand enters the arena armed with its unique brand characteristics and strengths, contributing to a vibrant and competitive landscape.
Rolex: Renowned for its luxury and prestige, Rolex occupies a top position in the high-end watch segment, offering exquisite craftsmanship and iconic designs.
TAG Heuer: TAG Heuer is celebrated for its sporty and performance-oriented timepieces, often associated with motorsports. The brand showcases innovative features and precision chronographs.
Omega: A well-established Swiss brand, Omega has a rich heritage and a strong reputation for its association with space exploration and Olympic Games. It offers a wide range of timepieces known for their precision and elegance.
Longines: Longines combines tradition and sophistication, offering classic and timeless watches. The brand is recognized for its Swiss craftsmanship and commitment to producing high-quality timepieces.
Seiko: Seiko, a Japanese brand, has earned acclaim for its innovative technology and wide range of watches, spanning from affordable quartz models to high-end mechanical timepieces.
| | | |
| --- | --- | --- |
| Brand | Known for | Average SGD Price |
| Rolex | Luxury, prestige, iconic designs | S$2,191 – S$241,763 |
| TAG Heuer | Sporty, performance-oriented, precision chronographs | S$315 – S$22,735 |
| Omega | Association with space exploration and Olympic Games, precision, elegance | S$323 – S$54,584 |
| Longines | Tradition, sophistication, high-quality craftsmanship | S$515 – S$6,747 |
| Seiko | Innovative technology, wide range of watches, affordable to high-end options | S$272 – S$11,942 |
Why you should invest?
Financially, Tissot has showcased resilience and stability. Despite fluctuations in the watch market, Tissot has maintained a relatively moderate change of -3.1% in its performance over the past year. This indicates that Tissot has sustained a steady trajectory even amid challenging market conditions. Additionally, with a positive average annual growth rate (AAGR) of -1.4% over the past year, Tissot demonstrates the potential for long-term value appreciation.
Moreover, Tissot has experienced a notable 2% increase in value over the past 180 days, reflecting positive momentum in the market. This growth underscores the brand's appeal and the growing demand for its watches.
Pricing & Availability
Tissot Watches offers a range of pocket watches with pricing options to suit different budgets and preferences. On average, Tissot watches can be found in the price range of S$246 to S$2,206. This pricing range allows for accessibility and affordability, making Tissot watches an attractive choice for both entry-level buyers and seasoned watch enthusiasts.
Availability of Tissot watches is generally widespread, with authorized retailers, online platforms, and Tissot boutiques offering a wide selection. Tissot's extensive distribution network ensures that customers have convenient access to their desired models and collections.
When considering purchasing a Tissot watch, it is advisable to explore authorized retailers or official channels to ensure authenticity and after-sales support. Additionally, availability may vary depending on the region and specific models, so it's recommended to check with local retailers or official Tissot outlets for the most up-to-date information.
Final Word
Tissot watches exemplify the legacy of Swiss watchmaking, combining style and substance in their timepieces. From their impeccable movements and durable cases to their captivating dials and versatile straps, Tissot watches showcase a dedication to quality and craftsmanship that exceeds expectations for their accessible price points.
Key Takeaways
Tissot offers a diverse range of models, from the innovative T-Touch Connect Solar to the rugged Seastar 1000 Chronograph and the sporty PRS 516 Powermatic 80.
Tissot watches feature exceptional movements such as the Powermatic 80, Swissmatic, automatic ETA, quartz, and T-Touch technology.
Tissot cases are crafted from high-quality materials like stainless steel, titanium, and ceramic, ensuring durability and style.
Looking to buy or sell your luxury watches? Watch Exchange is your one-stop destination for trading Rolex, Patek Philippe, Tissot, Sinn, Zenith, and other luxury timepieces. Find your next watch today or list your item for free!
---