If you're seeking a modern, high-quality sports watch, then the Hèrmes H08 might just be what you need. Known for its luxury products, Hèrmes introduced the H08 in 2021, and it certainly does not disappoint. With a unique design that blends sportiness with the brand's sophisticated aesthetic, you'll find that this timepiece is both eye-catching and efficient in execution.
You may appreciate the H08's lightness and refined design, particularly in the titanium version. The inner square-shaped quadrant houses the round watch dial beneath a sapphire crystal, making it stand out from the crowd. Furthermore, the graphene composite case elevates its appeal with a contemporary all-black aesthetic, complete with a black gold-coated dial, black nickel-coated hands, and custom-developed Arabic numerals. It also features contrasting elements like a sunburst satin-brushed titanium bezel and white minutes track.
While the H08 may not be a traditional beauty, it is undeniably individualistic and boasts impressive craftsmanship. You'll find that it strikes a careful balance between modern style and practical utility, making it an excellent choice for those seeking a timepiece that's both trendy and versatile.
The Case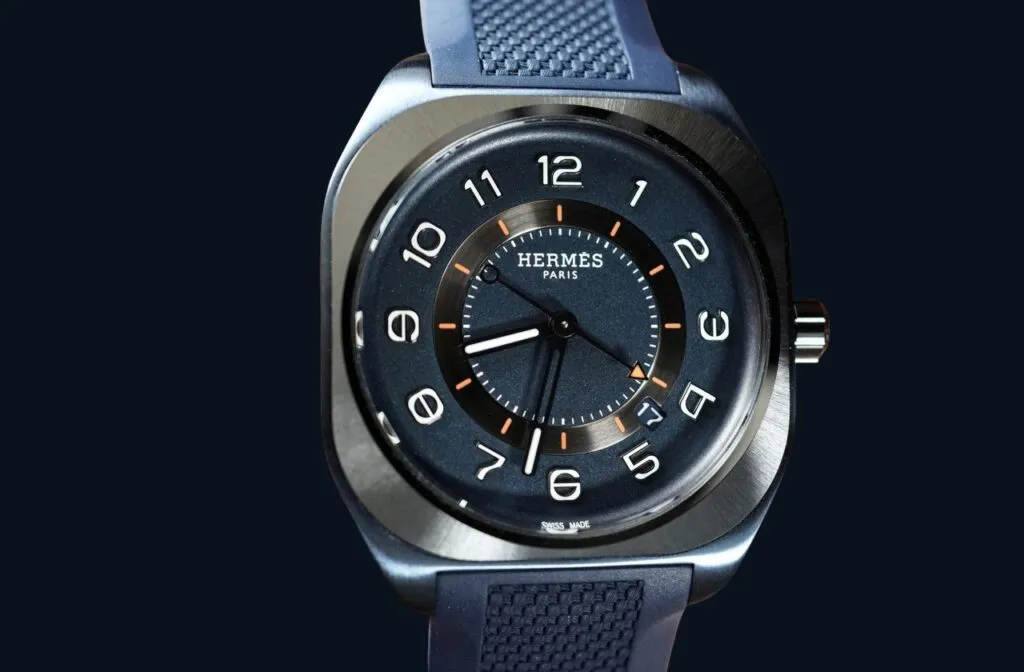 The Hermès H08 watch features a unique and modern case design that is both stylish and functional. Crafted in a variety of materials, you have the option to choose from titanium, graphene composite, or even rose gold for a luxurious touch.
When opting for the titanium version, your watch will be incredibly light and refined. The H-shaped case measures 39mm and offers excellent wearability thanks to its lightweight construction. If you prefer a stealthy look, the graphene composite case provides a sleek all-black appearance while maintaining a sturdy build.
The unique case shape is a harmonious blend of a rounded square and a round cutout for the dial, with slope-shortened lugs that provide a tonneau-like contour. This seamless design showcases superb craftsmanship while maintaining a modern aesthetic.
Inside, the dial is protected by a durable sapphire crystal, ensuring your watch face remains scratch-free and clear for easy readability. The case also boasts impressive water resistance, making the H08 suitable for various environments and activities.
Here are some key features of the Hermès H08 case:
Materials: Titanium, Graphene Composite, or Rose Gold
Case Size: 39mm
Unique H-shaped Design
Crystal: Sapphire
Water Resistance: 100 meters
Power reserve: 50 hours
Functions: Hours, minutes, seconds, and date window
Movement: Automatic
As you consider which case material best suits your preferences and lifestyle, keep in mind the distinct characteristics offered by each option. Regardless of your choice, the Hermès H08 case delivers exceptional quality and design, elevating your wristwear game.
The Dial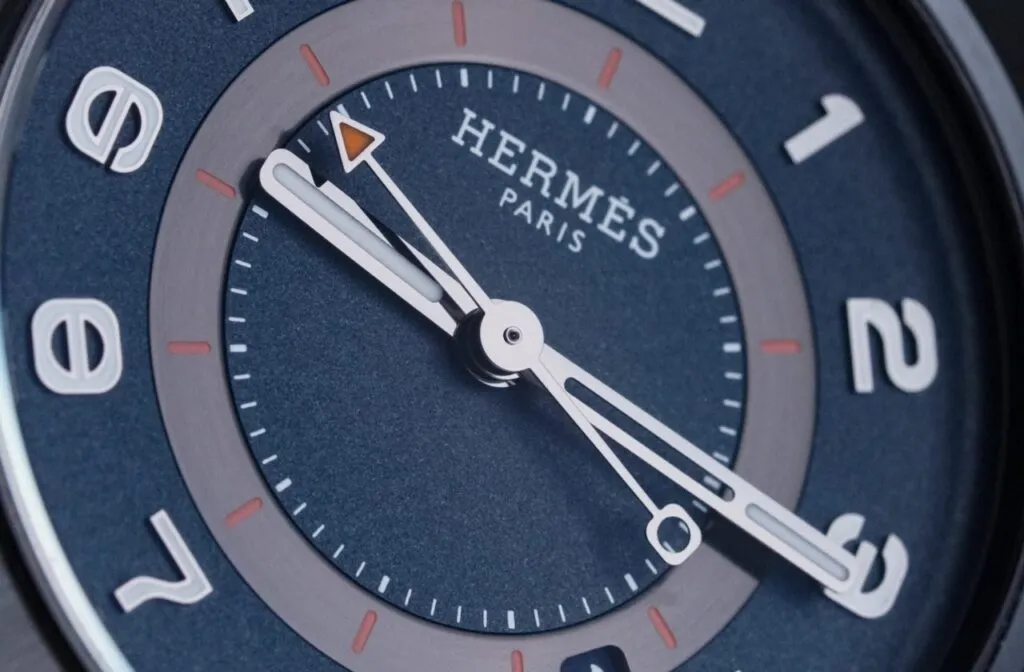 The Hèrmes H08 watch's dial is both modern and sophisticated, giving you a sense of efficiency and style. This timepiece embraces Hèrmes's rich history of luxury, ensuring quality in every aspect of the design.
Available in a variety of configurations, the H08 dial features a unique layout with large, bold numerals and sleek hour markers. In addition, the hands and hour markers of the H08 are coated with a Super-LumiNova, offering clear legibility in low-light conditions.
Furthermore, the date aperture adds a touch of convenience to your daily life. The dial is protected by a scratch-resistant sapphire crystal, ensuring the lasting beauty and functionality of your timepiece. As you wear the H08, you can appreciate the balance between tradition and innovation present in its dial design.
The H08 Dial comes in a variety of color options, allowing you to customize the appearance of your watch. Some of the latest color options available for 2023 include trendy and eye-catching hues that perfectly complement the watch's contemporary aesthetic.
The Movement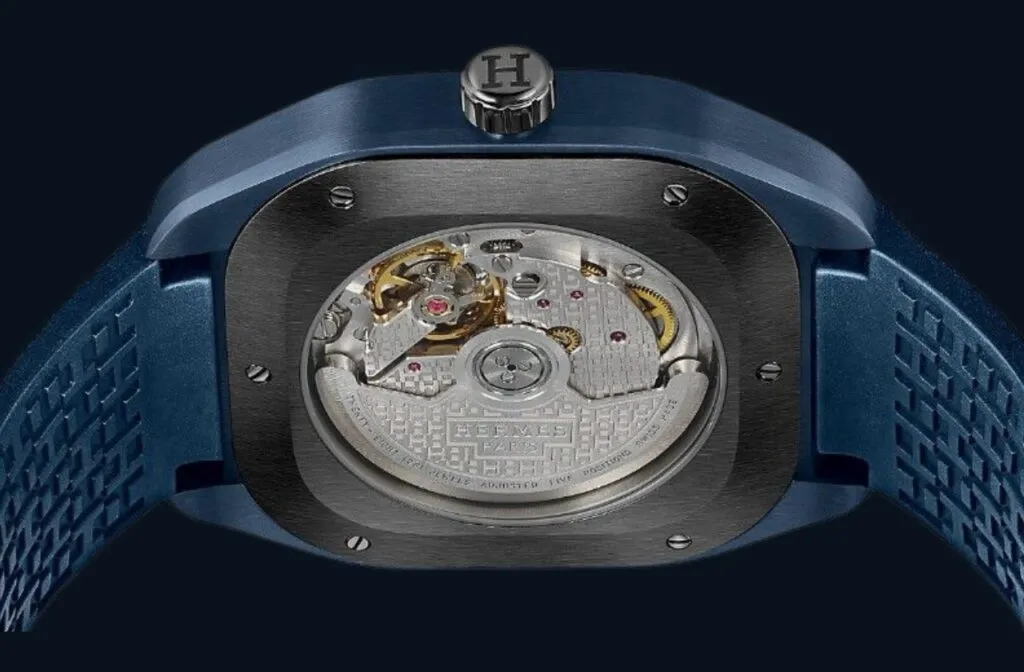 When examining the H08, it's essential to consider the movement powering this timepiece. At the heart of the H08, you'll find the Hermès caliber H1837, an automatic movement developed in-house by Hermès. This movement reflects the brand's commitment to crafting high-quality, reliable timepieces.
As a watch enthusiast, you'll appreciate the power reserve of 50 hours, which represents peace of mind when you aren't wearing the watch for a couple of days. The movement operates at a frequency of 28,800 vibrations per hour (vph), ensuring that your watch maintains optimal timekeeping accuracy.
Your appreciation for fine watchmaking will only grow as you learn that the movement features custom decorations, such as the Hermès H motif for the oscillating weight. This detail showcases the brand's dedication to luxury and craftsmanship.
Another noteworthy aspect of the H08 movement is its robustness, making it suitable for an all-terrain watch. You can rely on the H08 for various activities and be confident of its durability and precision. With this movement, Hermès has created a timepiece that combines elegance, modernity, and reliability.
The Strap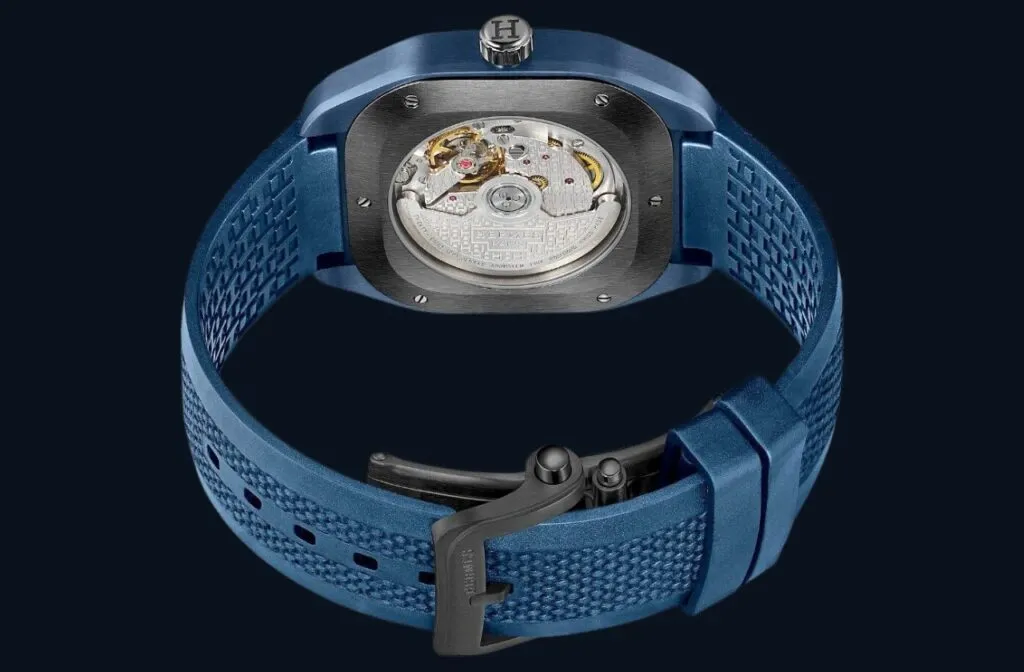 One of the major aspects you'll notice about the Hermès H08 watch is its choice of straps. The H08 is available with a variety of strap materials, including natural titanium with fabric, DLC-coated titanium with rubber, and even leather options. Each type of strap offers a unique look and feel, catering to your personal preferences and style.
For instance, if you're looking for a sporty and casual appearance, you may prefer the fabric strap version in natural titanium. This choice is not only lightweight and comfortable to wear but also adds a touch of ruggedness to the timepiece.
On the other hand, if you're leaning towards a more refined and sleek look, the DLC-coated titanium option with the rubber strap might be a better fit for you. The rubber strap provides increased durability and water resistance, making it suitable for daily wear or even some outdoor activities.
Lastly, for those who value the classic elegance and luxury of Hermès, there are leather strap options available as well. These straps showcase the brand's renowned craftsmanship and attention to detail, elevating the H08 into a truly sophisticated timepiece. Don't forget that you can also explore the brand's wide range of watch straps and further customize the look of your H08 according to your taste.
The Competitive Landscape
In evaluating the Hermes H08, it's essential to consider the competitive landscape of luxury brand sports watches. Top-tier luxury brands, such as Patek Philippe Nautilus, Rolex Submariner, and Omega Speedmaster, have a strong presence in this market, and it's important to know how the H08 stands out from the competition.
One of the H08's prominent features is its unique design that carries the distinct Hermes aesthetic that sets it apart from other luxury sports watches. The H-shaped case architecture is a nod to the brand's heritage while incorporating a distinctly modern look. Your appreciation for this watch could depend on how much you value the combination of luxury and sporty design elements.
When it comes to materials and craftsmanship, the H08 offers a variety of options, including titanium and matching bracelets. The case, which measures 39mm, is lightweight and refined, making it suitable for everyday wear.
Comparing the H08 to other luxury watches – such as the Audemars Piguet Royal Oak, Patek Philippe Nautilus, and Rolex Oyster Perpetual – reveals differences in design and brand prestige. While Hermes is renowned for its luxury goods, it may not carry the same horological weight as these competitors in the eyes of some enthusiasts.
However, as you assess the competitive landscape, keep in mind that the H08 offers a unique aesthetic and excellent quality, making it a solid contender in the luxury sports watch market.
Hermes H08 Watches To Check Out
1. Hermes H08 Graphene Black Dial AS07025 – Ref. W049433WW00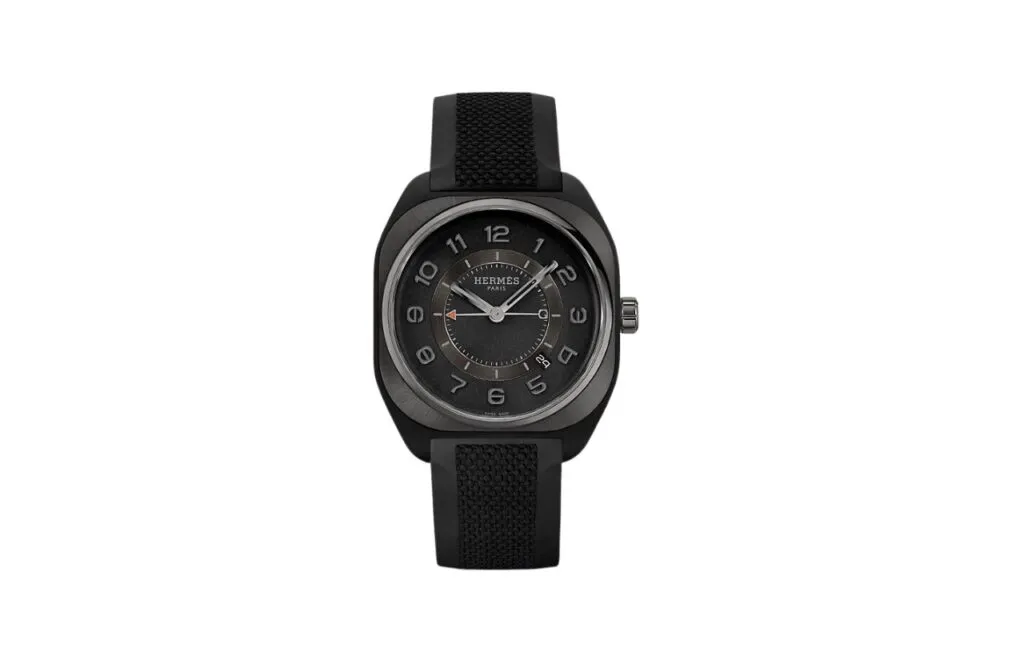 About
The Hermes H08 Graphene AS07025 is a stunning watch with a unique all-black aesthetic. Its modern design is influenced by the brand's heritage and captures Hermes' luxury essence. This sporty yet elegant timepiece is perfect for those who appreciate Hermes' exceptional quality and style.
Features
It features a graphene composite case for a lightweight, durable build with a black gold-coated striking dial. This H08 model also features sleek black nickel-coated hands and applied Arabic numerals with a date window between the 4 and 5 o'clock position.
Specifications
Production Year: Unknown
Case Size: 39.5mm
Materials:

Dial – Black
Bracelet – Rubber
Case – Ceramic case with sunburst satin-brushed ceramic bezel

Function: Hours, minutes, seconds, date window
Mechanism: Mechanical self-winding
2. Hermes H08 Blue Titanium – Ref. W056950WW00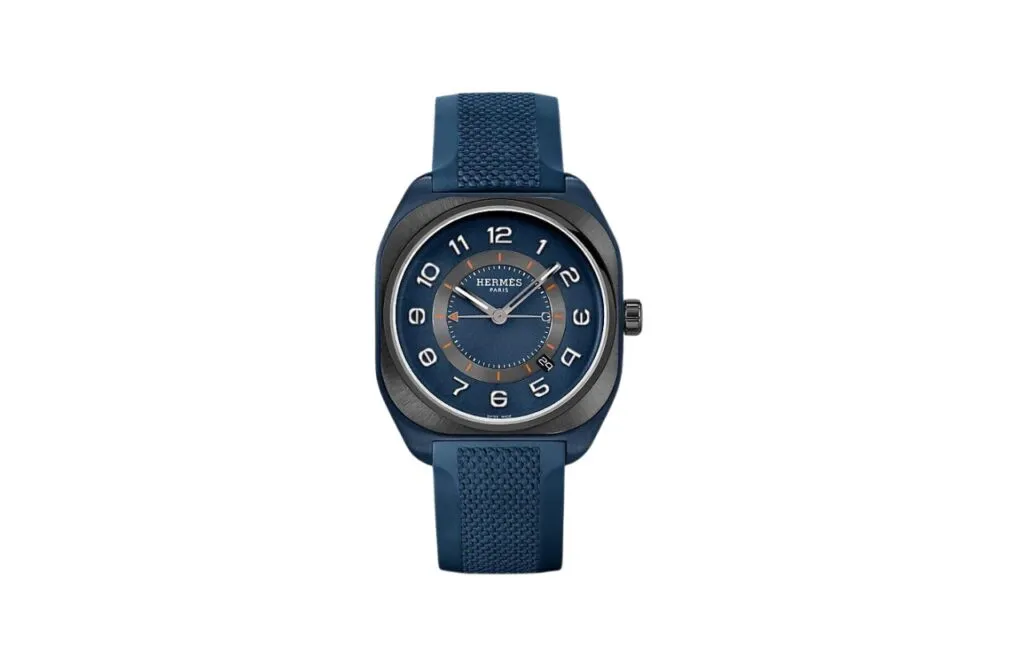 About
For a more vibrant take on the H08, the Blue Titanium model combines Hermes' precise craftsmanship with an appealing blue hue. This version features a titanium case and bracelet, making it incredibly light and refined, perfect for everyday wear and special occasions alike.
Features
This Hermes H08 model features a blue PVD-coated titanium case and a blue rubber strap. In addition, it also boasts an attractive blue dial with a satin-brushed sunburst finish. It also features a water resistance of up to 100 meters (10 bar) and has a power reserve of up to 50 hours.
Specifications
Production Year: Unknown
Case Size: 42mm
Materials:

Dial – Blue
Bracelet – Blue Rubber
Case – Titanium

Function: Hours, minutes, seconds, date window
Mechanism: Mechanical self-winding
3. Hermes H08 X HODINKEE Limited Edition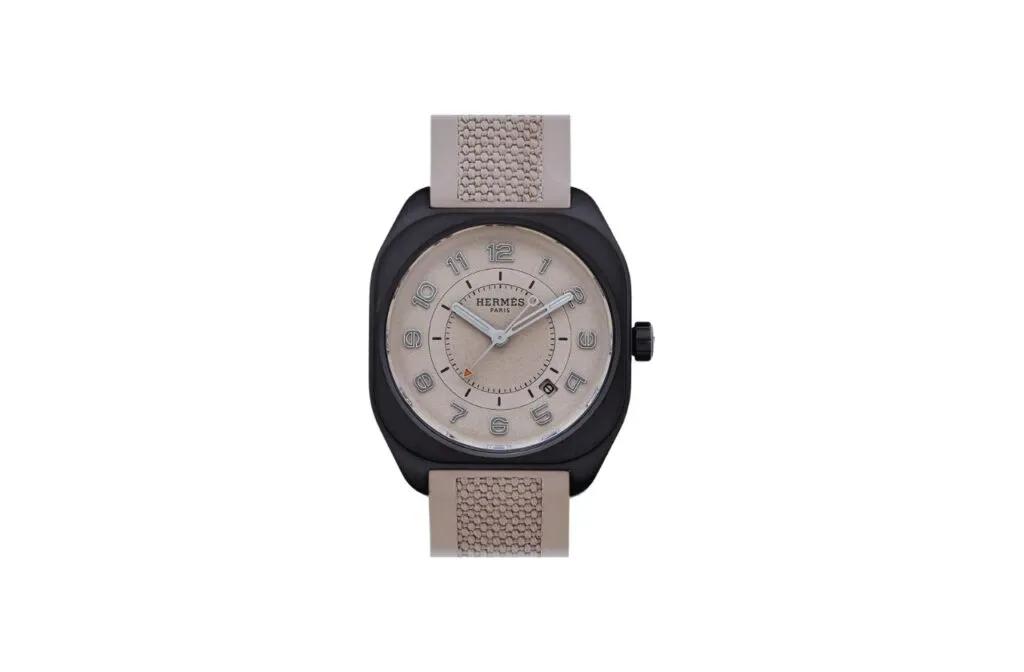 About
A partnership between Hermes and HODINKEE resulted in a limited edition model of the H08 that will surely delight collectors and fans of both brands. This exclusive timepiece showcases the best of high-end watchmaking, with distinct details that set it apart from the standard H08 models.
Features
There are only 100 numbered examples of this limited edition luxury everyday watch that will be produced. It features a special HODINKEE branded case back with unique limited edition numbering. It also boasts the signature HODINKEE-style watch strap as a symbol of sophistication and comfortable wearability.
Specifications
Production Year: Unknown
Case Size: 39mm
Materials:

Dial – Taupe-colored multi-textured
Bracelet – Signature HODINKEE-style watch strap
Case – Titanium

Function: Hours, minutes, seconds, date window
Mechanism: Mechanical self-winding
4. Hermes H08 Titanium / Rubber 2021 – Ref. W049430WW00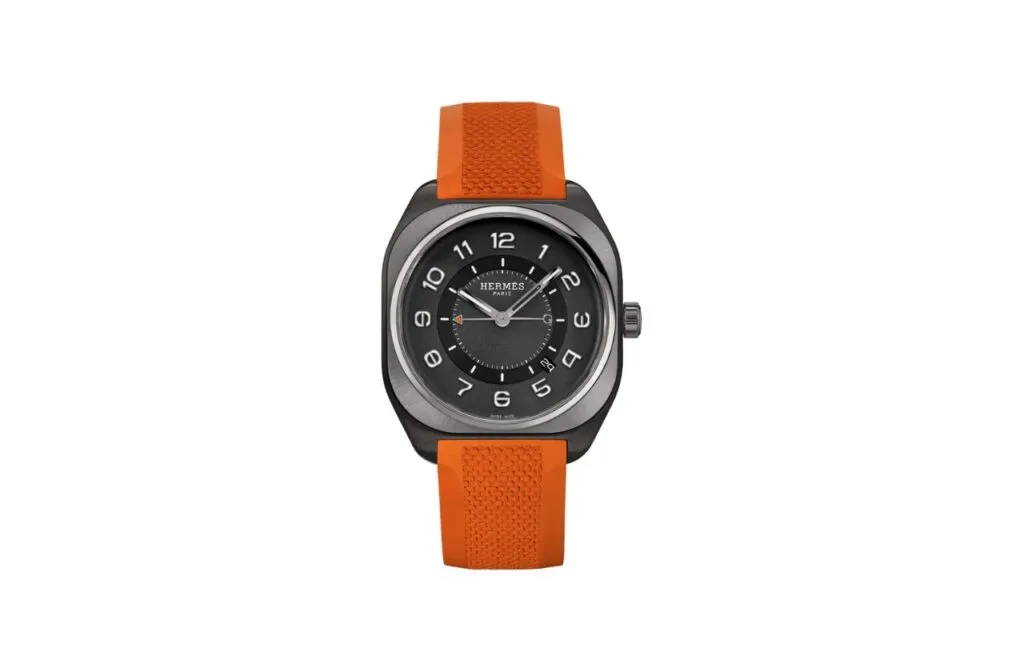 About
With its striking design, the Hermes H08 Titanium / Rubber 2021 is a blend of sportiness and sophistication. This model is equipped with a titanium case and a rubber strap, making it a comfortable and versatile option for those seeking a high-quality timepiece with a distinctive look.
Features
This Hermes H08 model boasts a titanium case with a matte black DLC finish while the vibrant orange rubber strap adds a splash of color. It also features a unique Hermes typeface for Arabic numerals.
Specifications
Production Year: Unknown
Case Size: 39mm
Materials:

Dial – Black nickel-treated
Bracelet – Orange rubber
Case – Titanium

Function: Hours, minutes, seconds, date window
Mechanism: Mechanical self-winding
FAQs
1. Are Hèrmes Watches Worth It?
Handcrafted Hèrmes watches combine luxury with cutting-edge designs, reflecting the brand's dedication to quality and unique style. The Hèrmes H08, for example, is a sports watch that showcases modern watchmaking and features an efficient appeal, drawing on the company's heritage of luxury rather than focusing solely on watchmaking history. Deciding whether a Hèrmes watch is worth it depends on your appreciation for their distinctive design language and the value you place on craftsmanship and luxury.
2. Are Hèrmes Watches Swiss Made?
Yes, Hèrmes watches are Swiss-made. The brand manufactures its timepieces in Switzerland, adhering to the high-quality standards and precision associated with Swiss watchmaking. Incorporating Swiss movements and craftsmanship, Hèrmes watches, such as the H08, are synonymous with luxury and quality.
3. Who Makes Hèrmes Watches?
Hèrmes Timepieces is the watchmaking division of the renowned French luxury goods company, Hèrmes, which has been crafting exquisite timepieces since the 1940s. While the company initially collaborated with various Swiss manufacturers to produce its watches, in 2003, Hèrmes took a majority stake in the Swiss watch manufacturer Vaucher Manufacture Fleurier to enhance its watchmaking expertise and ensure the production of high-quality timepieces.
Collaborating with renowned watchmakers and incorporating top-notch Swiss movements, Hèrmes continues to create sophisticated and innovative watch designs that cater to both an exclusive clientele and enthusiasts who appreciate the brand's distinct style.
Conclusion
The Hermès H08 collection has made an impact in the luxury watch market with its unique design, high-quality materials, and execution. The decision to invest in an Hermès H08 watch will depend on your personal preferences for design and functionality. If you're drawn to its unique appearance and value the renowned craftsmanship of Hermès, the H08 could be the perfect addition to your luxury watch collection.
Key Takeaways
The H08 doesn't adhere to conventional sport watch designs, making it distinct and interesting.
The watch is available in different materials, including titanium with fabric, DLC-coated titanium with rubber, and even leather options, offering a range of options to suit your personal style.
Hermès is known for its attention to detail and high-quality finishing, contributing to the H08's luxury feel.
Looking to buy or sell your luxury watches? Watch Exchange is your one-stop destination for trading Rolex, Patek Philippe, Tissot, Sinn, Zenith, and other luxury timepieces. Explore our selection of luxury watches today to find your perfect match.
---