With a blend of fine craftsmanship, iconic design, and modern technology, Louis Vuitton has introduced its high-end smartwatches, notably the Tambour Horizon collection. These connected timepieces embody the Maison's art of travel and creativity, offering a variety of practical and innovative functionalities to make them more than just fashionable accessories.
In a surprising move, Louis Vuitton has opted to develop a proprietary operating system for its smartwatches, rejecting Google's Wear OS. Other notable companies, like Motorola and Huawei, have followed this path, possibly signaling a trend in the smartwatch market.
Despite its flashy exterior, the proprietary OS performs surprisingly well, offering users both style and substance.
The Case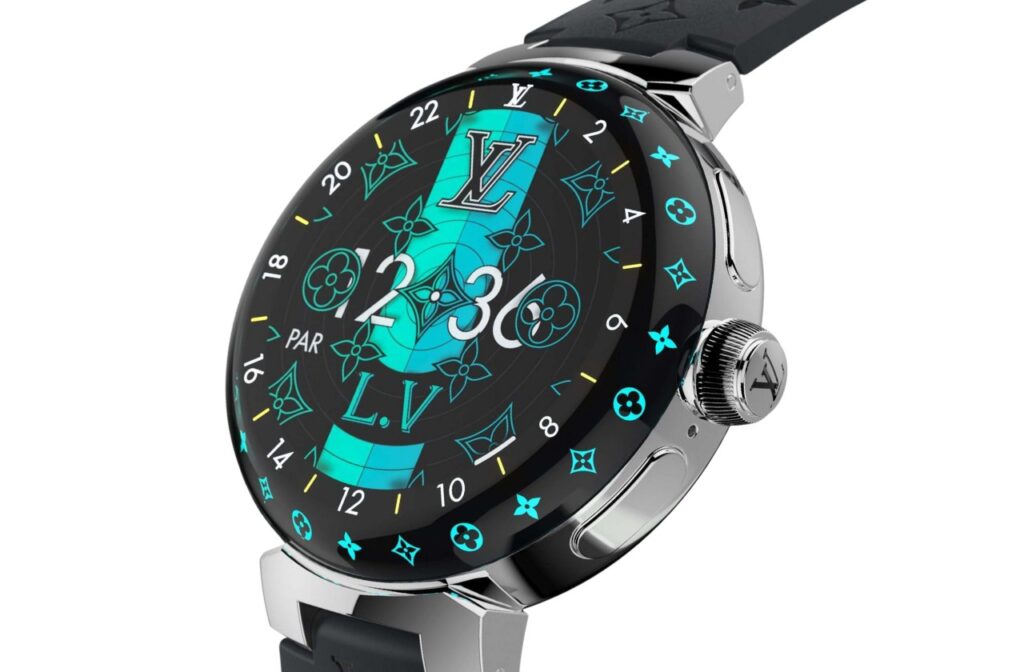 One of the distinguishing features of Louis Vuitton's smartwatches is their case. Built with the same attention to detail, craftsmanship, and style the brand is known for, these timepieces are designed to make a statement on the wearer's wrist.
The most notable model showcasing the brand's watchmaking expertise is the Tambour Horizon smartwatch – a blend of traditional design elements and modern technology.
The Tambour Horizon Light Up smartwatch features the following:
A 44mm case available in multiple finishes
Colors including matte black, matte brown, and polished steel
Louis Vuitton's skilled design approach extends beyond the case, making use of high-quality materials such as:
Stainless steel
Sapphire crystal glass
Genuine leather bands
To further elevate the wearable's luxury appeal, select models also come with intricate design elements like signature Monogram engravings or diamond embellishments, reflecting the brand's commitment to creating visually stunning and unique timepieces.
Additionally, cases of these smartwatches are fashioned to be water-resistant, ensuring that they can withstand daily wear and maintain their visual appeal even with continuous use.
The Dial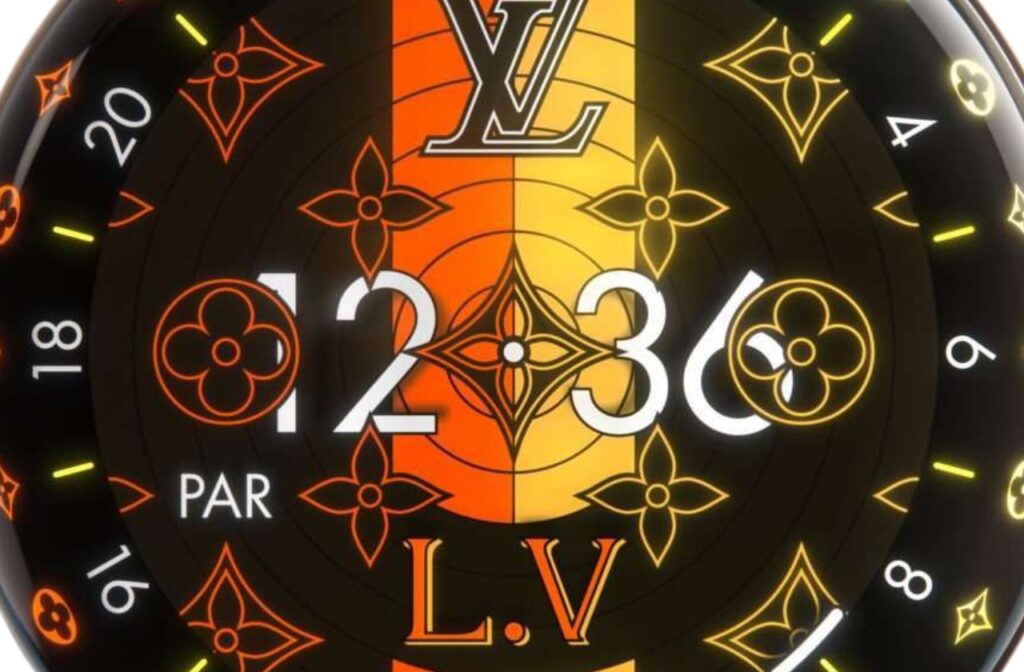 Louis Vuitton's smartwatch, the Tambour Horizon, features a distinctive and versatile dial. The digital display offers eight different dial permutations inspired by various design cues from the brand's 170 years of history.
This wide range of customization sets the Tambour Horizon Light Up apart from other smartwatches, as the user can personalize the watch's appearance according to their preferences.
In addition to its customizable design, the dial serves essential functions for the watch.
This mainly includes:
Time
Notifications
Easy access to watch settings
Easy access to essential apps
One of the watch's highlights is its focus on appearance customization. The companion app makes it simple for the user to change the dial appearance, emphasizing the watch's aesthetic appeal over its functional aspects.
Overall, the dial on the Tambour Horizon smartwatch showcases Louis Vuitton's dedication to design and functionality. The Tambour Horizon sets itself apart as a unique and stylish option in the smartwatch market by offering a customizable dial and easy access to essential features.
The Strap/Bracelet
Louis Vuitton smartwatches, specifically the Tambour Horizon timepieces, offer various stylish and functional strap options. These straps are designed to be easily interchangeable, allowing users to build a personal collection of signature bracelets that suit their tastes and preferences.
One main feature that sets Louis Vuitton smartwatch straps apart is their patented system for hassle-free switching. This feature allows users to effortlessly change their watch's appearance, adapt to different occasions, or refresh their look without needing specialized tools or professional assistance.
Louis Vuitton offers various strap designs, such as the ones listed below:
Sporty styles
Elegant options
Embellished versions
Your preferred designs
Some third-party brands and designers also create custom straps compatible with Louis Vuitton smartwatches. For instance, Amazon offers Louis Vuitton Apple Watch bands, and Etsy houses numerous listings for Louis Vuitton watch bands.
These alternatives can provide a more budget-friendly option or additional unique designs for those who crave a more personalized look.
Overall, the strap and bracelet options for Louis Vuitton smartwatches are versatile and stylish, allowing users to easily customize their timepieces. With the array of options available, individuals can effortlessly switch between different bands, ensuring that their smartwatch matches their outfits and occasions.
The Movement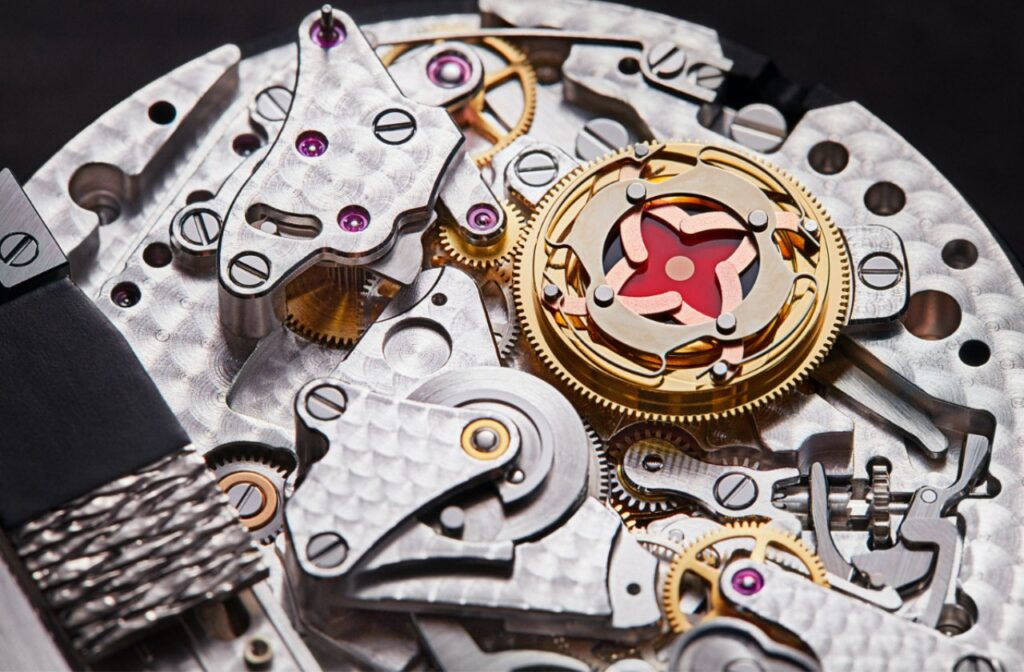 The Louis Vuitton smartwatch, known as the Tambour Horizon, features a unique movement design that sets it apart from other luxury smartwatches. One of the standout features of this watch is its customizable interface, allowing users to choose between various themes and color schemes by rotating the watch's dial.
These unique design elements showcase LV's dedication to creating a captivating blend of luxury and technology. Leaving Google's WearOS behind, the Tambour Horizon is Louis Vuitton's first standalone smartwatch, providing users with an experience tailored to the brand's exceptional aesthetic and innovative design capabilities.
This decision grants the watch a host of ingenious functionalities that cater to Louis Vuitton's art of travel, craftsmanship, and modern creativity.
The key features of the movement in the Tambour Horizon smartwatch include:
Endless customization options, allowing users to personalize their watch face according to their preferences
Vibrant LED animations that bring a sense of fun and whimsy to the wearer's wrist
An impressive sapphire glass digital display, ensuring durability and style in equal measure (Louis Vuitton)
Combining these features results in a smartwatch that reflects Louis Vuitton's dedication to luxury and exclusivity. It ensures its wearers can access practical, tech-savvy options tailored to their preferences and lifestyles.
The Competitive Landscape
The introduction of the Louis Vuitton Tambour Horizon Light Up Connected Watch places it in the high-end smartwatch market. The watch appeals to tech enthusiasts and luxury consumers, offering innovative LED animations while remaining a high-quality timepiece source.
Simultaneously, Louis Vuitton faces competition from various players in this market, including Apple, TAG Heuer, and Garmin. We'll discuss these competitors further below:
1. Apple – The Apple Watch Series 7
About
The Apple Watch Series 7 is the latest iteration of Apple's smartwatch lineup, released in September 2021.
It features several upgrades and new features compared to its predecessors, including a larger, more durable design, a brighter and more responsive Always-On Retina display, and improved connectivity options.
Specifications
Production Year: 2021
Case Size: 41 – 45mm
Materials:

Dial – Retina LTPO OLED, 1000 nits (peak)
Bracelet – Nylon with stainless steel
Case – Aluminum, stainless steel, or titanium

Function: Accelerometer, gyro, heart rate monitor, barometer, always-on altimeter, compass, SpO2, VO2max, natural language commands, and dictation
Mechanism: Apple S7 SiP (System-in-Package) with a 64-bit dual-core processor
2. TAG Heuer – Connected Calibre E4
About
The TAG Heuer Connected Calibre E4 is a luxury smartwatch that combines the best of traditional watchmaking with modern technology. It is part of the TAG Heuer Connected series, including a range of high-end smartwatches designed for discerning customers who value style and functionality.
Basically, one of the most impressive aspects of the Connected Calibre E4 is its battery life. It can last up to 24 hours on a single charge, making it one of the longest-lasting smartwatches on the market today.
Specifications
Production Year: 2023
Case Size: 45mm
Materials:

Dial – AMOLED display, touchscreen, crown, pushers
Bracelet – Black rubber with Folding Clasp Push-Buttons – Sandblasted Titanium grade 2
Case – Titanium Sandblasted

Function: Heart rate, Compass, Accelerometer, Gyroscope, NFC, Microphone, Barometer, Ambient Light
Mechanism: CPU Clock Speed: Up to 1.7 GHz CPU, Cores: 4x ARM Cortex A53 CPU, Architecture: 64-bit
3. Garmin – Forerunner 265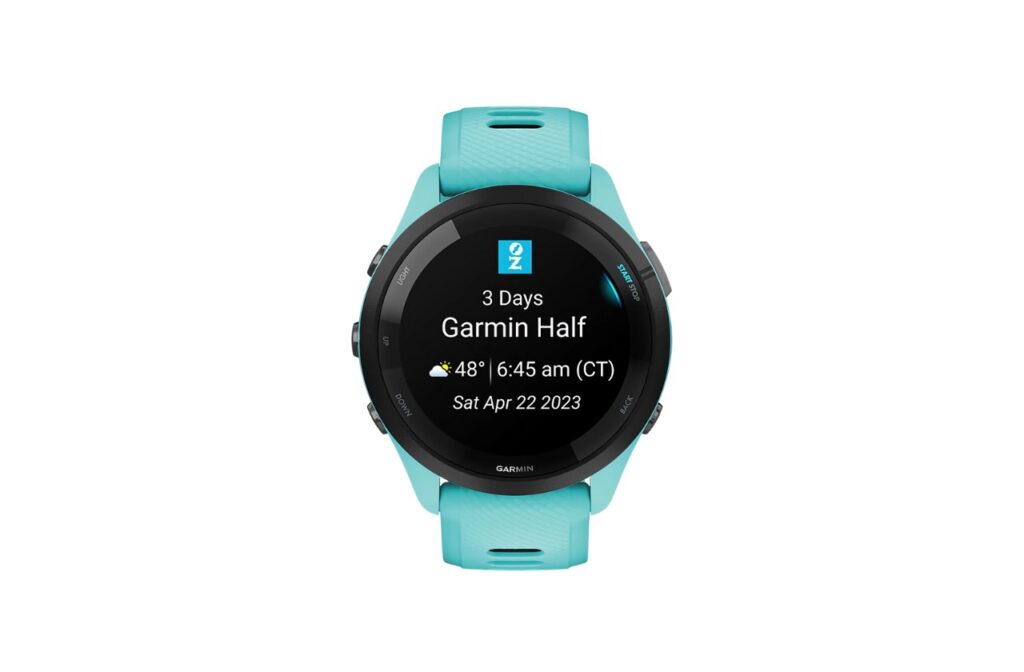 About
The Garmin Forerunner 265 is a GPS-enabled smartwatch designed for runners and fitness enthusiasts. It is part of Garmin's Forerunner series, which includes a range of GPS-enabled watches tailored for runners and athletes.
Other features of the Forerunner 265 include a step counter, a sleep monitor, and a calorie tracker, as well as notifications for incoming calls, texts, and emails. It is also water-resistant, making it suitable for swimming and other water-based activities.
Specifications
Production Year: 2023
Case Size: 46mm
Materials:

Dial – AMOLED Optional Always-On Mode
Bracelet – Silicone
Case – Fiber-reinforced polymer

Function: Clock Features, Health Monitoring, Sensors, Daily Smart Features, Safety and Tracking Features, Activity Tracking Features
Mechanism: Unknow
Why Should You Invest?
One reason to invest in the Louis Vuitton smartwatch is the brand's commitment to marrying luxury with technology once it's connected to the LV Connect app. As a leader in the high-end market, Louis Vuitton provides a unique combination of style and functionality in their Tambour Horizon smartwatch, making it an attractive option for those who want to make a statement with their wristwear.
Another selling point of the smartwatch is its exclusivity. With a price tag starting at $2,450, the Tambour Horizon stands out in a market flooded with more affordable smartwatches like the Apple Watch or TAG Heuer Connected Modular 45.
Finally, investing in a Louis Vuitton smartwatch also means investing in the company's dedication to craftsmanship and quality. Choosing the Tambour Horizon smartwatch means investing in a device and a piece of wearable art that holds value well beyond the display screen.
Pricing & Availability
The Louis Vuitton smartwatch, known as the Tambour Horizon, is available in various styles and materials, catering to various preferences. As a luxury brand, the pricing of smartwatches can be quite high compared to other smartwatches in the market.
The basic stainless steel case and leather strap model can cost around $2,450. Prices can increase significantly depending on the materials, including premium leather straps, gold or diamond-encrusted cases, and limited edition designs. Some of the most exclusive models can cost upwards of $8,000.
Here is a summary of the starting prices for some of the Louis Vuitton Tambour smartwatch models:
| | |
| --- | --- |
| Model Type | Starting Price |
| Tambour Horizon Connected Matte Black | S$2,975 |
| Tambour Horizon Light Up Connected 2022 PVD coating 24 LED | S$5,935 |
| Tambour Horizon V2 Steel Rubber Quartz Mens Watch QA052 BF553317 | S$2,208 |
Keep in mind that the pricing and availability are subject to changeThe Louis Vuitton Tambour Horizon smartwatch can be purchased through the official Louis Vuitton website, in select Louis Vuitton boutiques worldwide, or in other legitimate online stores. Availability may vary depending on the store location and the specific model chosen.
The most expensive timepiece on the list is the Citizen Promaster Eco-Drive Nighthawk CA0295-58E (S$6-700 plus). Meanwhile, the Citizen Eco-Drive Chandler BM8180-03E (Less than S$300) is the most affordable.
The Citizen Automatic Super Titanium NH9120-11E's open heart is impressive, but our favorite features are the Citizen Promaster Eco-Drive Nighthawk CA0295-58E's chronograph and tachymeter. They're easy to use and functional, enabling users to measure speed according to the time traveled over a set distance.
Frequently Asked Questions
1. Do Louis Vuitton Make Good Watches?
Louis Vuitton is a luxury brand primarily known for creating luxury leather goods and accessories. However, they have also ventured into the world of high-end watches, which include smartwatches.
The Tambour Horizon is their signature connected watch series. This showcases the brand's artistry in craftsmanship and modern design. While they might not be a specialist watchmaker, the quality of their smartwatches remains impressive and appealing for many luxury watch enthusiasts.
2. Does the Louis Vuitton Smartwatch Work with the iPhone?
Yes, the Louis Vuitton smart watches are designed to be compatible with Android and iOS devices, including iPhones.
They offer a range of practical and ingenious functionalities in addition to their innovative design, making them a chic choice for iPhone and Android users seeking a stylish smartwatch that can complement their device.
3. How Much Is a Louis Vuitton Tambour Watch?
The pricing of Louis Vuitton Tambour watches can vary depending on the model and features. The Tambour Horizon smartwatch, for example, has a starting price of around $3,400, according to Engadget.
As with all luxury items, the price of the Louis Vuitton Tambour watch can increase significantly based on the specific edition, materials used, and any customizations or add-ons involved.
Final Word
In conclusion, the Louis Vuitton Tambour watches are a luxury line of timepieces produced by the iconic French fashion house. They are designed with the brand's signature style and attention to detail, featuring high-quality materials and Swiss-made movements.
Key Takeaways
The Louis Vuitton Tambour Horizon watches are a line of luxury connected smartwatches, released in 2017, that are powered by Google's Wear OS operating system.
The Tambour Horizon watches have a high price tag, reflecting their luxury status and quality craftsmanship.
The watches have Google Assistant integration, allowing users to use voice commands to perform various functions such as sending messages and setting reminders.
Looking to buy or sell your luxury watches? Watch Exchange is your one-stop destination for trading Rolex, Patek Philippe, Tissot, Sinn, Zenith, and other luxury timepieces. Find your next watch today or list your item for free!
---