Renowned for its bold and innovative designs, Franck Muller Vanguard watches have carved a niche for themselves in the world of luxury horology.
One of the defining characteristics of the Franck Muller Vanguard collection is its bold and daring design language. The watches boast a striking combination of geometric shapes, intricate textures, and vibrant colors that instantly catch the eye.
Whether it's the Vanguard's iconic numerals or the unique dial patterns inspired by architectural motifs, each timepiece exudes a sense of avant-garde elegance that appeals to watch enthusiasts and fashion-forward individuals alike.
Let's delve into the mesmerizing world of Franck Muller Vanguard watches and explore the captivating features that make them a true standout in the industry.
The Case
Franck Muller Vanguard collection showcases a variety of materials and finishes across different watch models, each contributing to a distinct aesthetic and functional appeal. The materials used range from stainless steel and 18k rose gold to microblasted ceramic, titanium, and carbon.
Stainless Steel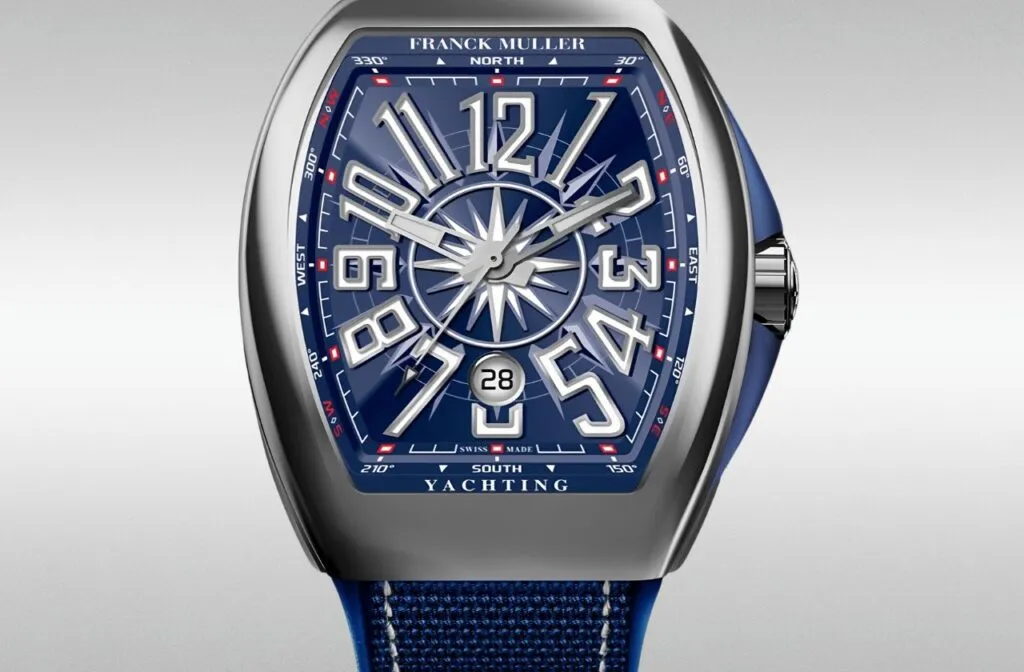 The Stainless Steel cases, known for their strength and durability, are utilized in models like the Grande Date V45CCGDSQTACNR and Yachting V41 YACHT ACBL models. These watches feature meticulously hand-polished stainless steel cases with a water resistance of up to 30m, offering durability and a lustrous finish.
Stainless steel combines durability, strength, a timeless aesthetic, versatility, hypoallergenic properties, easy maintenance, and good value retention. These qualities make it a preferred choice for watchmakers and wearers who appreciate a reliable and stylish timepiece that can withstand the test of time.
18k Rose Gold
The 18k Rose Gold cases, crafted for a touch of luxury and elegance, are featured in models like the Classical V45CC5NGR, Yachting Anchor Skeleton V45S6SQTYACHANC5NBL, Master Banker V45MBSCDTSQT5NBRTT, and Skeleton V45S6SQT5NNR models stand out with their cases crafted in hand-polished 18k rose gold. The Master Banker and Skeleton models additionally set themselves apart with a hand-brushed finish, bringing an added layer of elegance and refinement.
18k rose gold is known for its exquisite appearance, timeless appeal, versatility in design, durability, and its ability to complement different skin tones. It adds a luxurious touch to watches and has become a sought-after choice for watch enthusiasts who appreciate both the beauty and value of this precious metal.
Microblasted Ceramic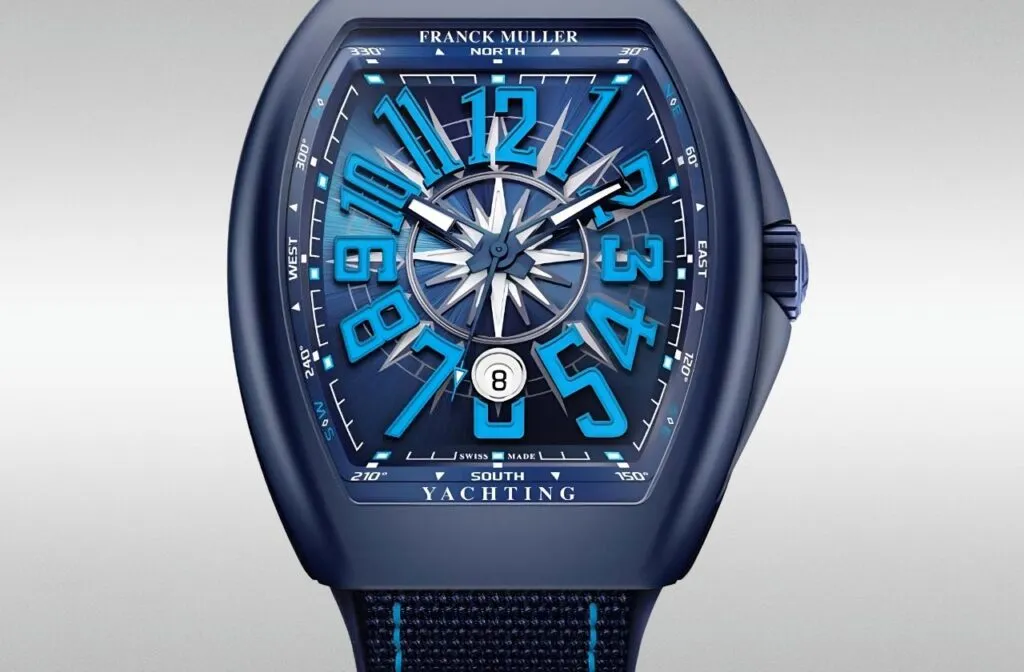 For enthusiasts of a rugged and sporty aesthetic, the Yachting Ceramic V45SCYACHCRBLMCBL and Mariner V45 YTSCMARCRMRMC MRBL models showcase microblasted ceramic cases in an attractive blue, a testament to their seafarer spirit.
The use of microblasted ceramic in watches combines durability, scratch resistance, lightweight construction, hypoallergenic properties, and a refined aesthetic. These qualities make microblasted ceramic an attractive choice for watch enthusiasts who value both style and functionality in their timepieces.
Titanium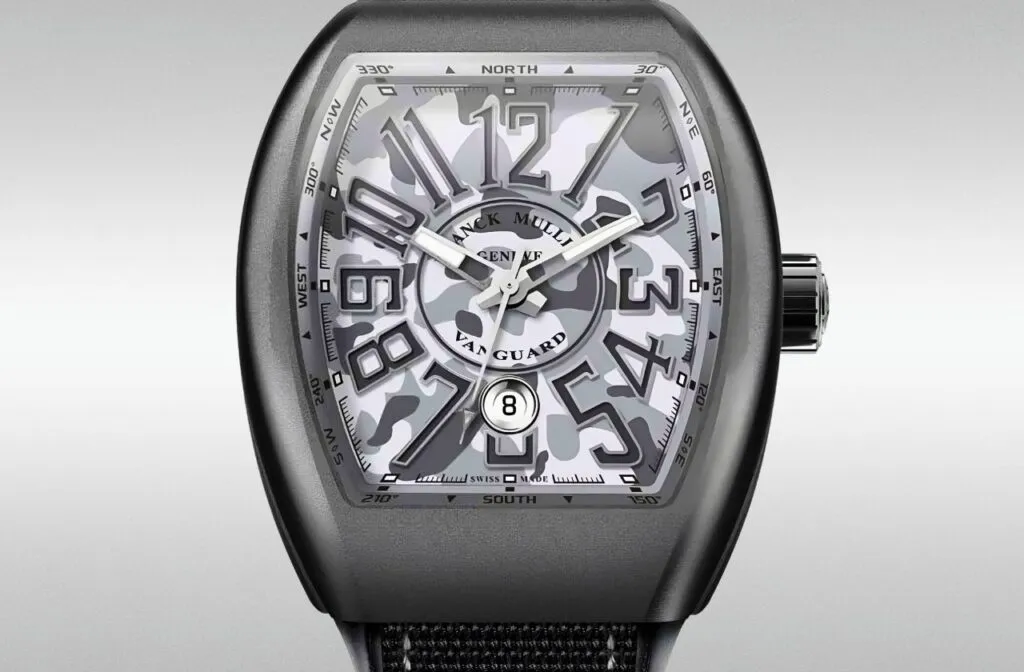 Titanium, known for its lightweight and durable properties, finds its place in the Franck Muller Vanguard V45 SC DT TT NR BR, Camouflage V45SCCAMOTTGR, and Golf V45 GOLFTURNIER models. The Camouflage model adds an interesting visual dimension with titanium inserts on both sides of the Grade-2 titanium case.
Titanium's exceptional strength-to-weight ratio, durability, and corrosion resistance make it a popular choice for sports enthusiasts.
Carbon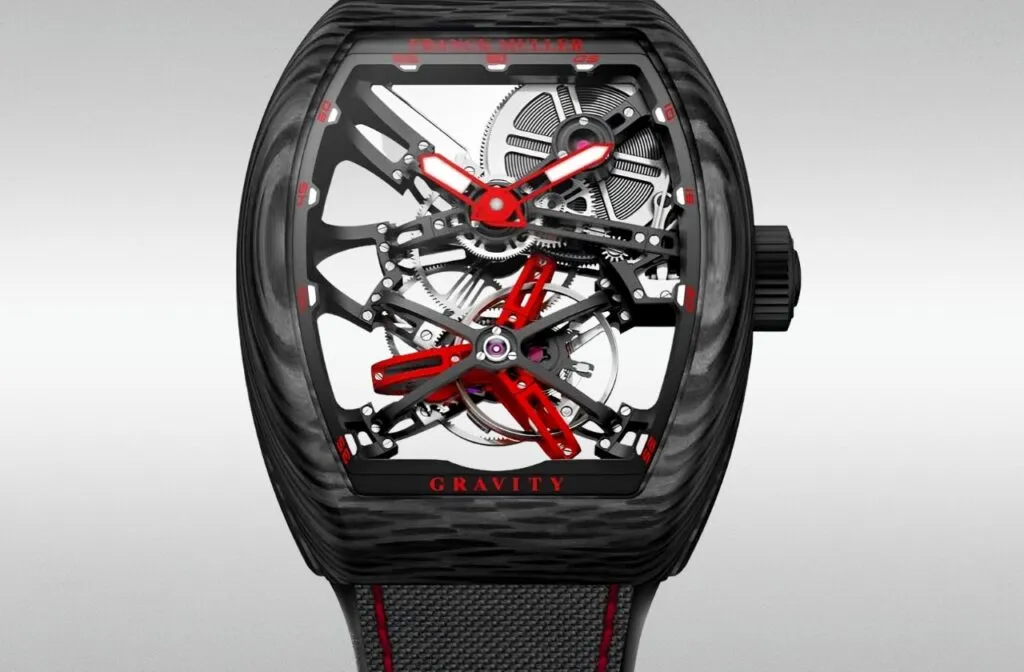 For those looking for a modern and technological edge, the Franck Muller Krypton Racing V 45 RCG SC DT CARBON VE, Krypton Racing Skeleton Grande Date V45VRCG CCGD CARSQTKRY2 BL and Gravity V45TGRCSBERSQT models feature carbon cases.
The use of carbon in these models brings exceptional lightweight properties, making them comfortable to wear on the wrist for extended periods. Despite their lightweight nature, carbon cases offer outstanding strength and durability, ensuring the watches can withstand the rigors of daily wear and maintain their pristine appearance.
The Dial
The Vanguard collection offers an exceptional range of dial designs, catering to various styles and tastes. From intricately crafted dials with hand-applied numerals to skeletonized versions that reveal the inner movements, each dial brings a unique appeal to its respective timepiece.
Brushed Finish & Applique Numerals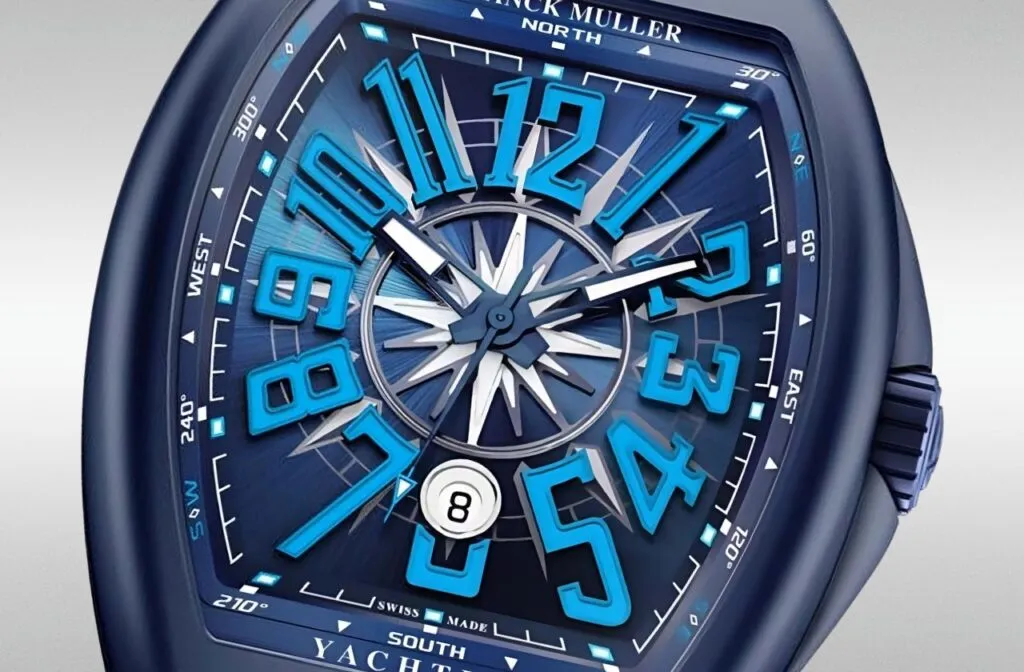 A brushed finish dial is a specific texture or finish applied to the dial surface of a watch. It is achieved by using a fine abrasive material to create a series of parallel lines or brushed strokes on the dial. Models like the Classical, Mariner, Yachting Ceramic, Yachting, and Master Banker feature brushed finish dials with meticulously painted, hand-applied applique numerals.
Applique Indexes
An Applique Indexes dial refers to a type of dial design where the hour markers or indexes are meticulously painted and hand-applied to the dial surface. The Grande Date model showcases applique indexes that are meticulously painted and applied by hand. This adds a touch of refinement and precision to the dial.
Skeletonized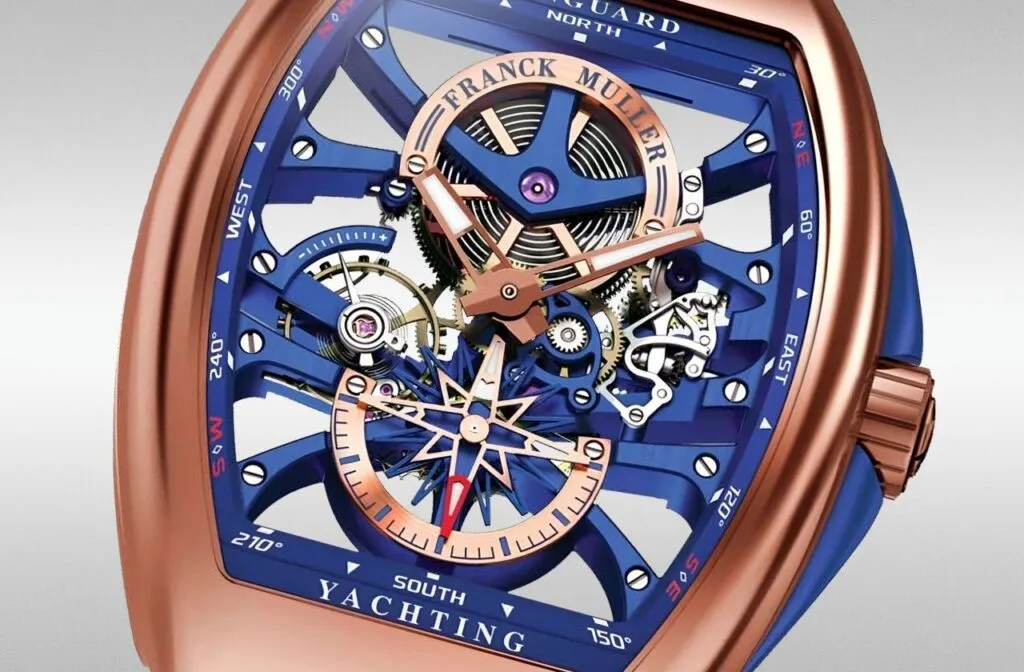 A skeletonized dial, also known as an open-worked dial, is a design in which the dial of a watch has been cut away or partially removed to reveal the intricate inner mechanisms of the watch. The Franck Muller Yachting Anchor Skeleton and models like the Skeleton, Gravity, and Master Banker Skeleton exhibit captivating skeletonized dials. These transparent or skeletonized designs elegantly unveil the watch's internal mechanisms, offering a mesmerizing view of the intricate movements at work.
Camouflage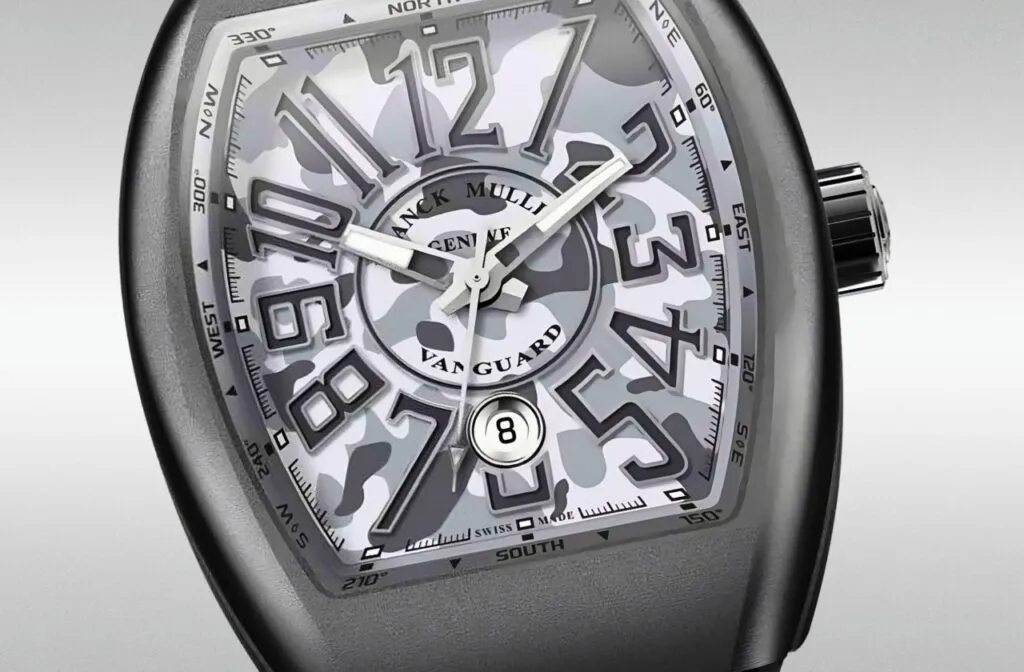 For those who prefer a rugged and sporty aesthetic, the collection presents the Franck Muller Camouflage. This timepiece feature patterned dials in camouflage or deep grey tones, complemented by carefully painted and hand-applied applique numerals, creating a dynamic and eye-catching look.
The Strap/Bracelet
The Franck Muller Vanguard collection offers a range of strap options, including both nylon and hand-sewn alligator straps. These choices provide wearers with the opportunity to customize their timepieces according to their personal style and preferences.
Leather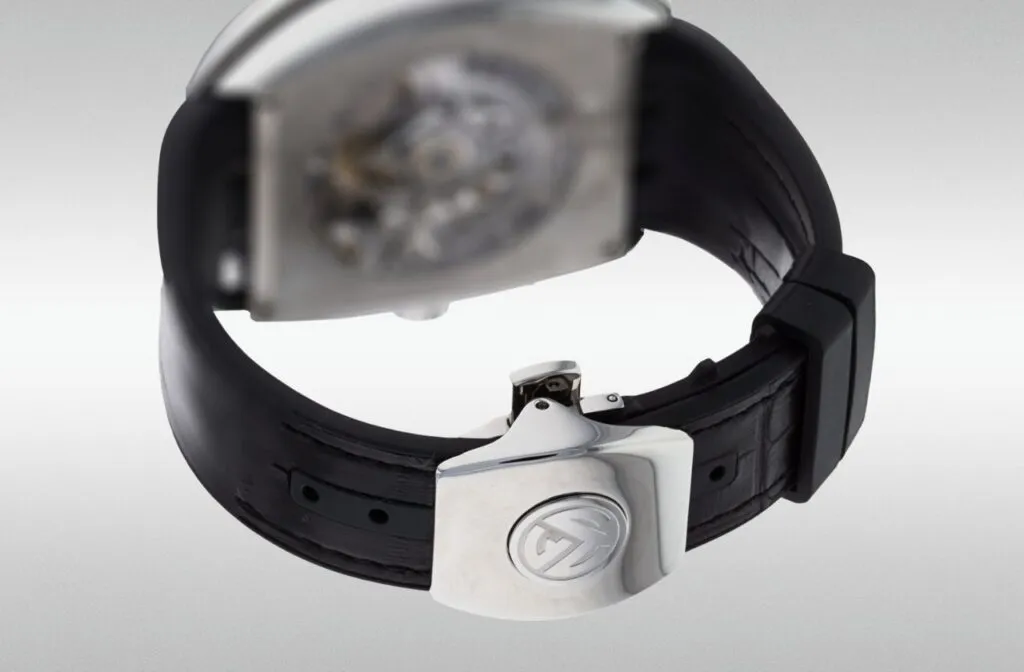 The collection often features high-quality hand sewn alligator leather straps in various colors and finishes. These straps exude elegance and sophistication, enhancing the overall aesthetic of the timepieces. Popular models such as the Franck Muller Vanguard Grande Date (V45CCGDSQTACNR) feature a black hand-sewn alligator strap and Vanguard Mariner (V45YTSCMARACEBL) offers a blue-white hand-sewn alligator strap.
Nylon
Nylon straps are versatile and durable options for watch enthusiasts seeking a casual and sporty aesthetic. Models like the Franck Muller Vanguard Yachting (V41SCYACHTACBL) and Vanguard PXL (V45SCBLKPXLACPXL) can be paired with comfortable and resilient nylon straps. With a blue hand-sewn nylon strap for the Vanguard Yachting and a black hand-sewn nylon strap for the Vanguard PXL, these models exemplify the combination of style and functionality that nylon straps bring to the Franck Muller Vanguard collection.
The Movement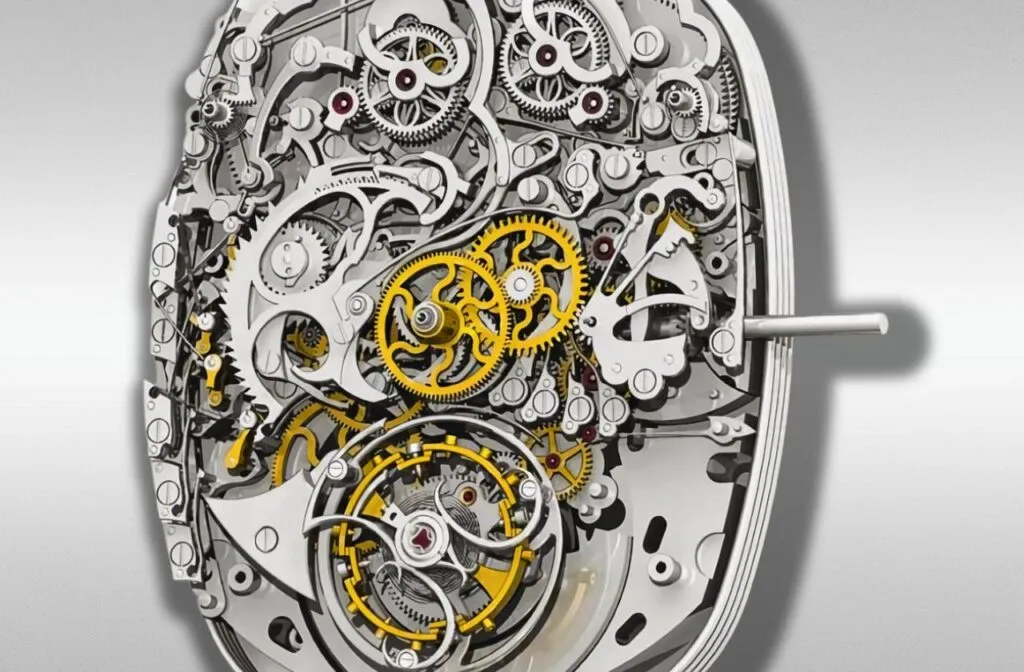 Franck Muller is known for its in-house movements, developed and manufactured within their own workshops. The Vanguard collection offers various models with impressive complications, such as tourbillons, grande dates, skeletonized movements, and even the innovative "Crazy Hours" complication. These complications showcase the brand's technical expertise and ability to create intricate mechanisms.
Automatic Self Winding
The Vanguard Grande Date (V45CCGDSQTACNR) showcases an automatic self-winding mechanical movement with a power reserve of 46 hours, ensuring precise timekeeping while providing the convenience of automatic winding. This movement exemplifies the brand's commitment to reliability and ease of use.
Tourbillon
The Vanguard Tourbillon V 45 T BR (TT) offers the pinnacle of mechanical sophistication with its tourbillon movement. The tourbillon mechanism, renowned for its ability to counteract the effects of gravity on the watch's balance wheel, enhances accuracy and precision. This sought-after feature is highly valued by horological enthusiasts who appreciate exceptional timekeeping.
Skeleton Movement (Manual Winding Mechanism)
The Vanguard Skeleton (V45S6SQT5NNR) model mesmerizes with its skeletonized movement, which not only exposes the intricate inner workings of the watch but also incorporates a manual winding mechanism. The manual winding feature allows the wearer to engage with the watch on a more intimate level, experiencing the pleasure of manually winding the timepiece and feeling a direct connection with its mechanical heart.
Double Timezone
Another remarkable movement within the collection is found in the Vanguard Master Banker (V45MBSCDTSQT5NBRTT). This timepiece features a movement with the capability to track double time zones simultaneously. This practical and convenient feature makes it an ideal choice for globetrotters and frequent travelers.
Top Popular Model
1. Franck Muller Vanguard Racing – Stainless Steel & Black with Green Trim Dial Ref. V 45 SC DT RCG VE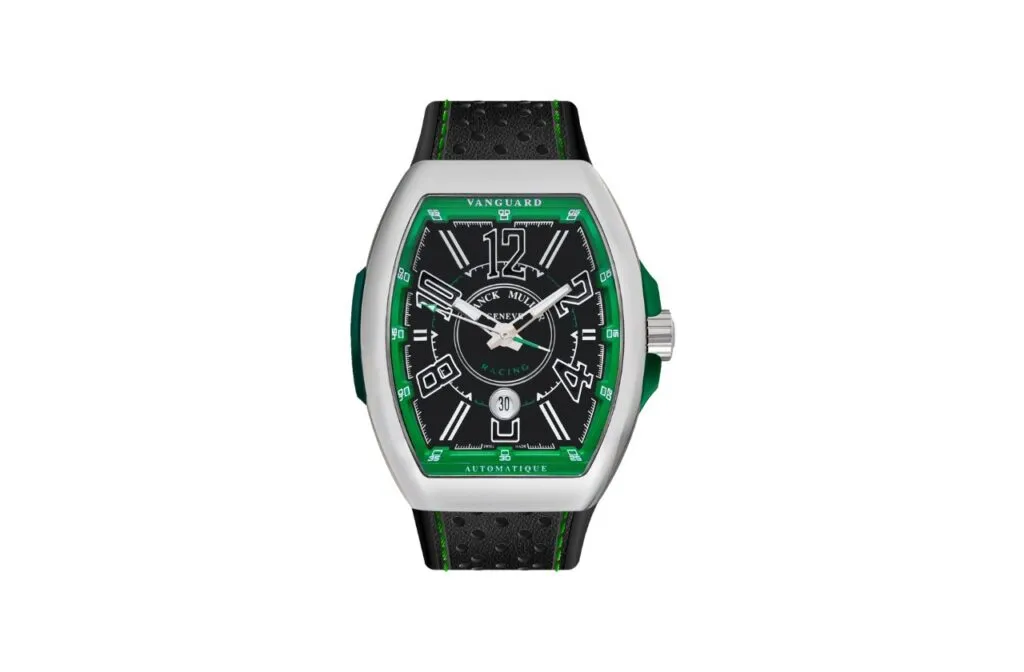 About
The Franck Muller Vanguard Racing Reference No. V 45 SC DT RCG VE is a striking timepiece that showcases a stainless steel case with a black dial accented by vibrant green trim. It features scratch-resistant sapphire crystal, a Swiss-made automatic movement, and presented with a black leather/rubber strap adorned with green stitches. The watch is secured with a stainless steel deployment buckle clasp for added convenience and comfort.
Features
This watch features a scratch-resistant sapphire crystal and a black dial adorned with Arabic numerals, exuding a sporty and bold aesthetic
Specifications
Production Year: 2023
Case Size: 44mm
Materials:

Dial – Black with green trim
Bracelet – Leather
Bezel – Steel

Function: Hours, Minutes, Seconds, Date
Mechanism: Automatic movement
The Competitive Landscape
The world of luxury brands is an illustrious arena where precision, artistry, and innovation collide. Other Franck Muller, they continue to redefine the horological standards through their exemplary timepieces, thus presenting an engaging competition to the likes of Franck Muller's Vanguard collection.
Rolex is a renowned brand recognized for its timeless designs and highly accurate movements.
Patek Philippe is another titan in the industry, known for its extremely high-quality watches and the prestige attached to their brand.
Audemars Piguet is best known for its Royal Oak collection, which, like the Vanguard, disrupted traditional watch aesthetics with its innovative design.
Vacheron Constantin, one of the oldest watch manufacturers in the world, offers timepieces that blend traditional watchmaking with modern aesthetics.
Richard Mille stands as a distinct competitor with its ultra-modern and avant-garde designs. Their watches, similar to Franck Muller, can be considered pieces of wearable art.
| | | |
| --- | --- | --- |
| Brand | Known For | Average SGD Price |
| Rolex | Timeless designs and highly accurate movements | S$2,208 – S$242,871 |
| Patek Philippe | Extremely high-quality watches and the prestige of their brand | S$12,001 – S$734,986 |
| Audemars Piguet | Best known for the Royal Oak collection which disrupted traditional watch aesthetics | S$8,183 – S$561,933 |
| Vacheron Constantin | Classic designs, quality, and craftsmanship | S$14,675 – S$178,719 |
| Richard Mille | Known for ultra-modern and avant-garde designs. Watches are often considered wearable art due to unique materials and extreme attention to detail. | S$140,796-S$469,397 |
Why You Should Invest?
Investing in a Franck Muller Vanguard watch offers a fusion of innovation, precision, and craftsmanship. With their iconic design elements and renowned watch brand reputation, these timepieces are wearable works of art. Additionally, they have shown potential for value appreciation compared to other watches, making them both a luxury accessory and a potential investment.
Franck Muller Vanguard watches have garnered attention from various notable individuals, including renowned footballer Cristiano Ronaldo. Ronaldo has shown sporting his $1.5 million worth of Franck Muller Vanguard watch, further highlighting their appeal among high-profile figures.
In terms of market recognition, Franck Muller Vanguard watches have been featured in prestigious events such as "The Geneva Watch Auction: XV" held in May 2022. This auction included the auctioning of the Frank Muller Ref. 45 SC DT CAR UAE LE model, a large and bold carbon wristwatch created exclusively for the UAE. With only 45 pieces produced as part of a limited edition, this timepiece exemplifies the exclusivity and collectible nature of Franck Muller Vanguard watches.
Pricing & Availability
Franck Muller Vanguard watches are priced between S$3,017 and S$190,153, with entry-level models at the lower end and limited edition-edition or complex variations at the higher end. Availability can be found through authorized retailers, Franck Muller boutiques, or online luxury watch platforms, though certain models may have limited availability due to the brand's exclusivity.
Final Word
The Franck Muller Vanguard collection exemplifies the perfect harmony of innovation, precision, and craftsmanship. With its iconic design, self-winding mechanical movements, and attention to detail, these timepieces are true works of art on the wrist. Experience the allure of Franck Muller and explore the vast range of Vanguard models that redefine luxury watchmaking.
Read also: Franck Muller Vanguard V45SCDT Review
Key Takeaways
Franck Muller Vanguard watches boast a bold and daring aesthetic with geometric shapes, vibrant colors, and unique dial patterns inspired by architecture.
The collection offers a range of case materials including stainless steel, 18k rose gold, microblasted ceramic, titanium, and carbon, providing options for various styles and preferences.
Notable individuals, including renowned footballer Cristiano Ronaldo, have been spotted wearing Franck Muller Vanguard timepieces, highlighting their appeal among high-profile figures.
Looking to buy or sell your luxury watches? Watch Exchange is your one-stop destination for trading Rolex, Patek Philippe, Tissot, Sinn, Zenith, and other luxury timepieces. Find your next watch today or list your item for free!
---