The minimalist aesthetic is gaining more and more traction within fashion, and watches are no exception. Monochrome timepieces are the perfect choice for those looking for a timeless piece of accessory with a modern and clean appeal.
With a focus on the watch itself rather than flashy color schemes or ornate detailing, monochrome watches allow the timepiece's form, function, and mechanics to take center stage. The simplicity of their design often highlights the intricacies, mechanics, and complexities of the watch movement itself.
In this article, we'll delve into the captivating appeal of monochrome watches, uncover the reasons behind their widespread popularity, and examine some of the best options available on the market today.
What is monochrome watch?
In the context of watches, monochrome generally refers to either two separate colors that blend together very closely, or one color on the entire body design—think silver and white, or all-black. In addition, monochrome designs today can extend to analog dials as well: a black face with white indices, for example.
The unifying factor is that all colors complement each other (no colors clash here!), each time creating a striped appearance—clear but subtle stripes that create a neat yet elegant look.
Brief History of Monochrome Watch Industry
Monochrome timepieces have a long and fascinating history that dates back to the early days of watchmaking. In the early 1900s, many watch manufacturers began experimenting with different colors and designs, but it was not until the 1950s that the monochrome style began to take hold.
The first monochrome timepieces were typically black or white, with simple and understated designs. These watches quickly gained popularity among watch enthusiasts and fashion-conscious individuals, and they became a staple in the watch industry.
Over the years, the monochrome style has evolved, with new colors and designs being introduced to the market. Today, monochrome timepieces are available in a wide range of colors, including black, white, gray, silver, and gold, and they are often paired with a variety of materials, including leather, metal, and rubber.
Despite the changes in style and design, the appeal of monochrome watches has remained constant.
Elements of a monochrome watch
In this context, let's take a closer look at the key elements that make up a monochrome watch.
Monochrome timepieces feature a single color or tone throughout their design, with black, white, and shades of gray being the most common color choices.
Some monochrome watches may also feature other muted colors such as beige or brown, but the overall color scheme remains predominantly one color.
The goal of monochromes is to create a refined and understated look that highlights the watch's craftsmanship and functionality over vibrant colors.
The monochrome style leans towards minimalism, with clean lines and fewer decorative elements.
This simplicity allows the focus to remain on the watch's functionality and craftsmanship, making it ideal for watch enthusiasts who appreciate both form and function.
Advantages of Monochrome Watches
Easy to match: Monochrome timepieces are perfect for those who want to keep it simple yet stylish. With their minimalistic design, they can easily be paired with any outfit, whether it's casual or formal.
Never go out of style: Monochromes have a classic and sophisticated look that never goes out of style. Unlike trendy watches that may quickly become outdated, monochrome watches remain fashionable for years to come.
Versatile: With a range of colors and styles available, monochrome watches can be worn in a variety of settings. Whether you're headed to the office or out for a night on the town, a monochrome watch can complement your style and elevate your look.
Disadvantages of Monochrome Watches
Monochromes may be stylish and timeless, but they don't come without limitations.
Limited color options: One of the drawbacks of monochrome watches is that they only offer a single color or tone throughout their design. This may limit the options for those who prefer more vibrant or colorful watches that stand out.
Less variety in design: Monochrome watches are known for their minimalistic and simplistic design, which may not appeal to those who prefer more elaborate or flashy watch designs. The focus is primarily on the functionality and craftsmanship of the watch, rather than its appearance.
May not suit all skin tones: Depending on the color of the monochrome watch, it may not complement all skin tones. For example, a watch with a white or silver tone may not look as good on individuals with cooler skin tones, while a watch with a gold or copper tone may not suit those with warmer skin tones.
Who Should Wear These Fine Watches?
Monochrome watches cater to those who understand and are interested in quality craftsmanship and horological hearts that blend harmoniously with their watch's overall design.
Business Professionals: Monochrome watches are perfect for those in the corporate industry, small team for exclusive collaborations, or professional world. Their simplicity and classic design make them a versatile accessory that complements business attire, from formal suits to business casual outfits. Monochrome Watches showcases many elegant watches that can be worn by professionals.
Minimalist Individuals: Artists and designers usually have a keen eye for aesthetics, and a monochrome watch with a leather strap can make a subtle statement as an accessory. The refined elegance of these timepieces showcases their appreciation for minimalist design and high-quality craftsmanship.
Casual Style Enthusiasts: For those with a laid-back or casual sense of style, monochrome watches with a leather strap will likely receive a versatile and wearable option that pairs well with a range of clothing choices, from jeans and t-shirts to casual button-down shirts and chinos.
5 best watches for monochrome watch enthusiasts
For those seeking to find the perfect combination of style and elegance, the following monochrome watches stand out for their minimalist design, superior craftsmanship, and quality materials.
1. Audemars Piguet Royal Oak Extra-Thin Ref. 15202ST.OO.1240ST.01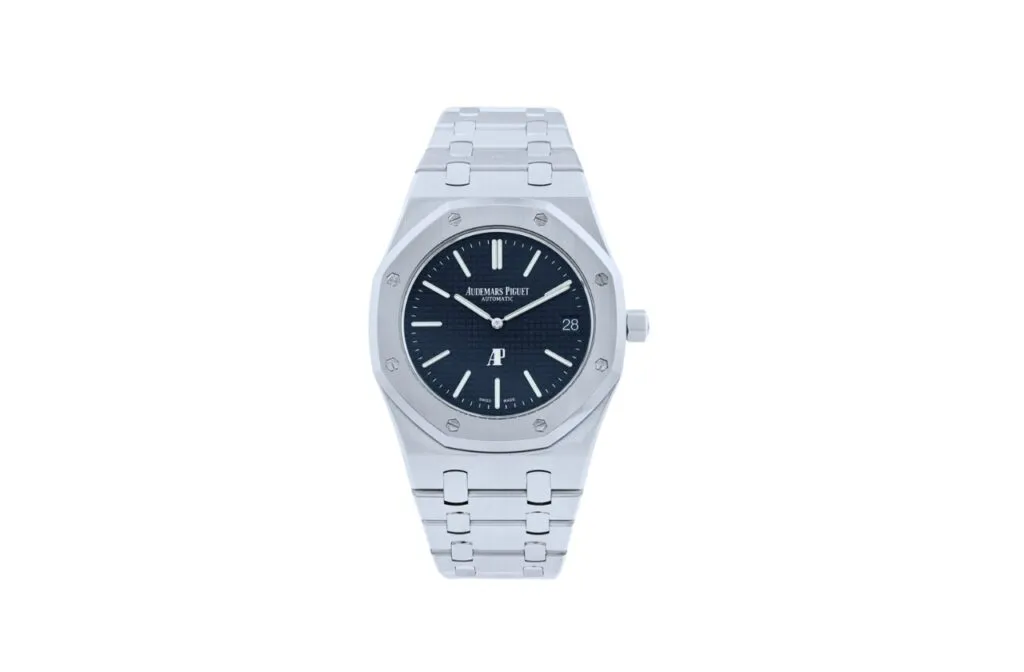 About
The Audemars Piguet Royal Oak Extra-Thin Ref. 15202ST.OO.1240ST.01, priced at S$94,403, stands out in the world of haute horlogerie with its iconic watch design and exceptional elegance.
This watch model is a prime example of artisanal watchmaking and features a minimalistic design with the recognizable Royal Oak octagonal bezel. Inside, the ultra-thin automatic movement ensures precision and reliability, making it an excellent choice for those who value style and substance.
2. Patek Philippe Nautilus Ref. 5711/1A-010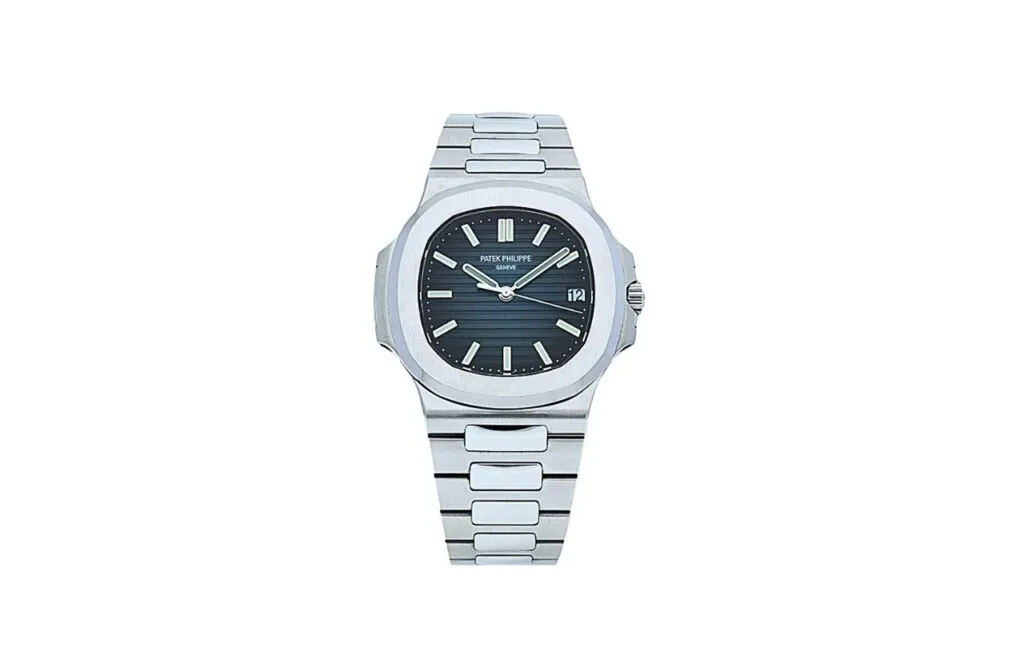 About
Patek Philippe is renowned for their masterpieces in the watch industry. The Nautilus Ref. 5711/1A-010, priced at SGD $155,000, is no exception. This iconic monochrome watch boasts a sleek, modern design with a stainless steel case and bracelet. Featuring a self-winding movement and date function, this timepiece is a testament to Patek Philippe's high standards and passion for innovative craftsmanship.
3. Vacheron Constantin Overseas Chronograph Ref. 5500V/110A-B148
About
The Vacheron Constantin Overseas Chronograph Ref. 5500V/110A-B148, priced at S$49,833, is another superb example of haute horlogerie. This monochrome watch features an eye-catching dial with three sub-dials for the chronograph function. The intricate constant force mechanism of this watch ensures optimal precision, making the Overseas Chronograph an exemplary timepiece for those seeking a blend of function and design.
4. Rolex Submariner Date Ref. 126610LN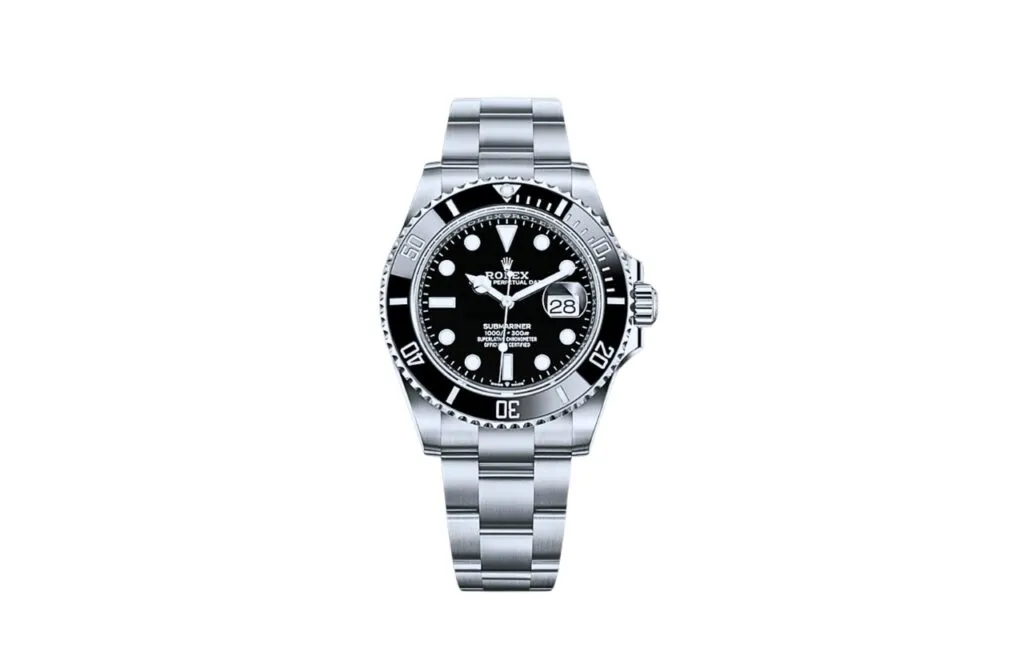 About
Considered a classic in the world of watches, the Rolex Submariner Date Ref. 126610LN, priced at SGD $19,600, is a sophisticated and classy monochrome timepiece. This watch boasts a black dial with a date function, a durable stainless steel case, and a bezel. Renowned for its reliability and ruggedness, the Rolex Submariner makes an ideal addition to any collection of watch enthusiasts.
5. Audemars Piguet Royal Oak Concept Flying Tourbillon GMT Ref. 26589IO.OO.D002CA.01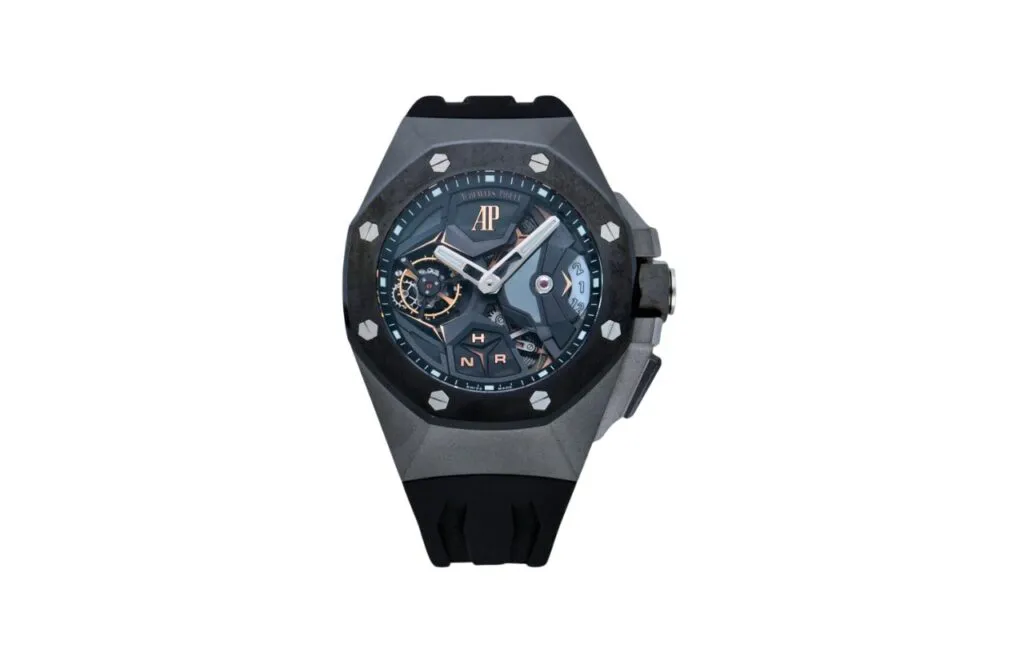 About
Priced at S$216,653, the Audemars Piguet Royal Oak Concept Flying Tourbillon GMT Ref. 26589IO.OO.D002CA.01 showcases the pinnacle of a timeless piece. This monochrome watch features a tourbillon and a perpetual calendar, displaying the very best in artisanal watchmaking. The complex movement and the distinctive design make this timepiece a true work of art, setting it apart from its counterparts.
Price
In this table, we've highlighted some of the top monochrome watches from luxury brands like Audemars Piguet, Patek Philippe, Vacheron Constantin, and Rolex including their average price. 
| | | |
| --- | --- | --- |
| Watch Model | Key Features | Pre-Owned Price |
| Audemars Piguet Royal Oak Extra-Thin Ref. 15202ST.OO.1240ST.01 | Iconic design, ultra-thin automatic movement | S$94,403 |
| Patek Philippe Nautilus Ref. 5711/1A-010 | Sleek modern design, self-winding movement, date function | S$155,000 |
| Vacheron Constantin Overseas Chronograph Ref. 5500V/110A-B148 | Eye-catching dial, chronograph function, constant force mechanism | S$49,833 |
| Rolex Submariner Date Ref. 126610LN | Classic black dial, date function, durable stainless steel case and bezel | S$19,600 |
| Audemars Piguet Royal Oak Concept Flying Tourbillon GMT Ref. 26589IO.OO.D002CA.01 | Tourbillon and perpetual calendar, complex movement, distinctive design | S$216,653 |
Final Word
Monochrome watches offer a timeless elegance and minimalist aesthetic that effortlessly complements any wardrobe. These versatile timepieces are the epitome of sophistication and quality craftsmanship, making them aware for must-have to any watch enthusiast.
Key Takeaways
Monochrome watches embody a minimalist and clean design, focusing on form and function.
These timepieces are perfect for professionals, creative individuals, and casual style enthusiasts alike.
Top monochrome watches include selections from Audemars Piguet, Patek Philippe, Vacheron Constantin, and Rolex.
Looking to buy or sell your luxury watches? Watch Exchange is your one-stop destination for trading Rolex, Patek Philippe, Tissot, Sinn, Zenith, and other luxury timepieces. Find your next watch today or list your item for free!
---