Looking to buy a luxury wristwatch but unsure which brand to choose? Oris watches are a popular Swiss brand known for their craftsmanship, attention to detail, and competitive pricing.
Established in 1904 by Paul Cattin and Georges Christian, Oris has gained recognition from celebrities and influencers. This review focuses on their signature models: Aquis, Big Crown, and Divers Sixty-Five. These timepieces offer durability, precision, and a range of styles to suit different preferences.
Whether you prefer sporty chronographs, vintage charm, or nostalgic elegance, Oris provides a luxury watch experience worth the investment.
The Case
Oris, founded by Paul Cattin and Georges Christian, offers a range of case materials, including stainless steel and titanium, to suit different preferences and needs.
Oris watches come in various shapes and sizes, including the rectangular watch, which is a popular choice among the brand's collections. The proportions of the case are carefully considered to ensure a harmonious and balanced design that complements the watch's overall aesthetic.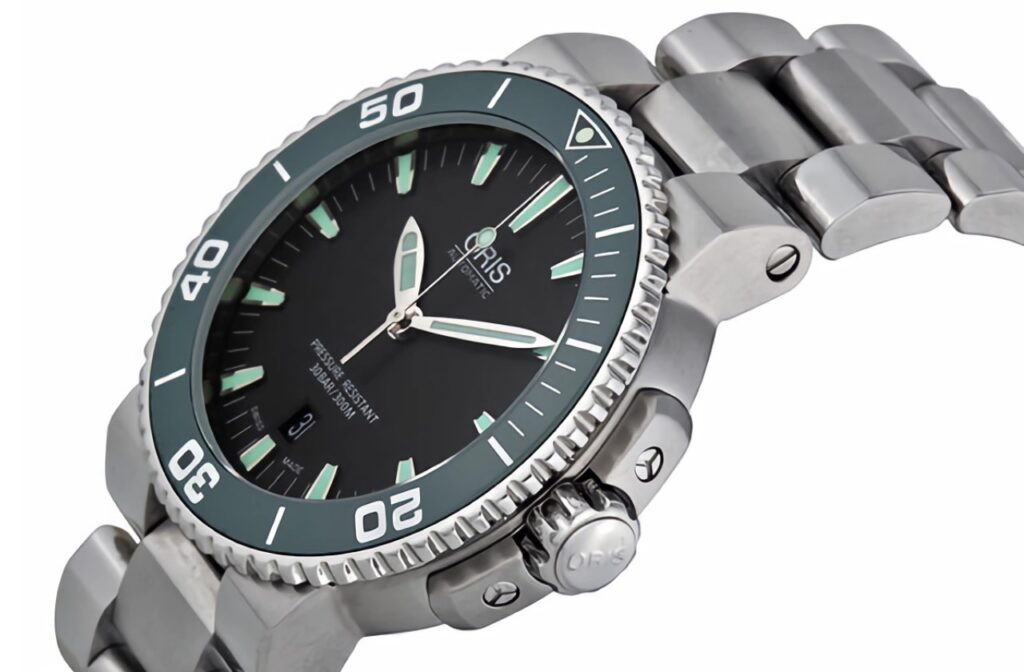 Each case, regardless of its shape or size, is meticulously designed to ensure a harmonious and balanced aesthetic. A testament to this is the Oris Aquis Date 43, ref. 01 733 7653 4137-07 8 26 01PEB. This model, part of the Aquis collection, showcases a sporty and rugged designl.
The case is engineered to resist water pressure up to 300 meters, making it a top choice for diving enthusiasts. Ensuring durability and scratch-resistance, Oris cases are often covered with high-quality, scratch-resistant sapphire crystal. This feature ensures that your timepiece maintains its pristine look even after extended use.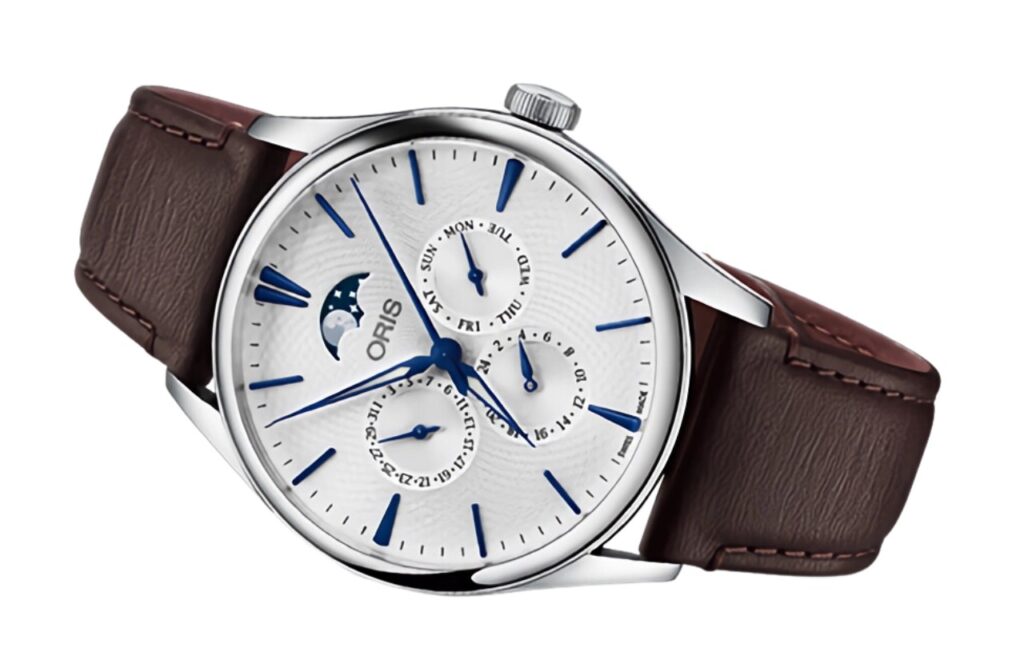 The Oris Artelier Complication 40, with ref. 01 781 7729 4031-07 5 21 31FC, beautifully embodies this.The case houses a variety of complications, including a moon phase display and day/date indicator, adding functionality to its classic design.
Overall, the case of an Oris watch is a testament to the brand's commitment to quality and design. Whether you prefer a classic stainless steel case or a modern titanium one, looking for a sports watch, aviation watches, or a diver's watch, Oris has something to offer for every taste and preference.
The Dial
Oris watches are known for their elegant and classic designs, and the dial is a key component in achieving this style. The dials on Oris watches are often simple, yet sophisticated, with a focus on legibility and functionality.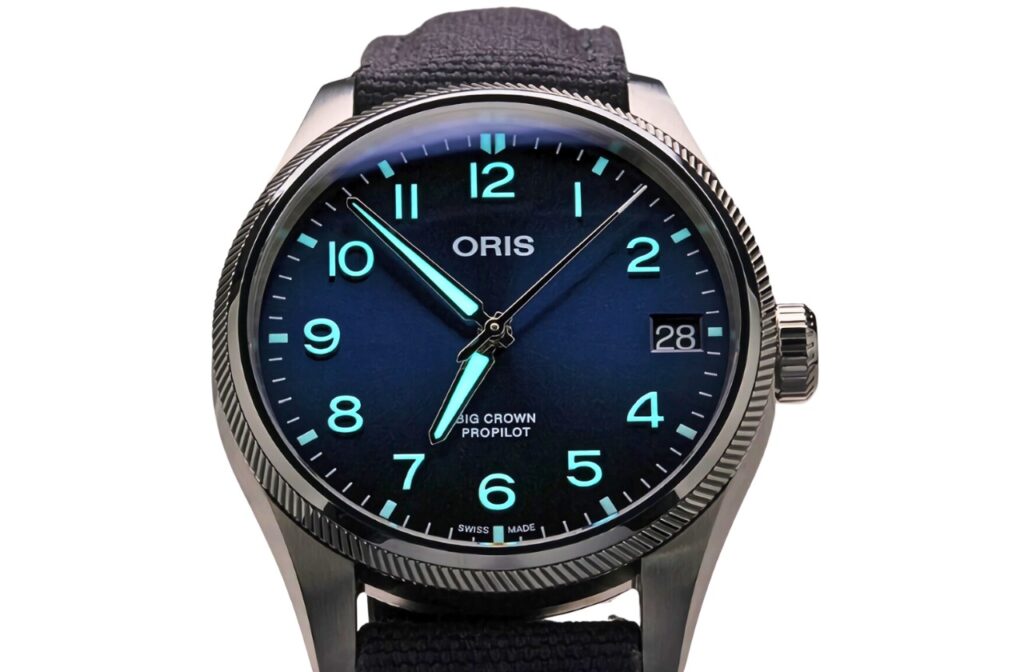 An example is the Oris Big Crown ProPilot Date with a stainless steel case and blue dial. This model perfectly illustrates how the classic color choice of blue provides versatility, pairing well with a multitude of outfits and occasions.
A noteworthy feature of this model is its luminous hands, a detail that enhances visibility, making it an especially practical choice for those needing to read time in low-light conditions. Such luminous hands, coated with a material that glows in the dark, are a significant feature of Oris watch dials.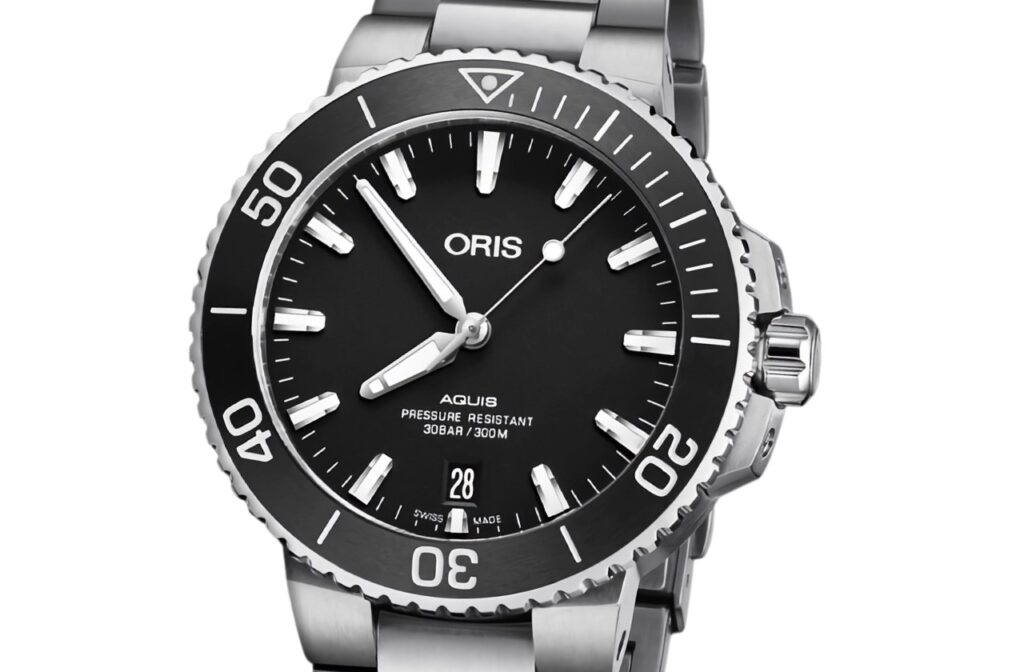 This is not only aesthetically pleasing but also highly functional for people who need to tell the time in the dark, such as pilots or divers. An example of this is the Oris Aquis Date, which, like the ProPilot Date, features luminous hands.
For those who value a day window in their timepiece, Oris offers several models. The day window, a small feature on the dial, displays the current day of the week, aiding those who prefer to keep track of their schedule and appointments.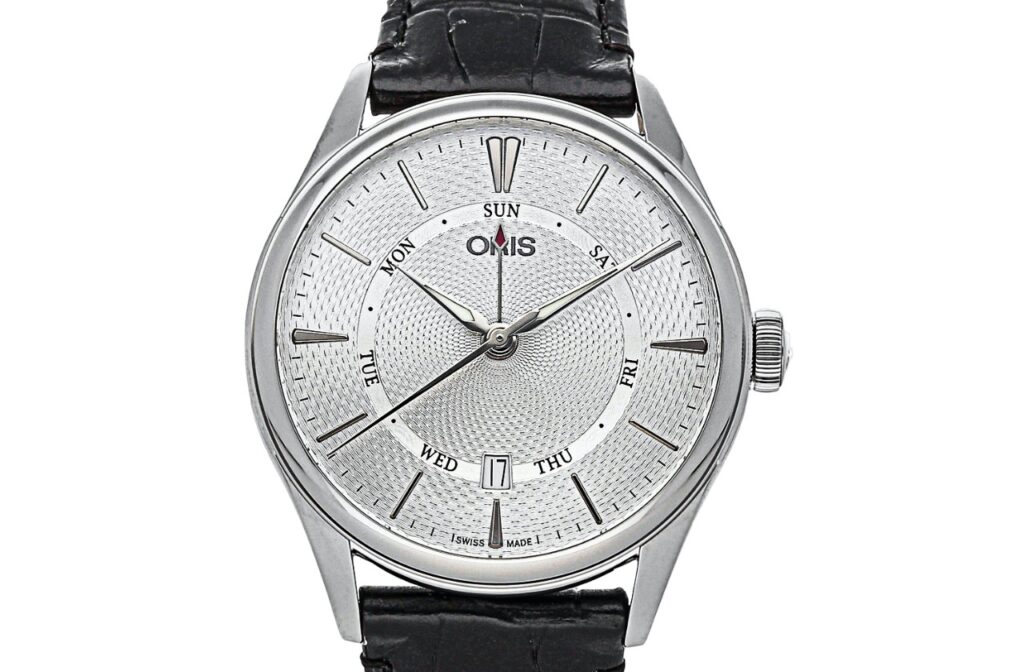 The Oris Artelier Pointer Day with a stainless steel case and silver dial showcases this function beautifully. The watch's luminous hands ensure easy readability under any lighting conditions, complementing the refined design and sophisticated allure of the timepiece.
The Strap/Bracelet
When selecting an Oris timepiece, the choice of strap or bracelet becomes crucial, as it brings together durability, comfort, and style. Oris offers a versatile range of strap materials from plush leather to durable metal, all designed with user convenience in mind. This variety allows wearers to switch effortlessly between different styles to suit different occasions.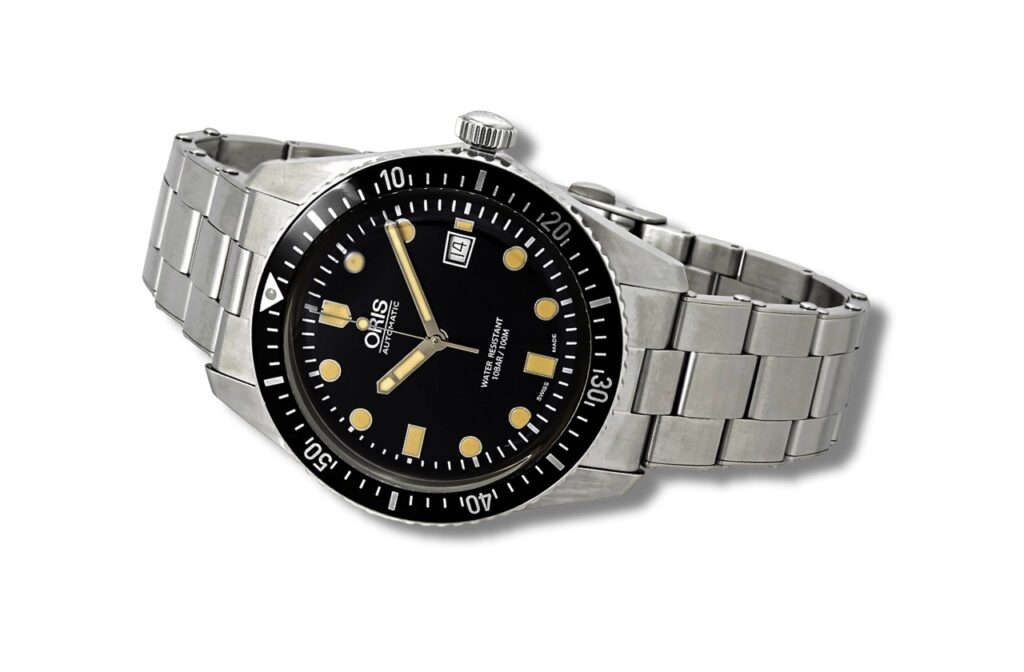 A prime example is the Oris Divers Sixty-Five, which features a stainless steel bracelet that impeccably complements its vintage-inspired design. The bracelet is not only robust and comfortable but also provides a secure fit, making it a perfect pick for divers.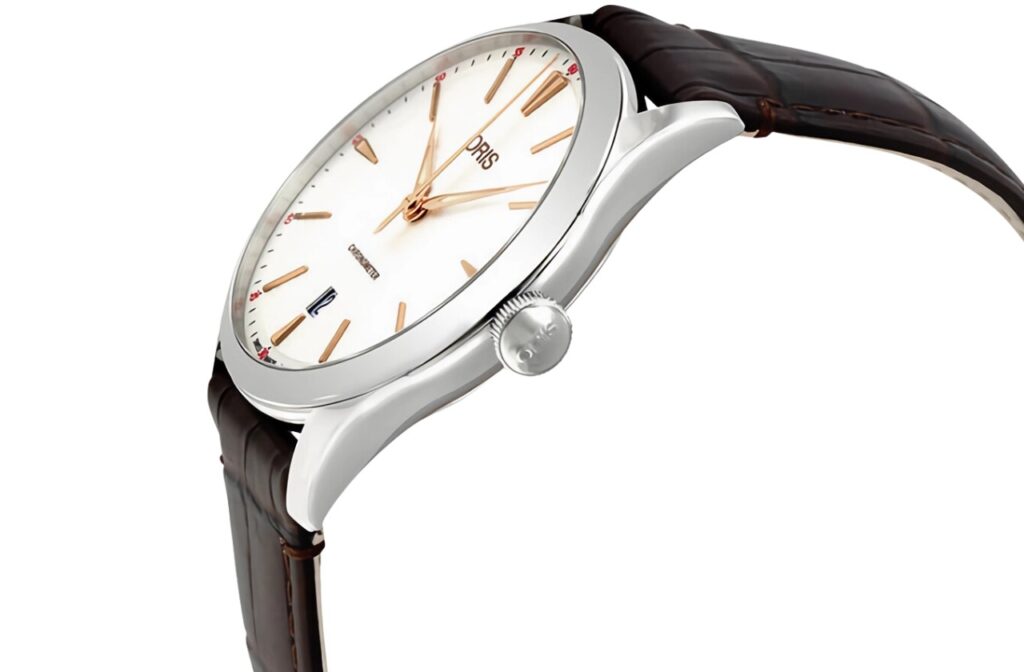 If you're in search of a more classic appeal, Oris offers exquisite leather options, such as calfskin and alligator skin, known for their softness and durability. The Oris Artelier collection exemplifies this elegance with its option of a brown leather strap, infusing sophistication and timeless style into the timepiece.
Oris's commitment to customization is another aspect that sets the brand apart. They offer interchangeable buckles and spring bars in either stainless steel or PVD finishes, giving you the option to tailor your watch design to your liking.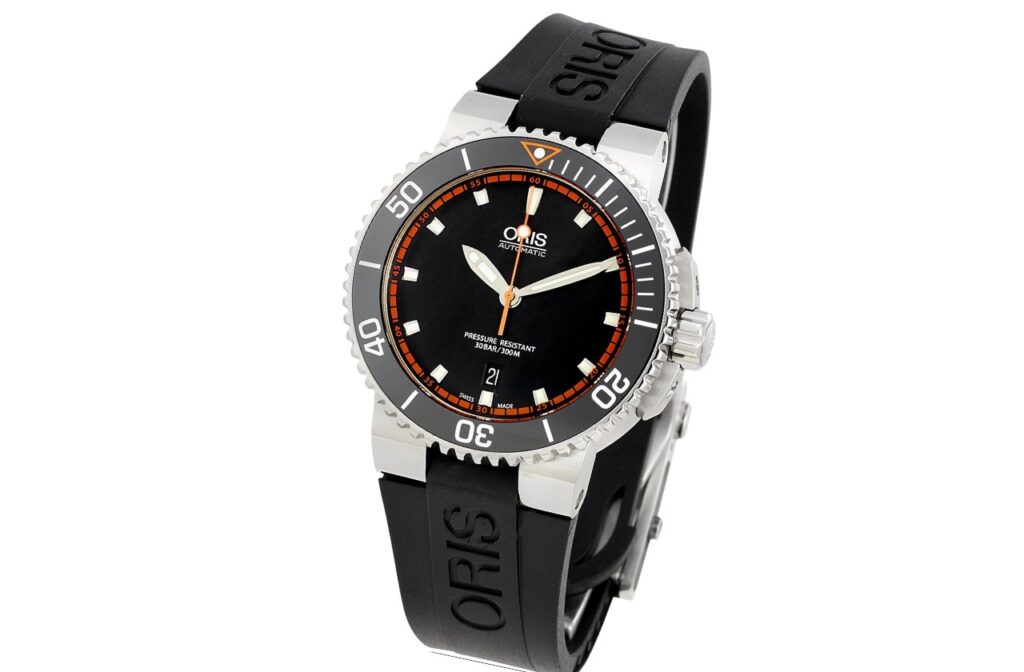 For those seeking a sportier, more rugged option without compromising on style or comfort, Oris's Aquis Date models offer a durable rubber strap. This is particularly ideal for aquatic activities, providing a snug and comfortable fit on the wrist. In summary, Oris's strap and bracelet options are an appealing blend of practicality, comfort, and customizable style, catering to a wide range of tastes and needs.
The Movement
Oris watches are renowned for their high-quality movements, which are all mechanical. The brand has a long history of producing mechanical watches, and their expertise in this area is evident in the precision and reliability of their timepieces.
Mechanical Watches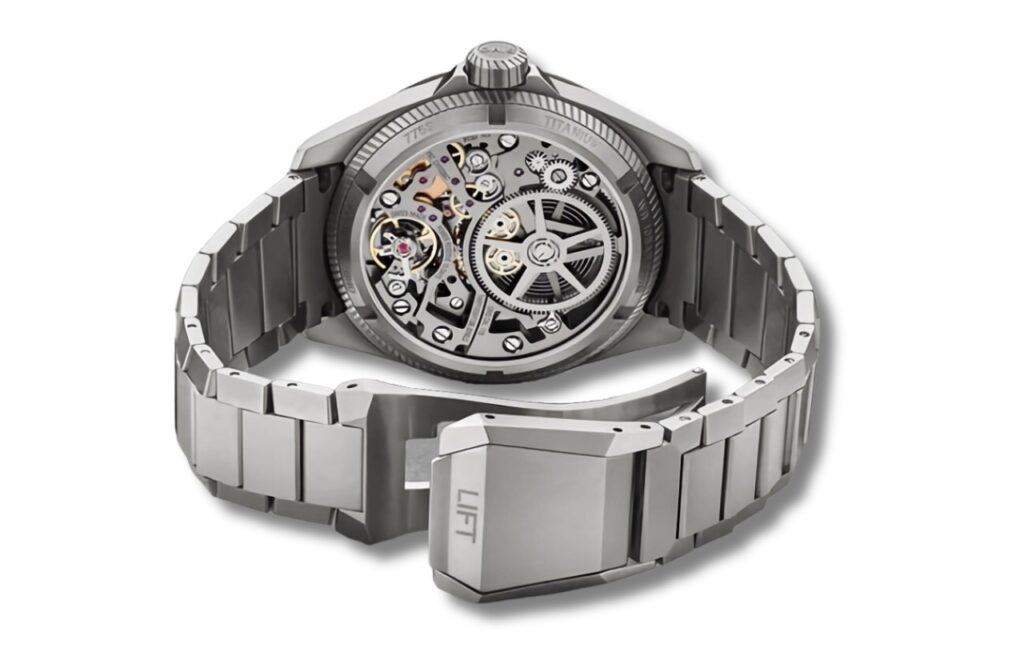 Mechanical timepiece are powered by a spring that is wound manually or automatically. Oris produces both manual and automatic mechanical watches, with many of their models featuring the brand's in-house movements.
One popular mechanical watch model from Oris is the Oris Big Crown ProPilot X. This timepiece features mechanical movement, which means it is powered by intricate mechanical components rather than relying on a battery. The mechanical movement adds a sense of craftsmanship and traditional watchmaking to the watch, as every tick of the second hand is driven by the intricate gears and springs inside. It showcases the artistry and precision that goes into creating a mechanical timepiece, making it a coveted choice for watch enthusiasts.
Automatic Watches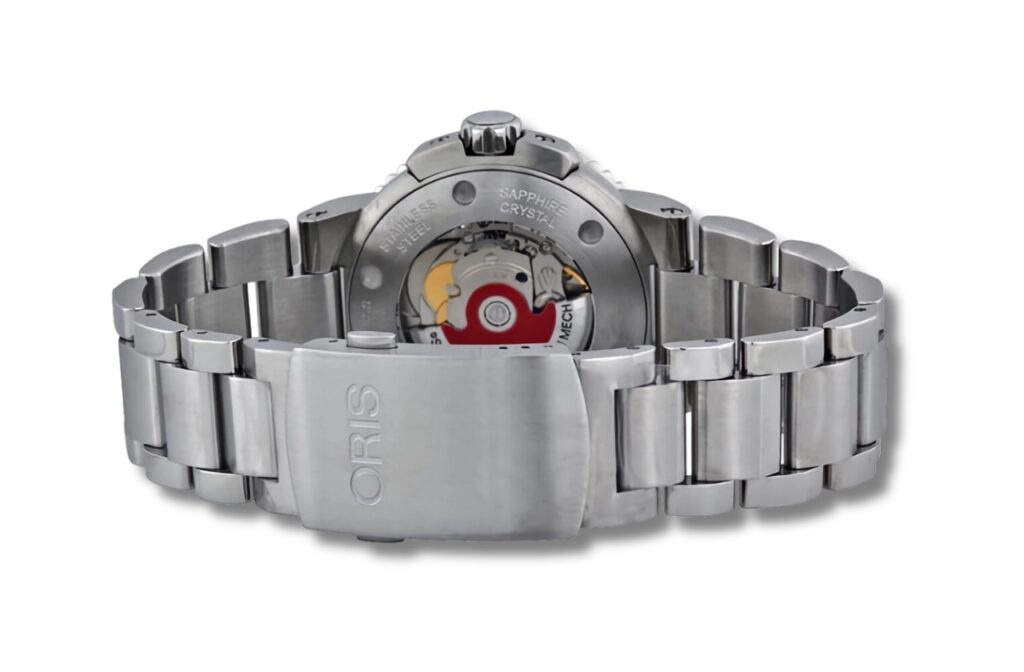 Automatic movements are self-winding, meaning they are powered by the movement of the wearer's wrist. Oris automatic watches are equipped with rotors that wind the mainspring as the wearer moves.
One of the most important automatic watches in Oris's lineup is the Aquis Date Ref No. 01 733 7653 4137-07 8 26 01PEB. This model features a self-winding automatic movement, powered by the natural motion of the wearer's wrist. This means it doesn't require manual winding, eliminating the need for battery replacements. The accurate timekeeping offered by its automatic movement, coupled with the brand's renowned durability and water resistance, makes the Oris Aquis Date a popular choice for diving and outdoor activities.
Power Reserve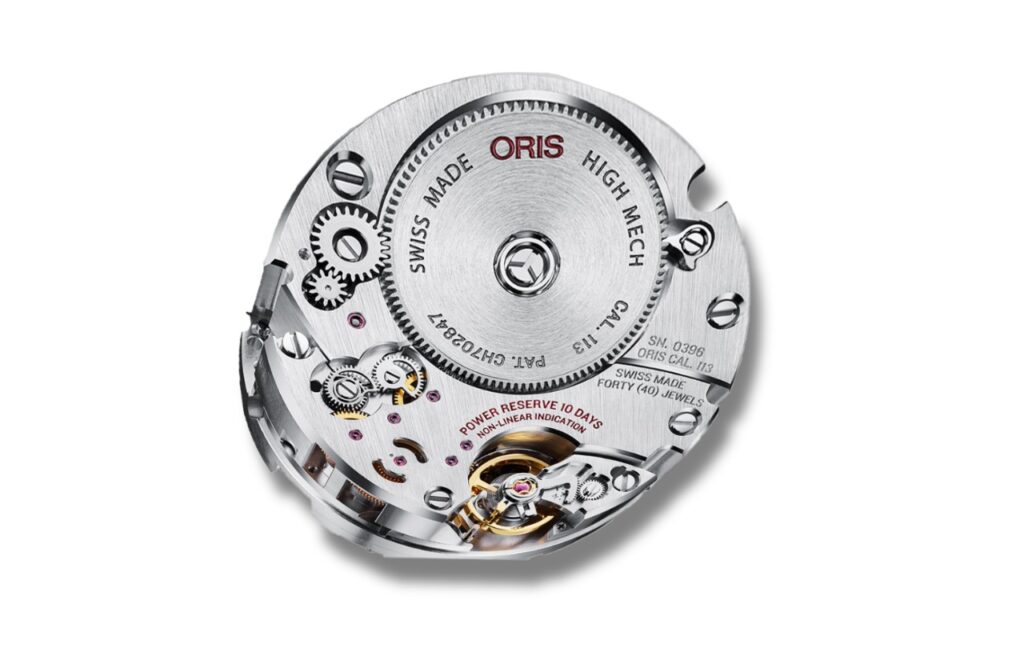 Oris watches are known for their impressive power reserve, which is the amount of time a watch can run without being wound. Many Oris watches have a power reserve of up to 38 hours, meaning they can run for over a day without needing to be wound.
One popular power reserve watch in the Oris collection is the Oris Artelier Calibre 113 with an impressive 10-day power reserve. This timepiece features a power reserve complication, allowing you to track the remaining energy of the watch's automatic movement. With a sleek and sophisticated design, the Artelier Calibre 113 combines functionality and style, making it an ideal choice for those who appreciate the practicality of a power reserve feature.
The competitive landscape among Watch Brands
When it comes to luxury watches, Oris is just one of many watch brands competing in a crowded market. Some of the most well-known and respected luxury watch in the industry include Rolex watches for their Pilot watches, Omega, and Patek Philippe. However, Oris has carved out a niche for itself by offering high-quality timepieces and Oris watches cost more affordable prices than some of its competitors in the watch market.
Some of the most prominent privately owned company competitors include:
Rolex Pilot Watches: A Swiss luxury watch brand known for its timeless designs and high-quality craftsmanship, with prices ranging from S$2,069 – S$178,436.
Omega Speedmaster: Another Swiss luxury watch model highly regarded for its technical innovations and precision timekeeping, with prices ranging from S$4,500 to over S$60,000.
Patek Philippe Nautilus: Known for its iconic and limited editions design and complex and intricate timepieces, with prices ranging from S$40,000 to over S$500,000.
Jaeger-LeCoultre Master Control: A Swiss watch model highly respected for its technical innovations and precision timekeeping, with prices ranging from S$6,500 to over S$30,000.
Here's a table comparing the features and price range of luxury watch brands in the market:
| | | |
| --- | --- | --- |
| Brand | Known for | Average Market Price (SGD) |
| Rolex | Timeless designs, high-quality craftsmanship | S$2,069 – S$178,436 |
| Omega | Precision and Innovation in watchmaking | S$354 – S$59,416 |
| Patek Philippe | Complex and intricate timepieces, exceptional quality | S$9,728 – S$801,979 |
| Audemars Piguet | Avant-garde design, innovative use of materials | S$3,614 – S$556,188 |
| Jaeger-LeCoultre | Technical innovations, precision timekeeping | S$4,817 – S$37,764 |
| Oris | High-quality timepieces at more affordable prices | S$875 – S$6,074 |
While all of these luxury watch brands have their unique features and offerings, Oris stands out by providing high-quality timepieces at more affordable prices than some of its competitors. Despite being relatively more affordable, Oris watches still deliver on craftsmanship, precision, and durability, making them a great choice for watch enthusiasts who value both quality and affordability.
Why you should invest?
Investing in Oris luxury watches could be a smart move, despite some of the market fluctuations that took place recently. Yes, it's true that some models have seen a decrease in price over the past year, like the Oris Divers Sixty-Five 401 7764 3185 and Aquis 752 7733 4135 models. But, it's crucial to note that some models, such as the Oris Divers Sixty-Five 733 7730 4135 and the Divers Sixty-Five 733 7720 4354, have seen their market prices increase.
While the watch market can have its ups and downs, quality timepieces like those from Oris can hold their value, or even increase in value over time. So, investing in an Oris watch could not only give you a stylish accessory but also a potential asset that might grow in value.
Pricing & Availability of Oris Watch
Most Oris watches are known for their high-quality craftsmanship and timeless designs, making them a popular choice among watch enthusiasts. When it comes to pricing, Oris watches are in the mid-range to luxury category, with prices varying depending on the collection and model. Oris watches typically sell for between S$874 – S$6,066, making them more affordable than some luxury brands while still offering the same level of quality and style.
FAQs
1. Are Oris watches good investment?
The answer here is yes – depending on the watch you choose. There are some models that are sure to retain their value over time, while others may depreciate more quickly. That said, the high-quality materials used in the construction of all Oris watches means that they should remain in great condition for many years to come.
2. Is Oris a good brand?
Yes – while they may not have the same level of brand recognition as some of the higher-end luxury watchmakers, like Rolex or Omega, Oris offers excellent value with their timepieces. For instance, their watches feature Swiss movements with superior accuracy and precision, as well as sapphire crystal face protectors and highly water-resistant construction.
3. Are Oris as good as Rolex?
Oris and Rolex are two distinct brands with different approaches to watchmaking. While Rolex is known for its luxury and prestige, Oris watch company is known for its affordable luxury and practicality. Both brands produce high-quality watches with their own unique styles and features, and the choice between them ultimately comes down to personal preference and budget.
4. Are Oris watches made in China?
No, Oris watches are not made in China. Oris is a Swiss watch from the Swiss watchmakers family brand and all of its watches are manufactured in Switzerland, which is known for its high standards of watchmaking excellence. Oris is committed to using only the finest materials and components in its watches, and the brand takes great pride in its Swiss heritage and tradition of craftsmanship.
Final Word
With high-quality materials and craftsmanship, Oris watches, with a long history, provide good durability and a sense of style in its own way that will last for years to come. The commitment to craftsmanship and attention to detail are what make Oris watches a go-to choice for any watch enthusiast. With a variety of styles and price points, Oris is sure to provide a watch that meets any budget or preference.
Key Takeaways
Oris watches are a popular choice among watch enthusiasts due to their high-quality craftsmanship and timeless designs.
Oris offers a range of models to suit all tastes, from sports-oriented chronographs to classic dress watches.
Oris watches worth are a reliable and potentially profitable investment for those looking for a durable and stylish timepiece.
Looking to buy or sell your luxury watches? Watch Exchange is your one-stop destination for trading Rolex, Patek Philippe, Tissot, Sinn, Zenith, and other luxury timepieces. Find your next watch today or list your item for free!
---