Steinhart is a German watch company that has been producing high-quality timepieces since 2001. The Ocean One and Ocean 39 collections are two of their most popular offerings, featuring classic dive watch designs that are both stylish and functional.
Steinhart's Ocean One and Ocean 39 collections have been recognized as paying homage to the design aesthetics of specific Rolex models, with the Ocean 39 being comparable to a Rolex Explorer and Ocean One to a Rolex Submariner.
Aside from similar aesthetics, it also embodies durability, crafted with premium materials and the finest attention to detail, carving out a notable reputation for its exceptional watchmaking prowess.
Whether you're a seasoned watch collector or just looking for a reliable timepiece, the Steinhart Ocean One and Ocean 39 watches are worth considering. These watches will impress with their quality, affordability, and style.
The Case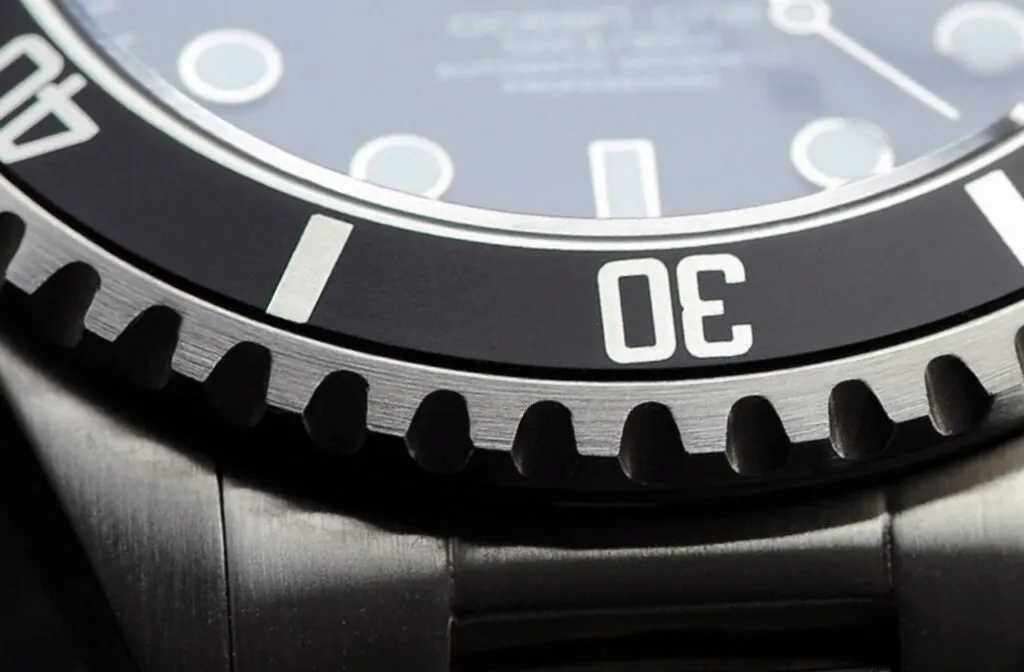 The Ocean One and Ocean 39 cases are crafted with meticulous attention to detail and are designed to exhibit durability and elegance, making them a defining feature of these timepieces.
The case is made from high-grade stainless steel, as seen in the Ocean One Black and Ocean 39 GMT. Stainless steel is robust and corrosion-resistant. It also helps maintain the watch's appearance over time. 
Typically, a brushed finish is found on the top surface of the case, while polished accents can be seen on the sides and edges to enhance the overall aesthetic appeal. The screw-in case-back is also made of brushed stainless steel to match the back of the case.
The front of an Ocean One and Ocean 39 case is fitted with sapphire crystal, providing excellent clarity for viewing the dial. Sapphire crystal is highly durable and can withstand impacts and accidental bumps without easily shattering or cracking.
The watches in these collections are equipped with screw-down crowns and are signed with the Steinhart logo, adding a distinctive touch. They also have a unidirectional rotating bezel to track elapsed time during dives. It is typically crafted from stainless steel or ceramic, offering durability and resistance to wear.
Steinhart's Ocean One and Ocean 39 watches are also designed to withstand water exposure and are suitable for diving and water activities of up to 300 meters (30 ATM), ensuring reliable performance underwater.
When it comes to size, Ocean One models generally have a larger case size, at 42mm in diameter. On the other hand, Ocean 39 models feature a more modest case size with a diameter of around 39mm, appealing to those who prefer a slightly smaller watch profile.
The Dial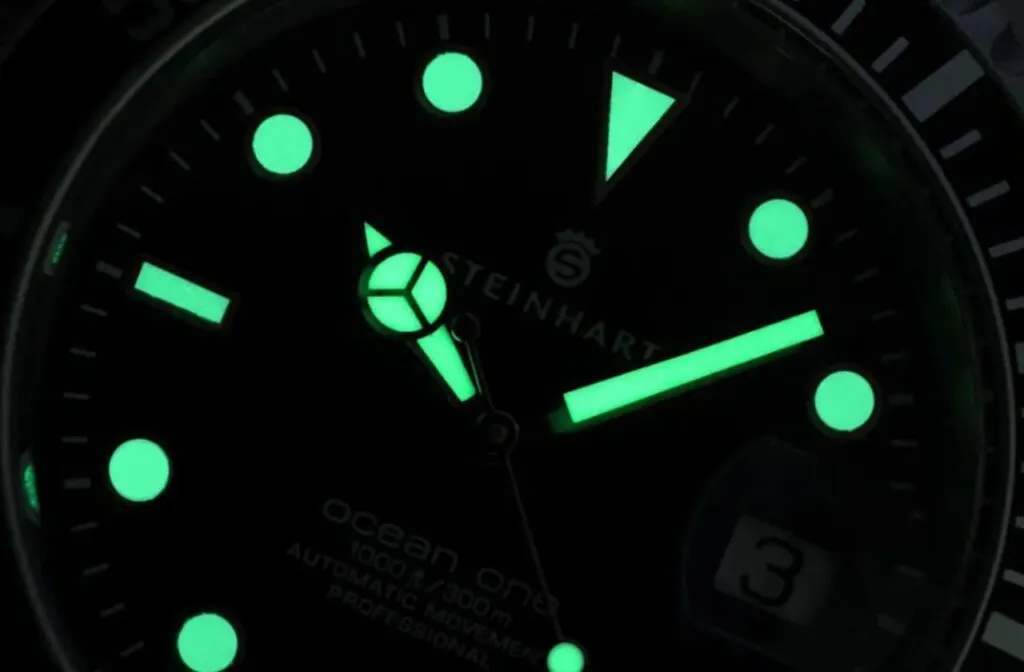 Ocean One and Ocean 39's dials are a harmonious blend of vintage-inspired design and modern functionality. They are simple yet elegant, following a clean and balanced design.
Steinhart pays attention to the luminosity of their dials, incorporating luminescent materials on the hour markers, hands, and sometimes even the bezel feature luminous markers and hands. This feature ensures optimal legibility in low-light or dark conditions. Prominent examples of this feature are the Ocean 39 Green and Ocean One Black Ceramic with SuperLuminova BGW9 hour and minute hands.
The hour and minute hands are designed in a distinctive Mercedes-style shape. The hour hand is solid and broad, the minute hand is sword-shaped, and the second hand is slim and elongated. These hands provide clear differentiation, making reading the time at a glance easy.
Ocean One and Ocean 39 models are available in various dial colors, from classic black to vibrant blue or green. These color options provide versatility and cater to different style preferences.
The date window is accompanied by a contrasting background or a magnifying cyclops lens for enhanced readability. It is located at the 3 o'clock position, and the Steinhart logo is prominently displayed at the 12 o'clock position.
The Strap
The Ocean One and Ocean 39 are designed to complement the overall aesthetic and functionality of the timepieces. These collections have a stainless steel bracelet as a default option. As seen in the Ocean One Black model, these bracelets are crafted from high-quality stainless steel links that are durable, comfortable to wear, and provide a secure fit on the wrist.
These steel bracelets are typically designed with solid end links that seamlessly integrate with the case, enhancing the overall aesthetics of the watch, as seen in the Ocean 39 GMT Blue-Red. The bracelets often feature brushed and polished finishes, complementing the case design.
The Movement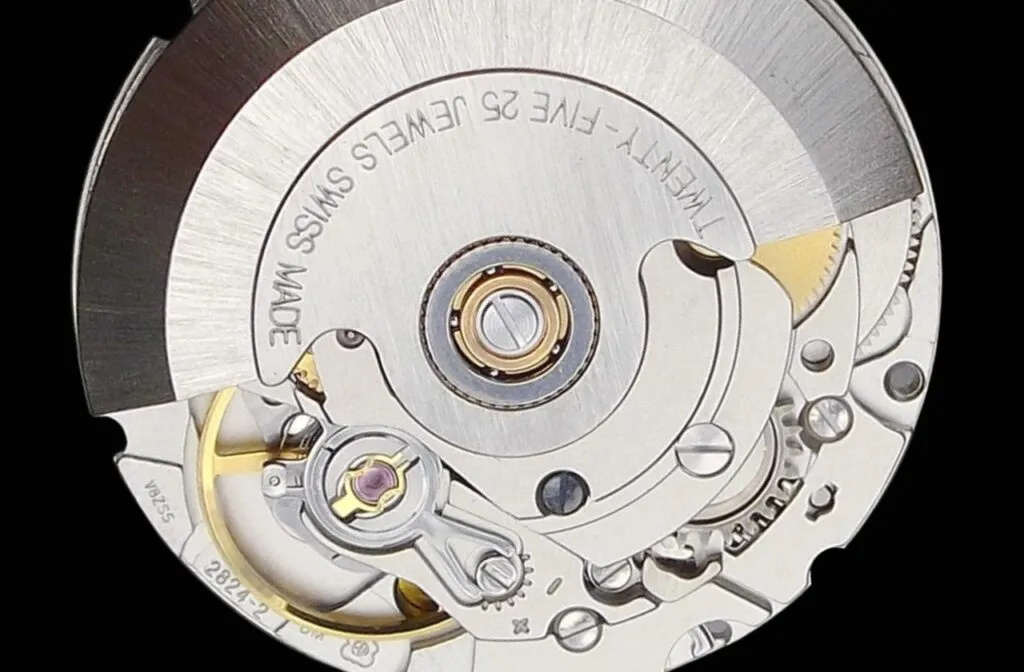 The Ocean One often utilizes the Swiss-made ETA 2824-2 automatic movement. ETA is a renowned Swiss movement manufacturer known for producing reliable and widely used movements in the watch industry.
The ETA 2824-2 movement used in Ocean One is highly regarded for its accuracy, reliability, and longevity. It gives the wearer a dependable and precise timekeeping experience with a power reserve of around 38 to 42 hours. This means that the watch will continue to keep time for up to 38 to 42 hours after it has been fully wound.
On the other hand, the Ocean 39 collection often utilizes the Swiss-made Sellita SW200-1 automatic movement. Sellita is a respected Swiss movement manufacturer known for producing high-quality and reliable movements.
The Sellita SW200-1 is based on the ETA 2824-2 movement, offering similar performance and reliability, offering the same power reserve of up to 38 to 42 hours.
Competitive Landscape
The Steinhart Ocean One and Ocean 39 are often compared to other luxury dive watches, such as the Rolex Submariner and the Omega Seamaster. While Rolex watches and other luxury brands are certainly more expensive, the Steinhart models offer comparable quality and style at a fraction of the cost.
Here is a brief competitive landscape:
Rolex Submariner: Regarded as an iconic luxury sports watch, built to withstand high water pressure and offers significant water resistance to depths of up to 300 meters (1,000 feet), making it a reliable companion for diving and water-related activities.
Omega Seamaster: The Seamaster collection encompasses a wide range of models, which includes the Seamaster Diver 300M, Aqua Terra, and Planet Ocean. The collection offers options suitable for professional divers and can be used as an everyday luxury watch.
Orient Triton: These popular and robust dive watches offer substantial water resistance of up to 200 meters, making them suitable for recreational diving and other water-related activities.
Tissot Seastar: Crafted by the renowned Swiss watchmaker Tissot, the Tissot Seastar offers both form and function. It is an ideal companion for those seeking a timepiece that seamlessly transitions from the ocean's depths to everyday wear.
Oris Aquis: The Aquis collection is a full steel diver's watch that has become a favorite of divers and enthusiasts alike, embodying the spirit of underwater exploration and functionality.
Here's a quick comparison of some of the other iconic watches brand in the market:
| | | |
| --- | --- | --- |
| Brand | Known For | Average Market Price (SGD) |
| Rolex Submariner | Its accuracy, equipped with a self-winding mechanical movement known as the Rolex Caliber | S$14,175 to S$60,080 |
| Omega Seamaster | Featuring the Master Chronometer certification, which signifies passing rigorous testing by the Swiss Federal Institute of Metrology (METAS). | S$5,400 to S$6,750 |
| Orient Triton | Being a great recreational dive watch that has a classic design, great legibility, and clear contrast. | S$270 to S$405 |
| Tissot Seastar | Its sporty aesthetic, with bold and masculine designs, sturdy build and quality. | S$675 to S$945 |
| Oris Aquis | Featuring a fusion of high-tech materials designed for underwater depths, going above and beyond the call of technical innovation and user-friendliness. | S$3,140 to S$3,620 |
Ocean One Collection
With a nod to the past and a vision for the future, the Ocean One Collection captures the essence of timeless elegance and high-performance timekeeping.
Ocean One Black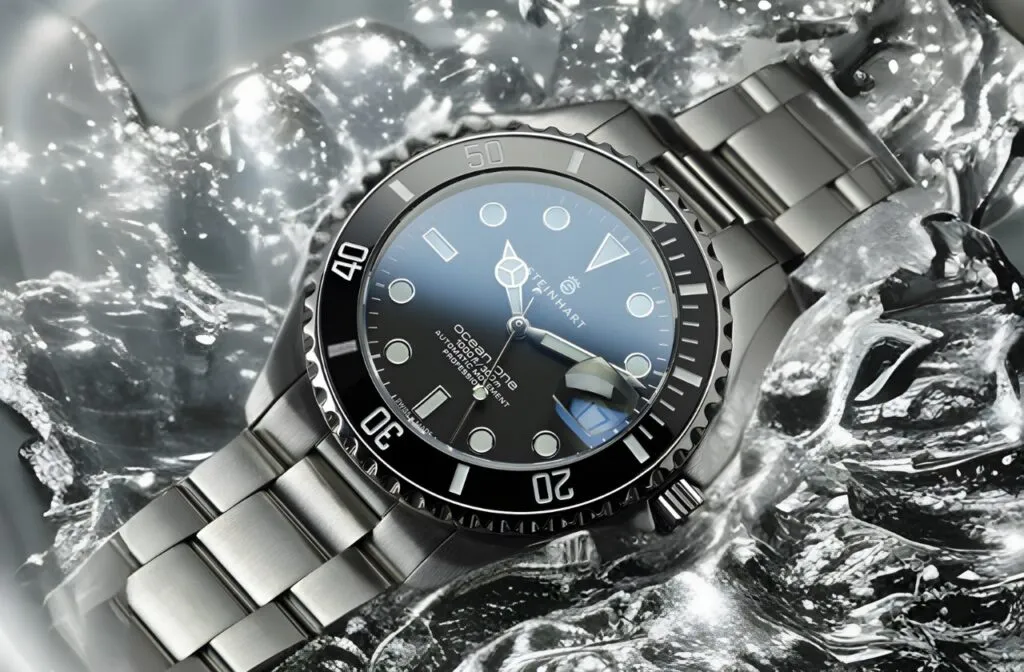 Pre-owned price: S$506 to S$550
The Ocean One Black is a popular model known for its resemblance to the iconic Rolex Submariner. It features a 42mm stainless steel case with a black ceramic bezel insert, giving it a sleek and sporty appearance. It showcases a deep black dial and large luminous hour markers and hands, offering legibility and a sophisticated aesthetic.
The watch is well-constructed, with solid stainless steel used for the case and bracelet. The sapphire crystal is scratch-resistant, ensuring durability and clarity over time. With a water resistance of up to 30 ATM, it is perfect for swimming and recreational diving.
This classic dive watch combines timeless style, modern features, and reliable performance. With its sleek and understated design, it is a great watch for anyone looking for an elegant, functional, high-quality timepiece.
Ocean One Vintage GMT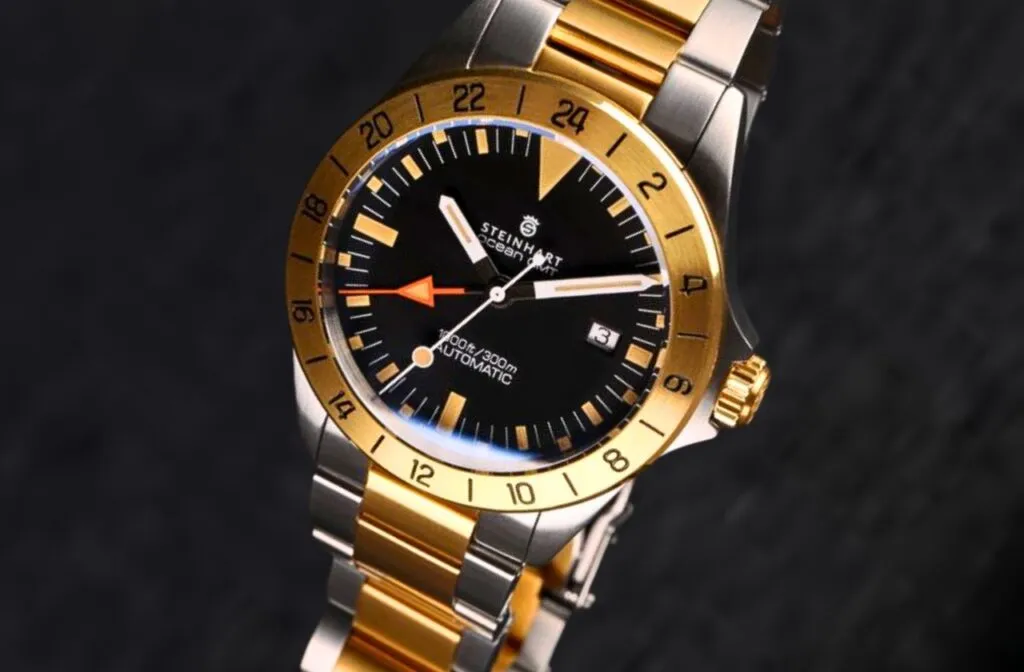 Pre-owned price: S$560 to S$650
The Ocean One Vintage GMT draws inspiration from classic vintage dive watches that incorporate GMT functionality. It has a striking resemblance to the Rolex Explorer II and is designed to evoke charm and character while combining classic design elements and GMT for versatility and practicality.
It has a 42mm stainless steel case with a mix of polished and brushed finishes, giving it a retro and rugged look. The black dial is reminiscent of vintage dive watches, with aged Super-LumiNova markers and hands, while the red GMT hand adds a pop of color and indicates a second time zone.
The bezel is unidirectional and has a ceramic insert, enhancing its durability and is also water resistant up to 300 meters (30 ATM), making it suitable for various water activities.
Ocean One Vintage GMT pays homage to the iconic GMT watches of the 1960s with its retro-inspired design. If you are a fan of homage watches, the Steinhart Ocean One Vintage GMT can be a perfect fit.
Ocean One Vintage Military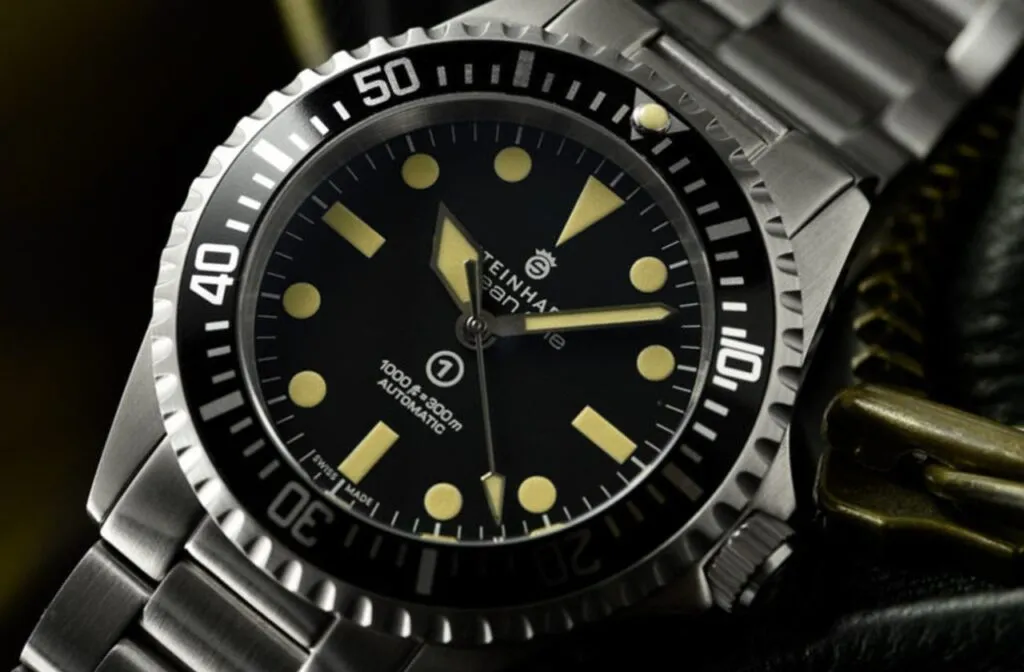 Pre-owned price: S$465 to S$600
The Steinhart Ocean One Vintage Military (OVM) is a rugged and stylish timepiece that draws inspiration from military watches of the past. Like other Steinhart watches, this model draws inspiration from another Rolex model, the Rolex 5517.
OVM features a 42mm, domed sapphire crystal with an anti-reflective coating. The stainless steel case is very well-machined and impeccably finished. The khaki green dial and bezel give it a rugged yet modern masculine appearance. It has a beautiful tapered bracelet with a stunning dial and a nipple pip bezel for that true vintage military look.
The Ocean One Vintage Military combines vintage military aesthetics with modern functionality, paying homage to classic military watches while providing reliable dive watch performance. With its vintage design, reliable performance, and durable construction, this watch is a favorite among collectors and enthusiasts.
Ocean 39 Collection
The Steinhart Ocean 39 collection is a line of versatile and stylish watches with a modern, sleek design suitable for casual and formal occasions. These watches are slightly smaller than the Ocean One models, making them an excellent option for those who prefer a more compact and understated timepiece.
Ocean 39 Explorer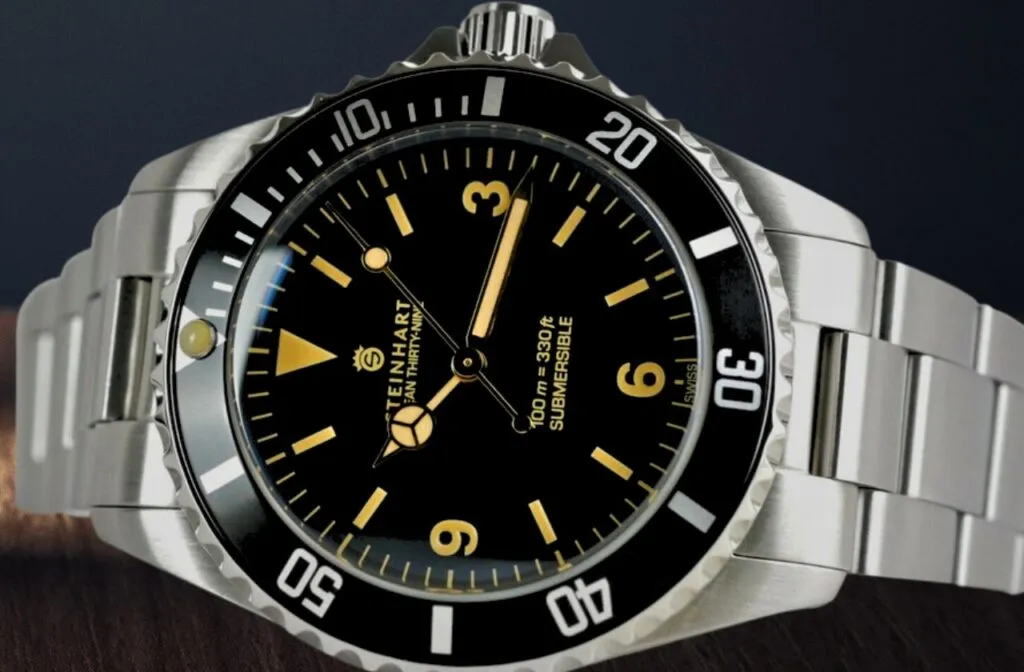 Pre-owned price: S$700 to $770
The Ocean 39 Explorer has a classic, timeless design inspired by the iconic Rolex Explorer, designed to evoke the spirit of adventure and exploration. 
It features a 39mm stainless steel case, providing a versatile and wearable size that suits a range of wrist sizes. It is crafted with a sturdy stainless steel case, and the scratch-resistant sapphire crystal protects the dial.
With a high level of water resistance, typically up to 300 meters (30 ATM), this watch can withstand water-related activities such as swimming, snorkelling, and even recreational diving. Plus, it is made to the highest Swiss standard with genuine vint
Yet, the charm of the Ocean 39 Explorer lies in its "Explore-style" dial, a rare type which was first found on super rare 60s dive watches, where the Arabic 3-6-9 numbers are applied on a tri-compax layout.
Ocean 39 Marine Blue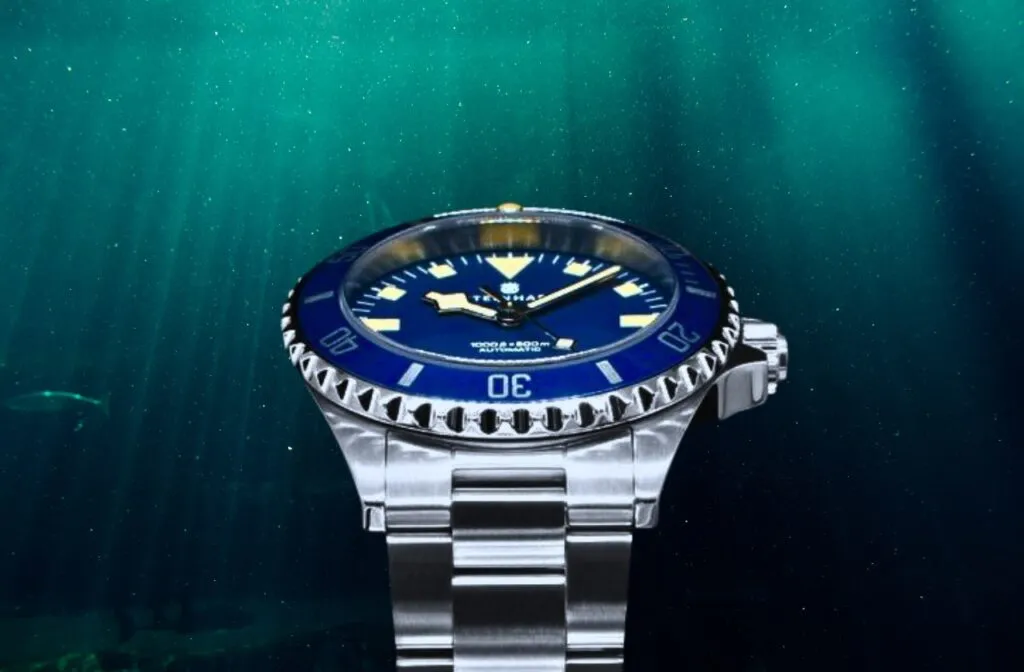 Pre-owned price: S$675 to S$770
The Steinhart Ocean 39 Marine Blue Gnomon Exclusive is a limited edition watch that is a collaboration between Steinhart and Gnomon, a leading retailer of high-end watches. The Ocean 39 Marine Blue is an updated version of the famous Ocean 39 model, with a few notable differences that make it stand out.
The Ocean 39 Marine Blue features a beautiful shade of blue that complements the stainless steel case and bracelet perfectly. The dial is adorned with SuperLuminova markers and hands, making it easy to read in low-light conditions.
Ocean 39 Vintage GMT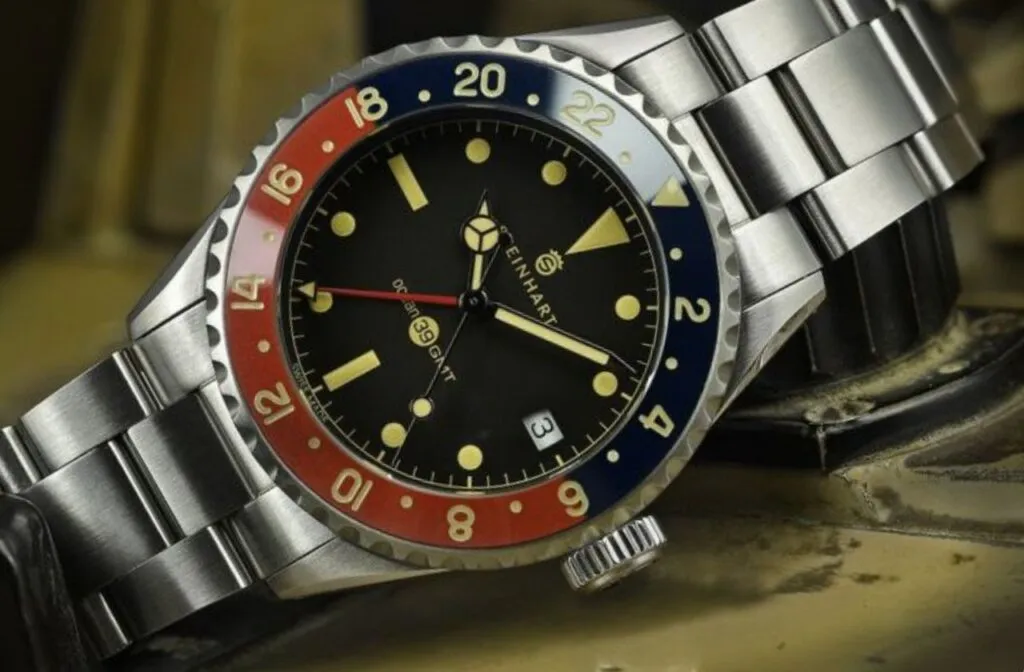 Pre-owned price: S$990 to S$1,040
The Steinhart Ocean Vintage GMT bears a striking resemblance to the Rolex Explorer II Reference 1655. The GMT function complements the vintage-inspired design, allowing the wearer to track multiple time zones quickly.
At the heart of the watch is an awesome ETA 2893-2 élaboré, a reliable and long-running movement found in a wide variety of watches from microbrands to major players.
The build quality is excellent and the case is well-finished with brushing on top and polished case sides. But what gives the watch a special character is the GMT function, featuring the orange hand against a vintage cream of the markings. Add to this, the sporty exclusiveness of the Ocean 39 vintage GMT OLKO Edition makes it stand out from other diver watches.
Why Should You Invest?
Steinhart is known for its commitment to producing high-quality watches. The Ocean One and Ocean 39 collections are meticulously crafted using premium materials and precise manufacturing techniques. They offer excellent build quality and attention to detail, ensuring durability and longevity.
The Ocean One and Ocean 39 collections boast stylish designs inspired by iconic watches like the Rolex Explorer and Rolex Submariner. Like several Rolex watches, they feature desirable attributes for divers, such as high water resistance, unidirectional rotating bezels for timing dives, and luminescent elements, making them practical choices for water activities or as robust everyday watches.
Further, Steinhart watches, including the Ocean One and Ocean 39, provide a more accessible price point than luxury brands while maintaining exceptional quality. They offer an opportunity to own a well-crafted timepiece with professional features and aesthetics at a more affordable price.
Ultimately, Steinhart watches have a high-quality European construction, offering many keen watch collectors a well-priced, good-looking dive watch with a reliable Swiss movement
Pricing & Availability
The pricing of Steinhart watches can vary depending on the specific model, materials used, and features included. Generally, their watches range from around S$530 to over S$1,330. Steinhart watches typically sell with a median asking price of S$550 on the secondary market.
Steinhart watches can be purchased directly from their official website, as well as through authorized retailers and online marketplaces. However, availability may depend on the model and specific location. Some limited edition models may be more challenging and require purchasing from a reseller or second-hand market.
FAQs
1. Is a Steinhart watch worth it?
Steinhart watches are worth it in terms of design variety, craftsmanship, and quality. They are also known for providing excellent value for their price point compared to other luxury watch brands.
2. Is Steinhart a luxury brand?
Steinhart watches are not typically considered a luxury brand as they are generally priced lower than luxury watch brands such as Rolex, Omega, or Cartier. Instead, they are a high-end brand well-regarded for their quality and value.
3. Are Steinhart watches made in Switzerland?
Steinhart watches are not entirely made in Switzerland, but the cases and other components are manufactured in Asia and assembled in Germany. But, they use Swiss-made movements in their watches sourced from established Swiss manufacturers such as ETA and Sellita.
4. Where are Steinhart watches made?
Steinhart watches are assembled in Germany, while the components are manufactured in different countries in Asia, particularly in countries like China and Japan, where production costs are lower than in Switzerland. However, Steinhart is known for using high-quality materials and producing reliable watches at an affordable price point, making their watches an excellent value for money.
5. What is the difference between Ocean One and Ocean 39?
The main difference between Ocean One and Ocean 39 is the size. The Ocean One has a larger case size of 42mm, while the Ocean 39 has a smaller case size of 39mm. The Ocean One also has a ceramic bezel insert, while the Ocean 39 has an aluminum one.
Final Word
Steinhart watches offer an excellent option for those looking for high-quality timepieces that provide exceptional value for money. If you're in the market for a dive watch, you can't go wrong with the Steinhart Ocean One or Ocean 39, as they are prime examples of the brand's dedication to precision, performance, and style.
Key Takeaways
Both watches offer excellent build quality and are built to withstand the rigors of diving.
The Ocean One is more oversized, with a 42mm case, while the Ocean 39 is a more compact 39mm.
Both watches are priced very competitively, making them an excellent value for their quality.
Steinhart is a homage watch brand that has produced timepieces clearly inspired by the Rolex Submariner and other GMT watches.
While the Ocean One collection is available in a wide range of color options, the Ocean 39 is offered in more classic styles.
Looking to buy or sell your luxury watches? Watch Exchange is your one-stop destination for trading Rolex, Patek Philippe, Tissot, Sinn, Zenith, and other luxury timepieces. Find your next watch today or list your item for free!
---