Rado is a Swiss watchmaker established in 1917 by the Schlup brothers. Post World War II, they transitioned from watch movement production to launching their brand, Rado, in 1957. The brand introduced numerous innovative timepieces like the DiaStar, the world's first scratch-proof watch, and Captain Cook, its first diving watch, in 1962.
Rado continued to pioneer in design and technology throughout the 70s and 80s, integrating high-tech materials like ceramics. Most recently, Rado released the updated Captain Cook High-Tech Ceramic in 2021. Guided by an ethos of innovation, Rado's future in watchmaking remains promising.
In this blog, we delve into the remarkable features and designs of three of their iconic collections: Captain Cook, D-Star, and HyperChrome.
The Case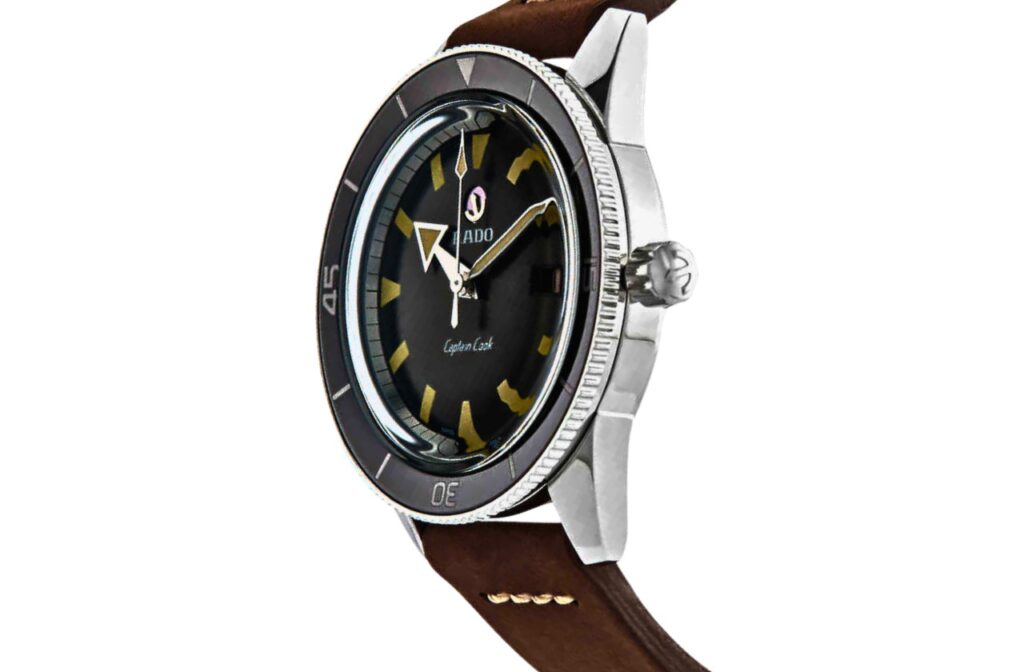 When you look at a Rado watch, the first thing that might catch your eye is the distinctive case design. Crafted from premium materials, the case is a protective housing for the watch's internal components and an elegant piece of art that complements your style.
The collection features a unique and contemporary case design that differentiates it from other timepieces. Their cases are typically round and measure 44mm in diameter for the Rado D-Star and 43mm for the Rado Hyperchrome.
Meanwhile, the case of the Rado Captain Cook exhibits a vintage-inspired design with contemporary updates and typically has a smaller diameter at 42mm.
Rado is also known for its high-tech, hypoallergenic ceramic watches that are comfortable to wear. This material expertly combines durability with a sleek and modern appearance. The cases often feature sapphire crystal, nearly as hard as a diamond, ensuring the watch face remains unblemished and legible.
The Dial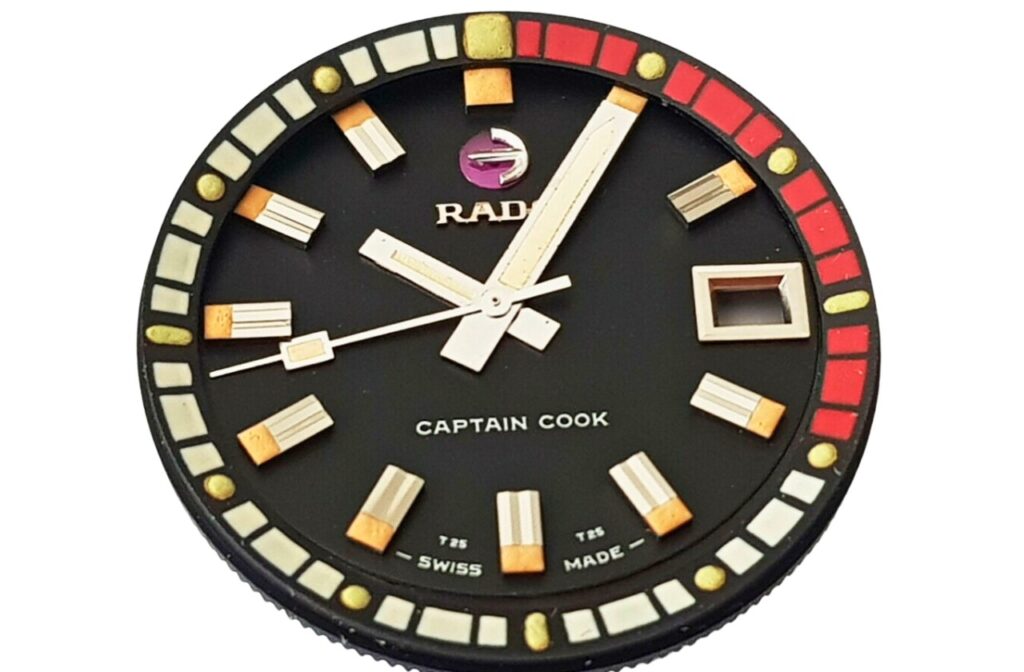 When you first lay your eyes on a Rado watch, you'll be impressed by the sophisticated design of the dial, as they come with a visually stunning and highly functional dial. You'll also notice the use of high-quality materials like ceramic, sapphire crystal, and stainless steel. These materials provide a sleek appearance, superior durability, and a pristine look for years.
The dial layout is also well-thought-out, offering excellent readability at a glance. With the Rado D-star, you will quickly appreciate the precise markers, refined hands, and legible date displays.
The Rado Captain Cook's dial is clean and simple, accompanied by bold white indices and no. Meanwhile, the Rado Hyperchrome has a faint illuminated effect that makes it grow in the dark and read the time even when the light is off. This readability and attention to detail ensure you can quickly and confidently access essential timekeeping information.
The Strap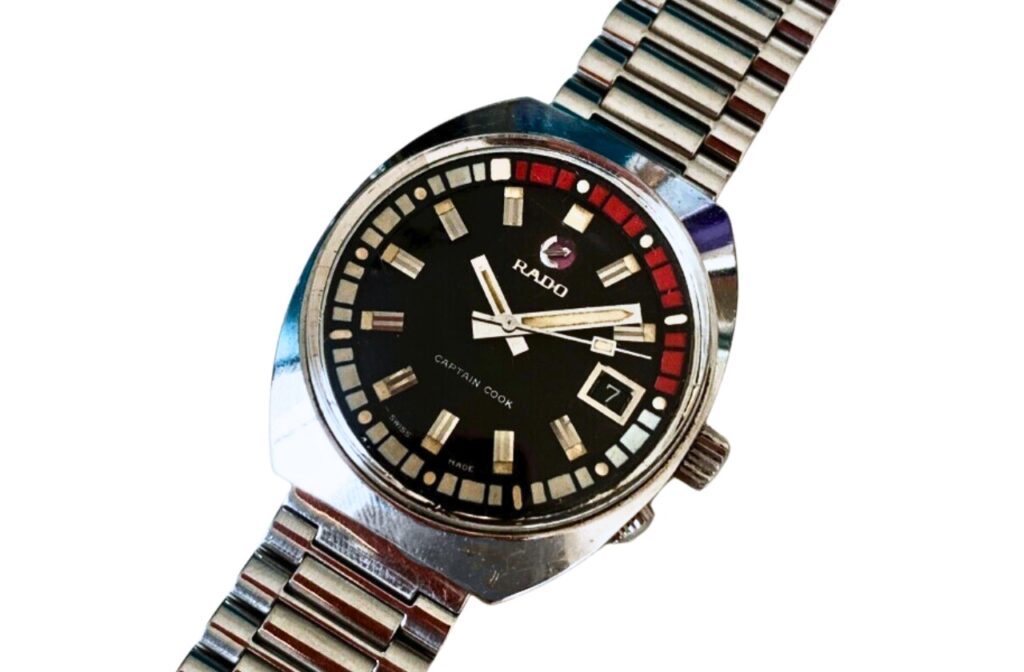 When choosing a Rado watch, one of the critical elements to consider is the strap. Materials, styles, and colors can significantly impact how the watch looks and feels on your wrist.
You might opt for the Rado Tradition Captain Cook MKII with stainless steel bracelet for a timeless, classic look. These metal straps provide durability, making them suitable for daily wear. It also offers an ideal balance of comfort and style. You may also find the Rado Hyperchrome Quartz, another attractive option for a silver-toned stainless bracelet you can wear dressed up or dressed down.
Another popular choice is the high-tech ceramic strap like the Rado D-Star Men's Quartz. Rado has long been a pioneer in ceramic materials, providing scratch resistance and lightweight comfort. Available in various colors like black, white, and plasma, these straps are versatile, making it simple to find one that matches your taste.
The Movement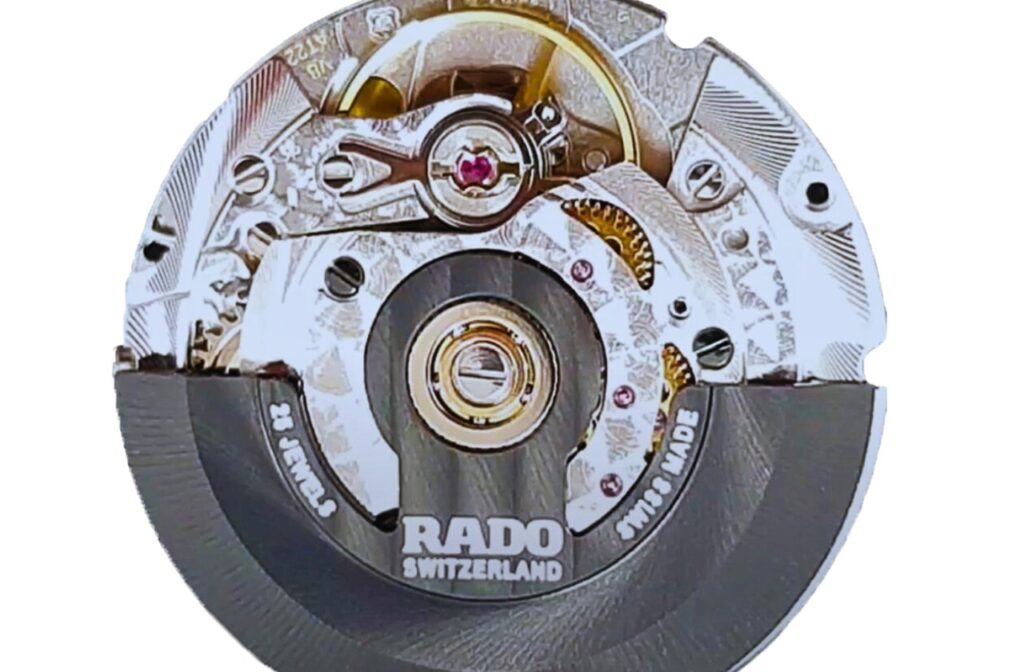 In the 1970s, the brand introduced timepieces such as the Rado Integral, incorporating advanced technology, such as Swiss-made automatic or quartz movements, ensuring accuracy and reliability for your timekeeping experience.
Your timepiece might have a quartz, manual, or Swiss automatic movement, depending on the model. Let's explore these different types and their unique features.
Automatic Movement
A Rado watch, like the Rado Captain Cook Automatic, has a movement that relies on the motion of your wrist to power the watch. A rotor inside the watch winds the mainspring as you move, storing energy transferred to the gear train. Your watch should maintain accuracy and remain wound as long as it is regularly worn.
Manual Movement
For those who appreciate traditional craftsmanship, manual movement watches like the Rado HyperChrome Captain Cook is an excellent choice. You must manually wind your watch by turning the crown to keep it running. This tightens the mainspring, which then slowly unwinds to power the watch. You should wind your timepiece daily to maintain its accuracy.
Quartz Movement
A battery powers the timekeeping in a Rado watch with quartz movement like the Rado D-Star Quartz. The battery sends an electric current to a quartz crystal, causing it to vibrate at a specific frequency. The watch then measures these vibrations to keep accurate time. Expect long-lasting battery life, and plan to replace it occasionally.
Rado Collections
Some of Rado's most notable collections are the D-Star, Captain Cook, and HyperChrome. This review looks at each collection, including unique features and design elements that make it stand out in the world of luxury watches.
Rado D-Star
Known for its sleek design and minimalist style, the D-Star series offers a contemporary take on classic timepieces. The collection features a range of materials, including high-tech ceramic, stainless steel, and sapphire crystal, which contribute to its durability and scratch resistance.
1. Rado D-Star 200 – R15965152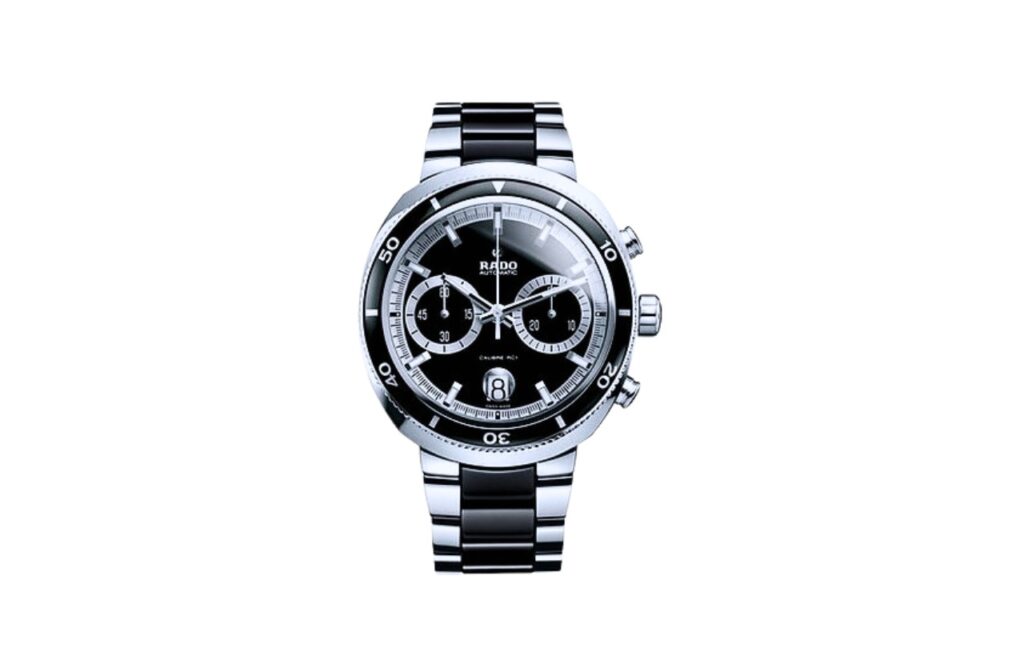 This model showcases a round black dial with silver-tone hands, index hour markers, Sapphire glass case, a black bezel, and a black and silver bracelet making it the epitome of sophistication. Average market price: S$1,000 to S$1,460
2. Rado D-Star Men's Quartz – R15519702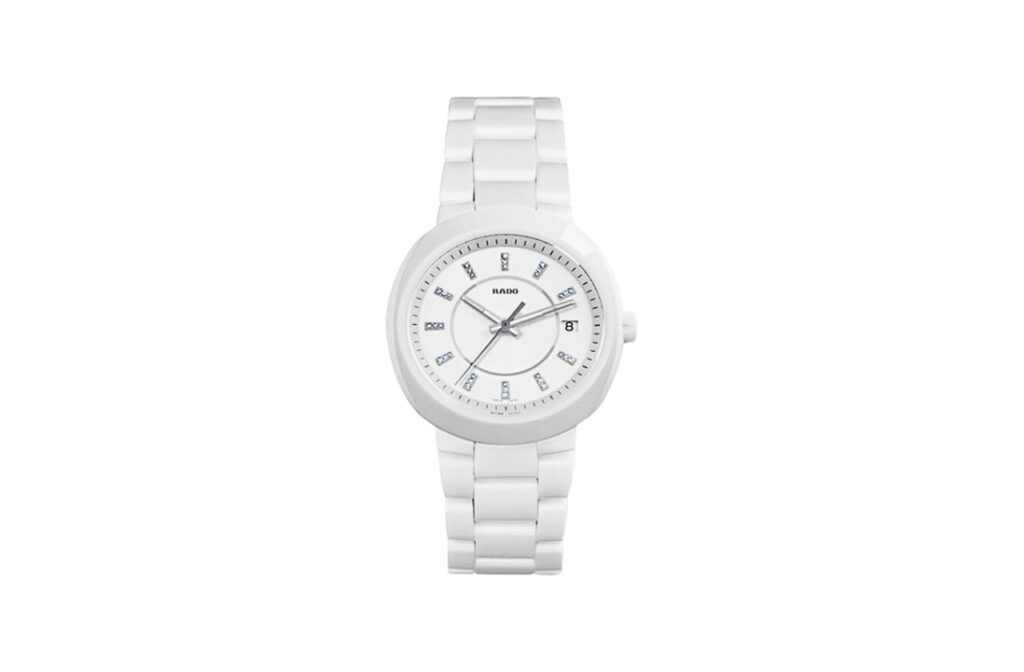 This model represents a timeless design with a clean white dial, silver-tone hands, and index markers. The white ceramic case and bracelet ensure that it remains both scratch-resistant and lightweight. Average market price range from S$1,880 to S$2,770.
Rado Captain Cook
The Rado Captain Cook collection pays homage to the brand's rich history while combining modern materials and cutting-edge technology. Designed with diving enthusiasts in mind, the Captain Cook series boasts impressive water resistance and luminous hands for underwater visibility.
1. Rado Captain Cook Automatic – R32505313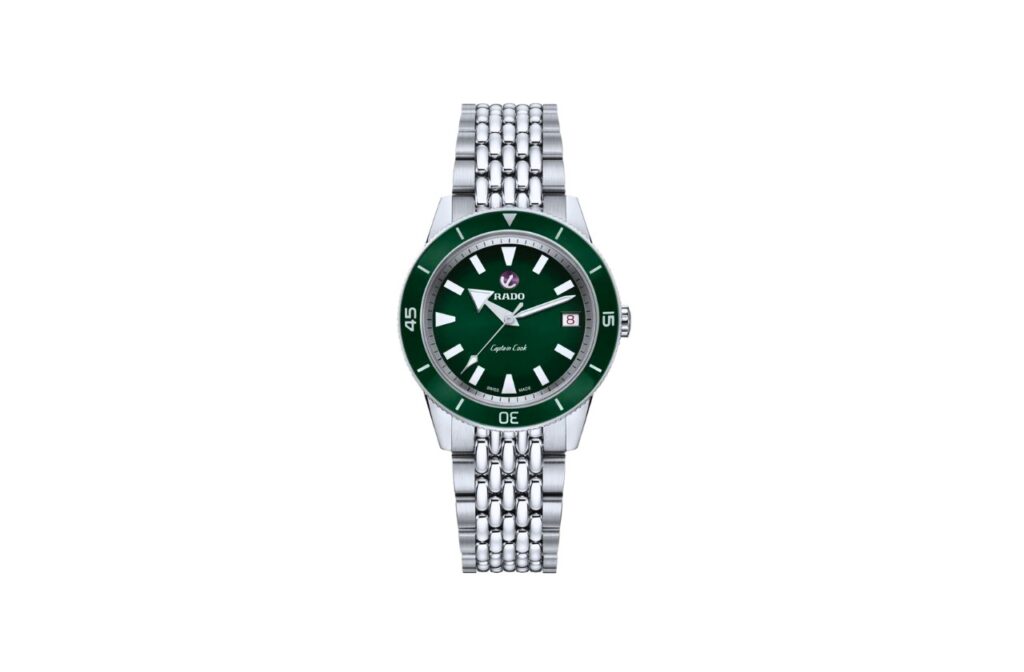 Featuring a green dial, this model has a rotating bezel with a 60-minute scale, perfect for timing your dives. Its iconic inward-sloping dive bezel and the arrow-shaped hour hand make it a truly timeless design. Average market price range from S$2,660 to S$3,600.
2. Rado Tradition Captain Cook MKII – R33930153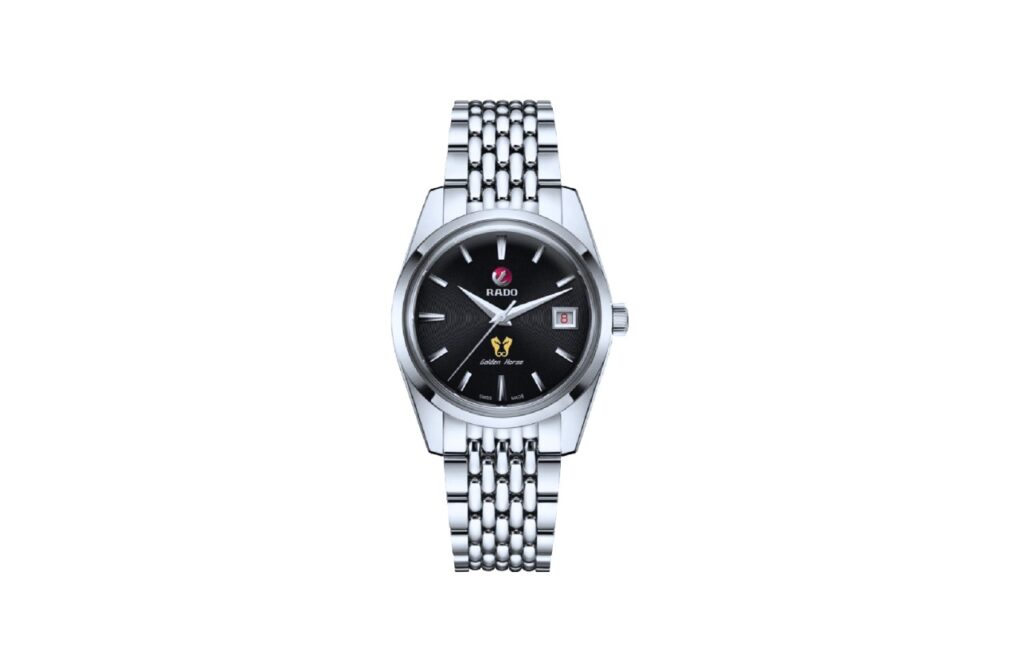 The Rado Tradition is a modern interpretation of the iconic Captain Cook watch introduced in the 1960s. MK II retains all the light breeziness of the early '70s watch, sliding on the wrist lightly and effortlessly, perfect for modern divers. Average market price range from S$1,190 to S$1,760.
Rado HyperChrome
Rado's HyperChrome collection is designed to captivate with its bold, eye-catching designs. Fusing high-tech ceramic and stainless steel, HyperChrome timepieces are luxuriously durable and lightweight.
1. Rado HyperChrome Diamonds – R32177302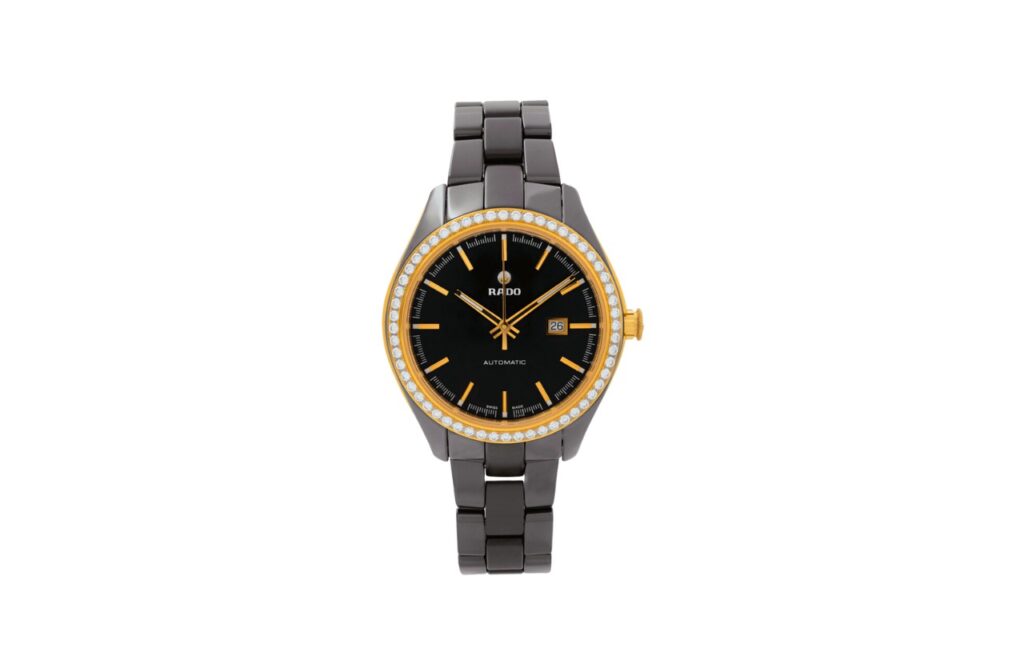 The HyperChrome Diamonds feature a striking black dial adorned with sparkling diamond hour markers, set within a polished stainless steel case and bracelet. This watch is part of Rado's HyperChrome collection, known for its sleek and sporty aesthetic. Average market price range from S$6,200 to S$6,300.
2. Rado HyperChrome Quartz – R32502203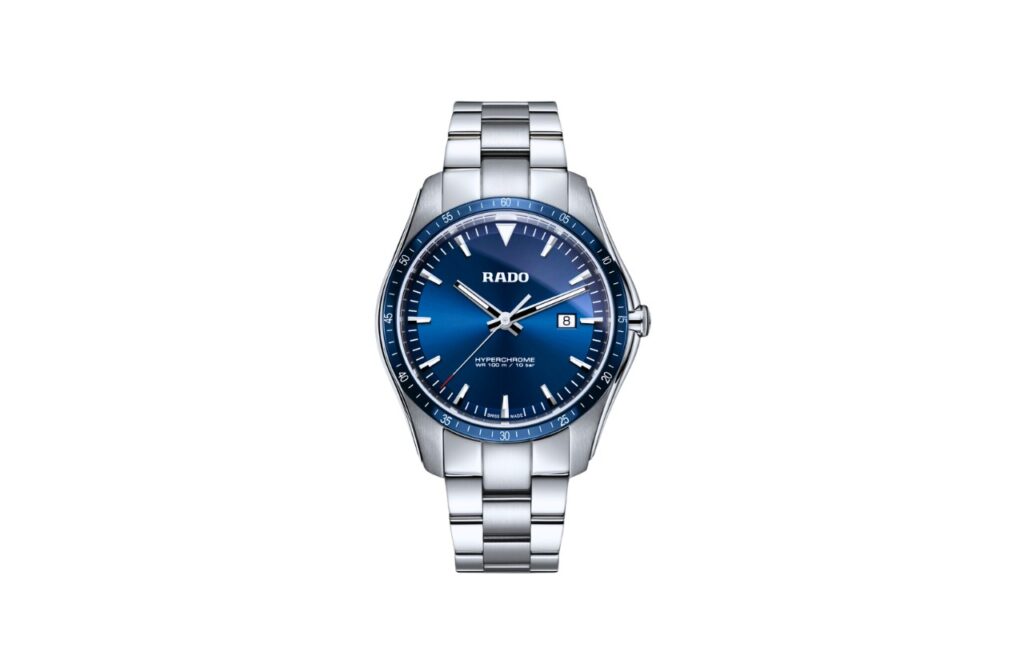 With a minimalist blue dial and bold, angular case, this watch makes a statement on the wrist while maintaining a versatile and timeless look. It features a quartz movement for accuracy and reliability and a lightweight, durable stainless case and bracelet. Average market price range from S$950 to S$1,350.
The Competitive Landscape
This Swiss luxury watch brand operates in a market filled with strong contenders like Rolex, Omega, and Breitling. These brands offer different designs and features, but they all share a focus on luxury, craftsmanship, and innovation.
Price-wise, Rado competes with brands like TAG Heuer, Longines, and Tissot. Generally, you can expect to find Rado watches in the S$1,000 to S$5,000 range, though some special editions and high-end models can cost considerably more.
Understanding some key competitors in this segment:
Rolex: Known for its luxury sports watches, you may appreciate the timeless designs and unparalleled reputation for quality.
Omega: With a history of innovation and solid space exploration connections, you might enjoy their watches' technological advancements and space-age materials.
Breitling: If you value precision and reliability, Breitling's aviation-inspired timepieces and focus on functionality could appeal to you.
TAG Heuer: Combining Swiss heritage with bold and sporty designs, TAG Heuer's watches may resonate with you if you seek innovative mechanics and a daring look.
Here's a quick comparison of competitor brands in the market:
| | | |
| --- | --- | --- |
| Brand | Known For | Average Market Price (SGD) |
| Rolex Oyster Perpetual | Oyster case, which provides exceptional water resistance and its "perpetual" automatic winding mechanism. | S$11,300 to S$37,130 |
| Omega Seamaster Aqua Terra | Elements of water resistance, which has an emphasis on durability and practicality. | S$7,020 to S$9,650 |
| Breitling Superocean Heritage | A unique blend of vintage-inspired design with modern technology and materials. | S$3,480 to S$13,950 |
| TAG Heuer Aquaracer | Combination of sporty design, water resistance, durability, and precise timekeeping. | S$2,300 to S$3,100 |
Why You Should Invest
With its reputation for producing high-quality watches and innovative designs, Rado has the potential to appeal to a wide range of watch collectors and enthusiasts. Rado models retain their value excellently over time, which can be a positive factor for investing.
Some popular models lose roughly 30-50% once you purchase them, making preowned Rado timepieces a good option.
Like any investment or significant purchase, research and consider your financial goals and risk tolerance before making any investment decision. It is important to note that the value of any investment can fluctuate based on various factors, such as economic conditions, market changes, and the watch's specific model and condition.
Pricing & Availability
Rado watches come in various price ranges, suitable for different budgets. Generally, the price starts at around $700 and can go up to $10,000 or more for limited edition or high-end models.
Regarding availability, you can find Rado watches in numerous licensed stores and online platforms. Popular sources to find Rado watches include:
Authorized Dealers: Find Rado watches in many authorized physical retail stores where you get the experience of seeing the watch in person, trying it on, and getting expert advice.

Rado Official Website: The official Rado website offers a convenient and secure way to buy Rado watches and explore options. You can find detailed information about each model and be assured you are purchasing an authentic timepiece.
Online Pre-owned Dealers: Finally, other popular online pre-owned dealers also offer Rado watches. Make sure the retailer is reputable and provides a guarantee of authenticity.
FAQ Section
1. Is Rado a good watch brand?
Yes. Rado is a reputable watch brand known for its innovative designs and high-quality materials. As a Swiss watchmaker, Rado has a history of producing elegant and durable timepieces. As such, many watch enthusiasts appreciate their craftsmanship and attention to detail.
2. Is Rado a high-end brand?
Rado is considered a luxury watch brand that offers a range of collections catering to various tastes and budgets. While not quite ranking among the ultra-high-end timepiece manufacturers, Rado holds a respected position in the watch industry for its unique designs and innovations.
3. Who wears a Rado watch?
Most Rado watches are worn by prominent people worldwide, including celebrities, politicians, professionals, and watch enthusiasts.
4. Is Rado better than Omega?
Which is a better brand depends on a wearer's preference. Each brand has its strengths and unique offerings. Rado's watches are known for innovative materials and design aesthetics, while Omega has a long-standing reputation for precision and durability, with a solid connection to sports and space exploration.
Final Word
Rado offers a diverse selection of timepieces with various price ranges and availability options. Explore these sources to find the perfect Rado watch that fits your style and preferences. Remember to verify a watch's authenticity when browsing pre-owned options to ensure you invest in a genuine Rado timepiece.
Key Takeaways
One of Rado watches' standout features is their scratch-resistant, high-tech ceramic material.
The Rado D-Star is a collection that embraces a mix of sportiness and sophistication, making it suitable for casual and formal occasions.
Drawing inspiration from original dive watches in the 1960s, the Rado Captain Cook collection features retro aesthetic round cases with bold markers and hands reminiscent of that era.
Rado's HyperChrome collection showcases innovative designs that combine classic elements with modern aesthetics.
Looking to buy or sell your luxury watches? Watch Exchange is your one-stop destination for trading Rolex, Patek Philippe, Tissot, Sinn, Zenith, and other luxury timepieces. Find your next watch today or list your item for free!
---