Choosing the right watch strap not only enhances the look of your watch but also adds a touch of personal style. Depending on your lifestyle, profession, and personal taste, you can select a strap that fits your wrist perfectly and goes with your outfit and the occasion.
Keep in mind that straps can be chosen based on your needs or mood. For example, you could opt for a durable rubber or nylon strap for casual or outdoor activities and switch to a sophisticated leather or metal bracelet for formal events. It's all about finding the right balance between comfort, durability, and style. The key is to experiment with different straps until you find the ones that best suit your personality and lifestyle.
This guide should provide you with a good starting point to help you make an informed decision. Take the time to find the perfect watch strap – it's a small investment that can make a big difference.
Types of Straps Based on the Materials
Just as style plays a crucial role in choosing a watch strap, the material from which a strap is made significantly impacts both the look and the feel of the watch. The right material can influence the comfort, durability, and overall aesthetic of your timepiece.
Leather
The Leather watch straps offer a classic, sophisticated look and are a popular choice among watch wearers. Leather is comfortable and durable, making it the perfect option for any style of wristwatch.
When deciding on a strap for your watch, there are various types of leather to choose from. Top-grain leather is one of the most desirable types: it's made from the uppermost layer of the hide and has been treated with dye to give it an even color. It is also very resistant to wear and tear, making it ideal for everyday use.
Metal
The Metal bands are a great option for someone looking for a bold and durable style. Whether you opt for stainless steel, silver- or gold-plated metal links, or solid metal watch bands in silver, gold, or gunmetal, metal links are a popular choice.
The two most common designs for metal straps are the bracelet style (featuring preformed links that fit together like a puzzle) and the mesh style (which is flexible and made from interlocking metal loops). Both styles come in a variety of finishes including matte, polished and brushed.
Nylon
The Nylon straps, including NATO and Zulu straps, are known for their durability and comfort. They're generally waterproof and are perfect for sports or outdoor watches.
Rubber/Silicone
If you're looking for a strap that can handle the toughest conditions, look no further than rubber watch straps. Perfect for outdoor activities, these straps are designed to provide superior durability in water and extreme temperatures.
Water-resistant to up to 200 meters (or 656 feet), rubber watch straps are designed with a textured finish that helps prevent slippage, even when exposed to moisture. Additionally, their soft material prevents irritation on the skin and increases comfort in wet and dry climates alike.
Canvas
The Canvas straps are lightweight and casual, making them an excellent choice for an everyday watch. They're durable and can be easily cleaned.
Ceramic
The Ceramic bands are scratch-resistant and can come in various colors, offering a modern, stylish look. They are often found in fashion and luxury watches.
Types of Straps Based on the Style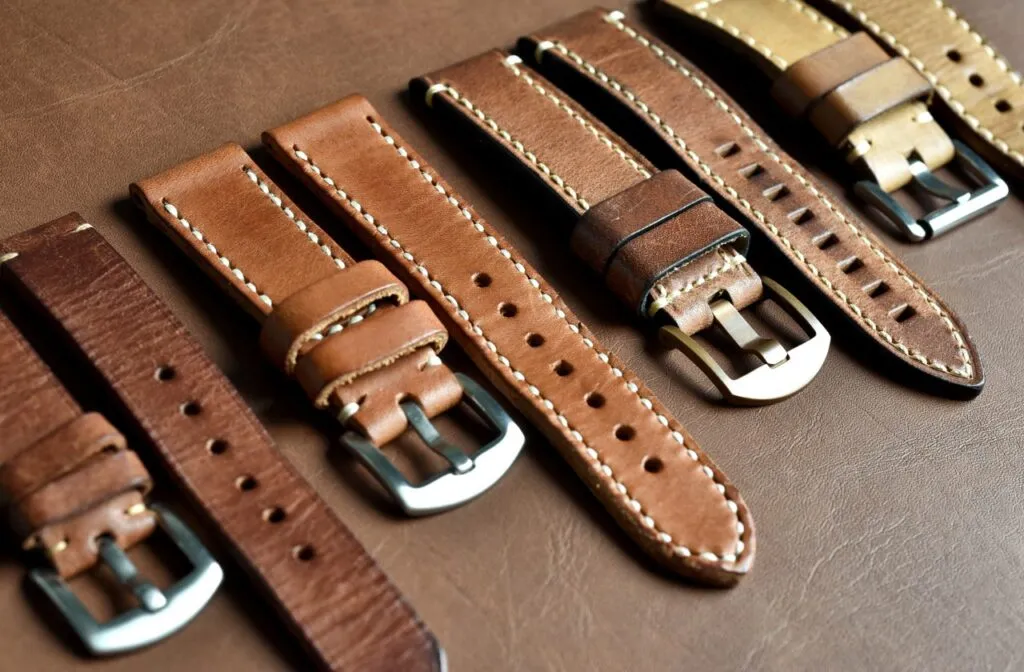 Different styles of watch straps can dramatically change the look and feel of your timepiece. Here are some popular styles along with a sample model for each:
Oyster Bracelet
Known for its robust and sturdy design, the Oyster bracelet is a popular choice among Rolex watches, such as the Rolex Submariner. This bracelet style features wide, flat three-piece links.
NATO
NATO straps are versatile and durable, making them a favorite for casual and sports watches. They're often seen on models like the Timex Weekender, where the strap can be easily switched out to match any outfit.
Perlon
Perlon straps are lightweight, breathable, and adjustable. They're often found on dive and summer watches for comfort. The Eulit Palma Pacific Perlon Strap is a popular choice.
Jubilee Bracelet
This five-link bracelet design is comfortable and flexible. It's famously associated with the Rolex Datejust model.
Zulu
Zulu straps, similar to NATO straps but typically thicker, are robust and durable, making them great for outdoor watches. The Seiko SKX007 often features a Zulu strap.
Aviator
Aviator straps, also known as Pilot straps, often have rivets near the lug ends and are popular on Pilot watches. The IWC Big Pilot's Watch is commonly seen with an Aviator strap.
Bund
The Bund strap was originally designed for German pilots during WWII to prevent the watch case from freezing or searing the skin at high altitudes. A well-known model with a Bund strap is the Heuer Bundeswehr 1550SG Flyback Chronograph.
Engineer
The Engineer bracelet is a chunky, sturdy, and weighty five-piece link bracelet, often found on dive watches like the Seiko Prospex models.
Choosing a strap style often depends on the type of watch, the occasion, and personal preference. While some prefer the durability of metal bracelets like Oyster or Engineer, others might prefer the comfort and ease of NATO or Perlon straps.
Size
When it comes to finding the perfect watch strap to match your wristwatch style, one of the most important factors to consider is size. You should make sure your watch strap is not too tight or too loose, as either size can be uncomfortable and impair performance.
Here are a few tips for choosing the right watch strap width and length:
Width
The width of your watch strap should be proportional to the width of your wristwatch. A common rule of thumb is that the strap should be half as thick as the watch case. If your watch case measures 22mm, then an appropriate width for a strap would be 11mm-12mm; if it measures 40mm, then an appropriate width for a strap would be 20mm-22mm.
Length
Once you've chosen the appropriate width for your watch strap, you'll need to measure its length to ensure a proper fit. A good starting point is to measure from one end of the buckle tongue to the first hole on the other end of the strap; this will give you an idea of how long it needs to be. You may need to adjust this measurement depending on how small or large your wrist is.
Compatibility of Watch Bands
When it comes to replacement watch bands, compatibility is key. While many watch bands are universal, this isn't always the case, so it's important to be aware of the specific details required to match your timepiece with the correct style and size.
If you're not sure what type of band is compatible with your particular watch, the easiest way to determine suitability is by taking note of the following:
Dimensions
The length and width of the band are one of the first criteria to consider when making a selection. Different sizes exist, so make sure you double-check your measurements before committing to a purchase.
Attachment System
Another factor is how your band will attach to the watch's lugs or case. Typical attachment systems include spring bars, screws, and pins. Spring bars are used for most leather and nylon bands; screws for metal bracelets; and pins for NATO/Zulu straps.
Material and Color
Finally, don't forget about the material! When selecting a new watch band, think about how it will complement your existing watch in terms of material (e.g., silicone, leather or canvas) and color (e.g., neutral tones or bright hues). Doing this will ensure a cohesive esthetic—one that truly stands out on its own terms!
Determining the Perfect Strap For You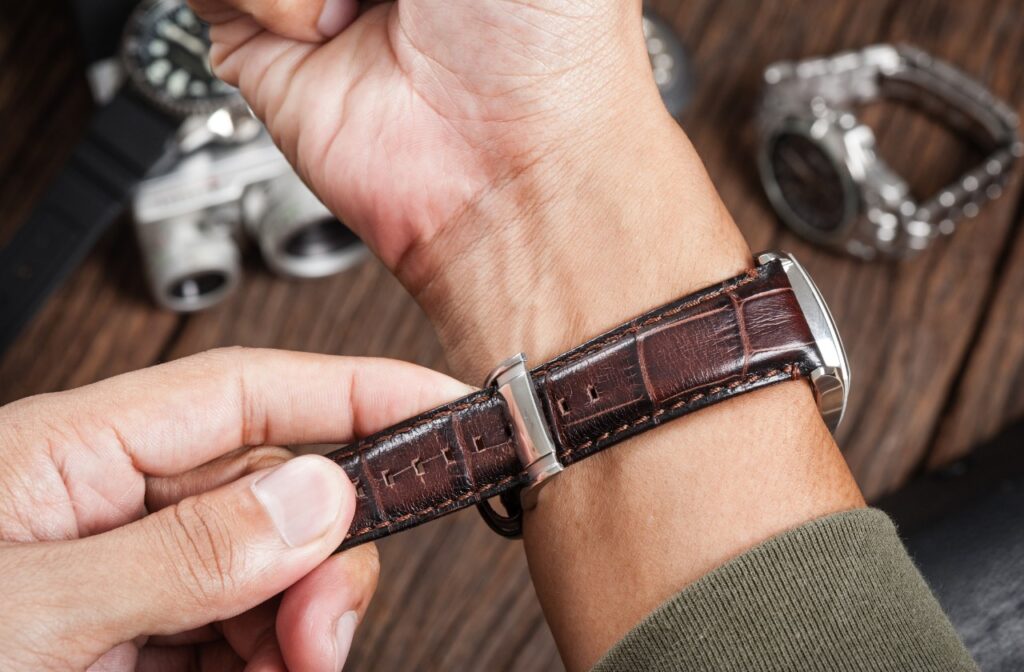 Discovering the right watch strap for you is a personal process that involves understanding your lifestyle, comfort, and style preferences. Here are some considerations to help you make the right choice:
Lifestyle
Your daily activities largely determine the type of watch strap that would be most suitable for you. If you engage in a lot of physical activities or outdoor work, durable materials such as rubber or nylon would be suitable as they are resistant to sweat and water. On the other hand, if you work in a more formal setting, leather or metal straps would provide a more professional and polished look.
Comfort
Comfort is another important factor when choosing a watch strap. Consider the material and how it feels against your skin. Leather straps, for instance, are soft and comfortable, while metal straps can feel heavier but are usually adjustable for a perfect fit. If you have sensitive skin, you might want to avoid certain materials that may cause irritation.
Style and Personality
Your watch strap is a reflection of your personality and style. Do you prefer classic and timeless pieces? A brown or black leather strap might be just right for you. If you lean more towards trendy and fashionable, consider straps in bold colors or unique materials. If your style is more sporty or rugged, a nylon or rubber strap would be a good fit.
Size of Your Wrist
The size of your wrist also plays a part in determining the right strap. If you have a small wrist, you might want to consider thinner straps as they would look more proportional. Conversely, if you have a larger wrist, a wider strap might look better.
The Watch Itself
The watch itself is a significant factor to consider. Ensure the strap you choose matches the style, color, and size of your watch. A mismatched strap might detract from the overall aesthetic of your timepiece.
Versatility
If you like changing up your style often, consider getting interchangeable watch straps. This way, you can easily swap out straps to match your outfit or mood.
Budget
Finally, your budget is an essential factor. While it's true that high-quality watch straps may come with a higher price tag, there are plenty of affordable options on the market that don't compromise on style or quality. Determine your budget first, then explore the options within that range.
Remember, there's no one-size-fits-all when it comes to choosing the right watch strap. It's all about what feels comfortable on your wrist, suits your lifestyle, and matches your personal style. Take your time to explore the different options, and don't be afraid to experiment with different styles. Your watch strap is an extension of your personal style, and the right one can elevate your timepiece from ordinary to extraordinary.
FAQs
1. How much does it cost to change the watch strap?
The cost to change a watch strap can vary significantly depending on several factors. The cost of the strap itself can range from around $10 for a basic nylon strap to several hundred dollars for high-quality leather or branded straps. If you choose to have the strap changed professionally, labor costs can range from $5 to $25.
2. How do you match a watch with a band?
Matching a watch with a band depends on both practical and aesthetic considerations. Practically, the band needs to be of the correct size to fit the watch's lug width.
3. Do all watch bands fit all watches?
Not all watch bands fit all watches. The compatibility of a watch band with a watch depends primarily on the lug width of the watch – that is, the distance between the two points on the watch case where the strap is attached. It's crucial to measure this width before purchasing a new watch band to ensure it will fit. Additionally, the style of the watch band should complement the style of the watch. For example, a rugged, sporty band might not be the best fit for a delicate, dressy watch.
Final Word
Navigating the world of watch straps can seem overwhelming, but with the right knowledge and resources, it becomes an exciting journey to finding the perfect accent for your timepiece. With the thriving watch scene in Singapore that can ship worldwide, you're never too far from a store offering a range of watch straps to cater to your needs.
Key Takeaways
Lifestyle & Comfort: Choose a strap that suits your daily activities and feels comfortable on your skin.
Style & Compatibility: Pick a strap that matches your personal style and fits well with your watch.
Budget & Versatility: Stick to your budget and consider interchangeable straps for versatility.
Are you in search of a unique timepiece that carries a rich history and exudes timeless elegance? Watch Exchange is your one-stop destination for trading Rolex, Patek Philippe, Tissot, Sinn, Zenith, and other luxury timepieces. Breathe new life into a pre-loved watch or trade in your current one for something different
---